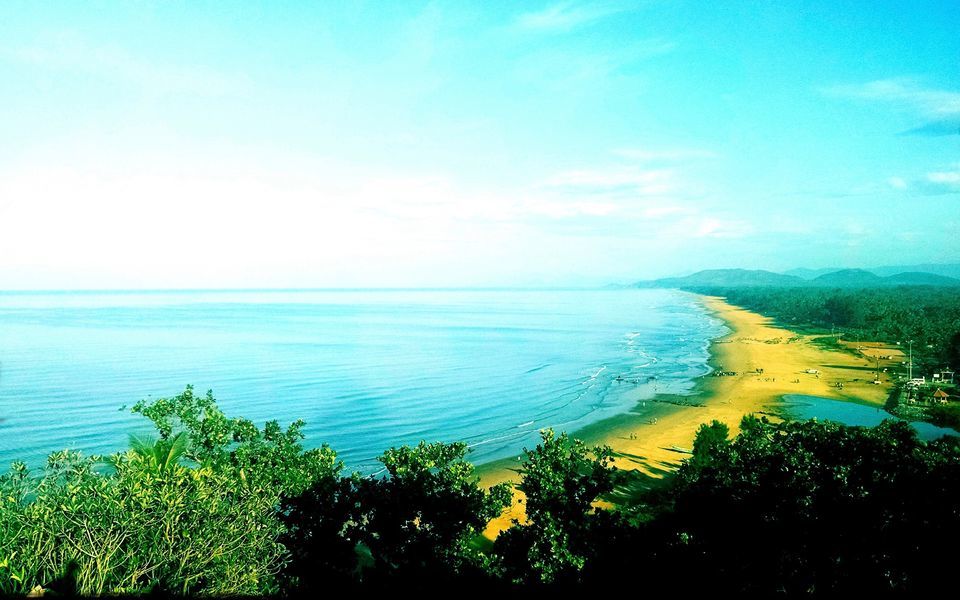 Distance from Bengaluru: 516 kms by road (Around 147 kms from Goa towards South)
Best commuting options: Regular night bus services are available which takes around 9 hours from Bengaluru. From Goa, there are a couple of trains during daytime, which take around 3 hours.
Best time to visit: October till February
Where to stay: You will find a lot of shacks and resorts at Gokarna. Preferably, stay near Kudle beach.
Must visit food points: Cafe 1987 (try Italian food and yummy pancakes here) and Namaste Cafe.
Gokarna is a small temple town on the western coast of India in Kumta taluk in the state of Karnataka. It is mostly about trekking along the beaches.
The first portion of trek is from Gokarna beach to Kudle beach. The trek is along the sidelines of the mighty Arabian Sea among the jungles. It takes around an hour to reach Kudle via trek. Kudle beach is famous for its white sands and clear waters. It is also popular as a sunset point. You can find boats here for 200 per person, which will show you all the major beaches from a distance. On your way, you could spot some lovely dolphins if you get lucky.
The next portion of the trek is from Kudle beach to Om beach. A slight ascend for some 15-20 minutes followed by a complete straight path on the edge of the mountains with just the blue sea all the way down. It got its name as it is shaped like the auspicious ॐ symbol. It is also the center for several water sport activities such as surfing, water-skiing, parasailing, etc.
Time to move on to another beach–Half Moon. The crowd would be lesser here. Separated by a cliff from Om Beach, this beach is a perfect spot for unwinding and relaxation. If camping is in your mind, just jump right in with your tents. The water is shallow here for quite a considerable distance from the shore. So, you can enjoy swimming here.
The last portion of the trek is towards Paradise beach. The hike is a bit tricky but takes no more than 30 minutes. This beach is just 150 meters in length and is ideal for camping. It used to be a Hippie's paradise few years back.
This place never caught my attention due to its lesser-acclaimed, self-absorbed nature. But after visiting it, I wonder why people want to compare it to Goa. It has its own essence, its own rhythm. And I loved the way it is and want it to be what it is now, forever!