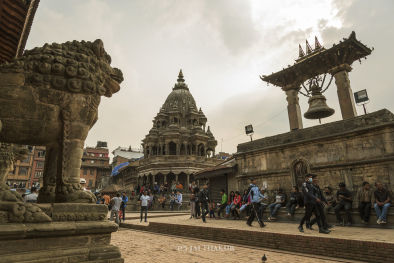 Being a native of Bagdogra, fondly known as the replica of secular India, I have lots of Nepali friends and have the advantage of knowing their language. So, when my friends asked me to plan a trip to Nepal, I felt that it will be easier for me to communicate in a foreign land. We zeroed down to three places – Kathmandu, Pokhra and Bandipur, all thanks to Instagram.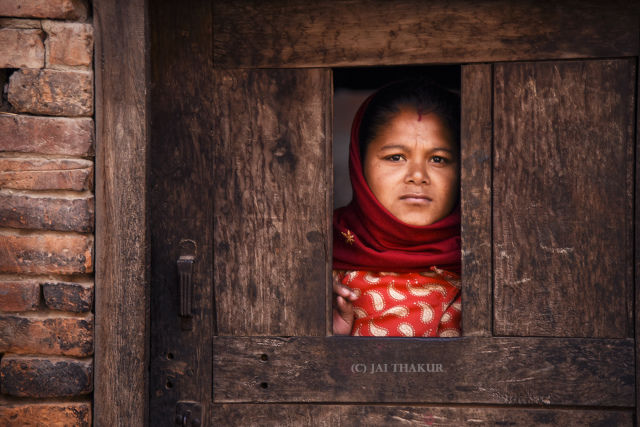 It was April 14, 2017 around 10:30 PM when we landed in Kathmandu. After filling the demarcation form we booked 2 taxis and headed towards our hotel in Thamel. The moment we reached Thamel, our driver told us that it was Nepali New Year (2074) because of which the area was crowded and we had to walk beyond that point. It was indeed an experience in itself, loud music, young crowd, tourists from different countries and the decorated lanes. Amidst of all these we finally reached to our hotel around 11:00 PM where the hotel owners denied our booking and transferred us to other hotel. I think that they had given our rooms to young couples celebrating New Year in nearby discotheques. We were 5 people and all were literally frustrated with this kind of behaviour towards us and that too so late in the night. One of us suggested, let's keep our bags and go out to enjoy this madness. Much to our delight local snacks like momos, chicken fry, chops were cheap and delicious. Post this we forced ourselves into the most crowded lane and enjoyed some sumptuous bakery stuff. After an hour so we went back to our hotel and rested.
Next morning when we opened our windows, much to our surprise, we saw a different Nepal from the last night. Surrounding buildings (mostly hotels) were painted yellow with colourful banners hanging in the street. The refined morning light was a bliss, promising beautiful days ahead. Though the hotel lane was narrow and congested, it still looked beautiful in the morning light – photographer's eye you know… ;). After breakfast we went to explore the suburbs of Kathmandu specially Bhaktapur. On our way we stopped at Thamel market to buy a local simcard.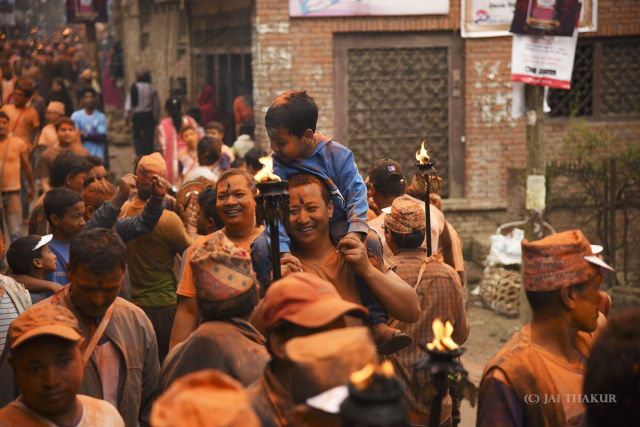 Bhaktapur is an ancient Newa city in the east corner of Kathmandu Valley. Strangely we noticed that hardly there were any people in the market. After talking to few locals we came to know they all went to witness Sindoor Jatra in a small village called Thimi which comes under municipality of Bhaktapur District. If you have witnessed or heard of Sunburn parties or Holi of Brajbhoomi, I can assure you that the festival of Sindoor Jatra is mother of all those events. Madness all around with locals singing songs on the beats of ancients musical instruments, dancing, enjoying their respective bottles of beer and making merry. I spoke in Nepali to one of the shopkeepers and he allowed us to stand at the roof of his shop from where we could see and click photographs. The moment this big procession crossed us, I said, "Thank you God for making me witness this madness". I was shooting with both hands, with camera in right hand and recording this entire event using cellphone from left hand. The entire event lasted for an hour, guess we missed the initial celebrations. Post this, we decided to explore the inner part of that village. While clicking photographs of the event, the ladies and the children popping out of their beautifully designed windows touched me the most. I decided that from now onwards I was going to shoot only windows and doors and developed a story out of it. The beauty of this 200 years old village cannot be defined in words, the people, their house and the doors- windows engraved with their rich culture literally blew my mind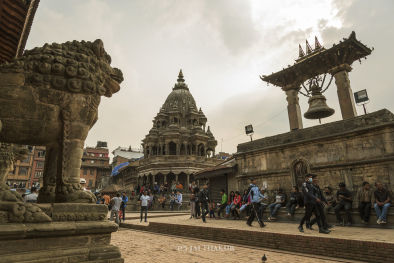 Next day, we rested, had some good time exploring local shops, and ate local food including momos, their staple food "Thakali Thali read spicy Nepali Thali)". I almost ate 20 times the same food, it was so awesome, specially the pickles, saag, chutney and the non-veg to go along. In the same evening we went to Boudhanath Stupa, Pashupatinath Temple and the mighty The Durbar Square of Patan (UNESCO World Heritage sites).
Four days passed away in no time, and then it was time for us to explore Pokhra. We booked bus from Thamel to Pokhra with Wi-Fi in the bus. The only thing did not went in our favor was the bad cloudy weather throughout our journey. You can understand our mental state as a photographer. Keeping our hopes high for the good sunny day, we reached Pokhra in the evening after 8 hours of polluted and picturesque journey, all thanks to construction work going on throughout the way.
After reaching to Pokhra the very first thing we did was to order food and tea and guess what I ordered myself it was 'Nepali Thali' again, obsessed you know ;). We spent rest of our evening seating idle at the bank of heavenly Fewa Lake, still no view of snow cladded Annapurna Range courtesy to bad weather. There is so much to share about the inner feelings but to summarize, we all were not talking to each other at all and was lost in the scenic beauty of Fewa Lake. You can say it's a bigger version of Goa, only difference was beer selling hawkers everywhere. In the night, along with my wife I went on a romantic dinner at a beautiful restaurant which had a live singing band. We even surprised one of our elderly friend thereby celebrating his birthday at mid of the night. It was indeed sweeter way to end the day.
Next day, we explored Bandipur which is around 50 odd kilometers fromPokhra. Bandipur is a hilltop settlement and a municipality in Tanahun District, (Gandaki Zone) of Nepal. Its architectural beauty just took our breath away. It felt like we were roaming in the lanes of some European nation. It was vibrant and lively village. So far I have photographed more than 500 people, however I personally found the locals here not friendly towards Indian tourist and at times they were very rude. We came back in the evening, explored the whole Pokhra market, tasted some sumptuous local cuisine, cakes, coffee and for memory clicked few photographs too.
All long wait of 6-7 days, we got a glimpse of Annapurna Range on our last day there as the Sun showed itself. Though this happiness did not last long as it vanished due to rain after few minutes of sighting. We headed back to Kathmandu, bought some souvenir for friends and family. And, with a heavy heart said 'Sayonara' to the land of Himalayas. While coming back, I promised myself that I will definitely comeback and that time there will be no hurry & worry of family and office, no social obligations and that will be the time, when I want myself to get lost into the Himalayas.
How to reach: Flight from Delhi to Kathmandu. Then for Pokhra, wifi enabled bus, then cab for Bandipur.