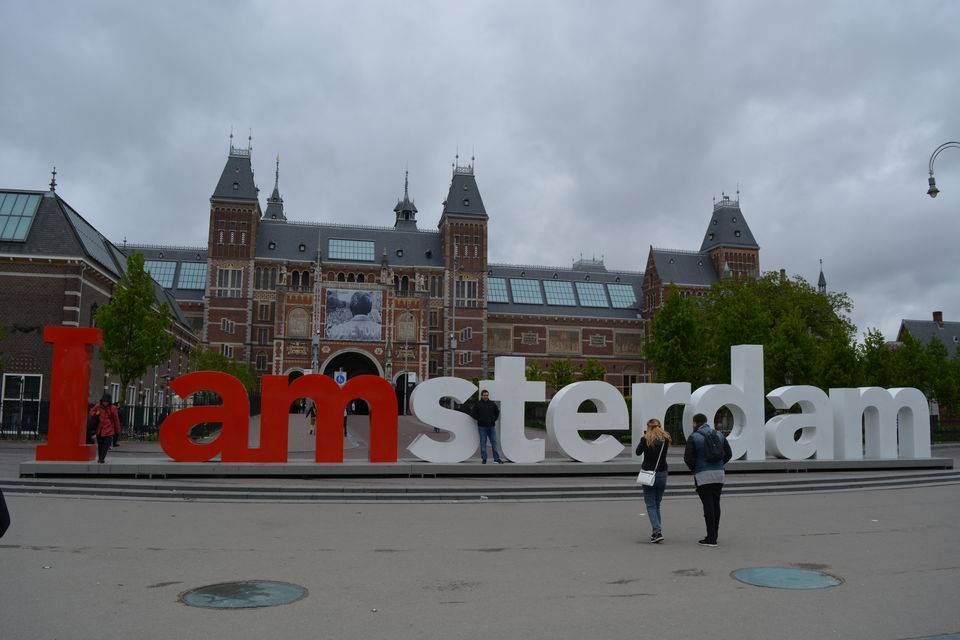 This was our next holiday destination after the two wonderful days spent in Paris. We had left Paris by the early morning train to reach Amsterdam by around 10 am, so we would have the whole of that day at Amsterdam to explore the place.
We were staying at this nice little place in an AirBnb at Amstelveen, which was 40-45 minutes ride by metro . The host was a Chinese lady who had let out 2 rooms for the airbnb guests. We went and dropped off our luggage at the Airbnb and rushed back to the city. We were supposed to have gone on the Windmills tour but due to some miscalculation in time we missed the tour bus and the lady at the counter was very sweet. She offered to reschedule our trip for a cpl of days later and she gave us a free Amsterdam Canal boat ride for that day so we didn't really feel very bad about missing the bus.
It was a nice ride with the guide explaining about the architecture and about the different bridges and why the houses were so close to each other. After the boat ride we went around window shopping in the souvenier shops and bought a few wooden tulips. We then took the metro back to our place of stay.
The next day early morning was our trip to the Tulip garden of Keukenhoff. Had read somewhere that if you go early enough you can beat the crowd. So we left pretty early and reached there when the crowd was just trickling in, this gave us a lot of time to take some beautiful pictures without too many people photo bombing. It was a very cold and a cloudy day and we were freezing in spite of the warm clothing.
From Keukenhoff we went back to the place of our stay and in the evening we left our daughter back home and just me and my husband went to explore the city as our agenda was to check out the Sex Museum and the Red Street. I have never seen a Red Street before and don't think i might again, but this place was like walking in one of the most busiest of small shopping lanes in India, the crowd was unimaginable. There were glass display units with prostitutes that looked like mannequins, who were very curvy, extremely beautiful girls in skimpily clad bikini trying to grab the attention of prospective customers. No one is allowed to click pictures there and if you ever try to take a picture on the sly using your mobile, it will be yanked out of your hand and thrown into the canal.
By the end of it all we were both tired and our feet aching, we decided to take some rest in the Amsterdam Central Station. As we were talking about our plan of action for the next day a couple walked towards us carrying two plastic covers that looked big and heavy. They looked at us and asked us if we would like to have some free food. Both my husband and i were taken aback. Did we look like some lost destitute in a foreign land? I was the first one to respond with a, "Why would you want to offer us free food?" The man smiled and said that they had been to a bakery and since it was closing time and they were the last customers there, and since the lady of the bakery always brought in fresh food every day she didn't want to keep the old food there and gave it all to them asking them to give it to whoever might want to eat it. Now c'mon, which Indian would say no to a free "anything"!? Once i even got my daughter take a free blood sugar test in spite of her resisting it in a mall just because it was free!! So with a gleeful smile i said thank you will surely have the free food. The man was trying to get rid of as much as he could so when i took a sandwich he said he had a hot sandwich too and thrust it into my hand. He asked us if we were ok with 3 sandwiches. Wow! a free meal. I always get lucky with food that way. We took the 3rd sandwich for our daughter but she had already gone to sleep eating half a family size pizza.
The next day my husband and i went around Amsterdam while our daughter went on a "Free Walking Tour", ya, we are suckers for anything that's free. She enjoyed it a lot and said that she learnt much more on that tour than what we had on the boat ride on the canal. At the end of the walking tour each one tips the guide according to their wish.
That afternoon we had to go to see the Windmills at Zaanse Schaans, the cheese factory at Volendam and had a wonderful lunch there and then to Marken the Fishing Village where they make the wooden clogs. It was a half day trip and a very nice one.
The next day we took a train from Amsterdam to a fairy land called Geithoorn. It took us almost 2 hours to reach the main station and then a bus to take us to Geithoorn. It's such a beautiful place with thatched roof farmhouses sitting prettily on islands connecting by bridges. No one there owns a car, instead they all own a boat. It was almost surreal gliding over the water in the canals with ducks here and there. The only sad part is that it is very crowded almost always. Wonder how the people who live there bear with so many tourists around.
This was the last day of our Netherlands holiday. We had to go back to our room and pack our bags as our next destination was Switzerland.