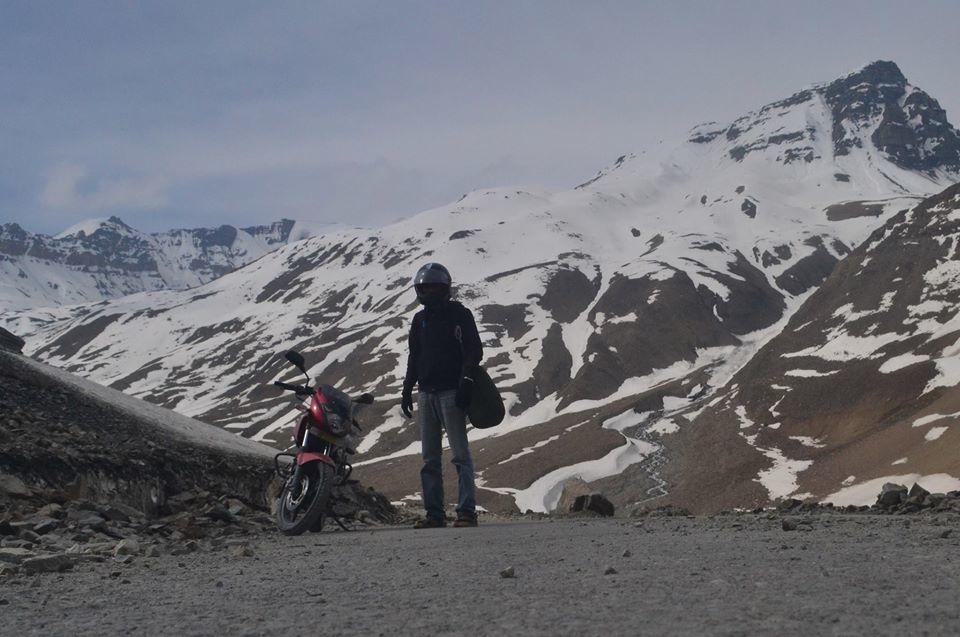 Picture this : I am coming down Barlach la pass(Manali-Leh highway) on my bike. Snow capped mountains on one side and a cliff on the other. The road is all rocks, gravel and mud and a perfect recipie for eternal source of pain for the bum. Little rivers from the melting snow have carved their own path criss crossing the road and then falling off the cliff. And, somewhere, between trying to soak all the view in and maneuvering my bike, it skid off a rock right when i was crossing one of those small rivulet, taking me down with it and splash!!After getting a first hand feel of how freezing cold the river is I jumped out leaving my bike behind; a bruised elbow and a wet sleeping bag as damages. Consolation being my back pack is saved! As I stand there staring at my bike lying in the water, i heard a small voice inside my head "Told you you dumb fuck. Never go full retard!!"
Now before i tell you about why the voice in my head was that mad,. let me tell you something about this stretch of land between Manali and Kargil which i was riding. Once upon a time God had an orgasm. And he thought to himself why should this amazing feeling be temporary. I have super powers I could give orgasm a form that would make that feeling stay forever. So he took out his test tubes and magic chemicals and Voila ! He gave us Ladakh! Every turn, Every corner and every square inch of this place gives you a feeling which is not short of an orgasm!(sounds a little hyped. but it isnt!)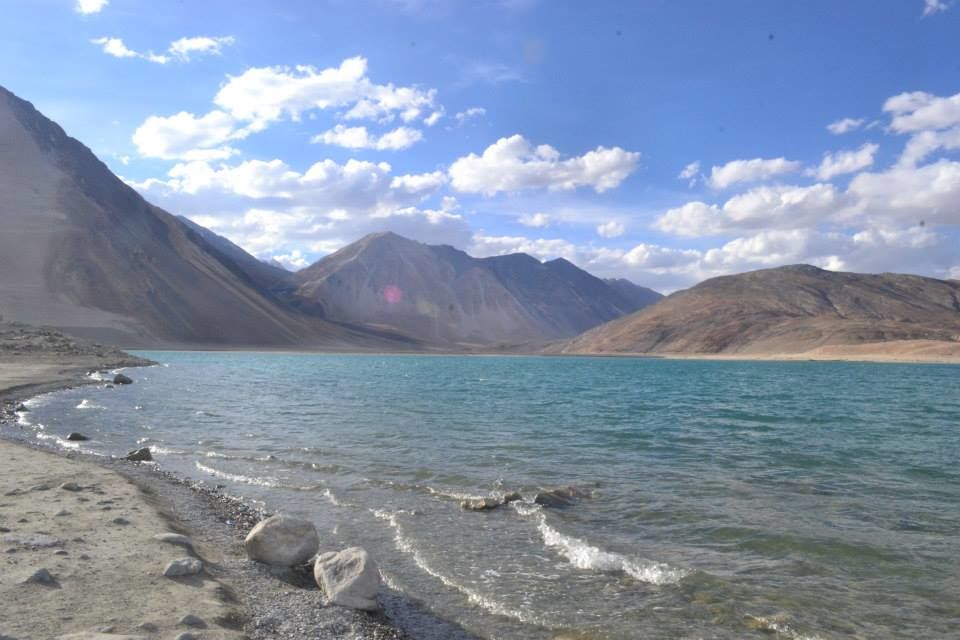 So the voice had been angry ever since he realised i am going to do this bike trip alone!
Voice: This is a suicide mission!
Me: No it isnt!
Voice: You moron. Its been just six months since you started to drive a bike!. Dont you know how diificult the terrain is!
Me(calm) : I can manage
Voice(furious) : Seriously?? in your chappals without any riding gear!
Me : here voice. hold my beer while I do this!
Voice: *shows me the middle finger*
I will agree with the voice about having a riding gear on these terrains!. The bruises on my body would agree too! And though i would not part with my chappals any time soon, i would have preferred Gumboots as my feet went numb in those glacial water trying to pick up my bike. And about how much experience you need to ride on these terrains.. i guess a little more than what i had!
But agreeing to rational voices in your head doesnt necessarily mean you heed to it!. Do you really think an adventure begins when the decisions made are sensible?!! Bilbo Baggins would have never authored a book "There and Back again" had he decided to stay back in his Shire!!.. He went full retard!(cool LOTR reference eh ? :P)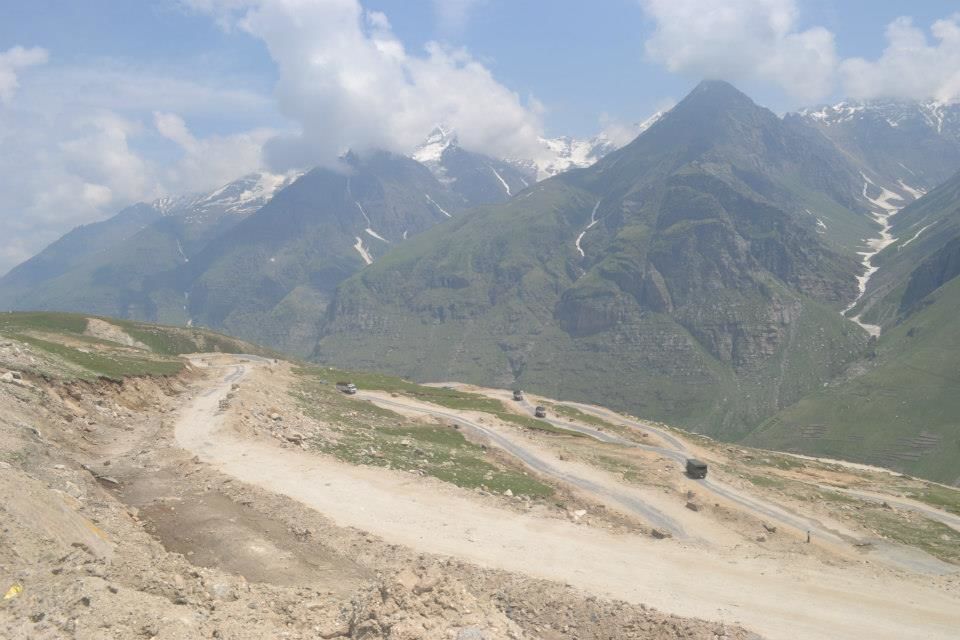 By the time its Day 2 of riding, the voice in my head was already supportive of my decisions!.
Voice: All this is pretty fucking cool!
Me: I Told you!
Not that i had stopped falling and skidding.. But everything was less painful now and more acceptable!. The ever changing views made everything better. Good roads, Bad roads, Horrible roads. Bring it on!Going full throttle on some flawless straight roads flanked by snow capped mountains on both sides and breath taking view in the front makes you realise how right you were to come here. The people you come across made the ride all the more merrier. I would park my bike to have something to munch and soon other bikers would stop and ask me if everything is well! "It couldnt have been better!" i would reply. Some were more excited than i was when they realised it i was doing it alone! La Respecta they would shout out! i think i am proud of myself too!!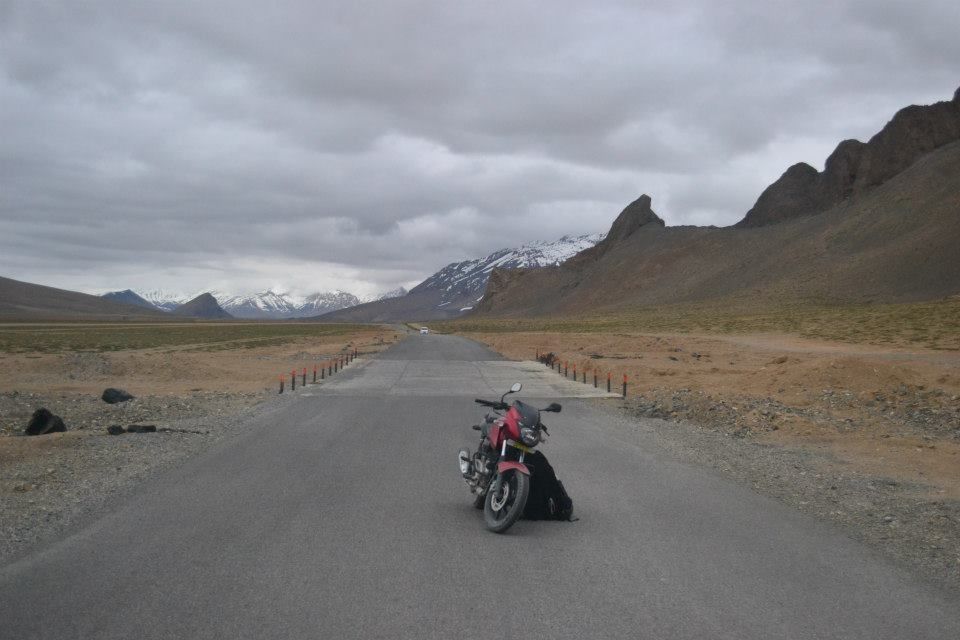 I would like to believe those 8 days of riding in the land of snow desert mountains changed some things in me. I dont think i can put it in words. Atleast, not yet! No i am not enlightened now. No i dont realize the purpose of our existence. i am still stupid, still anxious and would still take irrational decisions. But may be in time a summation of all the changes in me, with each trip that i take will help me express these feelings better!
Till then. Just one advice! It need not be a bike. . Take a car. Take a flight. On your feet. Just doesnt matter. But Please Please Go full retard!