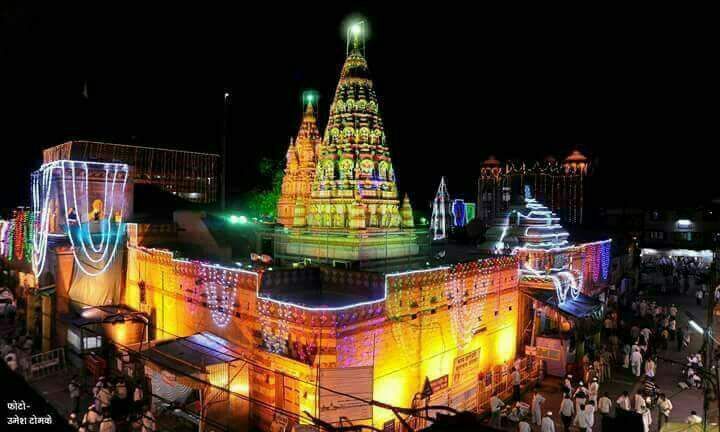 Pandharpur is a well known pilgrimage town on the banks of Chandrabhaga River in Solapur district, Maharashtra, India.
It is one of the major holy place in Maharashtra and it is also called South Kashi in Maharashtra. It is famous for the Lord Vitthal and Rukmini temple situated on the bank of Chandrabhaga (Bhima) river. The ancient temple of Shri.Vitthal was renovated in 1195 A.D. Devotees comes from all over Maharashtra. During Aashadhi and Kartiki Yatra devotees come walking hundred of miles,all the way from their hometown (Walkathon).
In Pandharpur, Wednesday is regarded as the auspicious day in the week and Ekadashi, the auspicious day in the month. The Aashadi, Kartiki, Magh and Chaitra Ekadashis are the four major festivals of the temple. Out of these four, the first two festivals attract a large crowd about 8 to 10 lakhs.
The various daily rituals like Kakda Aarati, Mahapooja, Mahanaivedhya, Poshakh, Dhooparati, Padyapooja, Shejarti etc are performed in the main temple of Lord.Vitthal.
Thanks to the government, the facilities for the devotees are improving here day by day. Usually a devotee can get a Charansparsh darshan in 1 to 2 hours. for Mukh darshan one can enter temple premises from an entrance adjacent to Namdeo Payari.

After the Darshan of Lord Vitthal and Rukmini devotees take a dip into holy river of Chandrabhaga and visit the saint Pundalik temple on the bank of the river. A dip in the holy river is considered to wipe out all your sins as a ritual consideration.
One can have a short boat ride in the holy Chandrabhaga river.
How to reach?
It is located at a distance of 72 kms by road from Solapur City.
The Pandharpur Railway Station falls on the Miraj-Kurduwadi-Latur railway track.
Stay
Various hotels are avaible in a nearby vicinity of temple.
What else to see:
1) Gajanan Maharaj math : Cleanest math of Gajanan Maharaj just few meters away from main Vitthal Rukmini Mandir. Stay arrangements are available for the devotees . However same can't be prebooked online, it is made available on first come basis depending on the availability.
2) Railway station : Nice architectural monument along with an old engine displayed in the premises.
3) Newly Developed Tulsi Vrindavan Garden Near Railway Station : A nicely developed flower garden for localites and visitors, having sculptures of various saints , wall paintings and a fountain with lighting arrangements.
Please watch the video showing a glimpse of above mentioned attractions
Hope you all like it.
Jay Hari Vitthal Pandurang....!!!