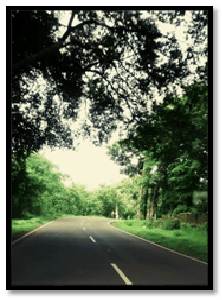 'Failing to plan is planning to fail.'
This quote has been taunting me for months. Every single time I look up at my meticulously prepared chart scattered with a mélange of motivational quotes, I swear I can actually hear it laugh at me. The more I plan the less I seem to accomplish.
Where a lack of planning results in catastrophic results in terms of marks obtained in exams, it often has the inversely proportionate result when it comes to travelling. This can be evidenced by one of the most memorable trips I have ever taken in my life.
The day was dull and gloomy, just the way I like it, with rain threatening to unleash its fury. I was in the midst of one of my usual whining sessions directed towards my family and the sulking weather seemed to reflect my mood perfectly. In my defense it had been over 3 years since my last vacation and I felt suffocated with the mundane predictability of my life. I had completed 3 of the most grueling years of my life(articleship) and an opening unexpectedly popped up in my schedule.
It was around 1 pm and unlike any other Mumbai afternoon when your body decides to writhe and stew in its own sweat, the weather was surprisingly pleasant. It was at this time that my mom (mostly just to shut me up) suggested we go on a short drive.  Despite my reluctance to get out of my comfortably torn home clothes and general overall laziness, I dragged my body off the bed and into the car. I was so busy dazzling everybody with 'my oh so brilliant' DJ skills that I failed to notice that the short drive was becoming longer by the minute.  It was only when we zoomed onto the Eastern Freeway that my family let me in on the secret. The plan was that there was no plan. We were simply going to let the road guide us.
As we made our way through the unplanned concrete monstrosities the BMC likes to call buildings, we began creeping onto patches of virgin fields and untethered trees. As we left NH 3 and coasted into the exquisite beauty of NH 222, it felt like we had left all the world behind.
NH 222 was nothing short of a highway to heaven. Flanked on both sides by dense voluptuous trees and a velveteen layer of silky mushy grass, it swayed and guided us into the serpentine path. All of nature seemed to be celebrating and dancing in the exhilarating thrill of the soft smooth raindrops and we decided to gatecrash the party. It was now only 4 hours into the drive and we were advancing on our destination -Malshej Ghat. It was so beautiful outside that we switched off the music in the car, stuck our heads out the window and lolled out our tongues, trying to catch the fast approaching drops of rain. Next time my dog decides to do that I'm going to join him….that shit's fun.
As the sparse raindrops waned away, the clouds parted to emit a dull warm glow to the surroundings. For the first time in decades, every single person in my family sat in silence, inhaling the beauty of it all as the car engine lulled us into a stupor. As the minutes passed, we were welcomed to our destination by an ominous rock looming through the thick layers of mist.
However, our excitement was short lived. As we neared our final destination, we were greeted by overfed, underclothed, pot bellied men frolicking in the waterfalls while passersby stared miserably on. The roads were filled with vendors and all roads led to the lone standing MTDC living quarters. In stark contrast to its magnificent view, the building was filthy and seemingly uninhabitable. However, even the distasteful upkeep of the building and its downright terrifying restrooms could not put a damper on the breathtaking scene ahead of us.
After cramming some quick replenishments, we turned on our heels, excited to head back into the lush beauty of the journey we were so fortunate to experience.
Nearly half a year later, the memory of this day remains etched into my brain (thereby reducing space for my studies....but completely worth it) and whenever I find myself reminiscing it fondly, a smile inevitably creeps onto my face.