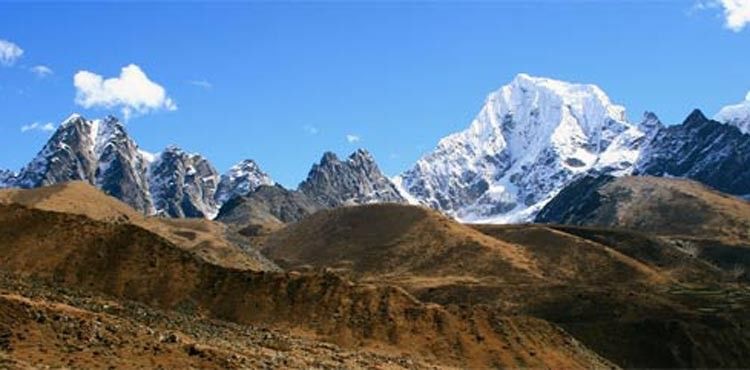 Trip Highlights
✔ Summit Nirekha Peak at 6,169 meters.
✔ Explore Gokyo Valley – consisting of chains of five mountain lakes and hike up to Gokyo-Ri for breathtaking views of chains of mountains surrounding the Everest region.
✔ Crossing of the challenging Cho La Pass at 5,420 meters.
✔ Experience the authentic Sherpa culture and tradition in the midst of world's highest mountains including Everest, Cho Oyu, Pumori, Lhotse, Makalu, Thamserku, the majestic Ama Dablam and other surrounding high peaks in Khumbu region.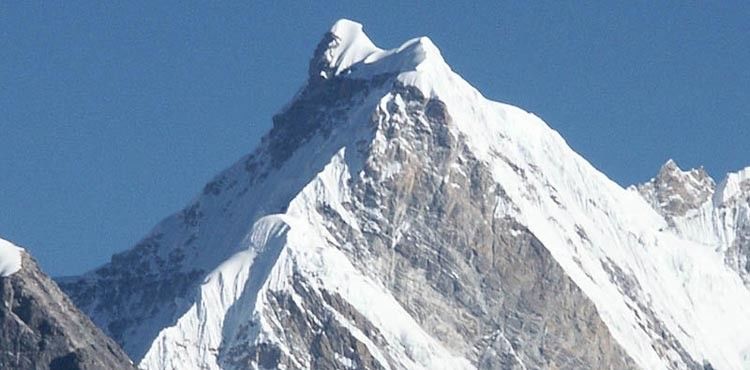 Trip Introduction
Nirekha Peak is located at the Khumbu or Everest Region of Nepal. This fascinating peak rises between the famous Cho La pass at 5,420 meters and the summits of Lobuche. The first ascent of Nirekha Peak was made by Matt Florets and Greg Valentine in April 2003 followed by another successful ascent in October 2003 by a women's team. The climbing of Nirekha peak demands high level of climbing experience and immense devotion to face the challenging and technical sections. The climb to the top of summit is a technical job that needs the usage ice screws, fix ropes, ladders, crampons, ice axes and other climbing equipments.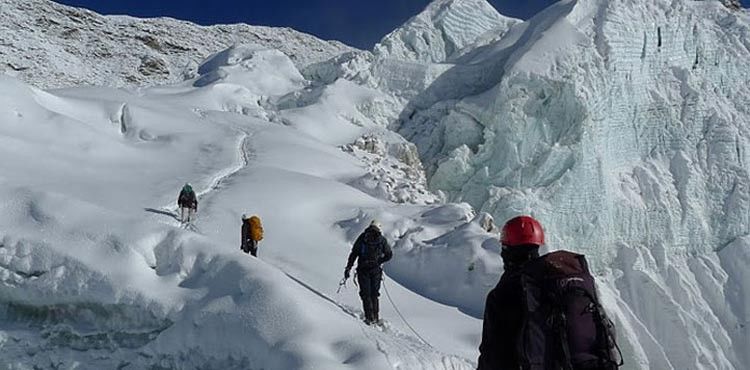 Nirekha Peak Climbing with Nepal Guide Treks includes an excursion of Gokyo Valley consisting of several glaciers, five crystal clear and pristine cobalt blue lakes, a hike up to the famous Everest viewpoint – Gokyo-Ri and the crossing of the famous Cho La pass at 5,420 meters. Climbing the summit is very challenging and difficult, but for climbers with adequate desire to summit the peak and good level of climbing experience, the climb to summit is worth for the rewarding views of Everest, Cho Oyu, Pumori, Lhotse, Makalu, Thamserku, Tawche, Ama Dablam and other chains of surrounding mountains in Khumbu region of Nepal.
Nirekha Peak Climbing with Nepal Guide Treks starts at Kathmandu. After spending a day making necessary preparations for the climb, we fly from Kathmandu towards the airstrip of Lukla. Lukla is the gate way to Khumbu and the entire Everest Region. From Lukla, we will trek gradually ascending the rugged trails covered by dense forest filled with Rhododendron, Oak and Pine Trees we head towards the Sherpa Capital – Namche Bazaar. Namche Bazaar is picturesque Sherpa market town worth spending an acclimatization day. From there we follow the main trail heading towards Gokyo Valley. After spending quality time around Gokyo region, we follow the trail that heads towards the famous and challenging Cho La Pass, but from there we will follow a tiny trail that heads north towards Nirekha Base Camp. Our trek continues to high camp which additional 2-3 hours of uphill trekking.