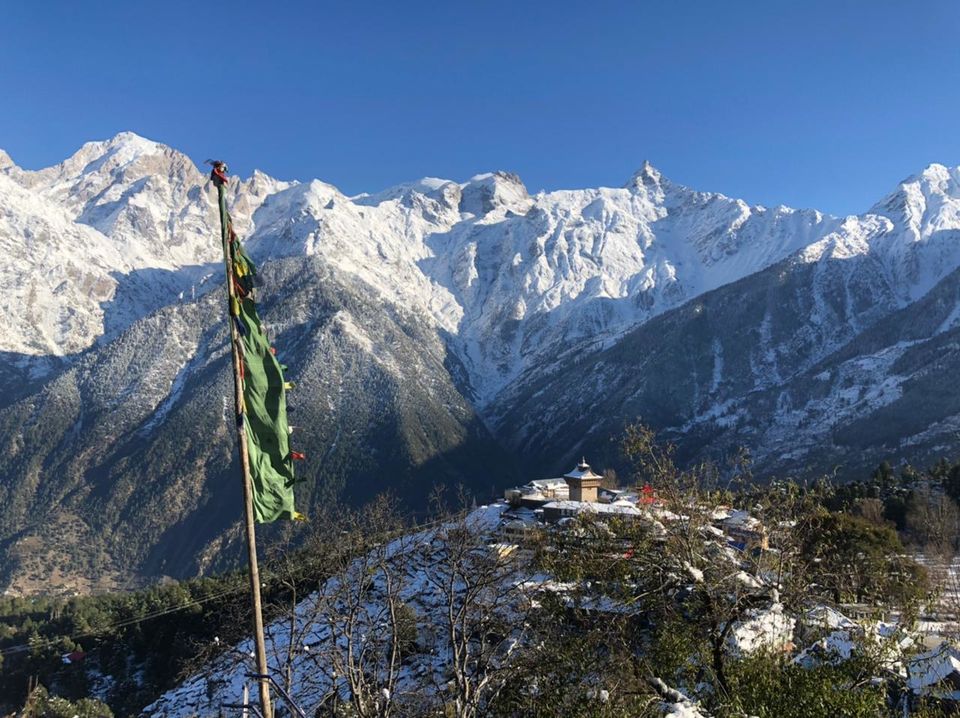 The calmness, the views, the weather, the peace, the wind everything about mountains drives me towards them again and again. How every person has a dream house in mind, so do I. Right on the top of a peak in Himachal surrounded by serenity and valleys till my eyes go.
Most of my trips and treks have been to either Himachal or Uttrakhand. Himachal is my personal favourite. The views are a blessing to your eyes and vacations are never enough. One trip to the mountains and you're hooked! It takes just a little exposure to the people, the sights, and the peace! I can swear that the higher you go the more beautiful it becomes!
I always prefer taking road trips by car to the hills and trust me they are the best and the song "Mera dil kahin pahado me khogaya" suits me the best. So lets have a look at some of the most beautiful mountain ranges I have been to.
1. Auli
Auli is one of the best hill station in Uttrakhand which I have visited. Though I like relaxing trips but I love trekking too and Auli's famous Joshimath trek was definetly worth a climb. It was a 3 day trek and in these 3 days I witnessed some of the most famous peaks and even the India's second highest mountain and 23rd highest of the world, Nanda Devi.
2. Nanda Devi
I have read several articles about Nanda Devi and how some missions were planned there but I never thought I will get to see the peak with my naked eyes and well, my climb was definetly worth it.
3. Dunagiri Parvat
Dunagiri is one of the high peaks of the Chamoli District Himalayas in the northern Indian state of Uttarakhand. Watching a sunset on the parvat was a blessing to my eyes and If I still close my eyes I can go back in time.
4. Kedarkantha
Kedarkantha trek is the most famous trek of Uttrakhand which every trekker wishes to take once as the views throughout the trek are spectacular and most picturesque.
While you are on a climb with a rucksack on your back away from everything you get a chance to wake up to one of the best views. Setting up a camp isn't easy but waking up and opening the chain and looking out in the morning is definetly worth it. Imagine waking up in middle of the mountain ranges with a hot cup of tea in your hand and a beautiful sunrise view.
While climbing towards the summit there's a stop, Juda ka Talab. Usually people stop there to take plenty of pictures but the place holds a story behing it.
5. Kalpa, Kinnaur
Amongst dizzy Himalyan heights , Kinnaur once a forbidden land, is now a treasure's trove for the daring and adventurous seekers. From the righteous greens of Sangla valley to the magnificent panorama of Chitkul, abode of Lord Shiva from Kalpa, mother nature's portrait is an ever changing one in Kinnaur.
6. Chitkul
Chitkul, or as the locals have dubbed it "the last village of India", is an absolute gem. Untouched by the bhaag dodh of the city, it is filled with friendly locals and natural beauty. Whether in the summers to see the flowing river or the snow in the winters.. it Is Beautiful. It is purely a heaven on earth with barely any network and super humble and kind people.
7. Gulmarg, Kashmir
Do I even need to say anything about Kashmir? People say its heaven on earth and that is absolutely true. The moment I entered Gulmarg I was just in awe of every single view. The stay at Khyber resort added more fun to the trip. The whole place was just out of a movie scene.
8. Lansdowne
In order to explore some hidden gems a trip to Lansdowne with my whole extended family was just amazing. The best part of my whole trip was a morning hike to a point from where I could see the mountains till far away. My road trip to Lansdowne turned out pretty amazing. I went in the month of April and witnessed the blooming summers there. While I visited a few places there like bhulla tal, Tadkeshwar temple, tip n top but a little hike to a tip of the hill remained my favourite
9. Manali
Manali is one of the most crowded and one of the most beautiful hill station of Himachal. Club Mahindra White meadows accomodated us with a view which I would love to wake up to every single day and trust me I wouldn't mind taking another trip to Manali.
I am very much fond of the mountains and I could go on and on talking about them so, to hear more about them from me check out my instagram page @travelwithkitss :)