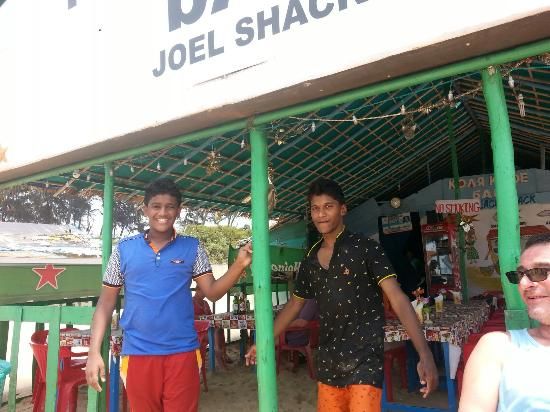 Hi Guys, I'm back again. I thought that I'll write my next blog after few comments and likes but I can't wait for that long. So I'll start from from where I drop my last blog. The first day in Goa was normal but 2nd was exciting.
Few days had passed away, I think almost 1 month had passed away and I hadn't visited any place or beach in Goa, I was just doing my work coming back to my room and trying to get in touch with local people.Local people in Goa doesn't like outsider. I don't know why they feel very insecure with outsiders.
On the second day I had visited Betalbatim Beach. I'm a vegetarian but the smell of sea food was attracting we towards the beach. I don't know which dish they was cooking over there.South Goan Beaches are know as not crowded and peaceful beaches. Betalbatim beach is also one of them, On the right hand side there is a Sunset beach and on the left hand side there is a Nanu beach both the beaches are full of Shacks. If you love sea food then go for Fisherman's Cafe( It's popular in Goa). I did not even entered in water because I had water phobia, So I had set there for 30-40 minutes and I came back to my place which was 1 and half km from the beach.
I didn't like the food which was provided by my company. One day I have decided that I'll go outside for dinner. I was alone and I walked for 1 and half km to Nanu Beach Resort. It was 7:30pm or 8pm. I went there and I saw that one marriage function was there for that marriage they had prepared the complete dinner setup in their open air restaurant. Lighting in the Garden and all the decoration was pretty good.I had my dinner and I have seen the architecture of the hotel rooms. It was amazing. After dinner I went to Nanu Beach.
I went to the beach and I saw that the water level has been increased in Night time. I went to a shack called Joel's shack and talk to there staff for long time about local people, local food, business seasons, rent of the shack and lots of things. Then I get to know that those people was not doing good business because of Cyclone.
When I was talking to those people I was setting on a Candle light dinner table and my feet was in water. The chair was going down in the sand after every one or two minutes. It was night 9 or 9:30 but I was feeling safe because lots of girls was there, few was Russian and few was Indian.
The night view and the conversation, It was a memorable evening for me. After that again I walk and went back to my place. When I was on the way back to home at that time there was some dead frogs on the road who was trying to cross the road from one side of the pond to another side but the cars crushed them.
Like that I had spend 3 months in Betalbatim and Margao. I get to know local fish market and vegetable market which was in Margao. That was the time where I can say that Yes, I know each and every road in Margao City. I left my job and start exploring the real Goa. Keep liking and commenting and I'll tell you what I had done for next 1 month.