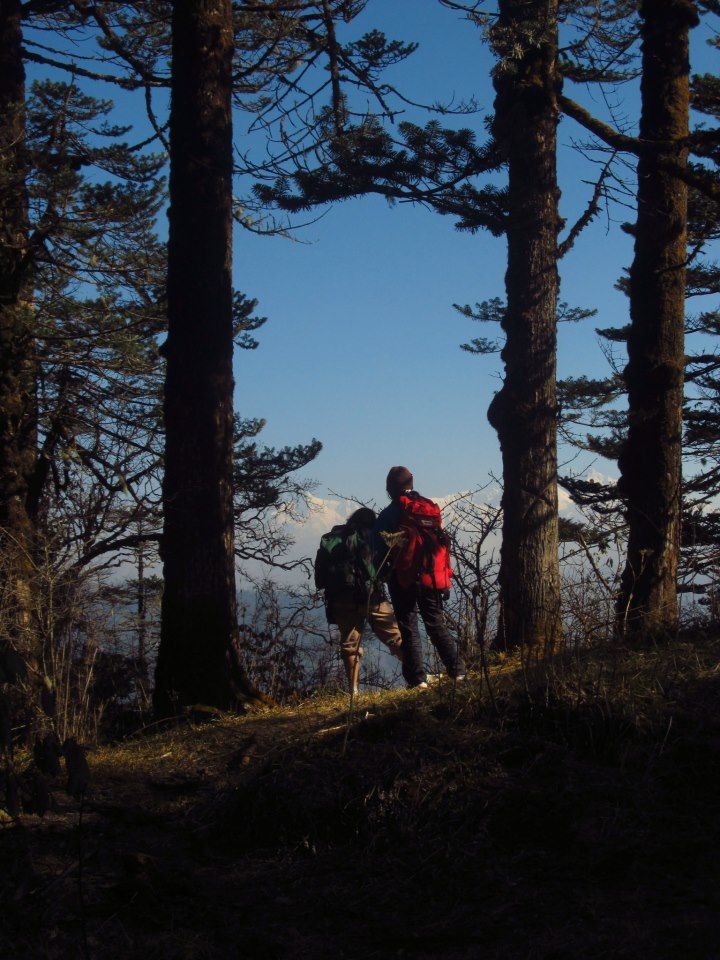 Picture Courtesy: Raka Mondal
So"We are lost", murmured one in the group.
"We indeed are…"echoed my voice automatically.
The 'panic' had not set in till then. It was, however, slowly creeping in…almost like the silent fog that was drifting up from down the valley. Cold was eventually reaching our bones and we felt the shivers looking at the miles of no-man's land stretched in front of us. The sun was slowly fading out… diffused by the thin spreading cloud.
"Where are we then?" a third managed to say.
"Probably…in Nepal… and we are entering a whiteout"…was the last words before the clouds spread evasively and thickly around us.
………………………………………
There were a lot many things not-so-right about the trek.
We had almost missed the train from Kolkata, we had chosen to take a tougher route to the otherwise easy Sandakphu trek, two of us injured ourselves on the very first day of the trek and finally we had not taken a guide when we entered the Singalila National Park. The last was not a very grave mistake though. One team member was well aware of the route.
Yet what the road was offering us at every bend, we were more than compensated for the pain. There were vast dry grasslands, interspersed with burnt out trees, wild horses grazing and distant chimes of wooden bells around domestic Yak's necks….
On the 3rd day of the trek, we woke up to witness a magnificent light in Phalut, where we had spent the preceding night. It was a golden sunlight spread over vanilla clouds with the Himalayan goddesses standing clean and bright…Everest, Makalu and Lhotse standing to our west and in front lay the golden Sleeping Buddha-the Kanchendzonga group of mountains.
With the view in our minds, we set our foot for the day's journey. Phalut to Sandakphu was a relatively easy stretch but a long 21Km journey. We were not carrying tents and were planning to stay in the trekker's hut in Sandakphu. Watching the Kanchendzonga by the clear moonlight of Vasant Purnima (Holi) from Sandakphu was the highlight of the journey.
The road from Phalut to Sandakphu is stone paved—one in which the ancestral land rovers can run with much gusto. We were occasionally skipping the road and taking shortcuts where we could draw diagonals between the bends. During one such shortcut, we met a shepherd with his Yaks. This cheerful fellow asked us, where we were heading. When we answered it is Sandakphu, he said, that's a long way…and if we instead moved a little to our right, we could cover the distance in three-fourth of the time. It was a tempting proposal, particularly because of the injury some of us were already experiencing and the rigorous stretch of trek we did the day before . Onwards we walked with his direction; we really covered the first landmark, a military camp in less than the expected time. We were soaking in the wild beauty of frozen streams, ruddy rhododendrons and erroneously moving northwards. There was laughter, stories and songs… So overwhelmed were we with the unfolding sceneries that it escaped our minds completely that we have not crossed the paved road even once since the military camp. Even me, who has a very strong sense of direction did not once doubt, that we were steadily crossing into East Nepal—an empty stretch of no-man's land.
And then it happened. It was early afternoon, typically the time when mountainous regions experience white-out, a not-so technical term describing the phenomenon of encroaching clouds that cuts line of vision to less than a foot. A white-out in mountains is a dangerous situation to get in. Engulfed in clouds, one loses all sense of direction and can't hope to come out of it until night, when the clouds get heavier and descend downwards.
Whatever, with the approaching clouds, we suddenly knew something had gone wrong.
"We are lost", murmured one in the group.
"We indeed are…"echoed my voice automatically.
The 'panic' had not set in till then. It was, however, slowly creeping in…almost like the silent fog that was drifting up from down the valley. Cold was eventually reaching our bones and we felt the shivers looking at the miles of no-man's land stretched in front of us. The sun was slowly fading out… diffused by the thin spreading cloud.
"Where are we then?" a third managed to say.
"Probably…in Nepal… and we are entering a whiteout"…were the last words before the clouds spread evasively and thickly around us.
A scurry of activities took place. We could not afford a lot many things. We could not afford to stay there. We had no food, no fire, no shelter. We had to move on to Sandakphu any how and what we really could not afford is losing our way. We decided on steadily moving to our left as we kept moving onward. But even after half an hour of this effort, there was not a single trace of the stone paved way. We could not see each other; it was getting pretty difficult to breathe through the mist and cold. And then suddenly out of the white mist came out an apparition…well whom we mistook for an apparition at first and then realized was a woodcutter working in a thick grove of forests. Never in my life had I been so happy to look at another human soul.
We asked in Hindi as to which way is Sandakphu which he obviously didn't understand.
Then a friend, who knew basic Nepali asked "Sandakphu kahan bato janu porcho?"(Meaning: "How to get to Sandakphu?").
All our excitements drowned when he stared at us blankly. He obviously didn't understand this dialect of Nepali. We had no other way but to moving frontward and leftward.
Out of breath and in the still prevailing white-out, we could not contain our excitement when we saw the glimpse of a milestone—Sandakphu 5km.
…………….
I have been roaming the mountains long time before and after this incident. Yet this experience is something I will cherish till I die. I have always sought solitude and yet this was one experience that made me realize the importance of another human being, I have always wanted to get lost, yet this was one time when I realized there is joy in finding the way back . Mountains have been a teacher to me like none other. It has taught me that great pains give greater rewards and that some of those rewards cannot be evaluated monetarily…..like the blue cold beauty of Kanchendzonga by moonlight and a star spangled sky is the costliest possession I have ,like the moment you realize what you really love is the moment which is priceless, like the silence that take you back to yourself and like the mixed feeling of satiation and anxiety one feels after coming back to familiar hearth after a long journey, with the quite assurance that "not all those who wander are lost".