Dudhwa - A journey within -by SANJAY BOSE
If there is something called ' peace inside', philosophically, one can find it in the forest. Mankind evolved from the seeds of nature, and what is nature without the very existence of the man? Life is intertwined in the ever wonderful mystery of 'lost and found' and in true sense man gets lost in the forest only to be found in its vast essence.
While we talk about the forests of India, the first thing that comes in our mind is variation, all across this country one can find extreme variations in her terrains, flora and fauna. The ecological balance has been maintained by this diversity, which is eventually vanishing due to man's never ending lust for land. May be someday we will be living in a place where a piece of green metaphorically be termed as a ' forest', till then, we have much to explore, learn and loose.
Dudhwa is a forest with an amazing charm that can make a man wonder and to think, specifically about his relationship and love with the nature. Situated in the Terai region of Uttar Pradesh, with an area of about 500 Square Kilometers, Dudhwa is like an emerald crown of this State. The vast expanse covers part of the neighboring country of Nepal, and politically in the Lakhimpur Kheri District of India.
Dudhwa- Connectivity
By Train
For a visit to Dudhwa, you have to reach either Bareilly or Shahjahanpur (which is known for India's greatest Martyrs like Ram Prasad Bismil, Roshan Singh Lahiri, etc. Well the list is long and can divert the topic easily), if you are travelling by train.
We travelled Dudhwa from New Delhi by making an overnight stay at Bareilly where the other team members assembled. The Distance from Bareilly to Dudhwa is somewhat 180 Kms by road, which can be covered in about 4 hours, with a transportation cost in an air-conditioned vehicle at about INR 2000. People travelling from other part of the country may also prefer to visit Shahjahanpur by train, and then take a taxi to Dudhwa. The distance is about 110 Kms and may cost INR 2000.
By Air
For air bound souls, the nearest airport can be Lucknow or New Delhi, as per the convenience.
Connecting Journey
The road towards Dudhwa comprises of regular Indian country side, with sugarcane and maize/paddy cultivations. On the way you will cross the Sarada river via, small towns like Palia Kalan, Daulat Pur and Bhira. If you are a birder, then this journey can be interesting from birding point of view.
The grasslands along the way provide ample interest to get out from the car and take some photographs. You may find occasional trees in between, typical to this ecosystem, that can remind you of some surreal adventures, you came across in your dreams, in a land, devoid of mankind, and yet so much more to cherish upon. Do stop at Sarada River Bridge and other small river bridges ahead as you may chance upon Indian Crocodile/Mugger swimming in the river.
Accommodation at Dudhwa
There is a Forest Rest House in Dudhwa, where you can get your pre booking done from relevant websites (www.ecotouriswm.in), or you can talk to the field director over the phone regarding the bookings. This Forest Rest house is located at the very edge of the Forest, alongside a lake called "Tiger Taal". There is a watch tower in the complex about four storied high, with spectacular look of the surrounding areas and the Tiger taal.
The way towards the forest is from behind the FRH, which is monitored and managed by the Forest department. The safaris of the regular tour groups are done in TATA xenon vehicles, with approximate charges of INR 2200 onwards per safari for a specific group of people that can be confirmed from the www.ecotourism.in portal accordingly.
Generally there are two safari timings in this forest. In summer it's from 6AM to 9AM in the morning and 4PM to 7PM at the evening. Enthusiasts are refrained from getting down from the vehicles for a closer shot, as that might be ended in a sadder note. It is better to stick to the vehicles and rely upon the guides, unless you are a frequent visitor. But again frequent word can't always ensure safety in a forest.
The FRH provides fixed buffet lunch/breakfast and dinner for the guest, if your pick is non veg, there is a separate egg curry bowl, kept desolately at the corner, with some high octane red curry broth inside. I won't suggest this amazing dish to anybody, just stick to a simple veg diet plan.
The Pantry is run by the contractor, and I hope someday a new contract might facelift the menus while the heavenly touch of the cook, might get a proper connoisseur. For us, it just did not work.
Flora and Fauna in various Zones of Dudhwa
The chief vegetation types of the Dudhwa region in Uttar Pradesh are Tropical Moist Deciduous Forest, Tropical Semi-Evergreen Forest, Dry Deciduous Forest and Swamp and Riparian Forest.
The whole of Dudhwa National Park is disrupted by extensive stretches of grasslands locally known as the phantas. The Dudhwa National Park has innumerable trees among which the dominant tree species are Shorea robusta (Sal), Terminalis tomentosa (Asan), Adina cordifolia (haldu), Eugenia jambolana (jamun), Terminalia belerica (bahera), Bombax malabaricum (semal) and Dalbergia sissoo (sheesham).
Dudhwa is enriched in the many rare avian species depending upon the season such as Great hornbill, Orange breasted green pigeon, Stork billed kingfisher, Lesser adjutant stork, Grey headed fish eagle, Brown Fish Owl, swamp francolin, emerald dove, greater racket tailed drongo all rare but resident here.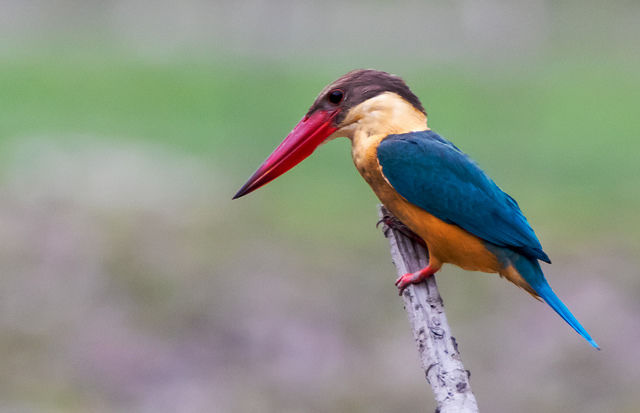 Stork Billed Kingfisher
Besides these rarities other commoners such as Woolly necked Stork, red jungle fowl, white rumped shama, lesser whistling ducks, oriental honey buzzard, Himalayan woodpecker, scaly bellied green woodpecker, lesser golden flameback woodpecker, spotted owlets etc. can be easily seen.
In summers you can get to see Indian Pitta and Asian paradise Flycatcher in nearly every track of the jungle. It was in Dudhwa, we get to know why these two species are on 'least concern' status as per IUCN Red List while avid birders in other parts of India hang around to get a sight of these beauties. Indian Pitta are little; almost tail-less birds, with numerous colors. They can be seen foraging on the ground, and if you are lucky, they might wait for the vehicle to come closer, for you to get a better shot.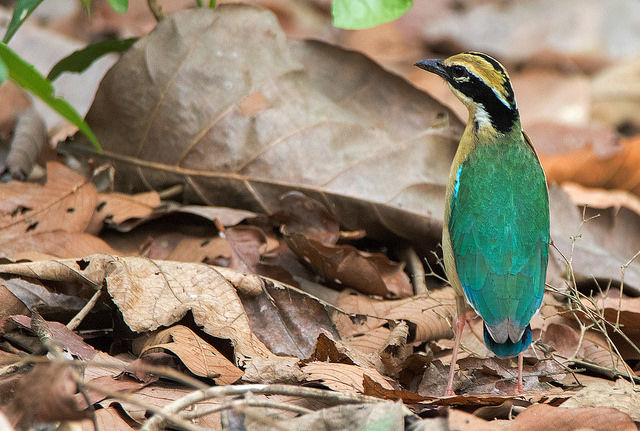 Indian Pitta
People in this area are quite fascinated by the Indian peafowl, which you can find almost everywhere.
Many mammals can be sighted in this route which includes endangered species of deer such as Hog deer and swamp deer. The swamp deers are amazing creatures with majestic antlers, which has more than three prongs or tines in it. In summer times due to their frequent water drinking habits, you can find them easily nearby the swamps. Indian Hog deer are small, nervous creatures, always on the alert, yet very amusing to watch.
Another animal that makes this park famous is, the vulnerable, one horned Indian Rhino. You can take an elephant ride at the morning to spot these majestic creatures. The elephant rides starts from an interior spot in the forest; you can reach there by the safari cars. However all along the normal safari route, you might find electrical fences that restrict the movements of the rhinos. According to the local guides, they can be seen along the fences during the winter season. There are some 25 one horned rhinos, which were re-introduced after their total extinction in this place.
Other mammals and reptiles which can be seen are Spotted deer/Chital, Wild boar, Black bear, Elephant, Leopard, Jungle Cat, Fishing Cat, Leopard Cat, Terai Langur, Indian Crocodile or Mugger, Indian Rock Python, etc. If you are lucky you might find a tiger too as this forest boasts of a successful tiger population of 51 numbers.
Route or Zone-1- Bhadruala, Banketaal, Salukhapur and towards Sonaripur
If you are lucky enough you can arrange an open jeep safari, with trained guide and driver, to travel through the route -1, behind the FRH. This route is the most important zone for Dudhwa as it sums all flora and fauna species found in Dudhwa, in one zone only. All species that can be spotted that region can be spotted here. In Banketaal, you can get a chance to spot Smooth coated Otters. Swamp Deer and Hog deer can be easily seen from the watch tower at Banke taal.
Towards the same zone there is small grassland called Bhadraula Grasslands. The beauty of the place cannot be described in plain words and you just need to be there to believe its serenity.
From Salukhapur, you can take an elephant ride to see the amazing one-horned rhino. There is a guest house/forest rest house at Sonaripur which can be booked through same portal. Travellers seeking solace and wilderness can find the place like a long cherished wish come true.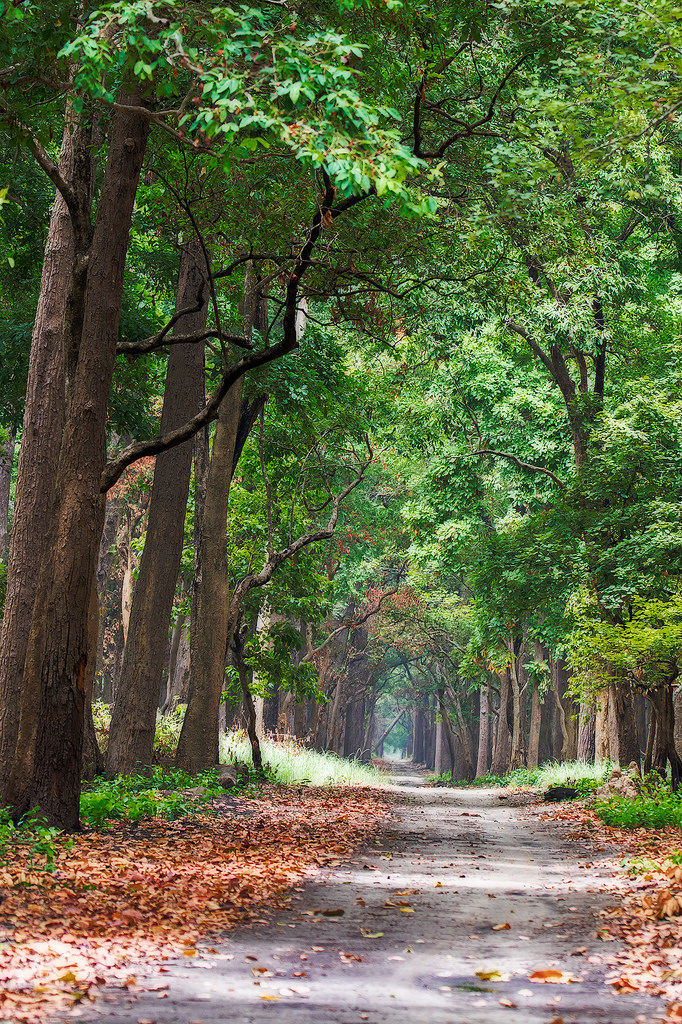 Sal Line-up at Dudhwa
The place by itself is wonderful to watch with might Sal and Teak trees all around. The sal trees are probably the best found anywhere in the world. The forest department keeps the internal roads in good condition with occasional watch towers at various locations. Still during heavy rains (that we experienced), these paths can get real slippery.
Towards the same zone there is small grassland called Bhadraula Grasslands. The beauty of the place cannot be described in plain words and you just need to be there to believe its serenity.
Towards Kishanpur
For Kishanpur, you need to travel back to Bhira Village via Palia Kalan. Bhira is nearly 40 Kms from Dudhwa. In the Kishanpur zone, though the area is so large that it is also termed as separate wildlife sanctuary, there is huge water body which is rich in migratory water birds. Great Hornbill, Brown Fish Owl, Grey headed Fish Eagle all are resident here too and your chances of spotting these are fairly high. KishanPur Grasslands are a easy hideaway for India's most majestic wild cat i.e. panthera tigris or simply tiger. Again both the endangered species of deer i.e. hog deer and swamp deer can be seen here too.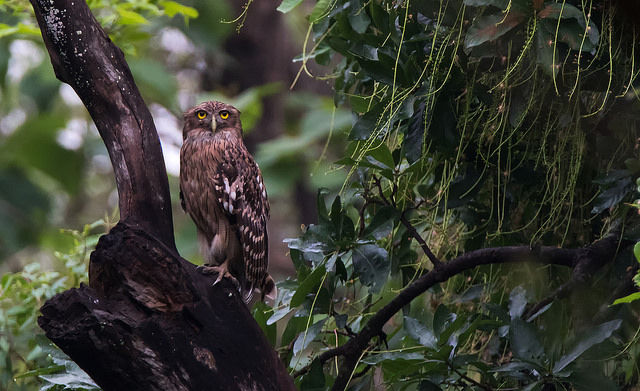 Brown Fish Owl
The forest at Kishanpur is also lined up with Cane grass (used for furnitures). Another most important sighting along with the tiger off course would be the "Bengal Florican". It is also known as the Bengal bustard. They like to live in tall grasses and scattered bushes, and seldom makes a sound. Due to the habitat and numerous other ecological factors, this bird is considered as the rarest bustard of the world. Extensive cultivation, human settlements near the forest and poaching created a critical situation for this bird to survive, making it a critically endangered species in the IUCN red list. If you are lucky enough, you can see this beautiful bird, cautiously walking among the green grasslands.
Towards Sathiana
Adjacent Dudhwa Route-1, there is another route going towards Sathiana range. The road/trek towards Sathaina provides majestic views of Sal Line ups. Immediately after Sal tree forest there is a small wooden bridge over the Sarada river. This bridge transforms the sal tree forest into amazing grasslands. Do stop at the bridge and look for turtles, crocodiles in the Sarada river and you will not be disappointed. Hog deer can be seen there easily too. The forest afterwards is lined up by Cane Grasses. The place is well known for leopard sightings, and if you are lucky enough you can see the very elusive fishing cat in this area. In the grasslands we sighted rare Fishing cat probably keeping a watch over its younger ones.
The grasslands are so majestic, you might feel yourself as an outsider right from the beginning, with the sound of nothingness, yet the echoes of the cicadas, makes this place so surreal and out worldly, that, it's hard to explain in words. The stork billed kingfishers and Asian paradise flycatchers give beautiful sightings in this area.
There is again a well maintained FRH at Sathiana will all basic amenities available there. We were told that rooms here are equipped with Air Conditioners which amazingly draw their power from Solar energy. People travelling directly to Sathiana can take their vehicle directly there. It is however advised that vehicle should be four wheel drive to avoid any hassle.
Fishing cat in Sathiana Grasslands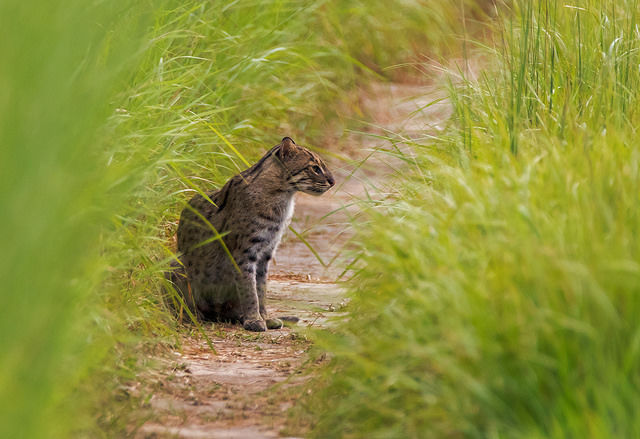 There are some sweet memories that I need to ponder here, regarding this trip:-
Memories
It has been quite a long time since planning and choices converged to the common meeting ground, when Anil Goyal put a deadly seed in my mind by the name of DUDHWA. Dudhwa was there always, lying and hibernating like a serpent in my mind for a long time, and his words were the catalyst, to wake her up. I called up Parmil Kumar ji, and he graciously agreed.
We three tried our lucks previously in common birding trips, to me Anil is a friend for about 8 years now, and I consider him to be a fantastic nature lover with true spirit of expedition in his every breath. Parmil ji has become an unavoidable addiction to me, in Jammu. He can be considered aptly as a man with the natural instinct for the wilderness. When the task becomes typical for a person, to get into the unchartered area, Parmil has the guts to say, "Why it can't be done?"
Both of these guys, I sincerely find perfect, for any given place to travel and to explore without any doubt and hassle.
Tiger Tiger
Travelling inside the forest needs endurance and patience. You just can't go inside to see the TIGER at the first. There are people who wish to see the mighty beast, just traveling 100 yards deep into the wilderness, and keep on poking the guide, pushing them on the brink of their psychological extinction. When everything else was done, and the guide/driver was in sync with us to find the beautiful creature, burning with a common spirit, we searched for the whole day. There are certain amazing things which are kept aside, for the aging memory to think over and contemplate, and sometimes, we like to call it as our "pretty little secrets". We had our little secret kept safe and sound in our mind.
Inside the forest, the mighty trees, with their emerald canopies, created a surreal environment. The old dead trees on the ground, reminded us of the long forgotten battles, once fought between them and the unseen forces of nature. Now they are all dead and still, with barks giving ways to the moss and the ferns to grow upon. The unknown creepers, crawling all through these dead trunks, on to the living druids, standing tall. You cannot keep your eyes off, as inside this forest the enchantment charm is always alive.
Quite often we came across the Cheetals on the driving tracks, with many red jungle fowls, escorting us graciously.
We travelled rigorously for about 3 days, covering the Dudhwa and Kishanpur Wildlife sanctuary.
Nature is an ever evolving form of being, she is always so vivid, bountiful, yet very much beyond our reach. The delicate balance between the flora, fauna and the mankind, makes what we call the sustainable ecosystem. We are in sync with the nature, because, she is permitting us to do so. In spite of our hunger to get more out of her, we are surviving because there are certain people among us who are trying their bit to maintain the balance. In this world of skyscrapers and space age, slowly the green part of our soul is dying. You can feel it, when in the rainy season, the droplets of water touches the leaves, and the glint of the grey light, that slips across the rim, never creates a ripple in your soul. The sound of thunder, a lonely crow, or a halo of light becomes, just things to look at and forget. That's how we are dying inside, in our mortal world of glory.
I have always been an observer, and at lost for words. Dudhwa is a place, where if you truly searching for your inner bit, can blend into and lose your words in the embrace of nature.
There are times, when you might stop your jeep, kill the engine, and look in front on the red moorum jungle path, where a black eyed doe, like a village girl, freezes amidst the rain. This is something that cannot be drawn on a sheet of paper, to get auctioned in a gallery or neither can it be composed with the very gifted hands on a piano for an accolades in a theatre. It's something; you have to see and feel, to be there and look into her eyes, giving yourself to the forest, in body and soul..... And then she is gone, with the veil of the mists..... While the rain drops keep falling over the leaves, with ending credits.
***