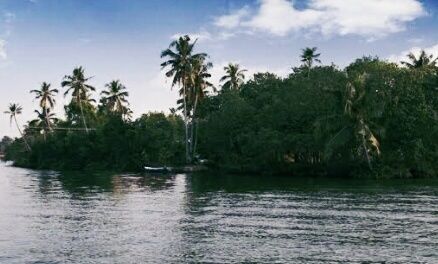 Isn't it wonderful, to book a whole Island and gift it to your bae. Very important is that,you don't have to shell hefty money or break your bank balance. Yes ,here is all the details to know
In our God's own country ,kerala. The Vini's farm is located in Manakadavu,kollam. This resort offers the best exotic view of water, where the river and lake meets. Waking up from bed and you get a serene view of the lake with a mild breakfast sets the day on.
The farm provides you several activities to indulge on or you can just relax by looking at the water or paint in middle of the garden pool or you can write a melancholic poem to your bae. For every mood of yours the farm gives you in all pleasure.
For adventure lovers you can go kayaking, see the fish farming and lucky you can learn the cormorant fishing.
You can also take special cooking classes from their chef and slice in your mouth with full of organic goodness as they grow their own organic farm and use it for cooking.
Another best activity is the bird watching where you get to see birds of spectral color and different sizes that gorge on to catch fish or let's just say they are fish watching. Another fun activity is the sight seeing of river otters who sway in beautifully in the river.
The resort also arranges for a sunset cruise where you can enjoy the abundance of nature on the backwaters.
You can also do fishing if you have a fish rod and you can make your meal.
They also set romantic dinners for the newly wed couples either in the house or you can choose to celebrate in the boat amidst backwaters.
They provide you life jackets so that you can swim in the river.
The villa/house is simple and elegant in nature made of wood and every bit of design will make you fall in love with the place over and over again.
If you choose to stay at the villa on a sharing basis of 2 couples ,then you can book at a price of Rs. 12,000/- and enjoy the same.
If you decide to stay more than 1 night then they will take you to the nearby town where you can spend some quality time shopping and seeing the kollam museum and beaches around.
Also, just 30 Km away from the resort there is the spectacular view of jatayu national park ,which hosts the world largest bird sculpture of the bird Jatayu. The statue Is approximately 200 ft long and one can get a panoramic view of the place. Flooded by inundated people everyday, it is a mystical look captured in between nature.
In others words, the Money you spent is worth a million time and dollar in the resort. Head your next vacation right here.
Ah! The resort even hosts get to gather party,at even discounted price with live DJ music on. So ,people who wants to celebrate their bachelor party or an alumni meet up,this place just fit in the frame.