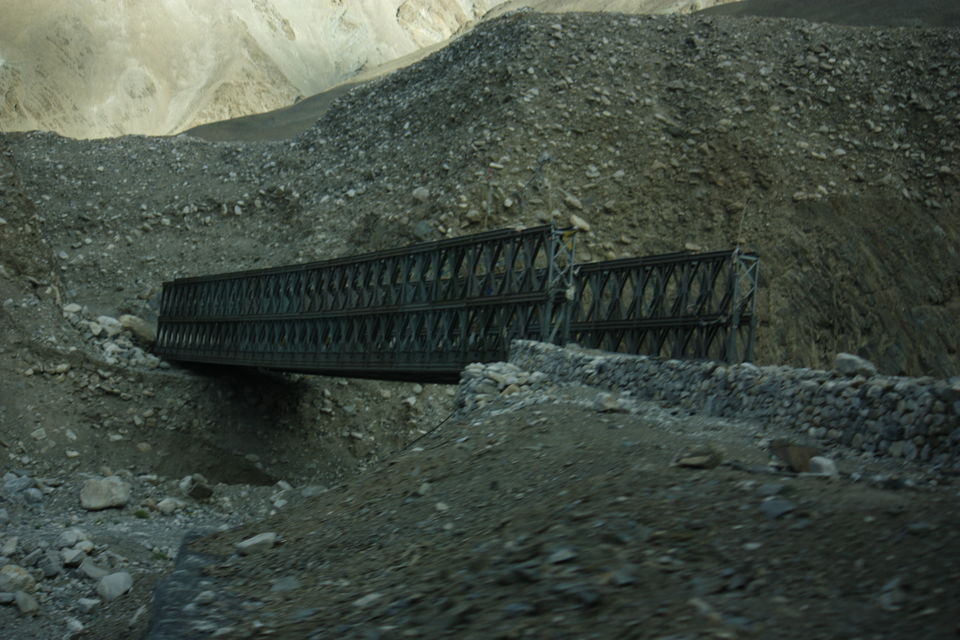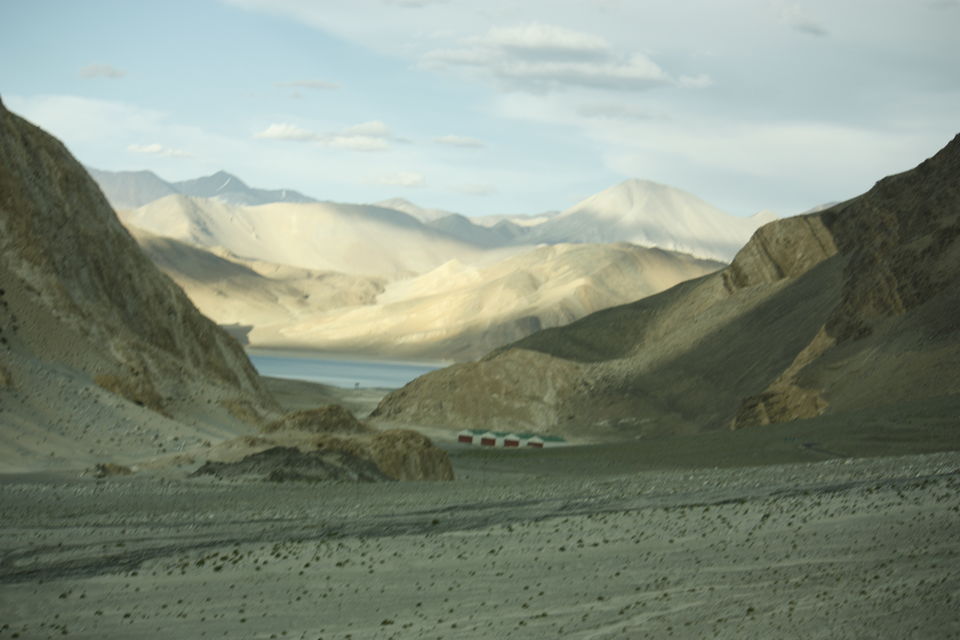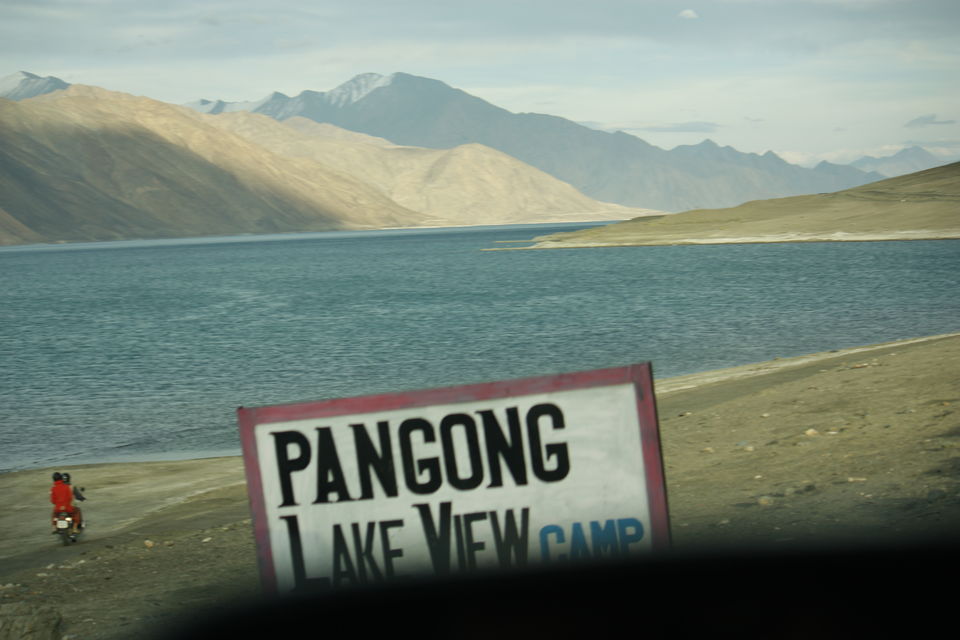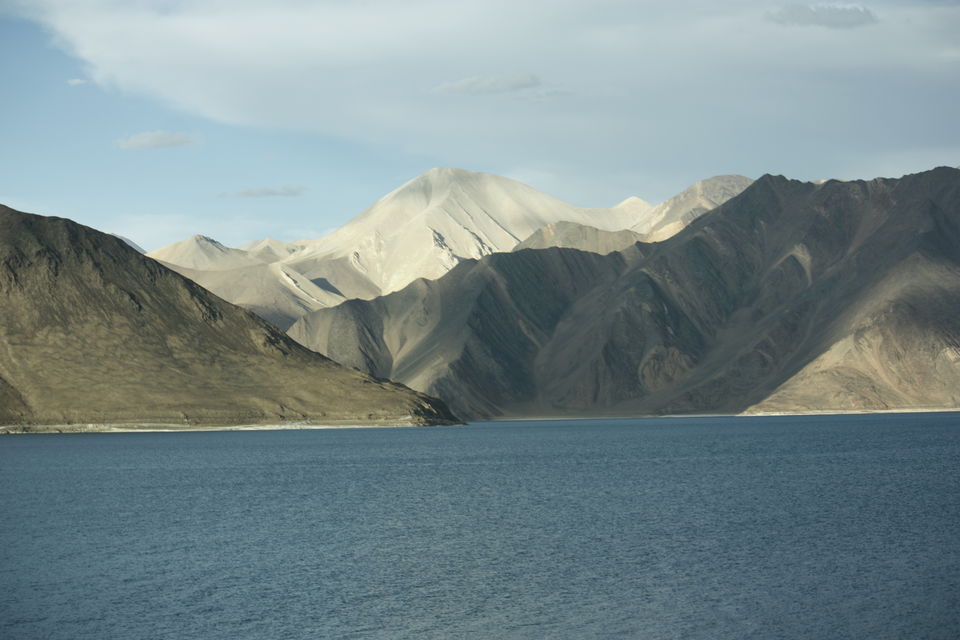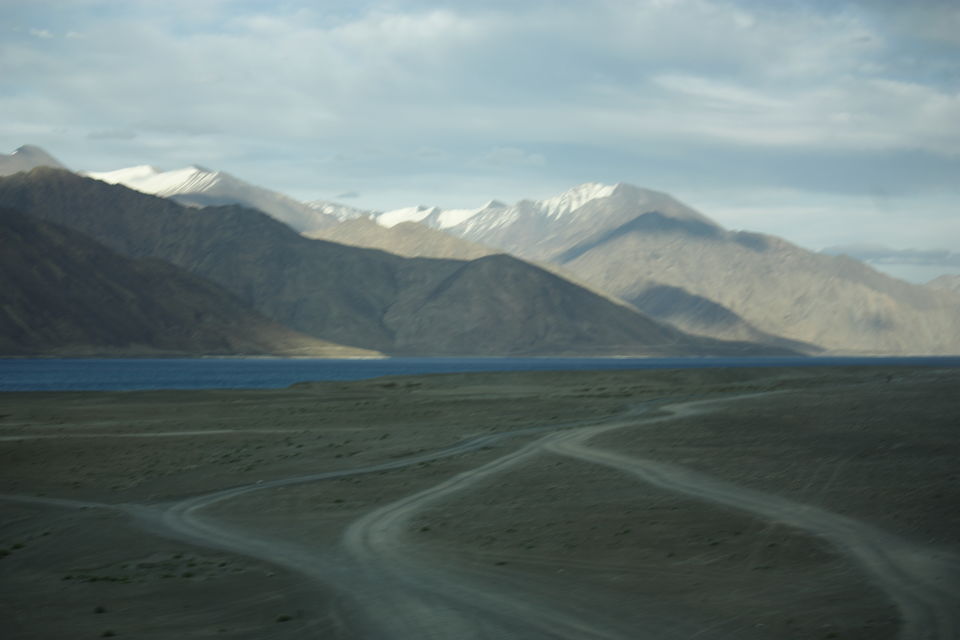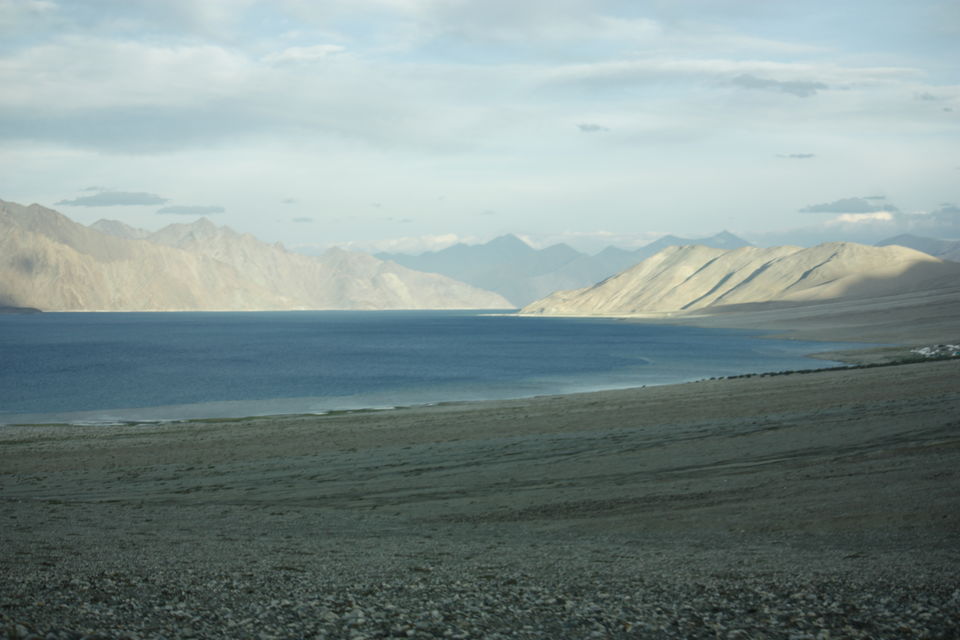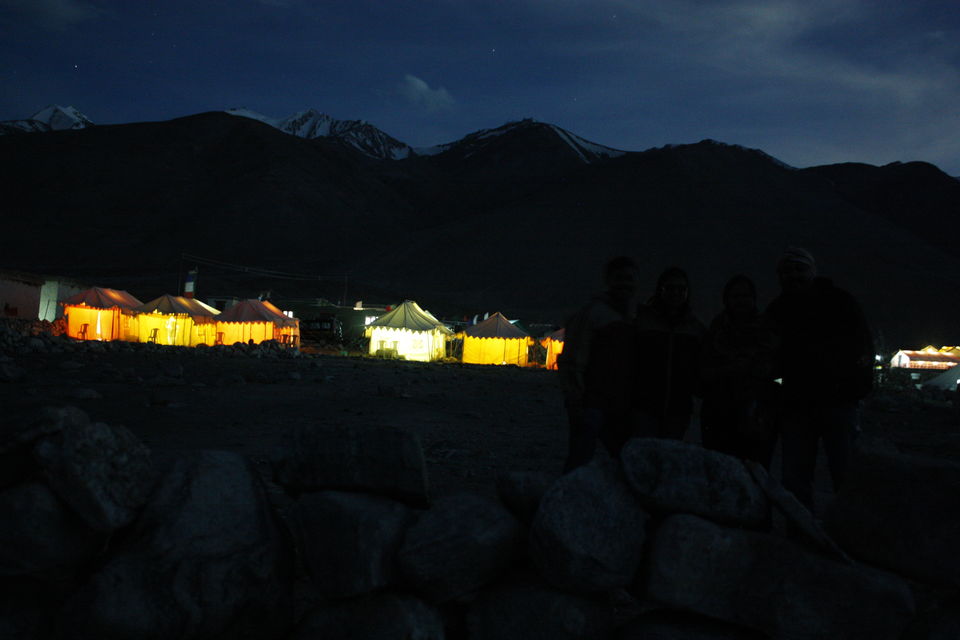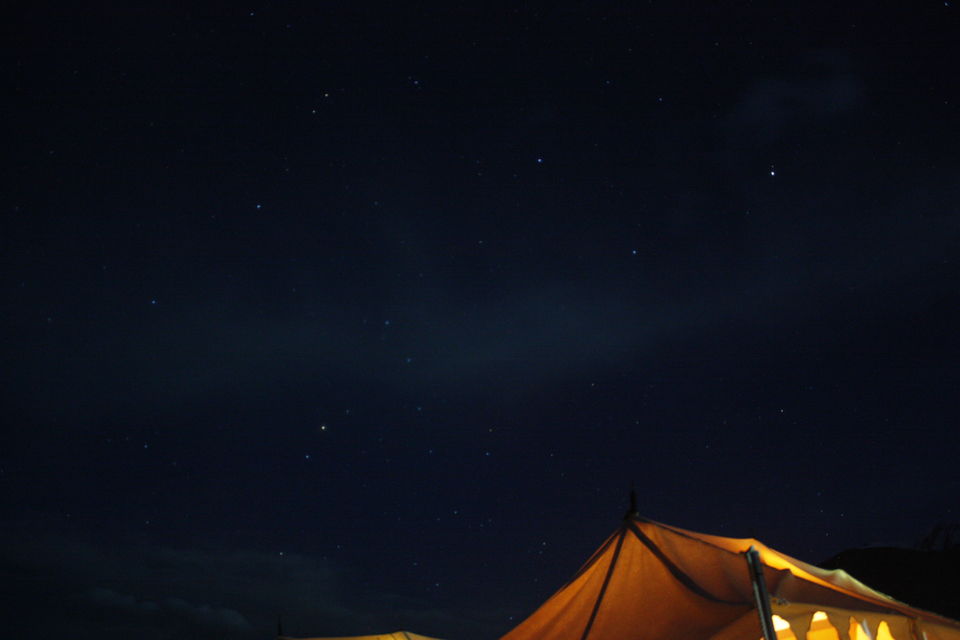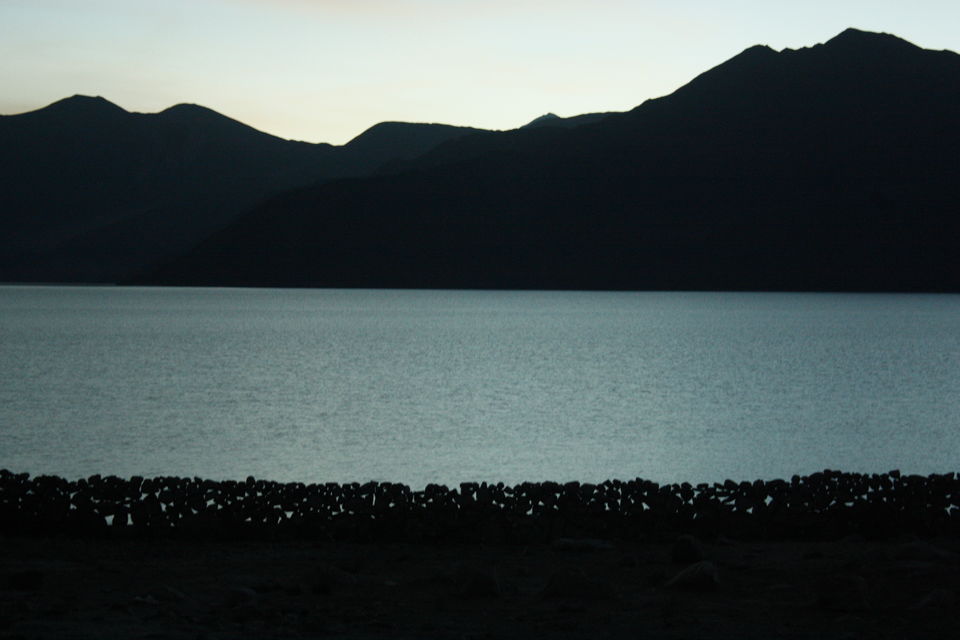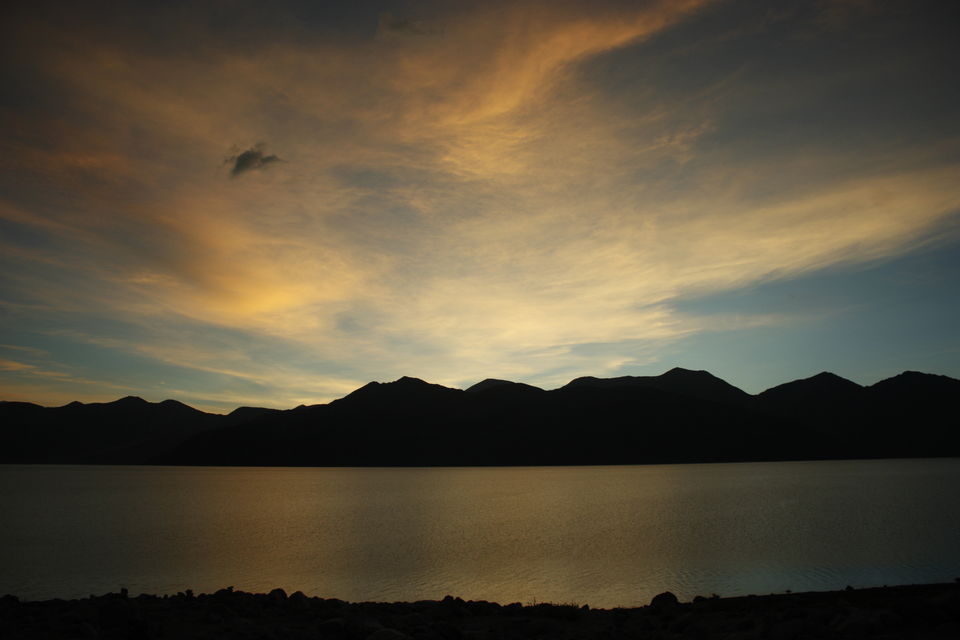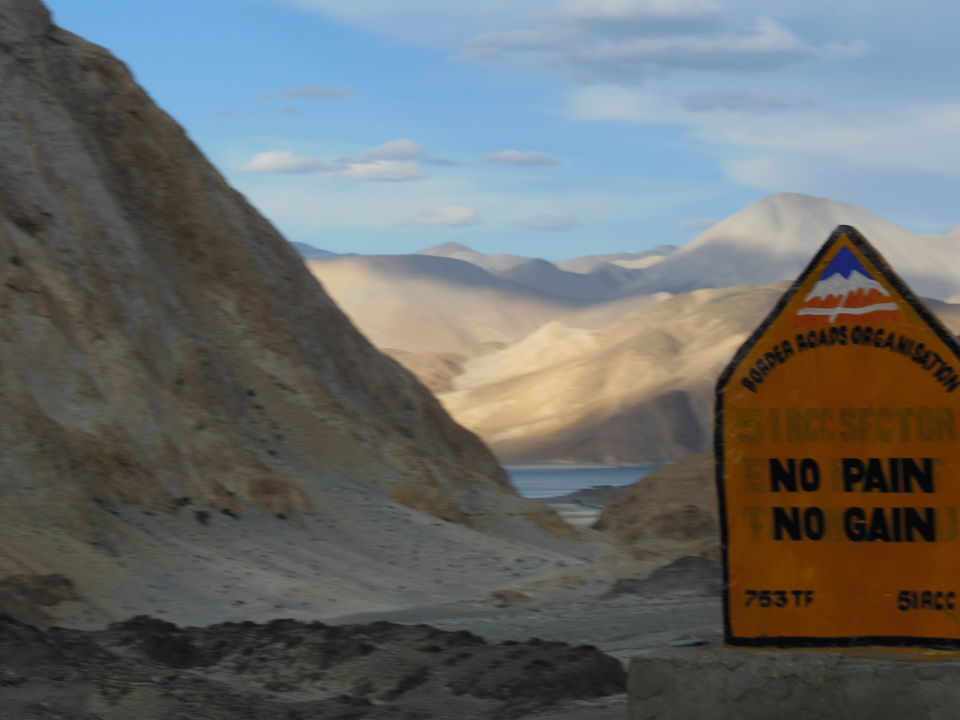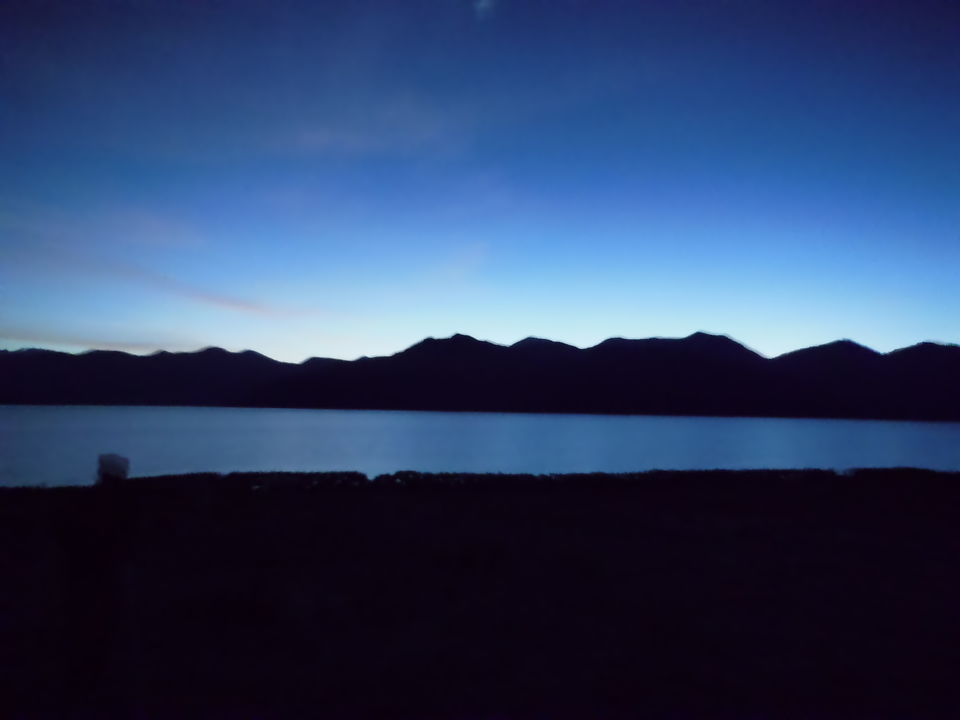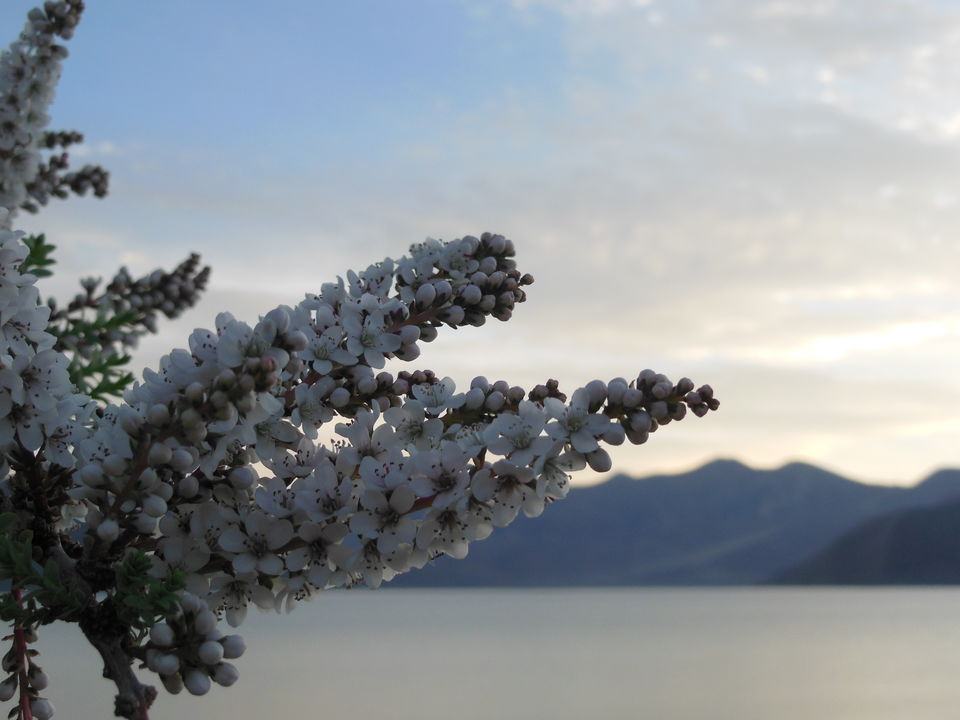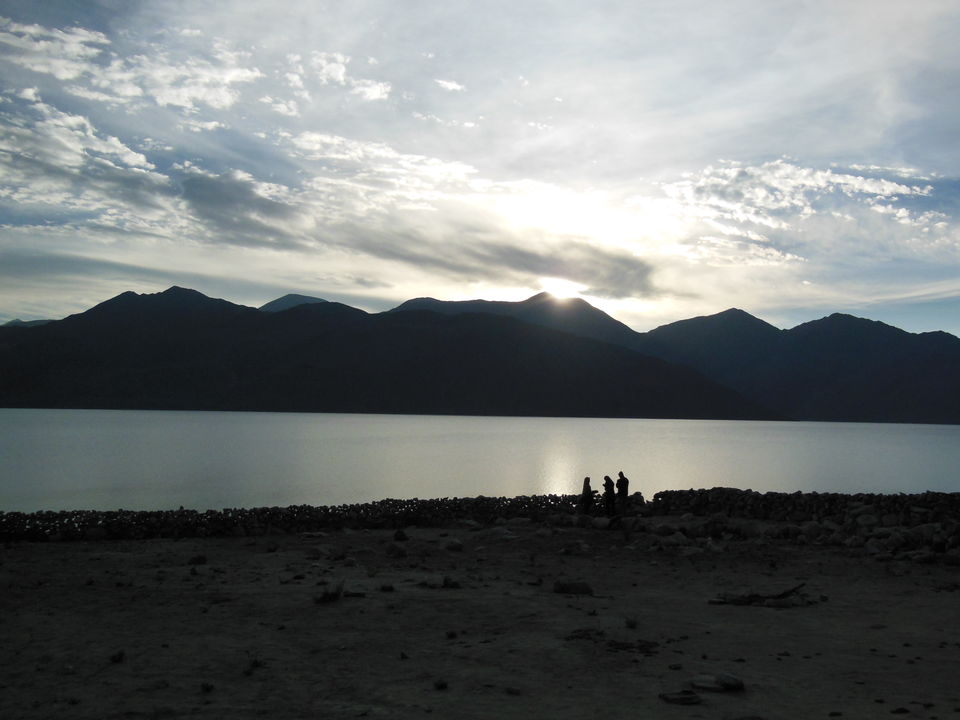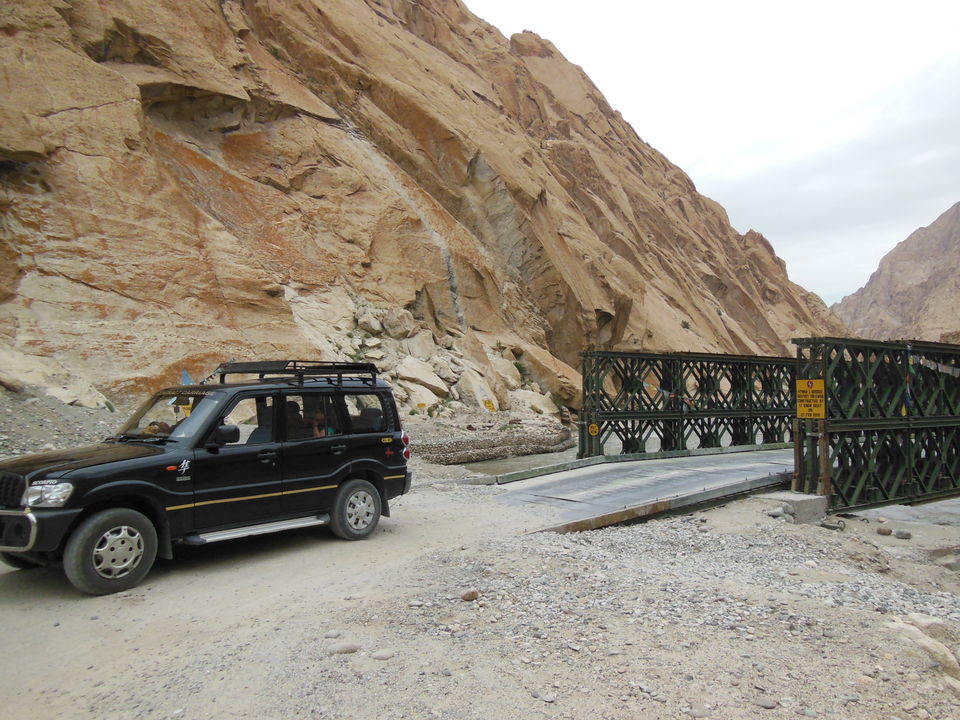 Day 4:

6th July 2013, 5:00 (Habib's Guest House): "Waking up so early, I expect to see a sunrise today. Let us get ready fast and move asap" we discussed within ourselves. We were ready and went out for the breakfast as we had to leave early. We were disappointed. The Sun was awake much before us and was smiling bright at us. We were amazed with the timings of sunrise and sunset and the day being longer than normal. We finished our breakfast and boarded our vehicle as we had plans to reach Leh which was a 5 hour journey from Nubra and then continue to go towards Pangong Lake which was another 5-6 hours journey.

We left by 5:30 am and headed towards Leh. We halted at Khardung La for a while but otherwise reached Leh non-stop except for a bio-break, place for which was difficult to find. Finally the pit toilets built by the army came for rescue. Once we reached Leh, we had our lunch at the Penguin garden Restaurant (German Bakery). I had some porridge as I still had a sensitive stomach. We picked up some clothes and thermal wear from our bags which were kept at Salim Bhai's house and headed for Pangong. Pangong was calling. We saw some villages on the way which cultivated mustard and wheat in the farms. The beautiful colours of yellow and green had mountains at background which looked amazing.

Our vehicle climbed many mountains and we were going on and on and on. The roads were bad and were damaged by water flowing continuously due to ice melting. Here we passed the second highest motorable road in the world. The Chang la is situated at 17590 ft above sea level (we visited the cafeteria and the souvenir shop at Chang la). We were experiencing the raw beauty of the nature. The mountains were unfertile and had no plants and no greenery. Keeping in mind the survival of fittest we could see some plants growing amidst the rocks and falling stones. As we moved we saw changing landscapes. The number of water bodies on the way was increasing. We now saw some vegetation and grass in different forms in the river, we saw the Marmots as well.

The roads were really bad and water levels on the roads were rising. At times we were unable to locate the roads due to water. Our driver being a regular visitor to this place would drive the vehicle with efficiency but we would gasp after we crossed the water streams. The sign boards on the road having the name of Project Himank by Border Roads Organization (BRO) were making our journey interesting. They were apt and glued our attention to the roads to find more such interesting ones. The ones on the curvaceous roads were all pun intended and we kept on reading and finding more. We were tired by now but had neither signs of Pangong around nor of the lake. The clock had already crossed the 17th hour and we were hungry as well. The sand on the roads mixed with water made our vehicle slip from the road at times and the curves horrified us but then efficient and experience driver kept on moving ahead. Then he showed us something blue behind the mountains, it was the lake (Tso), Pangong lake. Not to mention, it was obviously beautiful."No Pain, No Gain" another road sign by BRO was aptly placed after few meters. All the troubles we took to reach here were worth the view.

It took us 45 min more to reach our destination and 15 min more to divert our road due to forcefully flowing water stream at one point. We had decided to hire some tents for our stay. There were many and we approached one which was near to the lake. We got those at a very reasonable cost after a good bargain. I was anxious as I didn't know if they were comfortable. To my amusement there was a double bed with huge rugs and another partition for a toilet and sink. The water was so chilled as if the connection for the tap directly came from the snow.

The lake was serene and the water was brackish. I expected the water body to be surrounded by vegetation and birds but it is not. No life sustains in this water. So clear, so transparent and so translucent that you could see the stones immersed in the water. The color of water was deep turquoise when we reached at 18:00 which later changed to sky blue and slowly to gradients of yellow to orange to grey and eventually to black. This play of colors was monitored by the Sun and the shadows of mountains around the lake. These transitions were beautiful and mesmerizing. It is not a view but an experience. A deep touching experience of silence, of soothing view, of calm atmosphere. Indeed a treat for all your senses (and not to forget for the camera).

We had ordered our dinner in the common kitchen of the tents. Though not very tasty but it completed our need for dal chawal, roti subjee. The temperature in the air was decreasing so was the light intensity. After a long walk on the bank of the lake and few more photographs I felt the requirement of rest but sleep was far away from Aks, Anu and Adi. I went back to the tent and zipped it leaving the wonderful lit twinkling sky and the serene environment to its own.

Day 5:

7th July 2013, 3:30 (Pangong Lake side): "I am going out." awakening me of my sweet morning sleep, Aks informed me and went out and zipped the tent back. I got up to see if another day had started. It was still dark outside. Why the hell was he out in such a chilling cold? When I woke up at 5:00 I saw the 2 stooges Aks and Adi out clicking pictures and they were awake and frozen from 3:30 to capture the sunrise. The results were amazing and the photographs were awesome.

We had a quick breakfast of maggi noodles and omelette bread and then left for our return journey to Leh at 6:30. We left our tents and sat in the vehicle. After driving for 15-20 min we felt to stay back on the lake for a while. We decided to take a walk on the lake side. Changing colours of water were still mesmerizing. It was time to bid a good bye to the place. We were on our return journey.

The water streams flowing on the roads from the mountains were reduced. It was the same road which we felt tiresome and long the previous day seemed to have shortened. We reached Leh in no time. The Sun was on our heads and dogs were barking in our stomach when we reached Leh. We reached Salim Bhai's house kept our bags and went out to have our lunch.

Now what?? Why the hell all restaurants and shops are closed. We enquired in some restaurants and they informed us that all are on 2 days strike. There was a terrorist attack in Bodhgaya. Now what?? We went on asking in various restaurants if they are open but none were, finally one of the restaurants offered us to take some parcel. Though everyone was apologetic on being closed down, this fellow helped us with an apology. We got some noodles and rice to our room and slept like dead after the lunch.

We didn't plan any evening outing in Leh as we were tired and  the strike gave us another reason to be lazy. We had a nice chat with Salim bhai and family over tea. We prepared our dinner in his kitchen with available rice and legumes. Full stomach and tiredness resulted in a deep sleep at night.