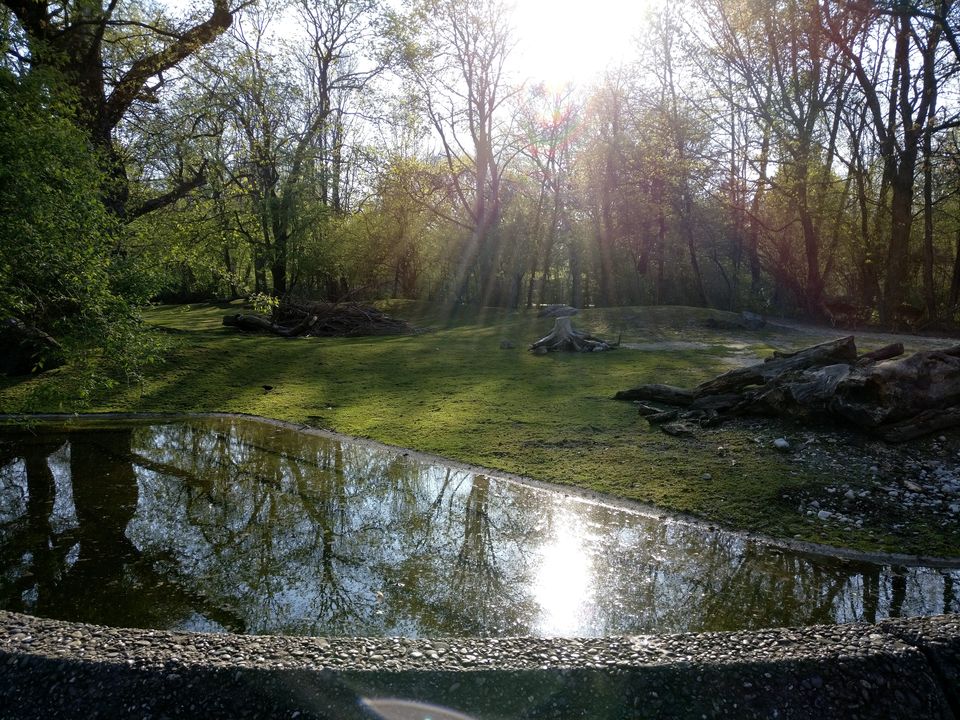 The sheer abundance of memories I was able to gather on my sojourn in Germany is noteworthy in itself. It was never meant to be a solo trip. But after some important things went South, it became one and thank goodness it did. As a person, I'm not one to hesitate initiating conversation with strangers or asking for help or maybe even hitch a ride if need be so the "how will I manage on my own" part was really a piece of cake.
I was thrilled to be traveling to a place I've only seen in wallpapers on my computer! My first stop was Munich and boy! did it paint a striking picture for the rest of my travel. Munich is the perfect amalgamation of quiet cafes, beautiful sunsets, empty sidewalks and some unforgettable beer.
I would spend hours chatting with a grocery store cashier listening to her tales about how she found the right person and wants to raise a cat at some point but never babies! Felt like there's some hope after all. Walking all around town I realized how much I wanted to run into stories and people so I could carry a colossal treasure back home in my heart. The aromatic bakeries scattered all around town were the most memorable part of my stay. The cheese was like I hadn't tasted before, chocolates that seemed they descended from heaven itself. I can still smell all the goodness. And oh the crackling of freshly baked bread! Munich, if nothing else is a culinary delight.
The tree laden roads often tempted me to stop and sit down in the middle of the street. I remember the time I was walking aimlessly on a pavement and happened to look up at the sky. Blazing red, velvety grey and fiery orange filled the skies. I ran into a store, grabbed a cup of coffee and sat down on the grass. You see these pictures in books and paintings but don't imagine you could spot something so spectacular yourself. It was the most peaceful I'd felt in years.
My next stop, Berlin, was nothing like I expected. From some pictures I'd seen and the limited 'image search' I did on Google, I figured Berlin is heavily influenced by hippie culture and is also, at the same time, swarming with Armani suits. But when I got there, only the latter seemed to hold true. Berlin is unbelievably stylish! Men and women walking the streets look like perfect dolls after little girls are done dressing them up.
Saying that the Berlin is picturesque will be an understatement of elephantine proportions. I was in awe. Berlin is the perfect place to fall in love and go on romantic walks at unearthly hours. The colors of the clouds blend so beautifully with the vibe of the city, its uncanny. I distinctly remember spotting a strikingly lit carousel in the middle of the grandeur that is AlexanderPlatz. I stood and stared at it, admiring how stunning it was. I'd never seen anything like it. Finding one in India is rare, and with some luck if you do, it's not fair to call it a carousel.
I signed up for numerous walking tours in Berlin and the first one started at the Brandenburg Gate on a gorgeous rainy day, like the rain Gods came out to greet me. Seven hours and two tours later I found myself chatting with some new girl friends from Hong Kong and Chicago. That isn't much, you'd think. And you're right, maybe not, but I found a certain solace in the fact that when we said goodbye at the train station, we didn't know anything about each other but our names. Just five girls going back with tales to tell.
Food in Berlin was exceptional. I went all out. And why not? From fine dining to vegan sandwiches on the street to cream loaded desserts, I had it all. It won't be entirely wrong to say I'd go back just for the food. Berliners are sweethearts. They're usually chatty and wouldn't mind joining you for a meal. Yes, that happened. Nothing is as fantastic as sharing dinner with a total stranger and exchanging stories about your countries. I could barely remember all the memories I was making.
Going back to Munich was hard. It meant I was nearing the last leg of my journey. Strangely, it also made me think how I could use that time to relive the same moments and add some new ones, walk to the places I missed, say goodbye to the boys at that breakfast place and buy some cheese. Which I did. Best decision ever!
My first trip to Europe was an emotional revelation. With every passing day, it felt like I loved myself a little more. Solo travel they say is liberating, and I say they're right.