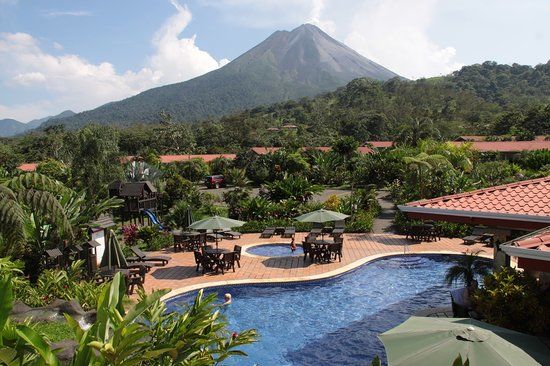 A country not bigger than West Virginia, Costa Rica is the 'it' destination for adventure enthusiasts. For its small size, the country surely crams a lot of amazing spots. Corcovado, Tortuguero, Tamarindo, San Jose! Geothermal springs, volcanoes, and biodiversity! Astounding! Which places to include in your itinerary and which ones to tick off your bucket list? It's not easy to decide. Our recommendation? Arenal and La Fortuna. We repeat, your Costa Rica travel itinerary must include these two amazing spots. Be it getting your adrenaline rush from ziplining, volcano tours and river rafting or straying off the beaten path to get up, close and personal with nature, Arenal and La Fortuna have you covered. The Arenal Volcano National Park is the nerve center of this spectacular region. No wonder, most visitors to the national park choose to stay in nearby La Fortuna (Costa Rica) resorts. Staying in one of these resorts will give you hassle-free access to popular attractions in the area. Now that you have added Arenal/La Fortuna to your schedule, let's make a note of the spots that you must visit here:
1. Arenal Volcano and Arenal Volcano National Park
Arenal, the majestic, cone-shaped volcanic mountain is 1,633 meters (5,358 feet) high. You can catch a glimpse of this volcano from anywhere in La Fortuna. To get a closer look at the volcano, trek through the Arenal Volcano National Park. Taking up the journey is every bit worth it. Just imagine, standing on an ancient rock that had been formed millions of years ago! On a clear day, hit the Silencio Trail to enjoy the spectacle from a different perspective. Although the Arenal volcano is not really 'active' in the recent times, you can still notice smoke emitting from the volcano's mouth. The national park also offers lots of wildlife to see.
2. La Fortuna Waterfall
If you want to visit waterfalls in Arenal, the best and biggest one is La Fortuna. With an exhilarating 75 feet, vertical drop into an emerald pool below, the La Fortuna waterfall and the surrounding rain forest welcomes onlookers into a magical world of dramatic sights and sounds. The waterfall is ever-flowing, which makes it all the more awe-inspiring during the dry season. Want to enjoy this surreal experience minus the steps and hike? Take a horseback riding tour to the waterfall. And if you want a bird's eye view of the fall, opt for a canopy tour that takes you over the waterbody via a zipline cable. And what can be a better way to end the hike than with a dip into the waterfall?
3. Geothermal Springs
A trip to Arenal and La Fortuna is incomplete without a visit to the hot springs. This area is famous for these thermal water fountains because it is located right at the base of the Arenal Volcano. These natural hot springs offer the best way to relax after a long day of hiking. You can soak in the hot thermal pools to soothe your muscles while enjoying the fresh night time air. Many hotels and resorts have their own hot springs, which you can either access free of cost as their guests or by buying a day pass. Some of the most well-known ones include Tabacon, Baldi, The Springs, Ecotermales, Los Laureles, and Paradise.
Of course, there are a lot more things to see and do in Arenal and La Fortuna --wildlife spotting tours, relaxation sessions, cultural tours and more. Since Arenal is a major tourist hub, book your room in one of the La Fortuna Costa Rica resorts in advance. This will also help you avail the most lucrative deals even during the peak seasons.