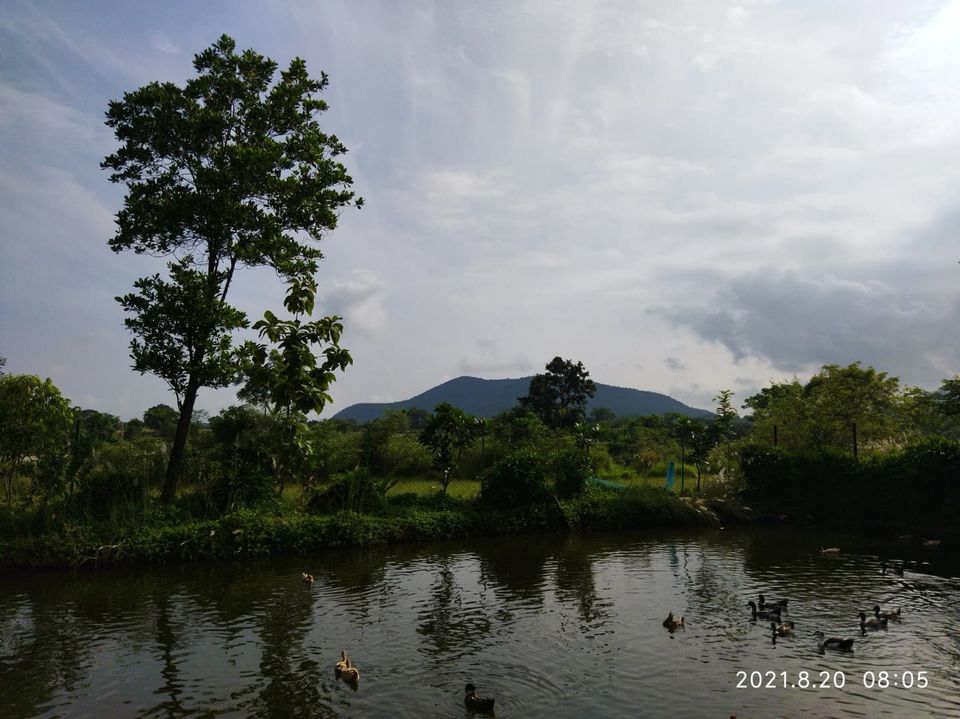 The real currency in our modern urban life is "Time". There are very few chances when we can spend time with ourselves, visiting Shankarda can be one of those golden chances, deep into the nature. You get faded out into the greens, you get along with the whistling birds, you can't get over those nodding flowering plants, you get dancing with the noisy ducks.
Shankarda is a virgin village in East Singhbum district of Jharkhand. On 19th Aug, we started our bike trip to this place. This was the 3rd time, we visited Jharkhand. "We" as in me and my partner in everything, who's my husband. Roads of Jharkhand are hypnotic, you can't get rid of the madness of driving through those! From Kolkata, the best way to reach this place is to take 290 kilometer of drive via road as you'll drive through the lush green forest of Lodhashuli. But, in case you avail public transport, take a train to Tatanagar Junction and from there another 15 kms streching drives on the dark snaking roads through tribal villages and paddy fields will take you to this little known pictorial place.
As we started from Kolkata, except planning, finalization of itinerary, there was another or rather the most important part left for the day before we started. We had to book e-pass from Jharkhand tourism website (http://www.jharkhandtravel.nic.in/public/index.php).
Day 1 was 19th Aug, and the weather was pleasant with surprise drizzles in between. From our home in Kolkata, we started at 4:30 in the morning. The surroundings was all dark, city was still sleeping. The streets were all wet with last night rain, I could see how beautifully colorful lights got blended into their own images. As we got going the splash of boho air touched our faces washed away all the tiredness of our busy life.
Our first break was at 170 kilometers from Kolkata, just after we crossed Balibhasa toll plaza on State highway 5. The time was almost 9. It was the rain which had slowed down our journey that day. We had our breakfast at a roadside dhaba, Joyguru hotel. After fuelling ourselves up with hot cups of tea, we started again. There was a sound in bike's chain, we just remembered we've forgot our chain lubricant spray to carry. That time, we started asking roadside local people and found that, there's a place Chichira, at about 1 hour distance where we could find bike's chain lub. We located Chichira and bought the lub from a garrage, applied that spray into bike's chain and started again. Our destination was more 100 kilometers from there.
Due to rain, that 100 kilometers took us another 2.5 hours. When we reached at The weekend resort, Shankarda, the clock was ticking at 1 already. Even from the entrance, I loved this place. We were alloted with the cottage number 5, which was spacious, neat and clean. The behavior of staffs were really warm. We were served welcome drinks, masala lemon water. The lunch was served by 2pm as soon as we got freshen up. We ordered kadhai paneer, egg tarka and laccha paratha that day. After we had the delicious lunch, our body wanted a nap badly. We took a nap and got up at around 3:30. We discovered a lake, a herd of ducks in it, a small hill just like a picture from some travel magazine just infront of the cottage. A pair of swings was there, we went on it and enjoyed the colors of Sunset, as those faded out into the lake's water. We went outside the resort to roam around, but unfortunately it was so dark that we dropped off our plan and came back to resort. At around 7:30, we were served delicious chicken pakodas and masala chai. We enjoyed the evening again sitting at the lake side. That had already become our favorite place there. The day went off with sounds of winds through the leaves and a nice deep sleep.
On day 2, I woke up early, went outside the cottage and sat a while with the beautiful view of lake, hills and those herd of ducks bathing in the lake. Chaku, a person working at the resort, asked me for morning tea. While he brought the tea, I went inside the cottage to wake my partner up. We sat together at the balcony of the cottage, had our morning tea with the chirping birds, lively green and smell of rains. At around 8, it was time for the complimentary breakfast- poori, sabji, jalebis.
At around 9, we started from resort to visit few places of Ghatshila and Jamshedpur. First destination was Dharagiri falls, 49 kilometers from resort. On the way, we saw Rankini temple. Road to Dharagiri falls passes via Burudi lake, Burudi dam. If anyone hasn't visited this place before, can visit. We just visited there last year, so we drove straight towards Dharagiri. It was more 5 kilometers trekking road from the point where google map ended. We parked our bike there, as there was no road beneath the jungle. When we reached at the falls, all our tiredness just washed way with the mesmerizing beauty. That small spring in the midst of Hill and Jungle, took our heart away. The stream was crystal clear and cold. We sat and relaxed in a stone and dipping our feet in water. It was continuously drizzling whole day.
Our next destination from there was Dimna lake. It was 62 kilometers. The road which leads to Dimna lake is breathtakingly beautiful, due to rain it was picturesque. It was already 2, when we reached at Dimna lake. There we Enjoyed the silent beauty for sometimes. After that we quickly had our lunch at Lake view dhaba, nearby Dimna lake. We dropped off the plan to visit Fuldungri hills, as it was already afternoon and we had to leave for the resort.
On the way to resort we found a place of gem! It offered such a beautiful panaromic view of whole horizon that we could drive away, we stopped and sat there untill the mystic sunset.
After reaching the resort, we had our dinner by 9 that day as we were heck tired.
Day 3 was the check-out day from resort. At around 8:30 completed our 2nd complimentary breakfast meal with veg sandwiches, boiled eggs, mixed fruits. We bid them byes and started for Kolkata by 9:30 that day. It was 4pm when we reached home.