"Use your health, even to the point of wearing it out. That is what it is for. Spend all you have before you die; do not outlive yourself." - George Bernard Shaw
Of all the places I planned to go to, this was the least expected.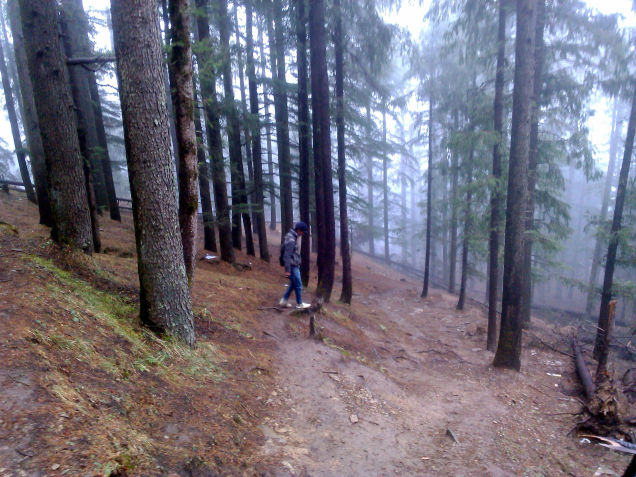 Also, this trip was supposed to happen later in next month. All of the wolfpack was supposed to going, but Anuj backed out, as this was planned on a really short notice (one week, well it was shorter than the other trips ).
It was time to take the decision. Many trips had been cancelled like this,due to that one person backing out on the last moment. This time we had to go. Ananth and me planned all the stuff out and we left. Just for the sake of that wanderer heart.
We took the bus from Kashmiri Gate, and we were supposed to reach Shimla around 6 or 7 in the morning, but due to some miscalculations ( Yeah it was me ) , we made it to Shimla at 4:20 in the morning.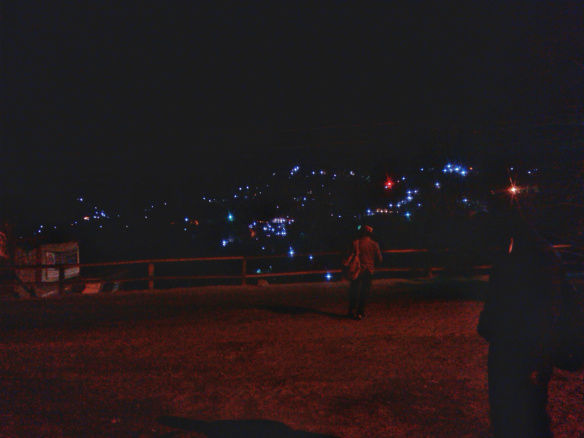 The best way to explore a city inside out, is to go exploring either at night or early morning. This was the only argument I could make at this time. Cos, well 4:30 does qualify as both night and early morning, right!!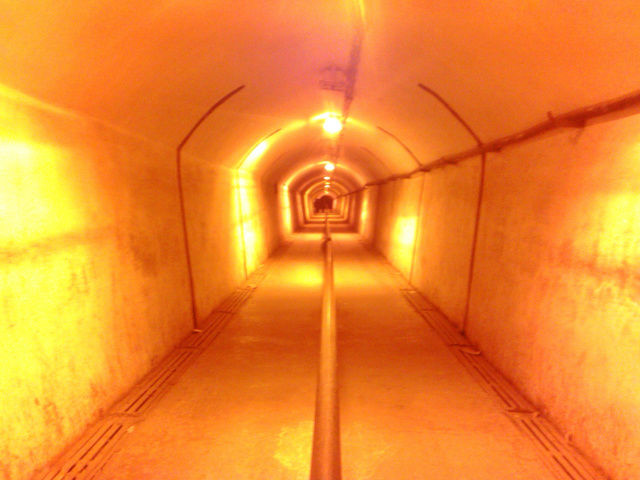 We asked around for directions to Lakkar Bazaar bus stand. The town was still asleep!! We met an old uncle, who walked with us all the way to a tunnel which goes to Tibetan market, from where there are stairs to go to the Lakkar Bazaar bus stand. Shimla gave us quite a wet welcome, as it had started raining as soon as we got down from the bus. Braving the drizzle and the cold winds, we got to the bus stand, and asked around for the bus timings, and got different answers from all the local people there. We waited for some time in front of the ticket counter. We enquired him regarding the bus to Khatnol , from where we were supposed to start the trek to Shali Tibba. He gave us vague information. We tried again, but of no avail (Tip - Locals here are fed up of the tourists wanting free information, please confirm your stuff up before you land up in this situation)
We could either go searching for a hostel here, or wait here for a bus which would arrive around 9. It made sense to switch the itineraries and go explore Shimla today, and do the trek the next day. We googled for hostels, and headed for YMCA. After roaming around Shimla at 5 in the morning, we got a room for Rs.600.
Tired and sleepy,I dozed off. We had checked the view in the night, and it looked quite normal against what we had already seen.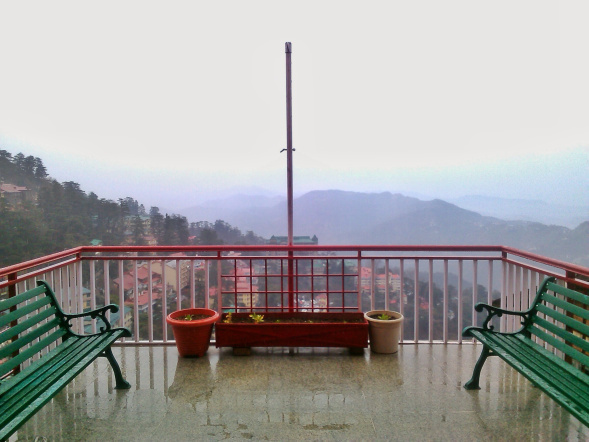 But , in the morning , it was a different game. It like you wake up to heaven. It had just stopped raining and there were clouds floating around the mountains.
We had arrived in Shimla.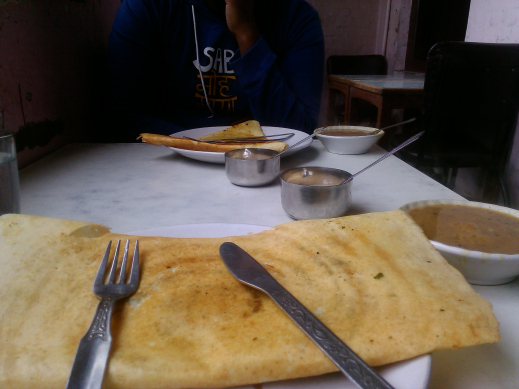 We freshened up, and left for the walk. But first some breakfast. We had dosa and coffee at the Indian Coffee House, which tasted the same as it does in ICH, Delhi.The special part was the mutton dosa , which was quite good , according to the price they charged for it.
So, we followed the signs for the 2.5 km walk which takes you to some of the landmarks of Shimla, to see what the Brits had left behind.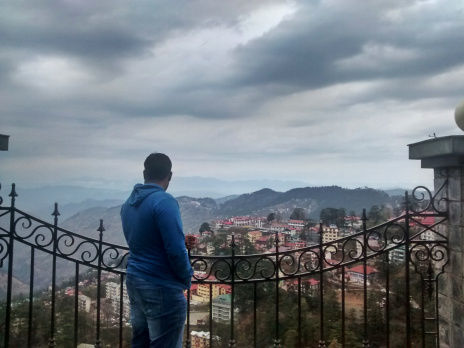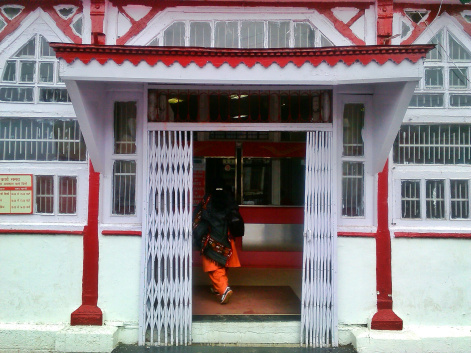 We saw the post office, some military buildings, and the walk ended at The Viceregal Lodge. A Rs 40 ticket gets you a guided tour of the building.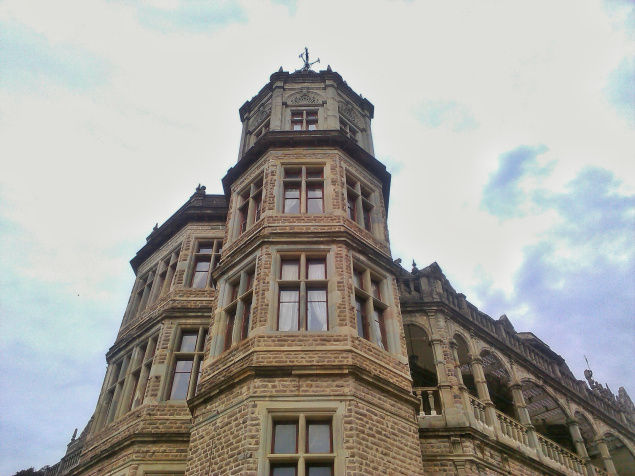 This was the place from where the whole continent was ruled. The home of the Viceroy of India. And of course, the partition talks also took place here. We took quite a long time to explore this place, imagining how it would've been to stay in such a majestic bungalow. Although, I would always prefer that secluded small mud house on top of a mountain.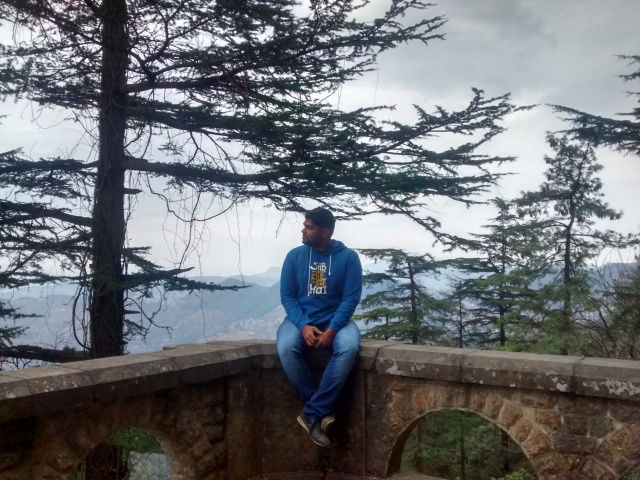 We went downhill to the Summer Hill railway station. This place is much more peaceful than Shimla. We could hear the birds here, which is quite unlikely in the touristy Shimla. We talked to the people at the station while we were waiting for the train. This place had such a homely feeling to it.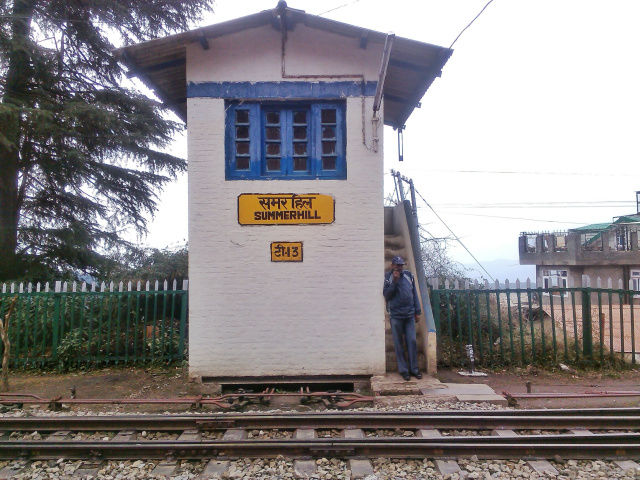 Every other person at the station was more than ready to share their stories. They had time. This is what I had imagined Shimla to be, when I was young. The retired army man was now the station master. He had been working in MCD and was selected to work here. Many other people came with him to Shimla, but had moved on elsewhere due to better pay. I guess the mountains wanted him to stay here.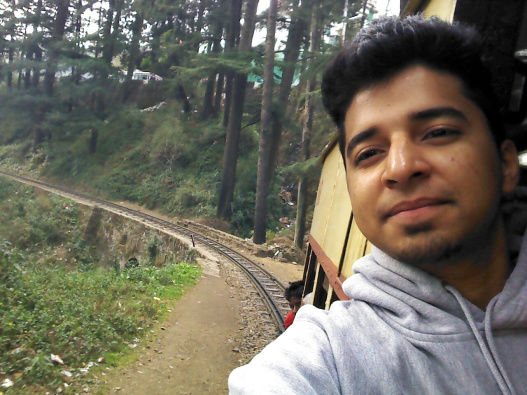 Our train arrived, and we left for Shimla at a really really slow pace. There was no rush. Even this 3 km stretch was enough to leave me in awe of the Kalka Shimla Railway. It was something else. Something you gotta go and experience by yourself.
Back in Shimla, we went to Wake and Bake, which is Shimla's answer to the hip joints of Kasol. The wood fired pizza was EPIC. We tried 2 different types, and both were to die for. The seating space on the terrace is pretty nice, only if you like the monkeys with the view. We then tried the famous chicken momos at Krishna Bakery which were normal. All full, we went back to our hostel as it had started raining, again.
Stayed in till night and then went on for a small walk and some dinner. The only restaurants open at this time are not at all backpacker friendly, so we had to do with some street food .
अगर सोते रहोगे, तो सपने कब पूरे करोगे? - Upasana Malik
Next day, we were up early as we had to leave for the trek . It had rained the whole night. Ananth being the sensible one, tried to stop me , but me being me, had to go.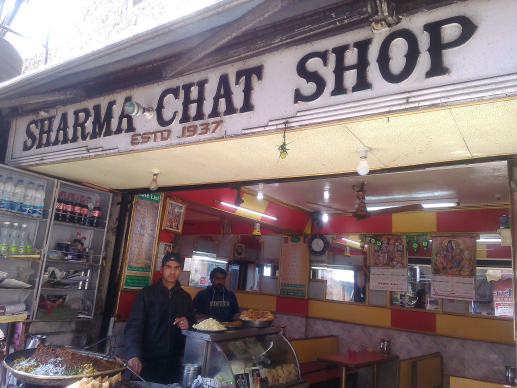 We left, had chole bathure at another famous shop, allegedly the teacher to Sita Ram, the most famous chole bathure wala in Shimla.This was quite different and good, not the usual delhi stuff. Gaiety theatre had just opened. Anant was totally interested in going, so we did. The guide, in his Indo- British accent, told us the whole story. To my surprise, he did the whole tour, for just us two, and that too with full dedication. Never did we feel he was just pushing us over.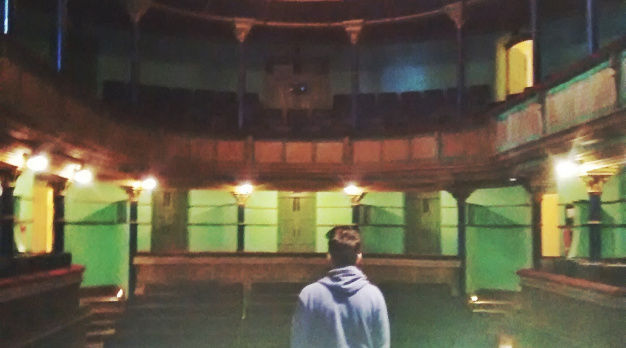 After we were done with Gaeity. We left for the bus stand, but just couldn't find the bus. I kept enquiring, but no one seemed to know about the place. While I was doing this, another bus for Kufri was leaving. After half an hour, we were in Kufri. We did not have any plans. We enquired a taxi driver about the things to do, and he said there's a temple, and there was Kufri Fun World, or we could go sightseeing in his car. Guess what we did

We walked and walked till we saw a muddy path leading straight up to the Kufri Fun World. This place was way too commercialized for my appetite. We headed up, and while we were doing that, there was a hailstorm and we realized we were so high up that we were actually in the clouds. We had mistaken it for fog, but every time we were surrounded by this white mass, it rained.
We finally got up there, and the temple was closed. All we could see was people having the staple hill station food - Maggi. There was a maggi stall everywhere you could see. We lazed around for a while,took in the beautiful view, and then went to a small maggi stall in the corner.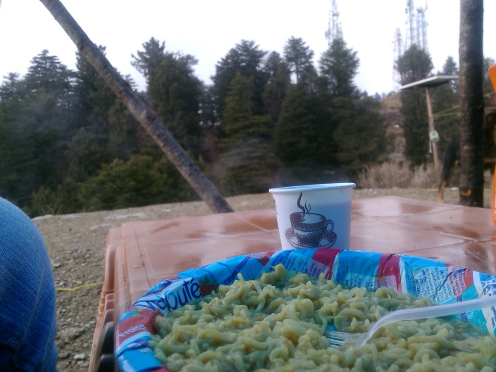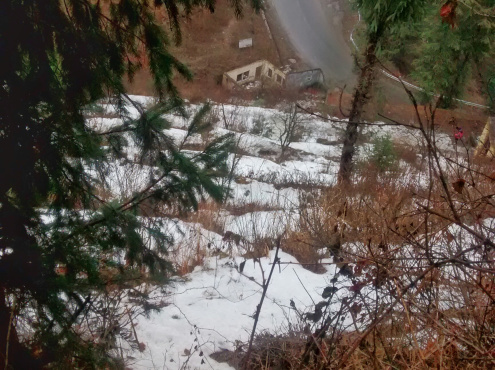 We had chai, maggi and aloo parantha. Everything was better than expected, except my shoes and my jeans. The muddy path had messed them all up. We left the place as we had a bus to catch. We were all ready to go down that messed up path again, then we saw a snow laden path. It did look like fresh snow and that was the first time we had seen it, except for the muddy snow which we had ignored while on our way up the hill. So, we took that path, took some pictures and then searched for an alternate path downhill. We asked a local, and he sent us with another local guy who was going down.
So we went down with our guide. He owned a shooting range or something up on the hill and was here just to check on things. He told us all the skills required to go down a mountain. Still, I fell at least 2 times and my jeans and hoodie got even messier. My trekking shoes were no match against our guide's sport shoes.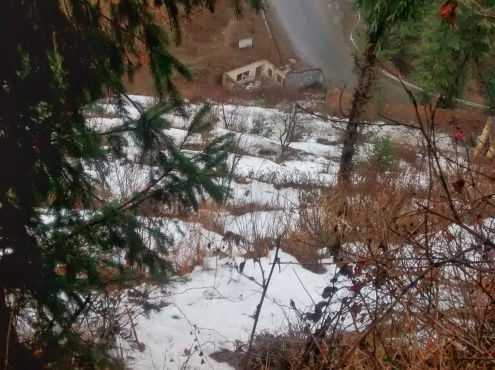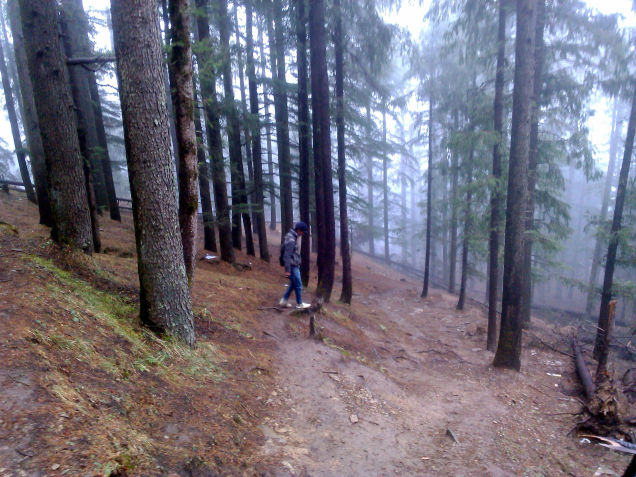 All messed up, we got down, and took a bus to Shimla. Ananth had taken the ticket to the new bus stand which is far far away from the main city, so after reaching the bus stand, I had to go back to the railway station to get my souvenir.( I take a souvenir from every place that I go to and I put it on my backpack) I wanted a mountain railway keychain, but when i got there, the Souvenir shop was closed. Some brits had just arrived at the station. Here to see what you did back then, huh. Anyway, taking a chilled out stroll on the rain kissed roads of Shimla, I went back to the bus stand after taking help from a local boy. It was a mixed experience with the locals here. Some went out of their way to help us, but some were just too rigid and done with helping the tourists, in this city overburdened with civilization.
Even though we didn't do what we went to Shimla for, we did some things which we never expected to find in this tourist hub, like that well hidden cafes behind the Viceregal Lodge to spend your lazy afternoons. Shimla wasn't what I wanted it to be, but its old world charm or what's left of it is something one cannot resist. If this post wasn't enough to convince you to go pack your bags, go check my instagram. Those pictures might do the trick.
Babu Moshai Zindagi badi honi chahiye lambi nahi.. - Anand
Don't forget to share and like this post if it stirred the wanderlust in you.
Till we pack our bags again!!
This blog was originally published on 'Reaching Solace'