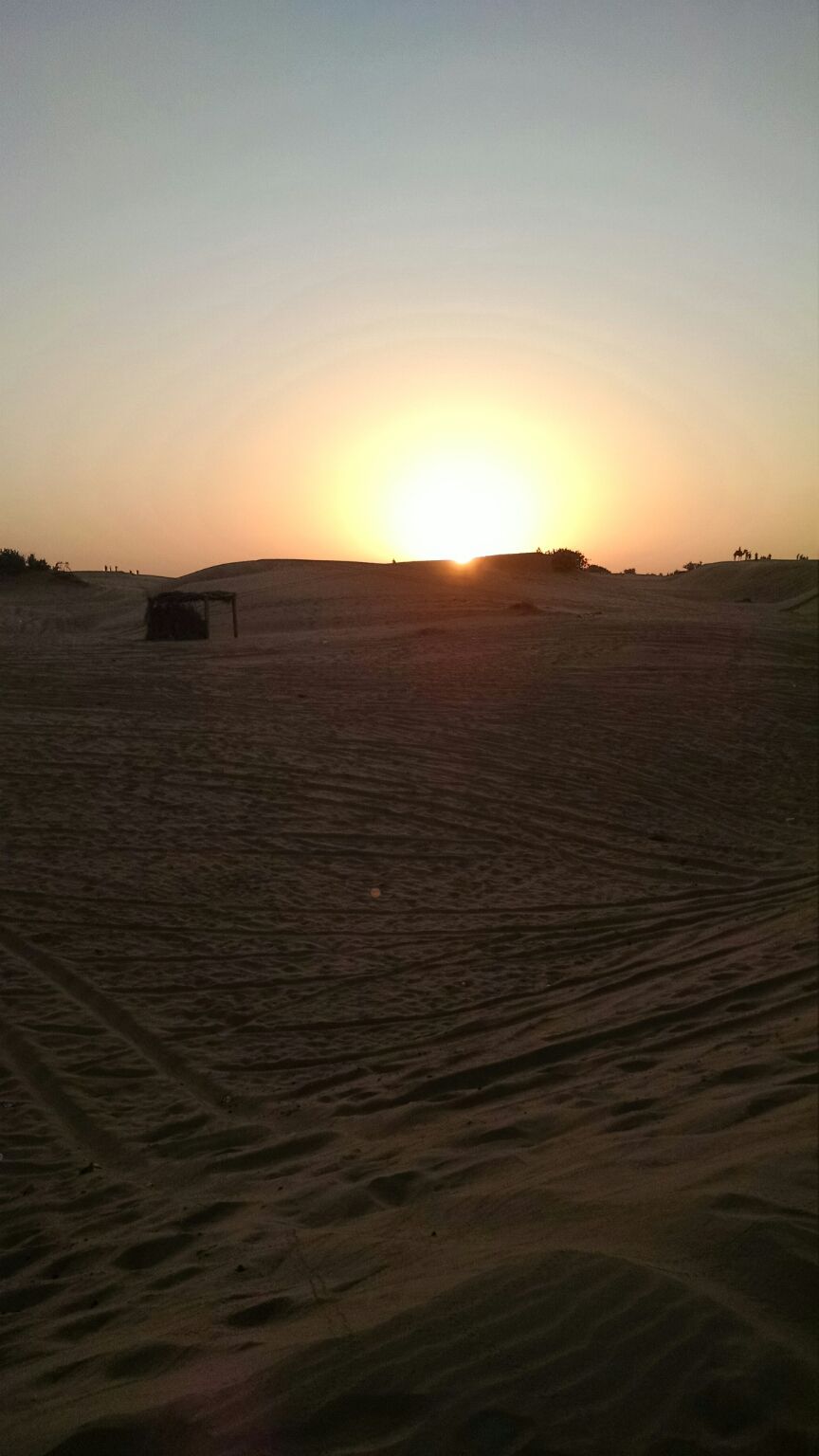 So it was a long weekend and we decided to have a road trip to an untouched location. Though, I have born and brought up in Rajasthan but never visited this place or say many of us never saw the Sam Sand Dunes.
Our road trip began at 7am morning from Udaipur. We had 2 cars wagonr and i20. We fueled our Animal Carts and accelerated the speed. Our first destination was Jaisalmer. The roads from Udaipur to Jaisalmer is quite good. It's not as bad as the other roads in Rajasthan. on The way to Jaisalmer, we had our lunch on a roadside Dhaba which offered us a very spicy yet delicious food. It offered taste of Rajasthan. There are so many dhabas who offer full fried veg., If you're going to Jaisalmer by own vehicle, you must taste food there.
Om Banna Temple:
On the way to Jaisalmer, there is a place called "Om Banna Temple". It is believed that every vehicle who passes from this highway has to stop here so we did too. You will find people worshipping a bullet bike which is kept in a framed box of glass. You can Google about this story.
Touched the first Destination:
We reached to Jaisalmer around 6PM in evening and the very first thing was we needed to have bath. We checked into Hotel Rana Villa (Booked already on OYO rooms) and dived into Pool. Though, diving is not allowed in hotel's swimming pools but who cares, we were there to have fun.
After rejuvenate session, we were all set for drinks. 2 of us went to the local market and arranged booze for us as our hotel's bar was under construction. Our hotel was having a prominent view of Famous Jaisalmer fort.
After drinks and dinner we moved to our rooms for sleep.
Next morning we woke up at 7am. after having breakfast we were ready to hit our next destinations which was Tanot Mata Temple. It is said that during the Battle of 1971 Indo-Pak, Pakistan fired nearly 3000 bombs and nearly 500 bombs fell into this temple, but no single bomb exploded. Another interesting and random seen thing is that this temple also has a Mausoleum for Muslim visitors.
Now, we moved to Longewala. During the Indo-Pak battle 1971, it was the one of those posts which Pakistan tried to capture but Indian ARMY didn't let them do it (Yeah, feel proud and big salute to INDIAN ARMY). They make the most out of enemy's errors and though, Indians were few in front of Pakistani brigade but still they managed not to lose this post easily. So, being an Indian, it was really great feeling to visit this place. When I reached there, the first thing I did to capture the milestone of Longewala as shown in pictures. After that operation, all the vehicles and equipment which were used by Pakistan, were kept here and Indian Army created a small museum for visitors.