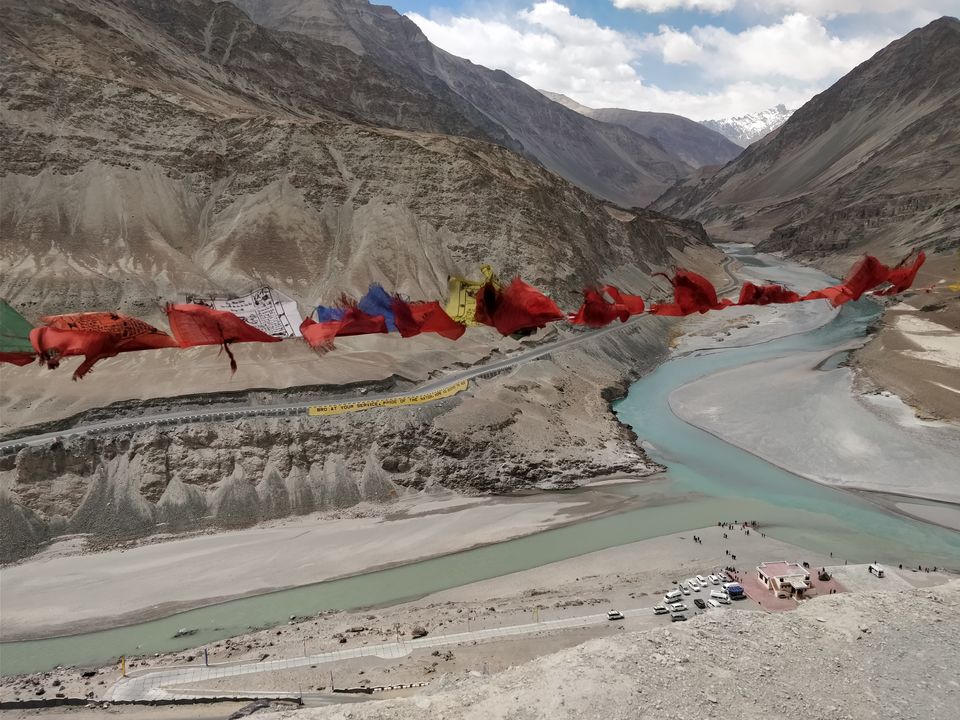 I always knew Ladakh is a splendid place India can boast of, but boy did I underestimate its beauty and magnificence. My love affair with this place began while we were still in the air. Engulfed in a cluster of clouds, we were preparing for landing, when the clouds gave way to a view which was surreal from up above.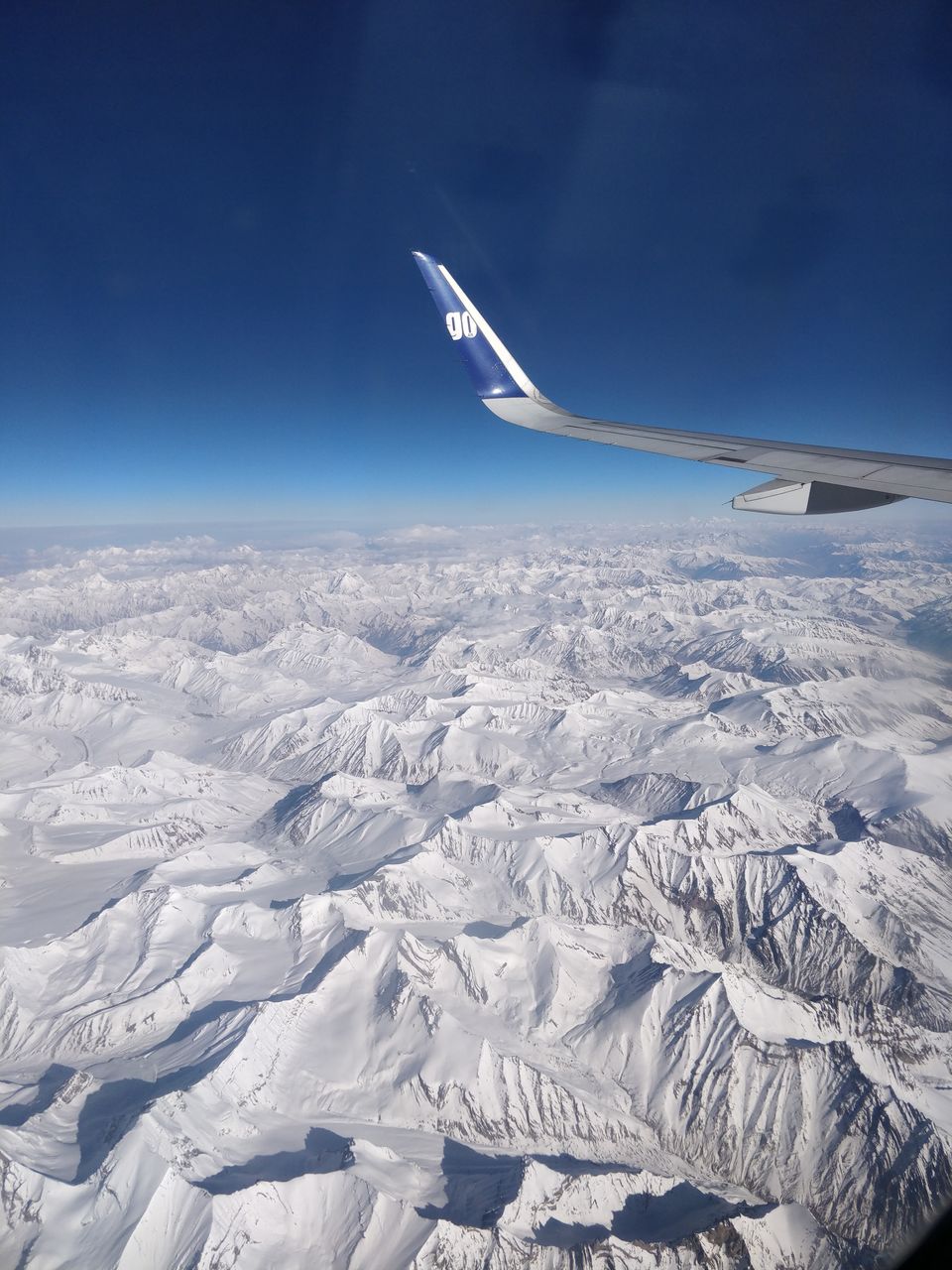 Leh airport is the smallest one I've seen yet the most natural one, with the runway built amidst snow-clad mountains. Whatever apprehensions I had about staying fit through the course of our stay in this high-altitude place disappeared and I felt, felt from the deepest corner of my heart that exciting times lie ahead!
Baggage in hand, shivering from the weather which hit us, taking in all the beauty around us, we stood there grinning from ear to ear like school kids upto some mischief. The hotel we were put up at was idyllic to say the least, with an old-world charm to it with just the right amenities. Cobblestone architecture with vintage furniture to complement it, my photo gallery was filled with gazillion nature shots within an hour of landing at Leh. Woah!
While sipping on the piping hot tea and cookies we were welcomed with, I couldn't wait to dive into the day and see what Leh has in store for me. But the hotel manager was quick to burst my bubble. He told us to rest the entire day and acclimatize ourselves to this high-altitude place (which is around 11,000 ft above sea level). "Who rests on the first day of their trip?" I thought. I realized much later the importance of this advice. More on that later.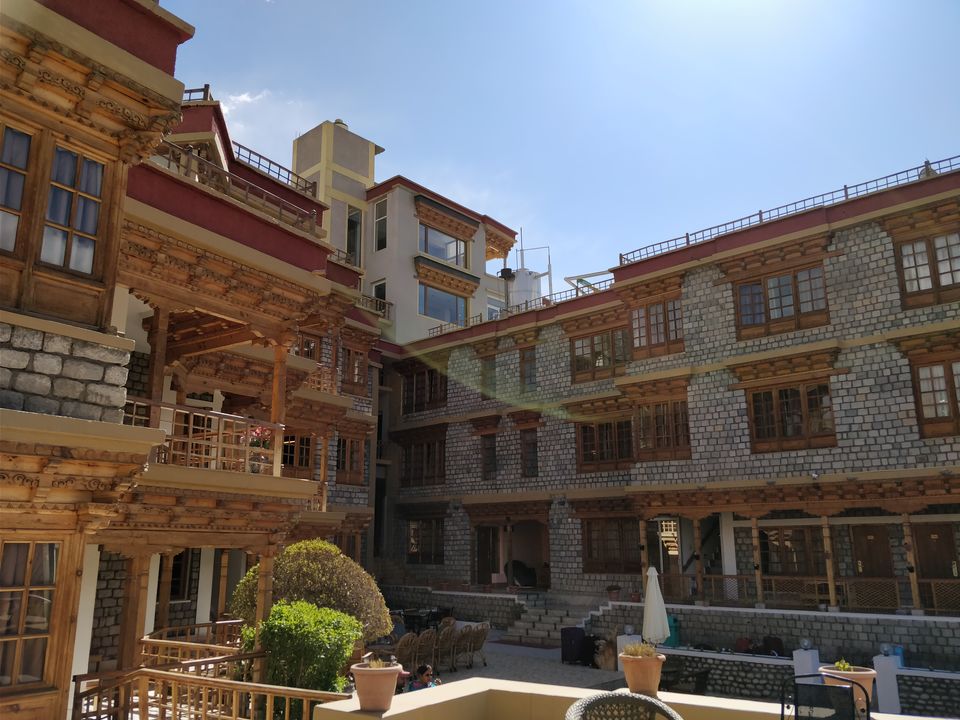 Day 1 – Was all about eat, sleep, and some window shopping. All in all, a relaxing day.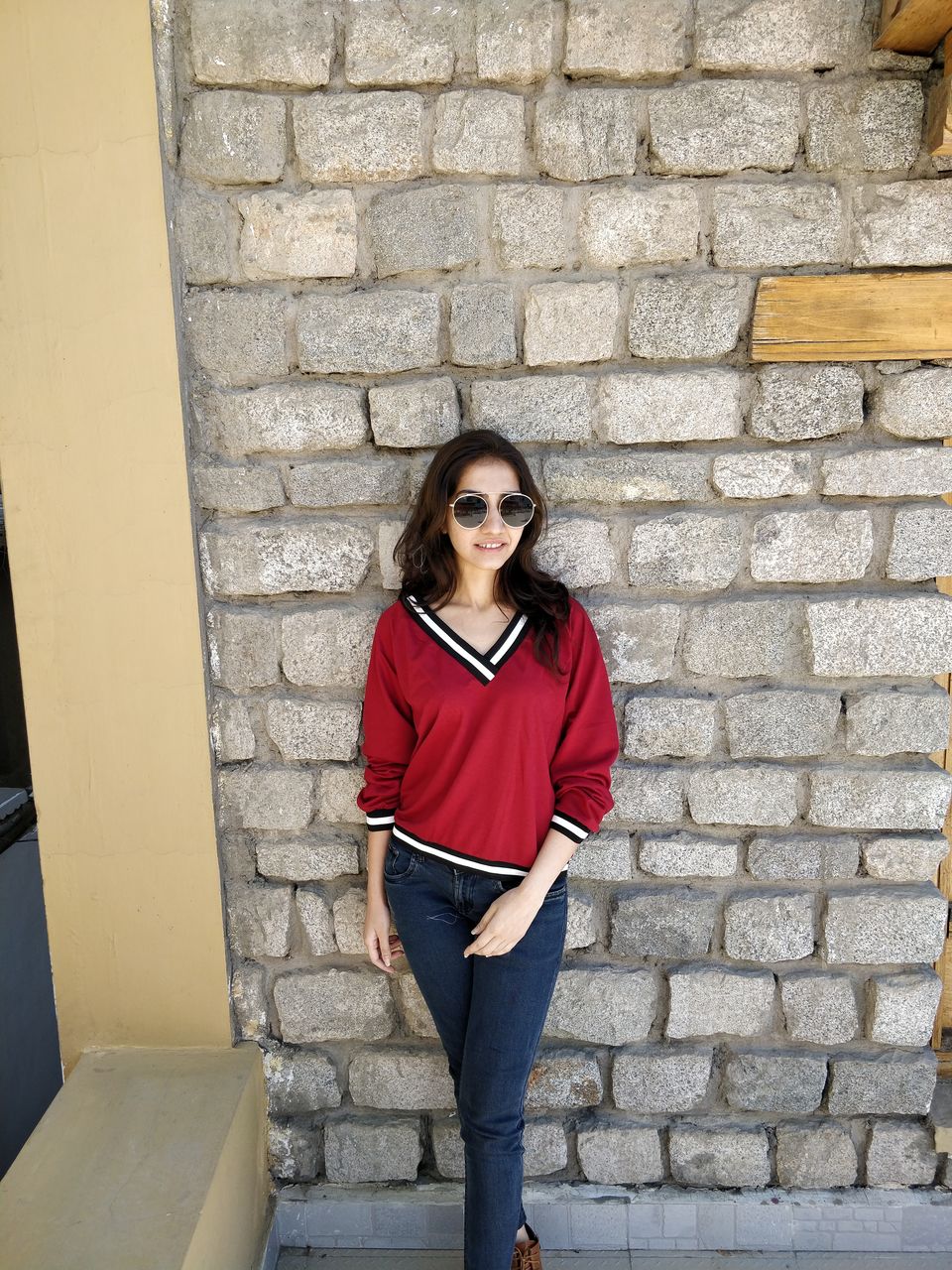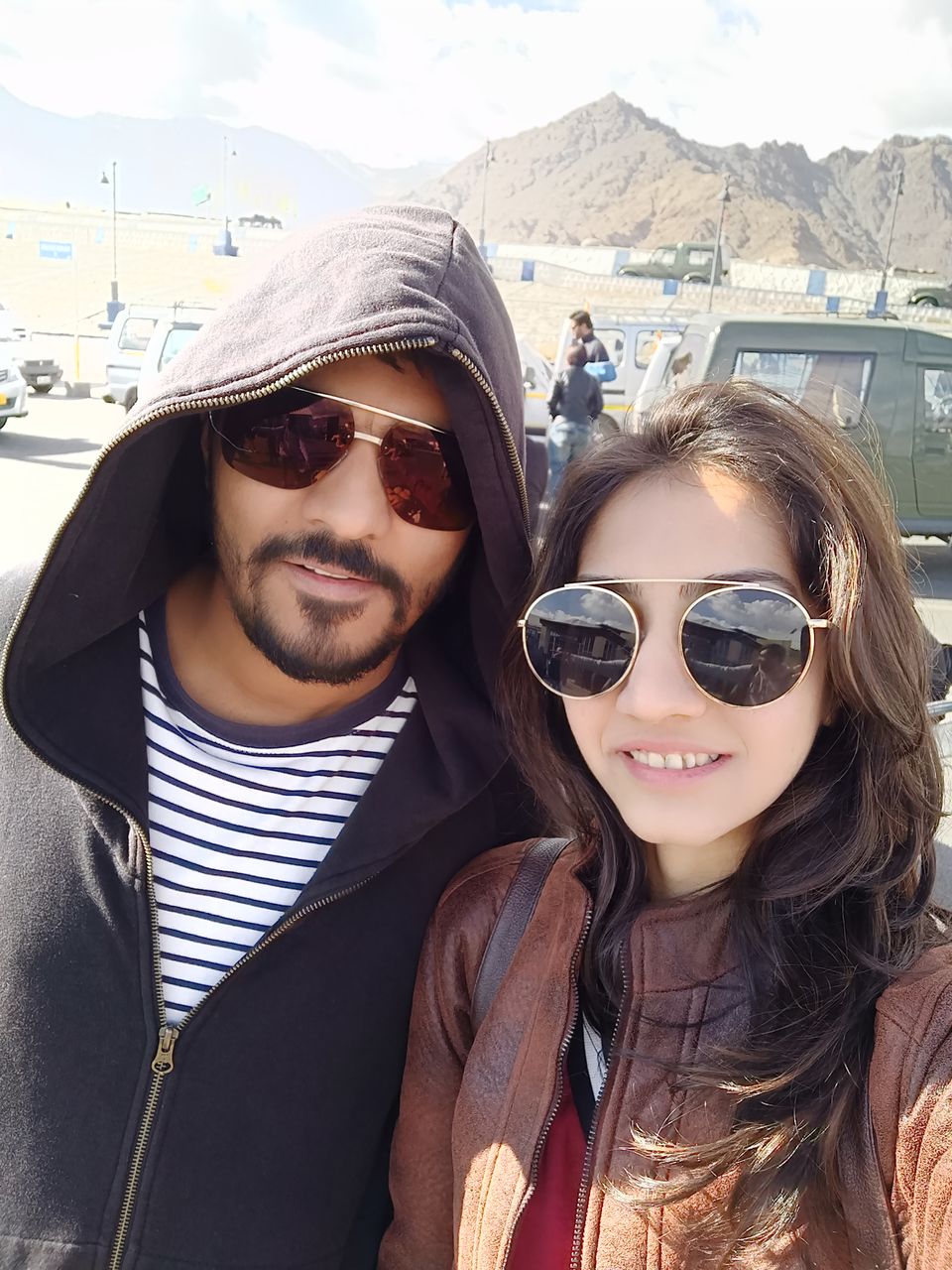 Day 2 – All dressed up to brave the cold, we were all set to seize the day. On our way towards the Magnetic Hill, we rode on the Leh-Srinagar highway. It seemed like we were the lone travelers across the length of the road, which didn't seem to end. "It would be a shame if we didn't get out of our minivan and appreciate the beauty that is around us" we thought. And off we got from the bus, swallowed in the landscapes, and clicked some more pictures.
The concept of Magnetic Hill is that it defies the logic of gravity. You can park your car alongside the road and see it for yourself. Next up was one of my favourite sights of the journey. Sangam – the confluence of rivers Zanskar and Indus. Indus river, also known as Sindhu flows on to Pakistan and is its longest and national river. The amalgamation of these two rivers is a sight to behold, right out of a postcard. It could give many international tourist spots a run for its money.
On our way to the Likir Monastery, we took a break at Gurudwara Pathar Sahib, sought blessings and soaked in its tranquility. The way to Likir Monastery was an isolated one, but the view after a steep climb was simply breathtaking, literally, as the exhaustion combined with the cool winds made it difficult to breathe. By the end of the day, I realized two things about Ladakh-
1. Prayer flags adorn the streets and homes in Ladakh. There's a belief that these prayer flags emanate positive energy and protect the people staying there from natural calamities.
2. There's heavy army presence across Ladakh, with army trucks and camps being a common sight across. Most of the infrastructure in Ladakh is built and maintained by the Indian army. One more feather in the caps of these bravehearts.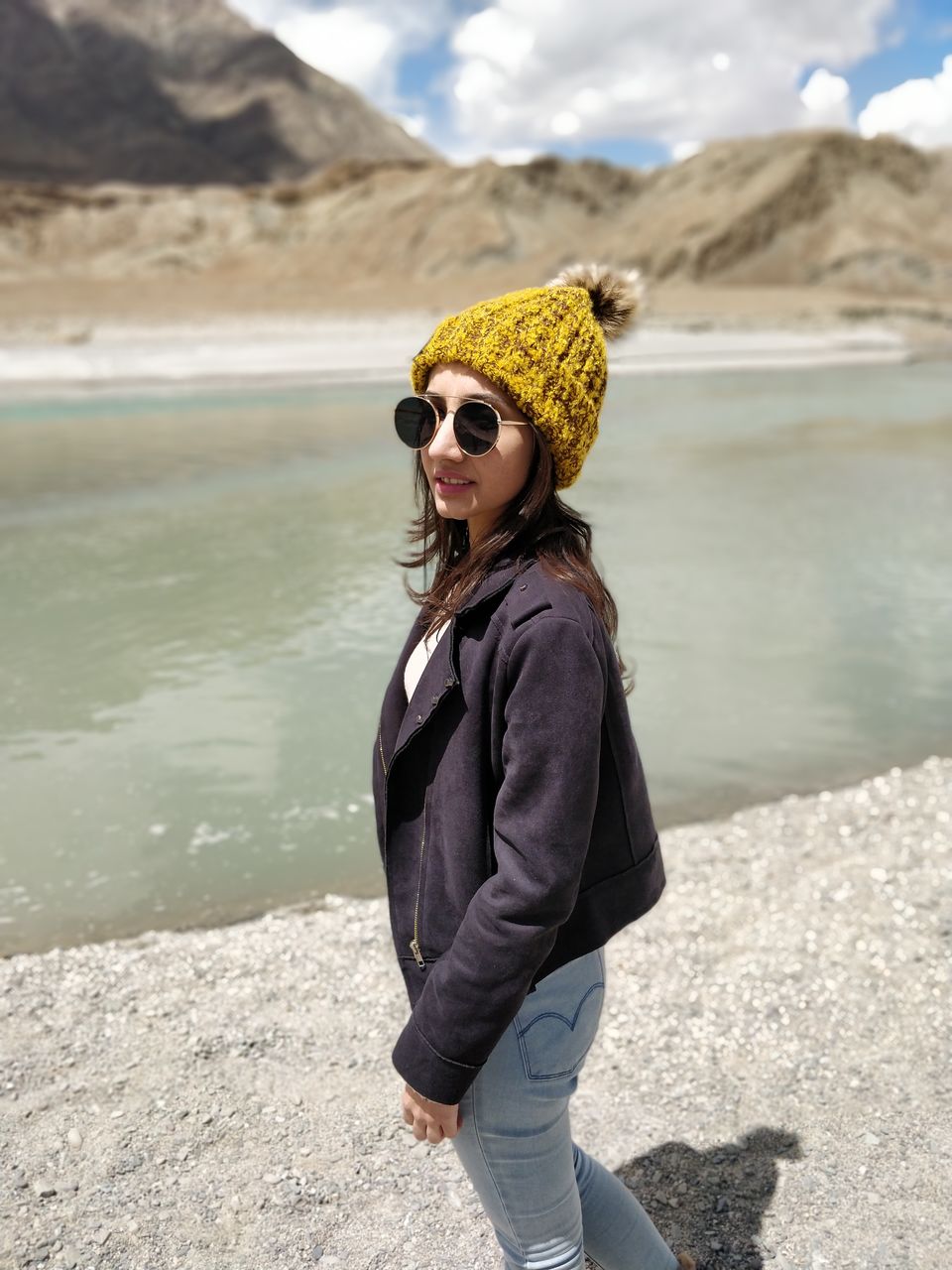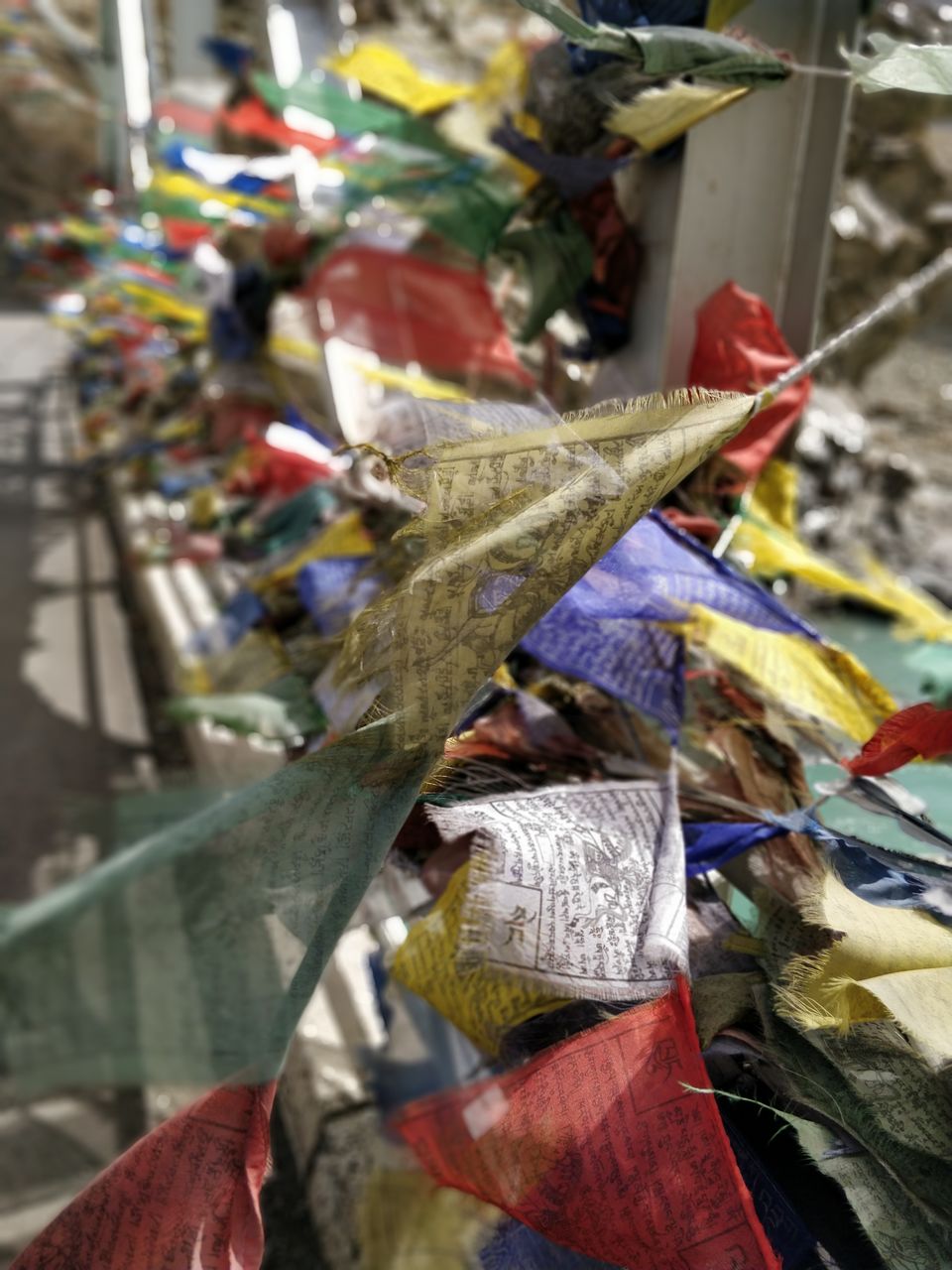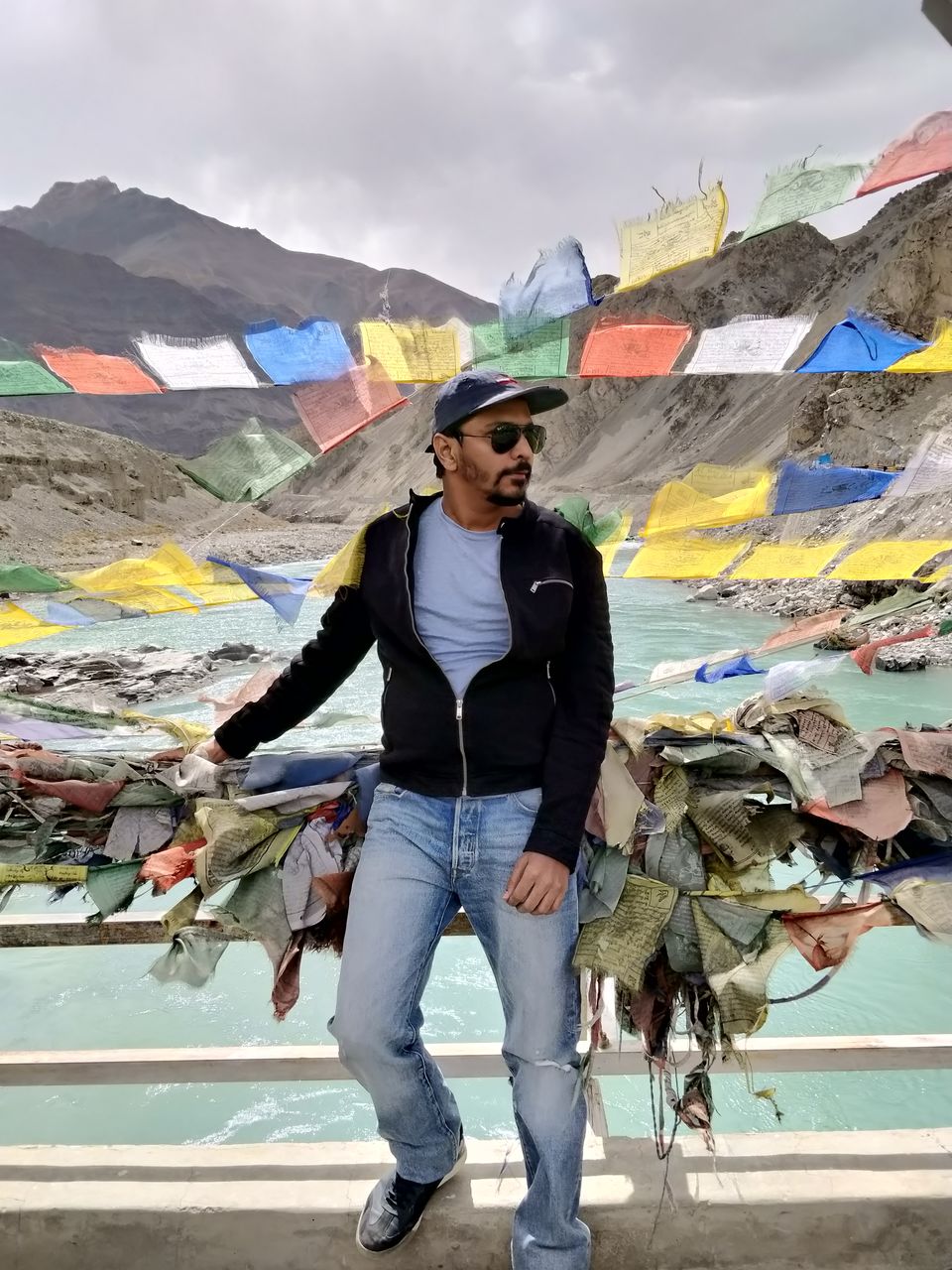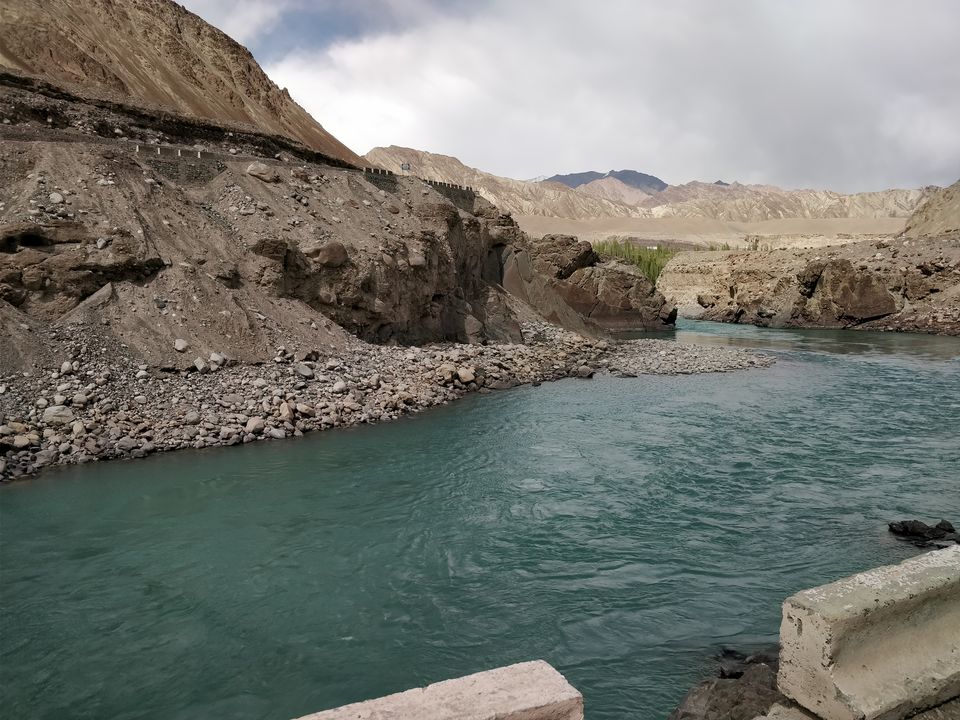 Day 3 – When we were preparing to leave that morning, I saw two Royal Enfields parked near our gate. Apparently, the boys didn't want to leave Ladakh without a good ol' bike ride and had booked them on rent for 2 days. Everyone was elated and there was a different kind of energy around. Until we hit the roads and realized riding a Bullet on a straight road and riding it on high-altitude narrow passes are two different things. There are long stretches of roads in Ladakh which are not built properly and are filled with slush, making the ride a fairly bumpy one.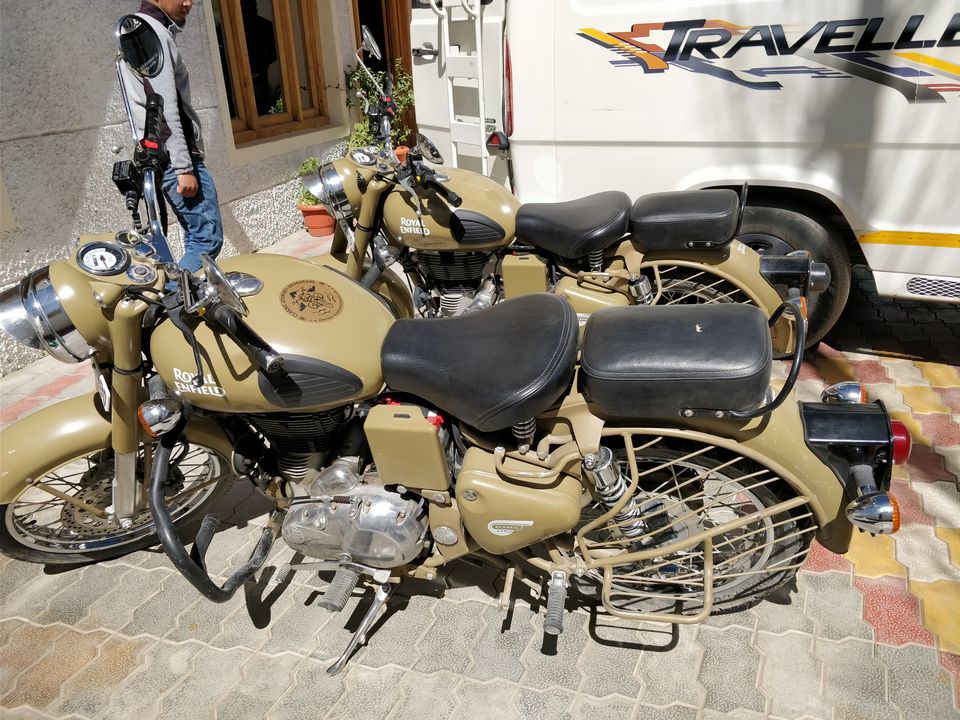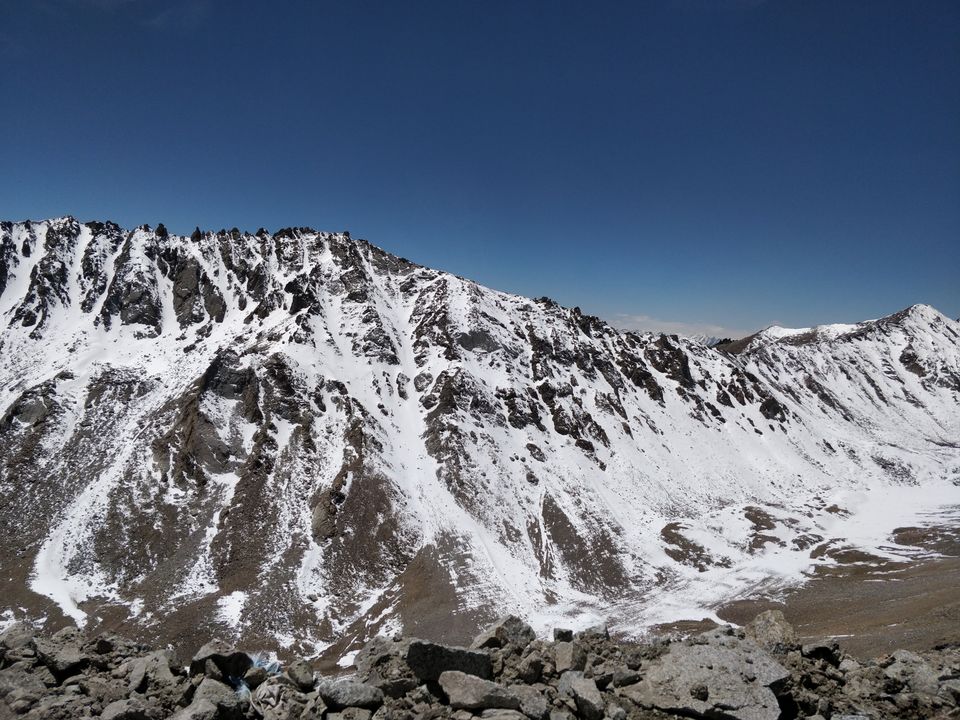 Nonetheless, excitement was in the air as we were nearing the highest motorable road, Khardung La pass at 18,600 ft. (whether it is the highest motorable road in the world is debatable). We were told prior to the journey about certain effects the high altitude might have on us. Some of us took a medicine to minimize the Acute Mountain Sickness (AMS). A few of my groupmates had begun experiencing the effects of AMS, with nausea and vomiting overcoming them. We stood on the pass for a few minutes before rushing to a tiny café which sold tea and maggi, whose warmth served as our savior. It was only after we left from Khardung la pass, after close to half an hour, did I started feeling under the weather. AMS is a real thing, I figured.
After a quick stop at a dhaba, next up was Diskit monastery, the largest Buddhist monastery in Nubra valley. Again, the view from the top of this monastery is so soothing and gorgeous. We felt so tiny in front of the massive Buddha idol. By then everyone was feeling better and energized. Nubra valley, here we come, we said. The way towards Nubra valley was so picturesque. It was close to dusk when we reached there, and the sky was painted in beautiful hues of orange, yellow and blue. A ride on a double humped camel in the sand dunes of Nubra Valley, with calming skies for company made for a perfect end to the evening.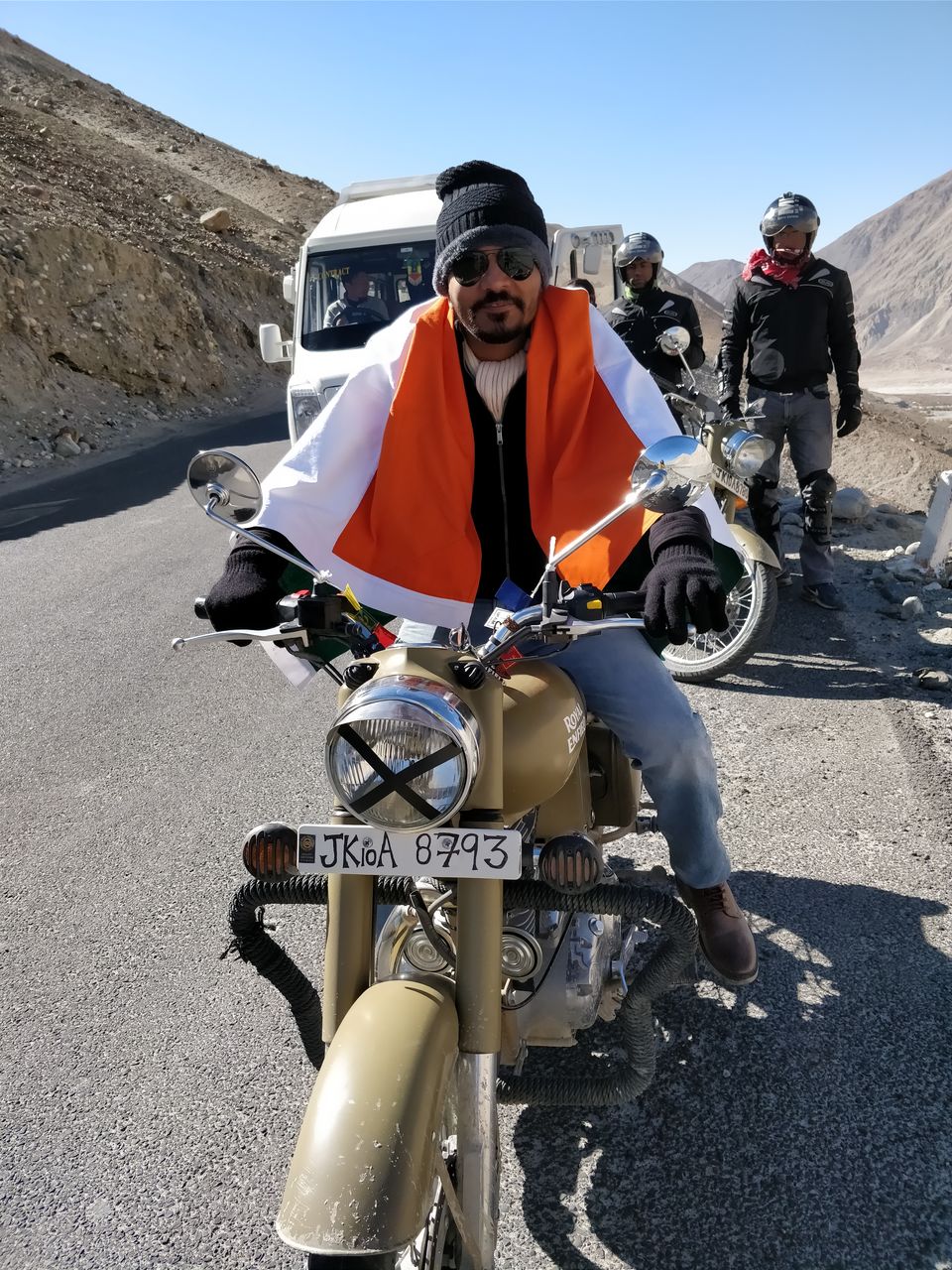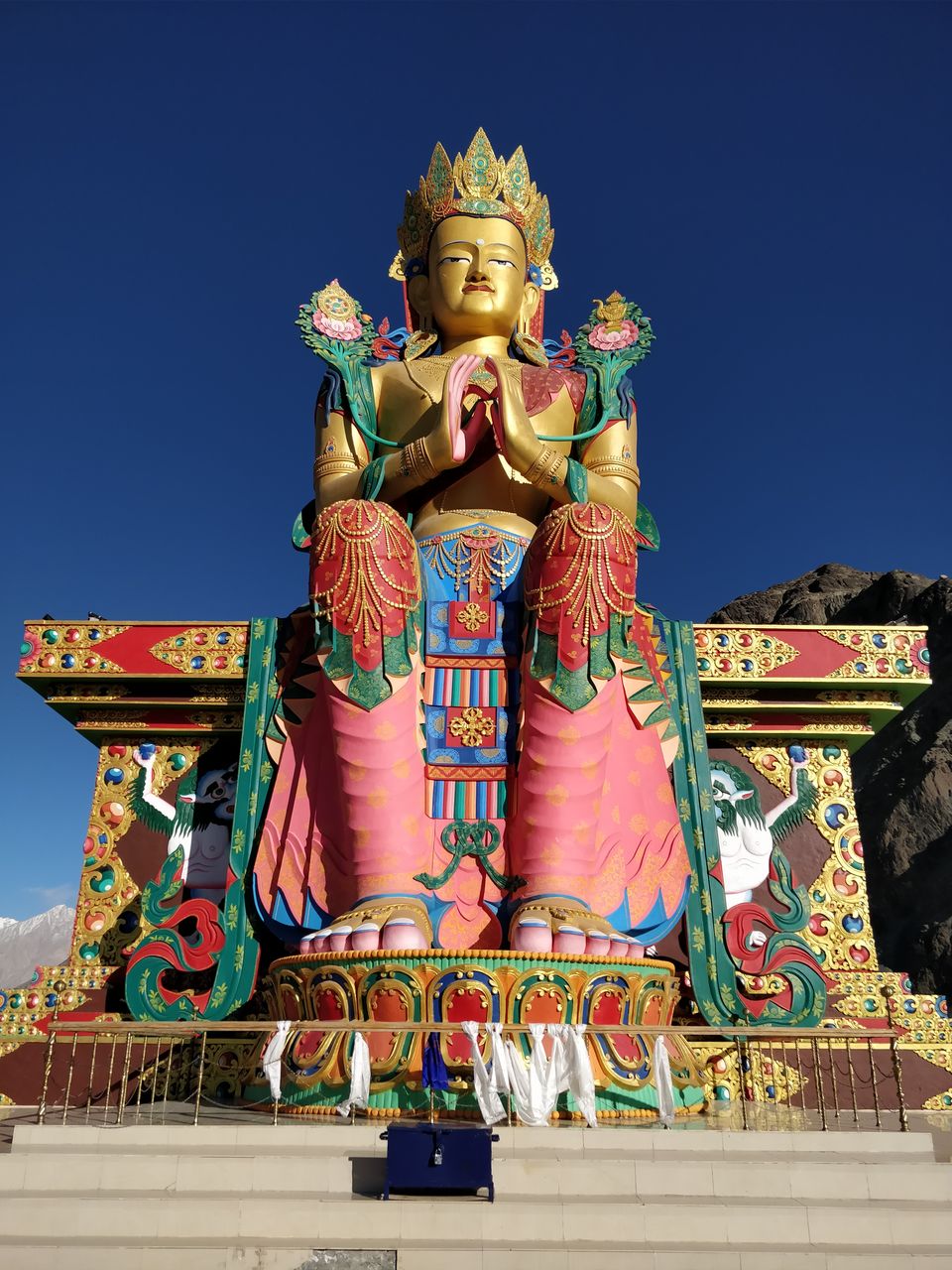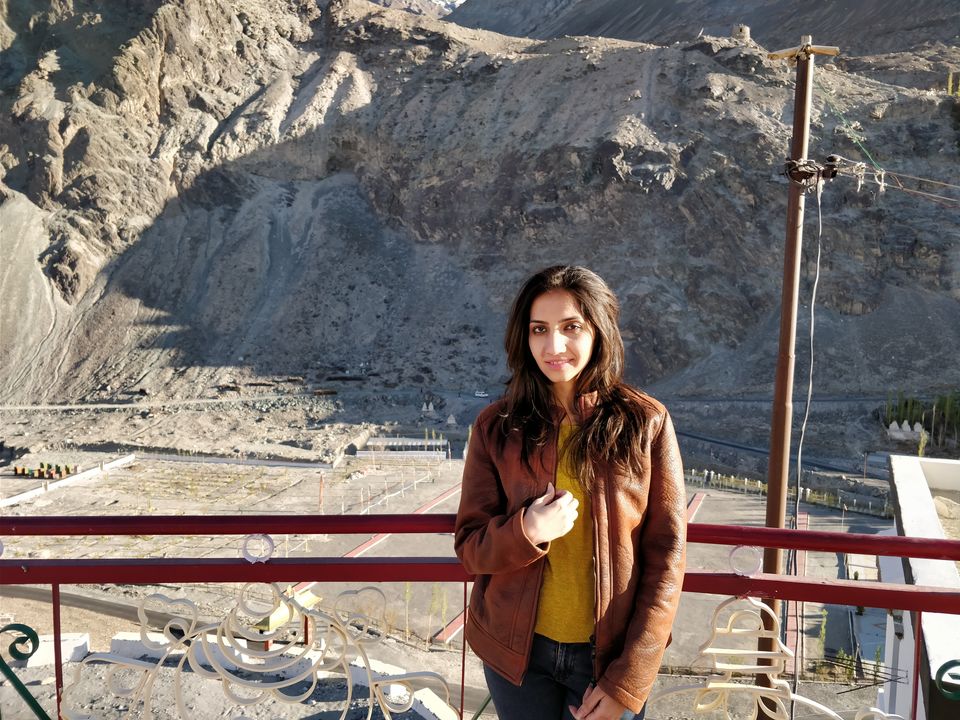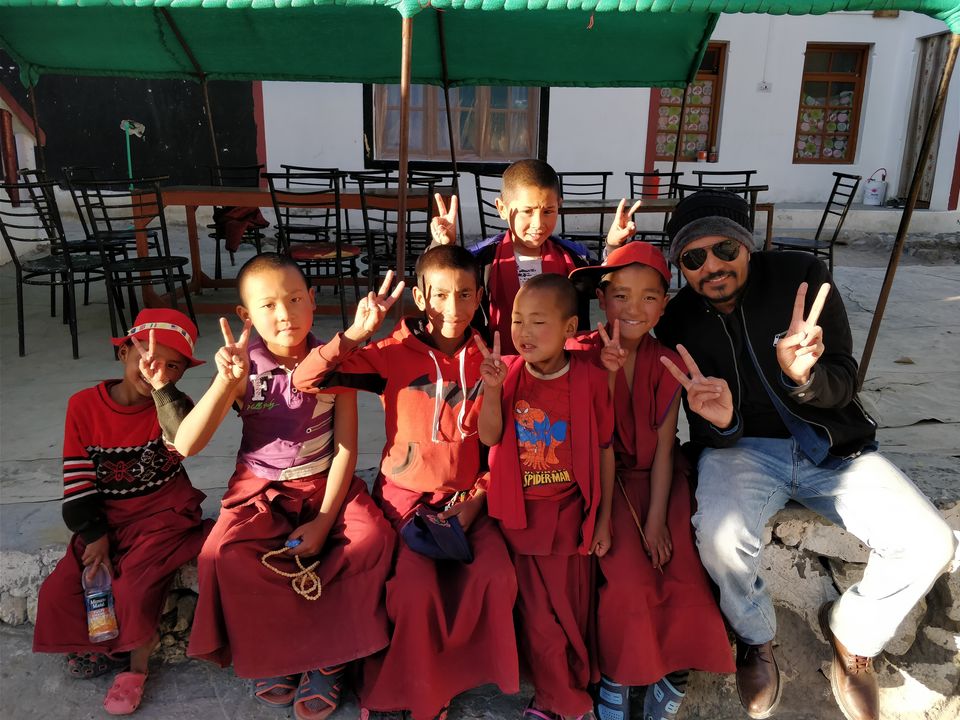 That night, we stayed in a tent which was as good as a hotel room from the inside, just much cozier. A bonfire, accompanied by some food, dance and soulful conversations was how we called it a night.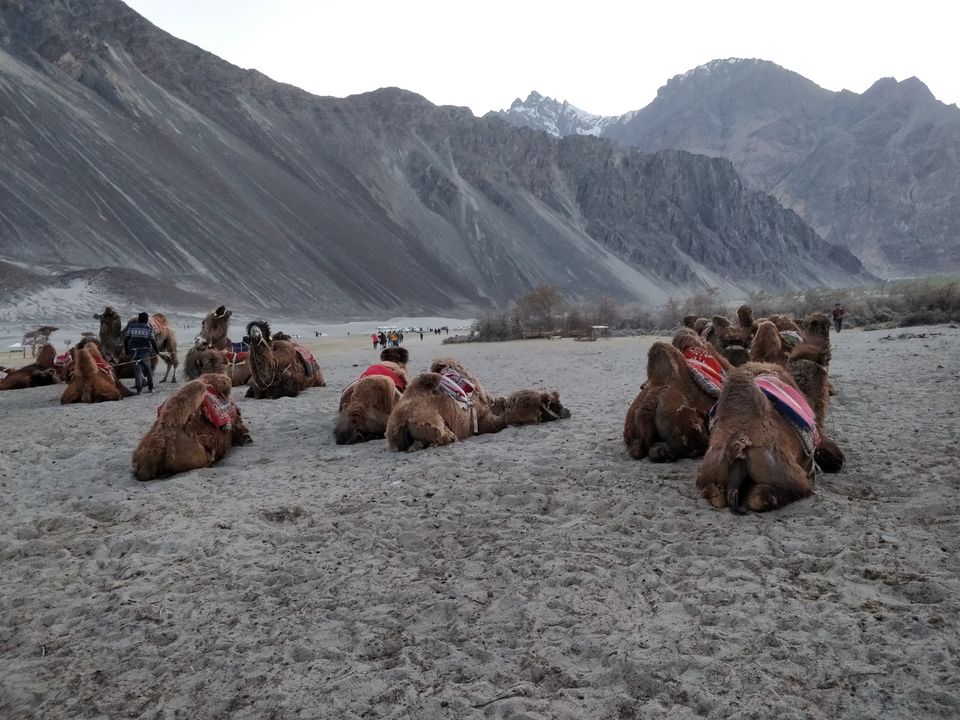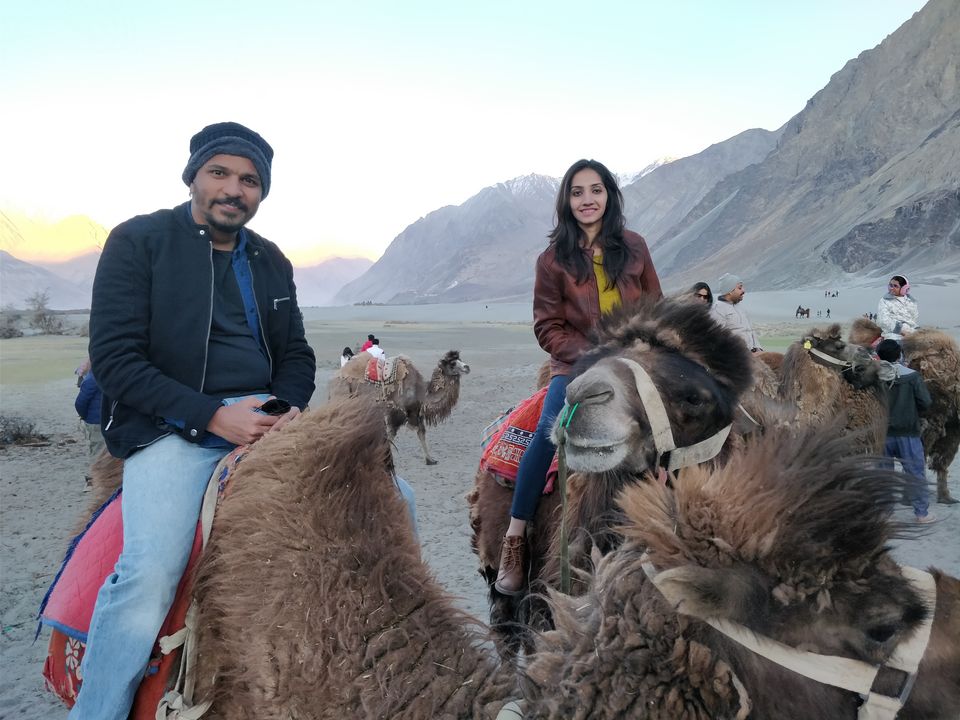 Day 4- Next morning we were greeted with flat tyres of our Bikes. A couple of hours of delay, but we hit the road with a bang. Took a pit stop to see Shyok river, simply admiring the calm and beauty of it all. That's the thing about Ladakh, it makes you stop and see and feel. Not for social media, for friends or family, but for yourself. Shanti Stupa was our next destination, a Buddhist white domed stupa on a hilltop. We thought of it to be just another tourist attraction. But it proved us wrong. It gives you a panaromic view of the surrounding landscape, which is mostly the Leh town. We also came across a group of budding cinematographers, who had come there to do a recce of the location.
P.S. If you go to Shanti Stupa, don't forget to visit its café for a quick tea and coffee session. I think the term 'coffee with a view' originated at this place.
While having dinner that night at our hotel, we overheard a group of friends talking about how most of their kids were sick and some even admitted to the hospital, as they didn't wait a day to acclimatize themselves to the place and instead began on the journey the same day they landed. Glad we paid heed to our hotel manager's advice.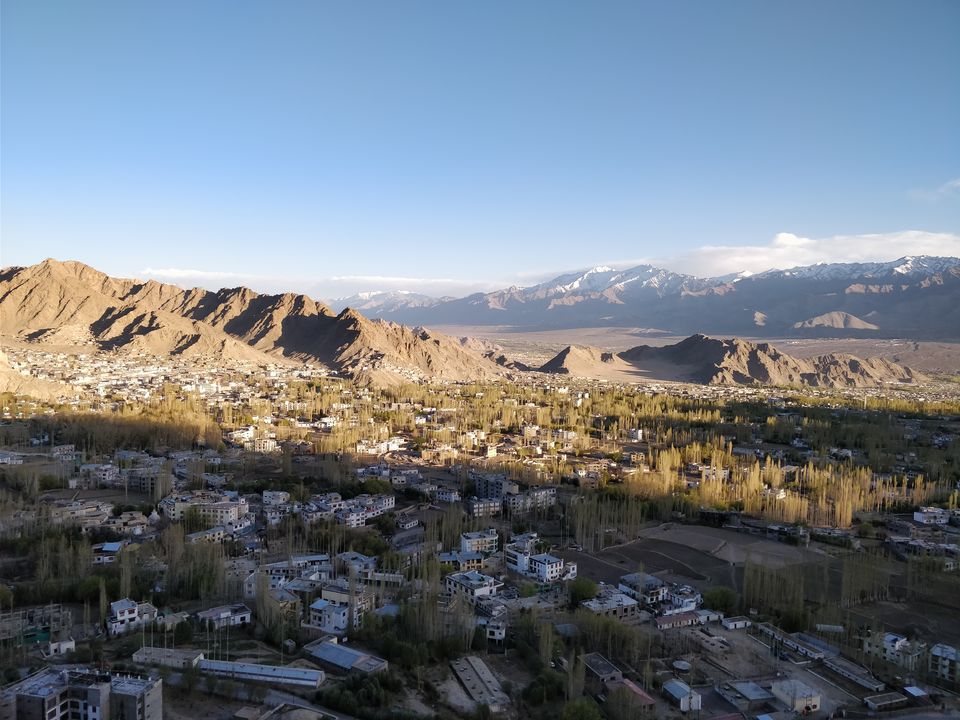 Day 5 – Our only destination for the day was Pangong lake. And we're glad we decided on that as the drive to the lake was a long and arduous one. But definitely worth it, as on the way we stopped at Chang La pass, a high altitude (around 17,500 ft.) motorable road. Though the cold was starting to give us a migraine, the snow all along the Chang La pass was enough to evoke the kid in us, as we stepped out on the pass, played with snow, and looked around wide-eyed like a child in a candy shop.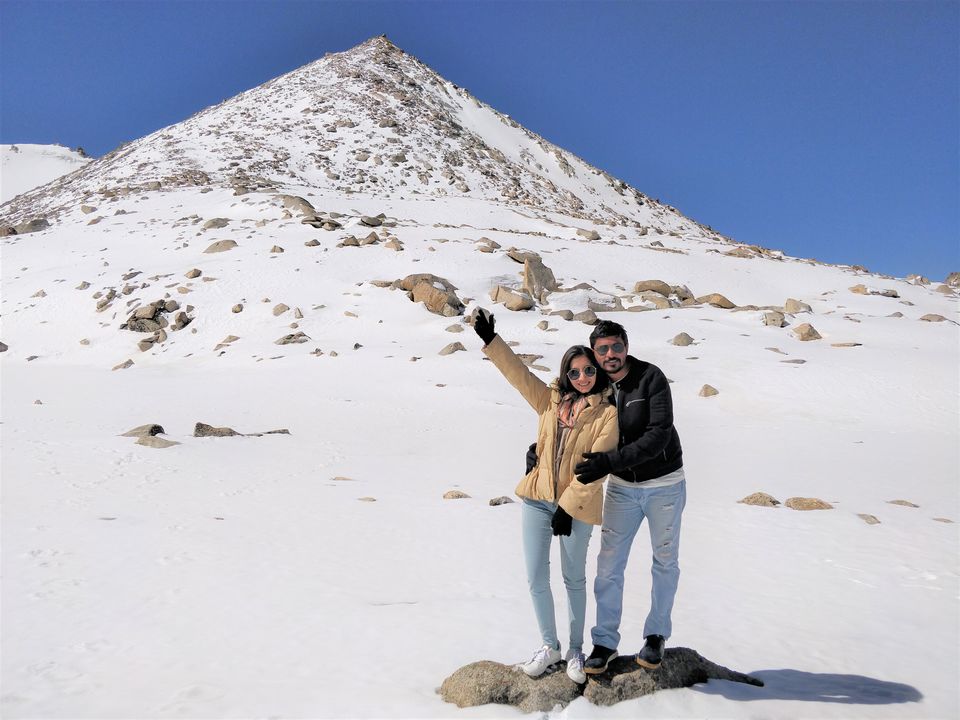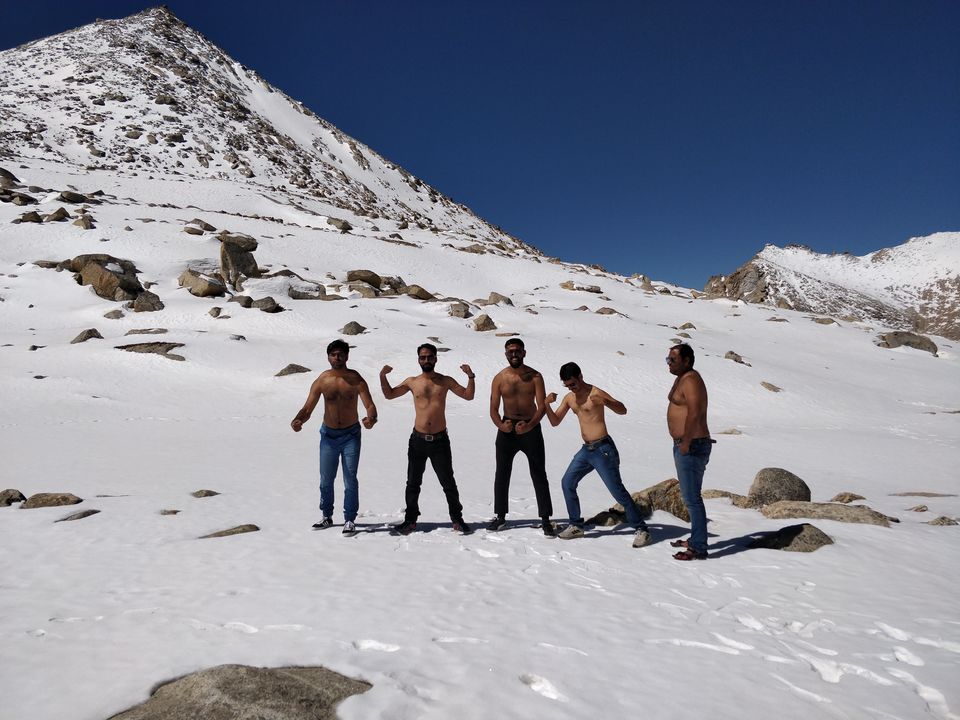 Faraway we could see a sea of water flickering. That was our destination, Pangong lake. Our driver took us to a far end of the lake, where tourists are nil, and we had this gorgeous view just for ourselves. No amount of pictures or videos did justice to this magnificent creation of nature. That picture is still etched in my mind.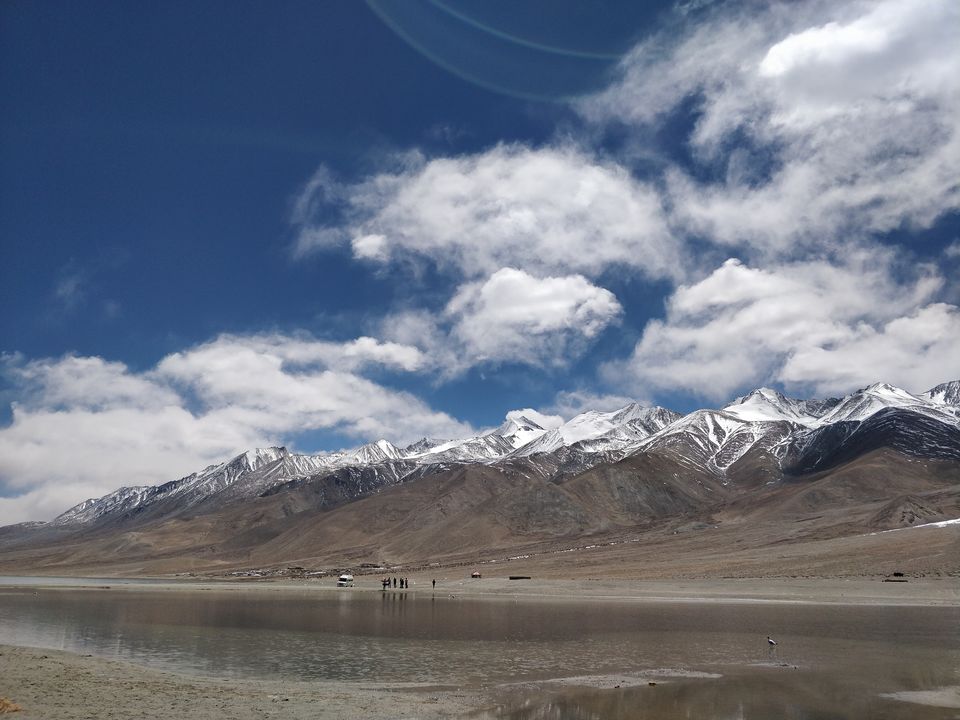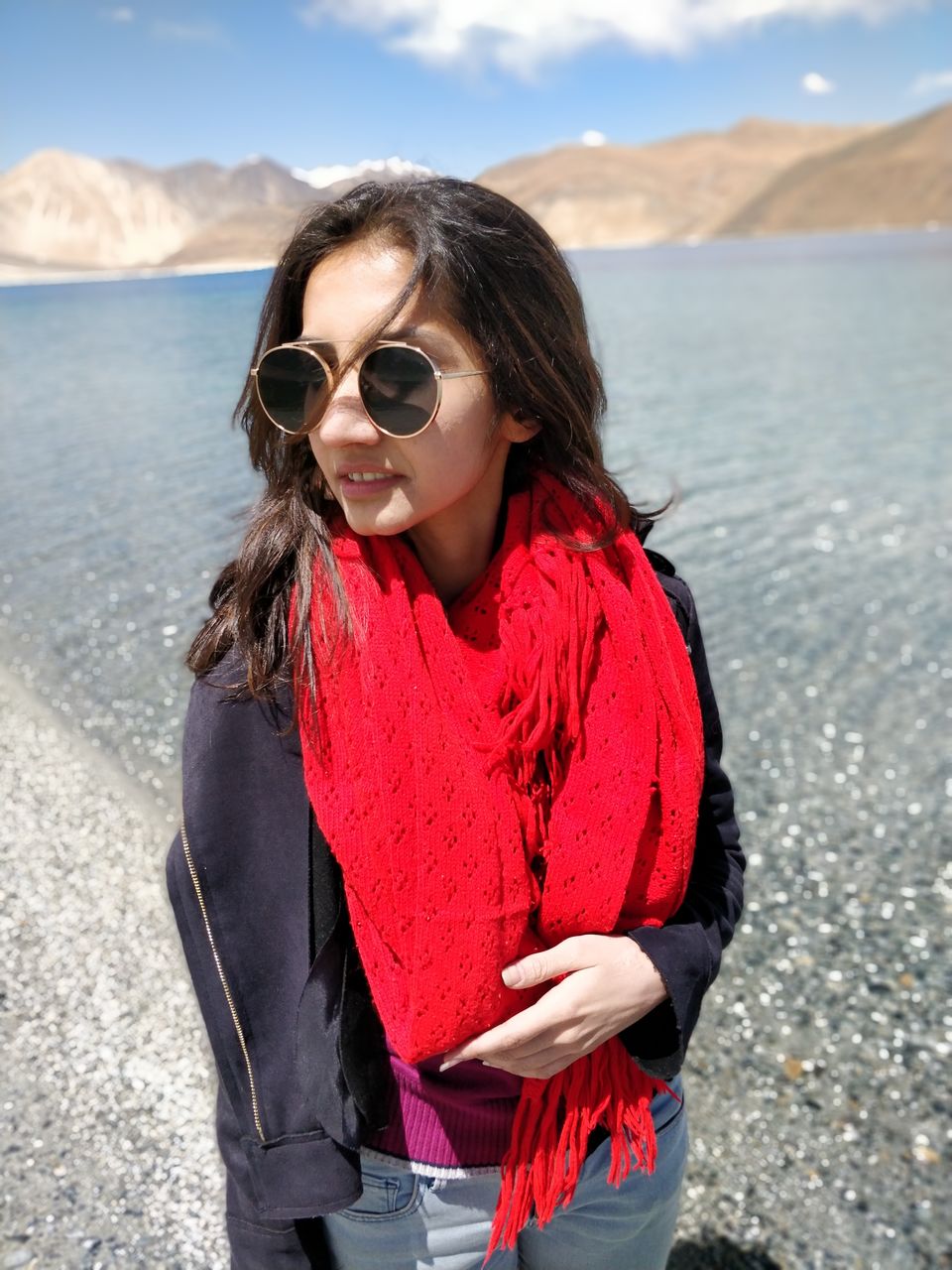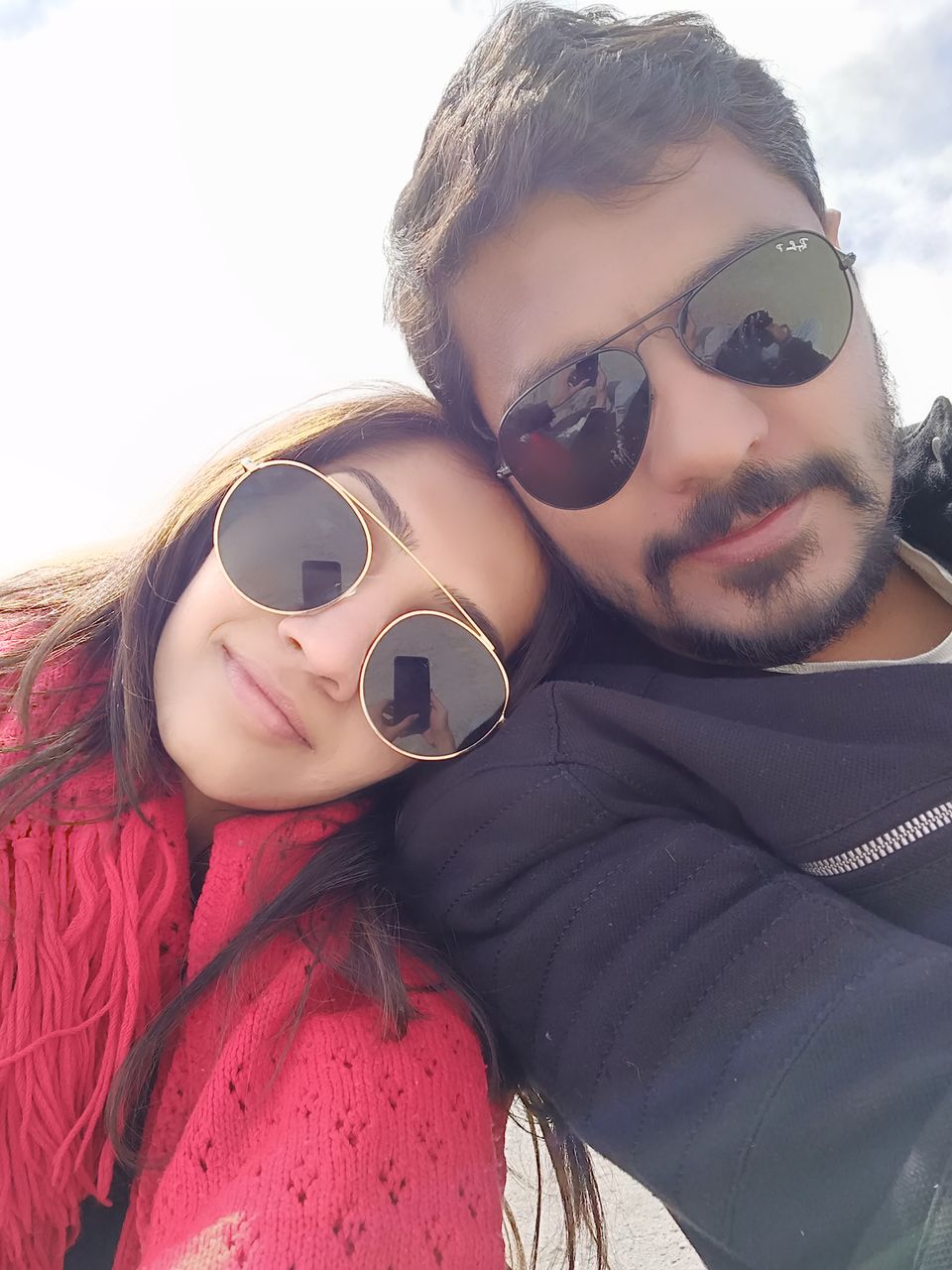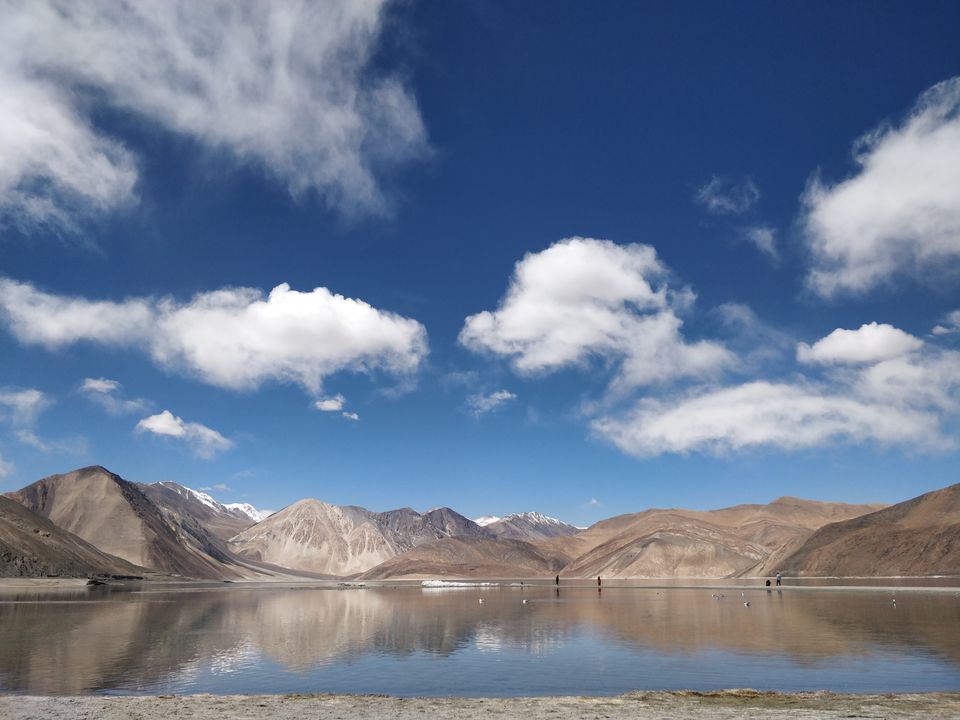 Day 6 - Next day as we were ready to pack up and board our flight back to Mumbai, I had this almost dramatic flashback of my last few days. It was thrilling and humbling. My visit to Ladakh taught me how little we are in the greater scheme of things, how we tend to forget to focus on the good, how it's the little things that matter, and most importantly, to appreciate things while you have it. I would encourage all my friends and family to visit this heaven on earth at least once in their lifetime, while you're fit and your body can survive some harsh climatic conditions.
Sure we love our fancy international holidays or trips to remote islands, but nothing can beat the charm and rawness of the land of high passes, Ladakh!