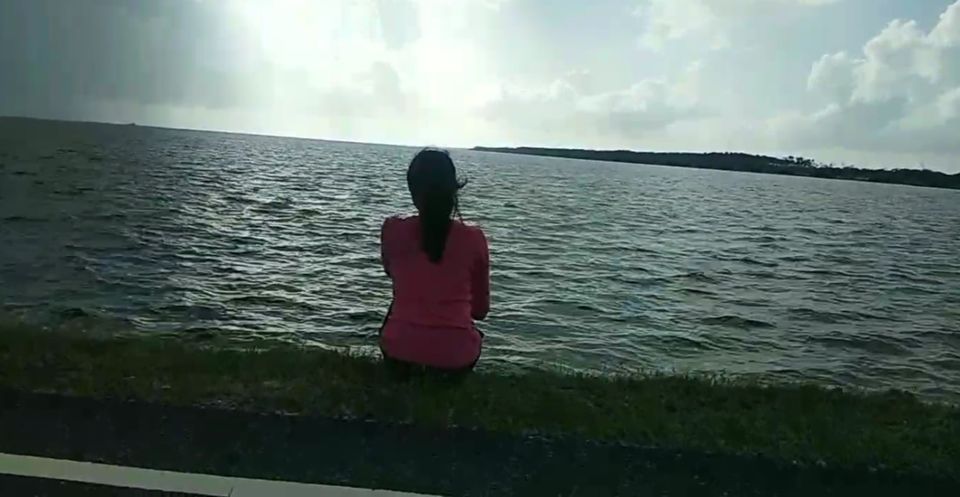 Rameshwaram
Now, this was one of the craziest trips. We started our day quite early around 2 AM in the morning. After operating a long flight, we landed in Madurai (Tamil Nadu) in the evening. The driver was waiting outside. We sat in our cab and reached the hotel in about 25 minutes. Our hotel was a little far. After relaxing for a bit, we had our dinner. While eating we discussed the nearby destinations. Rameshwaram was one among them.
YES!! A sudden plan!!
We spoke to one of the hotel staff and asked them to arrange transport for us. After such a long day we were about travel more. The distance from Madurai to Rameshwaram is about 3 hours. We went to our room and laughed hard about what are we going to do the next day. Then slept for 3 hours and woke up again at 1 am, got dressed in our joggers and boarded the cab on time. We decided to leave early morning as there won't be any traffic. The craziest part was, it was a return flight for us the same day. We slept in the cab but the speed breakers somehow kept us awake. After reaching Rameshwaram and looking at the crowd, we were shocked. It was before even a ray of sun could be seen. And people were taking a holy bath near the sea. We joined them all and yes, saw the entire sunrise for the first time in our life sitting near the sea. It was unexplainable. "Beauty and heaven both are here in India! You need not go anywhere far." I never saw a place more beautiful than it was. Afterward, we visited the famous "Ramanathaswamy temple". It is a Hindu temple dedicated to the God Shiva. One of the 12 Jyotirlinga shrines. Photography is not permitted inside but once you visit you'll have the most wonderful memories for life. Such peace and how beautifully it has been constructed. Long corridors make it extraordinarily beautiful. After attending "arti" and praying, we explored the temple from the inside. Indeed a great example of perfection and style of Dravidian architecture. Early morning is the best time to visit. We thought before sunrise would be the best to avoid the crowd but u can't. It is throughout the same. And who cares when you love the atmosphere.
Afterward, we headed towards other temples and two of them were :
Five Faced Hanuman Temple, the temple of floating stones – it is only 2 km from the Ramanathaswamy Temple. It is believed that "Lord Hanuman" revealed his five-faced form for the first time in this place. And it was my inner curiosity to know and touch those floating stones since really long, when I used to watch on television them. The stones were heavy and both big and small in size. They were floating. Couldn't believe my eyes.
Gandhamadhana Parvatam – A place where death was conquered. Having another history, this religious spot is 3 km away from the center of the town. It is also considered to be the highest point in Rameshwaram, so you can have a good view of the whole island from the peak.
Towards Dhanushkodi
Every destination has something that "Eyes cannot believe ". Another such spot was Dhanushkodi. This South India tourist spot is a must-see in Rameshwaram. After the long stretch, you reach the end of the country. Yes!! The best part is the road surrounded by sea on both sides and the route seems never-ending. You just want to continue traveling on that road. It seems like the water will cover us any moment. Haha!! Just kidding, people live there. Some have their shops on the roadside for tourists. It is unsafe when there is climate change and the place is not allowed to visit further in that case. You may visit anytime when the authorities allow you. It is believed to be the place where Lord Rama had ordered Lord Hanumana to build a bridge. And pictures would be dreamy there.
While coming back, we crossed the famous Annai Indira Gandhi Road Bridge – claimed to be the first sea bridge in India. More than 100 years of magnificence. Again the beautiful sea surrounding it. The railway track in the middle of the ocean enhances the beauty. I got down from our cab, on the bridge and was not ready to come back… Ughh! I miss it all. On the way back, we have another famous museum APJ Abdul Kalam National Memorial. Built in his memory, this is another must-visit place as per locals but if we had more time we could have stayed longer.
The same day we reached our hotel around 2 pm, took a short nap, got dressed and left for our flight. Because of some short naps on our trip, we were all fresh for another long ride to way back home…Two long days with less sleep was worth it! In most temples photography is not allowed. However, we managed to click some from outside. Our driver was our guide to everything and he made our trip smooth. He had good knowledge.
Rameshwaram is a must-visit place even for all those who do not like visiting temples or holy places. The place has a peaceful environment and yes the atmosphere is good. This place is all about "The history of Ramayana". There are only a few places that make you feel you are living the history and knowing more than you read or hear about them, I love such places and always waiting to visit them again.
India you have no comparison. MY COUNTRY ❤
(PS sharing some images as there is no option for videos here.)