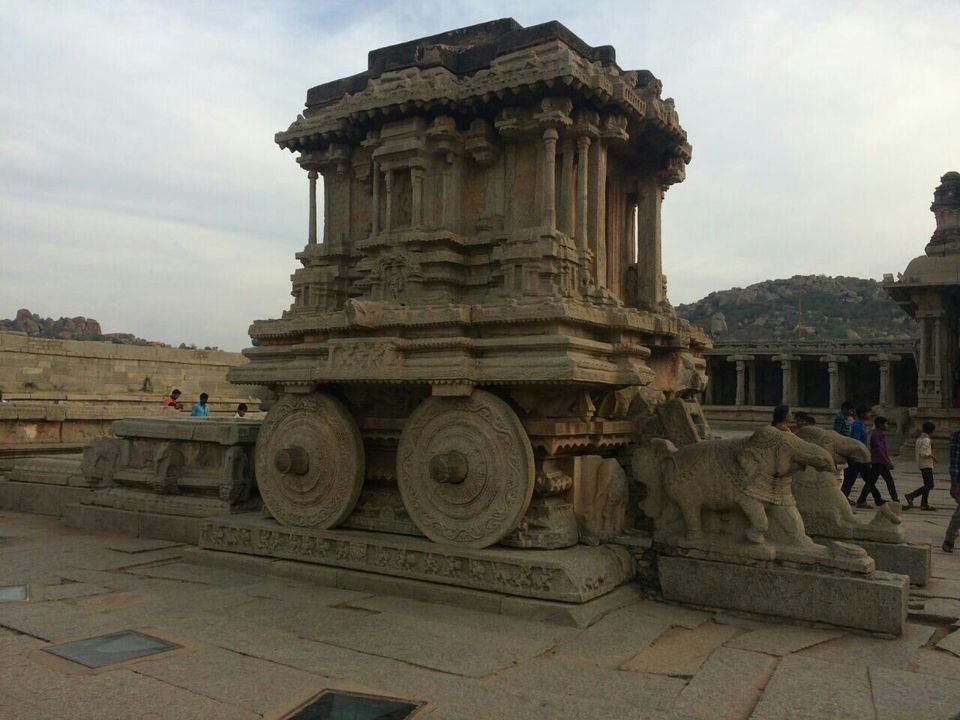 If you are so lazy to read check this one out!
After watching a malayalam movie named 'Anandam' i have been tempting to visit Hampi at the earliest. The call was as such that it seemed as if i had some personal link with Hampi (Might have had during my previous birth!).
I have been doing some plans for Hampi roping in my friends and brother. Fortunately (Yes! Its deliberately used!!), as with most of the planning this time as well because of one or the others discomfort it didnt work out.
One fine Friday evening when i was staring at my laptop busy with some urgent work assigned by my manager i just got a flash in my mind - "Why not today - Hampi?!????".
Apart from the 5 letters to spell Hampi, i must admit , literally i didnt have any idea about the place! As always i just did a small googling about the place and was quicker enough to identify various modes of transport to reach Hampi from Bangalore. Train was defenitely my preference but unfortunately as tickets were unavailable at the moment i was forced to depend on bus. Even for bus, my 1st choice was to go with KSRTC. But since it was a weekend and as i was searching for the same night travel i couldnt manage to get a reservation done????. Finally i booked a ticket with Greenline travels through redbus.com. It was AC semi sleeper and the bus was to be departed at 21:00 hrs from Madiwala.
Yes there were multiple confusing thoughts dancing in my mind before booking as it was a solo trip. Didn't realize at the moment that it is just going to be the first among many down the lane (Not the confusion. But Solo trip)!! Finally made my mind and booked the ticket. Yes Hampi is ON ????. Now i have got to complete my work ASAP and to reach Madiwala immediately.
By the time i reached my room it was almost 19:00Hrs. I am located at Electronic city in Bangalore and it would take around 1 hr to reach Madiwala in normal traffic. As it was a weekend, needless to describe about the traffic in Bangalore on weekends, i took the flyover route as i dont want to risk the possibility of reaching Madiwala at 21:00 hrs by taking the normal route????. Though i have been waiting for a flyover bus i was lucky enough to get a cab returning to Madiwala and the driver was kind enough to offer a ride till Madiwala at just Rs.20! ???? (Normal flyover bus charges Rs 25. That too till silkboard only!!) All the way till silkboard it was as quoted in Paulo Coelhos The Alchemist " When you want something the entire universe conspires in helping you achieve it". But once we reached silkboard the driver who agreed to drop me till Madiwala changed his mind seeing the neverending block! Must admit that i also thought i'l reach faster by walk than by car and i started doing the same ????
Finally reached Madiwala at around 20:30. Directly sped to the travels office and i was briefed that the pick up van would be arriving within another 30-40 mins. I had ample time, hence just had a quick dinner from nearby 'oottupura' restaurant and was quick enough to come back to travels office and put my mobile for charging.
Pickup van arrived at around 21:30, already there were couple of others in groups of 2's and 3's to Hampi. I was the only solo traveller! After making few pickups enroute Majestic we reached Majestic at around 11 and started our journey to Hampi by around 12 after a fewer incidents of quarell with the bus operators by the passengers about the condition of bus!
Hampi is a marvellous place which everyone must visit atleast once. Here i will just give an itenary to cover the important places in Hampi in a days time.alore to
Start: 21:00Hrs - Bangalore Multiple state owned and private players ply buses from Bangalore to Hampi. (PS: Limited buses ply to Hampi. There are numerous trips available from Bangalore to Hospete. People willing to travel need not be worried even if they couldnt get tickets to Hampi as there are plenty of travels to Hospete from Bangalore. Hampi is just 15kms from Hospet.)Bangalore to Hampi Travels
Day 1: 06:00Hrs Arrival at Hospete Upon arriving at Hospete one can reach Hampi either by auto or bus. Plenty of buses are available from Hospet bustand to hampi and it take only half an hour to reach.
09:00Hrs After fresh up and breakfast i headed towards Virupakshe temple. On the way i could meet a local tourist guide Mr. Hanumantha Reddy. He offered me to join in a bicycle tour which he is conducting for a group of 8 - 10 members. The package included bicycle and the overall cost was Rs.350 per person. We began the trip from virupakshe temple.
The palces which our guide offered us to take around in the initial enquiry included most of the ones which i had in my mind to cover in Hampi. He also agreed to finish the tour by 2PM and also gave an offer for home made traditional south indian meals at an extra cost which i rejected as i was in a hurry to cover the places which was not included in the list he has offered. Below mentioned are the ones which he took around.
1. Virupakshe Temple 2. Kadlekalu ganesha 3. Sasivekalu Ganesha 4. Krishna Temple 5. Badavi Linga 6. Ugra Narasimha 7. Sister Stones 8. Palace Remains 9. Hajara Ramachandra Temple 10. Queens bath 11. Zanana Enclosure 12. Lotus Mahal 13. Elephant Staples 14. Underground Temple
Our guide helped us cover all the above mentioned places by around 2PM in the afternoon. Hence i had a quick lunch and went off to cover Vittala temple.
In addition to the above mentioned places i could also cover Vittala Temple which is one of the major attractions which you cant miss if you are in Hampi.
Few pics from the trip: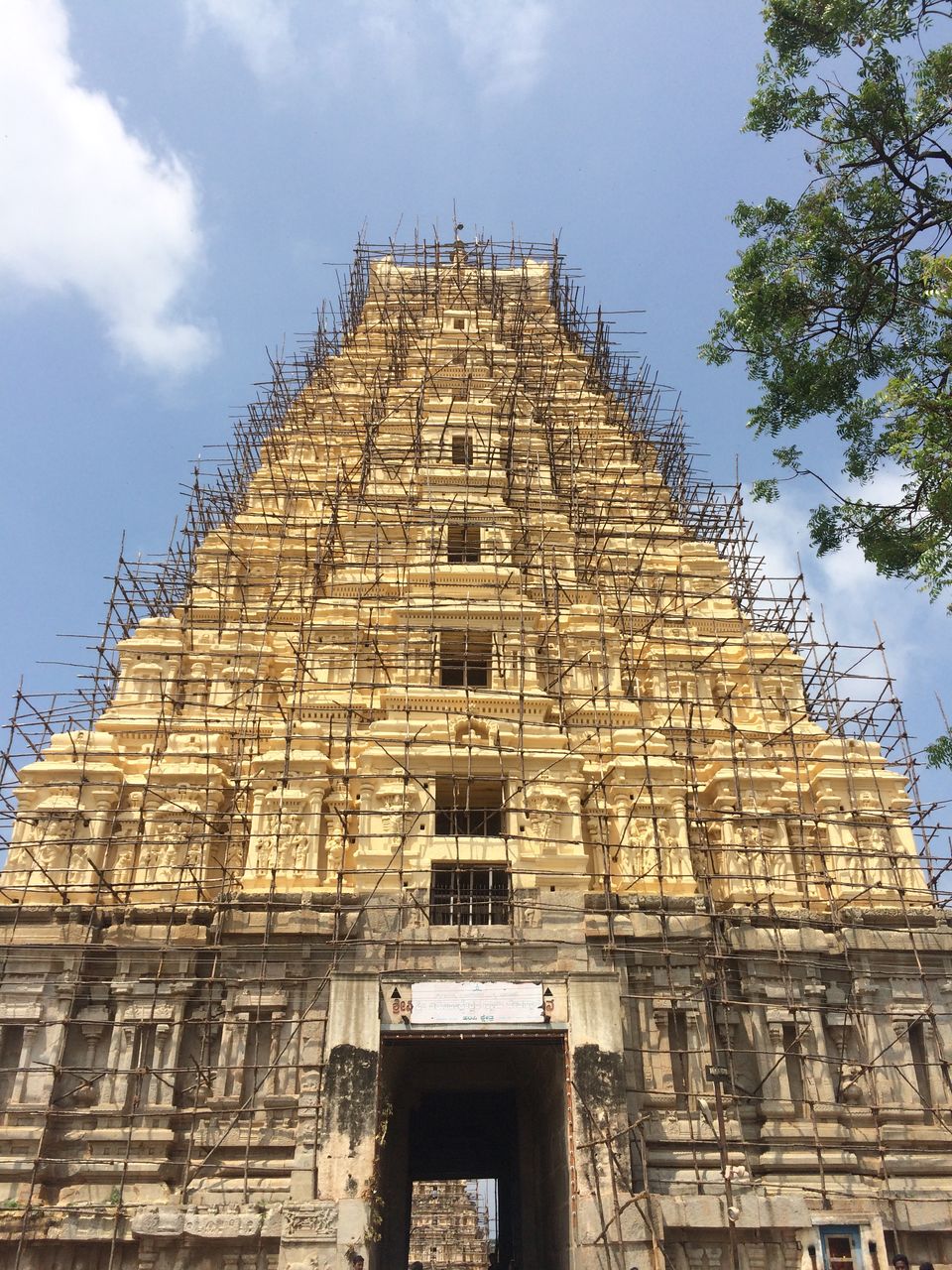 Checkout a small compilation on Hampi and Hippie Island below
https://youtu.be/DTjD1bnh6Qg