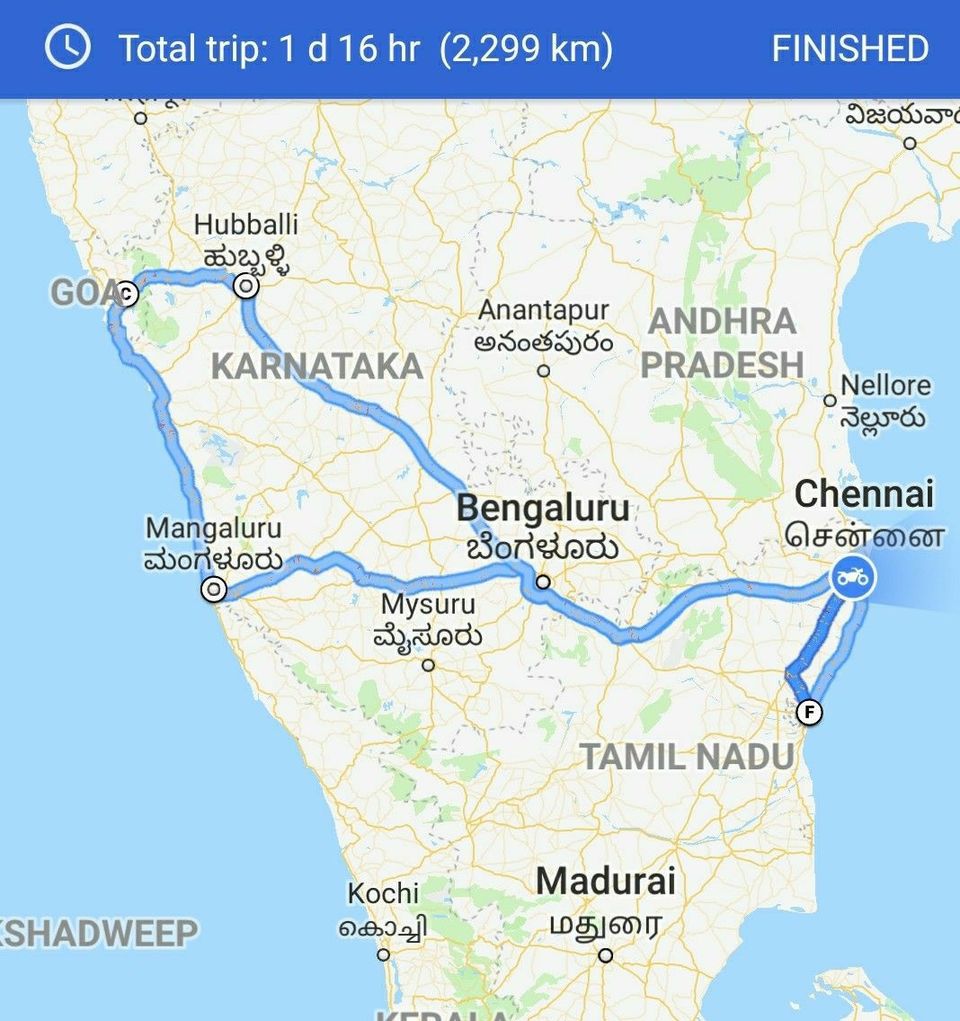 😍Puducherry - Chennai - Goa🤩
This ride was planned on December 2015 and we executed it on December 2016 and yeah it took a year because of the profession we chose and we had one thing in mind that no one should drop out in this plan. Basically this plan was initiated by myself and one of my friend (Gowtham) and we spread the news in our circle then 3 of our friends wanted to join the ride ( Richard, Sylvester and Ashok ).
Finally 5 of us started with 3 RE machines (2TB, 1DS) started our journey. We took the usual route were the gmaps lead us (gmaps didn't mess up). Ah! That pillion seat OMG 🙄 (will share this later) and it's bcoz of the budget problem. Otw we had some bike issues and it was solved by Road side assist service (sorry forgot the name) THANKS TO RE👍. We reached Bengaluru and we were so enthu to ride on the NICE ROAD OH NO WOW still I can feel that 😍 the feel to ride on that road. We had to reach Mangalore on the same day. This time gmaps showed us like a snake route we thought that it might be a hill route, but after nearing the place it was like oh f...... was an off road actually no road and the pillions were 😥😥 and I am also one among them. Thank God we had some fog lights on the bike and finally we reached Mangalore. We had dinner at some road side shop by that time only we noticed that I lost my friend's mob bcoz of that no road route. My friend was like 🤨 and i reacted like 😁 anyways he was a good friend of me, we convinced him and we continued our ride, took some rest in Mangalore. Next day from Mangalore we headed to MURUDESHWARA TEMPLE, the route was wow and the statue of Lord Siva was like we stepped into the heaven. Then we headed to one of every humans dream city GOA 🤩🤩 we reached there around midnight 12. While we entered the border we forgot all the trouble we faced and was like yeahhhhh we reached ( VANTHACHI MAMA!!!!!!) 😍😍😍🤩🤩🤩. We had a good time there it was like a life time achievement.
While returning it was a tight schedule as we have to reach in 24 hrs from 12noon to next day 4pm actually we took 28 hrs to reach Chennai. Otw we took a nap for 1/2 hr on a road side temple as a nearby tea shop guy allowed us to sleep we called him as DEIVAMAE (thank God). We rode with 1.5 opened eyes and reached Osur had some breakfast and we headed to Chennai and reached by 4pm.
As it was a hell while we rode back to Chennai we named it as ONE HELL OF A RIDE.
#goa #royalenfield