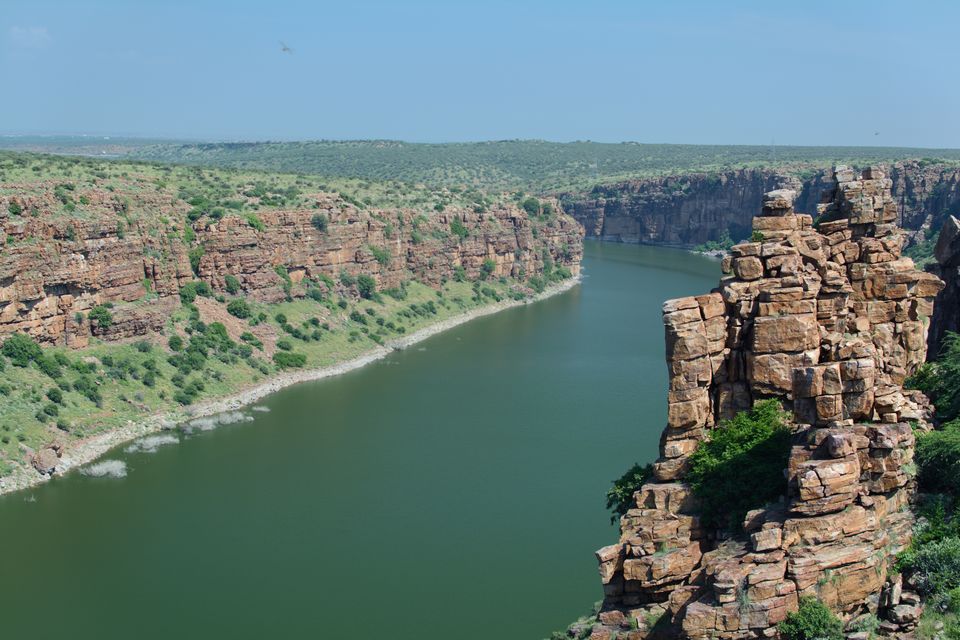 I've been traveling for a while. I must confess that there is a squirrelly fun in executing an unplanned trip than having a meticulously planned life. When you don't know where to stay, what to eat except the destination followed by a whim to unbox the nature's pandora secret. As we are a nomadic couple, we have done this crazy outing for so many times. I could remember such one of the memorable outing where we just took out our car and drove 290km, to spend a night in the midst of majestic gorge at Gandikota. I've chosen that exhilarating adventure to write my 3rd travelogue.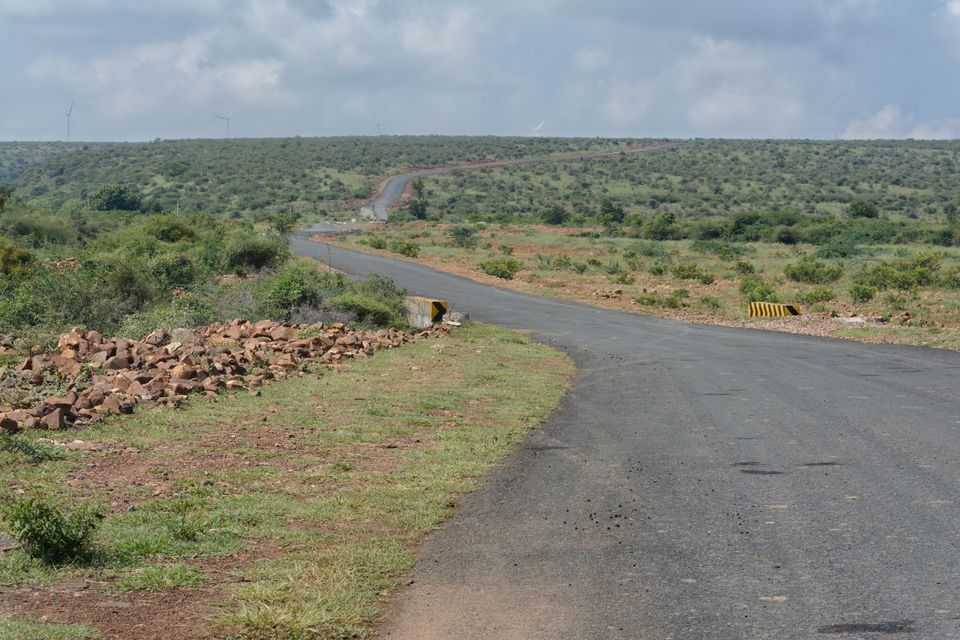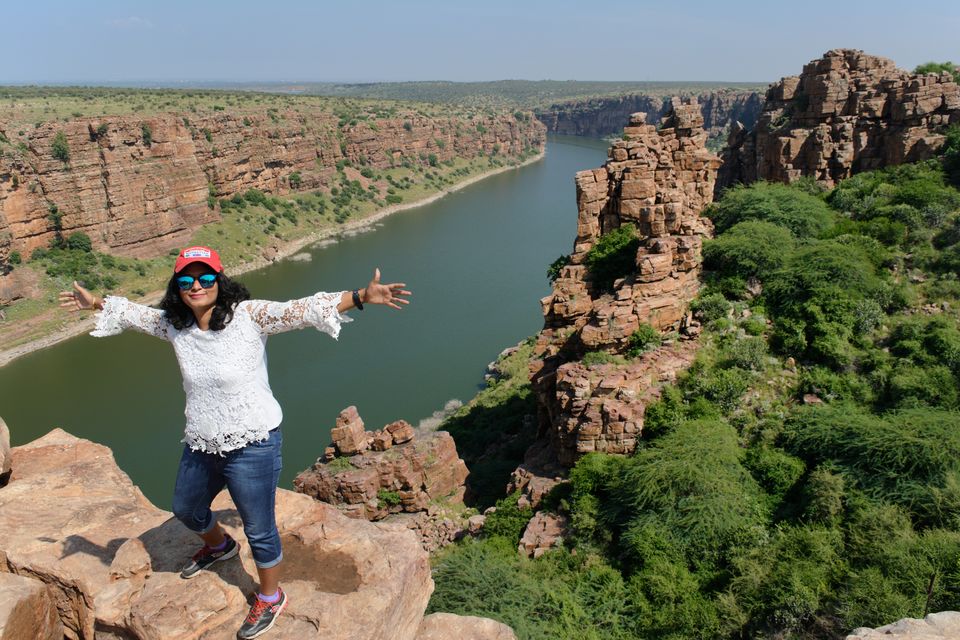 All of a sudden, after finishing all the office works on Friday night, we decided to visit Gandikota. There is only one stay near to the gorge, named Haritha Resort. Surely, all the rooms were unavailable at that time. Eventually, that hotel manager advised us to stay in the gorge side camp (tent) and shared a contact to arrange the same. Primarily we were skeptical. However, we confirmed the arrangement, packed our clothes, grabbed my camera and moved towards Gandikota at 4 o'clock on Saturday morning from Bangalore. It was 290 km of driving and took around 7 hours to reach there. Firstly, we went to Haritha resort and had our simple veg lunch and felt indulged, visiting the grand gorge which was 5 minutes driving away.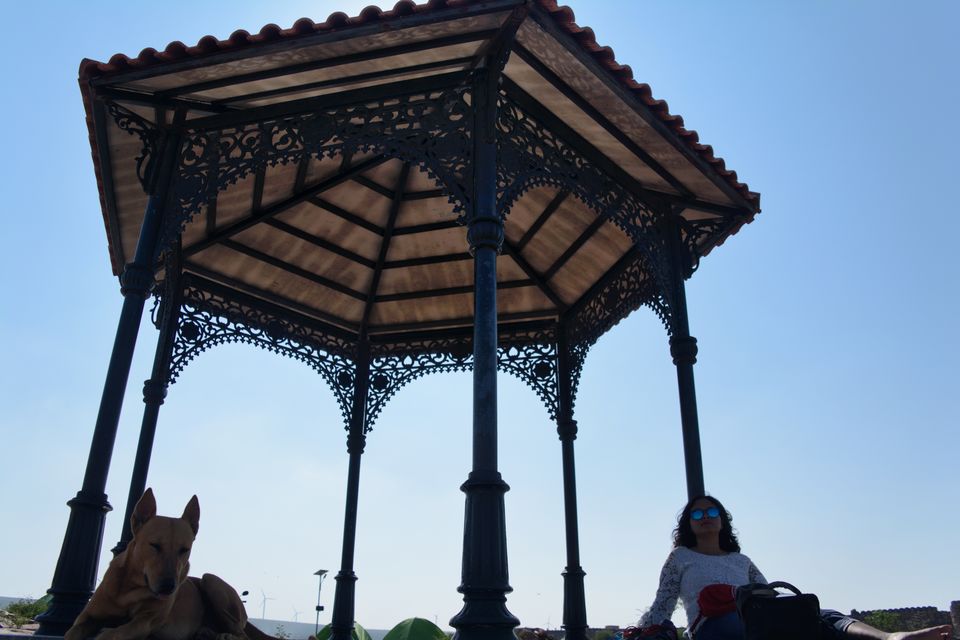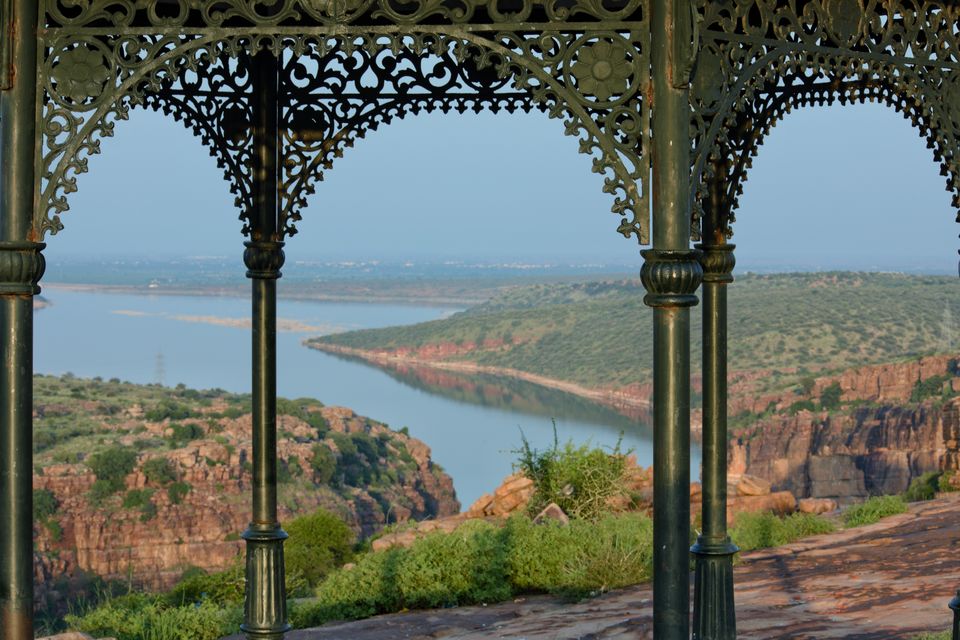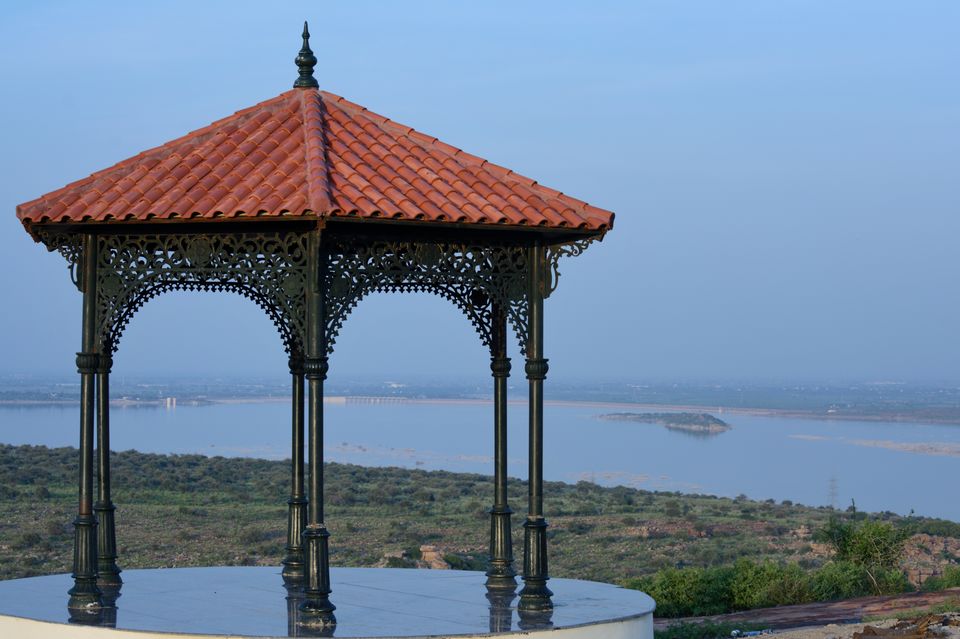 At the twilight, the camp manager came to set up the camp at the edge of the gorge, provided a pair of sleeping bags and made an arrangement for the campfire. There were many camps around us. According to the locals, it was safe. Though we kept our valuable belongings to our car only.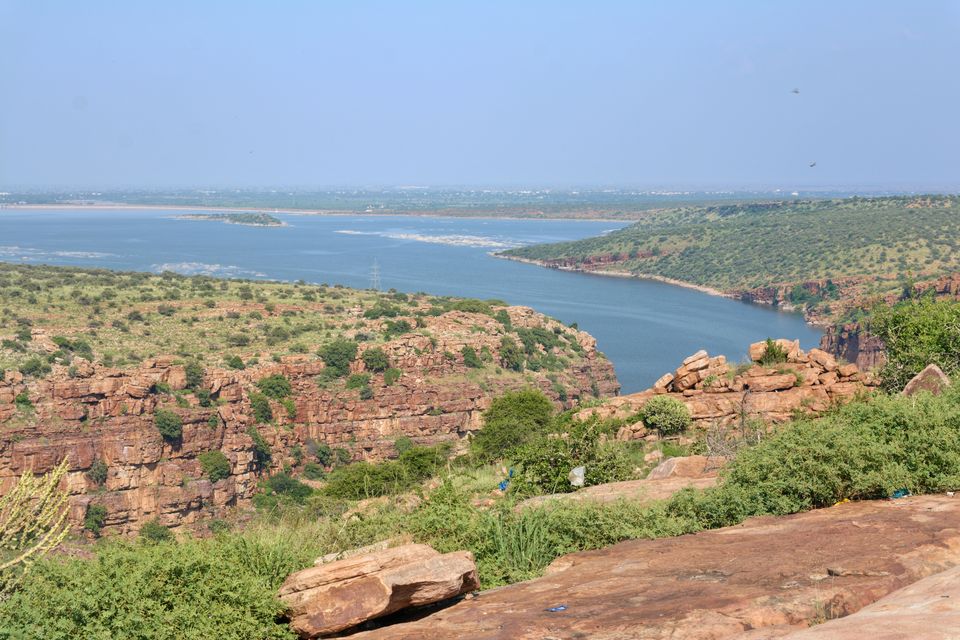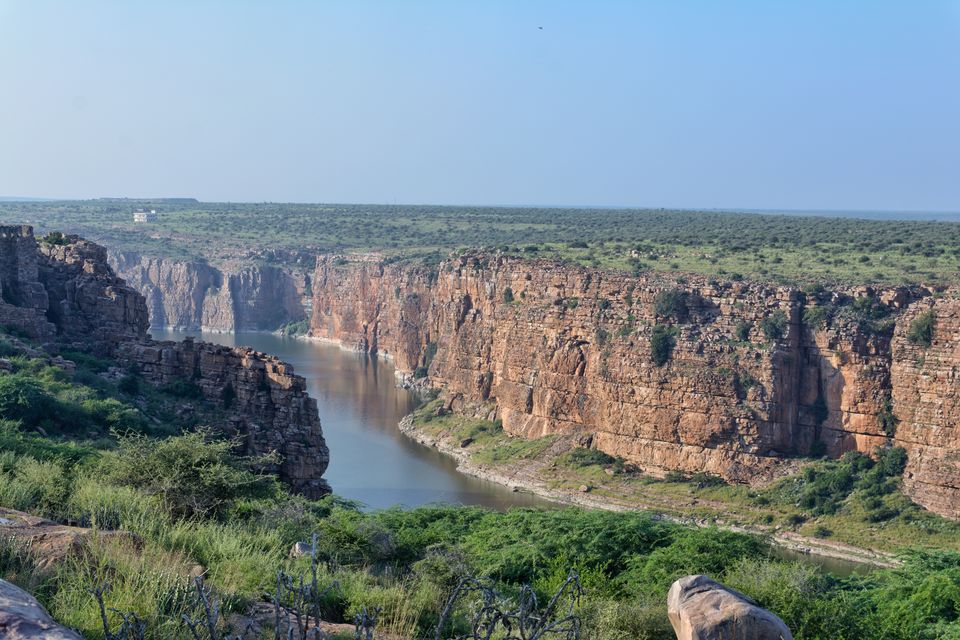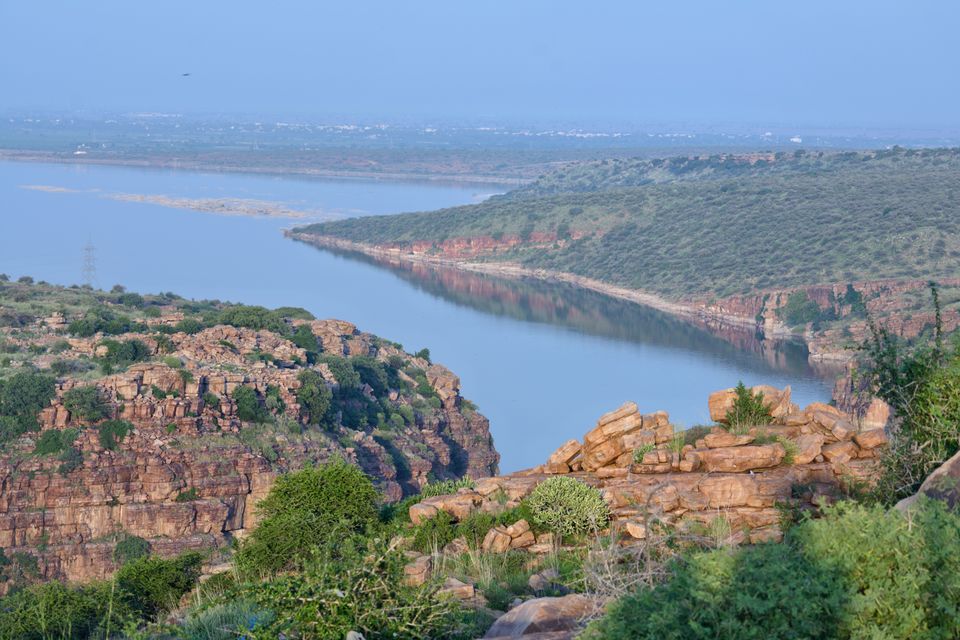 We were lucky enough to get the glimpse of the star-studded clear sky. It was like stars winked at us from the endless arch of void-black beyond the moon's corona. They had a faint, silver tint and they looked like they were the distant, glittering sparks from angel fire. It was magical indeed. The crackle of the campfire was creating crazy natural music. The flames that licked at the wood and the red sparks both danced in the mild breeze. We seated on the boulder, in front of the campfire, holding each other's hand, played music in our iPod with sharing ear-phones to indulge at that moment.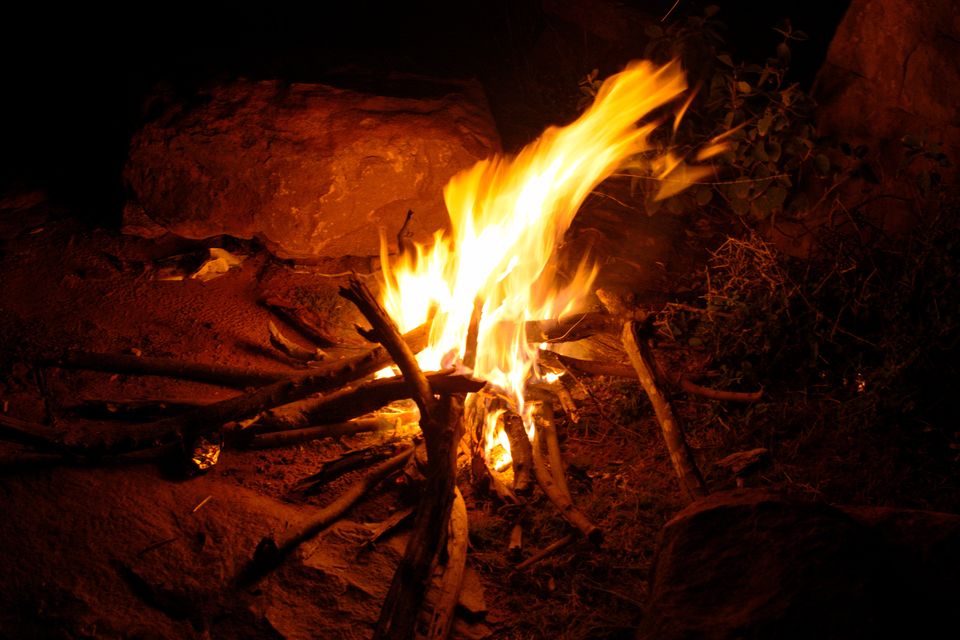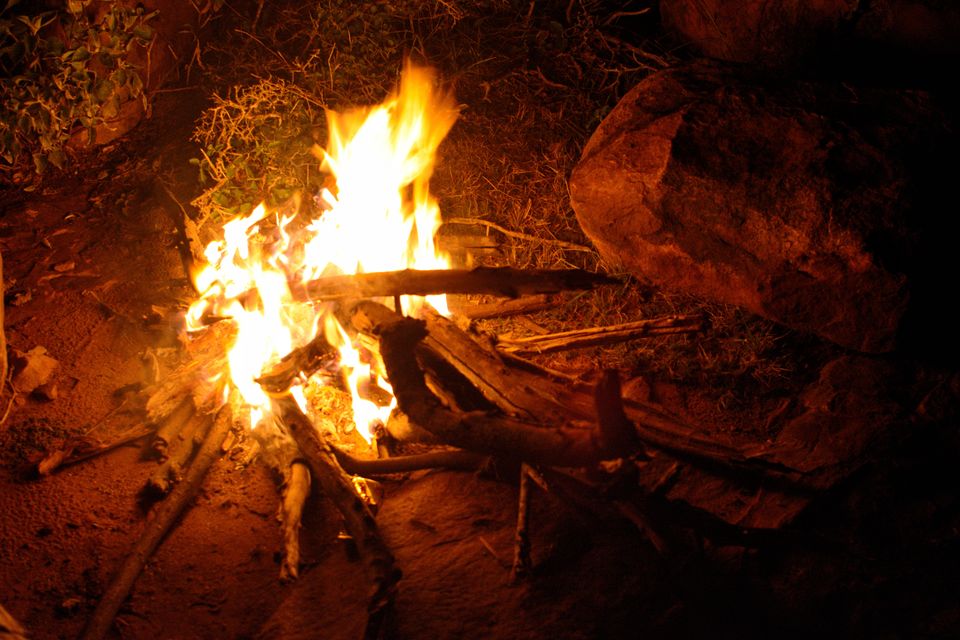 At night, the camp manager arranged a buffet dinner with phulka and chicken curry. As we were hungry and swallowed that unpalatable food somehow. Meantime the campfire was extinguished. We took a laid back stroll for some time before going to bed.
After waking up in the morning, we went to Haritha Resort to freshen up besides we had our breakfast there. It was Sunday and the last day of our hurricane tour. Though we had a plan visiting another place called Belum cave. It was 60km away from Gandikota, involved a one and half hour journey. We felt little melancholy while driving away from Gandikota. It was such a wondrous place to leave yet we departed, keeping a promise to coming back again to the terrain of Gandikota.
"Life is an adventure, not a packaged tour", Tour cost:
The complete tour cost us around Rs 6000 including everything. We paid 1900 Rs for camping, campfire, and dinner at Gandikota. Additionally, they offered kayaking in the Gandikota rived for 400 Rs extra, we didn't opt for that. Overall, it was a well-managed budget weekend tour.
"When you sleep in your cloak there's no lodging to pay", Fooding and lodging:
Haritha Resort (Mobile: +91-09381266726, Address: Gandikota Road, Gandikota, Andhra Pradesh 516434) is one of the prime options for the comfortable stay near the gorge. Though there are a couple of expensive resorts to stay in which are nowhere nearby to the gorge. I would recommend staying in the camp is a romantic choice that you would love to look for if you are not traveling with kids. I would applaud this guy Shiva (Mobile: +91-9985444233) for assisting us in camping. He is a modest guy to reach out for the same.
There is nothing to talk about food. Frankly speaking, this is not a suitable place for fancy dining. I would advise bringing your own meal otherwise Haritha resort's menu is the only option to swallow.

"Travelling is like breathing", How to travel:
Gandikota is well connected to major cities like Bangalore, Hyderabad, and Vizag through the NH 7. As the roads are in excellent condition, one can have a smooth, hassle-free road trip to Gandikota. The train is another option to reach here. The nearest railway station is Jammalamadugu (18 km away). You could visit Belum cave which is 60km away from Gandikota.
"Don't be a tourist, be a traveller", primary attractions:
The prime attraction is, of course, the grand gorge of Gandikota. Additionally, you could visit a nearly ruined fort adjacent to the gorge. Inside the fort's premises, you could witness a historic jail and two temples. There is something for adventure seekers in Gandikota. Exploring Kayaking on the Gandikota river, climbing on the cliff may help you to shed your adrenaline. I noticed a few adventure clubs offering such activities at a reasonable price. Apart from this, as I told earlier, the Belum cave is another tourist spot that you could visit.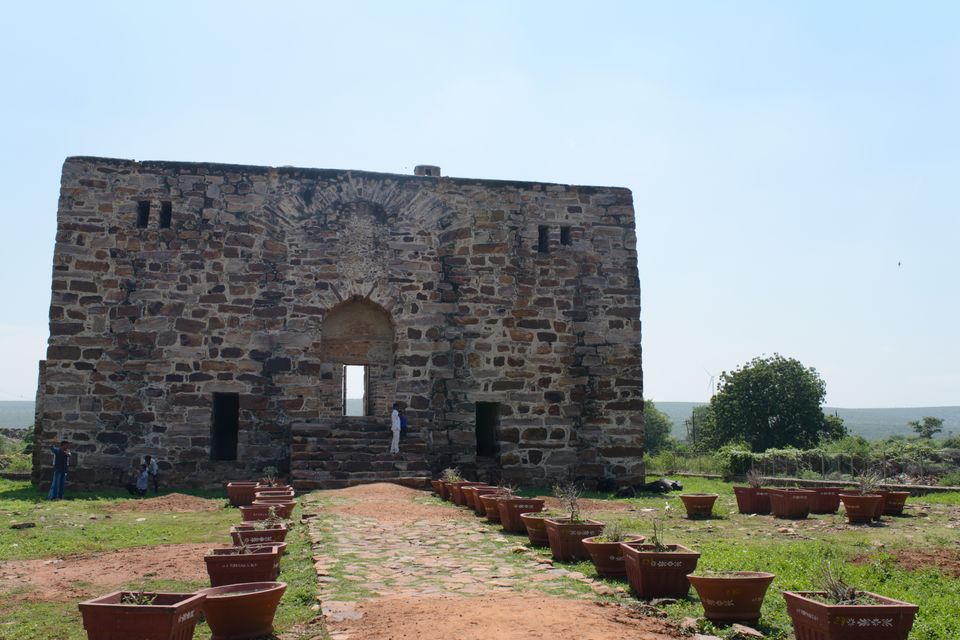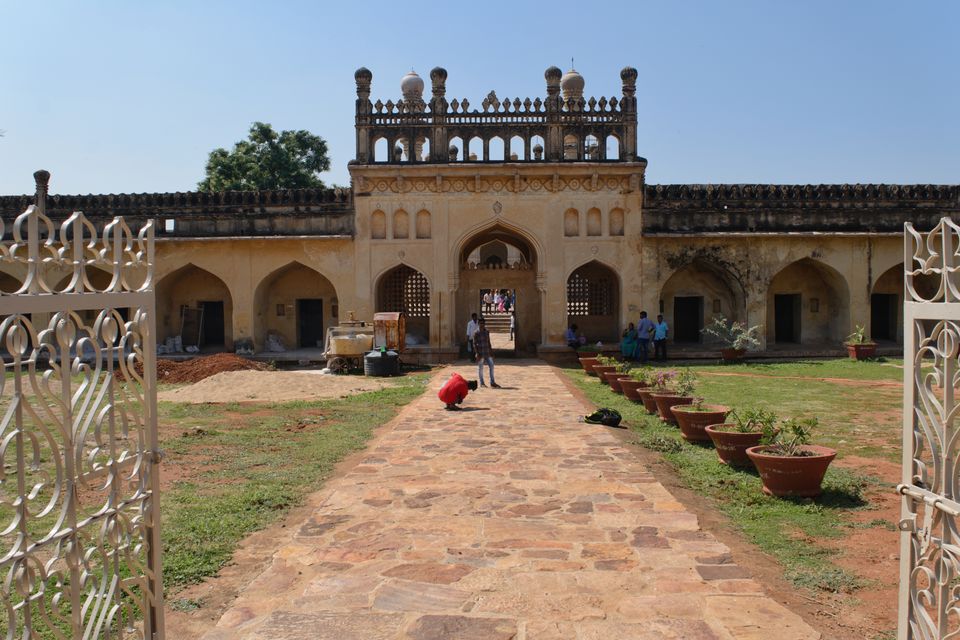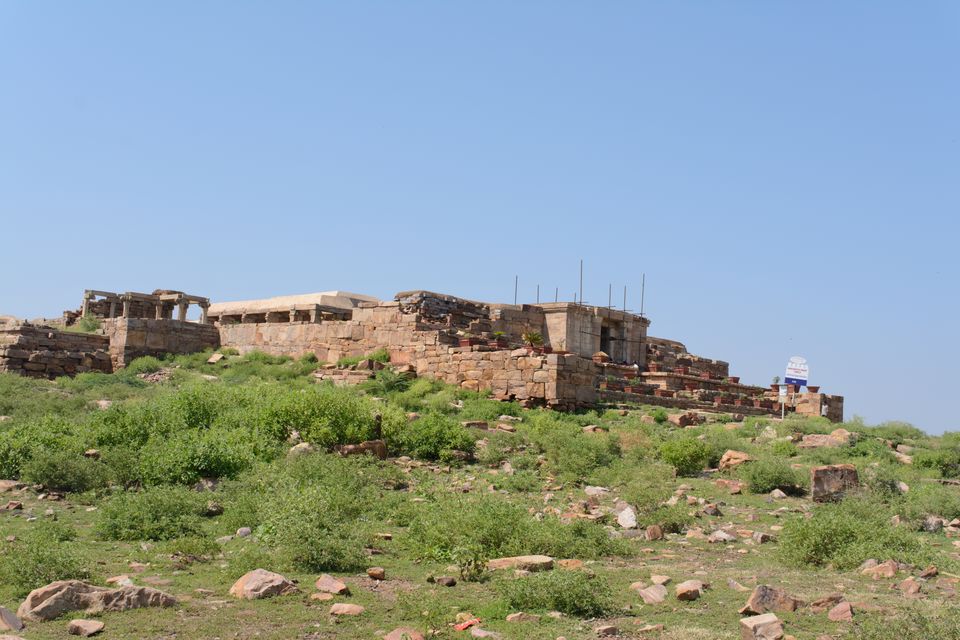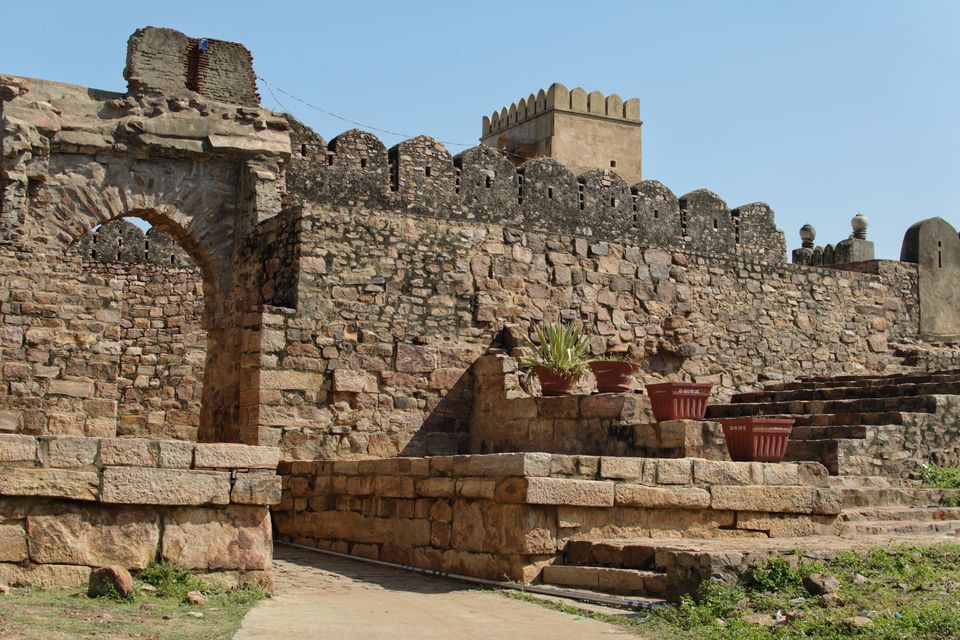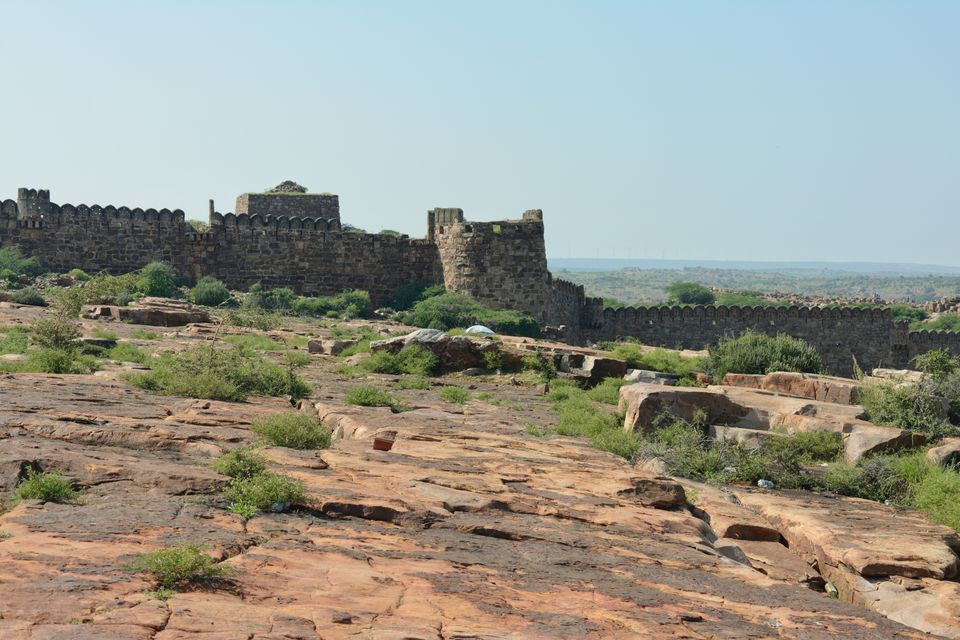 "Life is short and the world is wide", the epilogue:
This is my story of experiencing Gandikota and Belum cave. I would feel accomplished if anyone finds it worthy to visit Gandikota soon. Please do comment and share my travelogue if you've adored it.
https://www.facebook.com/media/set/?set=a.1940053456121172&type=1&l=385be003cb
Have you ever heard something was going to be awesome, and it ended up just being meh? That's the opposite of what this is. Tourists often compare Gandikota with the USA's Grand Canyon. I had visited Grand Canyon national park in 2012 still I wouldn't even try to spot the resemblance with Gandikota. Every place has its unique charm. You have to look upon the intrinsic beauty and listen to nature's whispering. When we reached to the gorge viewpoint, we stood in tranquil and looking down intently into that vast chasm of overwhelming beauty, we got the sense that mother earth had opened her bosom and was whispering to peer into her. A greenish brook was flowing through rift canyon and coming right up into their headwaters quietly. I felt privileged to witness it. We stood there for a while in front of that natural grandeur unconcernedly. While coming back, we visited a couple of ruined temples and an adjacent fort. Though it was October, the sun above us was blazing like titan's fiery wheel in the sky. We took shelter under the shade and spent a whole afternoon to sight that panoramic elegance.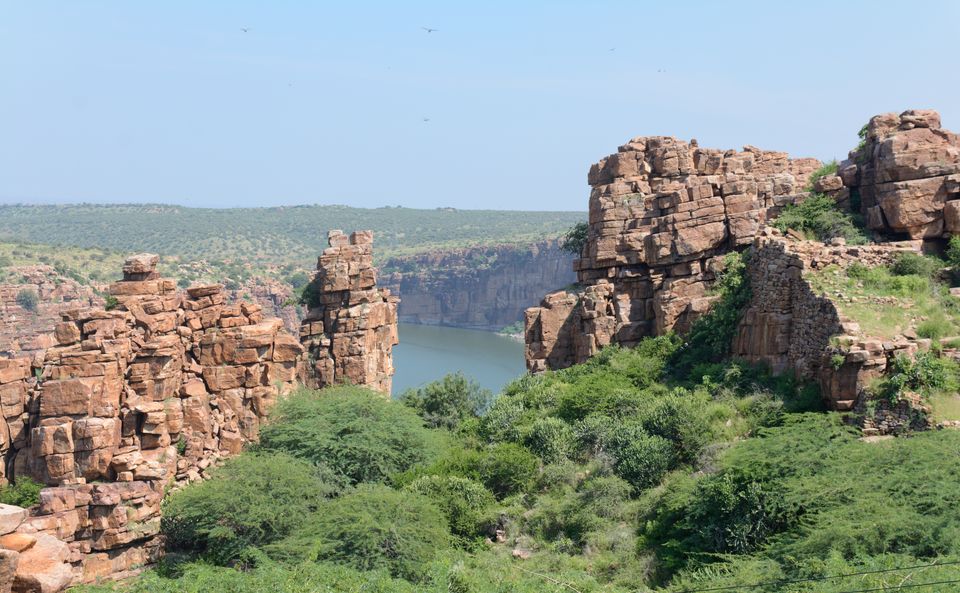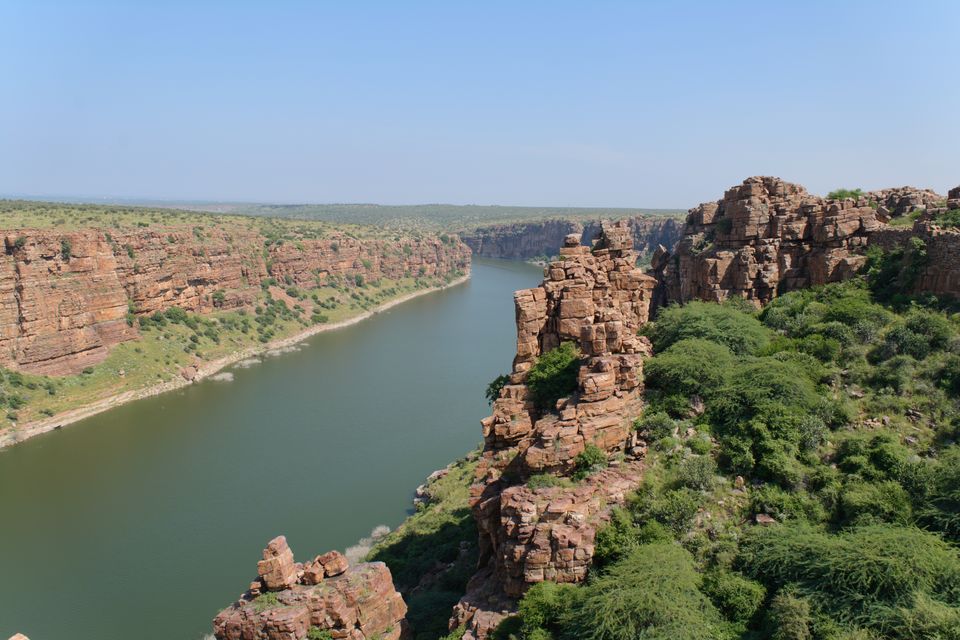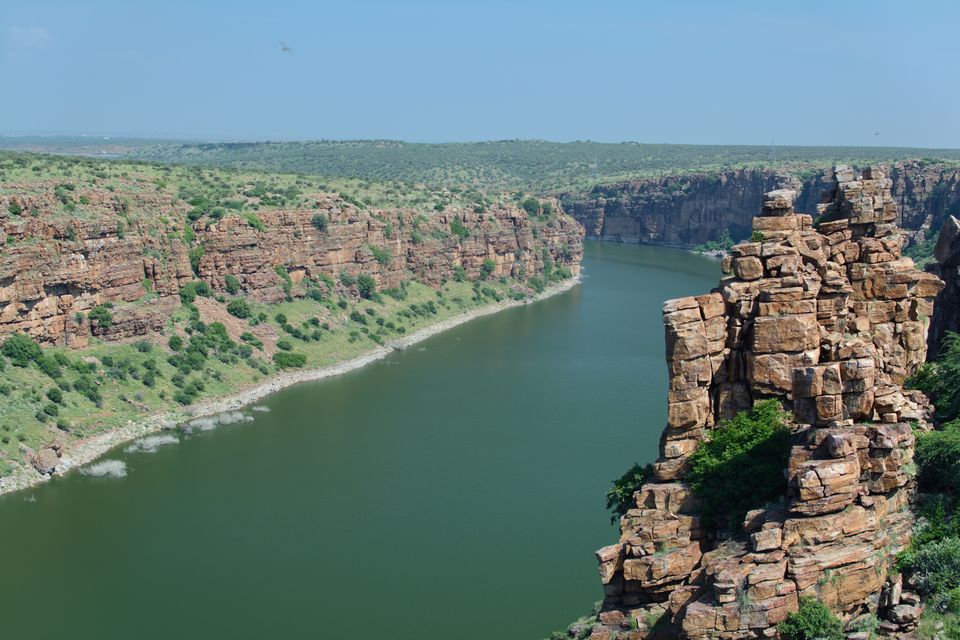 After reaching the front gate of the Belum cave, we saw a tall Buddha statue at the top of the plateau. The parking lot was spacious. The entry fee was Rs 65 per person excluding Rs 20 for the parking fee. Belum cave is known for its speleothems, such as stalactite and stalagmite formations, consist of black limestone. It is one of the largest and longest cave systems in India. You cannot fathom the depth and expansion of the cave from the outside. It has four major tunnels with numerous sub-tunnels thus it takes a minimum of two hours to walk around the cave. Colorful lightings are present all over the places to illuminate that same. Air circulation is also well maintained that you won't feel suffocation down there. I would not say it is remarkable but worth visiting indeed. After coming out from the cave, we had our lunch at the adjacent food court and headed towards Bangalore with a gratifying experience.