After our Great Barrier Reef experience we landed in Melbourne, got our cars at the rentals and joined by more family there we drove to Port Campbell through the stunning Great Ocean Road.
Well, getting out of Melbourne Airport to actually getting to the Great Ocean Road was quite a drive in itself. But as soon as we reached the the "Memorial Arch at Eastern view", we were immediately woken up by the fact that we are finally going to commence this iconic drive. As our first stop, we parked our cars right before the gate ( there is parking site) which was next to a stunning beach and took a moment to enjoy the sun set there before we got on the road once again.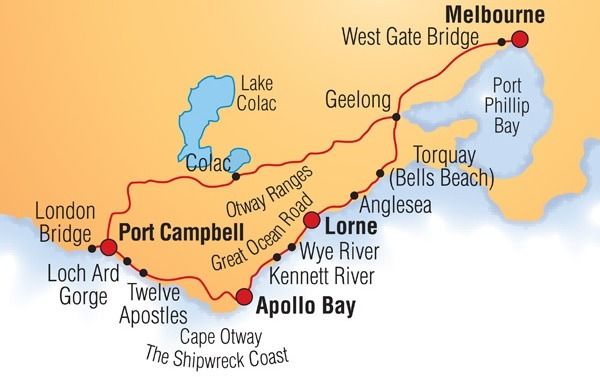 It was in the month of November and Australia was experiencing longer days and sun sets around 9.00 PM. The thing about Aussie outskirts and small towns or villages is that places to eat shut by 9 PM or even early sometimes. For a while we had no idea where we will stop to have dinner at or whether we'll even get to have a meal that evening. After making numerous calls to restaurants in the towns, we decided on a Mexican one in Lorne.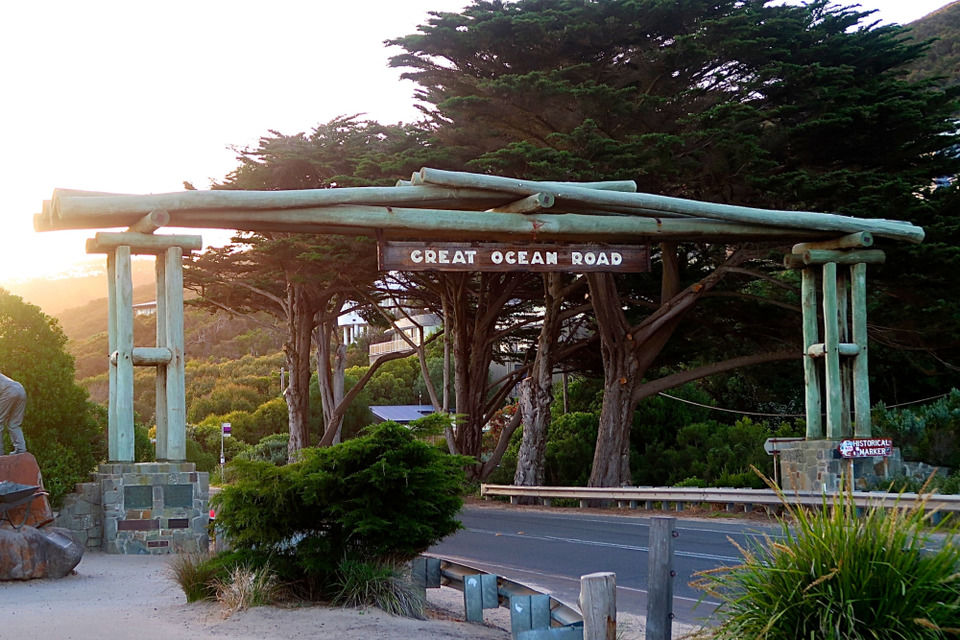 We had sufficient time to explore and get dinner at Lorne before we headed straight to Port Campbell where our accommodation for the night was, without making anymore stops. On the way the most interesting thing happened. There are signs on many Australian roads asking drivers to be wary of Kangaroos. As it happened our car almost bumped into a couple of them that night.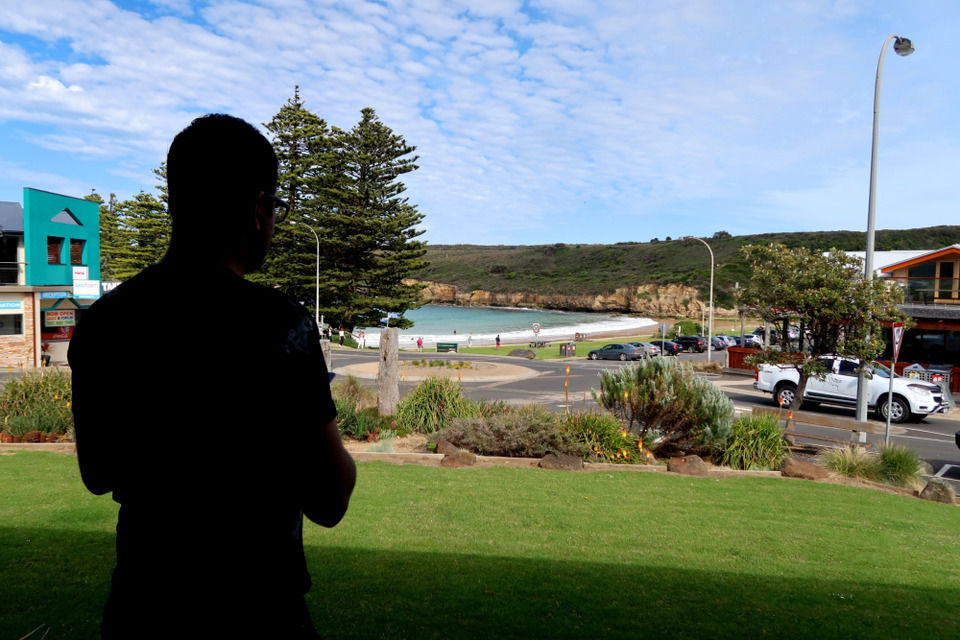 That was our first ever kangaroo encounter in Australia and thankfully, no one was hurt. After dark on the outskirts all one can do is sit in that one pub or gaze stars by the beach. Which was quite a treat as the town of Port Campbell had no light pollution and that night the sky was clear. I squealed a little on seeing the stunning milky-way and I am sure that we could see every possible constellation in the sky that night.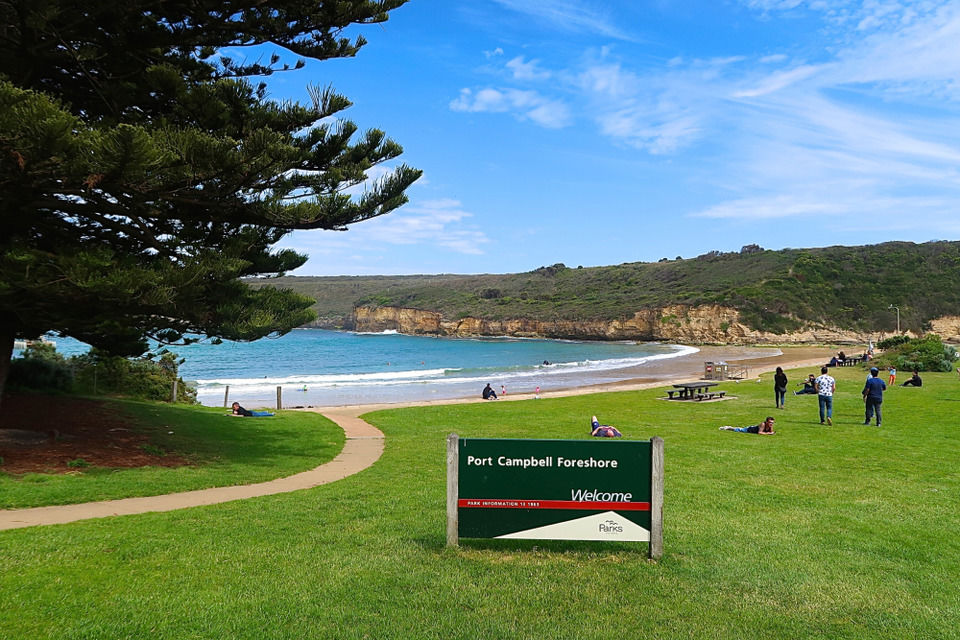 BREAKFAST AT PORT CAMPBELL
Port Campbell during the day was such a pleasant surprise. We were staying the night at a charming property (Loch Ard Motor Inn) which had our rooms facing the beautiful hidden beach and was surrounded my a number of breakfast places and quaint cafes. It was a sea side village of our dreams and all we wanted to do is spend the day just relaxing by the beach, enjoy the beautiful weather and trying out all the little cafes. Resisting our urge to spend another night in the village we checked out of the Inn and got ourselves on the road to once again explore the spectacular look out points along the much anticipated Great Ocean Drive.
Tip: Get some amazing brekkie and coffee (really good coffee) with a stunning view at the 12 Rocks Cafe. Later catch a game with some beverage in the evening at their Bar.
THE LONDON ARCH
Given it was one of our first stops on the road after Port Campbell village, I can't emphasise enough on how stunningly picturesque the look out point was. The natural stone arch in the blue is the main highlight of this iconic spot. The structure was formed due to a gradual process of erosion that gave way to a natural stone bridge from mainland to the stone arch-way and a tunnel in the water. Unfortunately the bridge collapsed in 1990, all that is left is the Arch and prior to the collapse it was called the "London Bridge".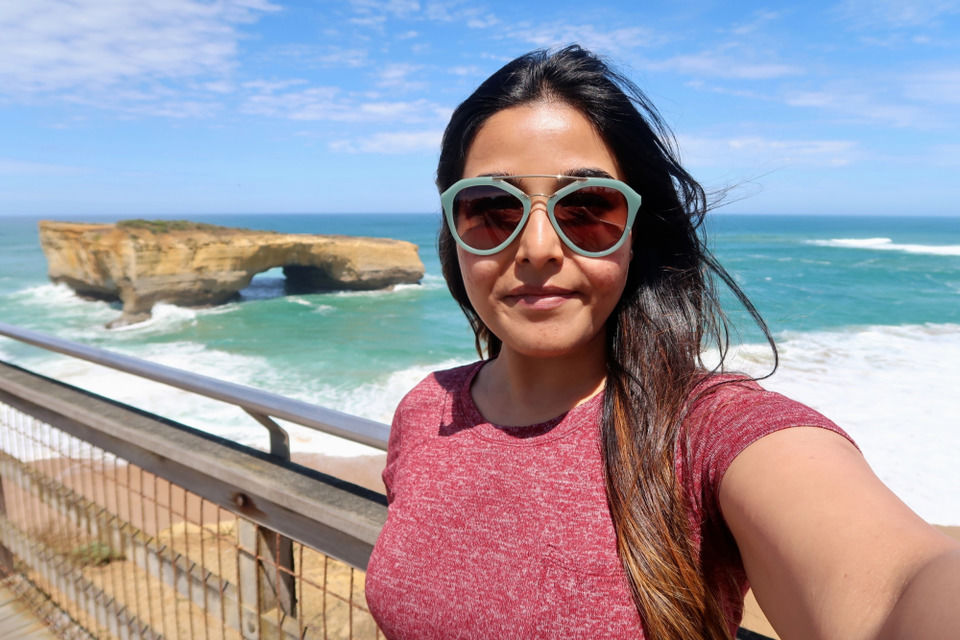 Tip: If you time your visit for the end of the day you can spot a small colony of penguins returning home.
12 APOSTLES & LOCH ARD GORGE
Upon arriving we witnessed how commercial the place has been made for tourists but never the less we were absolutely pleased by the rugged splendours of the 12 Apostles. There aren't really 12 of the lime stone stacks anymore but only 8 left due to constant erosion from the ocean water. The points from where one viewed these apostles kept going higher and higher giving us a better bird's eye view with every step. One side of the walk had the 12 apostles on display and on the other was the Loch Ard Gorge. Loch Ard George are two standing limestone structure with a stunning hidden beach on its mainland. We did not visit the beach but got an ariel view of them. The location itself is pretty spectacular with jagged terrain and interesting flora around. We spent most of our time here admiring the spectacle that these apostles are.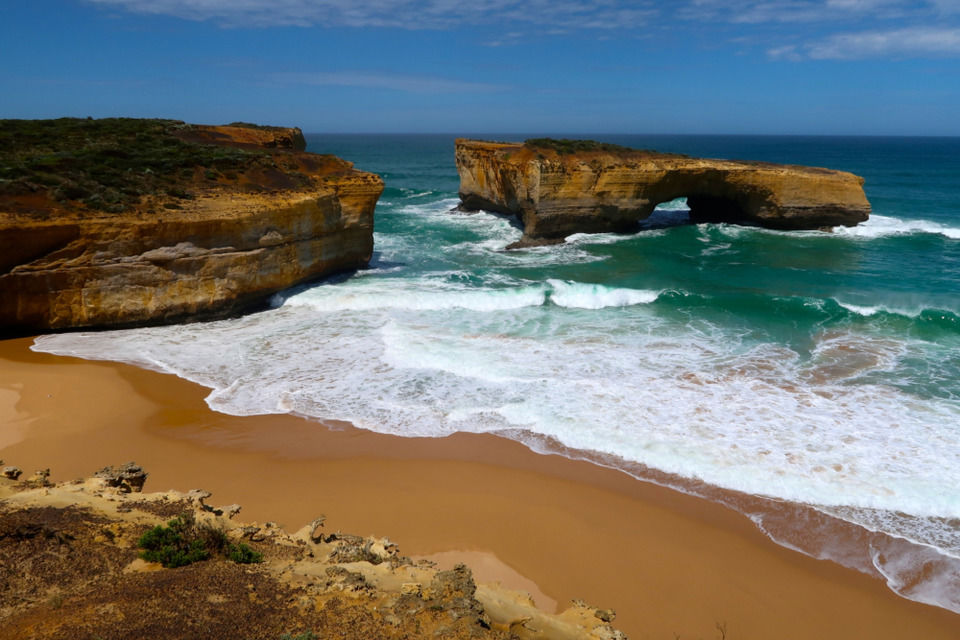 Tip: Best time to view the 12 Apostles would be at sunrise or sunset so plan your trip accordingly to watch the apostles their change colour and for some brilliant pictures.
APOLLO BAY
Just in time for some luncheon, we reached Apollo bay; a small village with some amazing places to eat at. After filling our selves till the brim with fish and chips we went in for ice cream at Dooley's. A very well know ice cream shop in the centre, serving away some very interesting and mouth watering flavours to choose from. From there we made for the town's beach, admired it for sometime and soon after we were headed towards Melbourne city to get there before it got dark. Not without a coffee stop at Lorne to keep us going for the rest of the drive ( again, it's quite the drive back to and from the city).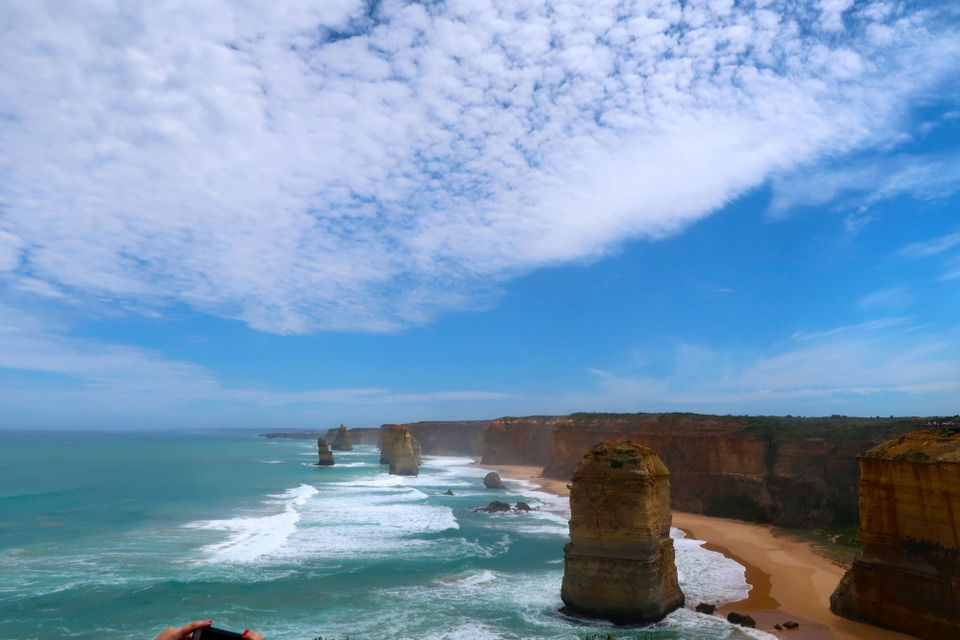 Tip: Do not leave Otways with out stopping in Apollo Bay, especially not without trying ice creams at Dooley's. They even have vegemite and black truffle flavours, if you dare.
Expected driving timeframes(approximately) to the spots we stopped at on the road.
Melbourne Airport to Great Ocean Road Entrance Gate - 2 hours
Great Ocean Road gate to Lorne - 15 minutes
Lorne to Apollo Bay - 1 hour
Apollo Bay to 12 Apostles - 1.5 hours
12 Apostles to Loch Ard Gorge - 5 minutes
Loch Ard Gorge to Port Campbell - 15 minutes
Port Campbell Village to London bridge - 10 minutes
Unauthorised use and/or duplication of any picture or written content in the above article for any purpose is strictly prohibited without express or written consent from this blog's author and owner; ADITI JANA (c)
This post was originally published on Bohemian On The Run.