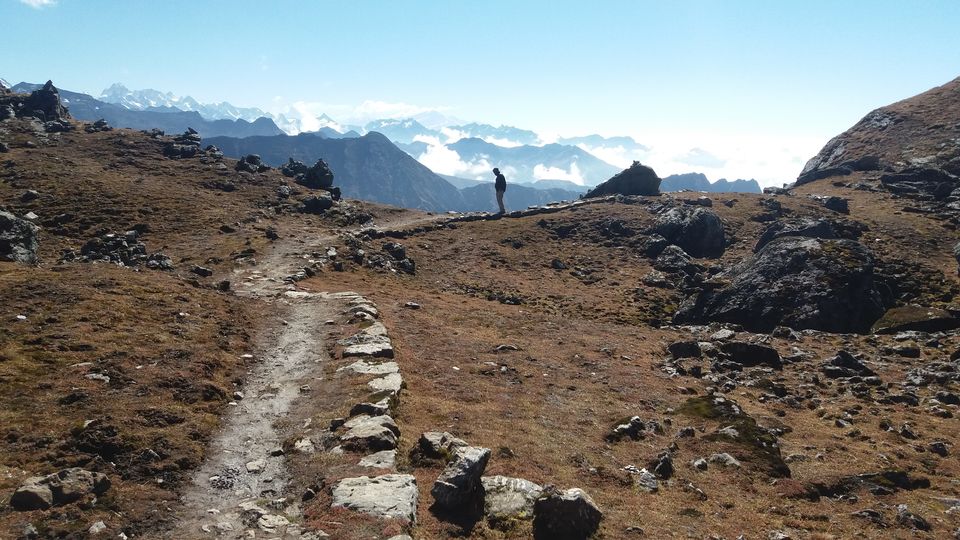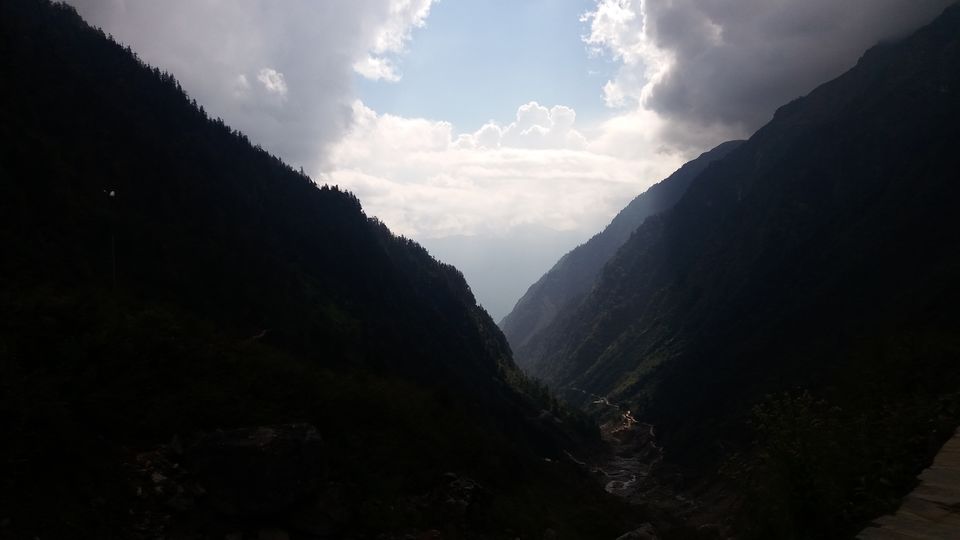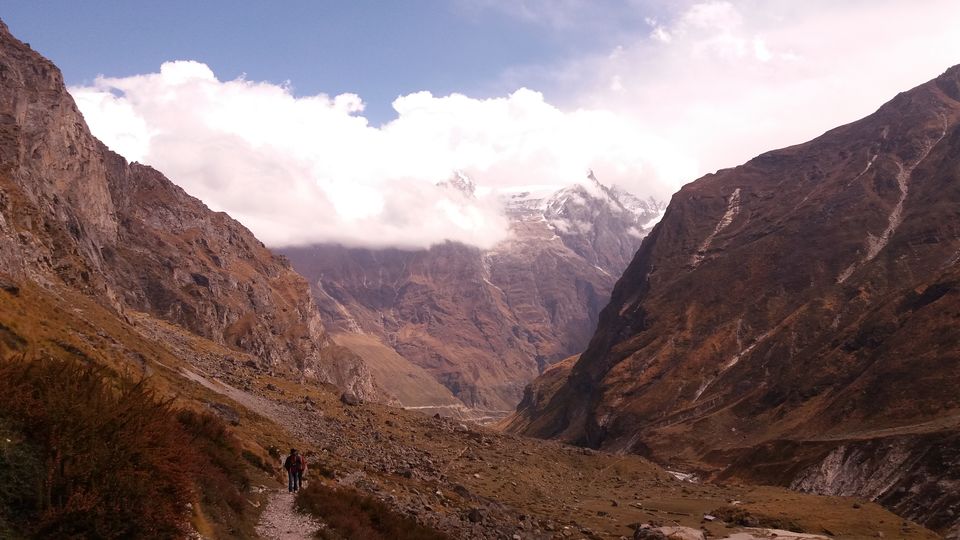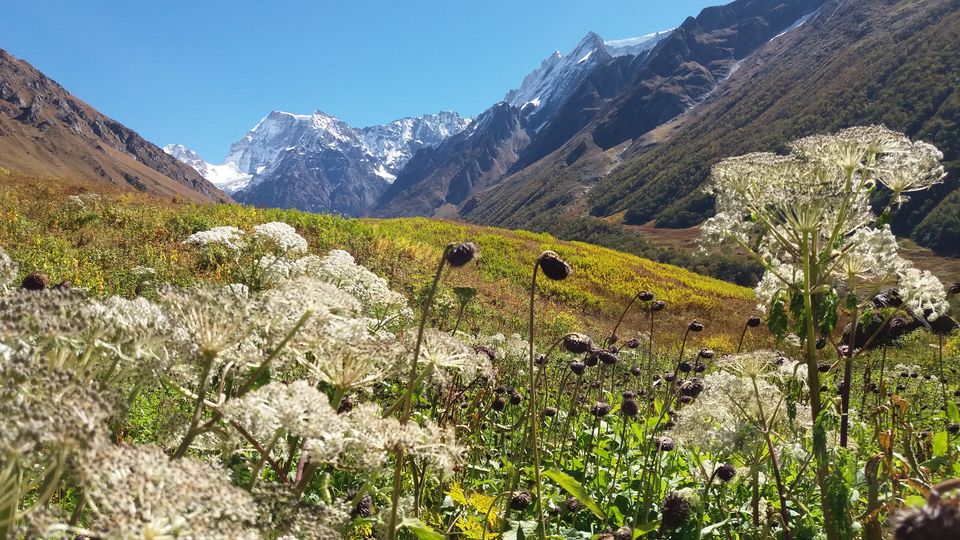 THE BEST PART ABOUT GOING SOLO IS 
YOU DONT HAVE TO PLAY MR.DEPENDABLE.
ALL YOU HAVE TO DO IS BE MR.SUSTAINABLE
(LONELINESS IS DANGEROUS,ITS ADDICTIVE,WHEN YOU KNOW HOW PEACE FULL IT GETS YOU DON'T WANT TO DEAL WITH PEOPLE)
The trip of dreams are always solo!
I began my journey from Dehradun towards Joshimath, and my destination was still unclear.. boarded a bus in the wee hours of the morning ,cut reached their in the evening (we all know state transport, but when on a budget its a blessing) took another taxi and reached govind ghat. Took a nice room as i had to leave the next morning for an amazing journey
Started my trek since the road has been made for 3 kms now i was only left with 11 km of trek for the day,though porters are there but i preferred the way it was meant to be carry your  own rucksack, the trek was not easy plus no network it was all ups and downs for a few km, AND then the final few km of steep climb ,anyhow i reached GANGHRIA the base camp for valley of flowers and hemkund,easy accommodation with again no networks only IDEA sirji,accommodation is cheap and good! An NGO working for the awareness of VOF gives good souvenir, the special day had somehow arrived and all to excited i left to see the valley,again a 6km trek first 100 meters will drain all your energy,simple the trek from starting at the base to top of the valley  took 2 hours to reach the valley only to find out the valley is 8 km long,yes and i rushed into it to reach its tip all alone with no one in the valley it was enchanting came back around 5 pm  and day 2  now Hemkund is not easy the steep climb will take a toll on you took me 5 hours to climb 6 km 2 hours to come back. All in all 5 days was more than worth ,the view is amazing from ganghria and vof and hemkund total paisa wasul, ponies,heli,porters are available parking at govindghat is also there,and its a village of chauhan's and i felt like home..people are nice to everyone there! (11+6+6+6+6+11=46 km)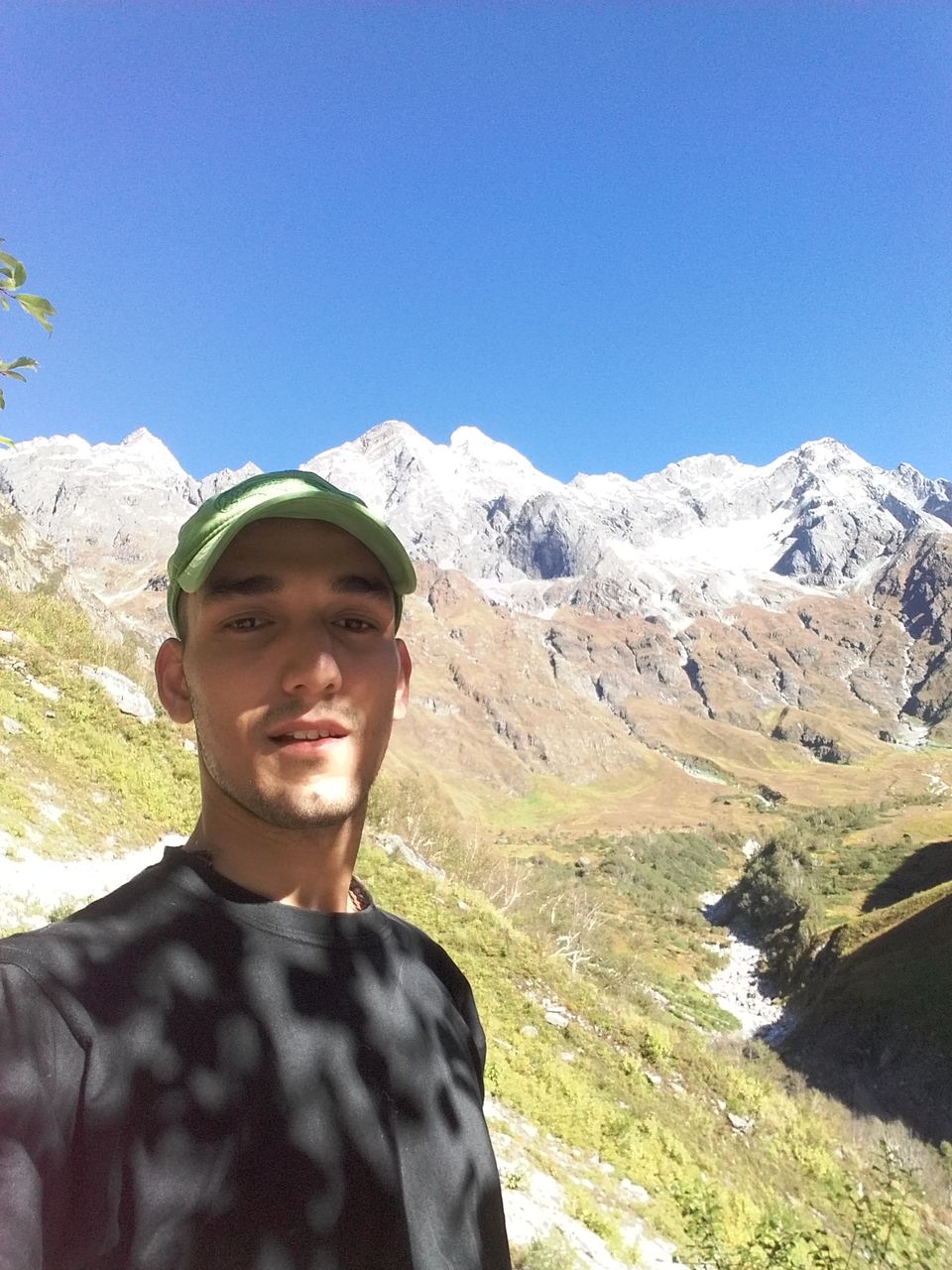 To go one i left ganghria early morning and descended in 2 hours to govindghat,took a shared taxi and 4 hours for 35 km  towards Badrinath and you pass on top of glaciers and godly mountains,  one thing for people who skip the temple "a hot sulphur Bath thats gonna revitalize you, is a must there" taptkund
 Temp goes low, so my morning started at 10 am towards vasudhara fall and the last India village Mana Amazing place lot off stories from that place about pandavs( and the only place where one can see river saraswati, it goes roaring)  and the begining of a trek called stopanth(did not do it, requires good cash but VASUDHARA FALLS OMG SERENE!!! the stones laid on the way makes it difficult to walk... a lot of folk from the army and Brazilian american  etc.. there's no bus to mana you will have to hire a cab , vice versa to come back 200 rs per head if solo try mingling with locals..and it keeps getting cheap to a limit..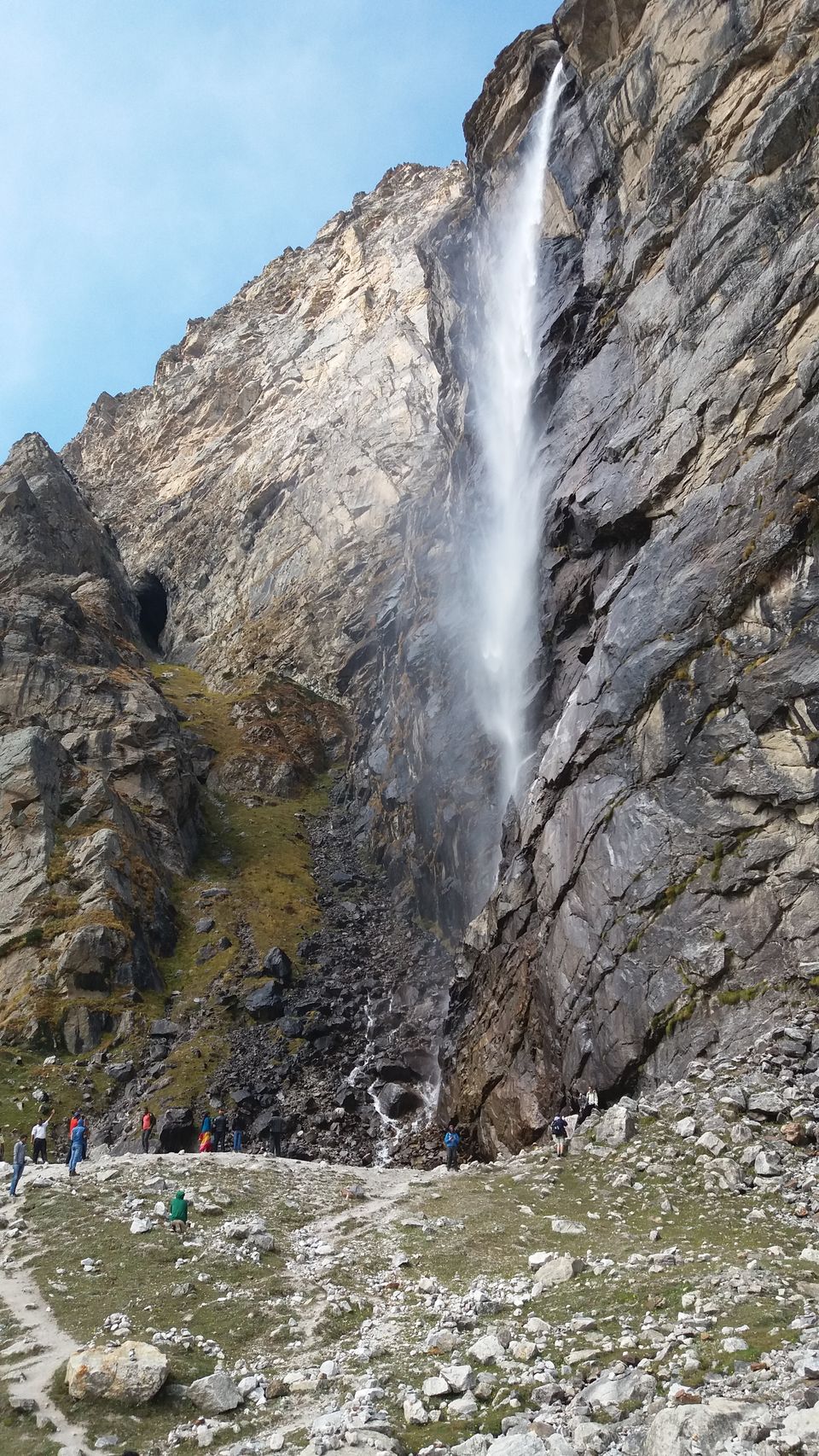 Neelkanth peak famous for the braham kamal another 12 km one side leads to an off beat location to find one or two babas and peace of the divine around( 8+24=32km) ended with fine traveler friend there.
NOW COMES THE GOD OF GODS Kedarnath coming back to Rudraprayag from Badrinath is another day wasted in travelling and heading to Guptkashi takes all day but the view and destruction keeps you busy thinking of whats next!
Took a stay at guptkashi  is not cheap 500 rs for a night ! 
Plus try not to get up very early ,no taxi will be there and if its there you'll just hve to wait for some 10 people more to get it started, and thats not gonna happen and u'll have to book it again unplanned expense only to start on time,reach Sonprayag  to find that medical check up is needed and there come a que in your eyes 2 hours again waisted,FREE WIFI ZONE it is, they check your bp thats it so be fit or go back or take a heli, take another taxi and reach Gaurikund, and a strenous trek started at around 10:00 am,now when people go on ponies its acceptable but when an army person hires one a thought disturbs your mind about the next few hours of a trek , around 2 pm reached rambada continous walking for 4 hours with a rucksack and 9 km only to find out the trek is not 16 km but the new way after floods increased 3 km more, theres only one tea shop in the name of rambada btw stalls are their through out and steep climb for the next 9 km starts.. to add it started to rain anyhow i reached kedarnath by 5 pm and great work by the GMVN,accommodation and food is going to blow away your mind its exceptional ONE WORD 'QUALITY' tents huts free wifi,sleeping bags!!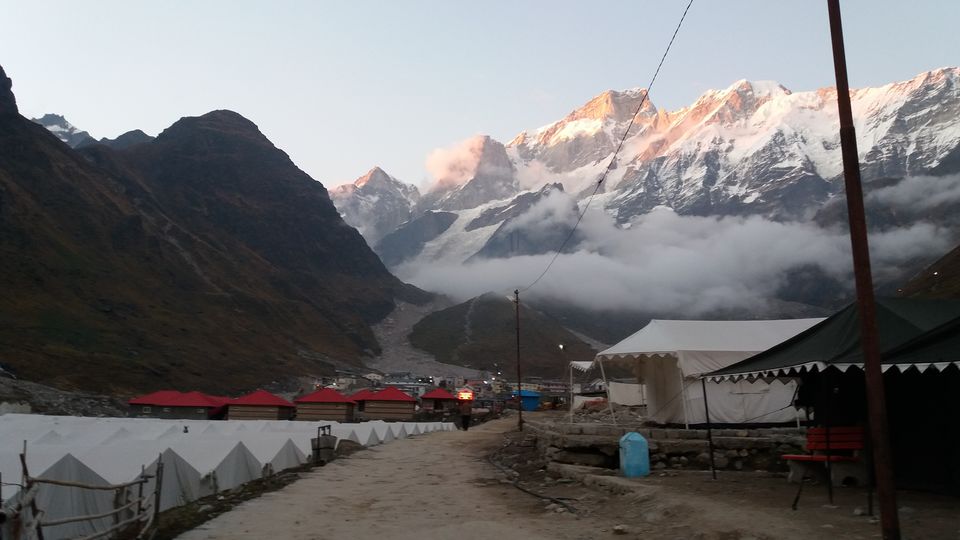 Now people cannot go to gandhisarovaar glaciers its all destroyed and no one knows the way around so get the explorer awake in you.. planned to go for vasuki taal ok you need permission to go there,its dangerous its time bound , and a guide  is necessary but its hard to get one ,so i skipped all the formalities and woke up at 4 the next morning -5 c ,freshen up ,take all food items, to identify where is vasuki taal,there is a river coming down from a mountain from the opposite mountain where all tents are camped,since a few helpful NDRF persons gave me an idea of where it was,a few locals are alive and they dont know the way, started of the trek climbed straight up for 2 hours spared myself from the main trekking route, 1 no sunlight will be there before 9am and its cold you'll encounter wild animals , after making half way,saw a peak where i was told to go another hour behind it there was another that was also to be trekked. By 11 pm at 17500 ft i began to go down towards vasuki ... if your are  a person who wants to sit and enjoy there,its not the place (caution: fog starts at 12pm everyday at that height and its true otherwise be my guest and fall 4500ft down), came back up and started to trek down towards kedarnath 3 hours in total to come back, exhausted by 3 pm. 
A time bound and practically thrilling trek! Otherwise its a 6 hour 6 km trek one side, with no time to rest! 
In the end i treked 18 km to gaurikund to find out no taxi were there for sonprayag(work at progress) so another 6 km and the route is different for the trek. Stay at guptkashi and catch a taxi or bus back to dehradoon ,but ofcourse i didnt do so and reached Srinagar.