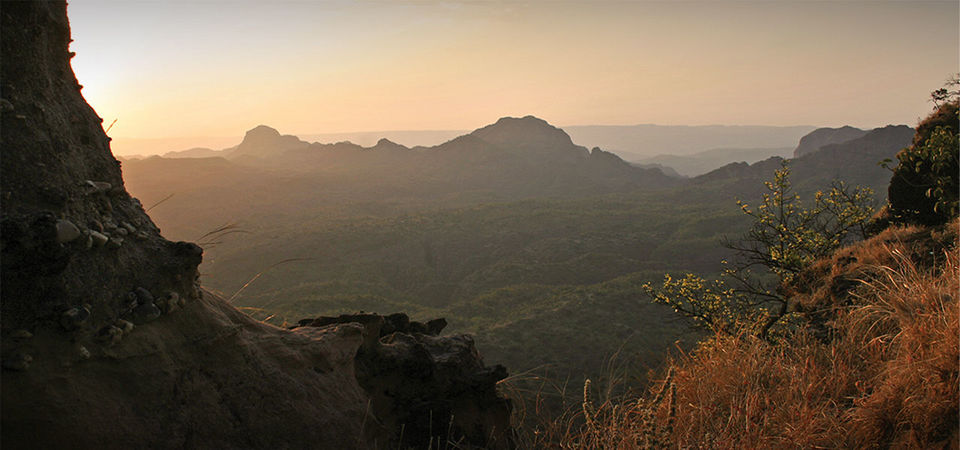 When I #swipeRightToTravel , which has been very rare till now, I wanna make sure I gather beautiful experiences and absorb the beauty around me. I got one such opportunity in my 12th standard i.e almost 6 years back ,when we were all taken for a 5 day trip to Bharat Scouts and Guides National training Center in Pachmarhi,Satpura range,Madhya Pradesh. At first I was a little skeptic about the whole idea of going to MP. I was like "OMG! I have board exams,competitive exams and a mom running behind me with a stick and here I am going for a trip to a place I have never even heard of!!". But I wanted to take the risk of trying something different and there we started our journey in garib rath(which was actually more comfortable than the AC 2 tier in ameer raths). All school friends,needless to say it was too much fun singing, dancing, talking,sharing and caring in the journey,new couples are automatically generated in such trips and all crushes were being revealed. After arriving at the station,we traveled in jeeps along the zig-zag hilly roads and finally reached this place in a jungle with a few tents. A place with more monkeys to welcome than humans!!Well,that's when I knew this trip is gonna be awesome!!
The first stranger I happened to talk to was Harsh,a boy from Sainik school who had also come there for a school trip.Being from sainik school,it was more amusing for him to talk to a girl than to see wild animals and birds around.The guards and the instructors also gave us a lot of information about the area.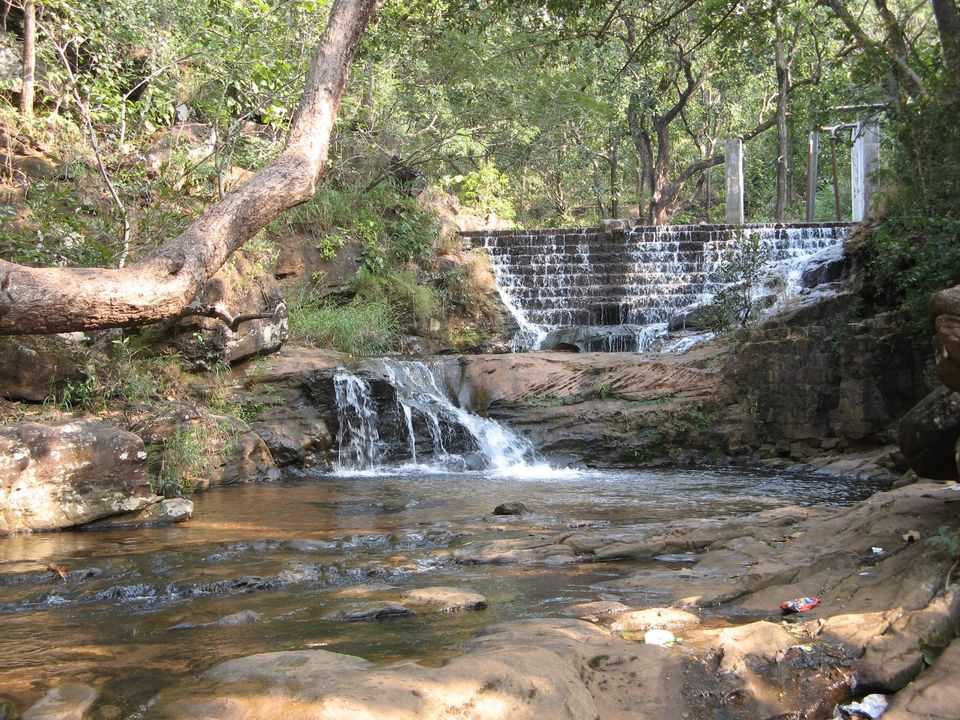 The first day :we went to see the Bee Fall-a natural waterfall around 35 meters down the Satpura hills.It flows like a stream of melting silver and water falling from such height creates the sound similar to the humming of bees, therefore the name.There is something really special about this fall,that you just cannot miss it if you come here.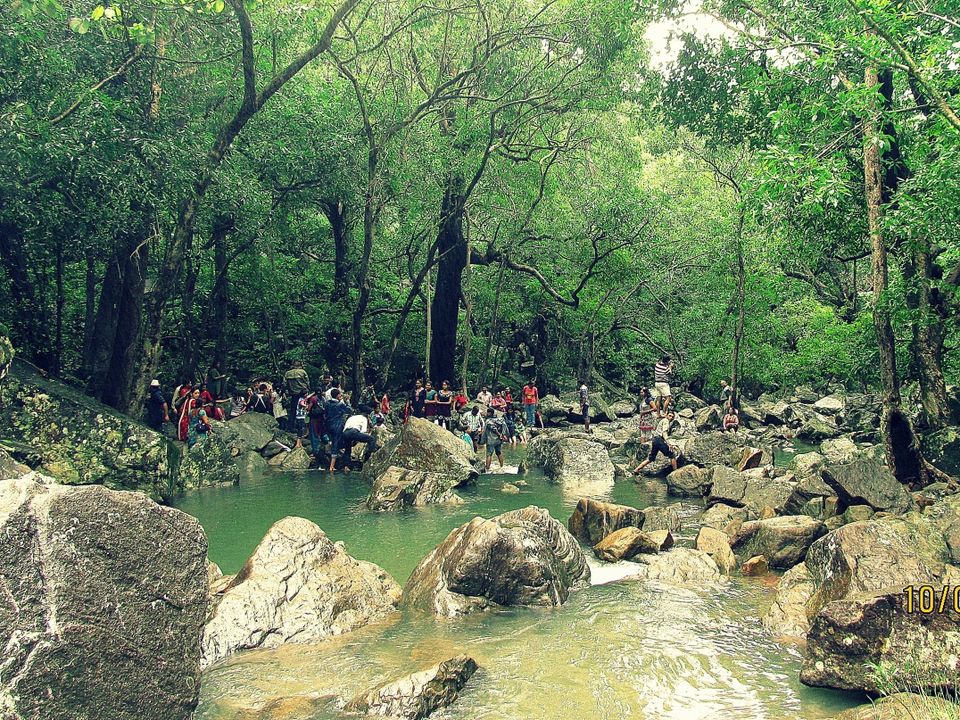 We all love the movie Ashoka and the spots where the songs are filmed make us want to go there immediately on watching them right? Well wait no more, Apsara vihar is where the romance of Ashoka was picturised. There was a time when british woman bathed there in white clothes looking like fairies,hence the name Apsara vihar!!Serenity,tranquility, beauty:it's a scene to behold!I wish tinder,yes #tinder existed back then so I could #swipeRight some Ashoka back then;) .We came to the market place and asked the shopkeepers to tell us more about the ashoka movie shoot there. They all had their own sweet inputs!!:)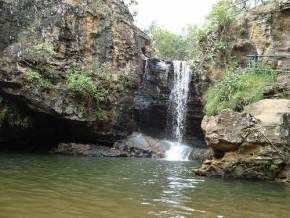 Next destination was Jatashankar:Legend says Lord Shankara hid himself in the cave when he was running from the demon Bhasmasur who wanted to burn him down. It is one of the most prominent destination when it comes to temples in Pachmarhi.108 Shiva lingas were naturally found in this temple and the Gupt-Ganga is the stream of secretive origin that flows inside the temple. I also bought an idol of my favorite Shiva that I still have.
The nights used to be full of activities and fun. Campfire, singing, dancing ,performances,competitions with other schools,to see who wins.We were never tired.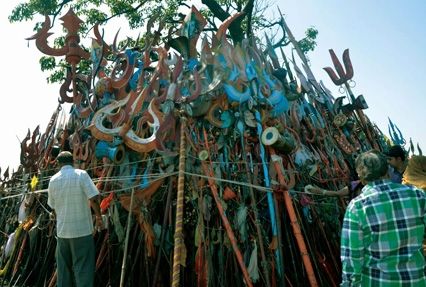 The third day was the longest trek to Chauragarh. Approx. 4 km walk plus climb.Lord Shiva's temple stood 1300 steps and rough sidewalks and ~1400 km high at the third highest peak of Satpura range. where all the devotees including us climbed with full enthusiasm. The temple was under renovation back then.What a wonderful experience it was to reach the top and witness the nature so beautifully opening itself up to you,almost like it was always waiting for you to listen to it.The waterfalls that we never imagined could have existed,the cool breeze that took away with it all the stress that weighed down my mind and body,I REALIZED NOTHING IS IMPOSSIBLE FOR MOTHER NATURE.It was as if I never wanted to get down from there, like I belonged there,in that wilderness, I deserved that hug from nature,we all do.
But then,as all things must come to an end,the day ended and we returned to our base camp,watching the night sky after dinner,with a classmate who became a very good friend after the trip, yes that is the best part about trips,there are people you become friends with for a lifetime and there are people you confide in because you already know you will never meet them again!
On the fourth day, we went to the Desi Grand Canyon- Reechgarh: and again,as history suggests that a giant Reech(bear) resided in the caves there.The rocks there have scars of water indicating the existence of water streams there in the past, as far as i can remember, a part of Ashoka was also shot there. All in all, a great place to feel the cool breeze and click pictures and pretend you are in the U.S.
Even the pandavas are said to have lived there for some time during there exile and we also have pandav caves to visit there.
The next place to visit was Dhoopgarh: Famous for it Sunset point and probably the highest peak of satpura.Again a place where u can #swipeRightToTravel on tinder before you leave because #swipingRight out there might only hook you up with animals!!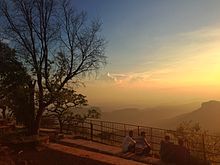 And then finally our last day at this beautiful place,started with a great adventure!!The moment we returned to our tent after brushing our teeth we saw all our bags were torn open and chips and food packets were stolen,clothes were stolen and the thieves were right on top of the tent, yess how could the monkeys let us go peacefully? When we tried to shoo the notorious ones off one of them started chasing me and I know how fast my heart can beat now!!:D We then had rock climbing,hiking,rope climbing sessions and all scout and guide drills which was really awesome, completing the challenges like we were born to join the ARMY, we had some serious fun!!
And now it was time to say goodbye to this very own place of god and get back to work. But this trip has touched my life in a way I cannot really express in words!No wonder i remember so much of it after 6 years and can still go on writing.The people here have their own charm,innocent helpful and always willing to share with a smile,these are the kind of people we miss in the metros. The way they have preserved the beauty of Pachmarhi and all its tourist spots is commendable and everyone of us should visit this modest destination to experience raw and innocent beauty. Do not have many pictures as few were taken and most were lost, maybe because it is best experienced with ones own eyes(sharing this link though:pics). I therefore Bless you to get an opportunity to have this soulful journey that pleases you inside out and make new friends :D.
Keep smiling keep rocking. Loads of Love!! <3 <3 Let me win because I so want to go to Bali and #swipeRightToTravel now that tinder is here to help me find a partner :D