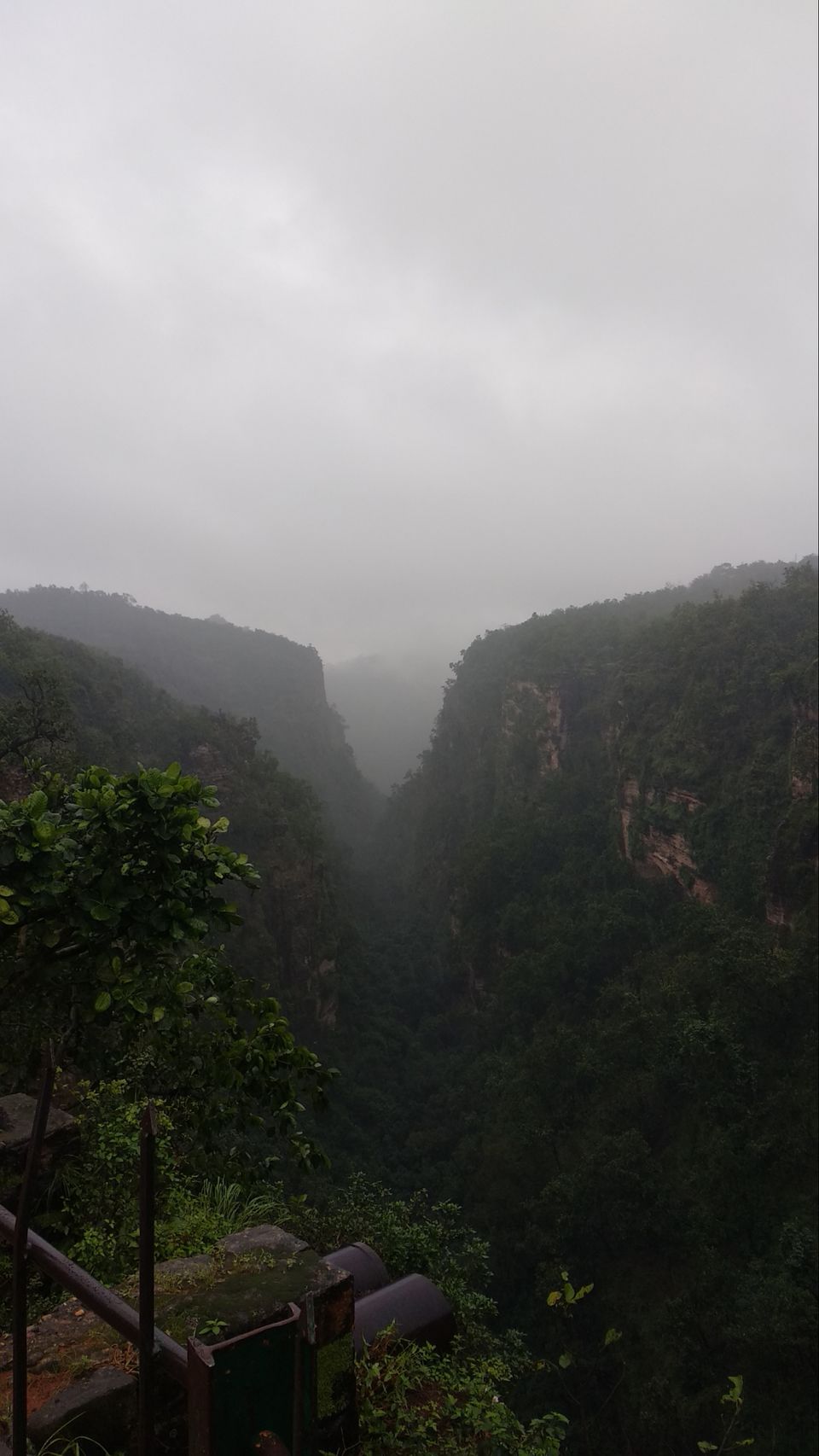 We boarded a bus from bhopal till pachmarhi ,which costed us 300 inr.
U can  board a train , non ac chaircar would cost u 95 inr till pipariya, there from u have to board a bus or jeep ,cost u around 60 rs...
So we reached pachmarhi in morning 7 am..
As soon as u deboard the bus ,many hotel and zypsy (most convenient and allowed everywhere in pachmarhi vehicle to visit pachmarhi) agents surround you..
1 zypsy could carry 7 people ,if you are less than 7 people ,you can ask zypsy owner to share it with some other people they will arrange it..
Cost of zypsy is around 200 per person..
Zypsy owner also arrange you a good hotel..
A good hotel cost you around 1000 rs per day for 4 people...
.
So first day we visited points where government is not taking any tax or money so you only have to pay for zypsy and food ...
We visited pandav gufa, handi khoh,
We did our lunch after visiting 2-3 points at a open restaurent where our driver took us. It costs 800 rs for 4 people and food was excellent...
We visited day 2 points mentioned in picture on day 1 as on wednesday b-fall and other points closes early.
.
In night we take a short walk in pachmarhi market and other near places as its a very small city and its beautiful like mall road shimla..
There are also hukkah bar if you want to party
On day 2 we visited the points which are taxed by government and personal vehicle are not allowed there as roads are very dangerous to drive due to sharp turns and depth..
Cost of government pass is 1000 rs including guide..
.
So we went to silver fall, apsara vihar and than b-fall where we enjoyed alot , b-fall would cost u more than 3 hour so try to spent less time at silver fall and apsara vihar..
And carry a extra pair of clothes for b-fall if you want to bath under waterfall which i recommend strongly..
.
Then we did lunch and visited rajendra park saw sunset which was beautiful..
On day 3 we trekked to chouragarh which took whole day , it was 4-5 km trek and peak was beautiful...
In sum total pachmarhi is beautiful located in lap of dense satpura forest...
TRIADI-TIPS
1. PLEASE BARGAIN HARD FOR ZYPSY AND HOTEL AS IT VARY SEASON TO SEASON.
2. YOU CAN SAVE 500 BY NOT TAKING GUIDE AT GOVERNMENT PASS, THEN IT WILL COST ONLY 500, FOR THIS TALK TO YOUR GYPSY DRIVER.
3. PLEASE CARRY CASH FROM YOUR HOME CITY AS ATM'S ARE EMPTY MOST OF THE TIME .
4. ONLY AIRTEL AND BSNL NETWORK ARE STRONG THERE, JIO IS NILL