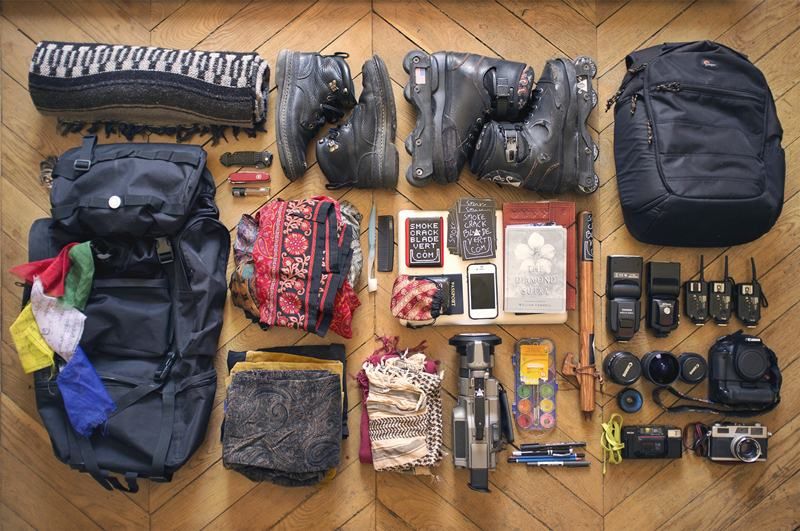 The mountains are calling you, but first, you need to pack. Packing for the Himalayas could be a tedious job as it means packing light but full supplies. So, we have come up with a list of all the necessary items that you need to carry, in order to have a trip to Ladakh and Spiti. First things first, when travelling to the Himalayas make sure that all of your items are wrapped in waterproof bags. One never knows when it can rain. Trekkers must carry an additional daypack with rain cover for their day trips. This will allow them to travel light during these trips.
Documents and Cash
Carry all required documents such as a valid photo identity card or tickets. Keep cash in hand because the area doesn't have many ATMs around. Also, keep a print out of your itinerary and emergency contacts because your phone might just die anywhere.
Clothes
Ladakh and Spiti are immensely cold places for average Indians. So make sure you take enough clothes to keep yourself warm in the minus degrees and also go for layered clothing as it can get pretty hot during the day.
Jackets
Thermals
Gloves
Woollen Caps
full sleeves t-shirts
Trekking Pants
Socks
Carrying raincoats can also be helpful
Stick to the format. Don't stack text like this.
Toiletries
Some of the absolute necessities that are required for personal hygiene and skincare are
Fix this format
Hand Sanitizer
Sunscreen
Soap, Dry Shampoo and Moisturizer
Tissues, Towel and Toilet Roll
Toothbrush, toothpaste, comb
Trekking Gear
When in Ladakh and Spiti, one cannot miss out on the opportunity to trek to some of the most picturesque peaks in the region. Trekking requires some other accessories such as
Trekking Poles
Trek pants
Fleece T-shirts and jackets
Trekking shoes
Gaiters and Gumboots for Chaddar trek
Pocket knife
Sunglasses
Compass/GPS
Headlamp or Flashlight
Whistle
Insect repellent
Miscellaneous
These don't fall under a particular category but are necessary for a trip to high altitudes.
Carry a water bottle and little snacks such as nuts, dry fruits and energy bars
Torch
Medical kit
A small oxygen cylinder for high altitude
Camera
Chargers for all gadgets
So pack your bags and get going to the mountains. Experience a slice of heaven in the Himalayas.
Barely informative and not well-researched. You've simply listed things down. Please rework this and write 2 to 3 lines about whatever you have mentioned.
Are you already a packing expert? Let us know what we have missed in this list here and also subscribe to Tripoto's Youtube Channel for new travelling ideas.