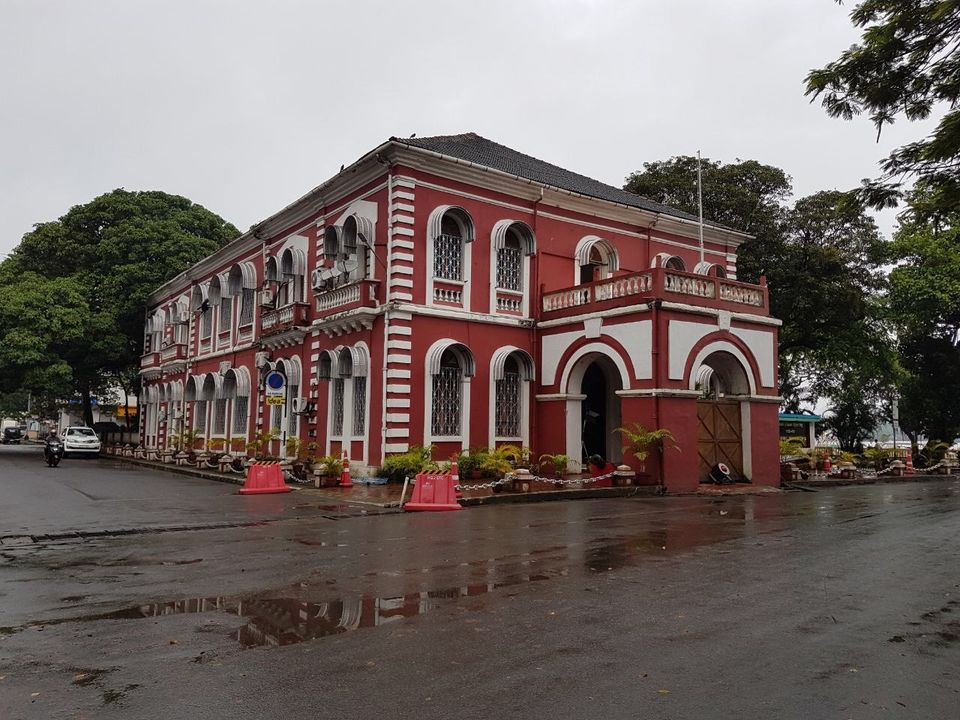 A newbie to Goa will always be told to choose to between the more flamboyant North Goa or the more relaxed and peaceful South part. However those who are Goanized (addicted to Goa), like me try and find the nooks and crannies and the not so popular locales. My stay at the Treehouse Neptune, in the heart of Panaji , considered to be the business hub, and therefore avoided by those on vacation, was one of the Goanised things to do, since Goa for me has almost become like second home. The Treehouse Neptune is reinstated hotel from the old hostel dormitory type accommodation used by the back packers to a brand new sparkling clean hotel with the large rooms most of them with private sit outs  and was a great choice to stay and  watch the busy Goa . The greatest part about staying in this hotel is that as soon as you step out, you are greeted by a plethora of eateries both big and small. Here are some of them which caught my fancy while there.
1. Sanyog- The country cousin of Shiv Sagar, the famous Vada Pao and Mumbai street food eatery, which also exists close by or atleast the namesake does, serves some of the freshest Vada Pao's and South Indians staples just under 100 bucks The twist to the Vada Pao tale is that the Vada and Pao have to ordered separately and is served with the Coconut Chutney and not the usual Mumbai/Pune style chilly garlic and peanut chutney. On asking I was told that the locals don't like it that ways. Open from 8-10pm each day this small little tucked- in restaurant is filled with local crowd and some passerby for a steaming hot cup of tea and Vada Pao on a rainy day or any other.
2. The New Shiv Sagar- Unsure whether this is the part of the same famous Shiv Sagar, but who cares as long as you get the same food and same food it is….
3. Mishra Pedha- Why should Goa remain bereft of the usual fare of the Chaats Pani Puri's, Pao Bhaji . Mishra Pedha serves it all and more and in a very spic and span space
4. Kamat Vegetarian Restaurant – One more of the local Vada Paos and South Indian joint, this places is filled with tourist in season and locals during off season. Who said there was any recession? 
5. Ravi's Ras Omlette- For the late night party revelers , stop by at this little nook in Panjim which starts operation in the evening and is usually full with more late night revelers some local Goans who step out for some delicious Ras Omlette which is essentially some flavorful omlette served in Goan gravy with maska Pao or some liver fry or more such delicacies, the Goan answer to Bade Miyan. Ravi himself will be there most days to serve you and is delightful and polite. And the versatile man that he is, also is a fitness trainer at a local gym, certainly not eating what he dishes out.
6. Mumbai Coffee Roasters- A cute tucked away hostel for backpackers with a simple neat clean café serving the most delicious coffee and fresh juices and various other health options and variety of eats big and small. The café is part of the very elegantly done hostel, catering to the backpackers mostly foreigners and if you do not know or want to explore  you can easily miss it. Manav whom i met was  the chef and mind you with a law degree. A budding IP lawyer Delhi who decided to give it all up and lead a life networking on the soul level and we say cheers to that.
7. Aunty Maria- a popular coffee and deli joint just walking distance form Treehouse Neptune serves some very tasty sandwiches and bakes any time of the day. The Beef Samosa and egg patties are the hot favorites of the visitors to this cafe. 
8. Texas- the Seafood restaurant located in the same premises at Treehouse Neptune is one of the oldest sea food joint thronged by the locals.
9. Le Maison Bar and Restaurant. Walk in the quiet streets of the bright colorful Fontainhas and if you are not careful you can almost miss this Bar and Bistro which is very European very chic and most importantly comes replete with team who are eager to have you in and show you around.
10. The Beef Kebabs and Samosas- As you walk through the streets you may come across some carts selling Beef Cutlets Samosas and Palo. With focus on cleanliness and equally good food, it's worth a try.
In the end I would just say you can do the North and you can do the South but don't miss the Panjim way of Goa.