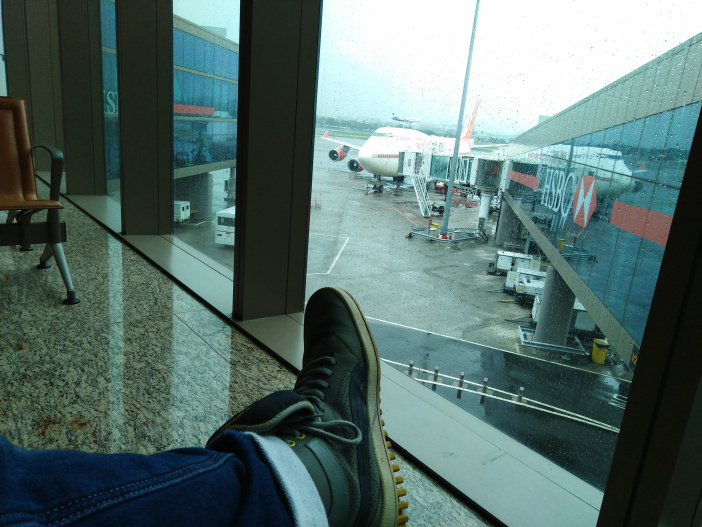 Off I got from Mumbai with few regrets and loads of desire to lift myself and turn things around. In the middle of Bombay ka baarish, I had to juggle myself a lot before I could come to the airport. Everything about boarding that fight was amazing, from restless 30minutes at the lobby to the moment of actually flying off is what I feel is worth sharing it. Sow was there with me, also over the phone till I could leave with a smile as I saw her Instagram post.I landed at Delhi international airport and expressed myself into a new routine where I not only met my best friends but promised them that I will be fine and focus on the details of life. We drove to the exteriors of Delhi and got ourselves dumped into Manali bus and we were ready for the madness. The bus drive was heaven, I never ever felt so calm and close to nature with my eyes stuck to the roadside into nature. Each view got me into the wild where I was losing my heart as it was falling for the complete beauty around me. After seeing the nature from the window of my bus seat. We were off into the depot of Manali. Yes, we were there and the first view of the very sight of mountains got me smiled and thrilled me to go for it. Yes, I was excited to see all I can and make this trip a long lasting experience. We went to Old Manali, where Beura got us a nice room to let in and see the small hill station from much more height. After that we all were just into nature, eating, talking, sharing experiences and enjoying each others company. There were topics of us and things around our lives. We had a ball of events.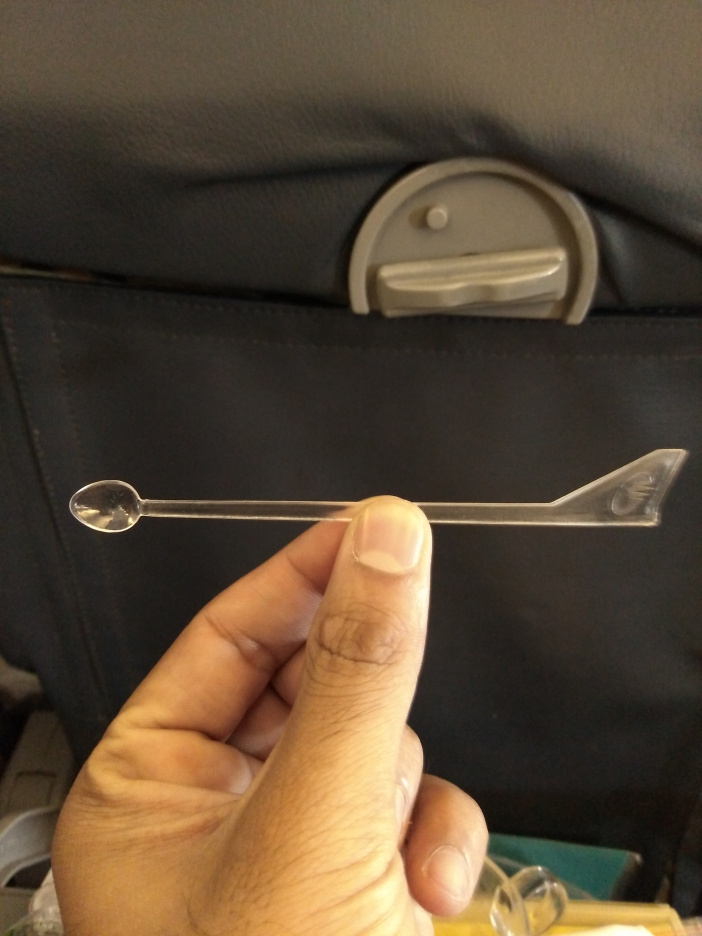 Night at Katagla!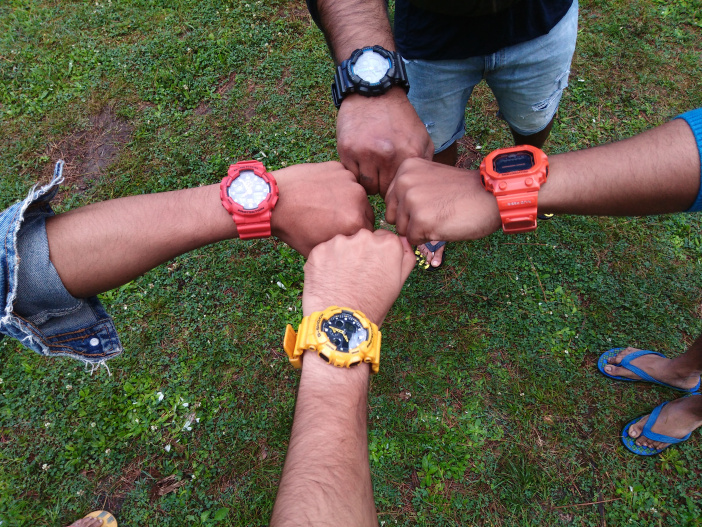 Thinking of going to Kasol, pumped me up and our gang, after reaching there all I could see is the commercial stage set up. This made us go 5-6 kilometers back and book a tent on the riverside. The feeling of staying there amidst the forest was bliss. We all got ourselves ventured into the mode of clicking, putting our feet in the cold water and enjoying nature. If Beura was all about impromptu plans then Tijo was of sudden jokes. Jerry was simply flashing his camera and his divine presence. Don't ask me, I am just going with the flow and smiling while I write this. We were having a bromance indeed. There was music, talks, old memories and exquisite food with local flavor. To top that list we were in nirvana. (Don't ask me why you should know it) I didn't know what it feels like to be in rains and that too in a forest. I did experience that with my eyes open all night looking at the river and listening to the melancholy sound of water traveling. I wish to stay like that forever.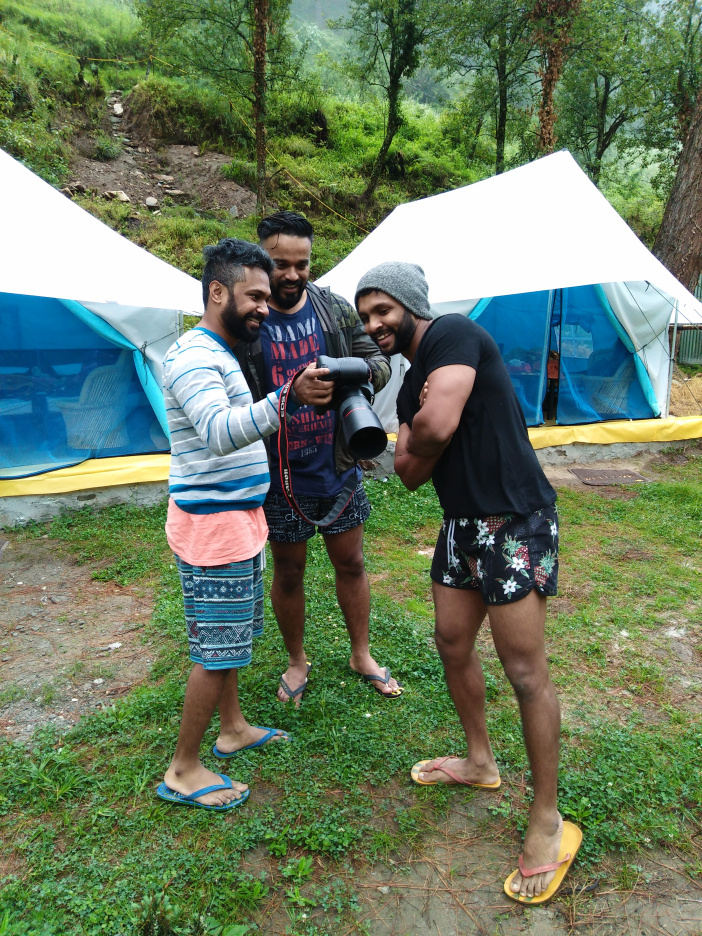 Mountain struck!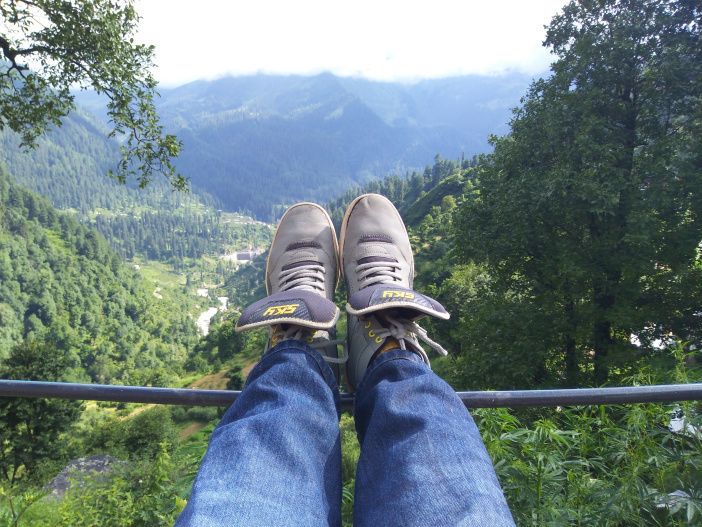 Ever since I have come here in Himachal Pradesh, I am in love with the mountains and their traveling appearances. I started looking at them from the balcony view of my hotel. I was staring straight into them from that moment and didn't realize it was 2 hours and more. I was talking to them as I looked at them. Those clouds sitting on the laps were mesmerizing and serene. There was another scenic change when I saw rains coming down from that mountain and it tells me of the blessing that life is full of moments and let's fall for it with the open arm and clean heart. As I traveled, I got addressed to another set of mountains where it was more like a naked-rocky one but still had simplicity on it. I was convinced to tell myself that it doesn't matter how the life looks like but it is the inner peace. Looking at the mountains on this sunny day, I feel fresh and inspired that after all this while, they still stand tall and cater to the needs of nature and grow happily. Things will go out of shape but one must not leave its origin and curse its roots. You are what you are and that will matter till the real end. Alteration is good but the unique character of oneself will be remembered forever. To this I miss something and I say always and forever!
Offbeat in Tosh! (Parvati Valley)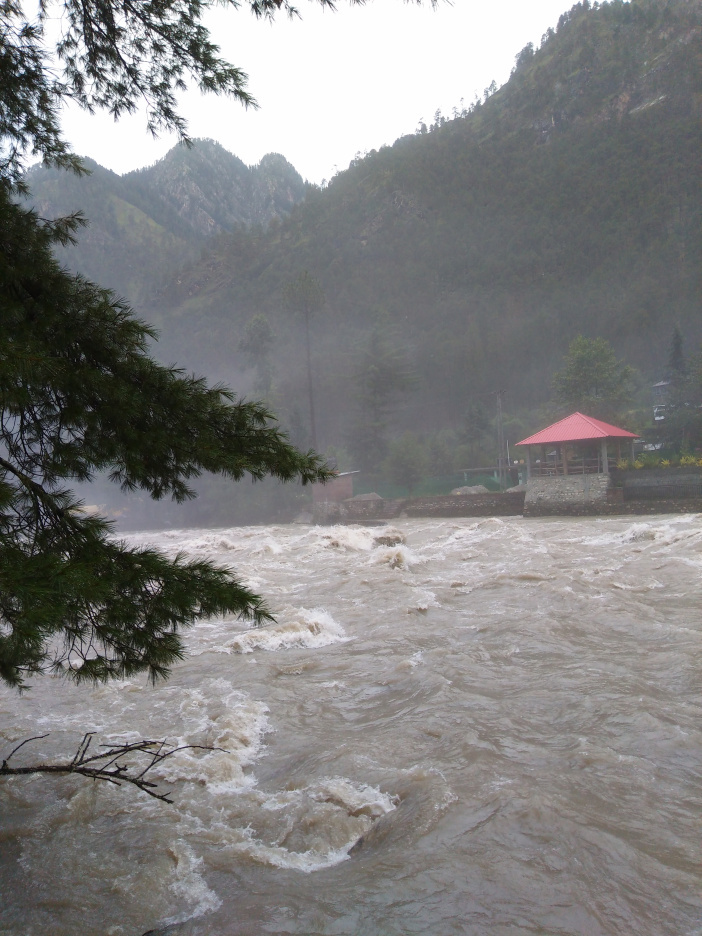 We started our journey once again and moved from our Kasol stay towards Manikaran where there is one big Gurudwara. We drove almost 59kilometres and reached there. We halted and had nice Maggi but desired to go beyond and kept on with our ride to Tosh. In the journey, we felt at peace and kept our eyes on witnessing the picturesque ambiance all around us. We halted to click and do random boys stuff, trust me there was nothing that I didn't do it. It was worth sailing across. Towards the evening, we reached Tosh by riding through offbeat road and getting pumped up on our bikes. We were there, to our left was Kheer-Ganga trek and right was Tosh. It looked too hilly and was more like a picnic spot. It was Beura yet again who drove our foot towards that hilly paradise. We walked for 5kilometers and halted for a tea at one of the magnificent views, I could ever see. The picture is the proof. Those 30 minutes of mountain gazing, tea time and ZNMD songs thrilled us and we got ourselves to the village of Guntar and we were having a night out in a house with a homely feel.
Musical night on a rock with Tijo and Jerry.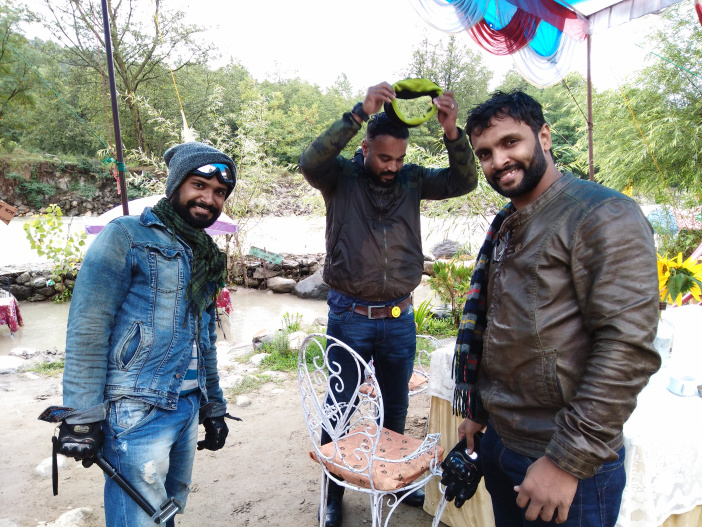 It was late and dark, we three decided to sit back and see the stars at Tosh. The flow was magical as there was a brewing friendship yet again with three of us smiling, talking about upcoming trips and being in the bond. We listened to the music as Jerry was playing all sort of numbers ranging from the artists like Bruno Mars to AR Rahman. We sang heart to heart with all the lyrics in our cue. The best song was of Fireworks by Ketty Perry and Kaha se tu aati hai by Lucky Ali. Both were goosebumps sort of songs. In the middle of the musical night and the wood villa, the electricity went off and to our surprise, it only made the experience worthwhile. We got nostalgic and kept singing our old age numbers of Stacy's mom and Urvasi etc. It was one of the best night we could have asked as there were peace, an understandable silence, and free talks. Letting go, all the grudges, differences, and planning for a healthy and fruitful friendship. The night at Tosh was indeed with dost!
The ride back from the last village in Parvati to Old Manali.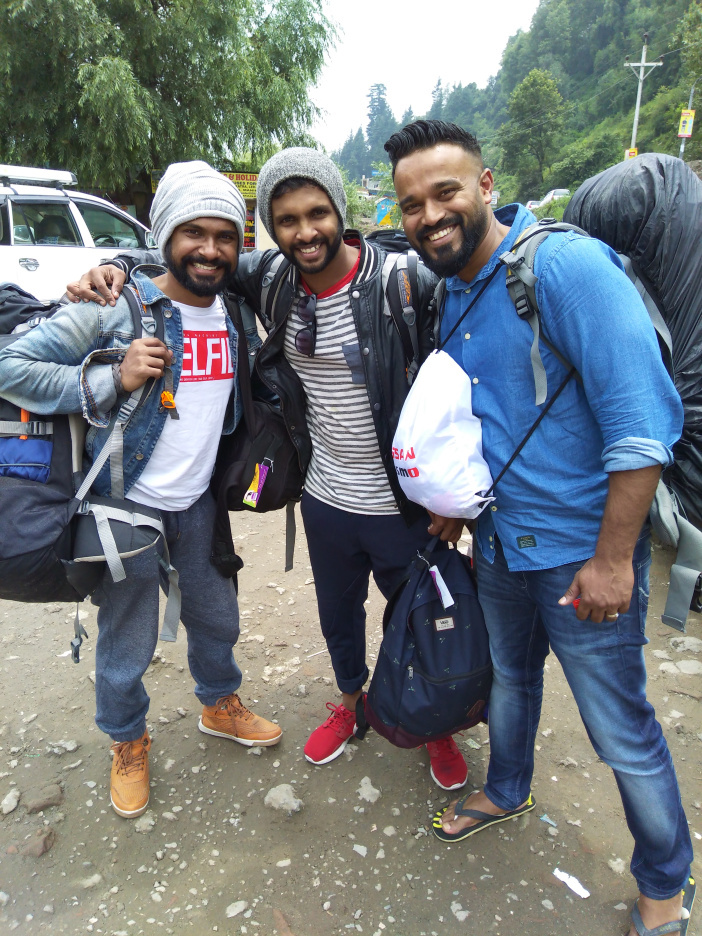 We got up early and just left to comeback not that we didn't want to stay back and relax but was to add more to life.
We walked out of the village from the hills which was more like some 5-6kilometers walk downwards so technically it was a trek back till we reach our bikes. We kick started our machines and left for the ride before having a mandatory tea and Maggi at a beautiful cafe facing the Parvati valley. Tea and valley, blissful. We drove for 5 hours and with 2halts for breakfast and lunch. In the ride, the places were going in the rear view mirror as we had passed them just a day before. The roads seemed more soothing and welcoming, the winds felt familiar, the mountains screamed a hello to us as we looked at them, the flow of the water tried to chase us down. This feeling of getting excited on seeing the similar encounters is what the real feel of riding. The road from Tosh to Old Manali is what I will never forget, each face, each tress, each turns, each bike travelers, each and every free soul is what I will take with me from this ride. I saw a different life in those 100 kilometers, the people, the life they live and expectation they have. Shall imbibe all of it.
It was an affair to remember. After returning from the ride. We decided to walk the streets of Old Manali. The street was nothing but an experience. It was full in motions all around. People singing on the streets, dancing with the portable speaker in their hands and smiling as the world is a friend. And certainly, it is. We got moving and started doing a bit of shopping. We got our hands ticked on the leather bags, Ladakh flags and my all time favorite woolen cap. You can see the madness in the picture. Talking about my gang, let me begin with the eldest, Tijo Rolls George he is a gem of a person, a friend in need is a fried indeed and above all he is a great person. Been around him for almost 12years now, it just feels like yesterday that we met. He has always encouraged me to go and do things and never questioned me why this or why that? With a smile just let me did my thing. One of the best motivator in an unknowing way is been him and I am very thankful that we are here on this trip away from our routine and discussing life. Right now also, while I write this he is telling me something for my own good and asking me to mend things by walking a mile to make a difference. I will obey Ti.
Now, my love my bro my father and my everything. Jerry John George, it's been a while that I ran away from him by not talking or sharing my happiness/sorrows. That did affect me as I overdid that agony on someone else. Today, I understand the real value of keeping up the promise. The promise that I made to my friend and all my loved ones. No matter what I did or will do, I will be honest in my approach and will do it with my heart. Sharing the same air with him after like 2years feels reliving. I missed all our talks that of writing, traveling, instant narrating movie scenes and walking in the streets and clicking like maniacs. Today, I have realized the layer of love is the main layer in any relationship and put forth the opposite person on a higher importance. I want to do that hence forth and live freely. More days, months and years to live by.
The last but not the least, Shekhar Beura, I have known him for a while as I use to be his Salsa teacher and we shared a good bond. The things got real as we went for his wedding to Puri and that was quite a bond to bring it here to this trip. He has been the leader in this trip and not to my surprise he is a killer and a solid guy. He lives his life to fullest and that's what making me positive now. His way of exploring new things, meeting new ends and laughing carelessly is his sign. Beura my new love, you are a special person and will always keep your enthusiasm to see life. Bora bora,Shekhar bora!
Up, up and over! (Paragliding)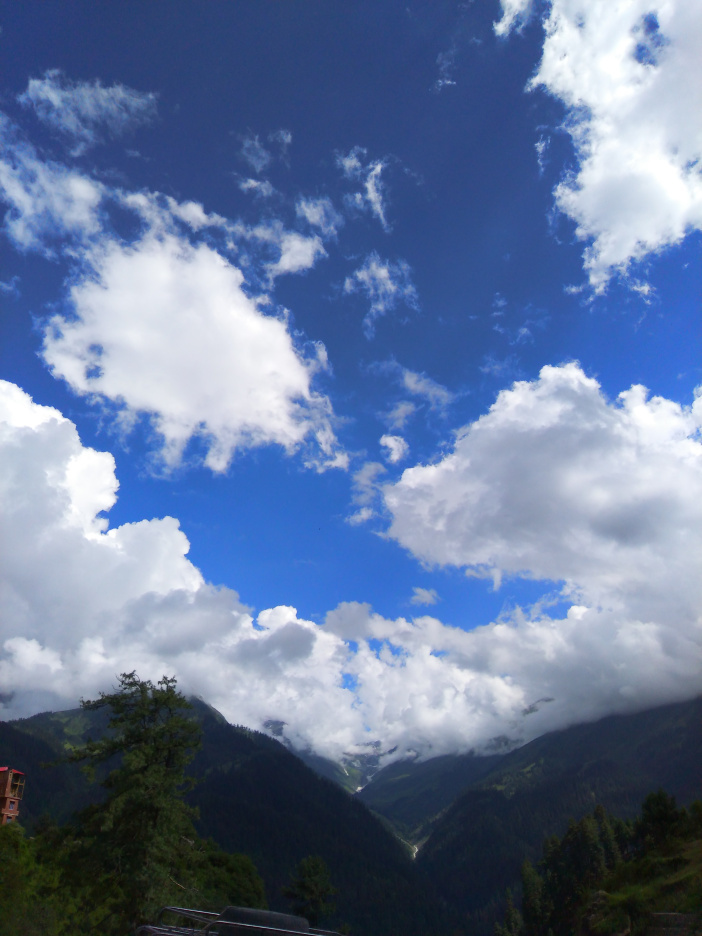 With our hope in our hearts and wings in our soul, we left on the road to Ladakh which has Shalong Valley on it. This place is a hub of all the activities like Paragliding, Rafting, Ski and ATV motor. We all wanted to do the same but eventually had to surrender ourselves as the activities were not allowed because of the bad weather and all. This did deject us but we kept our zeal high. All thanks to Jerry as he kept on clicking our pictures with his DSLR, cannon the clicker. We posed like mad boys, slept on the road, jumped on one tractor, sat on rocks and what not. The entire day was on the bike. We drove all over Manali on our return and staged our tired body to cafes!
Cafe' Affair!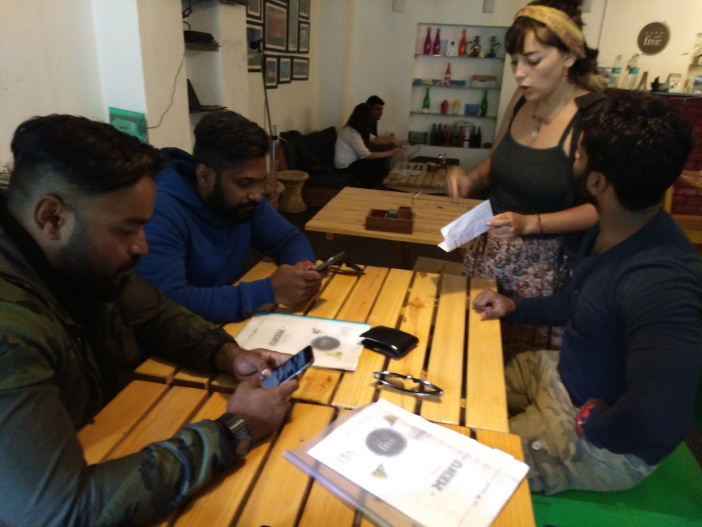 Old Manali is all about tiny cafes and small eating joints. We were ever ready to go in one and every cafes. To my list, Bornfree was epic, as this place was more of free souls where people were playing games like Jenga and Uno. We played all of it and trust me playing with those strangers made us love the games more. I won Uno but lost the Jenga game to Aakash and bloody Beura. Special mention of the French girl who was so sweet in handling that place. The food was overall typical french sort. After a fun run there, we headed to Cafe 1947′ it had dim lights, live music, and perfect riverside ambiance. This place served French fries and soups. We chipped in the taste buds with another round of Uno game. Can't tell about the score. As a team, me and Tijo lost 6-0 against Jerry and Beura. USP of this place, this guitar picture. To end the list, at around 10pm, we were siping Lemon soda water at Hotel Relax at a hill top where we all started sharing our life stories. Night awaits, for us for the football game of Portugal versus Wales aka Ronaldo vs Bale. Let's see where we go and sit to enjoy this match. Cheerios!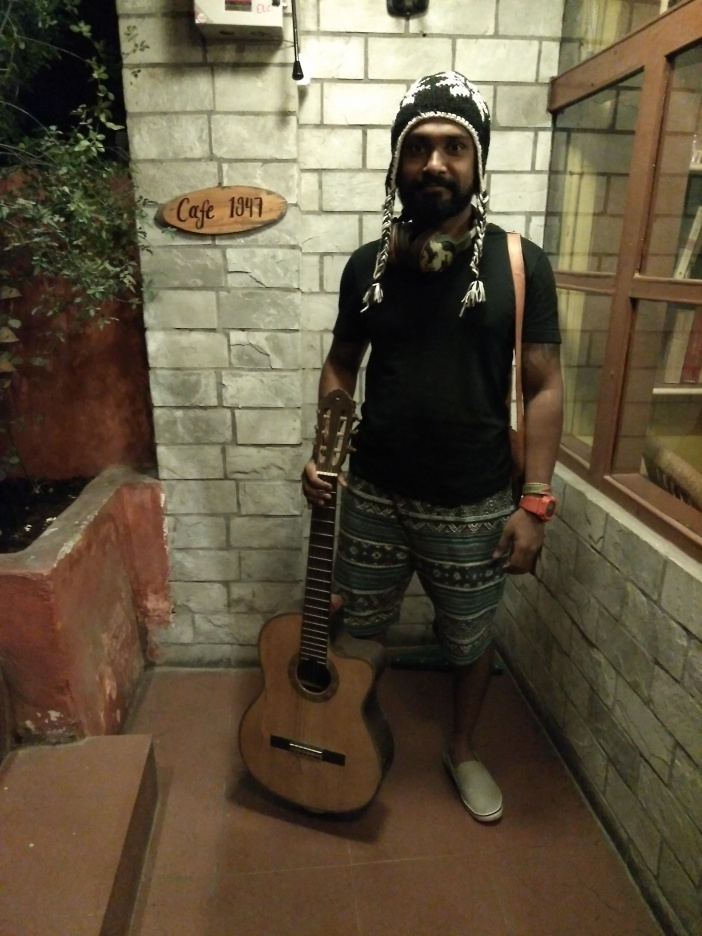 Ladakh Dairies!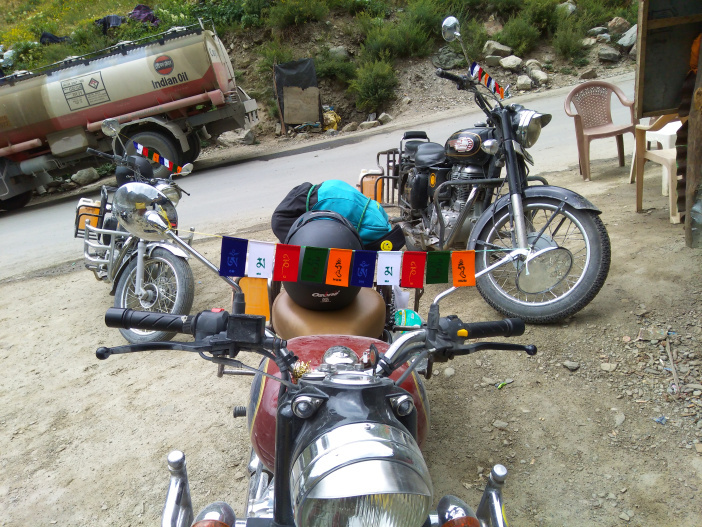 After staying almost for a week in Manali, we four and other 9 had joined us then. In total, we were 13 and ready for the road trip into the range of Himalayas. It was 12.20pm on 8th of July that we all were on bullets and a car with our bags in it. We filled petrol and posed with the bike gang. I and Jerry were finally on a bike there. Rest all were as a couple in the case of Shekhar, Ashutosh, and Subrotoh. Sumeet an ex-boss of Shekhar was a solo rider with two Mallu boys in the car.
We all began our journey of 474 kilometers to Leh. The stop was planned at 140kilometres at Jispa. The saga was on its way where all the riders were cruising towards the mark of reaching to the highest motorable road. Everyone was so happy with the scenic view passing by along with the curvy roads of that route. There were camera flashing and Go-Pro installed to capture all the actions.
I and Jerry were sitting on the bike after a really long time and trust me nothing has changed. We got off on the route to the heaven. The camera in my hand clicked all the mesmerizing views passing by and Jerry had a Go-Pro installed too and oh boy, that must have captured all our journey through the beautiful roads in Gulaba to the off-roads of Istingiri. The real pressure was when we kept on taking those round and round roads to reach the Rohtang pass and that was actually on cloud 9. We were amidst the clouds and were shivering like anything. We all halted there and grabbed snacks and chocolates. Next we all were leaving for the destination but that time, Tijo wanted to pee and we took a break which made us last in the group, off we went again to the most challenging route, me and Jerry were on the hook as the curves, bumpy, hilly or perhaps just a path to ride came our way. We almost went off the cliff when a truck overtook us. Hell of an experience, riding is a risk, risk it.
The entire route was magical. The mountains yet again amazed me and kept me motivated for the rest of my life. They are so strong and ready for the world. They are looking at all the changes and still stay there and take the weather as it comes. The ride was good as we both brothers clicked together like old days, we were talking about this beautiful place and sang horribly all the weird song. To the cue, we love Lucky Ali and he was all in the echoes of the Himalayan range. Main Ho Pyaar Ka Musafir!
After riding through the open Horizon we had to stop to grab something but that something was actually a great dish of the terrain, Mutton Biryani to name it. Stomach filled and left to reach the last Petrol pump till Leh. We filled all our roadsters and for the safety got petrol in the Jerry cans too.
From Manali, we covered 102kilometre and then had to more 32 to actually reach Jispa to our first-day halt. The roads were pretty much well made and offered great depth in the valley with a sudden light on the roads at 8pm. The picture is the proof. Finally, we were there on the camp site with tents and homemade food right in the middle of a jungle.
Night at Jispa!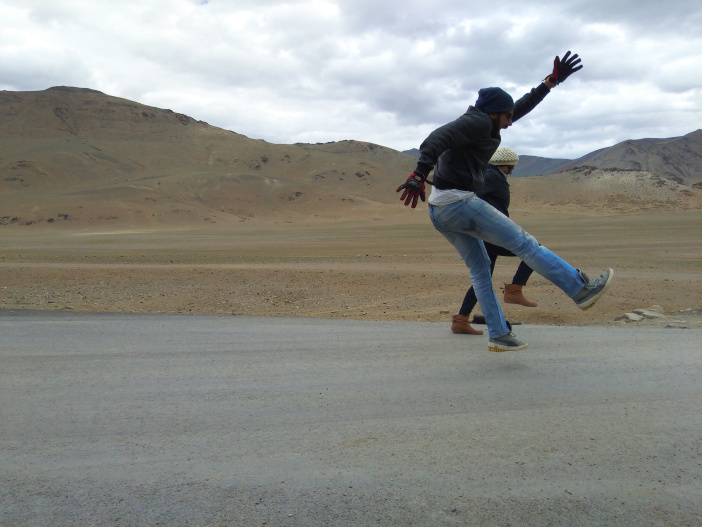 Okay! We were at the camp where the temperature was 7degrees. It was freezing and we were frozen at all the places. We quickly changed ourselves and got into the relax mode with tracks and pullover with monkey cap. We all sat near a bonfire and started to sing and share memories. There were food, drinks, and lots of fun. The locals where we stayed were even better. They were in the kitchen and happen to invite me. I spoke so much of Bollywood and the Chadar trek which is a father trek in their language. Those guys are multi-talented as they can cook, sing and be a guide in this awesome place. The time was worth it as we had a local drink together and watched Rockstar film.The night was asleep as we as a trio fell asleep in a jiffy.
Matargasthi by the riverside!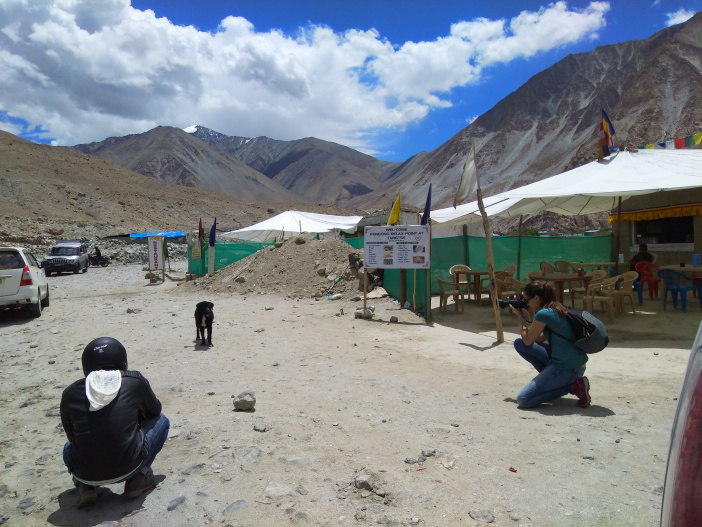 The breeze hit me and I was in a zone of mountain glazing. I put my phones on the charge to get ready to click some pictures but then decided to take my tea and walk instead with my naked eye doing the talking. I saw all happy faces around me. Tijo was giving gym tips to my favorite Rajat Kapoor, Shekhar was playing with a puppy named Jerry. Yes, his name was Jerry. And in the rocks, I see Jerry walking with his Skullcandy headgear on and camera mode flashing. He was clicking like always but was into nature. He was well into his own inner peace. I loved him seeing that, he deserves all of it. Talking about me, I was just into the songs I sat down with a thought of being simple and heard 4-5 songs on a loop with my eyes stuck to the mountains. It was surreal! When it was only going to be more of such sorts as there were so many such points. See you soon my mountain maybe in next 97kilometers that was Sarchu.
Knight riders!
We left for Sarchu at 12.55pm and had to cover almost 100kilometres. The ride began yet again with 6 bikes and Innova in our rare view mirror. Sumeet aka Rajat Kapoor led the way and we were happy to follow him. We halted to buy good quality mutton so that we could go and halt their and cool for the camp. In the ride, we had to cross so many difficult roads and keep riding in that cold weather which almost got me knocked off. Since the time we began our ride all I did was shivering. For a change, we kept our phones, camera aside and kept looking at the never ending mountain range. They were like paintings, so intense. The roads had 21 turns and uneven bumps, we managed to reach Sarchu point and there was some drama as Rajat and Soni (Ayushman's wife) were on the bike and away from the group for almost 6 hours. All were scared as we were worried as there was no coordination or meeting point. Finally, all was well and we left for Pang which was 78Kilometres. The ride began once again and the roads were difficult to tackle, the signage of 'When the going gets tough, tougher gets going and another one was 'Mountains are cut to connect. These kept us moving through that no man's land. Finally, we reached a half way mark and the terrain had hit us with its numerous ups and downs loop. Out of 6 bikes, 3bikes took a halt there. But we Tijo, Jerry, Beura and me left for another 40 miles as the Innova had already left for Pang. So we got the jackets from the other riders. We were on with double jackets and double monkey caps. The ride began and we were off to the one of the craziest ride on the road which had no one but only 3bikes, there were few mishaps but we kept on going through the night with our enthusiasm up on that Jammu and Kashmir road. Towards the end, we switched off the machine and halted to see the stars underneath us. That view was worth through naked eyes. It was one of the amazing feelings. I wish we could stay there longer. Sorry because of the chilling sensation had to leave. At 9.45pm we were at Pang at an altitude of 15000. The half of the group was united over mutton and Old Monk at the tent with a Ladakhi family who were so welcoming. Mutton tasted good. Father was the cool chef, a mother was the cashier and a daughter was a welcoming face. To the happiness, she was a polytechnic student in a Delhi university. A night well spent.
Morning dumps and smiles!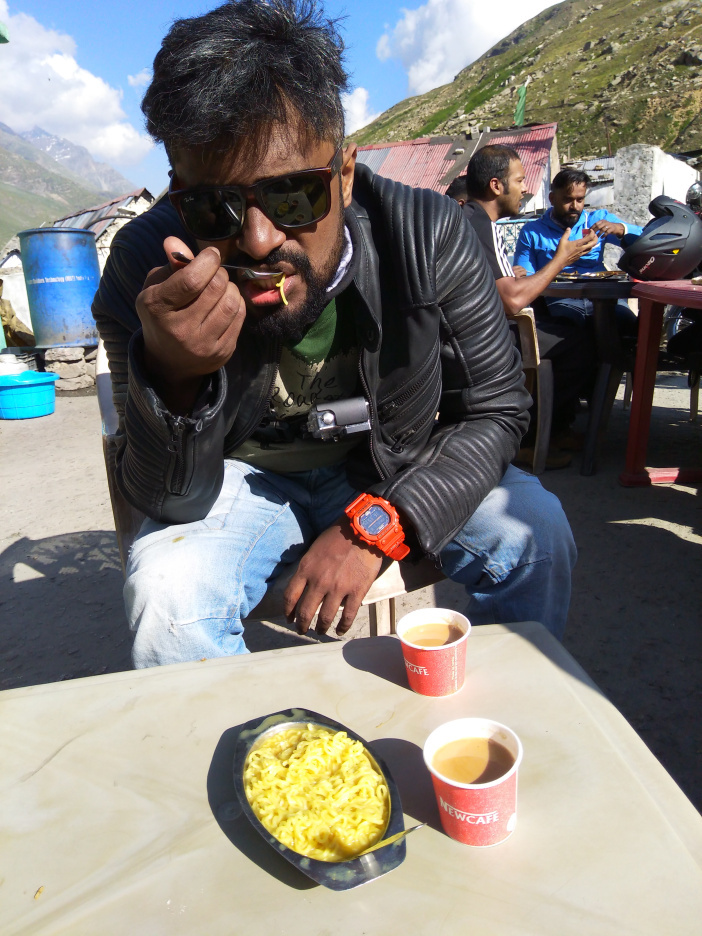 We woke up to a good news of all the gang meeting there. All were safe and sound. The group was together then. The weather was beautiful as usual. The gang was eating paratha , omelet, and tea. I and Beura left for a dump in the valley and was indeed fun. The cold breeze made it a fun time with the flow of a river passing by. I happen to wash my face with that cold water. God, that was refreshing! We all were set after that to leave for Leh which was like 180Kilometres. Let's hit it!
To Leh!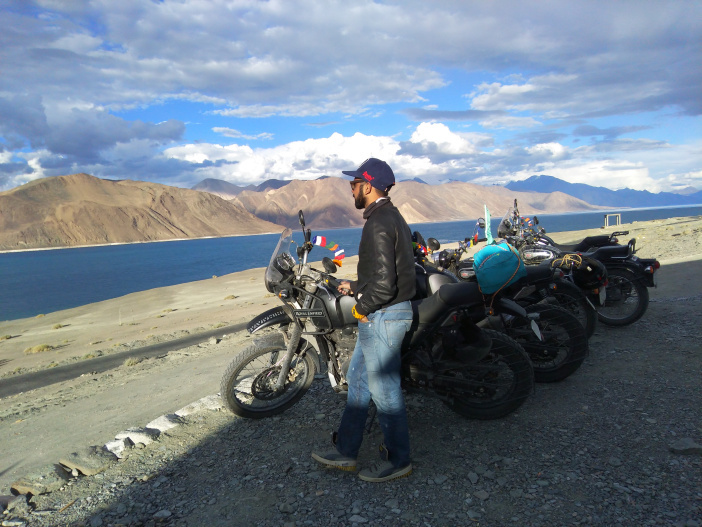 We left for our ultimate stop and what a ride indeed! We all were set for the bliss ride on the wonderful road to Leh. Having heard of the fact that we have covered all the difficult routes that of Rohtang, Jispa, Sarchu and Pang. So, nailing Leh via Taglanga which is at 17592 feet. We rode from Pang and in 45minutes had covered 60kilometres. We were 6bikes but at that point, we were only 2 together. We kept waiting there and realize that Mithun who owns an R15 has taken the Enfield up to the hills by going off the road. Quite a guy. Seeing that I also happen to get a push and I started riding a bullet too. I kept riding for almost half an hour and felt eternal bliss and joy of freedom. I can't wait to ride my own bullet now. It's beyond happiness. This images can surely make you see that. Nearly waiting for an hour we got an information that Beura had a broken bike. We all gathered and sailed through. Since then we were into the most mesmerizing, enduring and serene route on heaven. Jerry rode with ease and I felt at tranquil seeing the mountain range. I was in the backseat and kept looking at the mountains. I had never seen such a series of mountains. They were like dead red, green, colorless and black too. We reached a checkpoint which showed that Leh was only 49kilometres. We all sat there and had some food and began to enter the final destination. The roads kept welcoming us and we hooked ourselves to the scenic and small details around us. The military stretch which had a signage of Trishul on it, the army by the road, a whacky bike shop, bells, locals and foreigners with a feel and zen of peace. There were monasteries and palaces on our viewpoint. After all this, I feel was it a dream.
Night at Leh and Euro cup final!
After doing a fantastic ride and covering more than 450Kilometres, me, Tijo and Jerry decided to walk the mini street of Leh and to our surprise, it was too quiet and relaxed compared to the screamers of Manali trance. Sorry for the comparison, this place is more of the idea of breathing the air in open to that of a coffin. The aura in the air, the kind of people around, the cafe we sat for our coffee and eventually dinner with burgers, Kingfisher strong and Tijo's so-called delayed pasta. The night was a perfect set with the final game of football on cards, it felt like a mini football stadium with the crowd waiting for each move, each corner, each shot irrespective of Portugal or France. The match of food and the vibrant crowd who love football more than the food was what I will take with me from this outing. The funny part was the time when one hot chick came up to our friend to ask about the score, I wonder what score she really wanted to know. This is how what it looks like.
Kerala affair at Bob's cafe!
Rajat, Tijo, Venga boy ( Roshan) Jerry and I were up early on the next day and decided to walk down for a coffee and some omelet while Beura and co. looked around for the bikes. Good news that we got a Himalayan bike to ride there in Leh-Ladakh. While we ate our breakfast, I saw a girl writing in her dairy and I kept looking at her with a smile. It reminded me of someone. Rajat was always fun when he spoke about his life and his experiences. He has seen a lot of life and his love for life is very inspiring. Next stop is maybe Dharmasala with him. Eating there we spoke to the owner of the restaurant ( Bob's Cafe) it is actually curated by Shrinivasan and the main chef is Bobby Kapoor based out from Dubai. We spoke of the food and the entire theme how it was started. He is the true free soul and a living legend who has done all his life a corporate job and now living a nirvana life. He happened to share a lot of info. How treks keep happening there and also a mega story of a guy who cycled from Kerala to Leh in 14days. I am pumped up for the cycle thing for sure.
Khartungla, Nubra, and mishaps!
The Ladakh experience was certainly on our menu as we wanted to do extreme ride on this very route of Leh-Ladakh and to make it more memorable we took the Himalayan bike, the very new and most adventurous bike for this terrain. Before we all could actually ride it on the roads, we took a ride in Changspa where we were staying. All seemed excited and we were up for the roll. As we left, it was 2pm once again. Another low remark to my group. In spite of us getting early at 8am. Our monster bike was ready with fuel being injected into it. Khartungla was our next stop which was mere 49Kilometers. It was pretty basic compare to our standards. There we went, the roads were nothing but a tyre mark to follow as we scaled our altitude higher and higher, riding this bike was a bit riskier as it had speed but on this roads, all our riders were finding it really tough. The entire stretch until Khartungla was a challenging route as we had to keep moving ahead irrespective of the less widen road, water bodies, uncomfortable backseat rider. There were curves on the bike, the trucks coming from the front could have actually blown us away but the disc brake and the Macho man riding did best to make it a thrilling affair. Go-Pro has that curve which got us killed scenes. Just before reaching the-the highest motorable point, we had a mishap where the bike of Rajat gave us a halt of an hour as his bike was running out of some bike issue and the gang got themselves into the mechanic mode and got the solution instantly. During that time, we saw 2 Himalayans bike being ridden by two riders solo and crossed us in a moment with a speed of more than 60-80Kilometers. Seeing that our Jerry-rider rode with the same speed and made me struggle behind with my balls hitting the backseat in quick succession. Sooner we reached the altitude of more than 18000 and were the first ones from our gang to reach. We clicked our photos in sheer delight and actually couldn't believe that we were there at the point. We also happen to meet those Himalayan boys, Spencer and Sam, got clicked with them. They were amazing soul as they were enjoying their 37days holiday in India. Coming back to our gang, we were in total drama and the sense of achievement as we hugged each one of us and smiled to pose in numerous ways, on the bike, against the signage, on the wall, off the cliff and so on. It was a sense of pride moment as we stood on the highest motorable road in the world. The altitude got to us, the riders were losing their oxygen count and were going below 96 percent. The plan was that we on 5bikes will head to Nubra valley which was another 100kilometers and 2bikes with Rajat and Venga boys going back to the hotel as they were off to Delhi and Kargil respectively. The plan was on with a little double thought in our mind whether to go back to Changspa or ride along the mountains of series in Nubra.
Riding downwards was more difficult as we had to go down on that road with a climate change affecting all of us. On our way we finally saw some snow covered on the roadside and off we went to venture on it. We got clicked together and threw the snow balls around to our delight. The snow was cold indeed. A triumph tiger motorcycle had come and halted next to us and that guy was a true legend as he was riding from Mangalore and had covered more than 9000Kilometres. Have clicked a nice Cheerios smile photo of his and will share with him on Facebook. Since then the ride got tougher as one of our biker got a flat tyre and because of that one person had to do triply and our ride was divided into halts and slower had become our speed. We still manage to ride along the mountainous range with nooks and turns. There were so many sudden turns but we kept our composure and sailed along. At a coffee break, I and Jerry were divided and I was sitting on Ayushman's backseat with that we crossed another checkpoint and were waiting to stretch our arms. All of a sudden a family was traveling by a car and we happen to ask for a lift. Such a fabulous family, they took me in the car. For the next 40kilometres I was on the 32turns aka BathishNookad road and stuck to my favorite mountains,Nubra valley is a blessing to all the nature lover as you are doubly treated with the view of a river and the never ending rangers. We all met at a checkpoint where I could read the LOC kilometers and army. We got our tyre repaired and I expressed my joy riding the Himalayan on the border road. We were off to Diksit which was 20kilometres and that ride was one of the most beautiful and positive ones. The calmness of night and ease of Himalayan was the best part of the stretch until we got ourselves to a riverside camp.
Walk by nature!
It is always a nature call which wakes me up. Off we went in the grass with the few drops on our feet. Ayushman and his wife, me and Jerry started walking and were into nature. The walk was refreshing as the trees, riverside and farmland seemed a dream. The walk on the paths of a village with locals smiling while looking at the camera gave us an impetus of joy. We clicked one family and that was the best picture of a simplicity ever one can see. We could see the entire village in a motion, people taking cows to the river, a man arming the village, boys going to school. We met a girl who came to the bell temple while we sat there. Her name was Pankit Donkit. What a smile she had. We were lost in our way but we met our ways to our camp at the end. Nice breakfast awaited us and off we went for to the serenity of nature.
Ride, music, and friendship!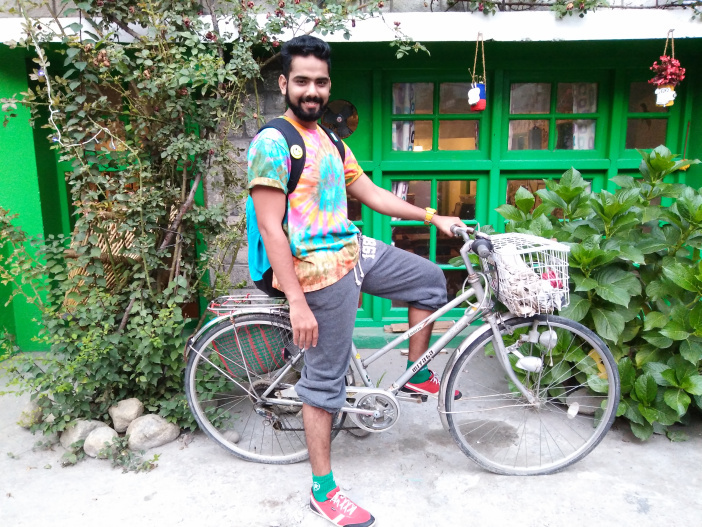 We set off ourselves for the ride back to Leh amongst the magnificent valleys of Nubra. Before that, the long straight stretch of Diksit was on our plate of speed way. Jerry had certainly become an offroad champ as he was speeding like anything on that beautiful road. The view had desert dunes and complete blue sky. Seeing that we halted at the dunes where it was a vast playground with double hump camel ride. We all kept busy with our random stuff getting clicked in weird poses and playing with water. 40minutes halt was indeed a delight to us. Photos in the cue. On our way, we saw a monastery and temple of Rohtang. We happen to pay our visit to that largest idol we could ever see. The place was more of quietness and spiritually connect. We sat there and kept looking at the horizon which was next to heaven. Monastery was on the other end, so we decided to not go there as we were running short of time. Instead, we had our food and left for Khartungla and ultimately Leh. For the next 2hours, I was on my iPod playlist and Jerry was on his Himalayan ride at ease. The soothing playlist and the never ending saga was the best part of this ride. We reached the khartungla point and left instantly as I was facing a bit of oxygen issue. Since then, Jerry left for Leh at a speed of 60kilometre making an offroad experience worth a while. I felt good as I came down the hills and the altitude settled. We were in Leh and lost our way back home. Eventually, we reached and straighten our back as we needed to go to Pangong Lake the next day.
Pangong lake and me!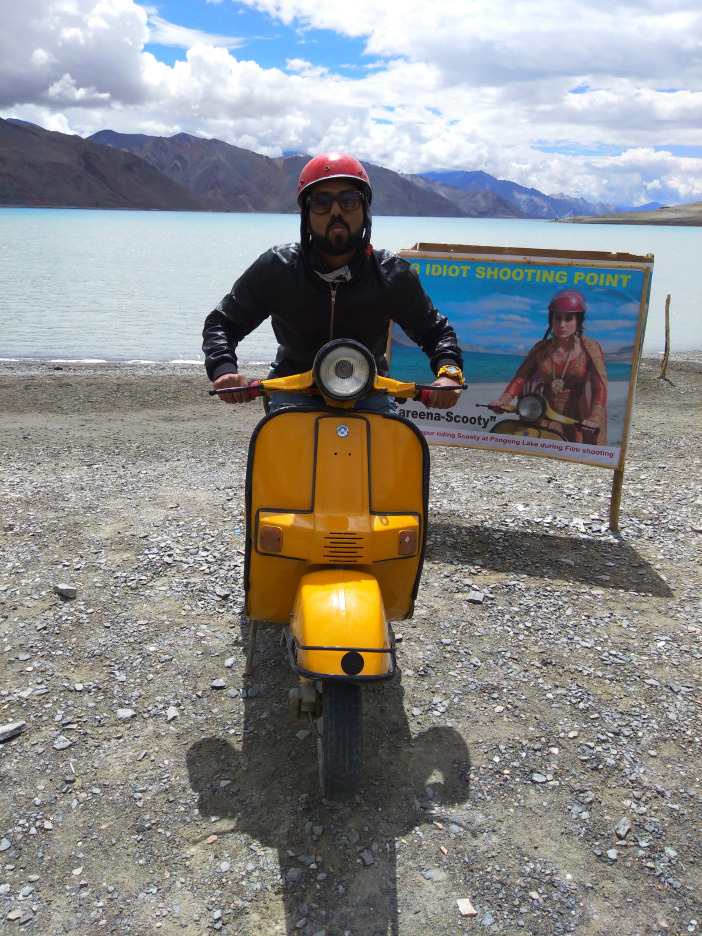 We left for this beautiful place on our bikes the next day to my surprise I was bit tired and had a severe body ache. The zeal was missing but I did pack my bags and dragged myself to it. We all left a bit early like by 10ish compare to our 12.30 time. Filled petrol, got banjee for our bikes, also got cylinders for the emergency of oxygen declination. The roads of Leh were so neat and clean just like their market and heart of the locals. In 40minutes we reached 45kilometers in the pursuit of reaching Pangong lake which was 150kilometers. The roads were more of turns and ghats but were better compare to all the other roads that of Pang, Jispa, and Khartungla. Our riders were enjoying but suddenly a series of mishaps starting happening like those of broken stand, petrol leakage from Jerry cans and a bike starting issue. We were taking it in a good spirit and marched ahead. Suddenly I was on a high of taking videos from Go-Pro and was too happy to see the roads and Jerry's offroad riding. Suddenly, we were down on the road where we couldn't spot a car behind a truck. We were lucky as nothing happened to us but a bit of braking issue and a burst of our Jerry can was done. We were bit scared but that pumped us for the heaven for what we were there. After that it was all about the beauty of nature, I got my eyes fixed on the left side and also right side while I sat behind. I was enjoying the offroad riding of Jerry, animals on the grassland and cool breeze on my face. The roads were like a galaxy and were lost with sudden water flow in between. We were nearing and could read a signage of the world most awesome lake only 4kilometers. I was happy and Jerry was thrilled as he accelerated a bit more. In next 5minutes, we were there and on the lake side. I saw Tijo going up to the lake and smashing water on his face. I couldn't do that as the water was freezing cold. Meanwhile, we looked for tents and got a good one for all of us. It had banks of Pangong lake to its fence. Once we kept our bikes and bags. It all lead to the lake, sorry Pangong lake where we saw people clicking photos, seeing into the turquoise water, smiling breakfree, posing with their bullets and doing fist bump amongst their riders. I saw all the attractions there, that of Yak riding and the most importantly a scooter from 3idiots which Kareena rode with the red helmet on her. See the picture if you can't believe. Also, there were restaurants in the name of the film. In the night, around 8pm me, Jerry and Tijo walked to the cliff and made ourselves sat there and got nostalgic with our 12years of friendship and things we all have seen. We were 3idiots indeed. We played our childhood game of throwing stones in the lake with the stone bouncing over it. Great fun indeed. The place was mesmerizing and I am there awake at 4.30am and seeing this place with rains hitting our tents severely. This place is heaven and doesn't feel like going from here. It had lake, hills, strangers and soulfulness in the air. It is an ideal place to get away from the busy life and electronic connection we made and I feel great to find myself and know things better while I listen to a song of Amit Trivedi from Queen - Sawaali Asmaan Hai. I am going to miss my coffee facing the lake with my friends and life, Pangong Lake!
Last day in Leh, 14th July 2016!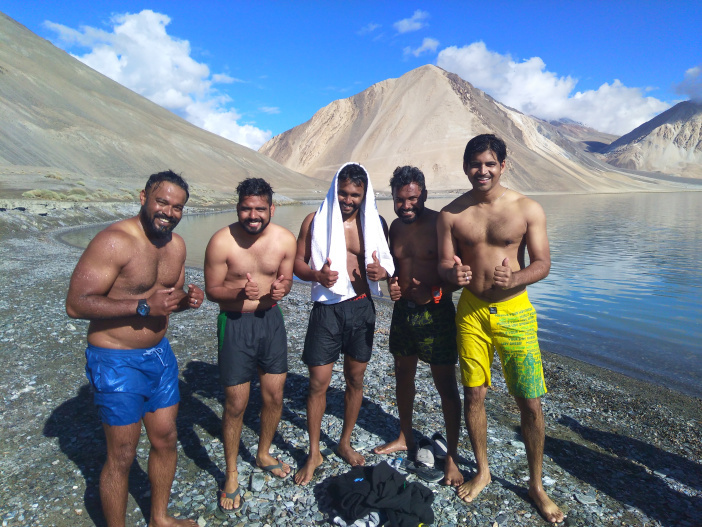 From Pangong to Leh and before that the ultimate thing of boys deal was still to be done. A dive in the Pangong lake. We had a time of 8am when we all will run together and dive into the water. We had our boxers on and were ready. In 3-2-1, we were into the Pangong. Subrotoh and Shekhar were the pros as they swam and were pretty much in relax mode but I and Tijo were too deep and got panicked. Jerry on the other end was indeed a Michael Phelps as he swam and was out in a flash. Seeing me and Tijo struggling, Subrotoh gave me a hand and dragged me. Then it was my turn to hand life to Tijo and we all were out safe and happy. We all roared and were emotional when we did that. This ride from Leh to Pangong made us see, me losing my breath, me and Jerry falling off the bike, Tijo almost got drowned and at the end, Nikita used 2 cylinders to get back to normal after that loss of breath. It all happened there but will stay always as a memory with me.
Coming back to Leh made me nostalgic of what all happened in those 15days. It kind of summed my life from where I started and where do I head now. I trace back the day when I was so scared to board a flight from an intentional flight alone to Delhi and then travel alone from the airport to catch up with my gang only to board a bus to Manali. Each day was a new learning as I was in a new place with new thoughts, meeting new people alongside with my best buddies. I can't forget the chai session on my room balcony with a view of gorgeous mountain starting at me. This affair continued for all my 15days whenever I see them, I feel it that way. The ride to Kasol and a stay there in the tents I will cherish for life. The next stop was of a bit different as we took our route to Tosh, the last village in Parvati Valley. Those green plantation, hill view, 5kilometre up to our home stay with home food was an experience to die for. Coming back to Old Manali was a local flavor admits the street, I saw people of all sorts, and I released that it is just a human nature to live break free. I met people and embraced happiness while I spoke to them. I enjoyed playing board games, UNO and followed quarter final and final football game. The energy was worthwhile. The first half of my trip was more of relaxing and the latter one was more severe and certainly 450kilometres away. As we all headed to Leh via, Rohtang, Sarchu, Jispa, Panga and so on. Please bear with me for too many names to remember. I will like to mention my experience of going to Nubra Valley and Pangong lake. Both the places were of extreme weather, tough roads, higher altitude, and serenity to end with. Talking about Nubra Valley, the route was extremely tough and challenging. To reach Khardungla and feel the pride of being on the highest motorable road was what we all went for. A sense of achievement and that of never give up attitude made us do it. Coming back to Pangong Lake and the distance of 160 Kilometer which we took was it. I didn't know why would people travel to Jammu and Kashmir in tough conditions with bad weather, higher altitudes that of Changla pass. I can say it with pride that I went for it and saw Pangong lake. We happen to take a dive into the coldest, icy, frozen water. It took us a while to really make ourselves believe, yes we did it.
A night before departure!
I rode Himalayan and the feeling of accelerating moved me. I am more into nature and more than that into the life of doing things which makes me happy and my family, love and thus life is complete. Nothing is impossible unless we do it with heart. I heart myself more and value better.
Srinagar halt!
Being in Leh, happen to see the news about the curfew being in action. This made us wait on the Srinagar entrance for almost 2hours before we could board another one stop flight from Srinagar to Jammu and then Delhi.
The thought of roaming around in Srinagar as we had planned didn't work out this time around. Maybe a big trip is on her in place of the mere walk. Though the conditions here are serious, the fight for Islam and justice are the evergreen issue. Someday, peace shall win.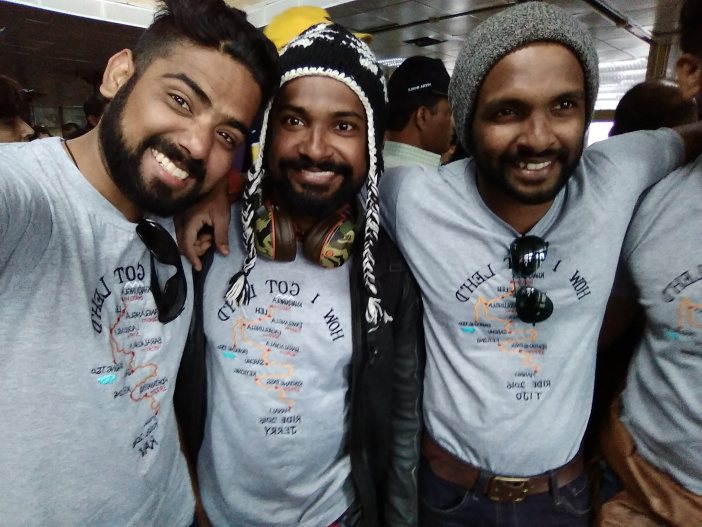 Meanwhile, I sign off and my next destination is Agra and Bhutan.
This blog was originally published on 'panindiablog'