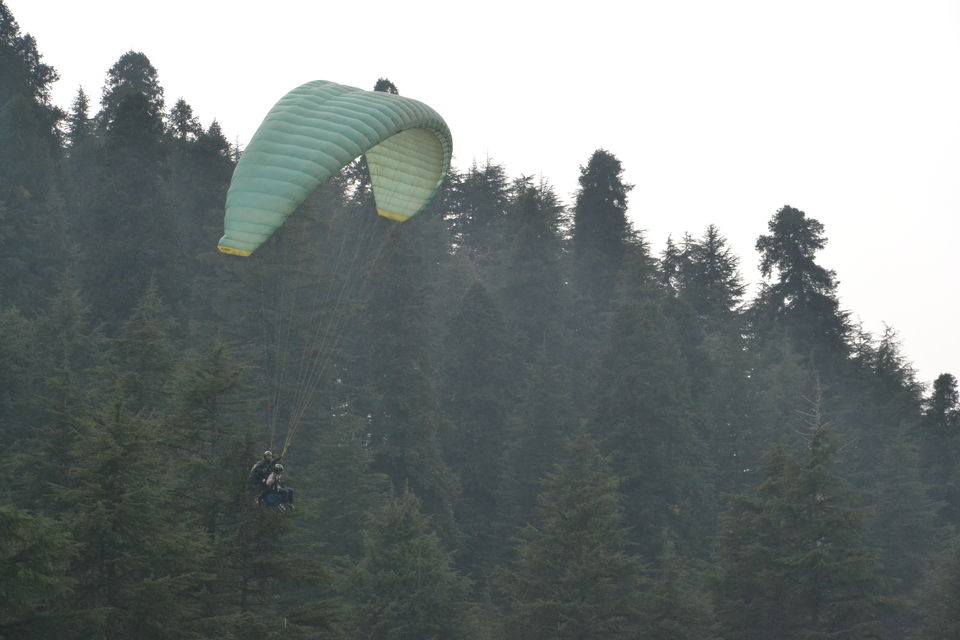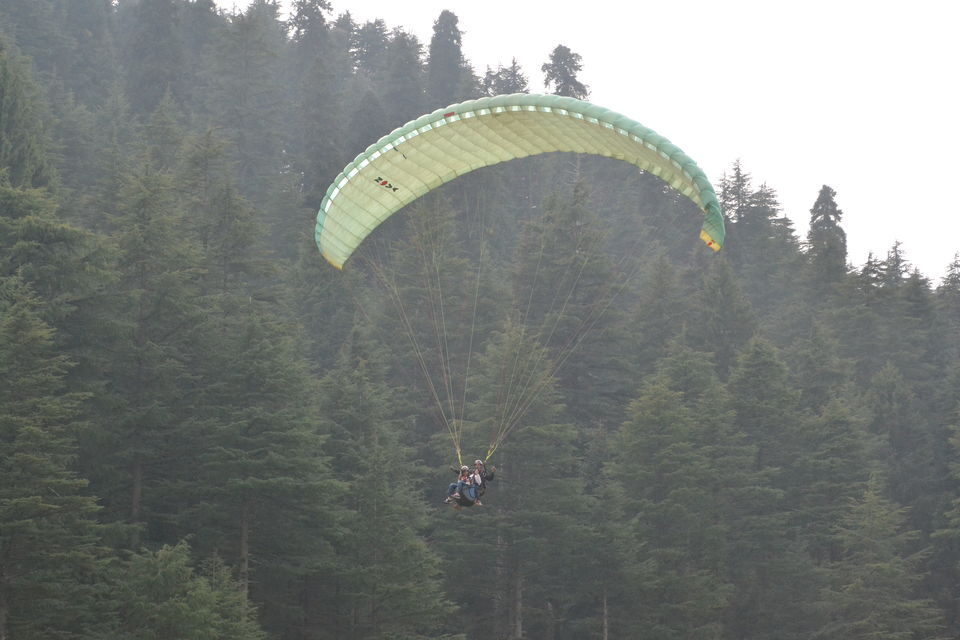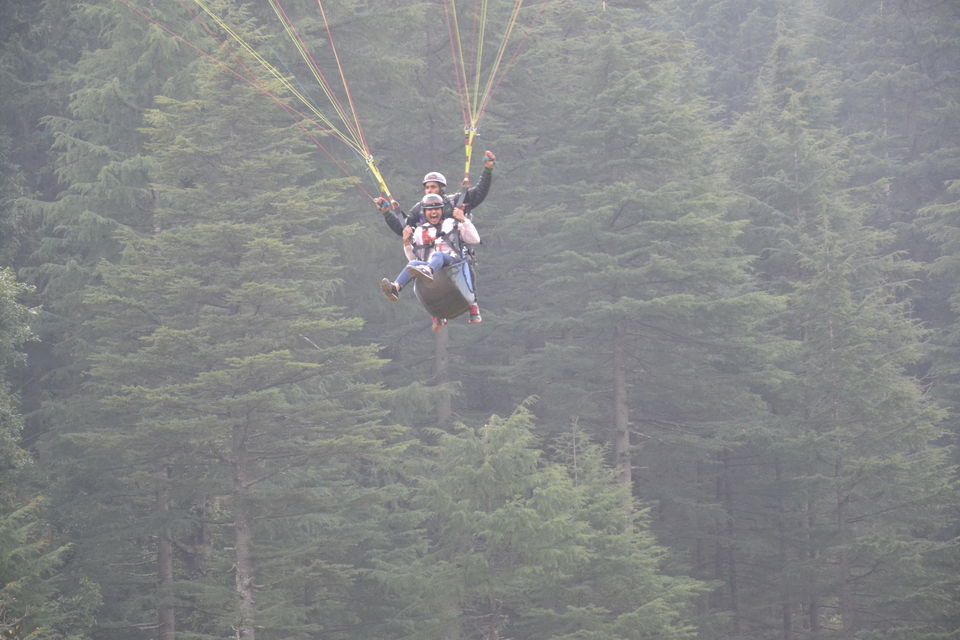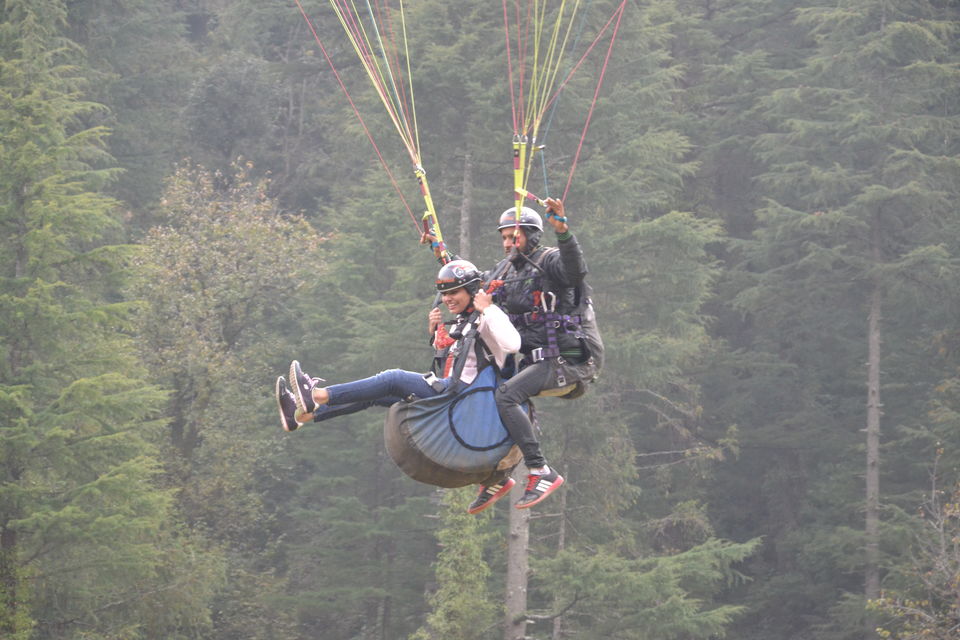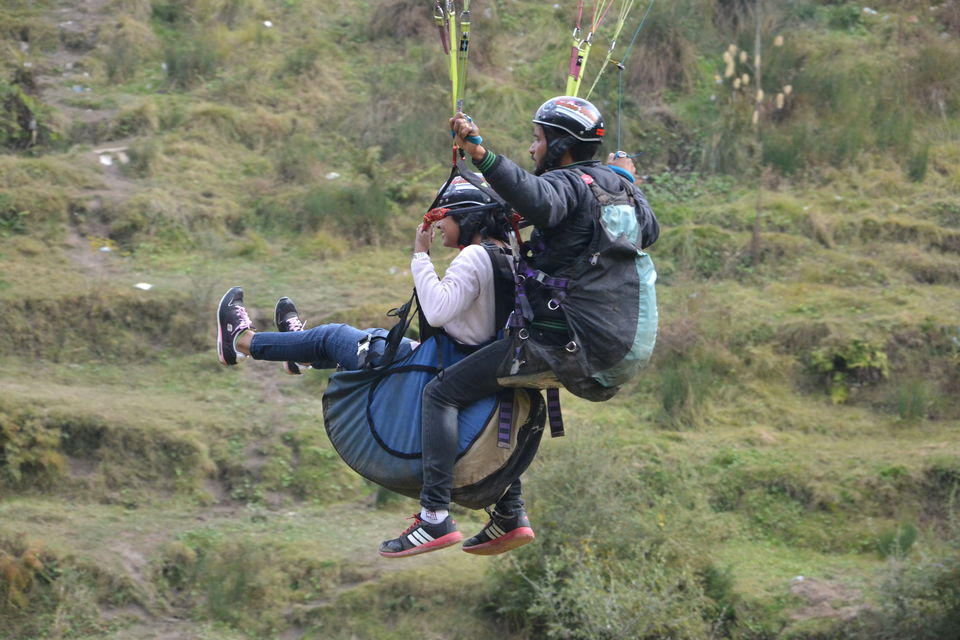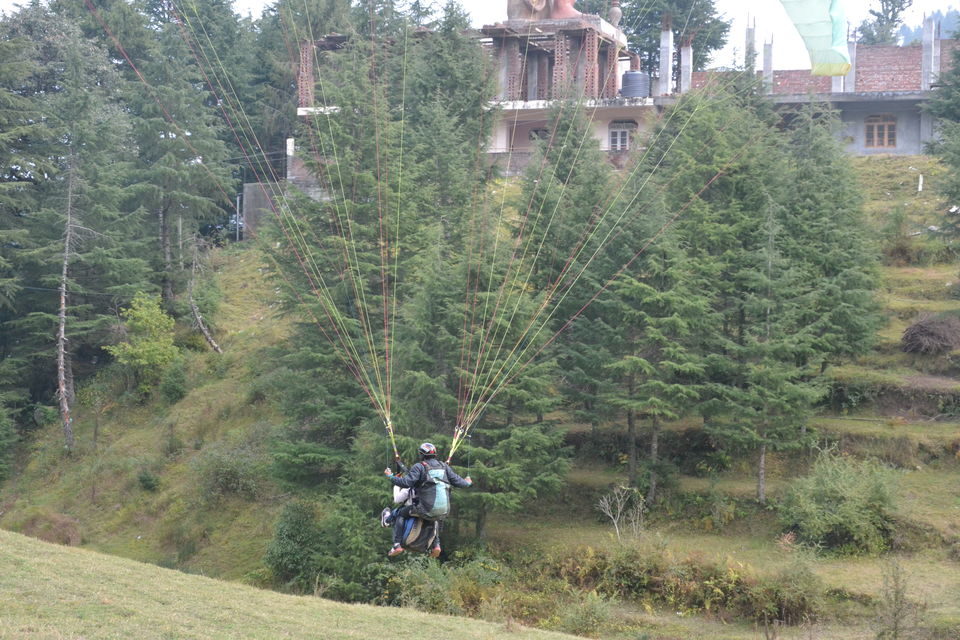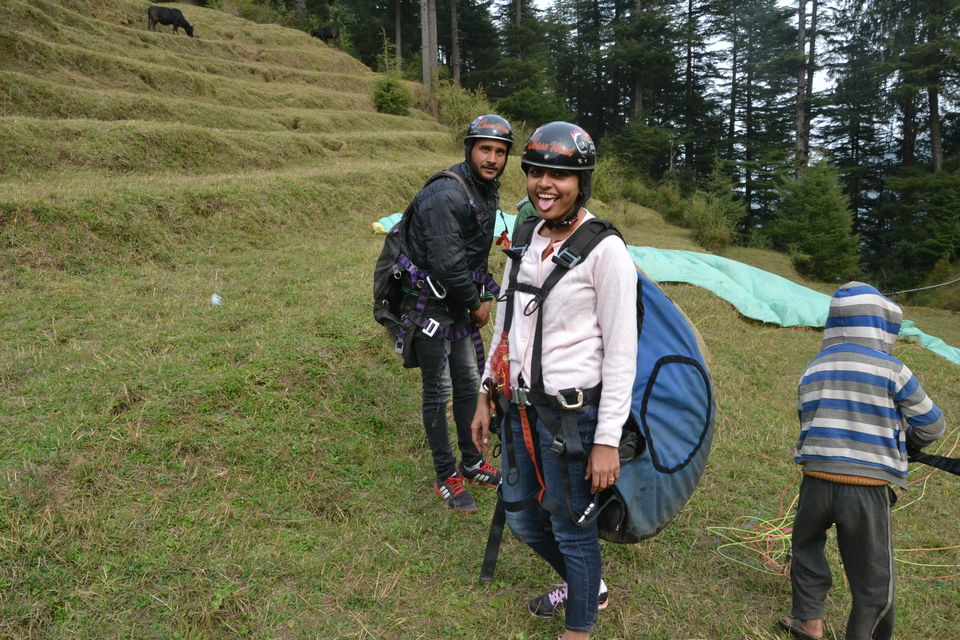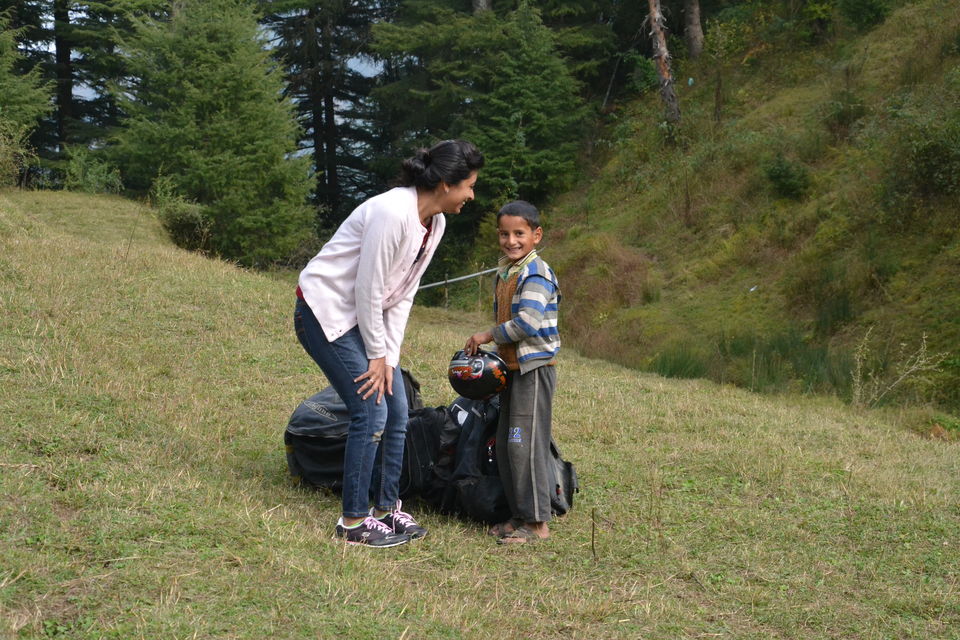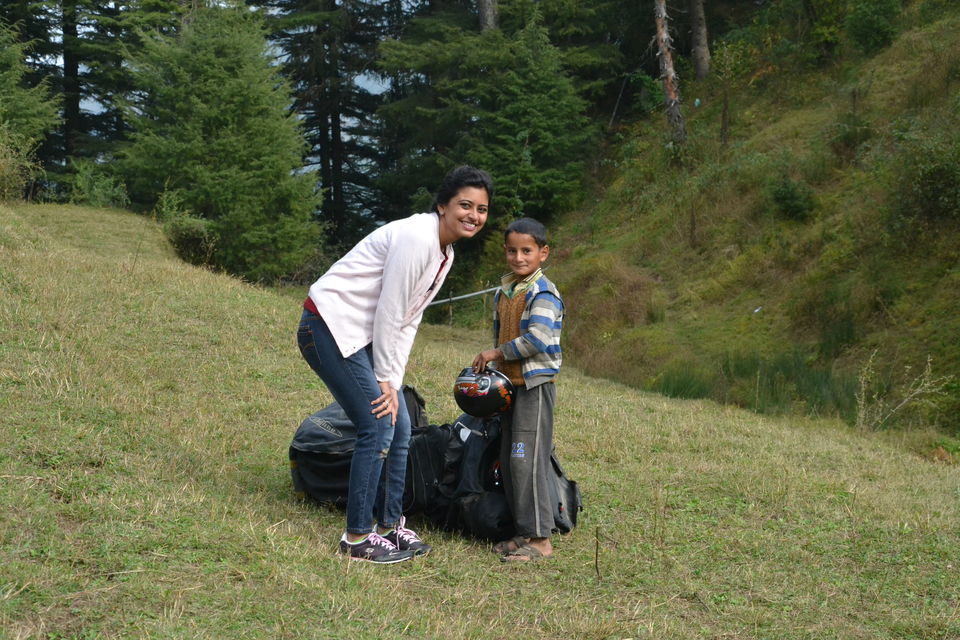 Acrophobia: Fear of heights. For someone who cannot look down the third floor of a building, paragliding seemed to be totally out of the way. So this year, after a lot of procrastination and self-pity, I finally decided to take things in my hand and give this craziness a try.
The guy who was supposed to be my "pilot" looked at me doubtfully when I told him I wanted to do it. "Pakka, kar paoge?" (you sure you'll be able to do it?), he asked. With an apprehensive tone, I answered " Haan, karna toh hai !" (yes, I want to )
So he drove me to the base site where he showed me the flying site, pointing his finger up a hill that looked small enough to climb. It was supposed to be a 1 km trek, but when I started, it was so steep that it looked like an unending one. Not being a "trek person", I almost took 3 breaks of 10 mins each for covering just a small distance. Once up there, I saw I was the only lady who wanted to go gliding across the beautiful mountains and pine trees. *proud feeling*
He asked me to observe how others did it and that scared the hell out of me ! "Just run and jump". WHAT? Are you serious?
This is what I saw: Four people open and hold up the parachute way behind you, on the higher part of the cliff. You have to stand around 10 steps away from the cliff with your pilot behind you, who would operate the parachute. When he says "RUN", you both start running towards the edge of the cliff along with 2 other people at your sides, who "make" you run, as the parachute would eventually lift you up after a few steps. And then, you jump off the cliff. Yes, just jump down a thousand feet like it is no big deal !
I asked him to give me some time before we "flew". I observed a few people who went before me, some of them doing it for the second time and looked so nonchalant totally. I must have prayed a hundred times in my mind and swore to God to be nice if I went down alive and not get stuck up in some pine tree to break my bones !!
It was my turn. Safety belt-check. 
Helmet- check. (Me: Wait, it is loose. Pilot: madam sab theek hai!)
Hair tied back. Jacket buttons closed. Shoes laces tightened. No loose strings. Ready to take-off !
Before I could realise, I was already running towards the edge of the cliff and jumped, only to shout "Mummy bachaoooo" around 50 times. I guess my shrieks must have damaged the pilot's eardrums by now.
I could not feel my nose, my ears, or anything at all. I did not even open my eyes at first.
Pilot: Madam,aakhen kholo. Niche dekho. Bholenath Ka naam lo.
Me: Aankhen khuli hai, Jay Bholenath. Jay saare bhagwaan, jo bhi muje bacha le !!
Pilot: Ab haath hawa me daal do, bird ki tareh udo.
Me: No ways, are you serious?
Pilot: Theek hai samne vo ped dekho, hum usme takrane wale hai thodi der me.
Me: Agar muje kuch hua na, I swear mai tumara parachute fek dungi !
Pilot *laughs his heart out*
He actually took the parachute so close to a pine tree, it made me feel that was my doom.
The "flying time" was 10 minutes. Those 10 minutes, I managed to open my eyes and my hands, let my fears go and feel like a bird. I soon realised it was just the initial jump that was scary, the flying part was easy and so freaking awesome. It was one of its kind experience. I felt proud of myself and glad too, for building up the courage to try paragliding. 
The landing was safe. No bones broken. All organs intact and in working condition. The girl who went up scary, came down feeling so brave and confident. They say "Do the thing you fear the most, and death of fear is certain."
Mission "Overcoming Acrophobia in 2015" Accomplished.