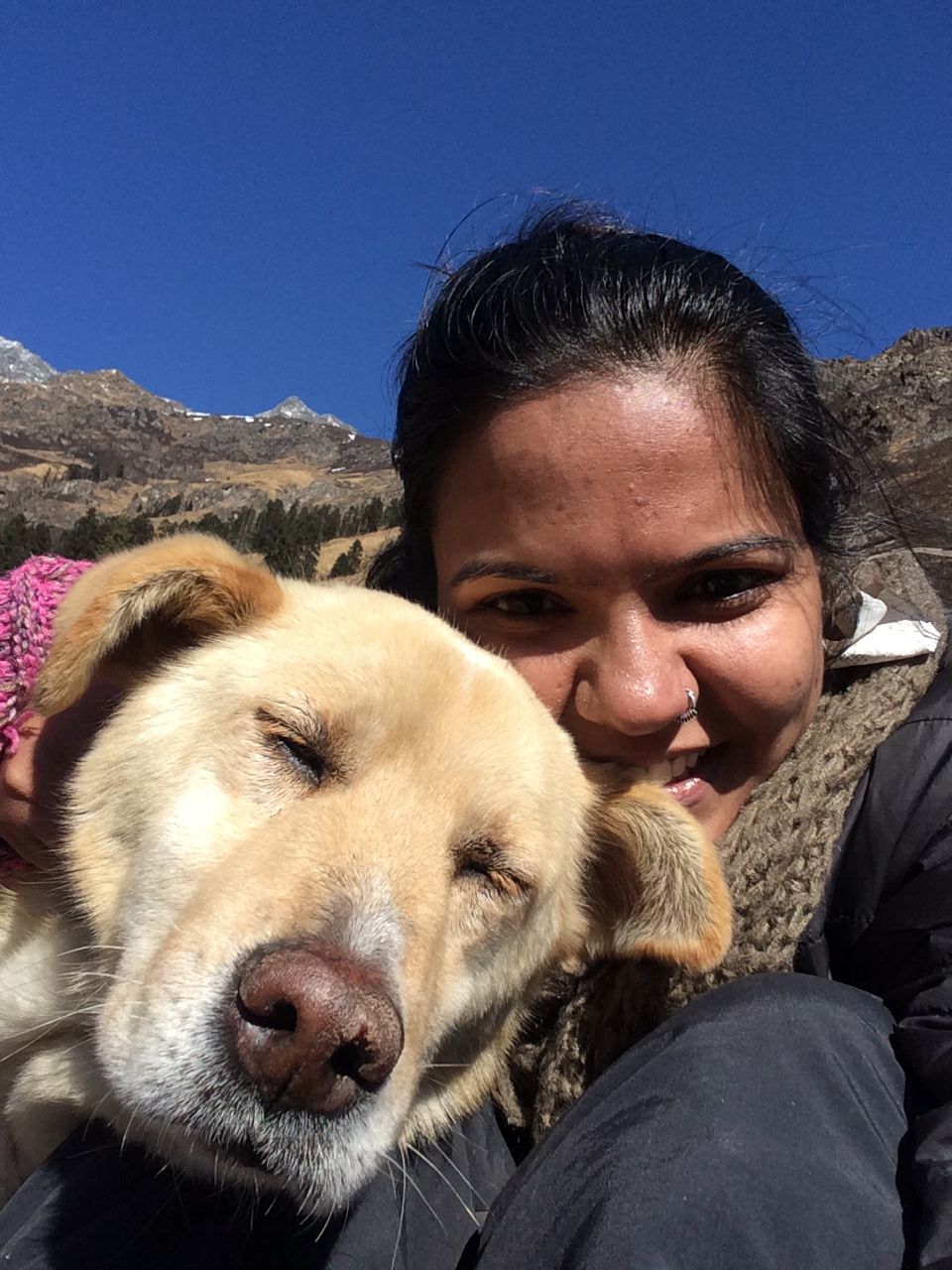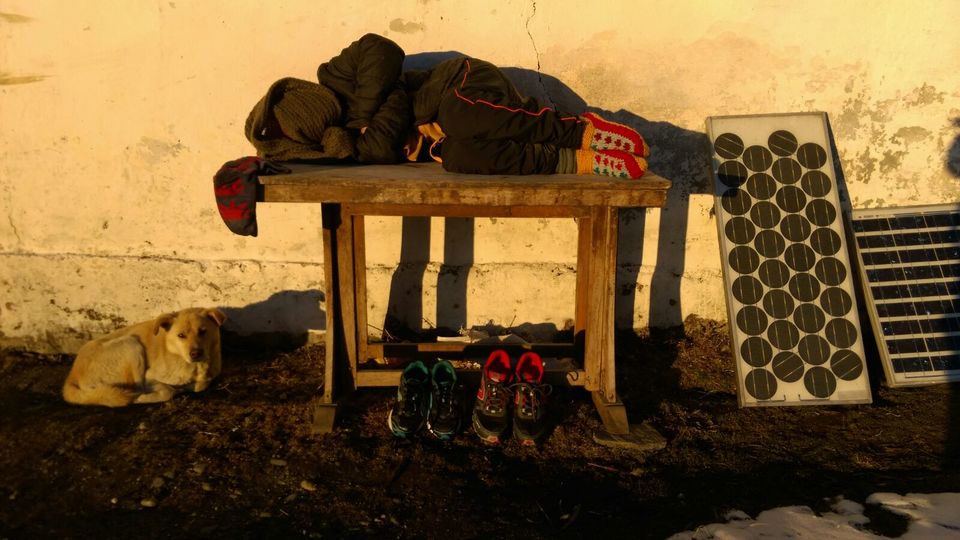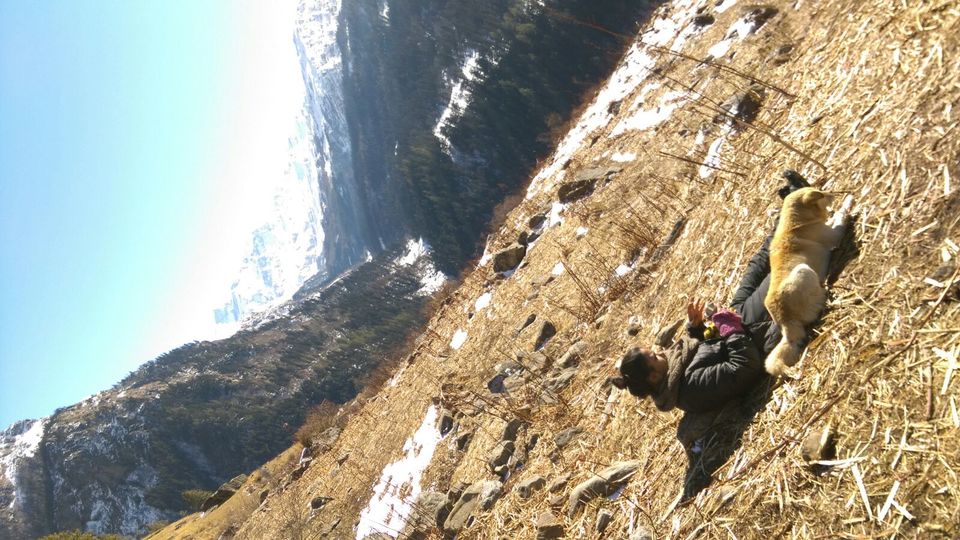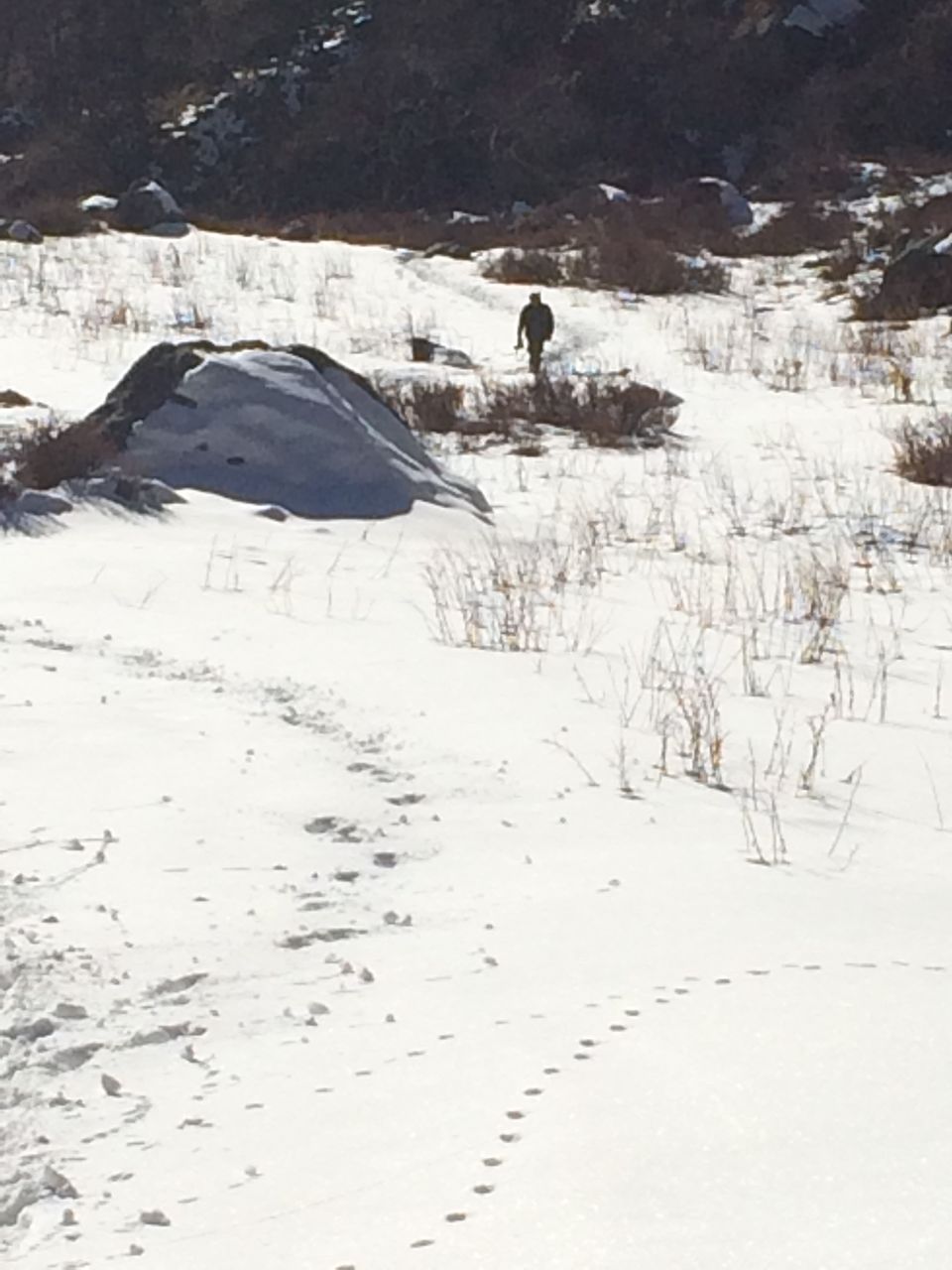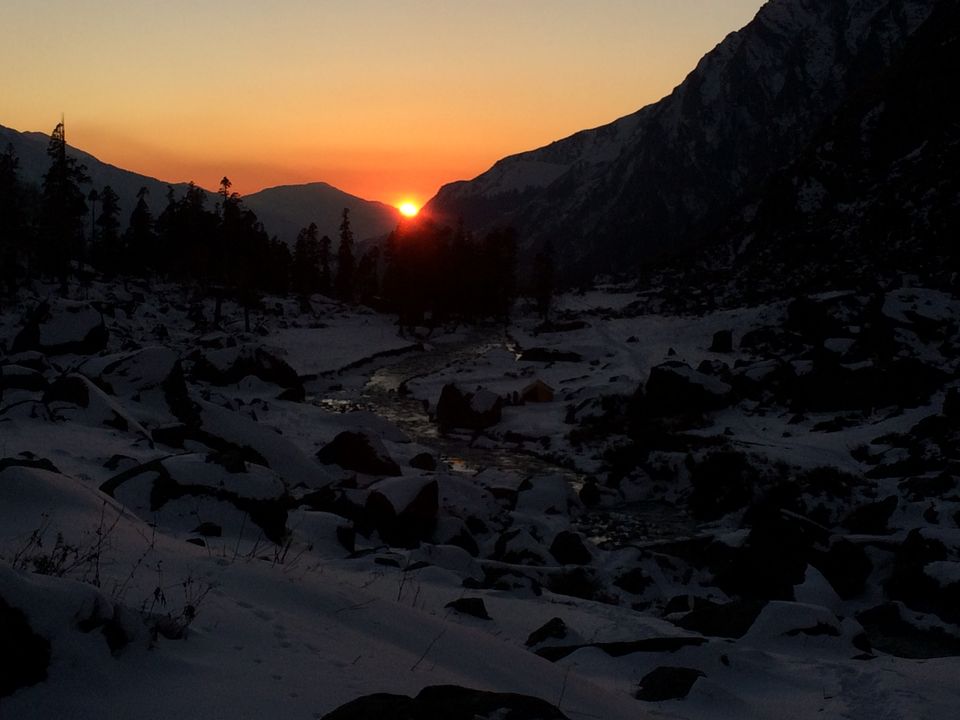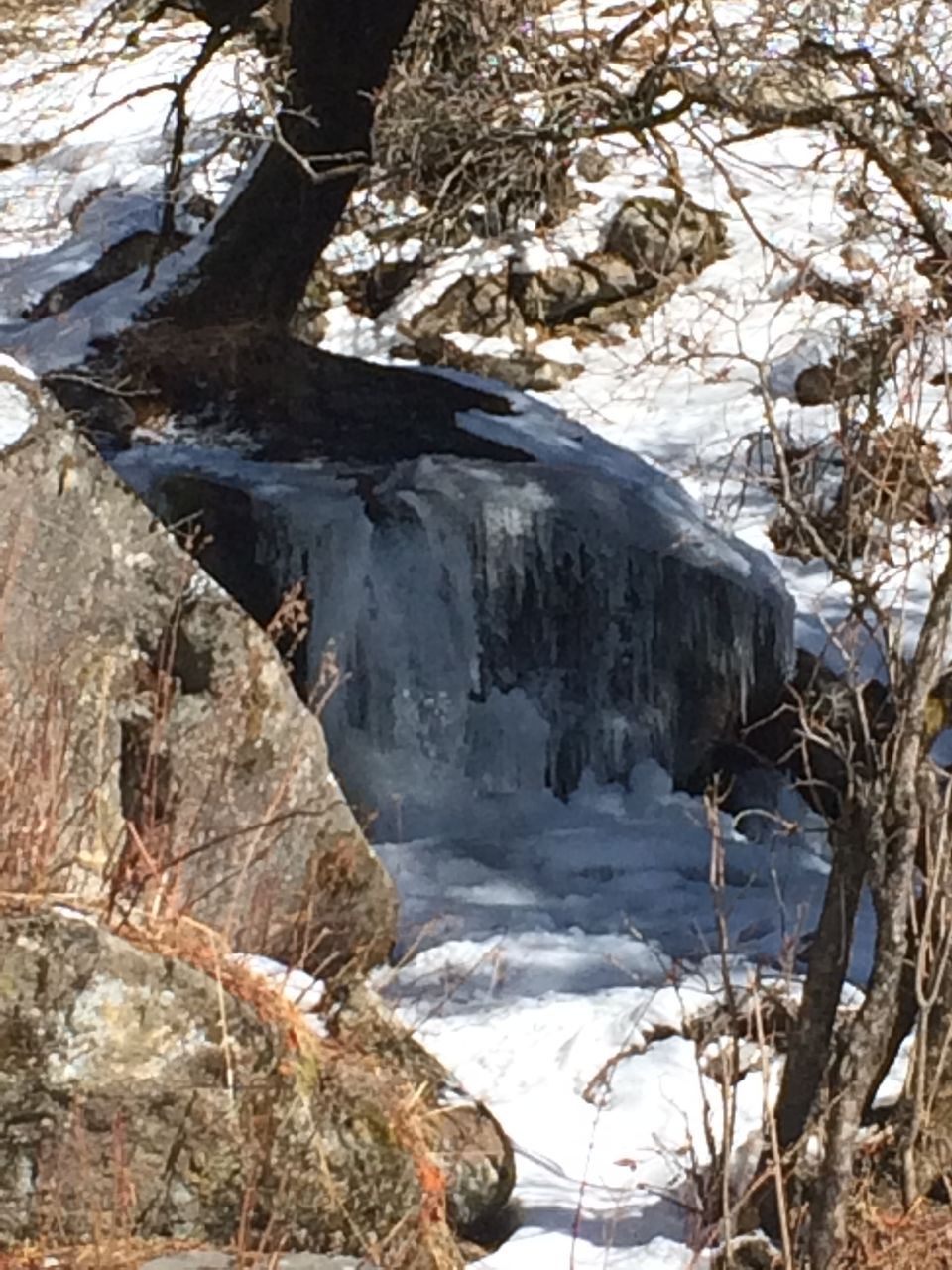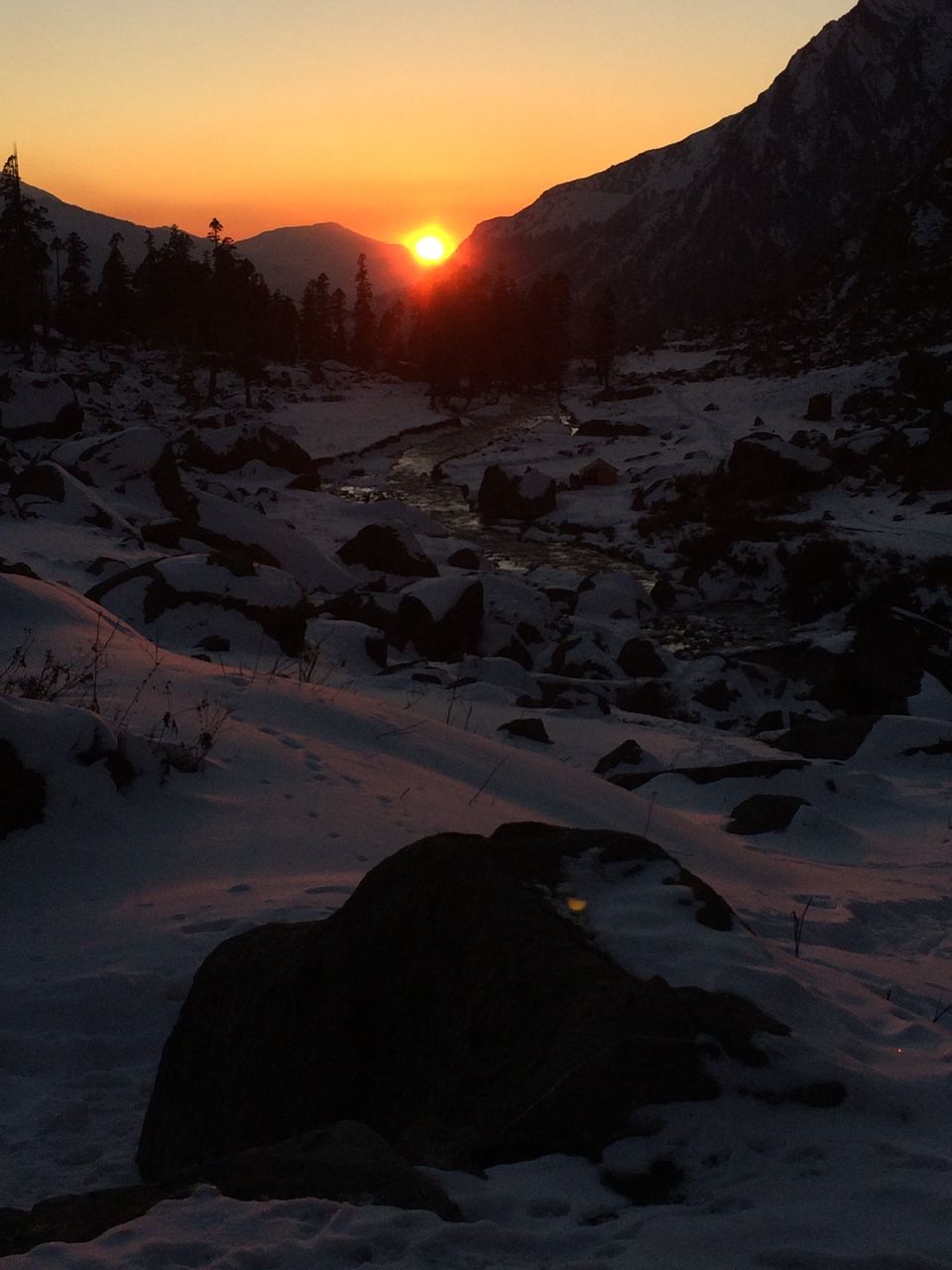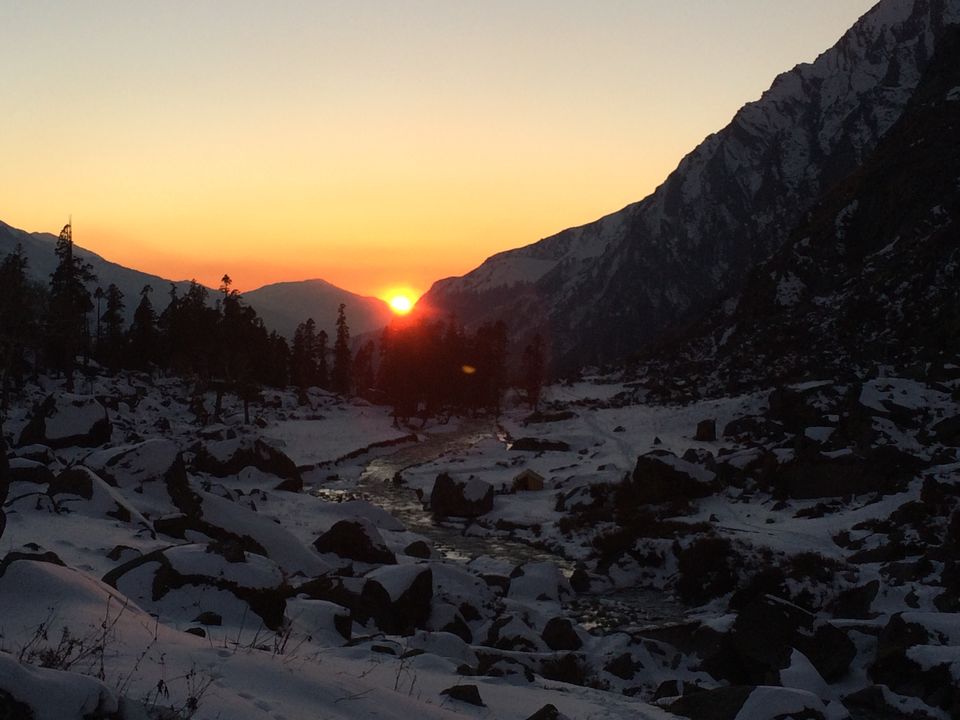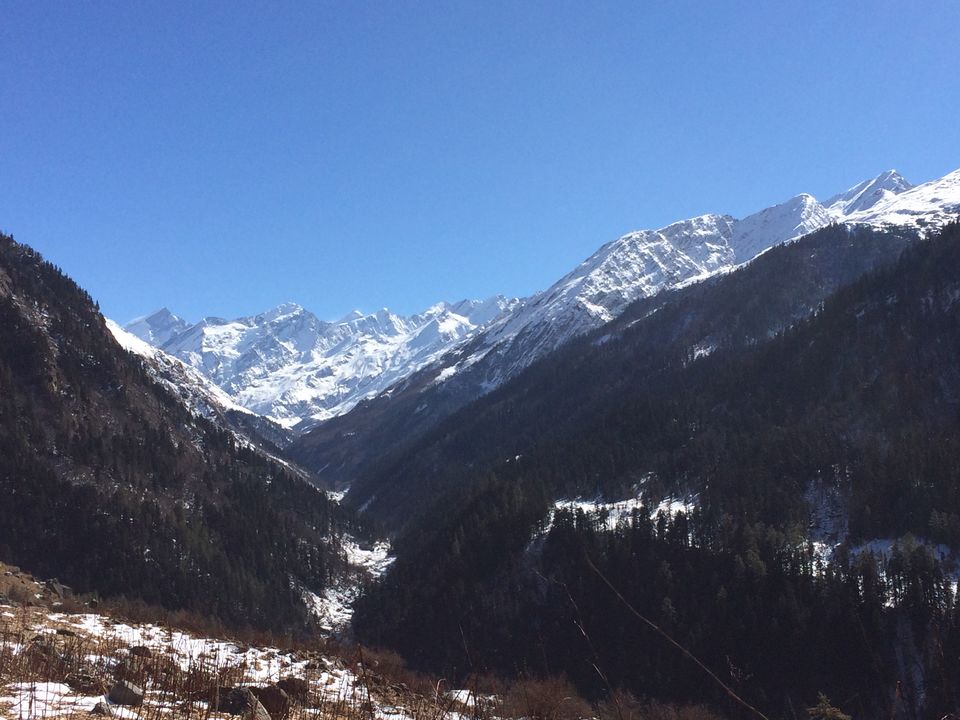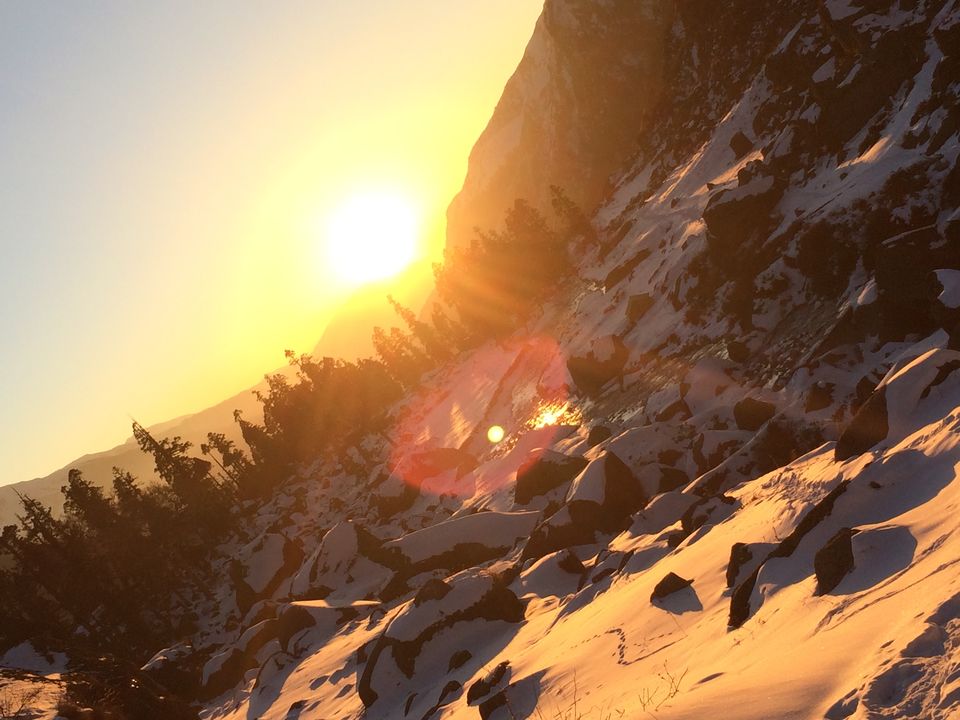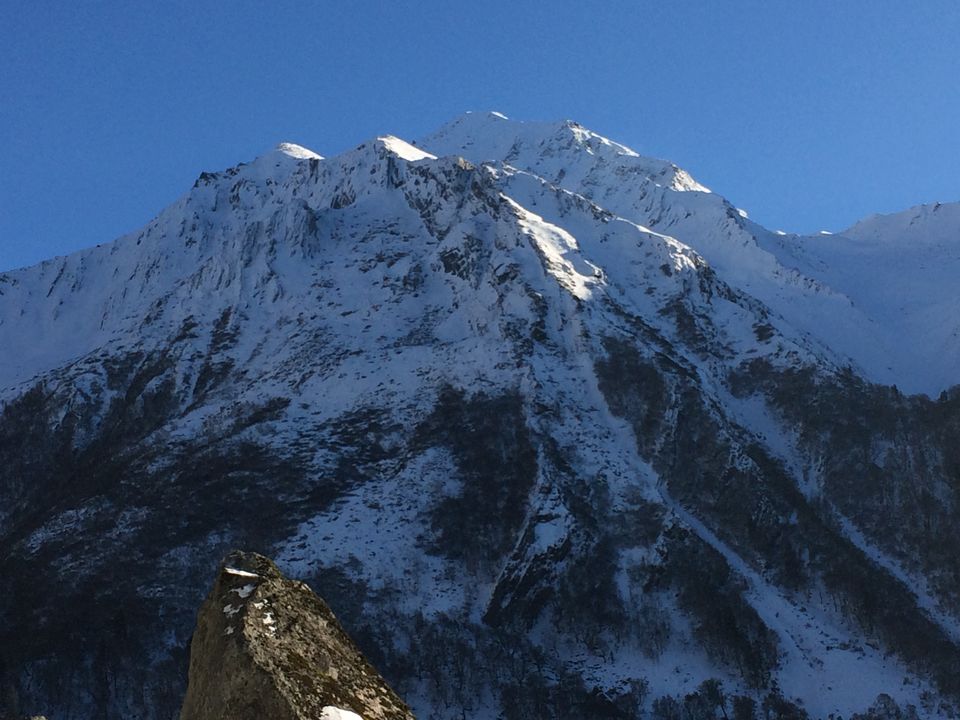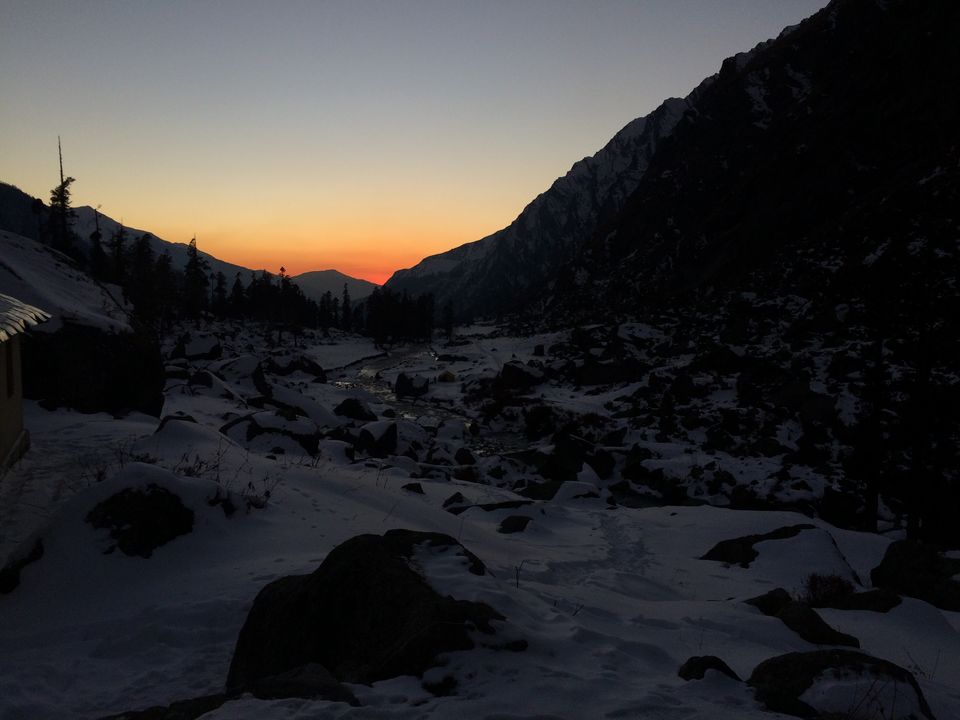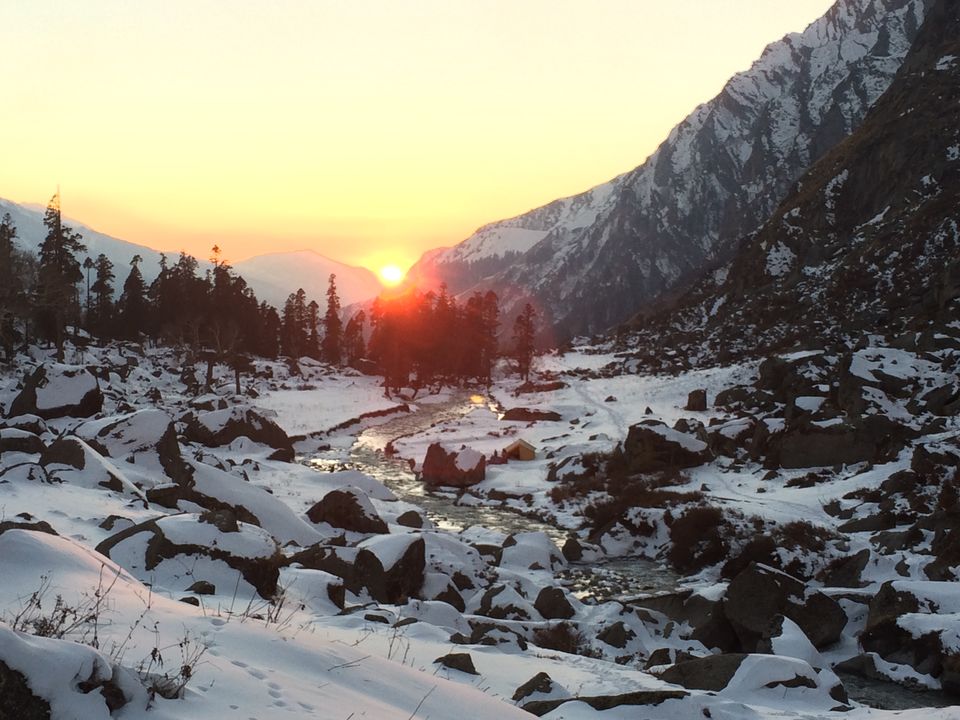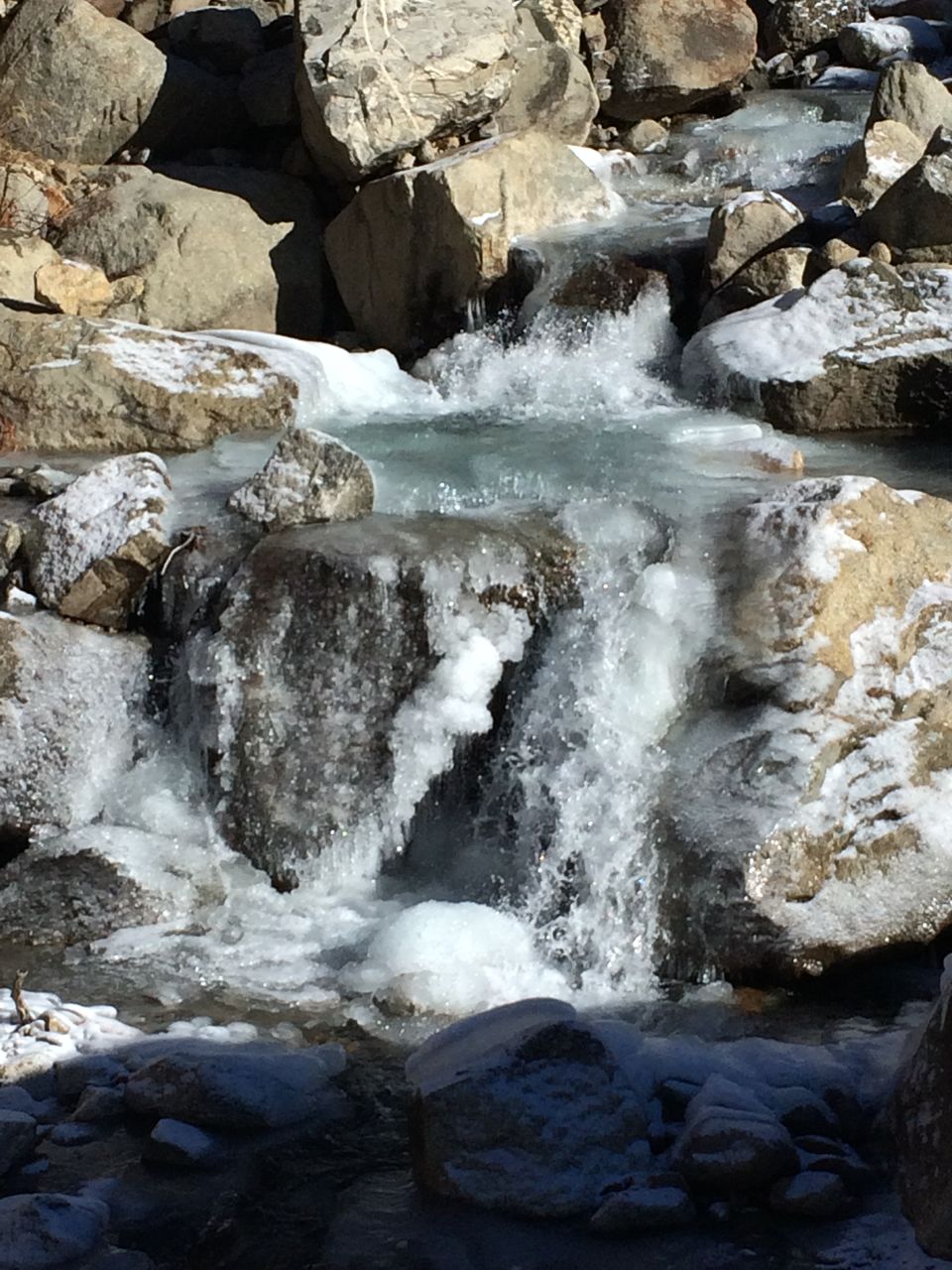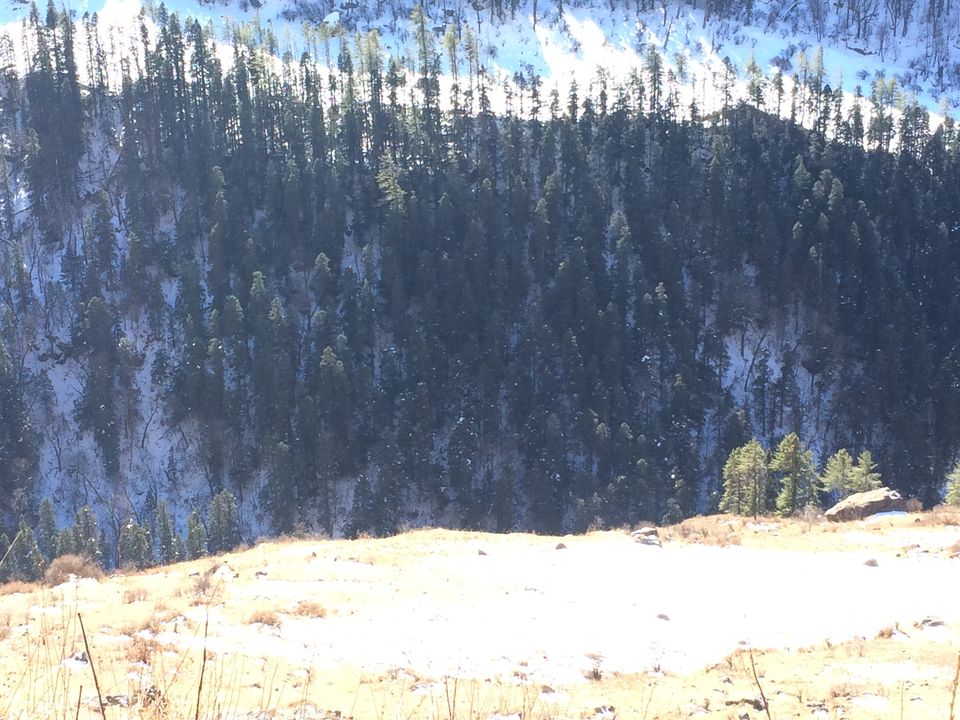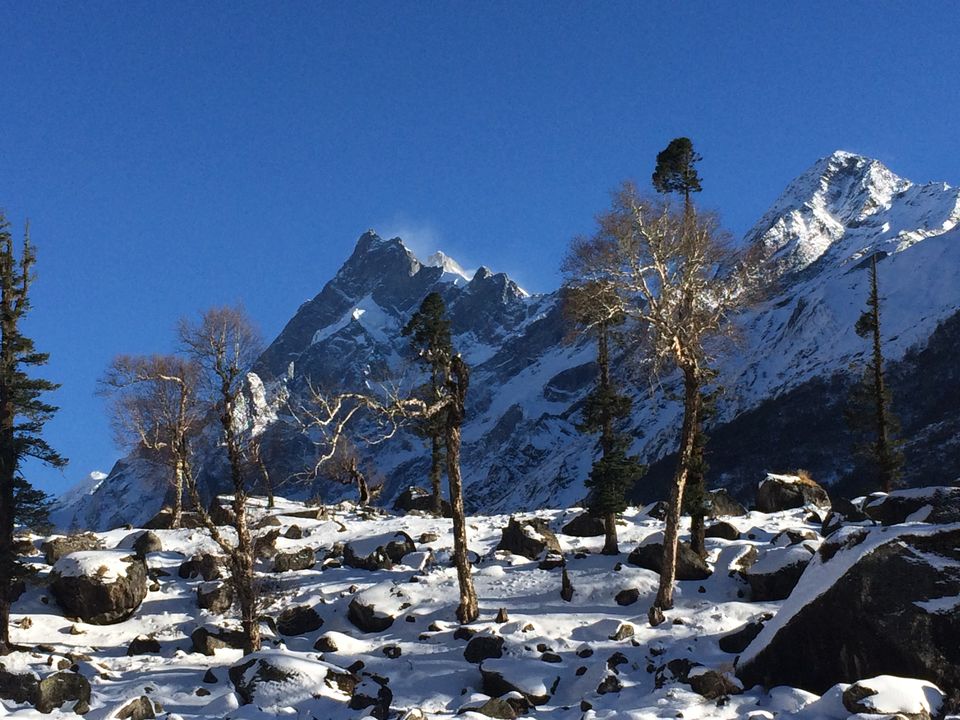 It was a new morning.
After not having a very sound sleep in the guest house, we woke up to a new white canvas, giving glimpses of the real world underneath.
Do we all have something different beneath us?
There's nothing else we could have asked for, other than a cuppa.
After having breakfast, we left for the second and the last leg of our trek.
This didn't begin on a very nice note though. It was a steep hike, with thick patches of ice (not snow).
I understood this wasn't going to be an easy one, and I almost gave up.
After a little encouragement from my friend, I kept telling myself that I'll have to do this. No matter how.
Tip: When you really feel you cannot do it, just don't give up. Instead, take more breaks, like after every 10 minutes. But, DO NOT sit. Just stand, catch your breath, find yourself and continue walking.
I survived.
After walking for just 2-3 kilometers, I think the universe understood that it's going be tough for me as neither my friend nor the guide were able to motivate me enough.
Then, an angel came for the rescue.
A mountain dog.
I am not really a dog lover. (Don't kill me for saying this). But this one, the moment he saw us, stuck with me.
Initially, I was scared and wanted to get rid of him. But then I thought he must have been up and down on this trail several times, he'll show me the way, if at all I get lost.
I managed to do this trek because of the dog.
No one we met on our way knew about this dog, or his name.
He sat with me whenever I was tired, walked ahead of me, and stopped whenever I needed to catch my breath.
I really don't know what changed.
Suddenly, my legs just got so much energy that they just didn't want to stop. I was way ahead of everyone with my new friend and I didn't stop even to catch my breath.
The canvas changed, again.
Subtly.
Now, the snow-clad mountain peaks were next to me. Just a few more steps, and I could have touched them. The sun was strong; the rays falling on those peaks is the sight I'll never forget.
The depth of snow on the path increased. It must be almost one-feet deep.
After walking way ahead of others, finally something just stopped me.
A frozen waterfall.
This was the best place to wait.
My guide said he thought we would now meet straight at the guest house.
Actually, not.
I realized, he was joking.
The path ahead was steeper.
This time the guide went ahead of us.
It got really difficult to walk. I kept praying, kept asking for energy.
My dog walking ahead gave me a lot of strength.
Another stupid thing we did during the trek was not carrying a water bottle. Forget about re-filling the bottle from streams, we had no bottle with us in the first place.
We were really dehydrated. The only option we had was to use our hands and drink that ice-cold water from those half-frozen streams.
After struggling for a few more hours, we managed to see our guest house far away on a height.
Isn't the sheer sight of the destination motivating enough to keep going?
Walk. Walk. Walk.
Every step I took, took me one step nearer to my abode for the night. This thought just kept me going.
Finally, we reached the bridge that was to take us to the perfect spot to see the valley.
It just reminded me of the painting all of us must have made in the school – mountains, a setting sun, river flowing in the middle, a small hut with windows, and a dog. Mine got a tad better with everything covered with snow.
I felt lucky - after a long time.
Finding the perfect spot to watch this magic, I kept looking – awestruck. My dog right beside me. He must have seen this several times before, I thought.
Within a few minutes, the sun was to set. The magic was to disappear. And everything was to be covered with darkness.
Please stop, I prayed.
But, the sun has to set. Only then it will rise again the next day.
The chilling breeze touched my face, making it almost unbearable to sit there.
There's always some light even when you think there isn't.
And stars are the perfect example for this.
Paying goodbye to the starlit sky, we finally called it a day.
It was way too cold for me to handle. I couldn't sleep for the second straight night. But the dog did – underneath our bed.
The sun rose, the way it does every day.
Though, our guide was scared of the bad weather, the universe thought it otherwise.
The sun was a little brighter than usual.
Now, the challenge was to reach back Sankri in one day, the distance we had covered in two days.
Despite our guide constantly warning us against it, we made up our minds that this is what has to be done.
The 28-km downhill trek in one-day was tiring. The guide walking exactly behind me was literally "pressure to perform."
We did not perform that bad.
Before the sun was to set again, we managed to reach the Taluka, the village from where the trek had started.
No conversations. Peace inside me was almost visible.
But, wait, where did the dog go?
I asked my friend.
He said the dog met a few more people going uphill, so he went with them.
"But he stood for a while and looked all around. Probably, he was looking for you," my friend added.
I just closed my eyes for a while.
A little wet.
A little lonely.
A little at peace