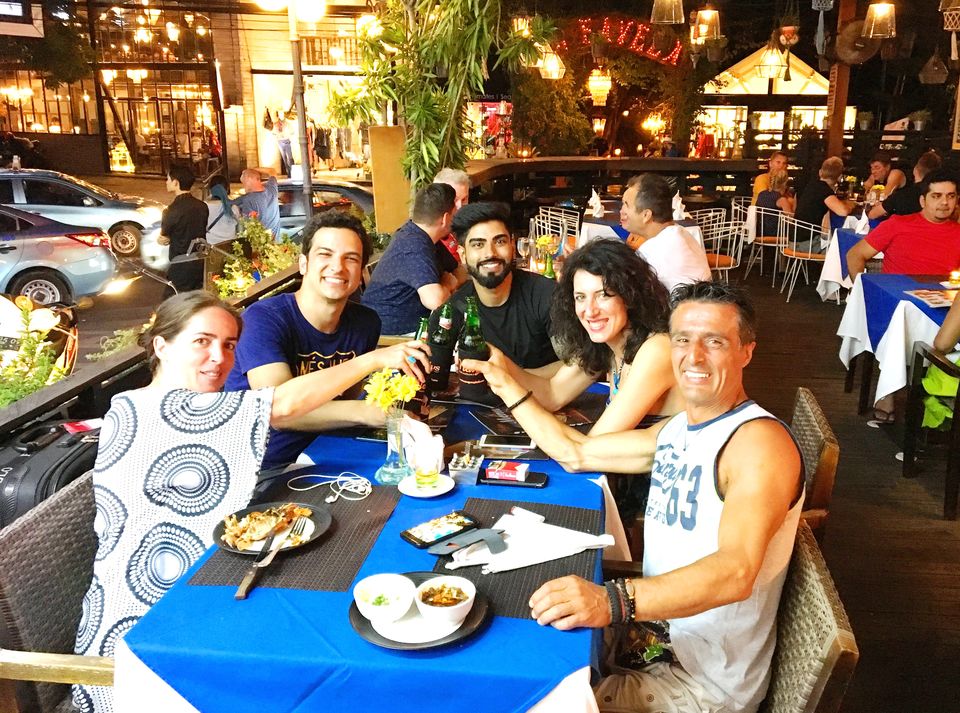 If you haven't stayed in a travel hostel before, there's a possibility, that the prospect of it to you might be a little daunting. However, that isn't what you need to worry about; the fact that you have missed something amazing is the worrisome part.
A Hostel is like a hotel except that you have shared rooms with bunks where you have roommates. In a hostel you're likely to meet a lot of likeminded people and share some really important experiences of your life. It is basically a home away from home. I've stayed in hostels of Europe, Russia, Malaysia and India. But hostels in Bali are so much different.
One fine morning, I was riding a scooter, driving from Uluwatu to Ubud, I was very sleepy as I hadn't gotten any sleep the night before and to keep myself engaged, I kept recollecting all of my experiences in Bali. It was a really long journey and although I was dead sleepy, the enthusiasm from the experiences of how I Partied, Ate and Loved in the hostels of Bali, kept me wide awake.
PARTY
Bali is known as one of the best party destinations in the world and although I'm not always into parties, I really wanted to experience some craziness in here. I checked into a Hostel named Capsule in Seminyak which is recognized as one of the best party hostels in the town. I had booked a 6 bed mix dorm. The rooms were really nice with ac and comfortable beds. The best thing about the hostel was the pool and the bar surrounding the pool area.
I went to relax by the pool, sipping a cocktail from the hostel bar and I met a lot of new people. We played pool volleyball together. The music was loud and never seemed to stop and everybody was chilling and having fun.
So here's the thing about the hostel bar, it never sleeps, from early mornings until late nights, it's always open, even when everyone goes out for clubbing. They host numerous drinking games like beer pong, card games and balloon games and trust me, they are super fun. You are given dares to complete and if you lose, you drink more. This way everyone gets drunk even before they leave the hostel to party in la favela or Kudeta (famous clubs in Seminyak). Everybody usually comes back early in the morning. Rob the guy in the hostel bar always told me 'Mate! Searching for the hottest girls in Bali? Go to La favela' and he was so right.
Every party in Bali is not at all sophisticated; it's a place where people go to party in their swim wears and flip-flops.
The first 2-3 nights at the hostel were absolutely mad. We would play card games, complete crazy dares, get super drunk and off course go to clubs. The first time at La-Favela was a memorable night too; people were going crazy all around, random people were making out with each other and everybody seemed to be getting lost in the crowd. We made a huge group in the hostel and went clubbing together every night and every new guests who checked in had to tag along.
Honestly, for a couple of days I forgot how mornings looked like, I only woke up at the afternoons to join the pool parties, followed by parties at the hostel bar, then clubs and sometimes beach bars, where alcohol was really cheap.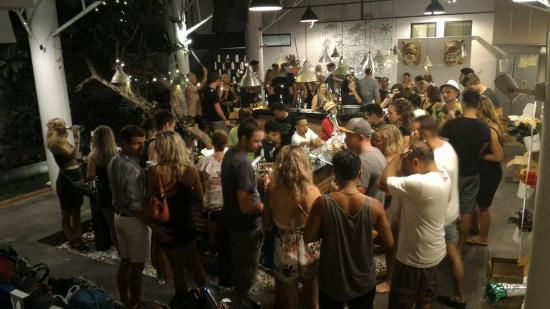 After 4 nights of crazy, I decided to stay back at the hostel and not go out clubbing. After the hostel party, I told my friends that I might not join them at the club as I wanted to spend some time alone and decided to have a beer or two before going off to sleep.
Almost everyone had left and Just when I thought I was alone at the hostel bar, I found a group of two girls and a guy sitting at the common area attached to the bar. They didn't know me; the guy shouted 'Anyone wants some fucking peanuts?'I was the only one present; he kept repeating the same words and so I figured that the statement was directed towards me. I guess I wanted some company too, so I grabbed my beer and joined them, 'Hi I'm Rito, from India', 'I'm Mark, they are Nina and Bella, we are from Australia' he introduced. They had opened the largest pack of peanuts and chips on the table and ate like they hadn't eaten in months.
'You guys want some beer? I have 2 or 3 for the night.' I asked. 'No we have something better, you should try these' they answered and pushed a pack of magic mushrooms on the table. They explained everything about shrooms to me, yet I hesitated to try. I told them, I wasn't into drugs and also wanted to get some sleep that night. However we ended up talking for a while and I actually really liked them. They were nice people. 'You have to come to Sky Garden (famous club in Kuta) with me, I don't have a date.' Bella pleaded,' I promise I'll take care of you ', she said and passed me a handful of mushrooms.
I finally chewed some of them; they tasted awful, ate a lot of peanuts and drank the beer. They did the same. We chatted for a while and then headed towards Sky Garden. I sat behind Bella on her scooter. I was okay until I stepped down on the alley behind the sky garden parking. I started feeling so heavy as if I had suddenly put on a lot of weight. Mark patted me on my back saying 'Bro we are going crazy tonight, do whatever you want ' but I heard the whole thing in slow-mo.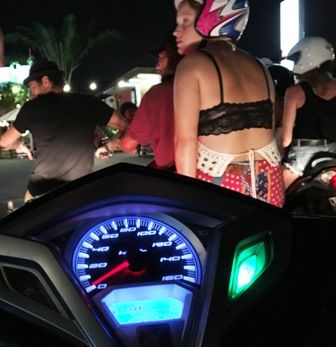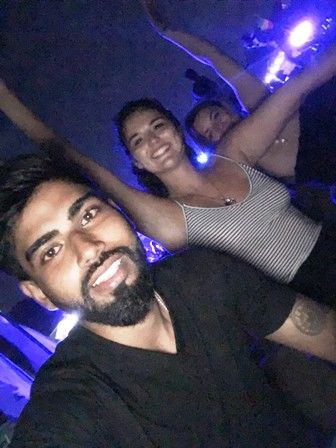 We went inside the club, I went to the washroom to splash some water on my face, the water felt like jelly and I checked my eyes, they looked fearful. Crazy thoughts came to my mind. I freaked out for a bit in the beginning, and felt lost for some time. But in a while I started enjoying the slow-Mo surroundings. I found Bella, Nina and Mark, we ordered some cocktails. I vaguely remember asking the bartender, 'What the fuck did you do with ice and jelly into my glass? 'He was so surprised. We danced like crazy, moving from one place to another. I made out with Bella and listened to what she said while dancing, although I understood nothing. She was beautiful and generous, kept my phone and wallet in her bag and was probably the only person in the club who was as good as gold.
Sky garden is not like other clubs in Bali, there were a lot of girls. Most of them were sex workers. Many had approached me for sex and drugs. It's funny, because I have no idea about how I had responded to them. The mushroom trip lasted for about 3-4 hours. Bella and I couldn't find the others, we were very hungry, so we bought some snacks from the 7/11 and went to double six beach to watch the sunrise. I had a great time, but the hangover was bad, really bad.
I went back to the hostel and slept for almost 10 hours, woke up to find no one. I realized that I had been in Bali for the past 4 days but hadn't surfed at all. I wanted to party but I also wanted to try new cuisines, go for a swim, learn to surf, watch the sunset and have interesting conversations. I wanted to be in Canggu, which is a new and trendy surfing village. So I booked another hostel through www.hostelworld.com, this hostel had 0 reviews, probably a very new one, exactly how I wanted. Booked a Grab taxi and left the Capsule hostel. Too bad that I couldn't meet Bella or the other friends that I made in Capsule.
EAT
I checked into this new hostel 'The Jungle House' that had opened just a few weeks before my arrival. The hostel had a very green and refreshing ambiance and it almost felt like I was in a Villa. It had three dorm rooms, an open kitchen, a magnificent pool with a floater and a common area in the garden for guests to chill out and socialize with each other. However, without a doubt, the best thing about the hostel was their open bathrooms attached to each room. The hostel lived up to its name and had wooden interiors with artificial trees. Their open kitchen was right in the garden and was attached to the reception.
I was so amazed to meet the owners Tebo and Lea; they welcomed me as a part of their family. We had really nice conversations about their love for surfing and how they had put a lot of efforts in bringing up the hostel along with another friend of theirs. They told me everything about surfing because turns out they had been surfers too and happened to have met each other while surfing.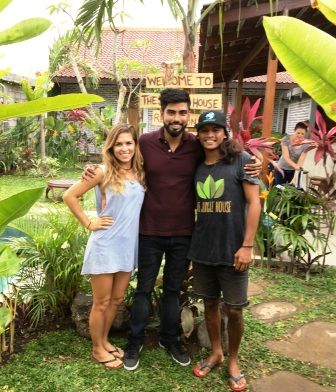 In the evening Tebo, the Tarzan of the Jungle house made a bonfire in the garden and his wonder woman Lea taught me how to roast marshmallows on the fire and eat them with a stick, they were absolutely wonderful. They asked me out for dinner at a nearby café called La Baracca with some of their friends, and the café had the best Italian food in Canggu. I was finally lucky to get some proper food to eat, after a long time. On our way back, they helped me explore Canggu while telling me how young people love living here.
The hostel offered free breakfast every morning and the interesting part is that Tebo sometimes cooked for everyone. He really was the real Tarzan; he showed me how he made tools out of iron rods and ashtrays out of wood all by himself. I was probably the only guest in the hostel for a while because of which I had the opportunity to spend a lot of time with them. Who gets to spend time with the hostel owners? It was so cool.
I went surfing every day, spend a lot of time on the Berawa beach watching sunsets and having Balinese massage after. I ate a lot of good food and damn was the local food awesome. I tried Nasi Goreng, Nasi Champu, and Soto Ayam and went to eat at the famous 'Nalu Bowls' too, they had some remarkable salads and fruit smoothie bowls which, I'm sure, you can't eat before posting on Instagram.
Every café in Canggu had something amazing to offer. The pancakes and the premium Fish'n chips at the crate café were the best and most of the café's had live music. I went to the late night parties at Old man's in Batu Bolong after the beach party at the Sandbar, with some friends I had made while surfing. For my midnight cravings, the tasty AUSSIE burgers at the 'Pit Stop' on the way back to the hostel were always at my rescue.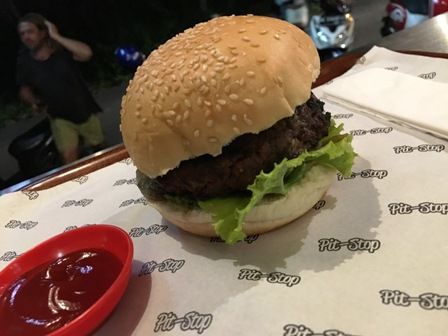 After few days, the Jungle House was almost full, a lot of guests had arrived. But the cool thing was that I was still the most privileged guest, probably because I was the oldest. We made barbeque in the evening, played Tebo's guitar and chilled out in the pool with the coldest Bintangs(Bali beer).All the guests went out for dinner together and the first time was really amazing for me.
On one of the evenings, the Finnish girls decided to cook for everyone. I loved the Pumpkin soup and the corn cakes they made, it was incredible. Let me tell you a secret, all you need to do is cook me some good food and trust me, I will be yours for life. I ate a lot of Food at Canggu, which was probably the best food in all of Bali.
I was so very exhilarated with my experience in the Jungle house, it felt like home with friends and family because I was lucky to have lived with a lot of good people. In my head, I had already planned to settle in here with my family at some point in the future. However, I wasn't just here to live in Canggu, I wanted to see a lot of other places. Uluwatu was next on my to-do list, although I promised Tebo that I would be back.
I booked a hostel in Uluwatu through www.hostelworld.com , it had an interesting name 'Karma Bag packers House' and I wanted to check it out. It was not a party hostel but had very good reviews. I left most of my luggage at the jungle house and left with just a small bag pack on my scooter. Lea was really worried about me not being able to find the way to Uluwatu, but guess what? I had my superpower. Google maps.
LOVE
The scooter ride to Uluwatu was the absolute best. Sharp bends while going uphill and downhill, along with the beautiful views made the entire experience adventurous as well as mesmerizing. I stopped to take pictures wherever I could, and that was the coolest thing about having a vehicle of my own. After a 90 minute ride from Canggu, I entered into the Karma Bag packers Hostel. The hostel was located uphill near a resort. As I entered, I realized that it had a very different vibe, the common-area was not so glamorous and people were watching GOT episodes silently on the TV. It was almost 3pm, and the dining area was quiet too, I assumed that everyone probably went to surf. I went straightaway to the reception to check-in where I met two Norwegian girls who were checking in too, both of them were so pretty.
I had booked a bed in a four-bed dorm; the rooms were very compact and nice. I entered my room only to find it empty, but I could guess that the three of my roommates were girls. This was because, in my experience, the only people who kept their beds so clean before leaving were girls, but that was not just it; their clothes for the evening were already laid out.
I wanted to go surfing and watch the sunset, so I prepared myself and just when I was about to leave, two of my roommates entered. We introduced ourselves and made some small talk, I got to know that they were travelling together and have been staying in the hostel for the past 2-3 days. They told me that they were about to check out the next day and travel to java island and that it was their last day in the hostel. On asking them about the party scene, they told me about the party shuttle that dropped the guests at 9pm and picked them up at 1:30 am. They suggested me to register for the shuttle, like they did, as every day had a different party. As interesting as it sounded, I just wanted to surf and watch the sunset for the time being and so, I left the room. Unfortunately, I forgot their names eventually and all I remembered was that they were German.
The beaches in Uluwatu had a fair backdrop of the cliffs and it was breathtaking. The waves were huge and looked daunting, I tried my best to catch the waves in Dreamland for a good 40 minutes but failed to catch even one. The breaks were short and pointed, because of which I fell every time I tried to board. I soon realized that it was not a place for beginners, however pro surfers would have the time of their lives in surfing there. Finally, I went to a point over the cliff to watch the sunset while sipping a Bintang and munching some French-fries. I came back to the hostel on my scooter and I was totally drained. It was a long and amazing day.
I met the girls again on my way back and we exchanged pleasantries. I asked them how their day was, to which they replied 'Great.' I realized that I could do with some good Balinese massage, as I was exhausted. As I went to my dorm room to get some rest, I met the other girl, the third roommate of mine. Her name was Elina, she was from England and had travelled throughout India for quite some time. We had a nice discussion about the things we liked in India like her love for Sachin Tendulkar and Irfan Khan.
After sometime I went to the common area and joined the beer pong game with everyone. The craziest guy among the group raised his hand, 'Hi, I am Kros '. 'Hello!' I replied. He continued, "You Know the Dutch girls can't pronounce my name, so they call me Crabstick', and everyone started to laugh. 'So what man? The Dutch girls are so cute they can call me whatever they want', he said in an enthusiastic and funny tone.
After rounds of introduction and beer, I was so not much into the game. I had moved to another table with two guys, David and Miguel, they told me how much they loved Bali and that they never went home in years, they worked in farms in Australia for 3 months to make some money and then traveled the rest of the year. That was so cool and I really wanted to do something similar.
At about 9pm, the hostel guy Ricky came to us and asked if we were ready for the party shuttle to leave. He then continued in a serious tone, 'So, before you guys leave I want to tell you something, there are 40 guests in this hostel but only 16 have registered for the party shuttle, so we come back at 1:30 am and let the other people sleep, no more party in this place. You come back and go to your rooms. Is that clear? You! The new guy, remember this is not a party hostel, if you don't want to come back, you can stay there.' He pointed to me. Adriano, a guy from the beer pong game shouted, 'don't be a summer camp leader Ricky!' This reminded me of my hostel days back at the University, I felt nostalgic.
We were given a card each, it probably was a party shuttle ticket. The shuttle dropped us at a place situated in a valley called 'The summer bar', they had a Reggae band playing that night. The place had a great ambience, especially; the stage located in between an open garden and the crowd was super energetic. We bought our drinks and moved to the dance floor and unlike other parties in Bali, the mood was very different. People were not just dancing and socializing, they were actually talking to each other.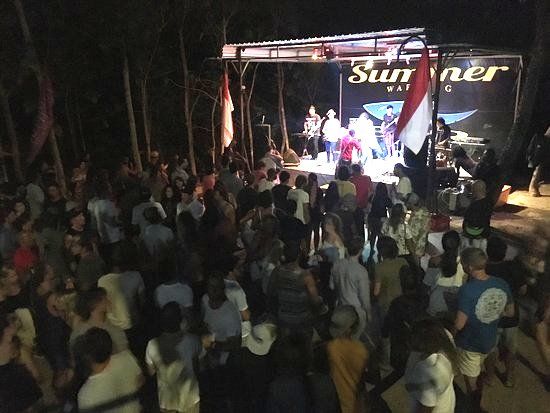 Our hostel group was together at all times and we danced like crazy and screamed at the top of our voice whenever the music stopped. Almost every guy of the hostel had an eye on the Norwegian girls who had checked in that morning as I told you that were really hot. My German roommates were pretty funny, they advised me 'Hey! Dance like no one is watching', I really didn't care if anyone was. I kept playing pranks on them and had great fun. In the mean time I found a local guy, hitting on one of my German roommates, he kept coming and shaking hands with them, I heard him say 'Cheers! Let's dance'. He had a funny look on his face and even managed to dance with her for some time. I had encouraged her earlier, 'you should go ahead, local guys are nice', but she just made faces. I got another beer and came back, and I still found the local guy with her, he seemed like he was really into her. She then came up to me and said, 'This guy is going crazy', 'Good for you' I kept her motivated. I then lost her for a while.
Kay, a friend from the hostel, in the meanwhile, made me a drink, vodka infused with sprite. She had bootlegged the vodka from the hostel. 'God, this is nice, I can't live without this drink Rito', we laughed. After a while we found another friend, Adriano, he kept searching for his flip-flops and ended up asking every girl he met, he was so drunk and funny. We laughed all the more.
To my surprise, the local guy I just talked about, came up to me and asked, 'Hey man! Is she your girlfriend?' 'You mean the girl with whom you were dancing ? Yes she is', I joked. 'I'm sorry I didn't know' he told me. I replied 'not a problem man, this is Bali do whatever you want'. I, however, did not think that he would take it for granted. I was dancing at a corner with our hostel mates, but for some reason I was very aware of my roommate dancing with that local guy, the guy eventually started being very obtrusive, she started to get uncomfortable when he brought some of his friends after a while. They were intolerable. I constantly had my eye on her and after a while I went near her, pulled her hand 'Too many guys hitting on you, I'm so jealous' I said, she smiled and replied, 'everyone except you.' It was then that we got lost in the crowd, yet did not lose each other. 'Do you think it's a good place for a first date?' she whispered in my ear. 'You mean first date in Bali? No! There should have been a beach club, an infinity pool and Martinis flowing.' 'I hate you, you ruined it', we kissed.
Time has a wonderful way of showing us what really matters. We did not realize how time flew, we were into each other a little too long, until Anastasia came and pulled her hand, 'Enough guys! Let's go back, Ricky is waiting in the shuttle'. It was 2 am. We went back to the hostel at 2:30 am and everybody was preparing to sleep. I was looking for the party shuttle registration board to find her name. 'Hey, you want to sleep now? ', she pulled me in a corner, 'How about we watch a movie together?' 'Sounds really cool but you have a flight tomorrow afternoon, you have to leave very early'. 'I don't care, I always sleep in the flight, and I don't want to miss this moment. This is my last day on this island'.
In the meantime Croz asked us 'Hey you guys want some burger? Im going to go get some from Pit stop.' My girl very excited and told me 'Rito, let's follow this guy on your scooter, I am so hungry'. I checked my pocket but there was no key. I checked my bag, my bed, my dorm room, the common area, everywhere. I lost my scooter key. I asked the two other roommates of mine Elina and Anastasia, they had no clue either. I wasn't unhappy because I lost the key of the scooter I rented 10 days ago in a foreign country, I was sad because, I could not take her out on my scooter for a burger. But as long as we were together, nothing else mattered. Croz did get us burgers eventually.
She chose a movie 'A girl in the train', but neither of us was interested in watching it. After about 20 minutes we were the only humans left in the common area, we were lying on the beanbags and looking at each other. When we finally found it in ourselves to look at the TV, it was the black screen with end credits. The movie was over. We had completely lost track of the time, but the few hours we spent together were worth thousands more.
'I think I will replay the movie', she said and smiled. 'I think you shouldn't leave or better I should travel with you' I was very serious. 'No you should forget me and enjoy the rest of your travel in Bali', and in a few minutes she slept on my shoulders. It was hard to think of my time in Bali without her. I still had to find my scooter key, or get my scooter to a key smith or have to pay a huge fine, whatever, I just wasn't ready to accept the fact that she was leaving. I wanted to be with this girl who I didn't even know existed 10 hours ago and the funny part was that I still didn't know her name. I waited for some time to wake her up. 'Do you want some water?' I brought her a glass of water; she pulled me towards the room. 'We should get some sleep, you look tired as fuck and it's already 8 am, I have to leave at 10.' I said as we entered the room. 'I want to see you again', she whispered. 'Yeah, Definitely! We are sleeping in the same room,' I joked.
She went out of the room again, this time to brush her teeth, I entered into the washroom with her 'Save your number on my phone' while I handed over my phone thinking I could finally know her name. She saved her number as 'BEST THING HAPPENED TO ME IN BALI', and that my friends, was the most adorable thing that really happened to me because she was absolutely correct. However, I needed to know her real name and I tried another time, hoping not to fail, 'And how do you write your name on Facebook?', She snatched my phone and typed on the search bar 'Lucy Lang'.
To know about more of my travel experiences follow me on instagram https://www.instagram.com/guitarmad1314/