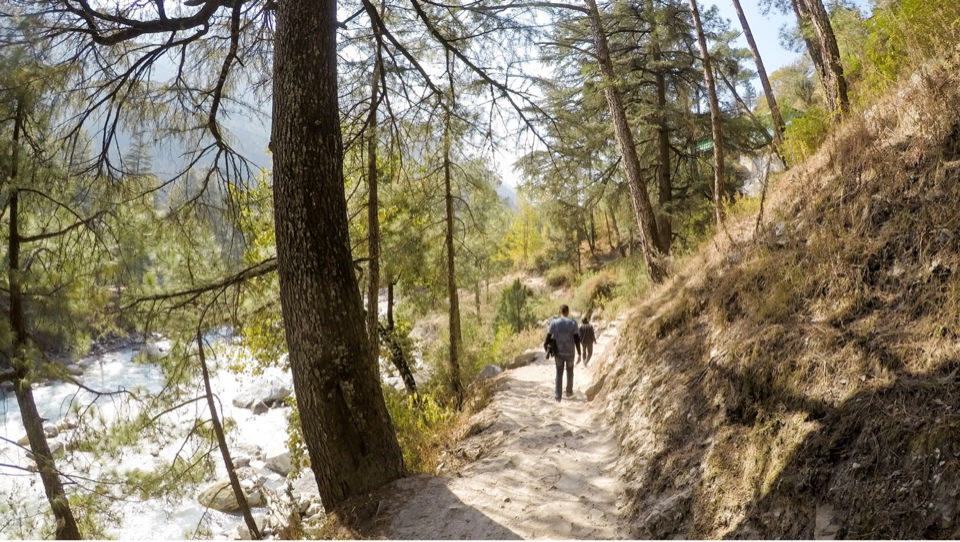 /* #TripotoTakeMeToSandakPhu */
What are dreams made of?

The crisp mountain air spanning the entirety of your lungs while you take a brisk walk by a river.
Or
The orgasmic chill you get when you dig your feet into the sand and let the waves drift you towards the endless ocean.
Or
Dogs; lots of them, sprinkled with puppies with wagging tails on the sides.
Life is a vacation in my 10-7 job which I absolutely love. I have the freedom to come in whenever I want and just chill. Apart from that, I lead a team of brainy and curious engineers. A perfect comfort zone where I'd rather be than climb mountains, befriend stray dogs, try a hundred different positions before I fall asleep in a tent when the temperature dips below 0 degrees. But I chose otherwise, and so should you.

To make life harder I chose Parvati Valley and asked a friend to plan it out for us. He did a stupendous job which I realized when I started drafting my notes during my journey back to home.
I ever knew how much I needed a GoPro until I finally got one and documented every single of my experiences for the world to see through my eyes.
If you are short on time, I request you to pump the volume up and see the time-lapse I shot.
A 2 minute story of tiptoeing across the valley -
NOTE: All the pictures have been taken by a GoPro Hero 5 and others using an iPhone 7.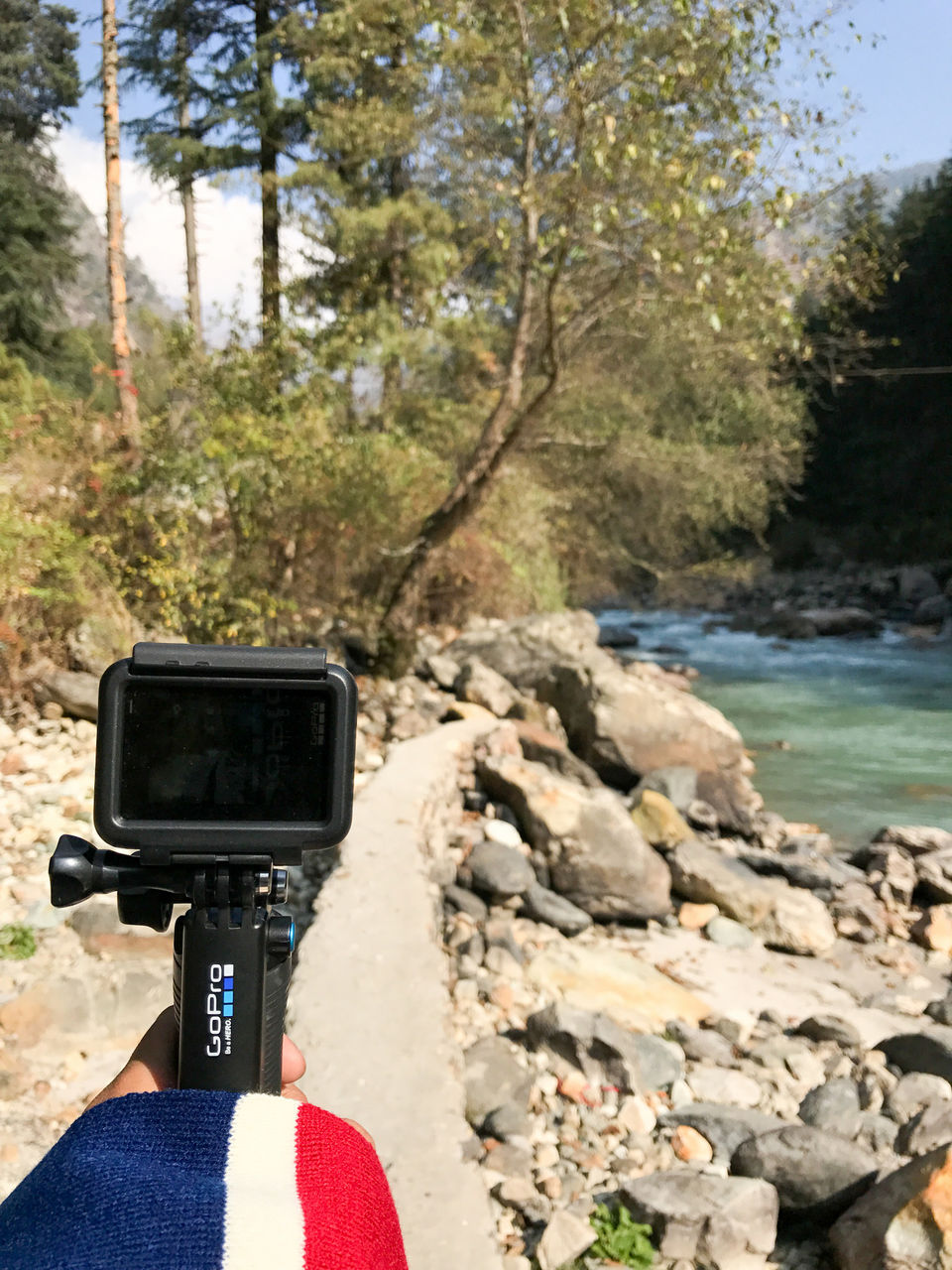 Every place has a tale to tell if you know where to look, one such place is an airport. If you make peace with whatever your fate throws at you, the most mundane of tasks looks like a cake walk. One such task is waiting for your flight especially if your dear friends ditch you at the last moment and the gigantic travel time states into your blank face.
So I decided I'll be the last to board the airplane and have a 100 set of eyes curse me under their breath. Totally worth it.
Tiniest of moments have the capability to change your life forever. Tiny moments which hide themselves in plan sight but it takes a positive never-say-die attitude in the worst of situations to fully live them.
But if one of those moments include someone requesting you to exchange your window seat - for which you specifically checked-in in advance - You'll have to find solace in the fact that now it's easier to access the washroom. Make sense? If not, join the club.
I've highlighted a score of those moments across the entire length of my trip.
It has been a little over a year since I completed my first stint of solo tripping across Himachal Pradesh which was surprisingly a hit among wonderful people like yourself.
Unlike this year, I pitched the idea of Parvati Valley to my childhood partner in crime to which he gladly(read whined for a long time but finally gave up) agreed.
Day 1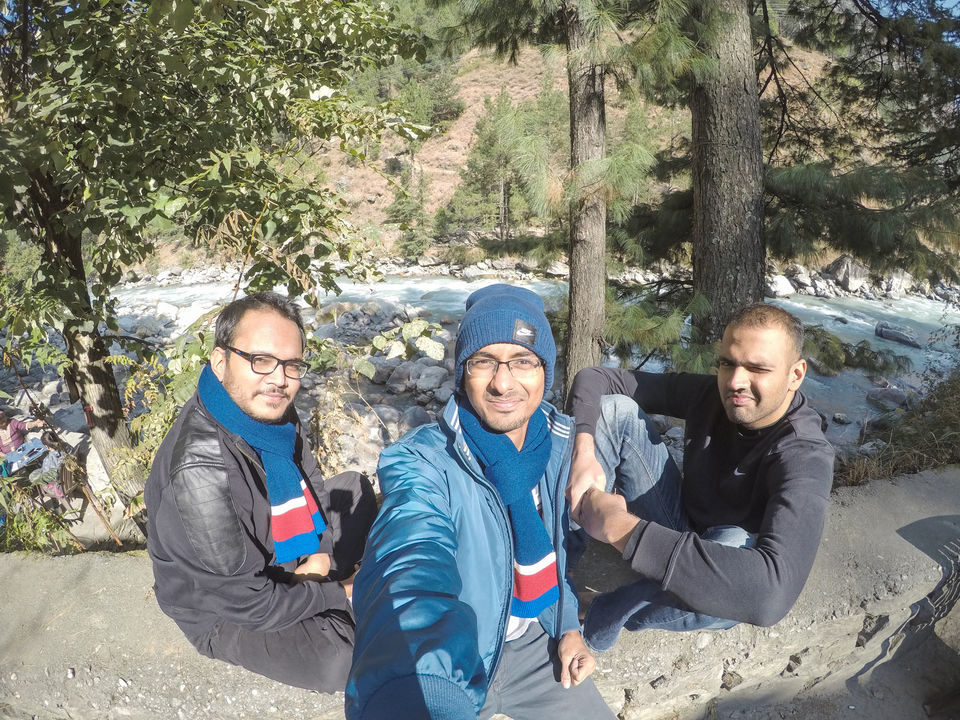 After a comfortable couple days in Delhi, we managed to get an overnight bus towards Manali. Out of all the things that were were expected, sleepless discomfort takes the cake. I finally spent the majority in the very first seat listening to the driver conversing with his navigator in Punjabi.
TIP: Do not litter bottles inside the bus, keep it safely strapped somewhere or crush empty ones. You don't want forensic to prove it was your bottle which jammed the brake pedal.
We reached Bhuntar at 7 AM and caught a taxi towards Kasol.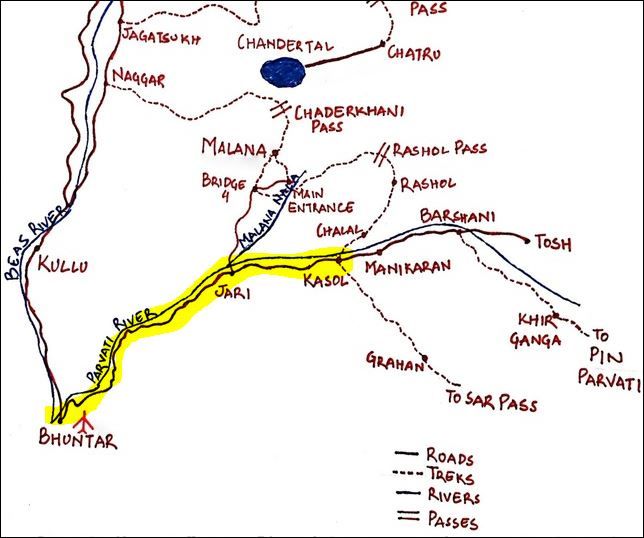 It's a 20 minutes drive which van either be covered using a bus which will take around two and a half hours or a taxi which will save an awful amount of time which you can utilize in doing nothing once you reach the banks of Parvati River.
It's time for a little background on Parvati Valley. The Valley is marked by the ethereal confluence of Parvati River and Beas just above Bhuntar. It's tightly called the Amsterdam of India due to the easy(read very) accessibility of charas and their crown jewel - malana Cream. If you ask a passer by about getting some 9/10 times he'll get you some right out of his pocket then and there OR he'll hook you up with a contact.
So it's a common sight in Cafes and Restaurants wherein people gather every ounce of skill, patience and concentration they gathered over the years to make themselves a nice joint.
First rays of the morning light playing hide and seek with tall deodar trees was all the comfort I sought.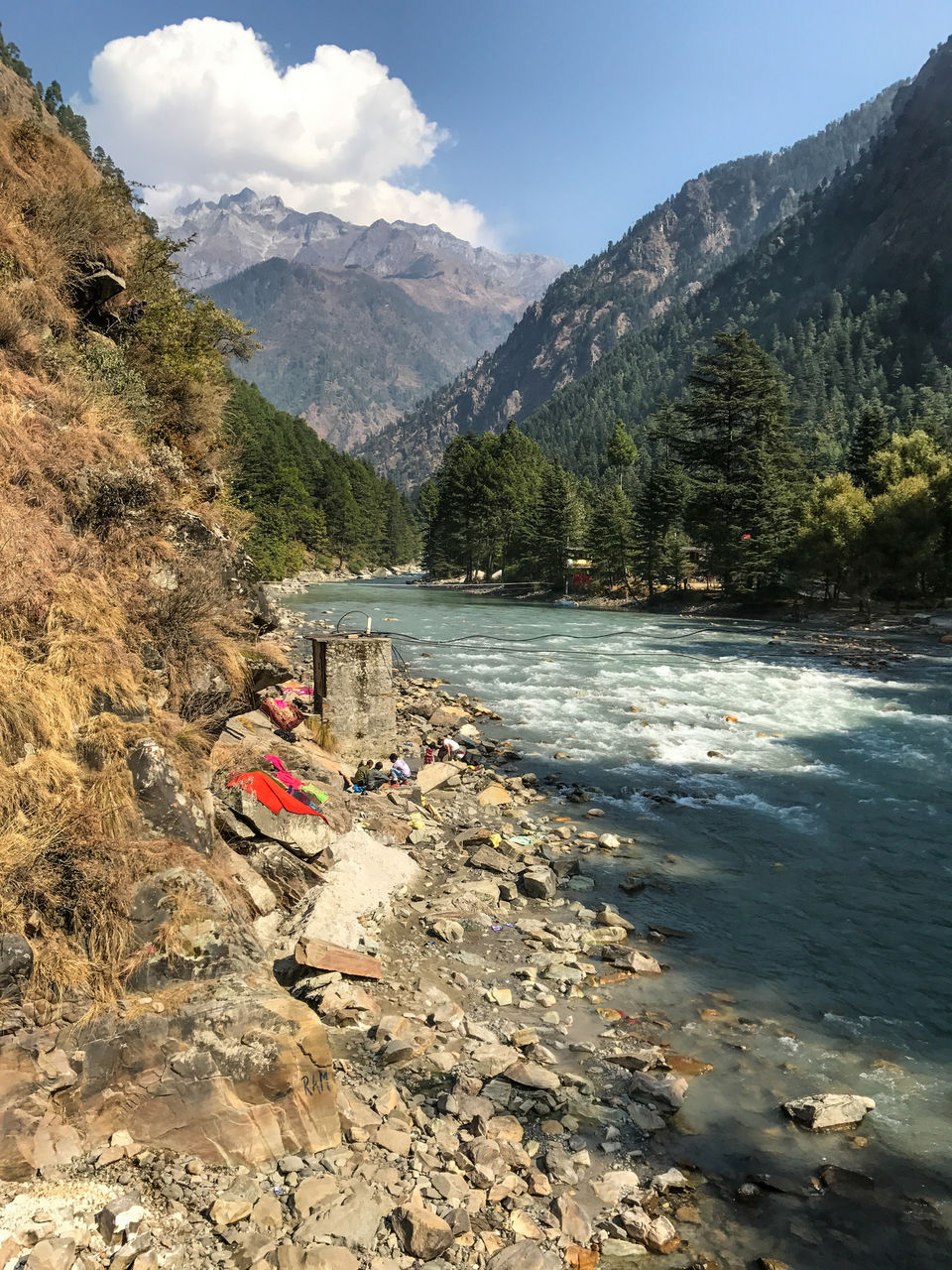 We stayed at Hotel Alpine and the stay was comfortable for a modest price. But the unparalleled view of the river running alongside intimidating mountains is the perfect main course to calm the most disturbed of souls. Add-ons such as beer or a joint only speeds up the process.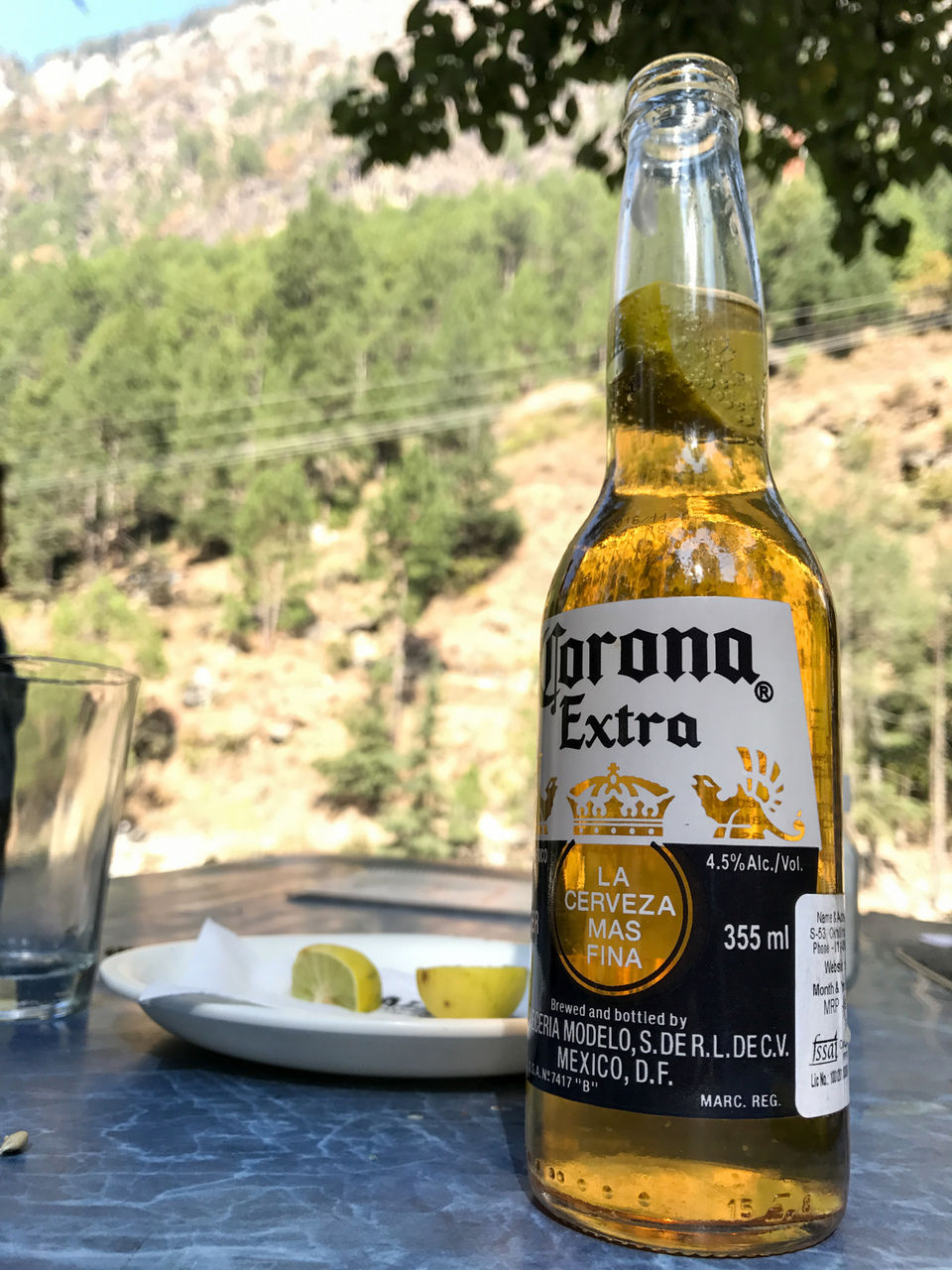 If this doesn't floats your goat, can I interest you in some fancy Israeli food?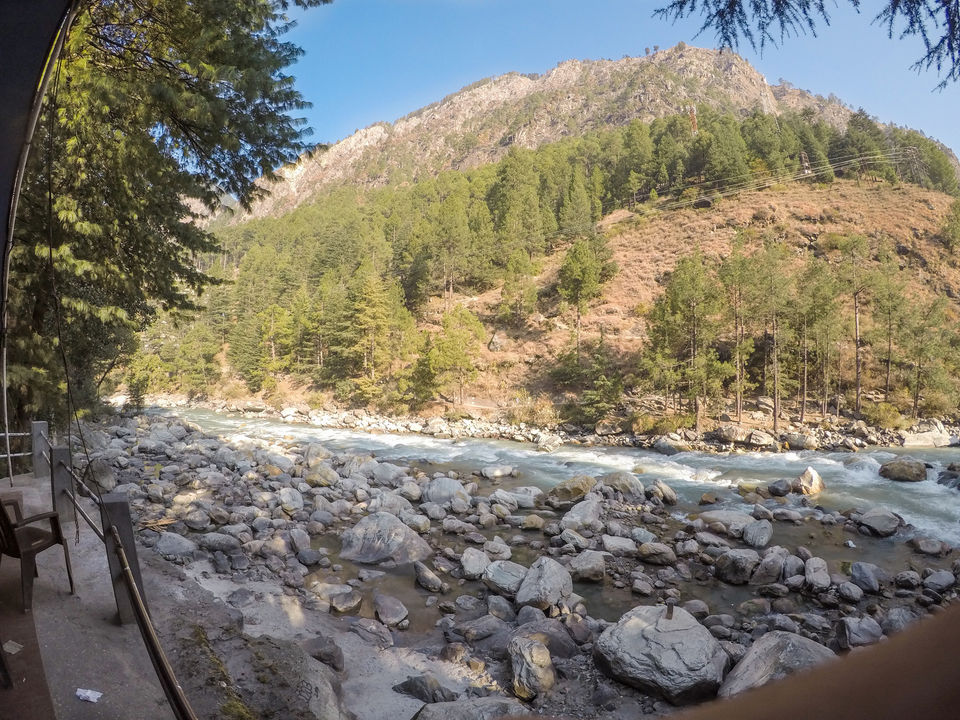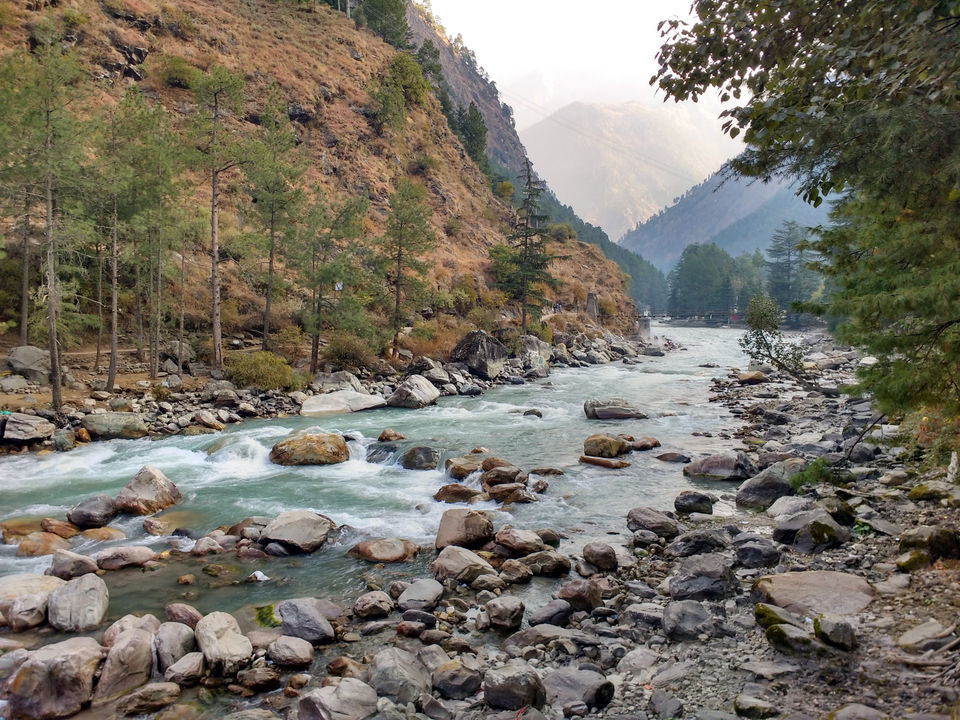 The rickety bridge in ruins visible at a distance only adds to the charm of Kasol.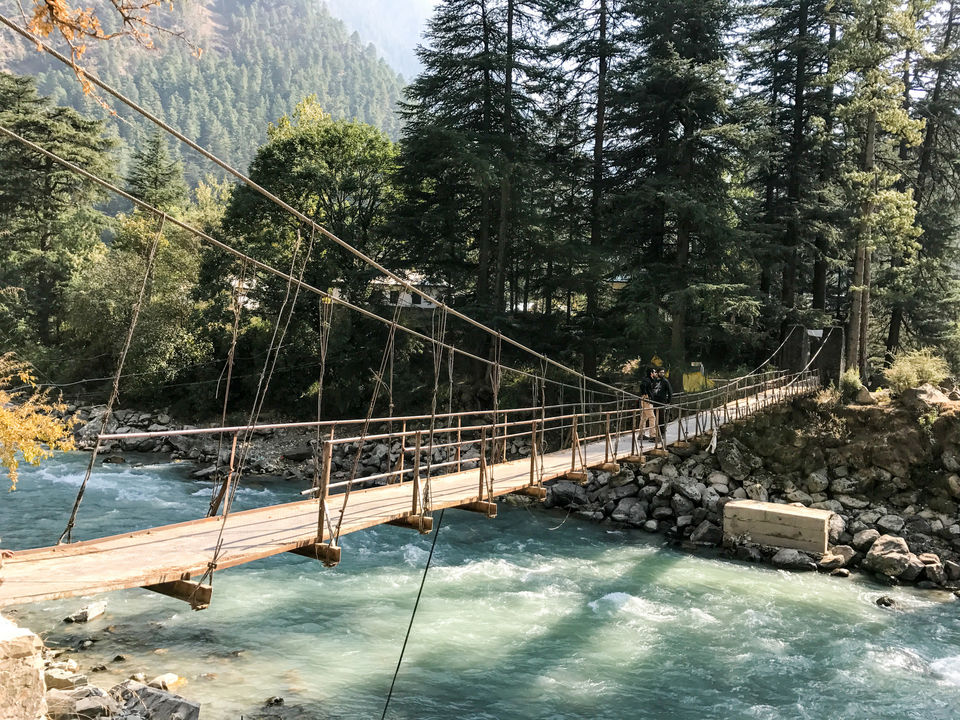 After crossing the bridge, which is fun by the way, we made our way towards Chalal, 9 km from Kasol.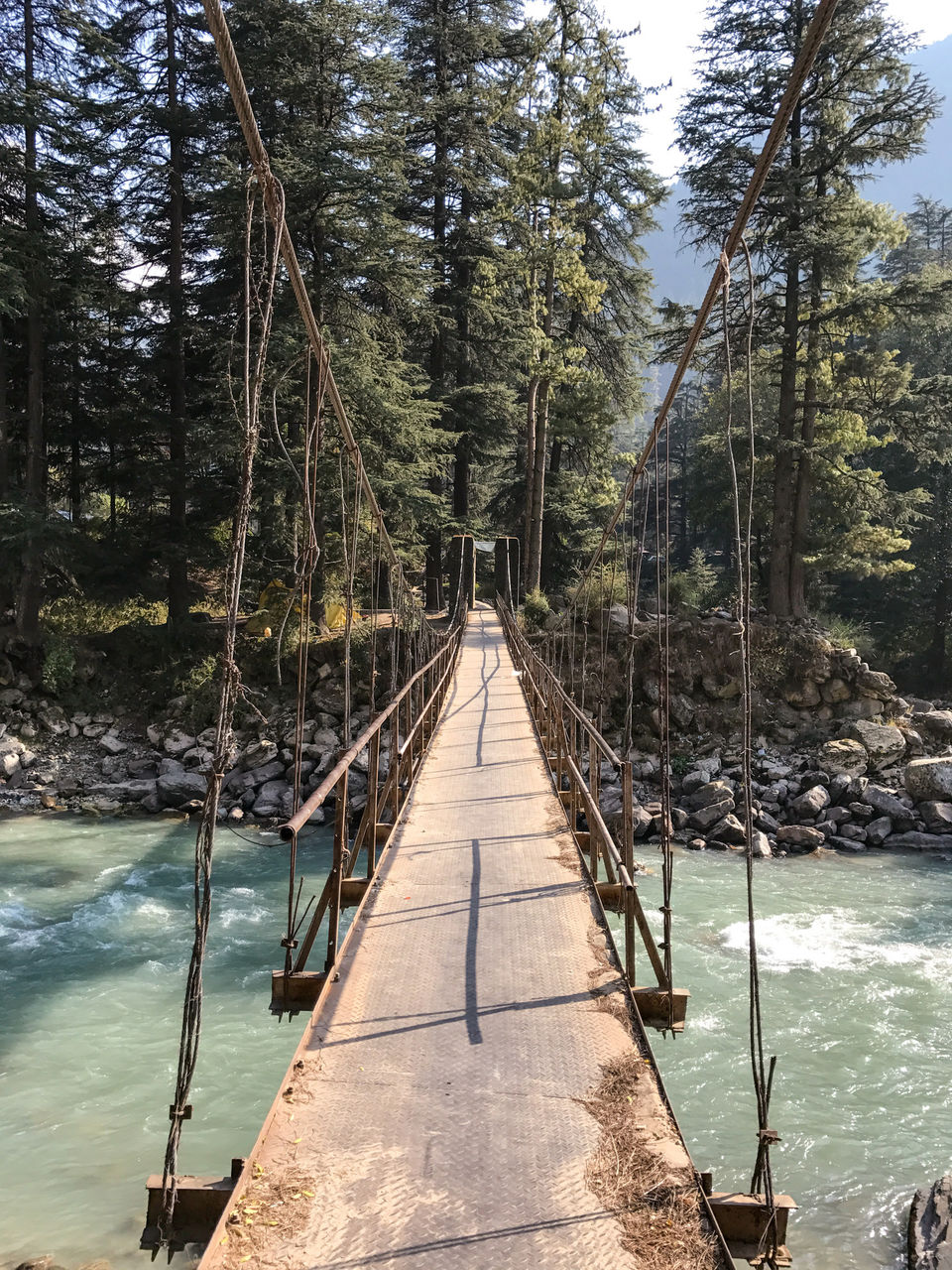 To make this the one-stop guide for anyone who wants to visit Parvati Valley, here's help -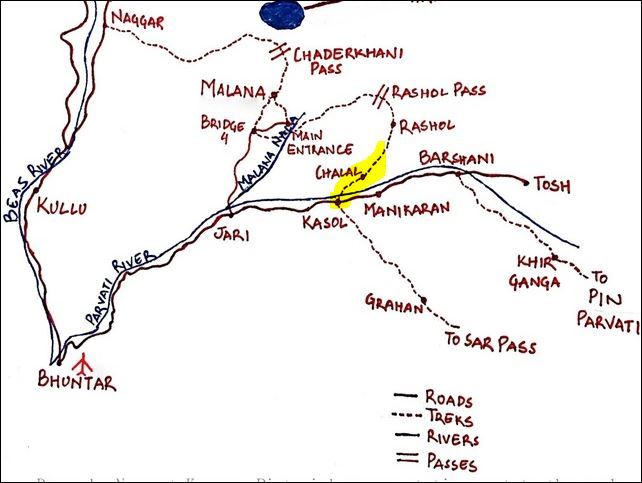 The clean and fresh mountain air was welcomed by our lungs and we kept walking by the river and couldn't help but notice the amount of litter.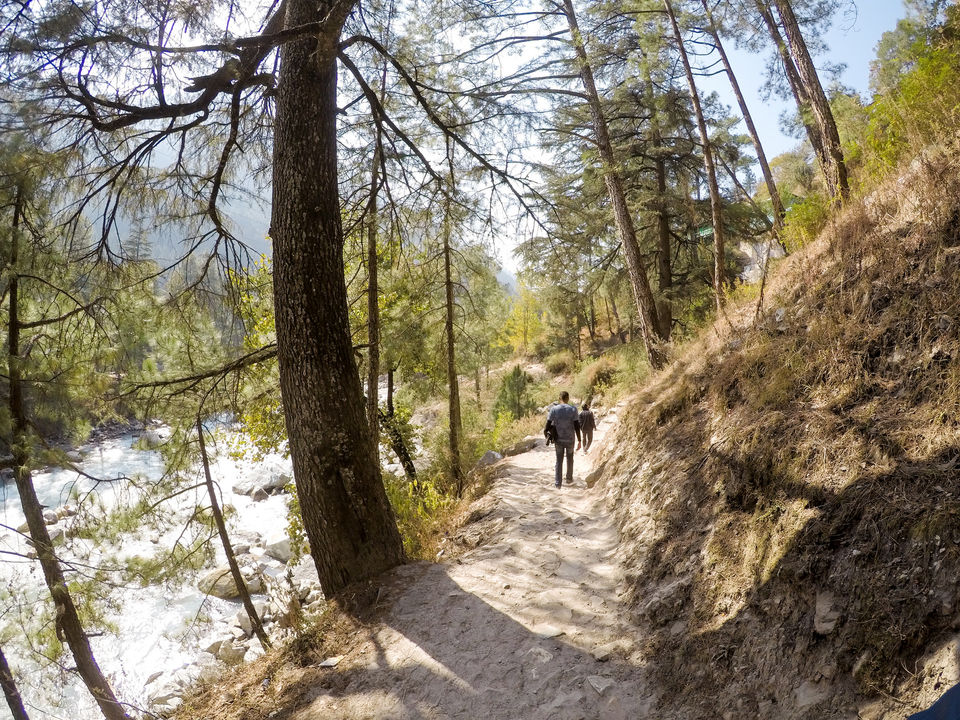 NOTE: It's people like you and I who deface a place which was once spotlessly clean. Please carry your litter around until you find a dustbin because the absence of it is no excuse to throw it wherever you wish.
Chalal is a quaint village with very old houses and sporadically spread Cafes which mostly serve western food. What was supposed to be a brisk half hour walk turned into an hour's ordeal. We covered the entire length of Chalal and rested for a while where we thought the village has ended. And we were right. We are eternally grateful for that one imbecile who excitedly pointed us towards Rasol. Without putting much thought we continued walking and shortly encountered a herd of friendly donkeys blocking the narrow path. The shepherd helped them cross and we stood breathlessly on the edge praying one of them don't get too kinky, kick us in our guts and hee haw ominously.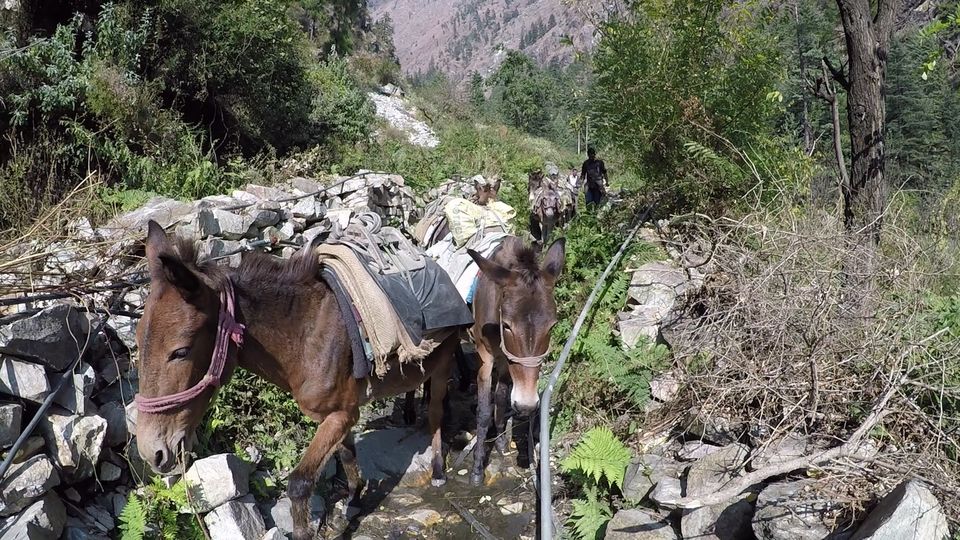 To add to our misery(wanderlust ya knw) we accidentally picked a much cleaner route back to Kasol wherein we crossed steep slopes, barged in into private back gardens and sat by a corn field judging the people who litter by finding out ways to hide our own among theirs.
But the only can we had to dispose off, I had my friend carry it back to Kasol.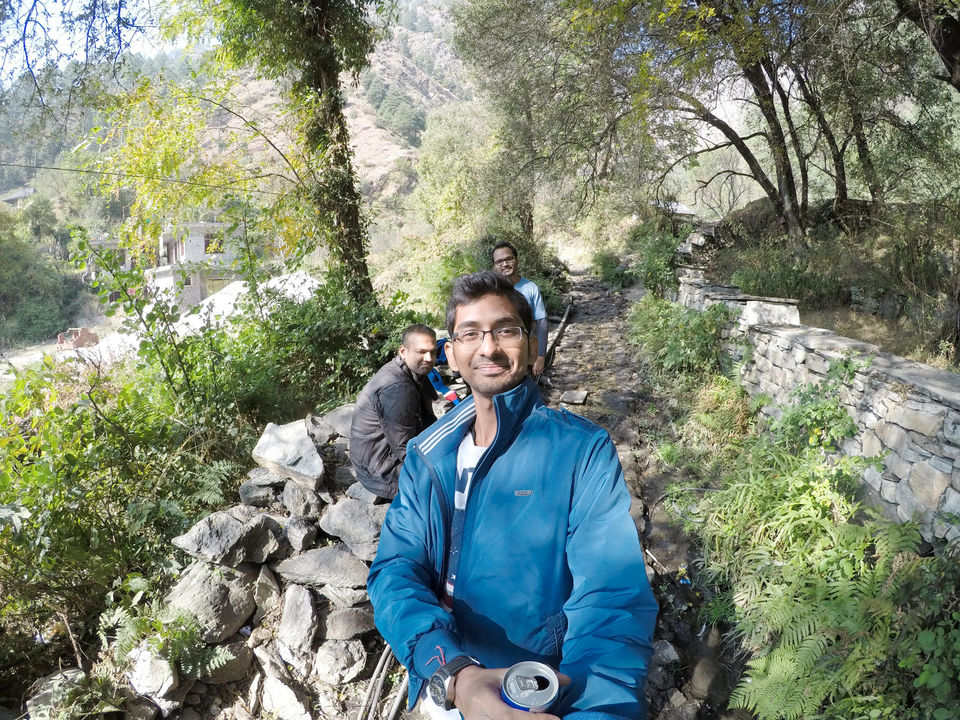 Sunsets at Kasol are quite enchanting if you choose a nice vantage point to see the mountains bask in the golden rays.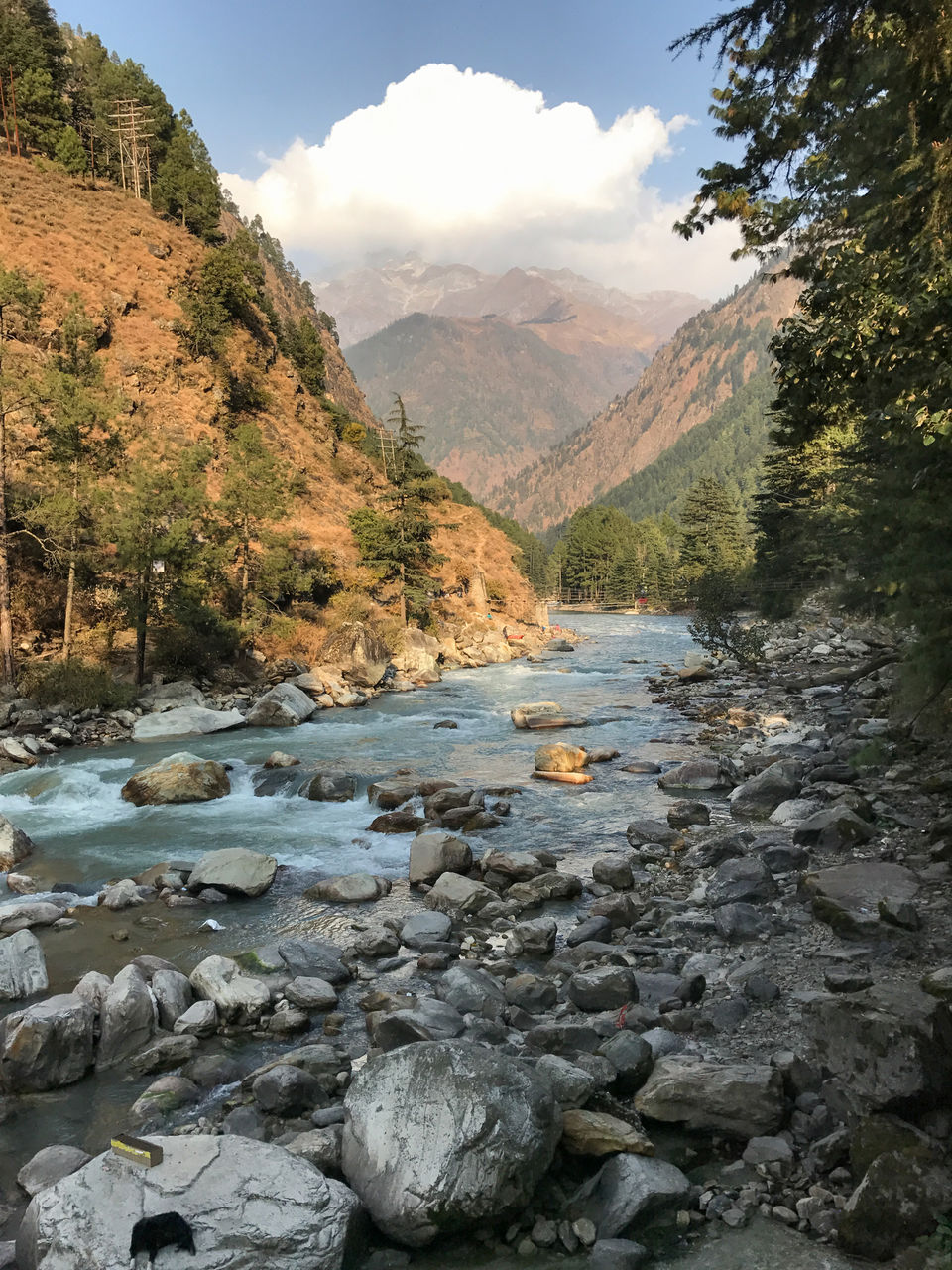 That night I field-tested GoPro's night photo capabilities.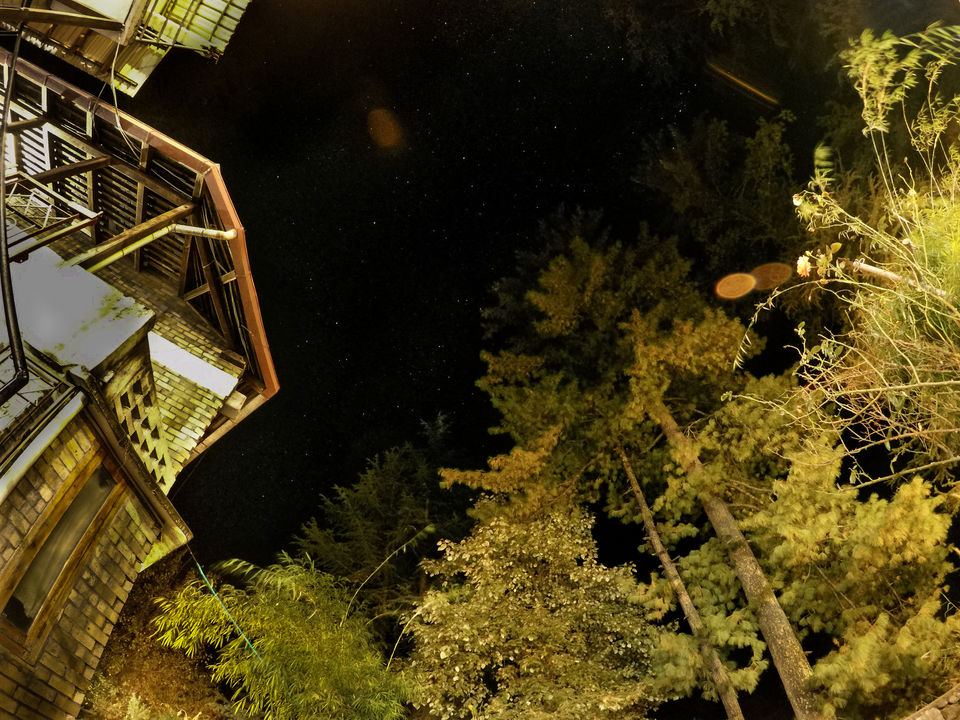 The picture suggested I need to read the instruction manual carefully.
Day 2 - Don't say cheese
We woke up at 10 AM and got ourselves a taxi towards Malana.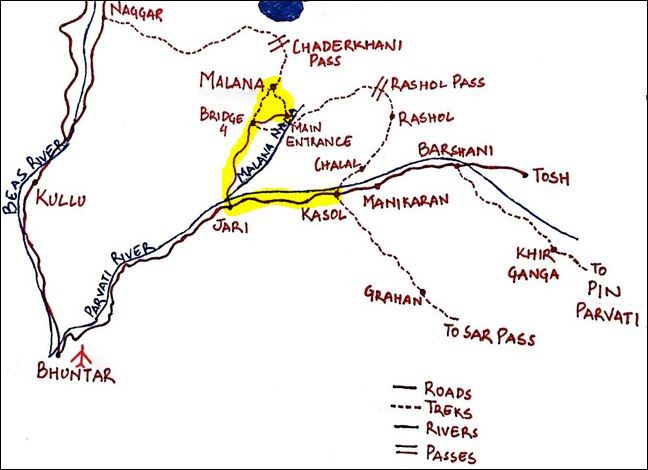 As the taxi rates are standardized by a Union, it's a relief to get a taxi without much hassle. If you're travelling solo, HRTC is the way to go although the frequency is very less.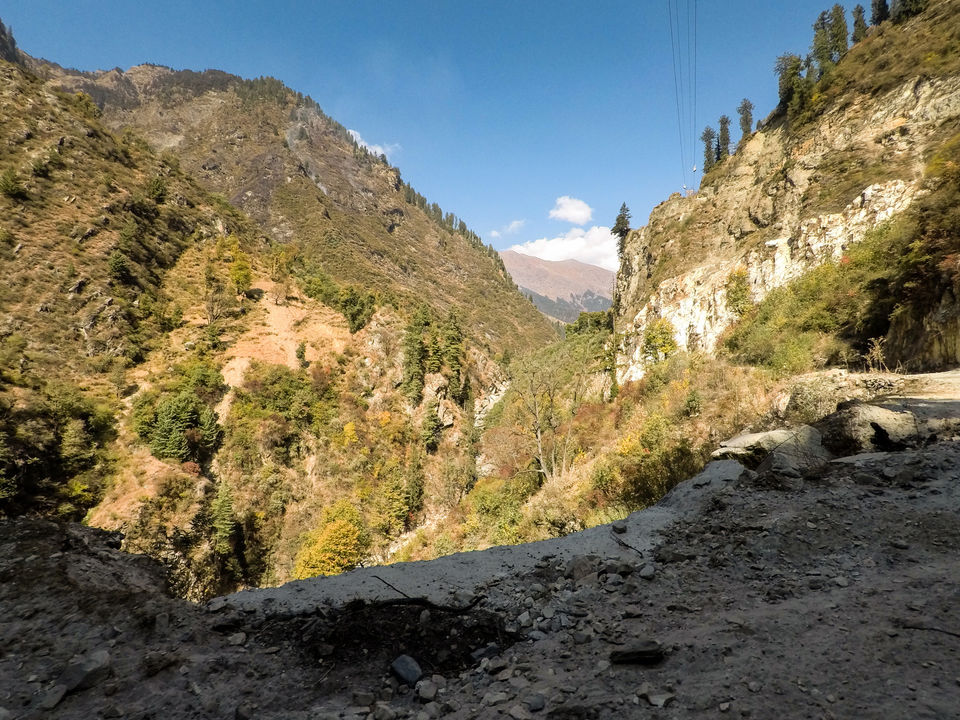 The driver dropped us at the entrance and we started the grilling journey to Malana which is a small quaint village perched on the side of a mountain.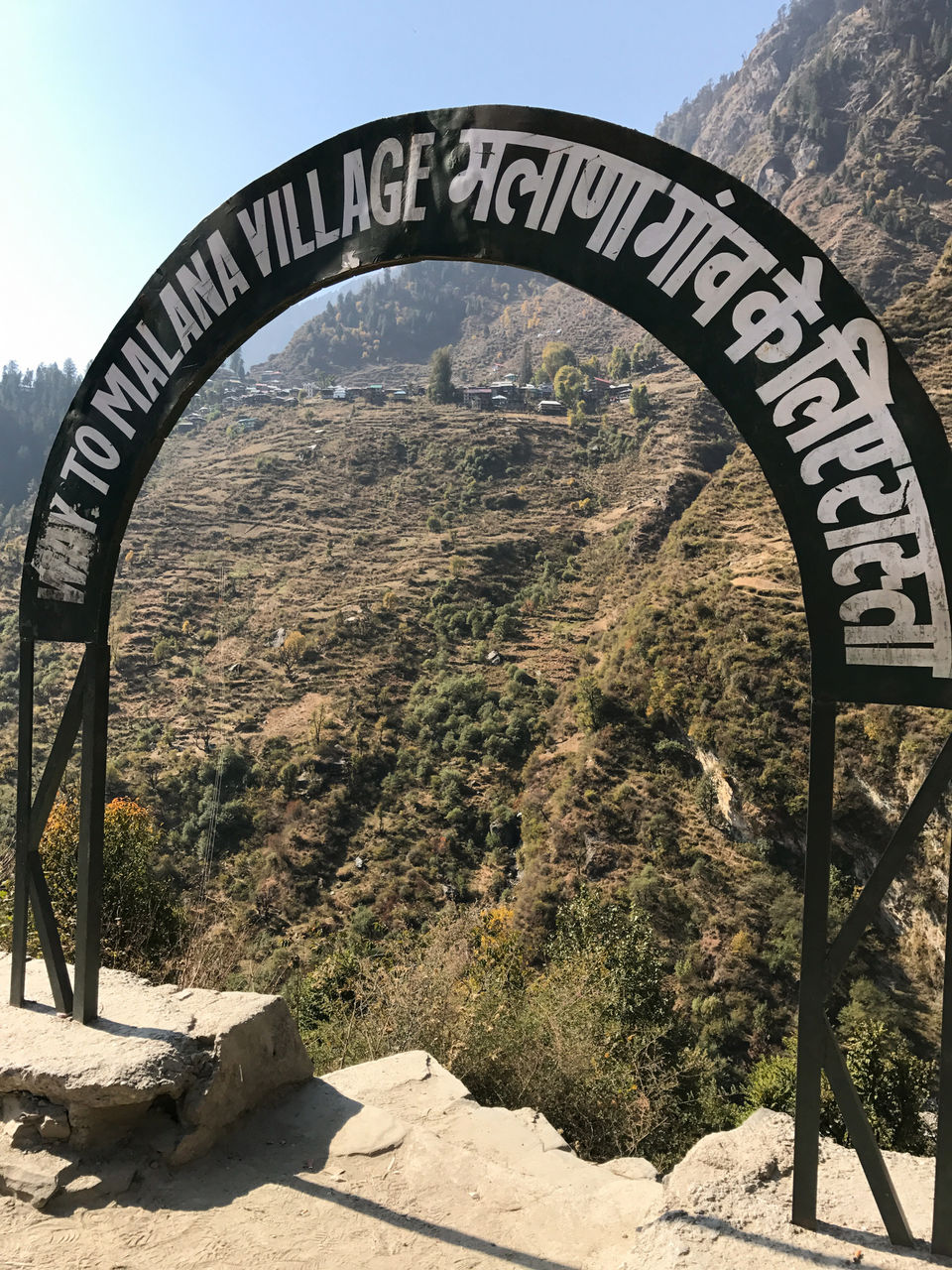 The difficulty level is easy-moderate as the rugged and uneven trail takes you downwards to a small bridge from where you climb your way towards the scenic village.
We got the lay of the land(read mountain) after an odd 15 minutes and it was not a prettiest of feelings provided we came here to relax. Dump your luggage at your hotel and keep your belongings to a bare minimum, which includes a couple of water bottles to say the least.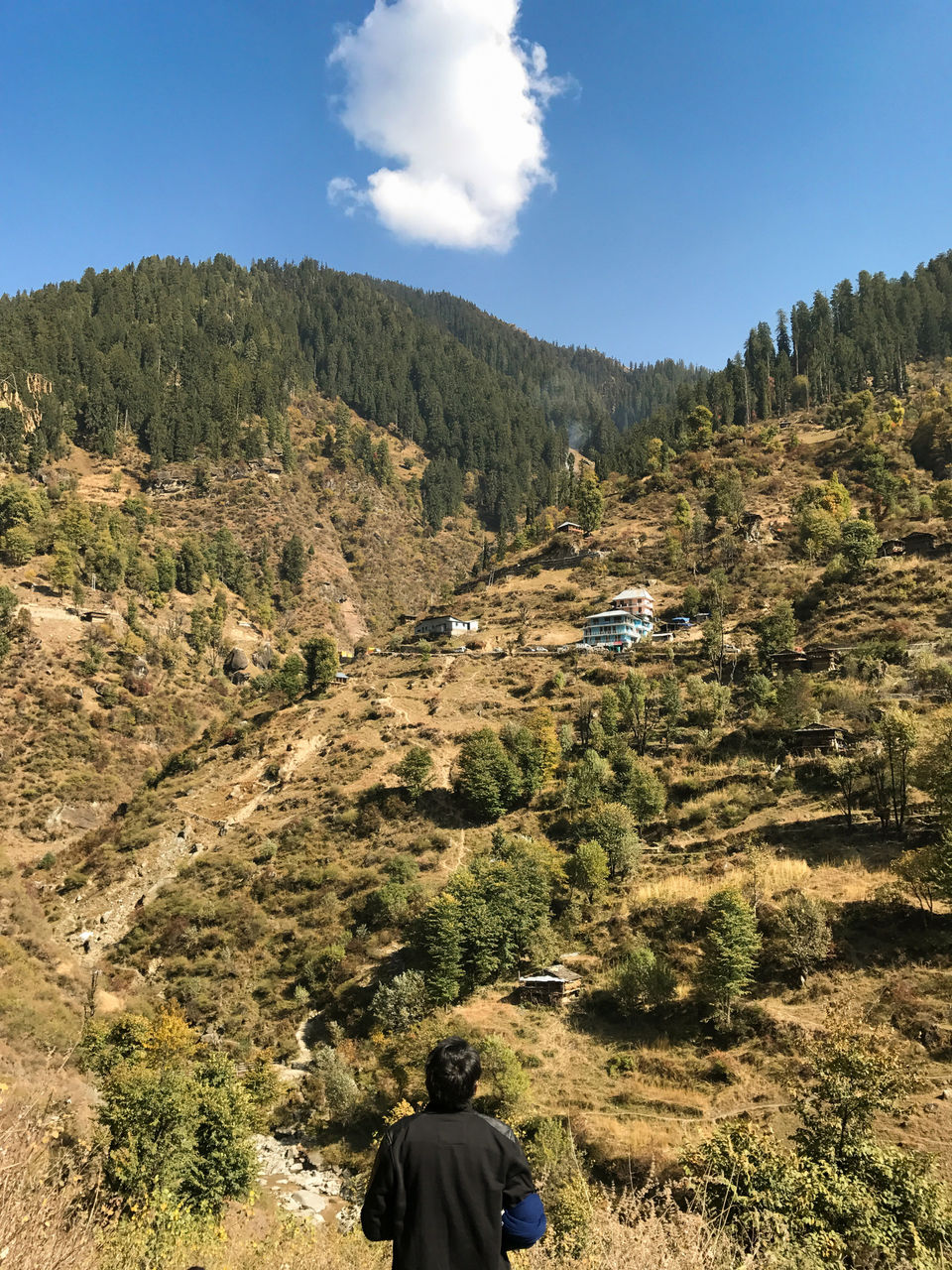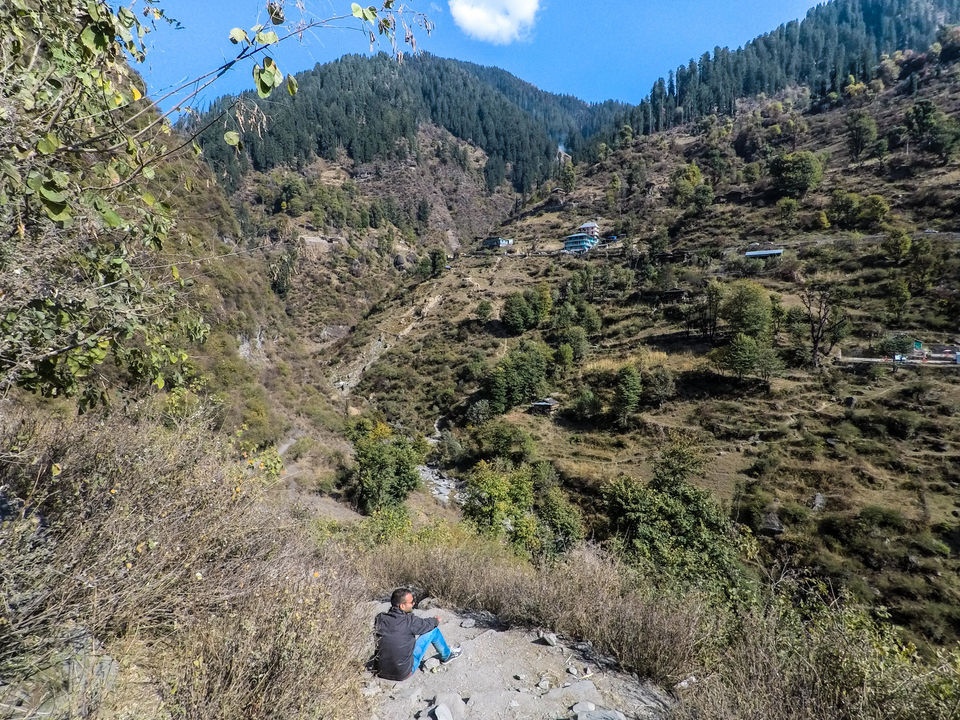 It took us a little over an hour to reach the village. I was specifically shouted from a fair distance by 2 women for taking a picture. The kids don't have a Masters in hospitality either. So it's best you respect their privacy and tread your way carefully towards the top after crossing the village.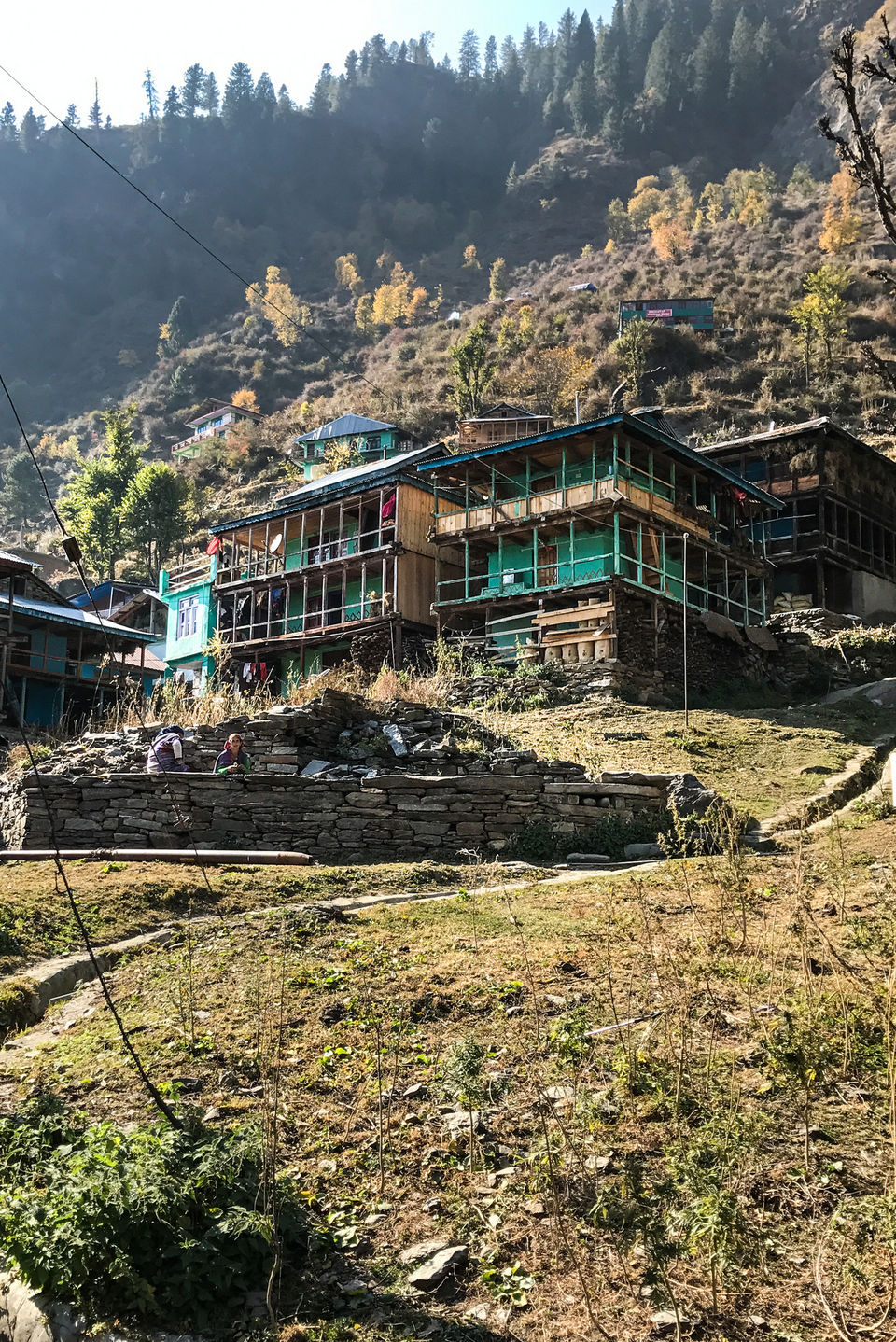 TIP: Do not take pictures when you are in the village.
The hike is moderately difficult as it's mostly steep so ensure you have a sturdy pair of shoes due to the presence of slippery surfaces every now and then.
The first couple days in the mountain make you feel like a puppy who just got adopted into a loving family.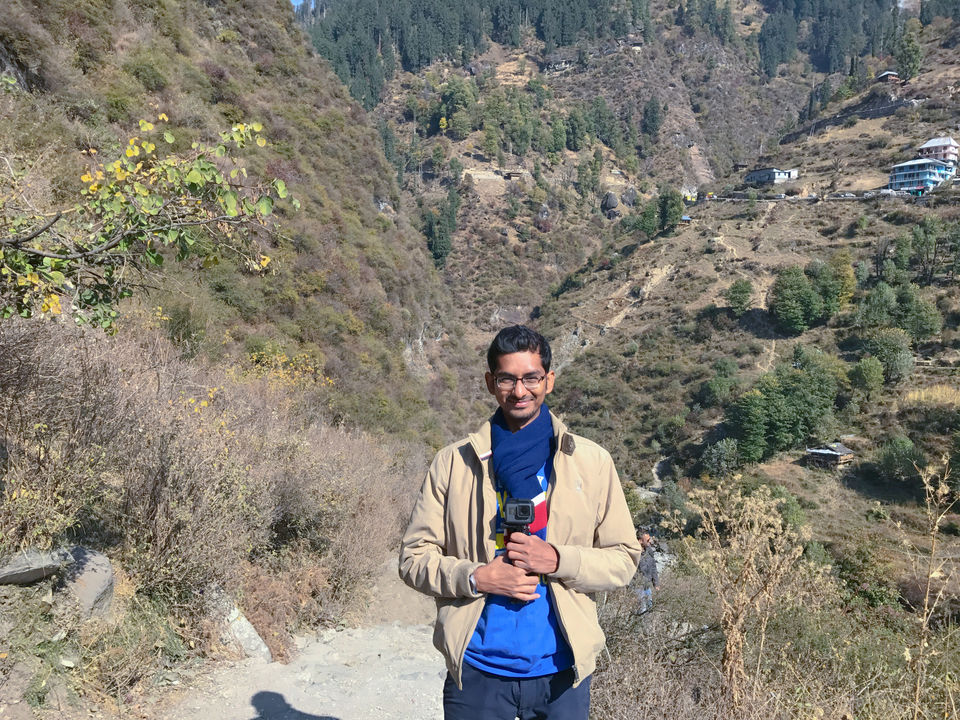 We reached the Dragon Cafe which has a splendid view of the entire village enveloped beautifully by the mountains. It's highly advisable to hog whatever the menu offers like we did.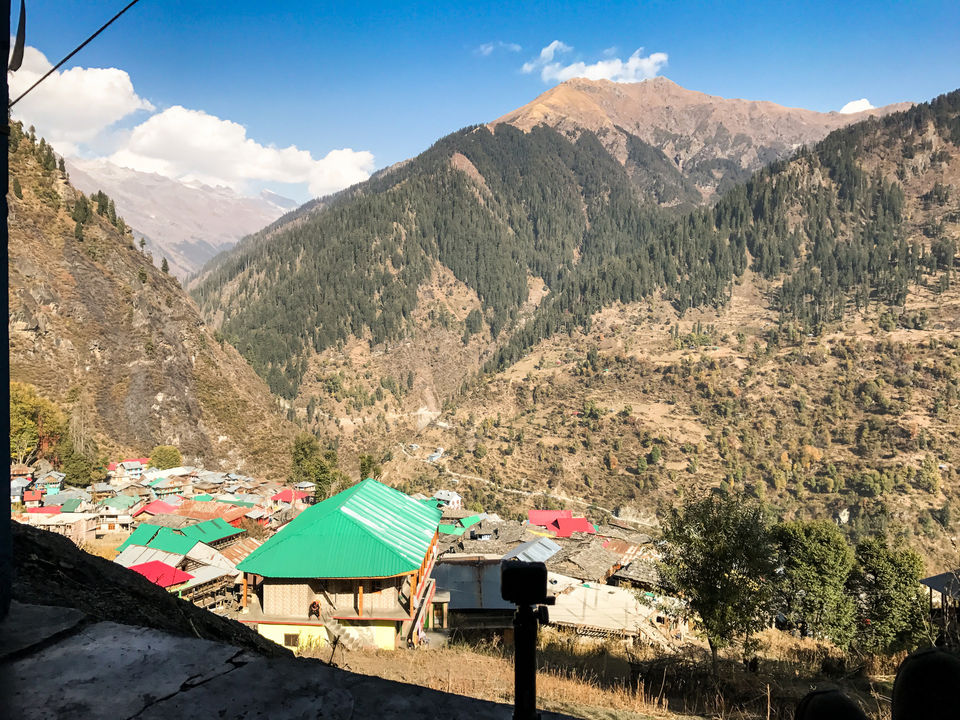 Battling my curiosity to know more about the village, I started a conversation with a local at the cafe and he told me there were approximately 350 houses in the village which had a school and a dispensary. The people consider outsiders as untouchables and follow their own cultures.
The return journey wasn't a cakewalk either and I was discovering the presence of muscles which I felt never existed. The village sprawled over a small mountain had enough vistas, a portion of which I was able to capture.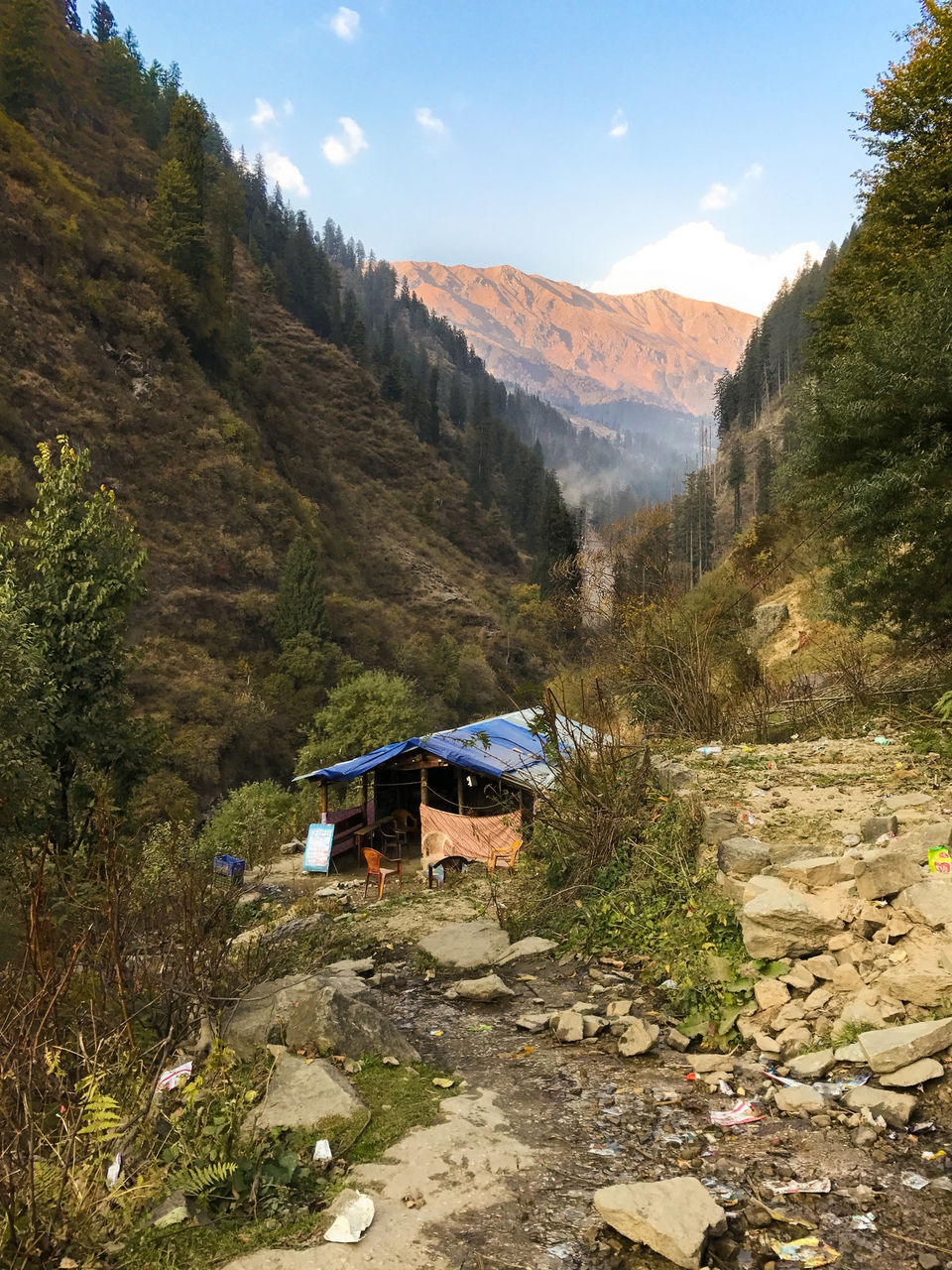 TIP: Malana is a day's trip as there are only a couple places after crossing the village where you can find a place to stay. In my opinion, you could use your time in other places of the valley to wake up to mountains.
After exactly 3 hours we reached the point where the taxi dropped us off. We headed back to Kasol for our onward journey towards Tosh.

We left Kasol at 6 PM and it was already dark when we entered Tosh at 7 PM. We did not have a chance to recon for hotels so we hiked all the way up to Pink Floyd and that's one journey you do NOT want to take in the dark.

Day 3 -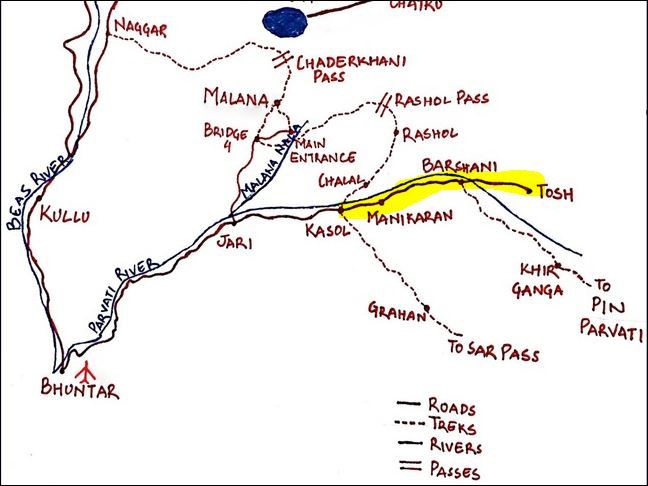 This day was kept reserved to do nothing but eat and sleep in a hotel offering a vista like no other. We did not hit a jackpot per se but Pink Floyd DID offer us a nice view. As a force of habit(during non working days) I woke up at 7 AM to watch the sun rise above the mountains and paint the entire village in the hues of gold and orange.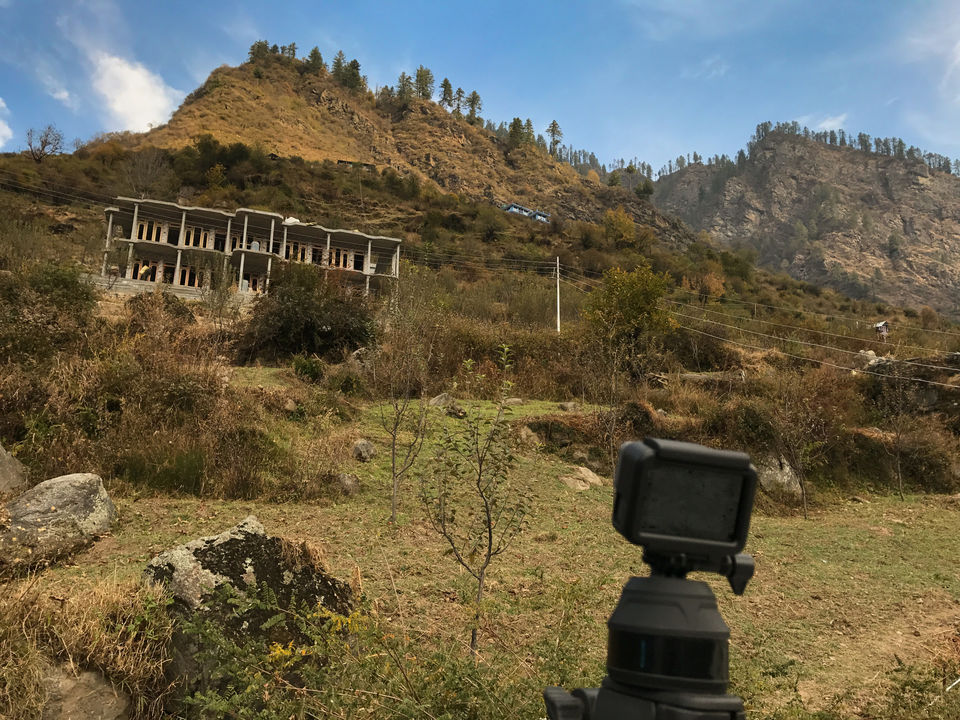 I shot a series of time-lapse videos which I'll share in due time.
The terrace of Pink Floyd doesn't have a boundary but it sure offers a spectacular bird's eye view of the mountains. I wouldn't highly recommend waking up early to witness a sunrise. Or a sunset. Or even sleep through the day and night. Nobody judges you here.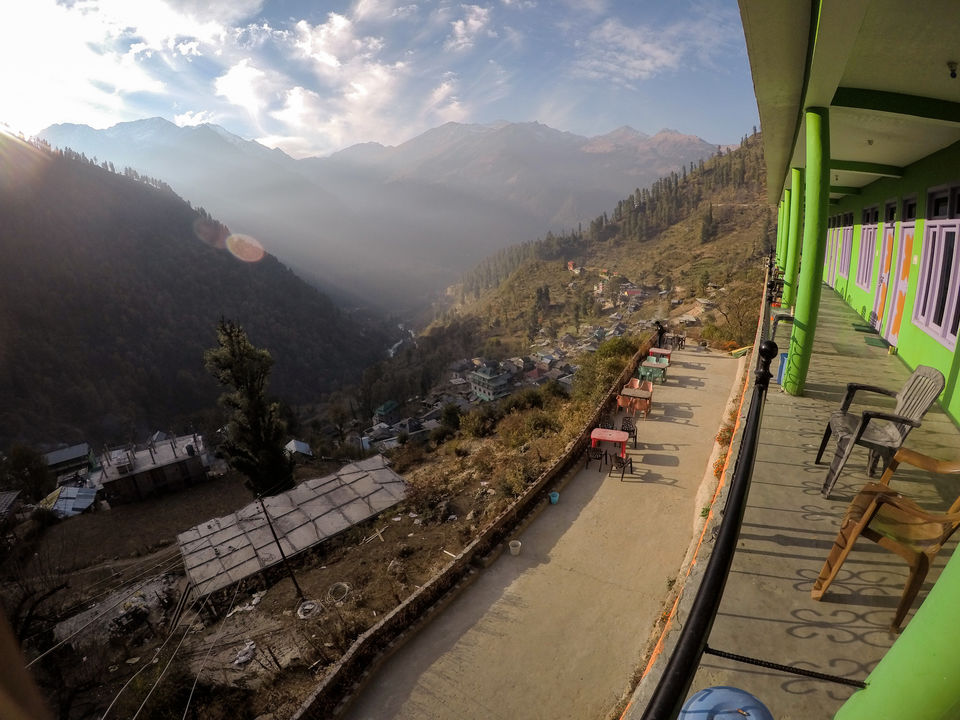 Maggi and Chai are the staple food here just like rest of Himachal. Do not fret if it doesn't appeal to your taste-buds, you are destined to have a better version an hour, a valley or a mountain later. And eat nutella pancakes. Definitely nutella pancakes.
Shortly afterwards we checked out from Pink Floyd and shifetd to Hill Top Cafe which didn't disappoint us in terms of comfort and an 180 degrees view of the Valley.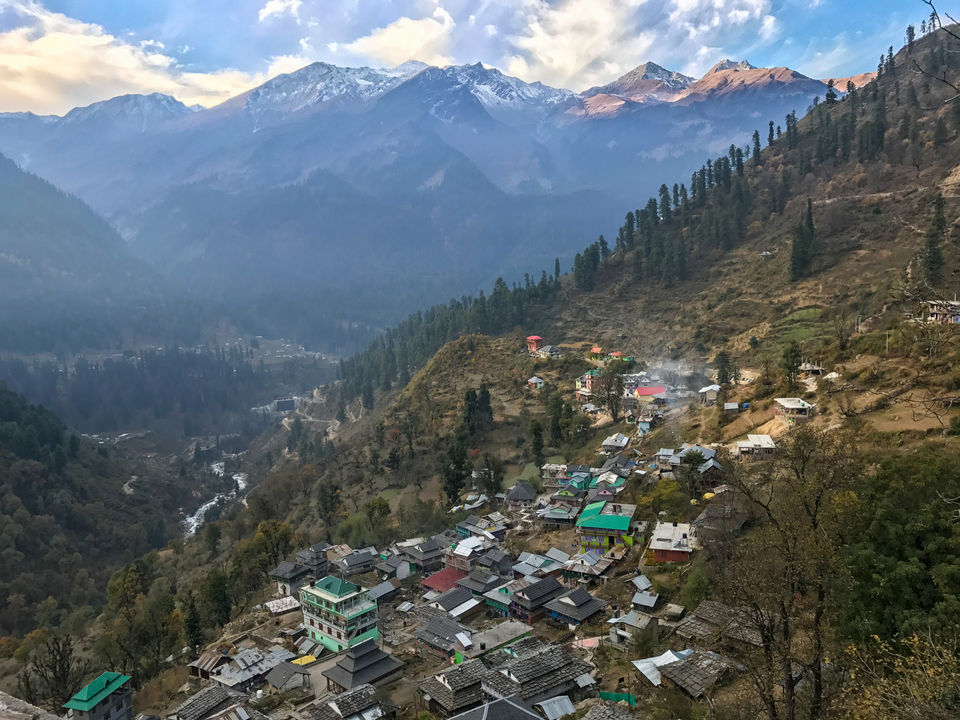 If you're in Tosh, this is the hotel you want to do absolutely nothing at besides the usual.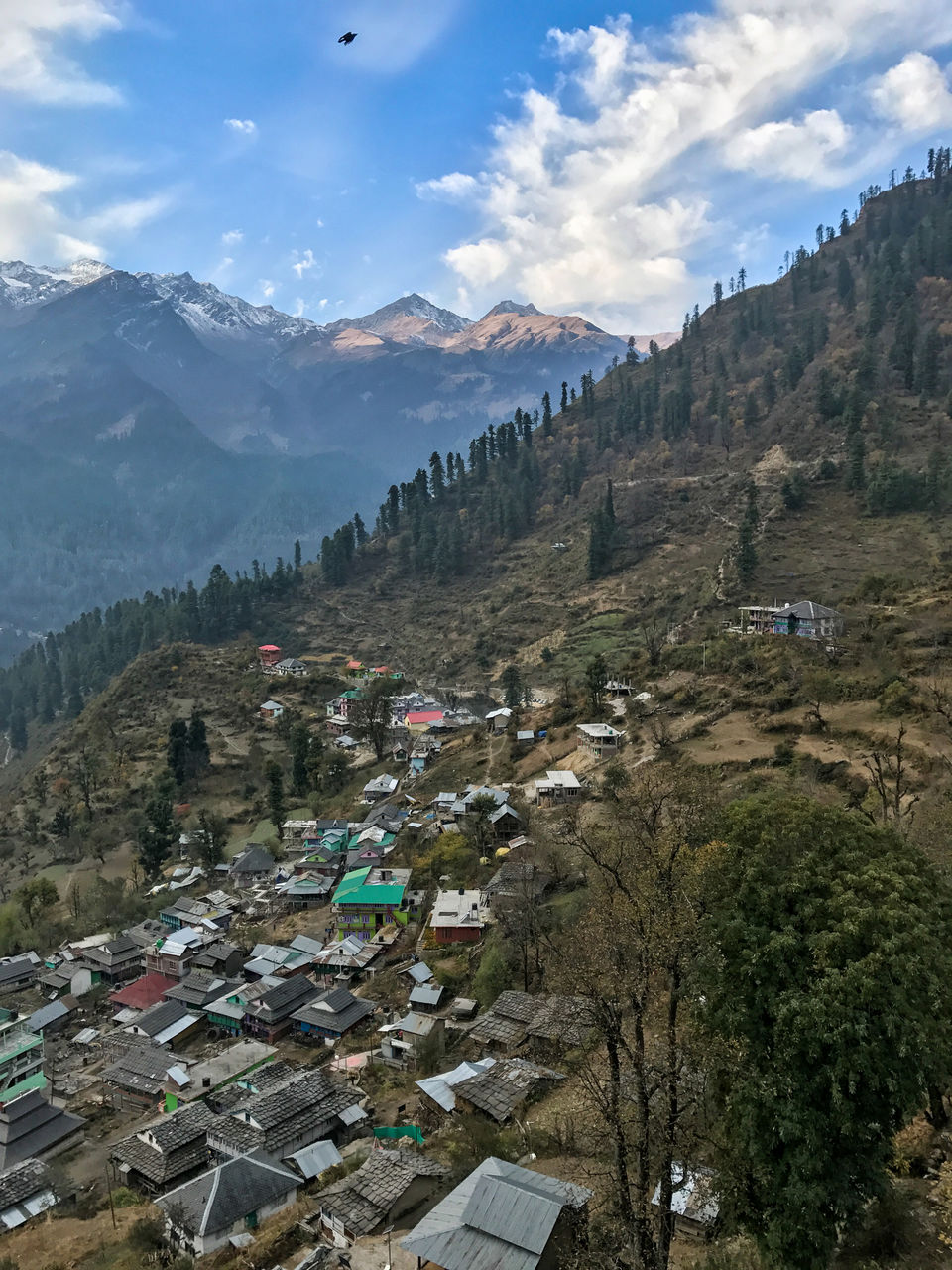 These pictures were taken early morning while I waited with icy cold hands for a cup of steaming hot tea. While I waited, I was greeted by a furry companion which clearly didn't have any concept of personal hygiene, but then again who am I judge.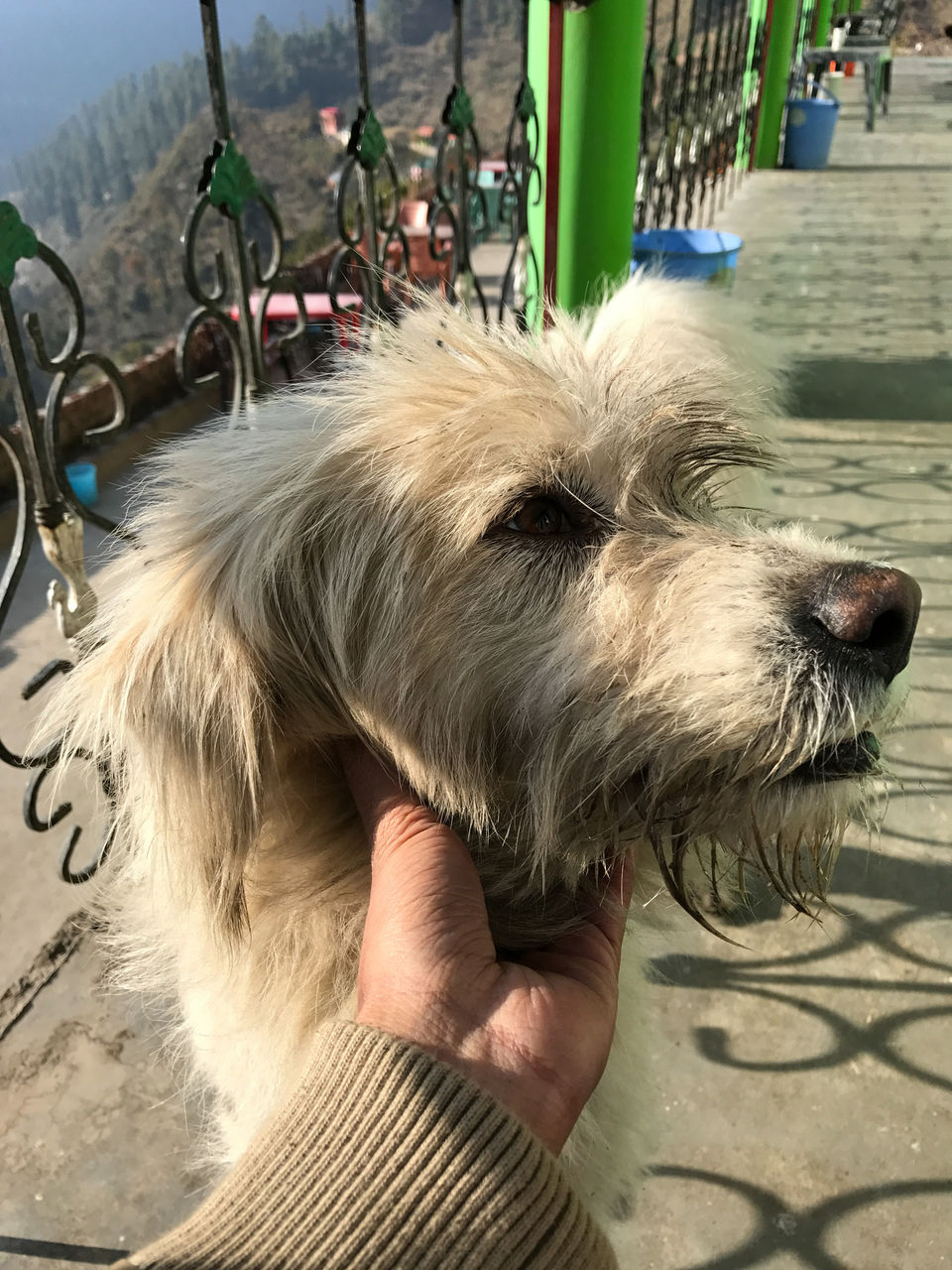 Or if you are the one for dogs, I suggest you make yourself comfortable in one of these with a book in hand. An actual book. Or you can bring your work with you, we'll just stare from a distance and judge you miserably.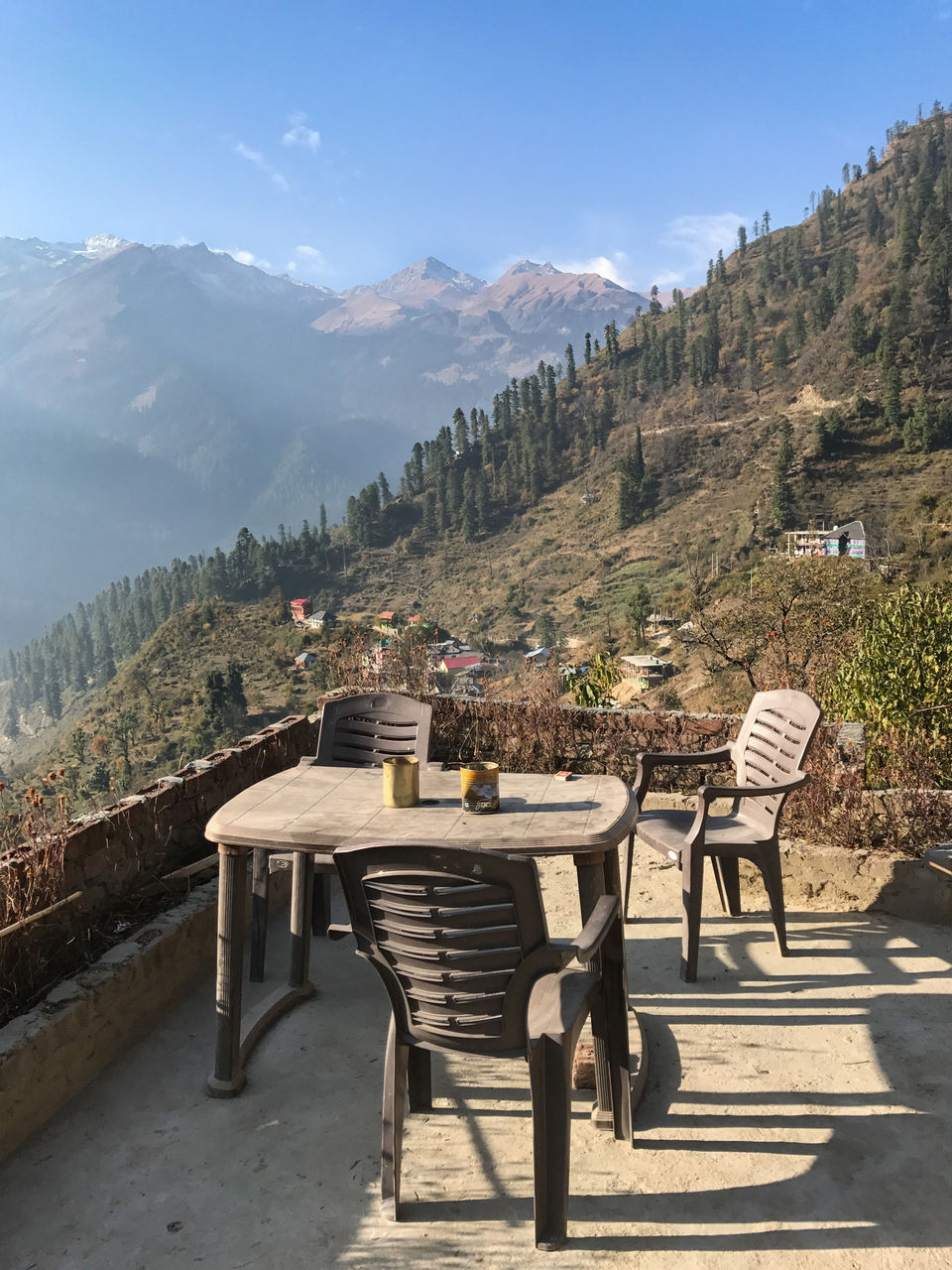 Or you can also take a stroll around the village and shop for handicrafts. We were here in November hence the greenery wasn't exactly at its peak.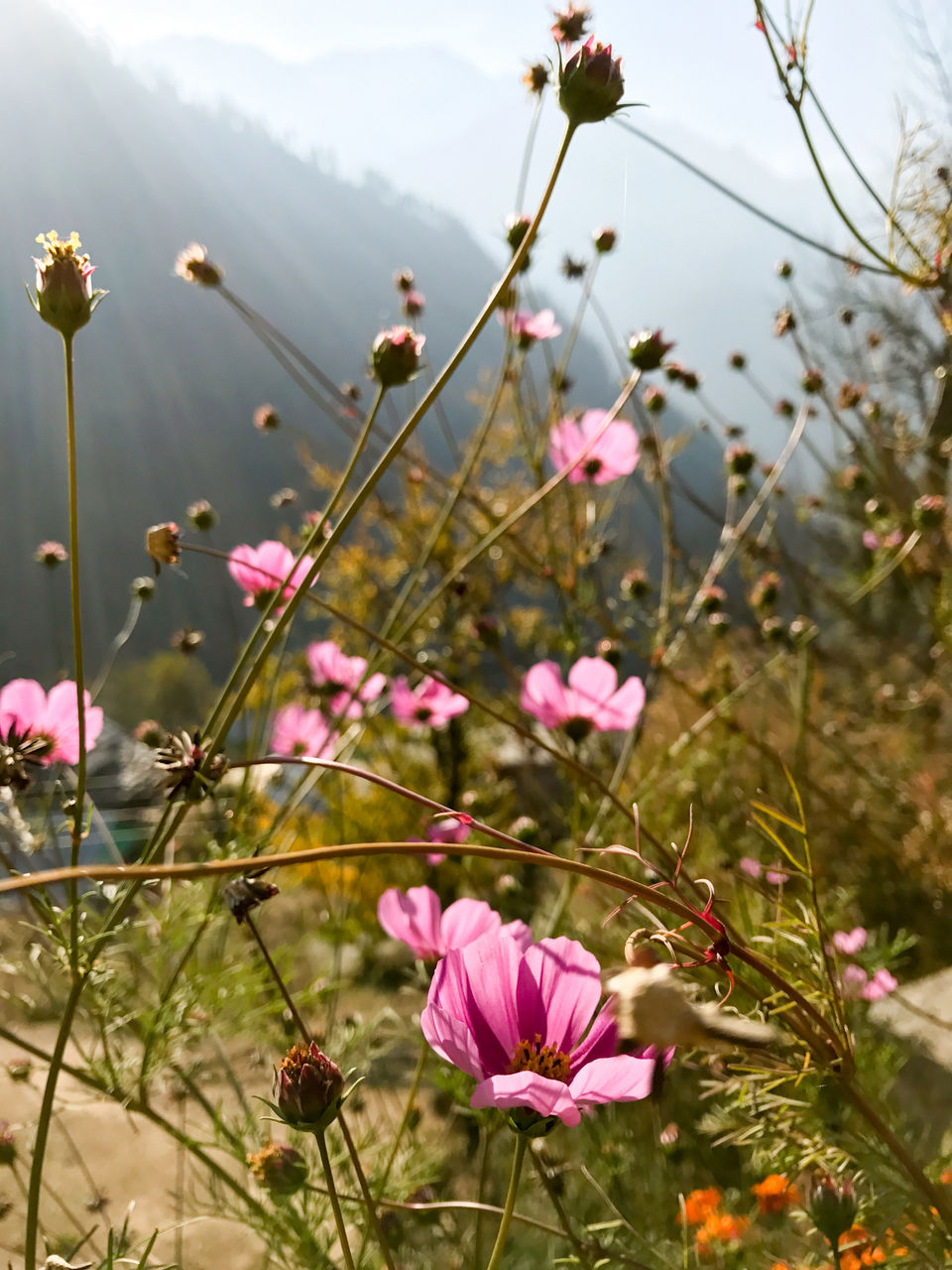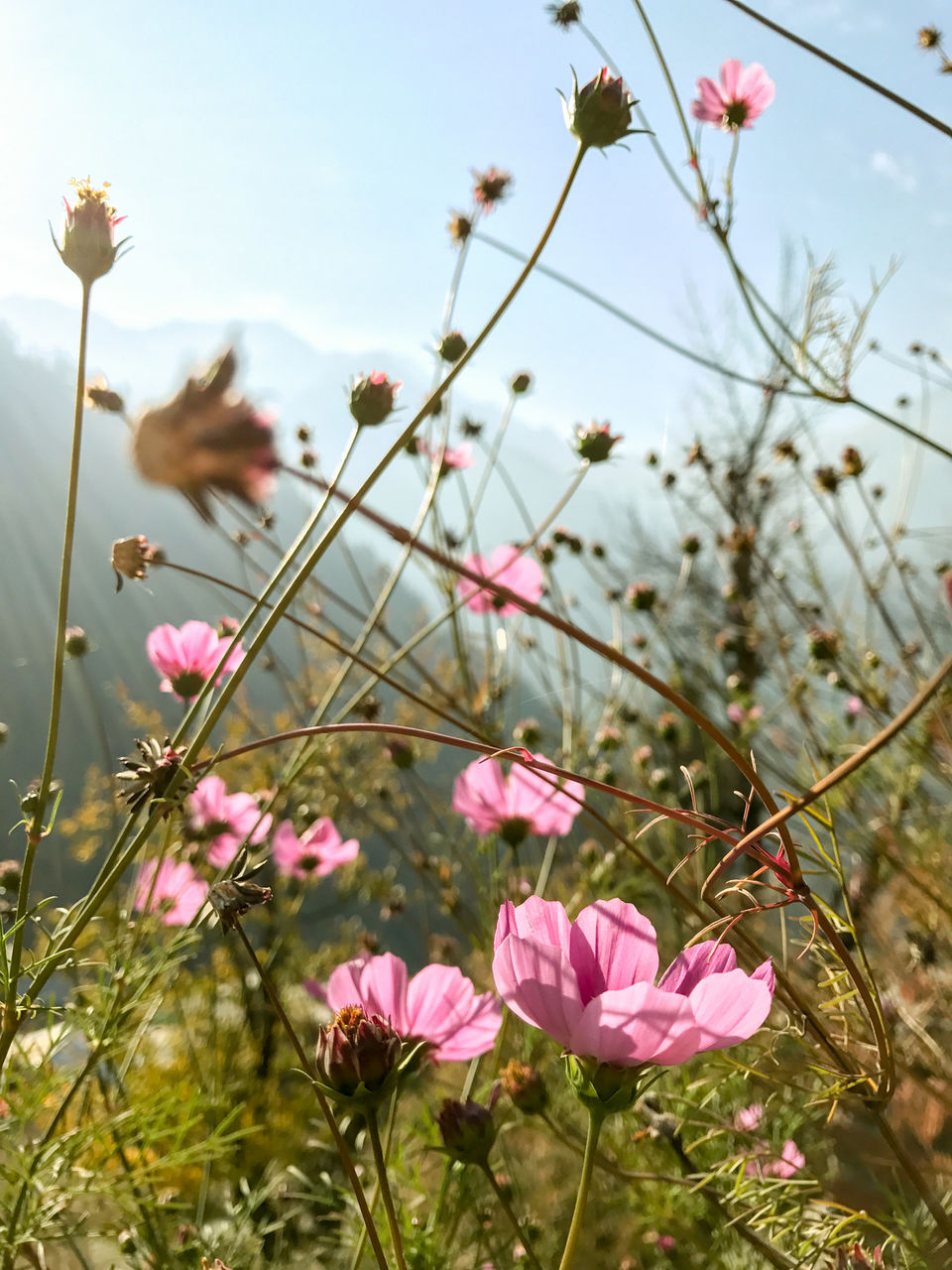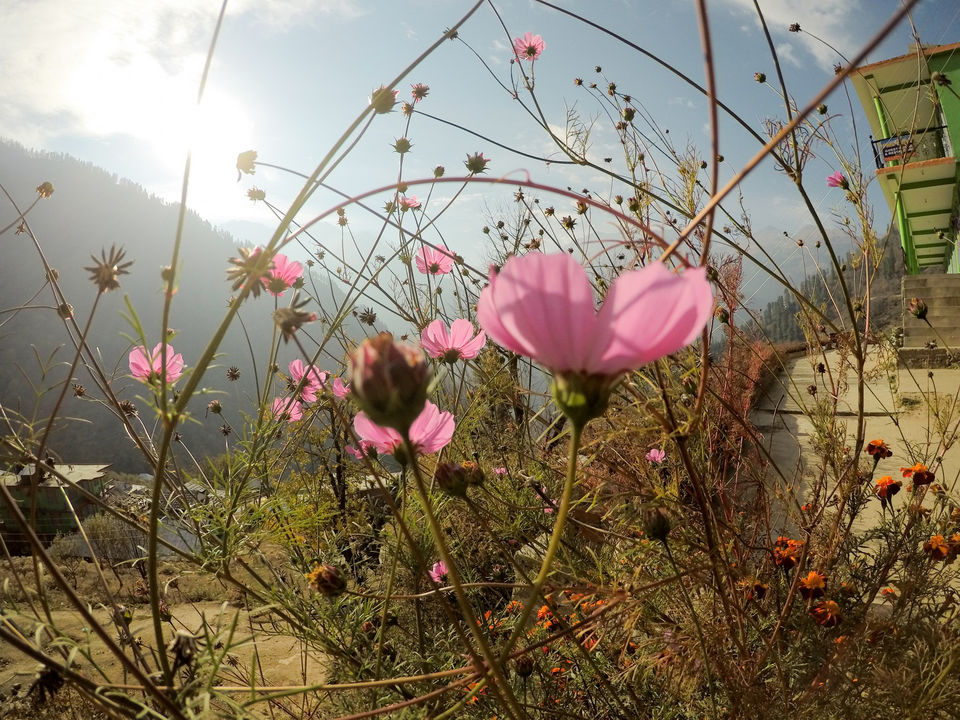 Day 4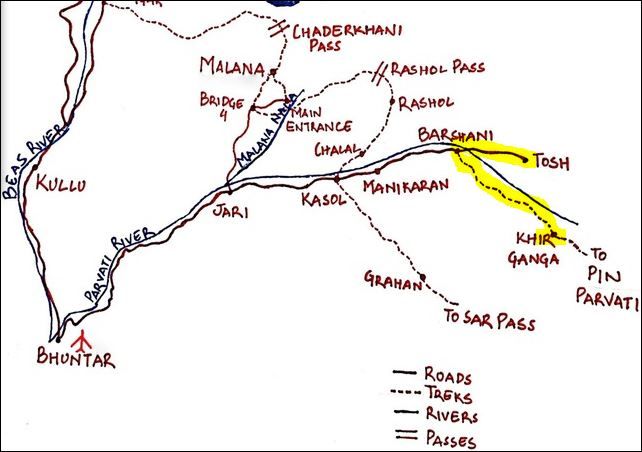 This was the day we were all excited (read dreaded)for as we had planned a night's stay at Kheerganga which is a 12 km trek from Barshaini(4 km - can be reached via a taxi.)

The beautiful sunny morning looked promising and we were (not at all) ready for the most excruciatingly long trek of our lives.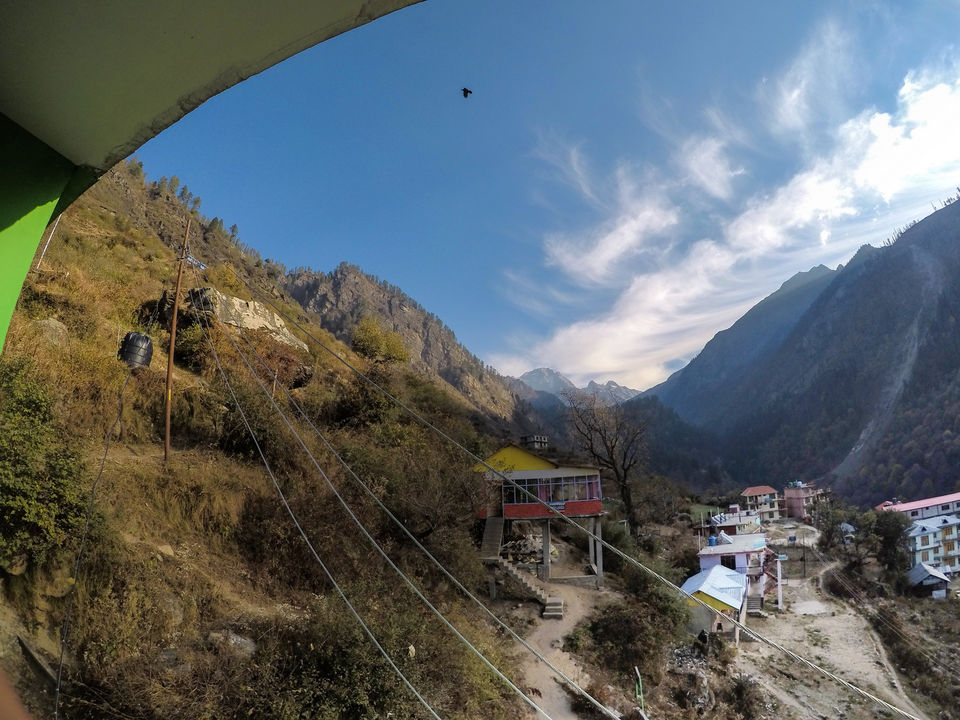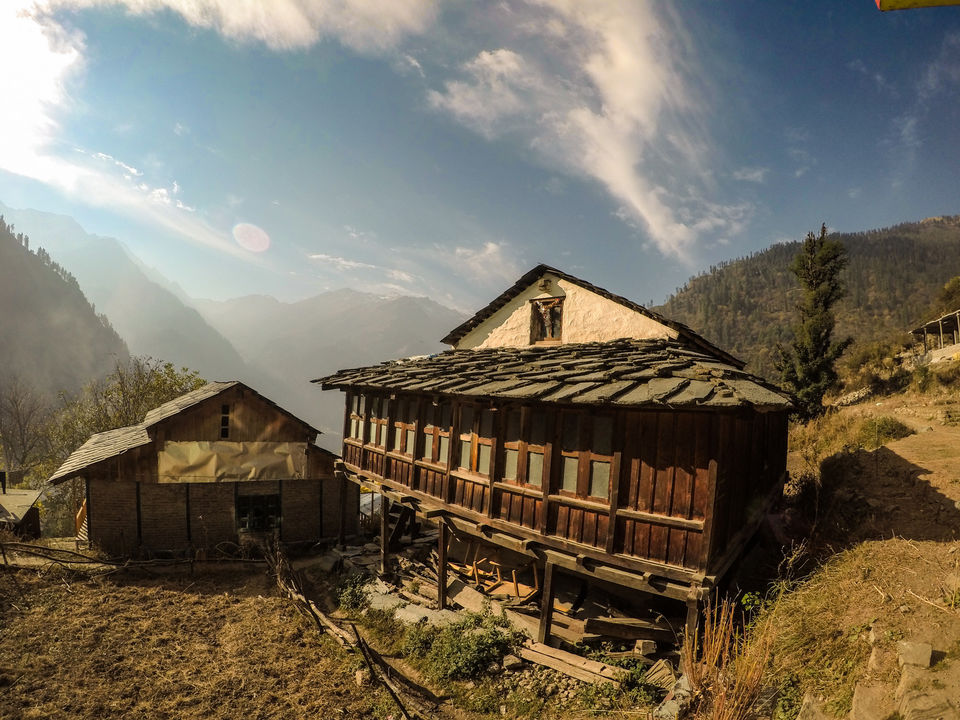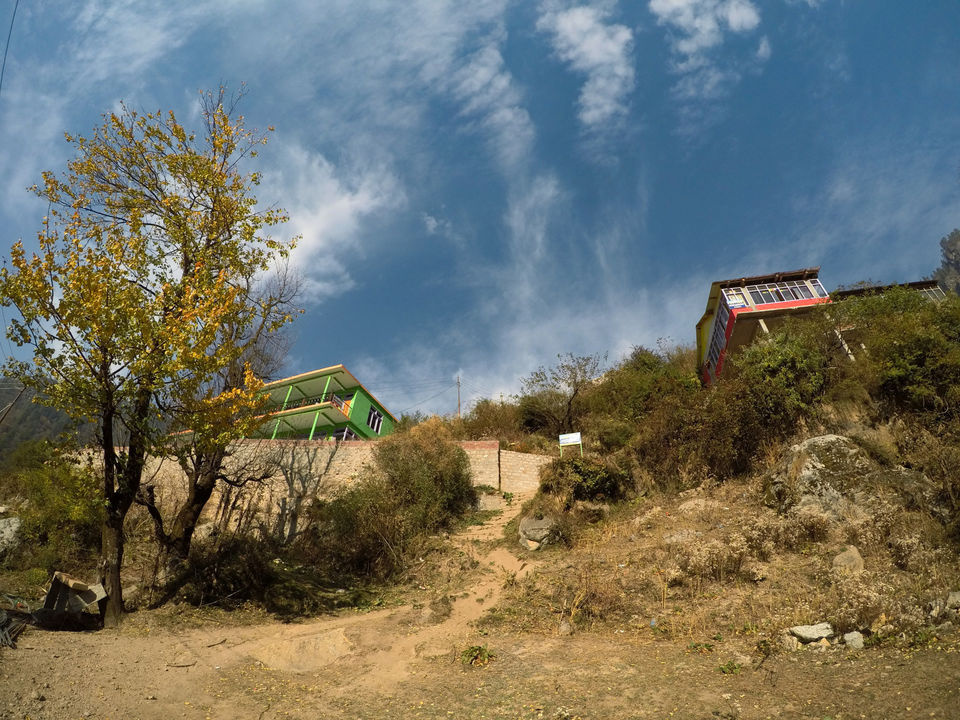 TIP: It goes without saying that do not drink heavily the previous night as the trek is a test of both mind and the body.
We hailed a cab from Tosh towards Barshaini at 9 am. The taxi danced to the tune of mountains as the road was in a medium worse conditions in some places. We reached an under construction Dam which marks the start of the 12 km hike to Kheerganga.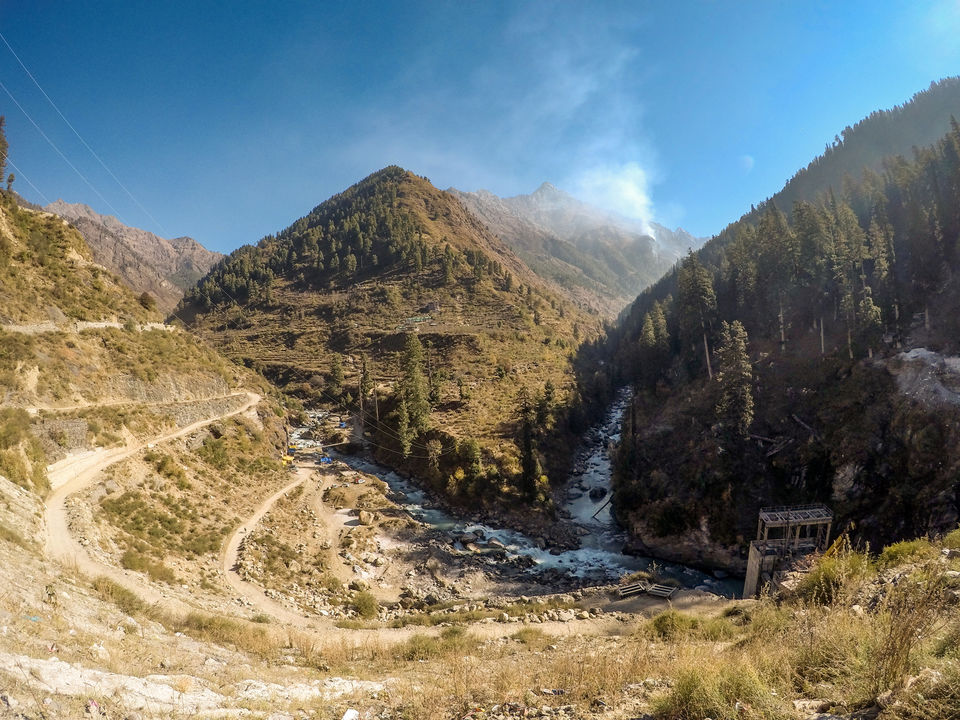 There is a small restaurant where we stuffed ourselves with Breakfast and equipped ourself with walking sticks.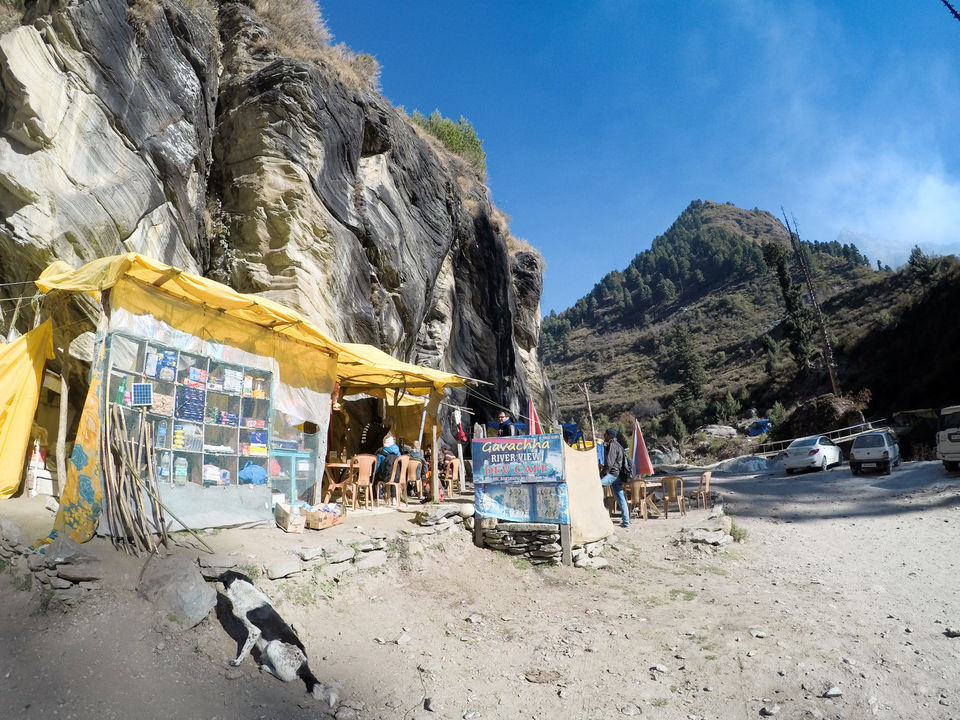 An old couple was all the inspiration we needed whenever we ran out of breath. Or a girl effortlessly gliding through the difficult trail.
This trek is rated easy-moderate but it took every ounce of courage within me to keep going.
At every nook and turn there was another challenge to climb up without spraining your ankle in an yet-to-be-invented way. Magnifying the beauty of the trail was the presence of pale orange leaves in abundance. It sure reminded me of school days when crumpling those leaves was nothing less than satisfaction. If that doesn't do it for you, the hum of the river keeps you company most of the times and you stand on the edge to gaze how gracefully the spine chilling cold water cuts through the rocks.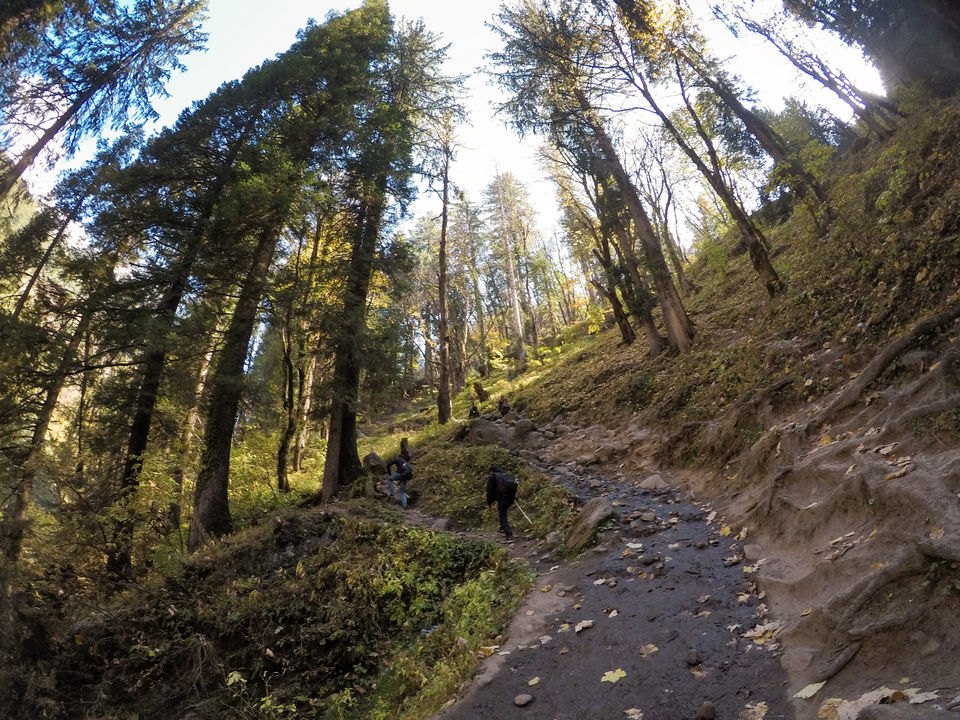 It's a common occurrence that a dog will accompany you every now and then. The only thing you have to care about is that the dogs coming from the opposite direction later on might not get amused by your newly founder friend, so it's better to pet and shoo them away.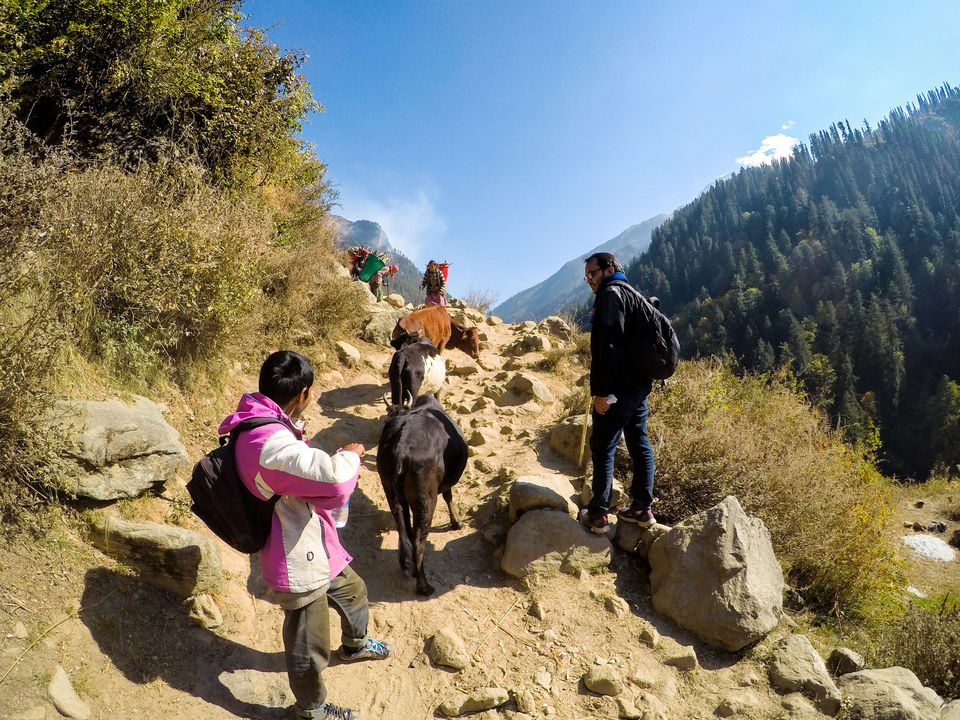 And cows, did I forget to mention them moo-creatures? You may be the wrestling champion of your locality but you'll be petrified to death when you find yourself stranded on the mountain side with a flock of them staring at you with their (gorgeous) deep black eyes.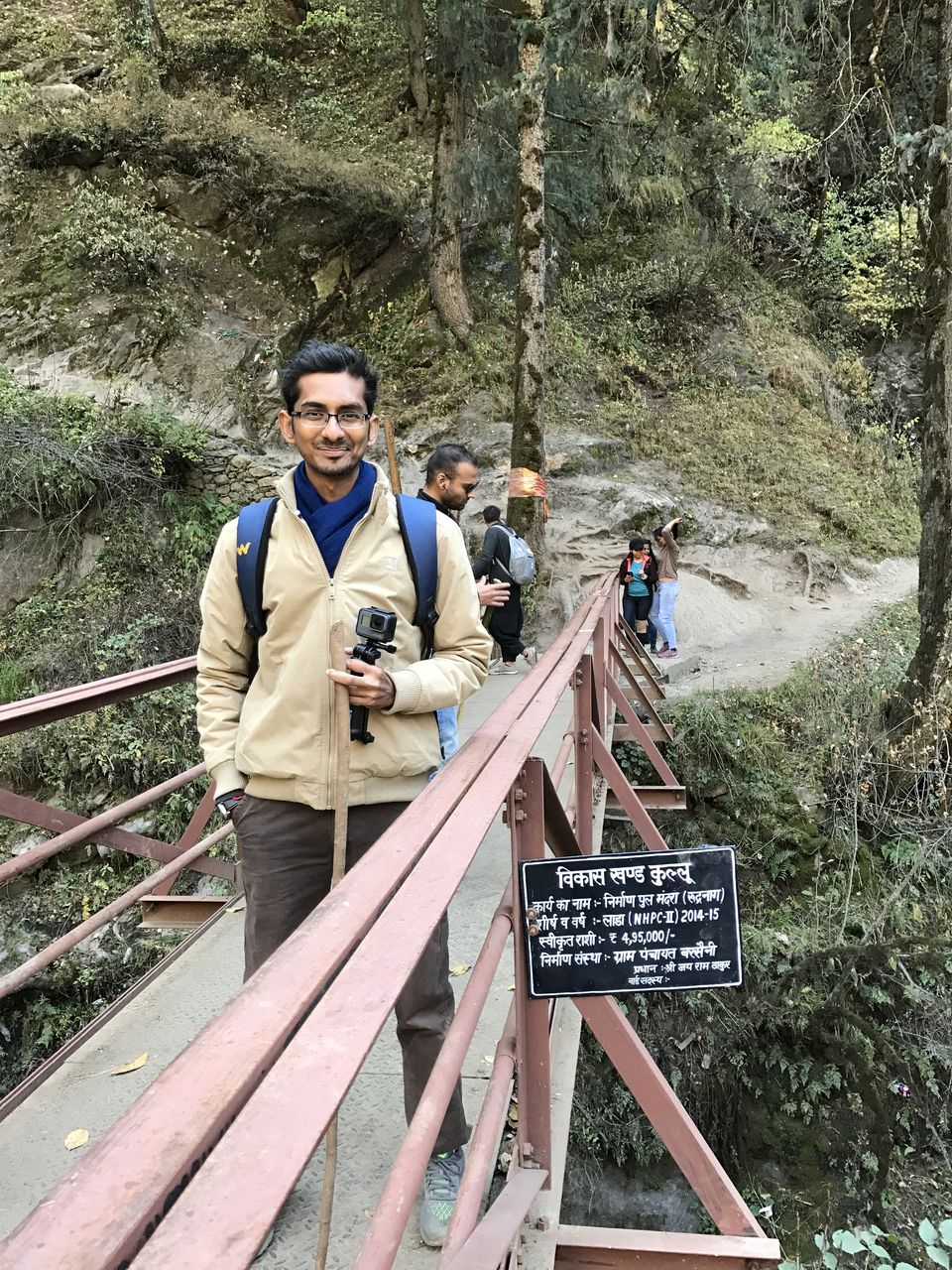 TIP: It's heavily recommended to leave everything back at your hotel and keep bare essentials with you during the trek. A good pair of comfortable shoes is a must.
As you make your way upwards, there are many places where you can halt and catch your breath and ponder why did you come here in the first place. Common necessities like water and energy drinks are not priced outrageously so its safe to keep just a couple bottles with you.
The first major halt you can take halfway in a small village called Nakthan. The kids peep out the window and smile as you pass them. Take a picture after taking due permission of course but ideal you they shouldn't mind.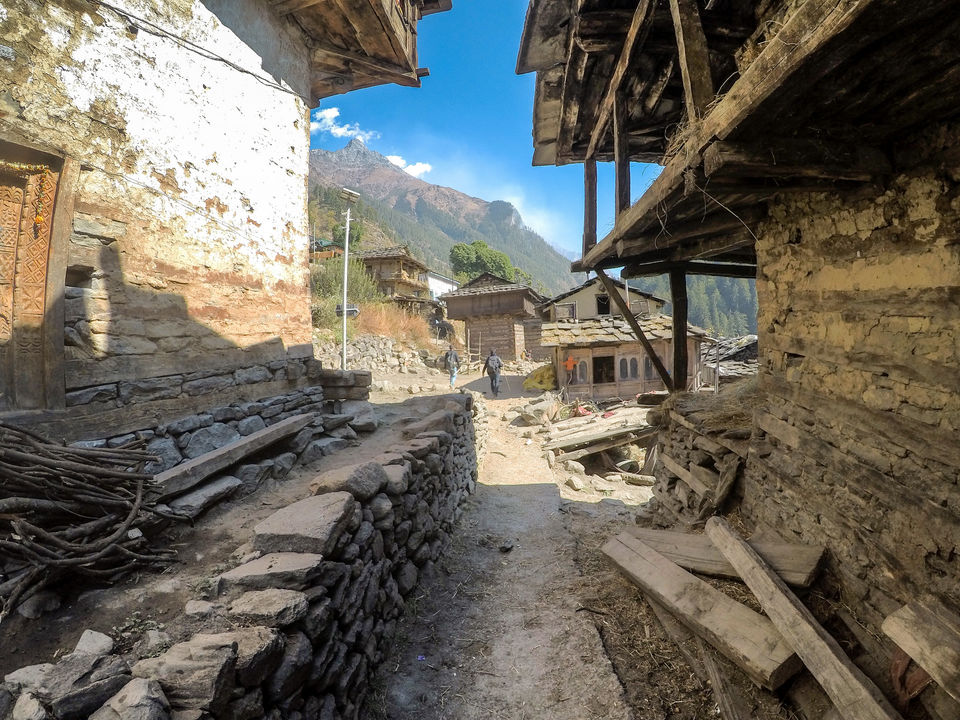 Congratule yourself when you safely pass though the village as the other half is much better in terms of scenic beauty however hard it may get at times.
The next halt we took was at Rudranag where there is a small waterfall and if you're lucky, you might get to witness a beautiful miniature of a rainbow.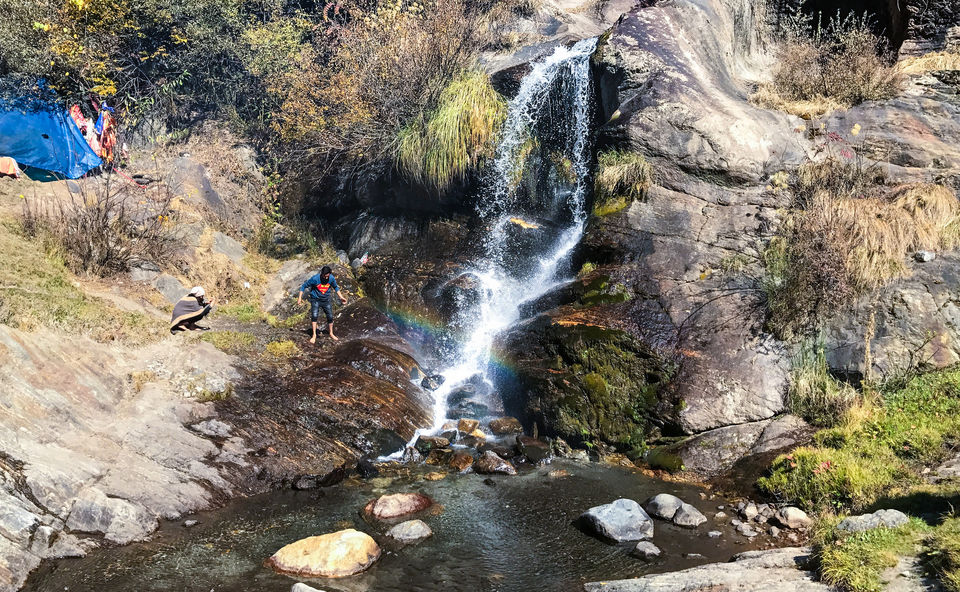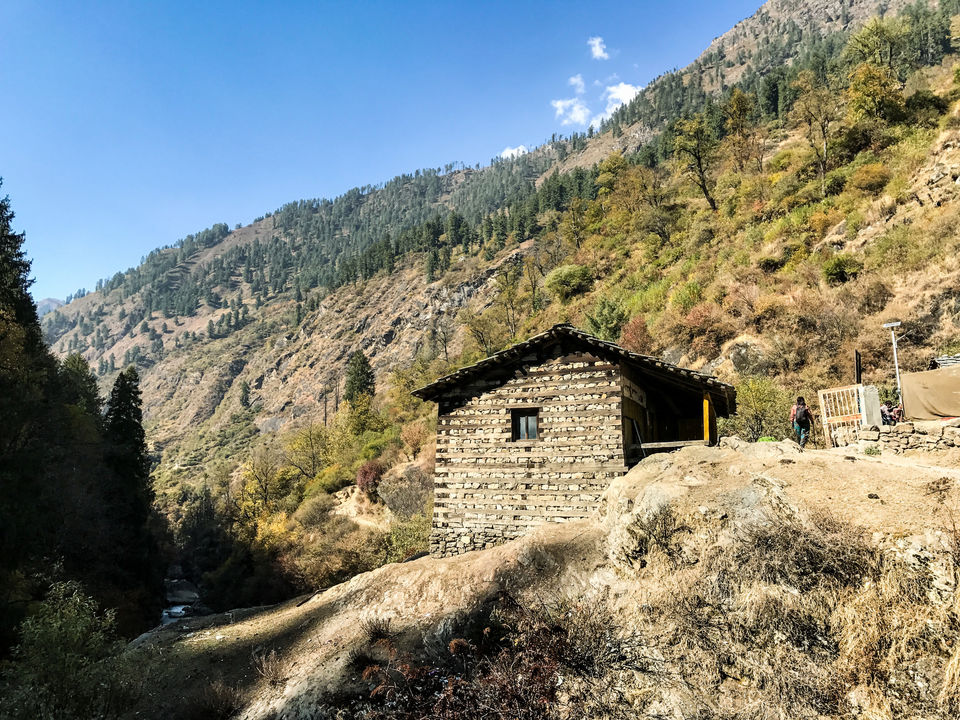 Rudranag is a clear winner when it comes to a place you have to relax for a while, even if you're 2 cans of Redbull down.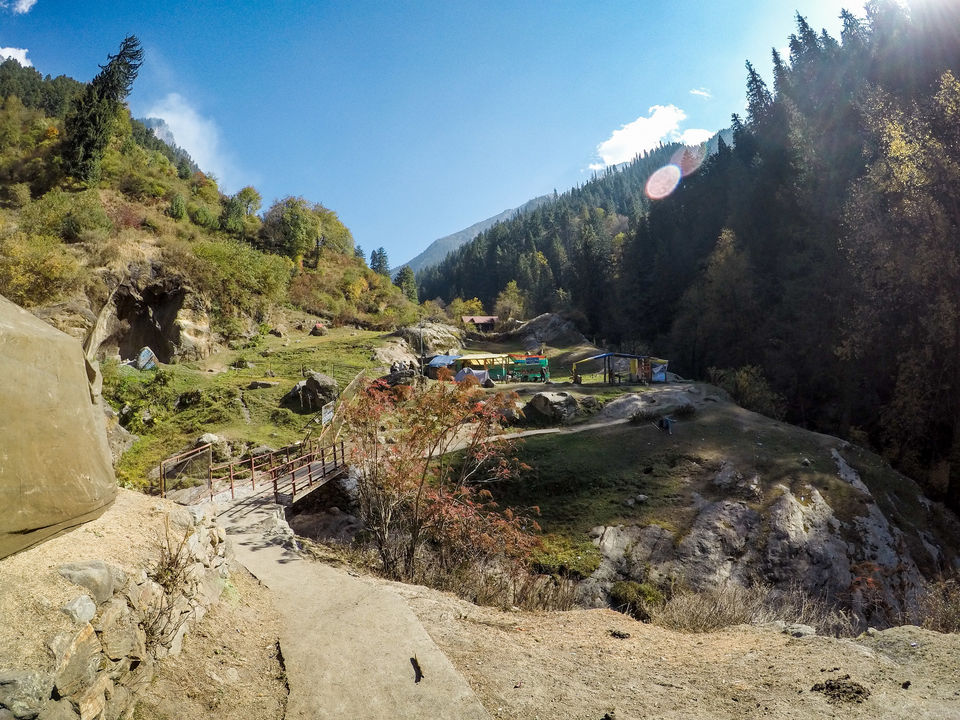 If the spot is empty, feel free to lie down and if you're feeling adventurous enough, tie a rope around yourself and roll yourself down the plateau.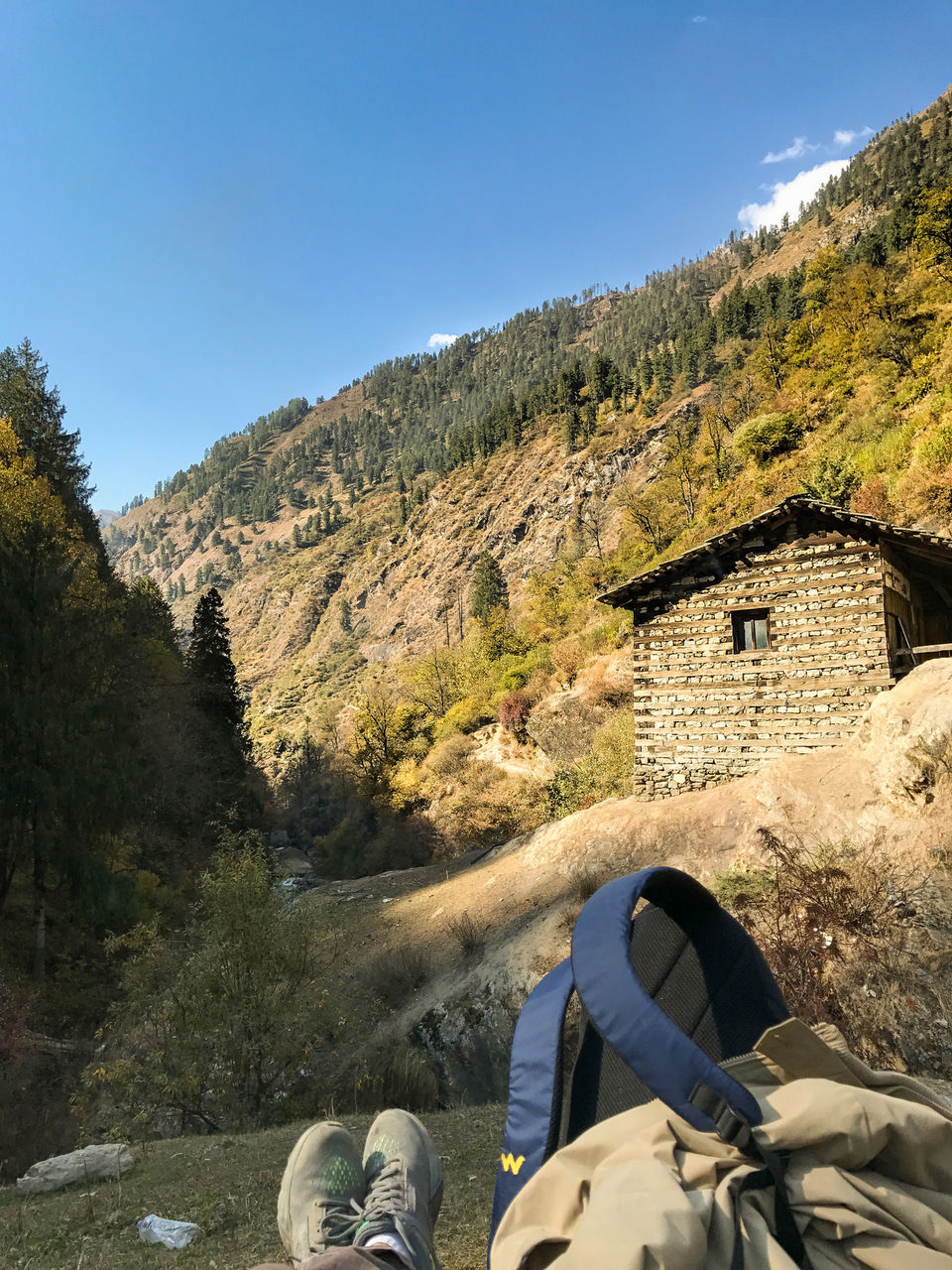 Please don't do that, it sounded more fun in my twisted mind.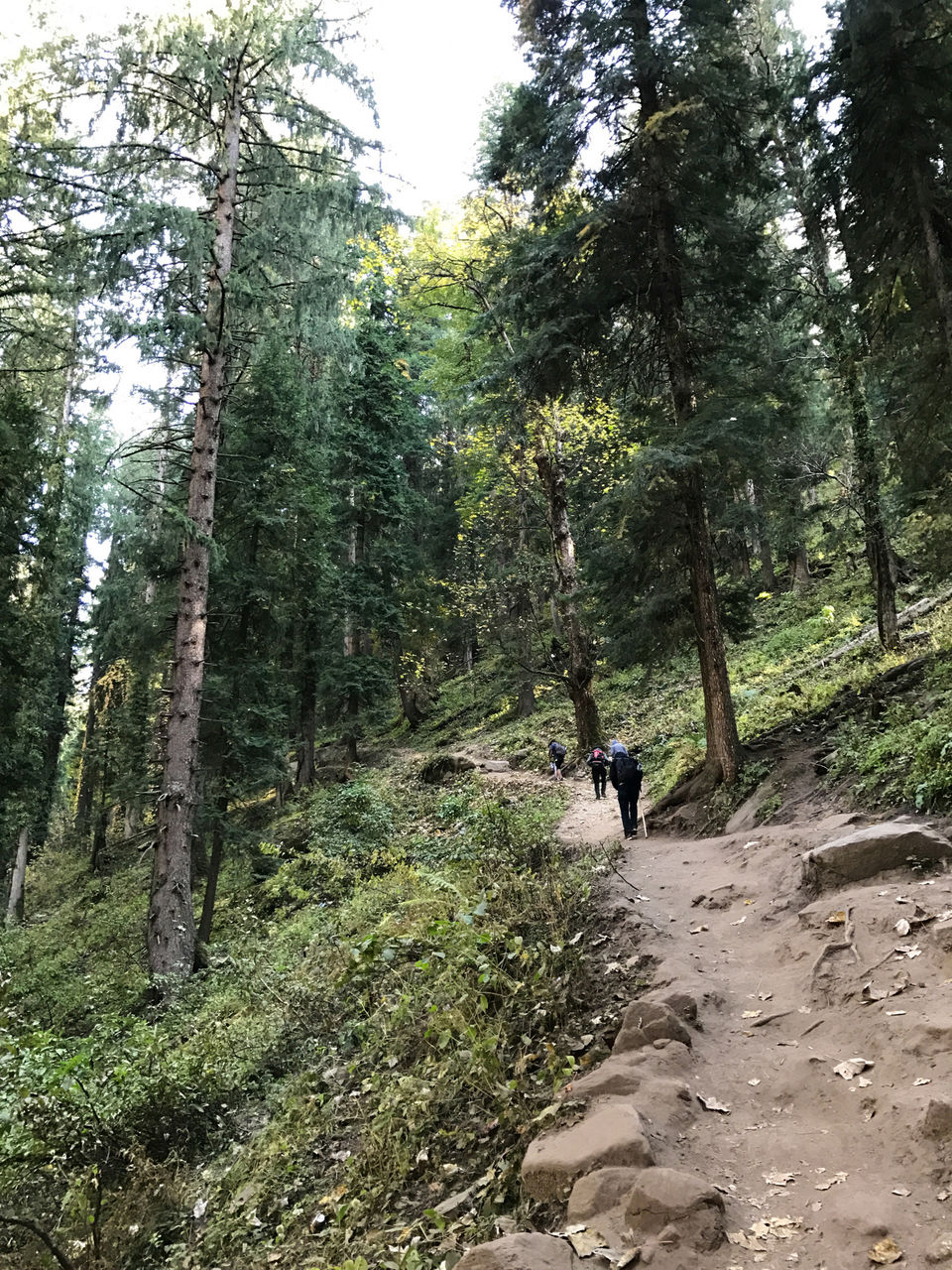 This trek is a beautiful example of how a journey steals all the glory off the destination. That being said, do not rush into completing the trek only to be mildly disappointed of having missed nature's one of the finest creations which sometimes take the shape of a silhouette against the dimming sky..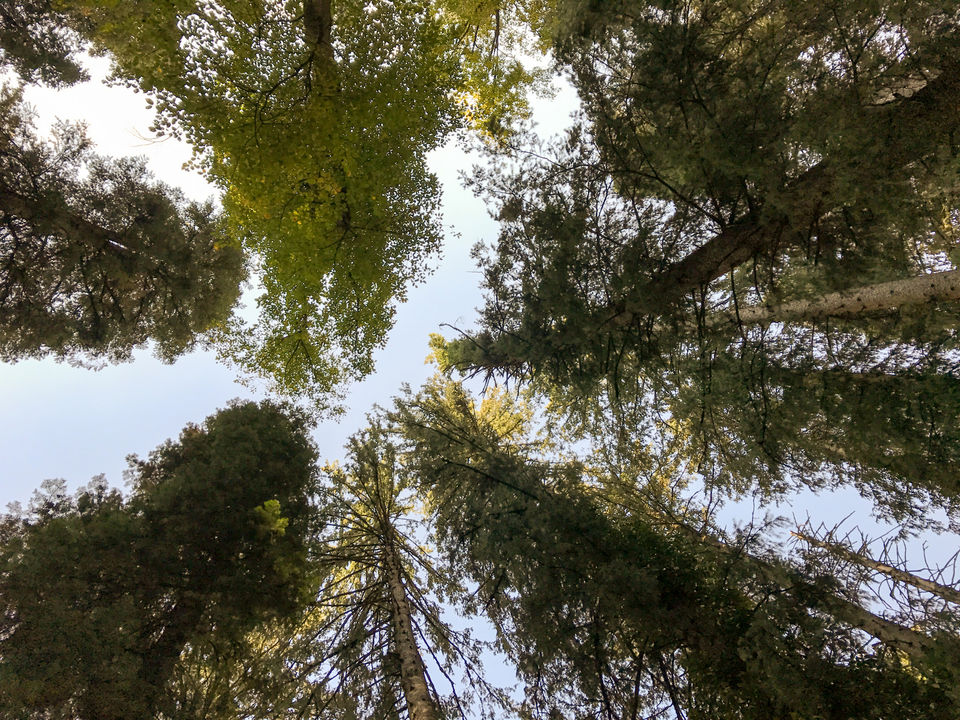 ..or elves at work creating mysterious clouds for you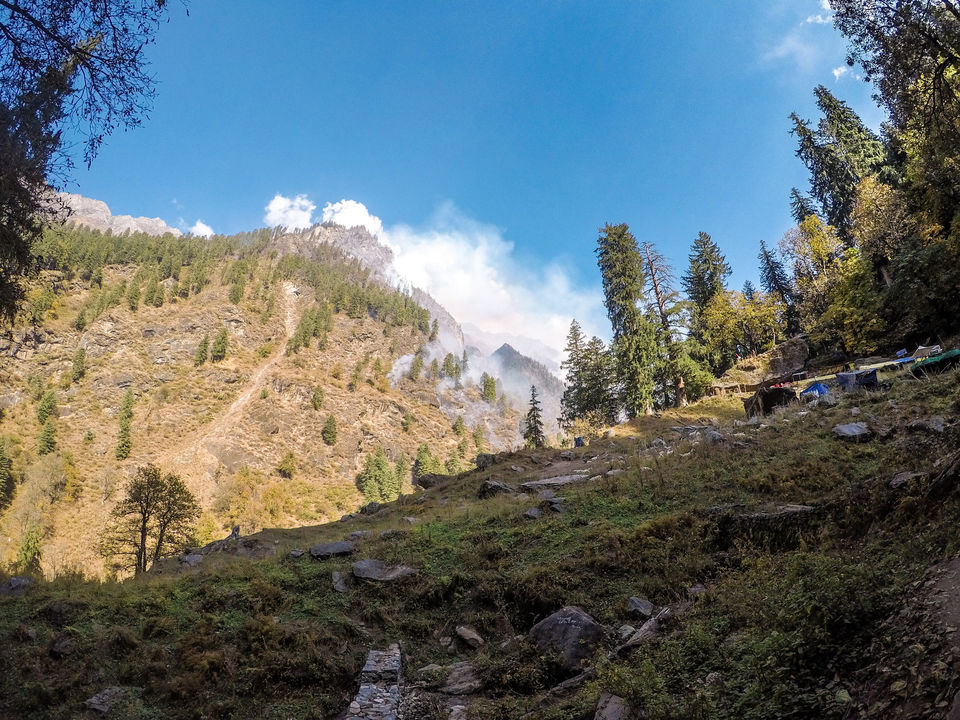 It took us 4.5 hours(including breaks) to reach the top, half hour more than what's the ideal duration, but then again what IS ideal anyway. Take half a day, pitch in a tent somewhere in the middle and continue the day after. What appeals to you might go unnoticed by a hundred odd strangers.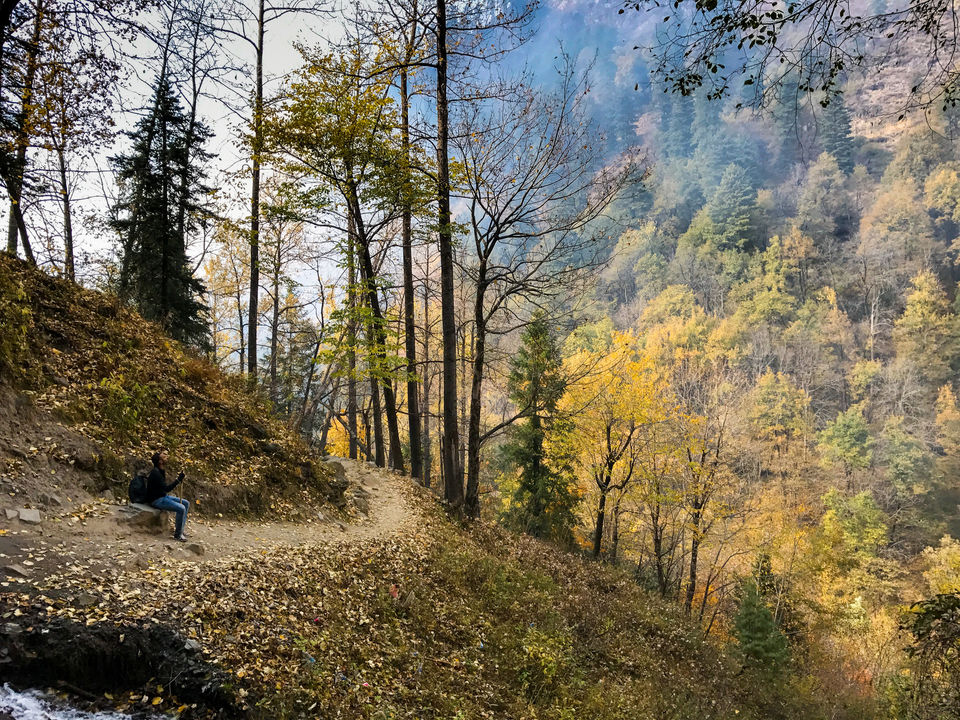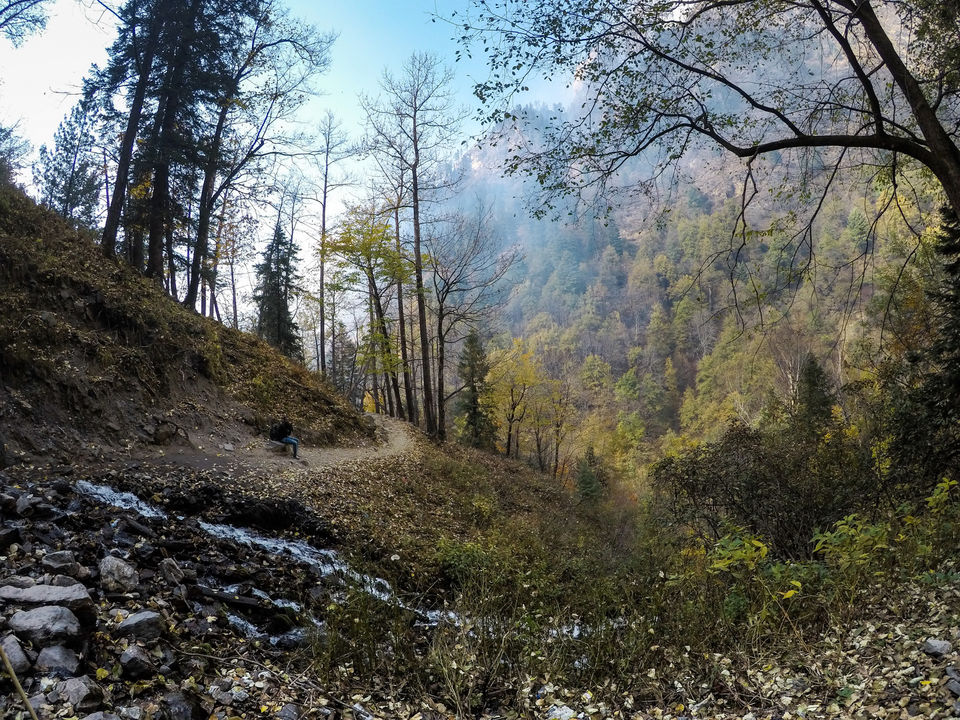 A few halts later we did reach finally and crashed on the cafe which is on the entrance.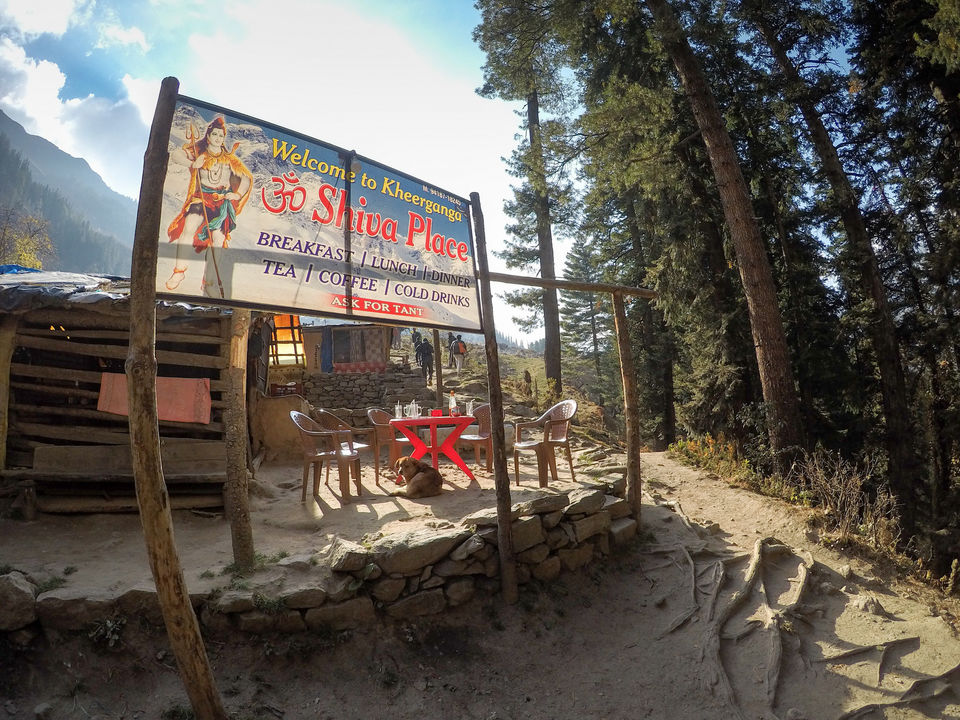 The sun was about to set when we made our way towards the hot-springs where there's a temple to pay your respects. No, as much as I wanted to take a dip in the holy waters as it was super cold and I didn't want to take a chance considering common cold is my bae.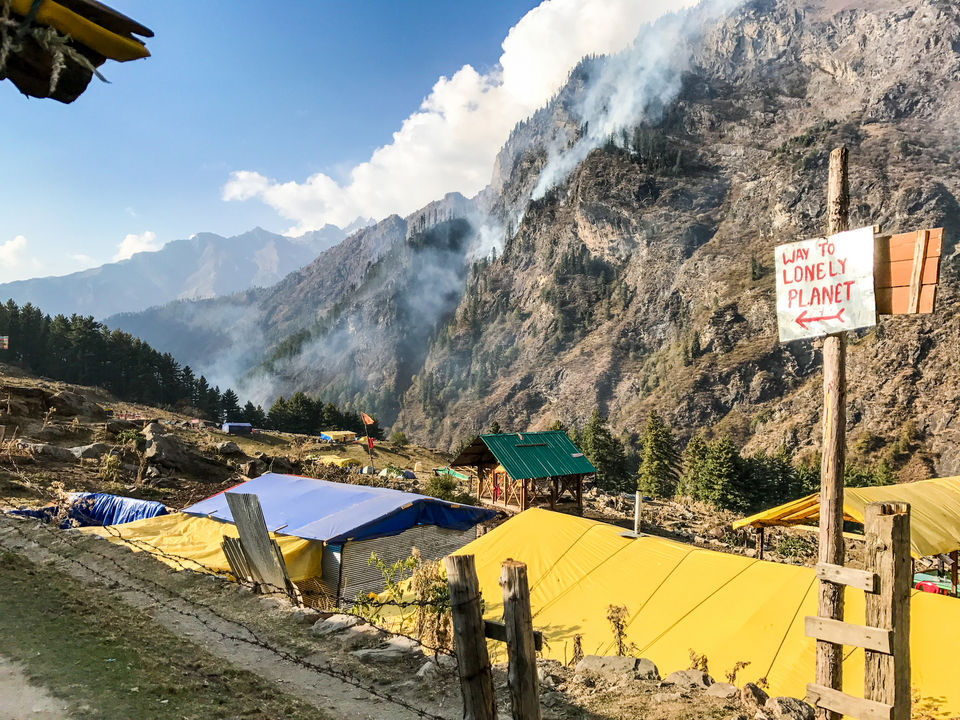 The plateau is home to cows grazing in its lush green slopes and dogs posing for anyone who cares to sit next to them.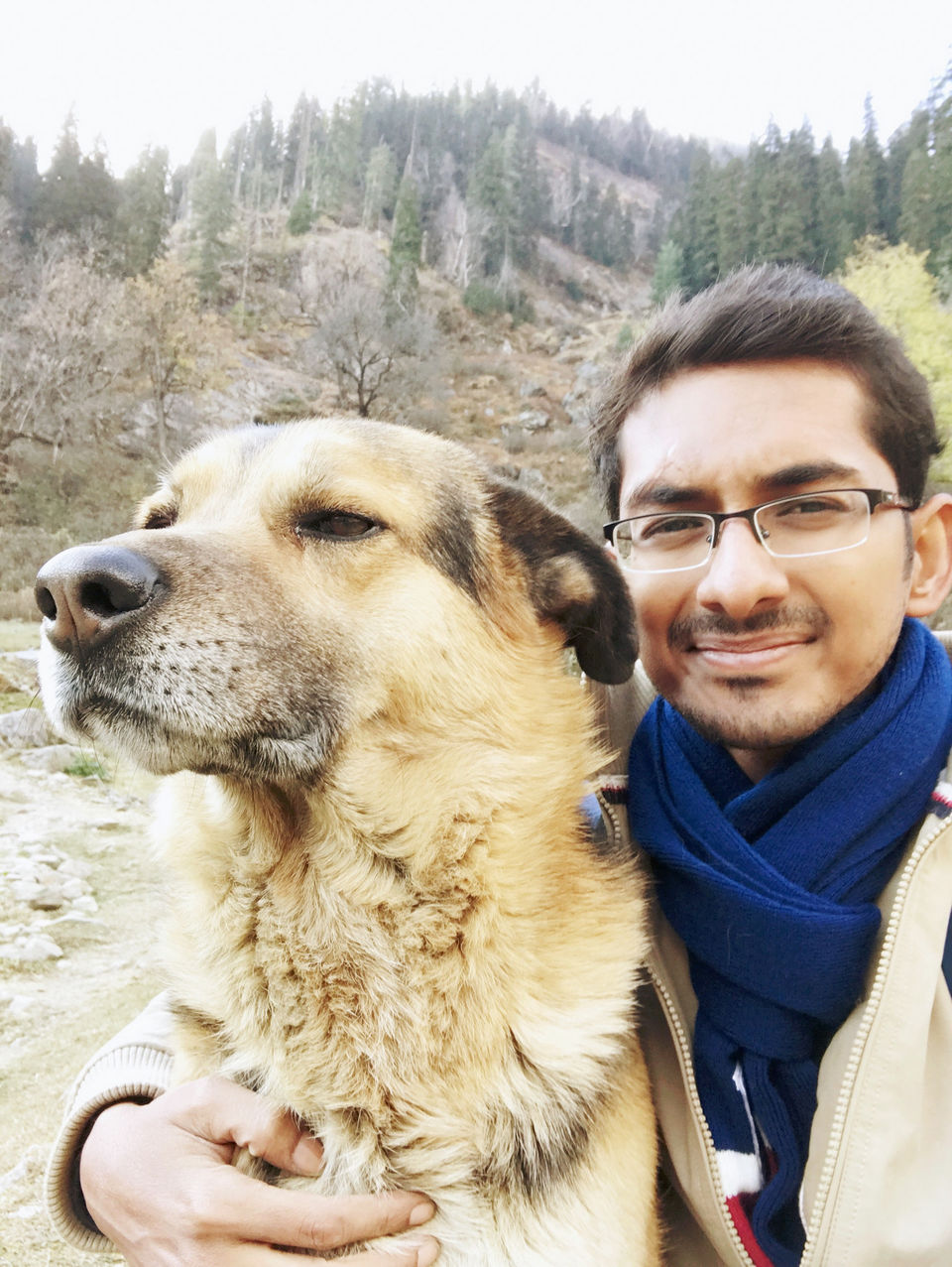 I wish I had to guts to moo my way into the herd for a picture together.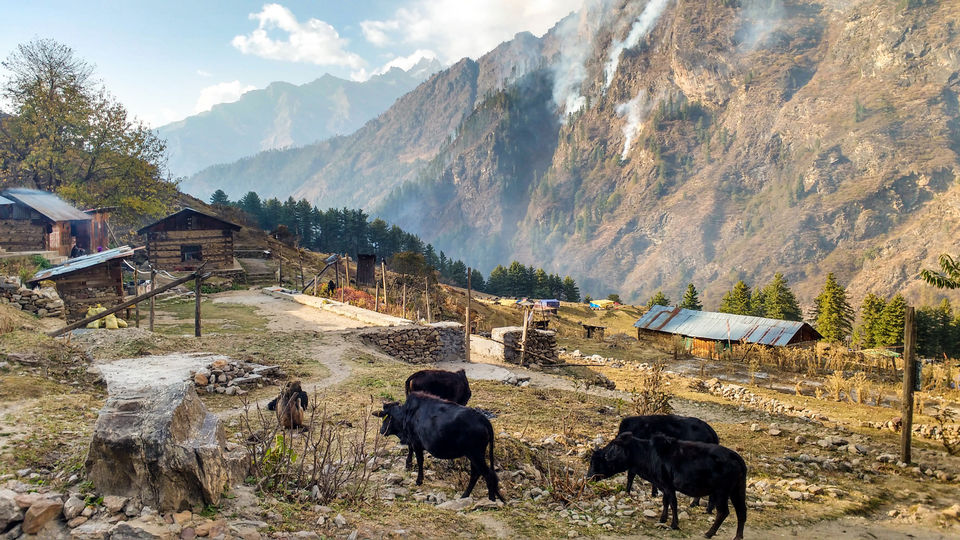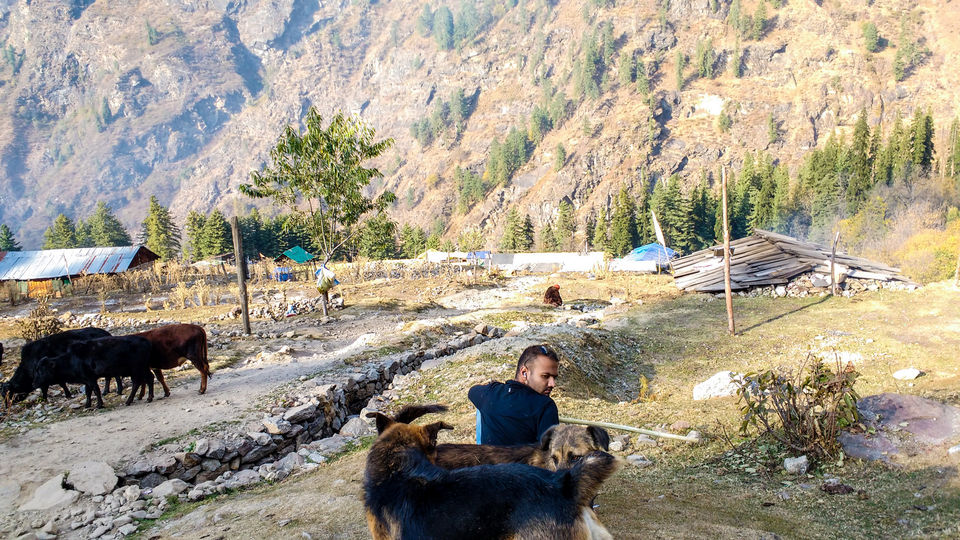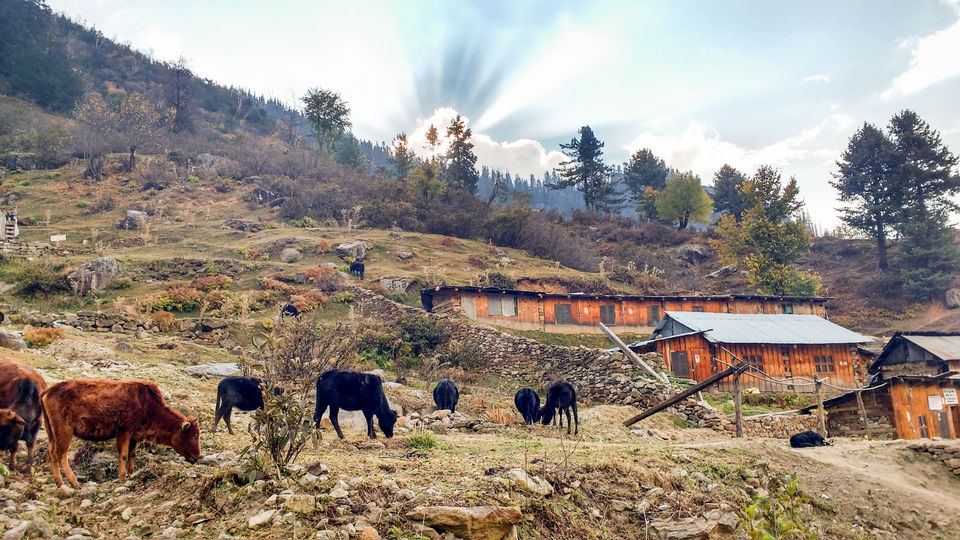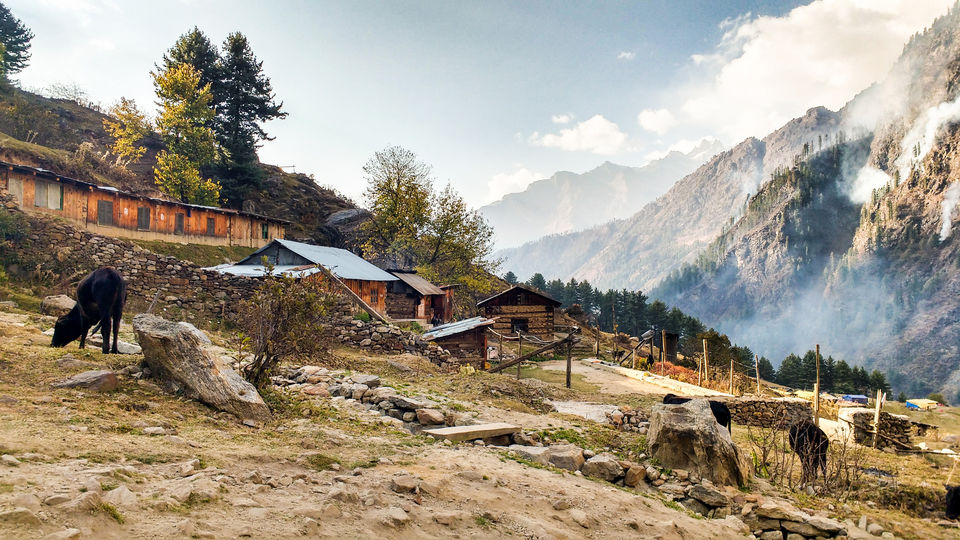 At the top we met Suraj, a sassy 18 year old kid who is yet to grow a mustache - something he aspires to, so if you end up at Kheerganga let me know how successful he has been.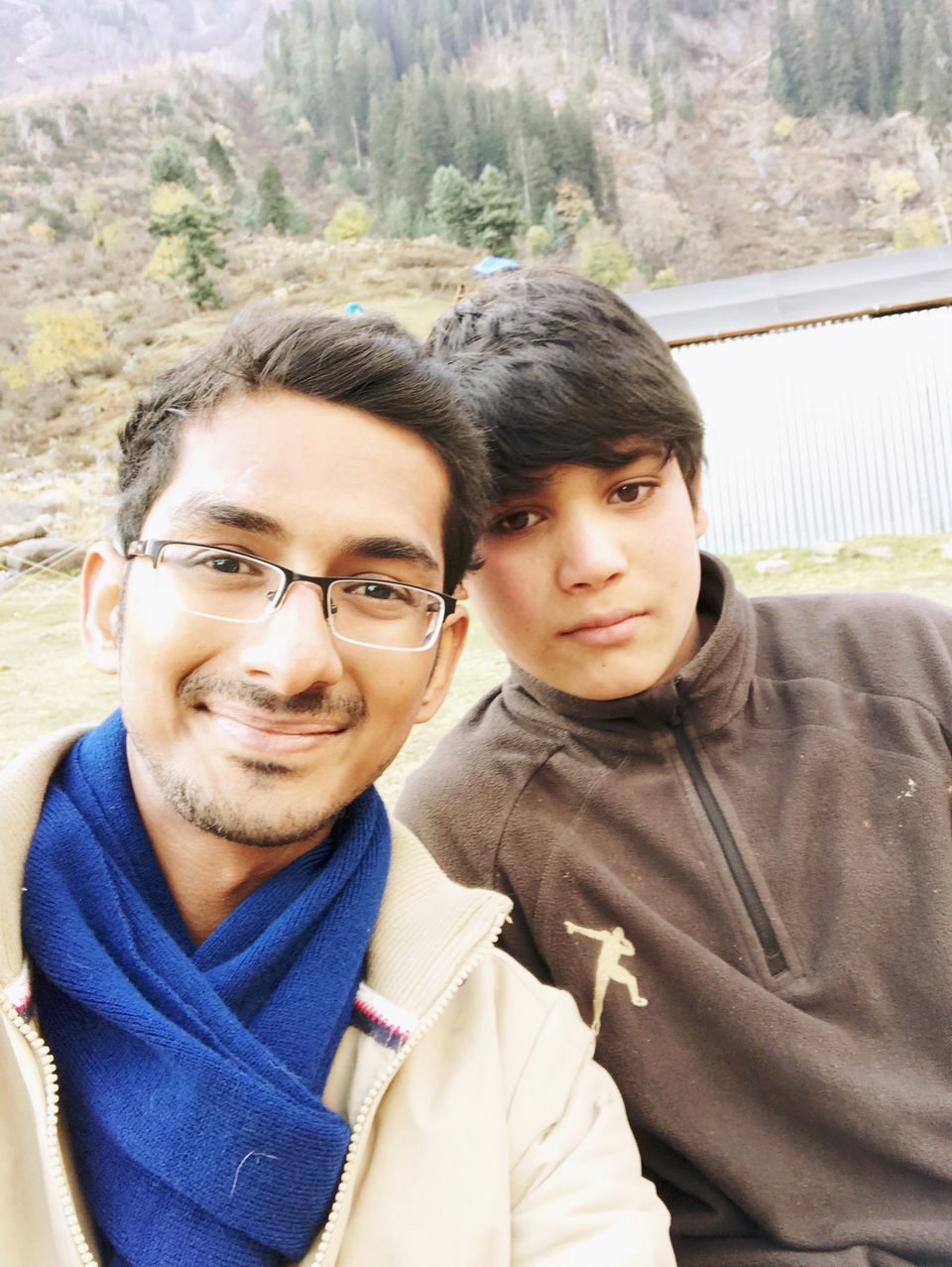 TIP: He'll put you into the ground(read mountain) if you try and kid with him.
Do you study?
"Yes, I do. My school is in Kullu."
Why so far? How did you manage school with all the work here?
"I come up here for a couple days every 2 weeks until it snows i.e. generally end of November"
He fixed up a tent for us which we hurriedly checked out.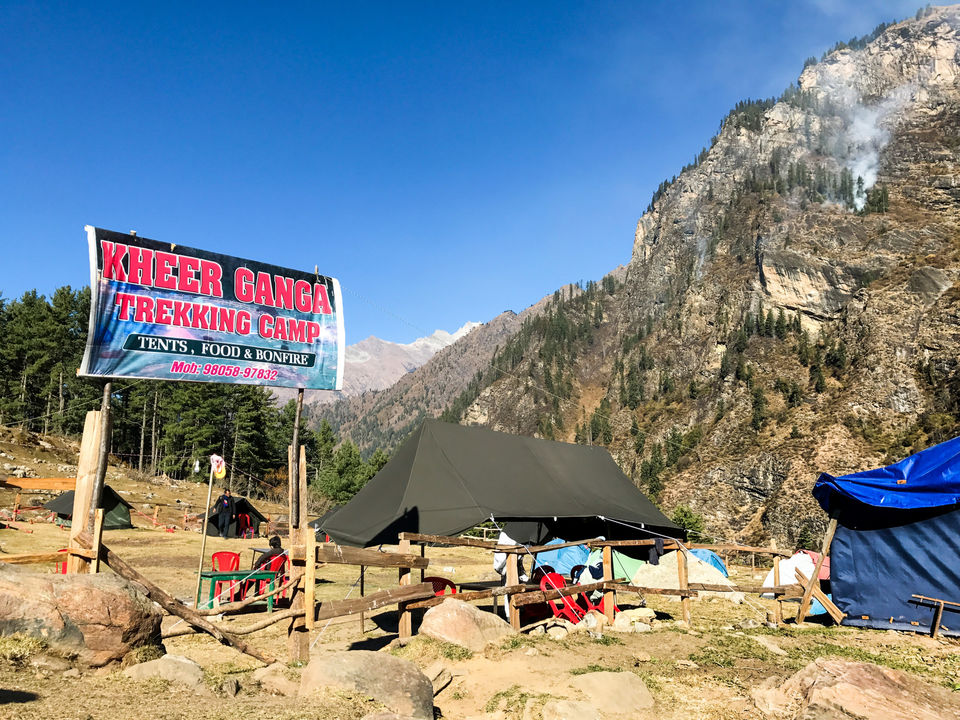 Yes, you'll get a sleeping bag with a blanket which should be enough to combat the cold during off-season. But make sure you are already wrapped in warm clothes. The tents are sturdy and apart from the ominous sounds of it being tortured by heavy winds, everything was alright. As its a holy place, there are signboards which forbid the consumption of alcohol. Everything else is allowed implicitly.
TIP: Keep a torch handy, phones are OK but try holding your phone with your mouth while you search for something.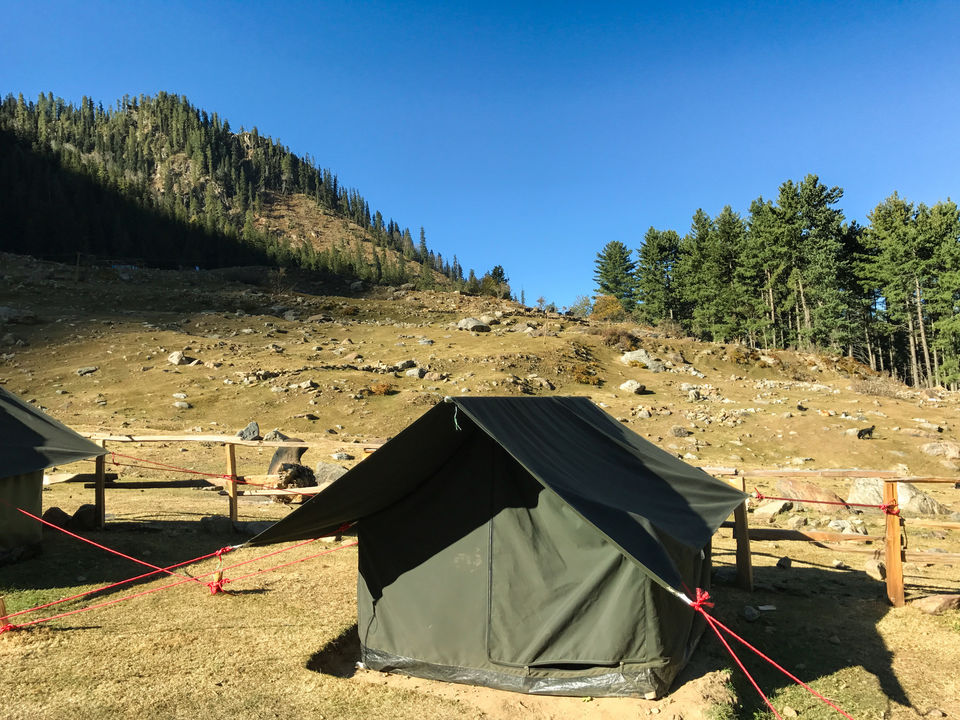 The tranquility of this place was only shifted from its place by the constant chit-chat and the laughter coming from different directions. One such place was Star Shine Cafe where we settled in in front of this desi-fireplace and only moved till after dinner.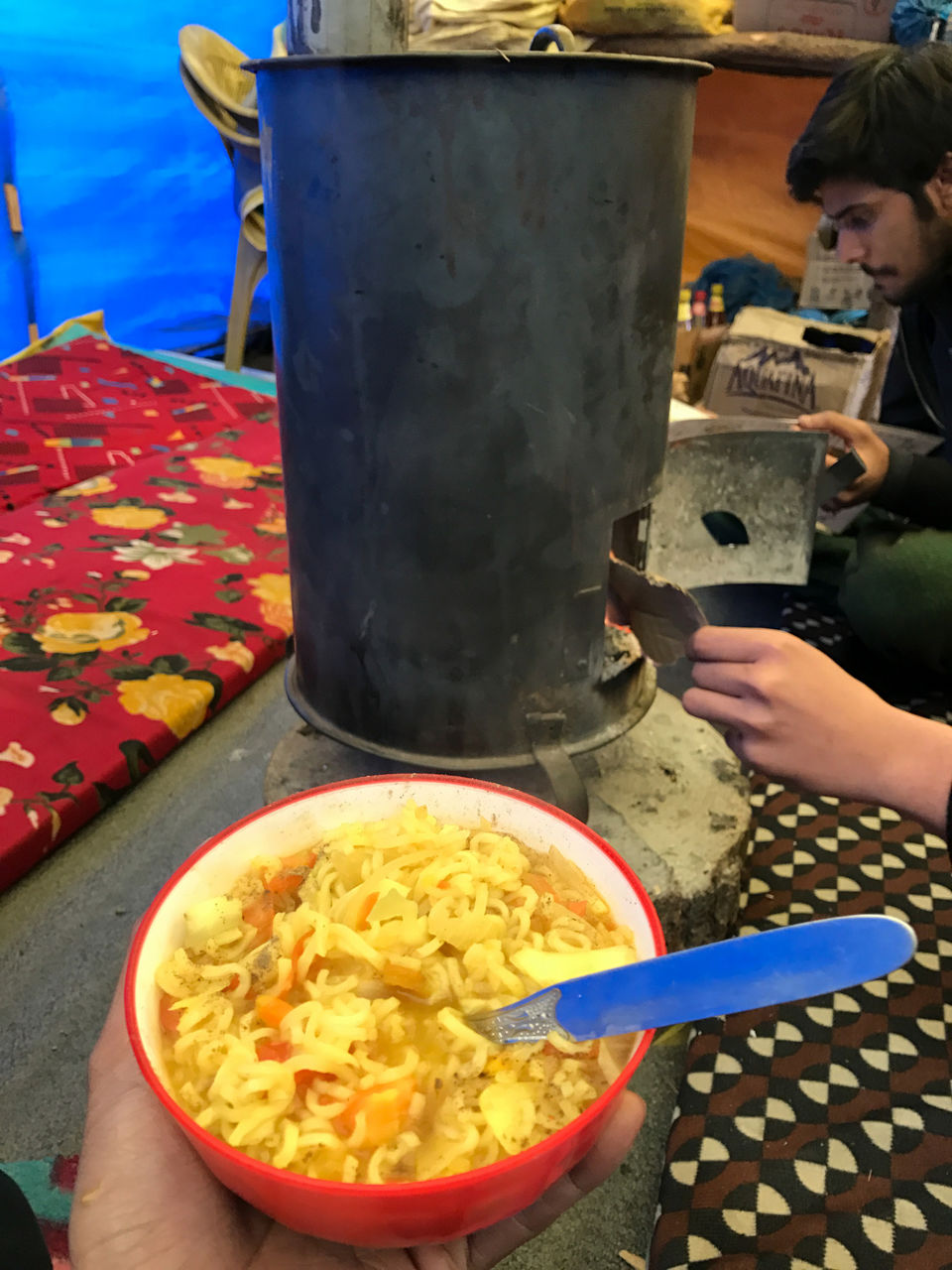 This is where the magic happens..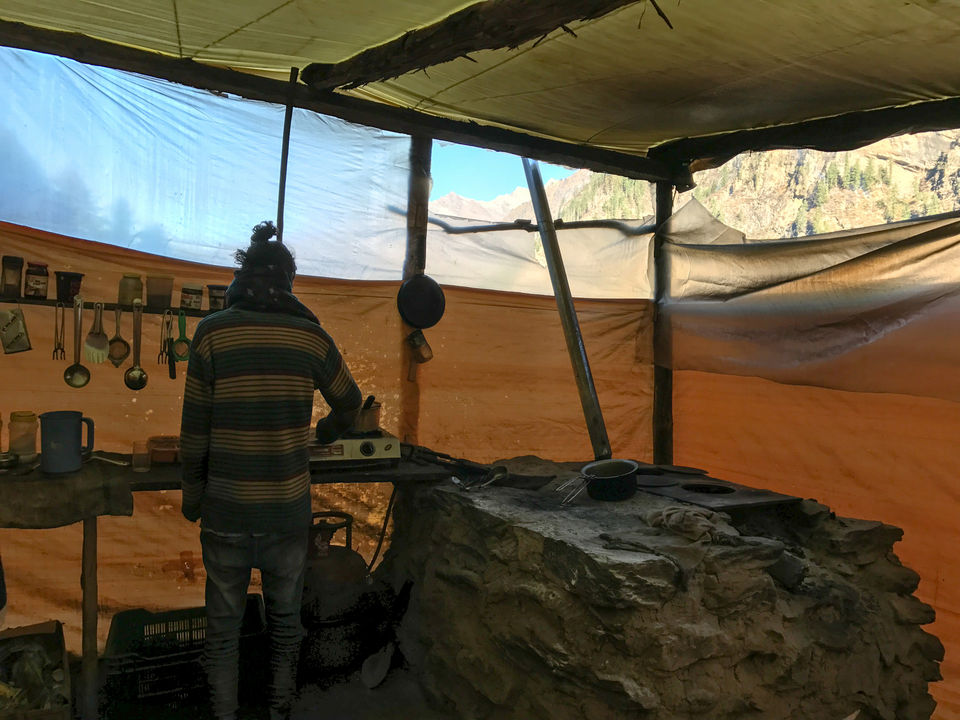 TIP: A simple thank you goes a long way.
We knew what we had gotten our hands into when the sun actually set. After stuffing ourselves with Rajmah(kidney-beans)-Rice we had a hearty laugh when we could not get into the sleeping-bag and an instruction manual was out of reach. We requested Suraj to get us some wood for a bonfire and he yelled from a distance that it'll be done. He charged a nominal fee for a bunch of wood which lasted us a good 2 hours.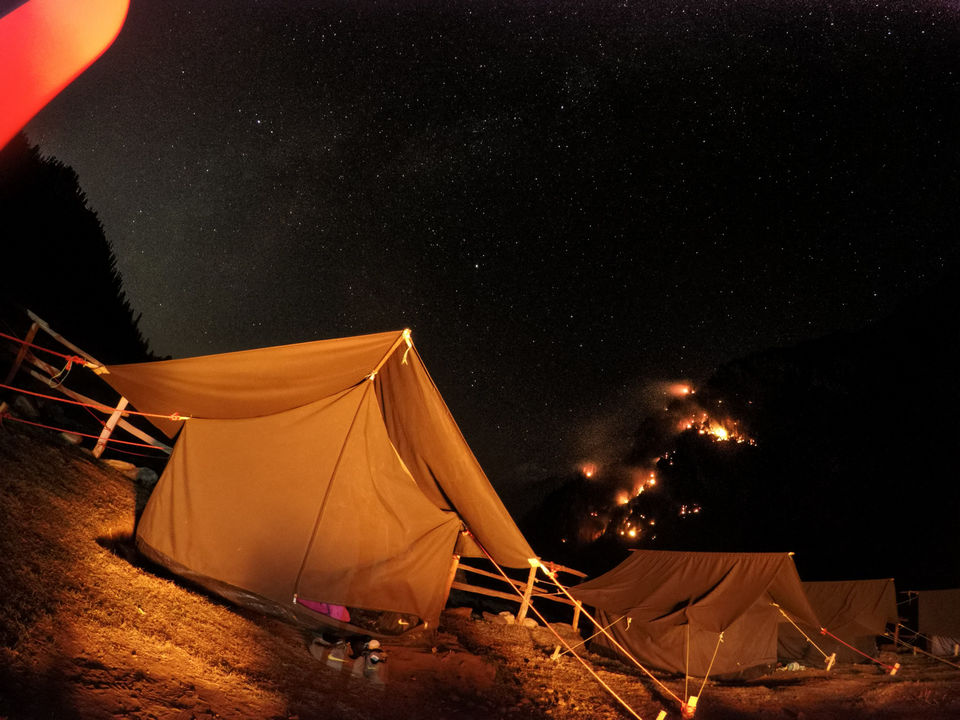 We could hear the sounds of firecrackers after we settled into our tents. Is it just me or you share my opinion of it making into the 10-idiotic-things-to-do on a mountain top?
TIP: Please do not fire up crackers there, the fire brigade won't be able to smother the fire in time if the rocket takes a U Turn right into your tent. Or worse(read better) - you.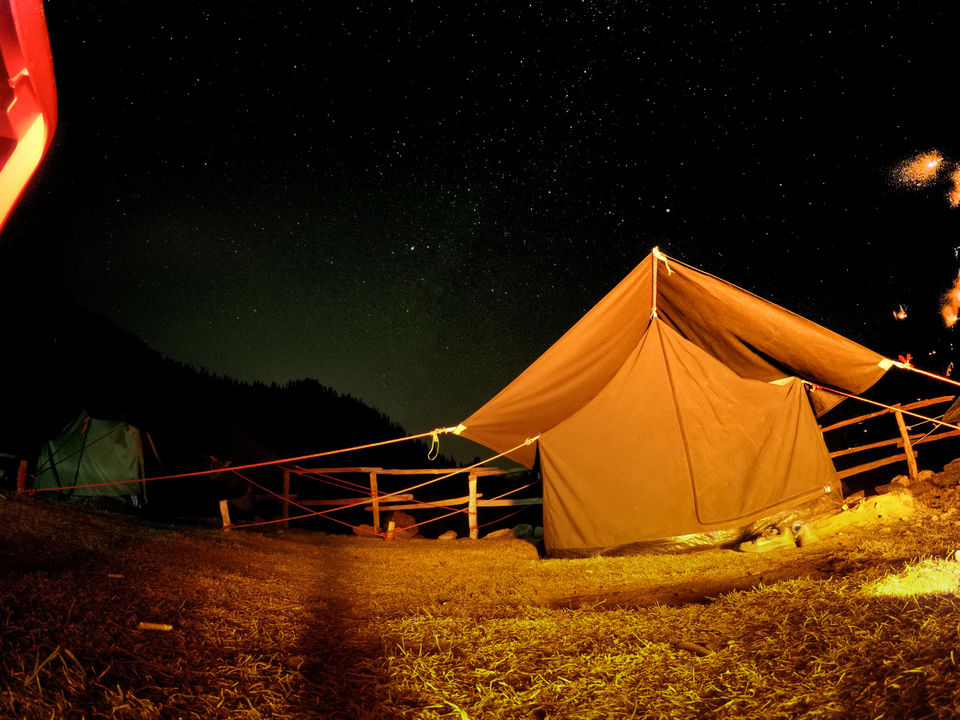 Tossing and turning in a sleeping bag is very easy, all you have to do is tear it apart and use resulting parts as a bed-sheet and a blanket. OR imitate a corpse and pray you catch a case of instant sleep.
TIP: Getting some sleep in a tent when the temperature dips below zero degrees is difficult in itself so if your immediate neighbor snores, it's legal to push him out.
The sun had already rose when I woke up but it hadn't made its way to our tents. So staring at the mountain's peak until the first warm ray hits your face is something that gives me chill every time I look back and think about it.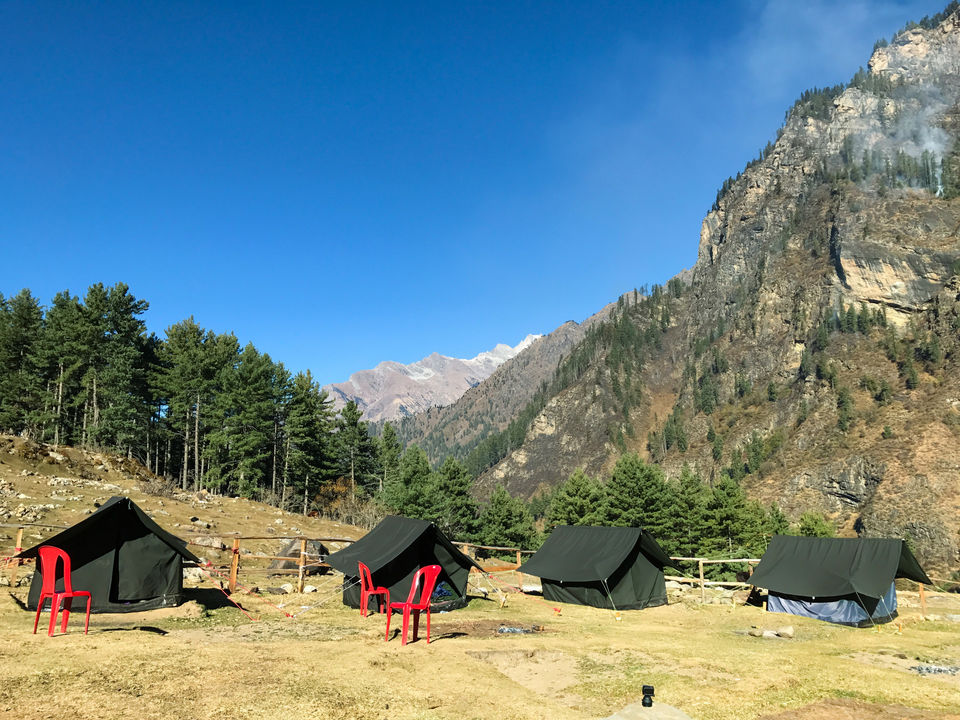 After a cup of tea we started our descent towards Barshaini.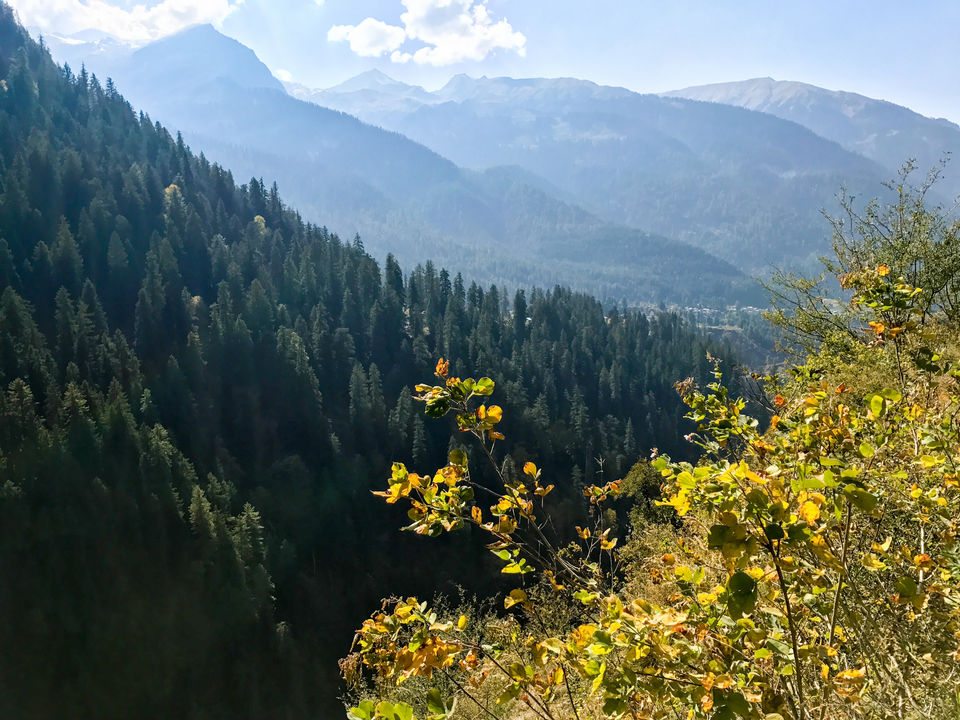 We completed the decent in two and a half hours with a couple of short breaks at Rudranag and Nanthak.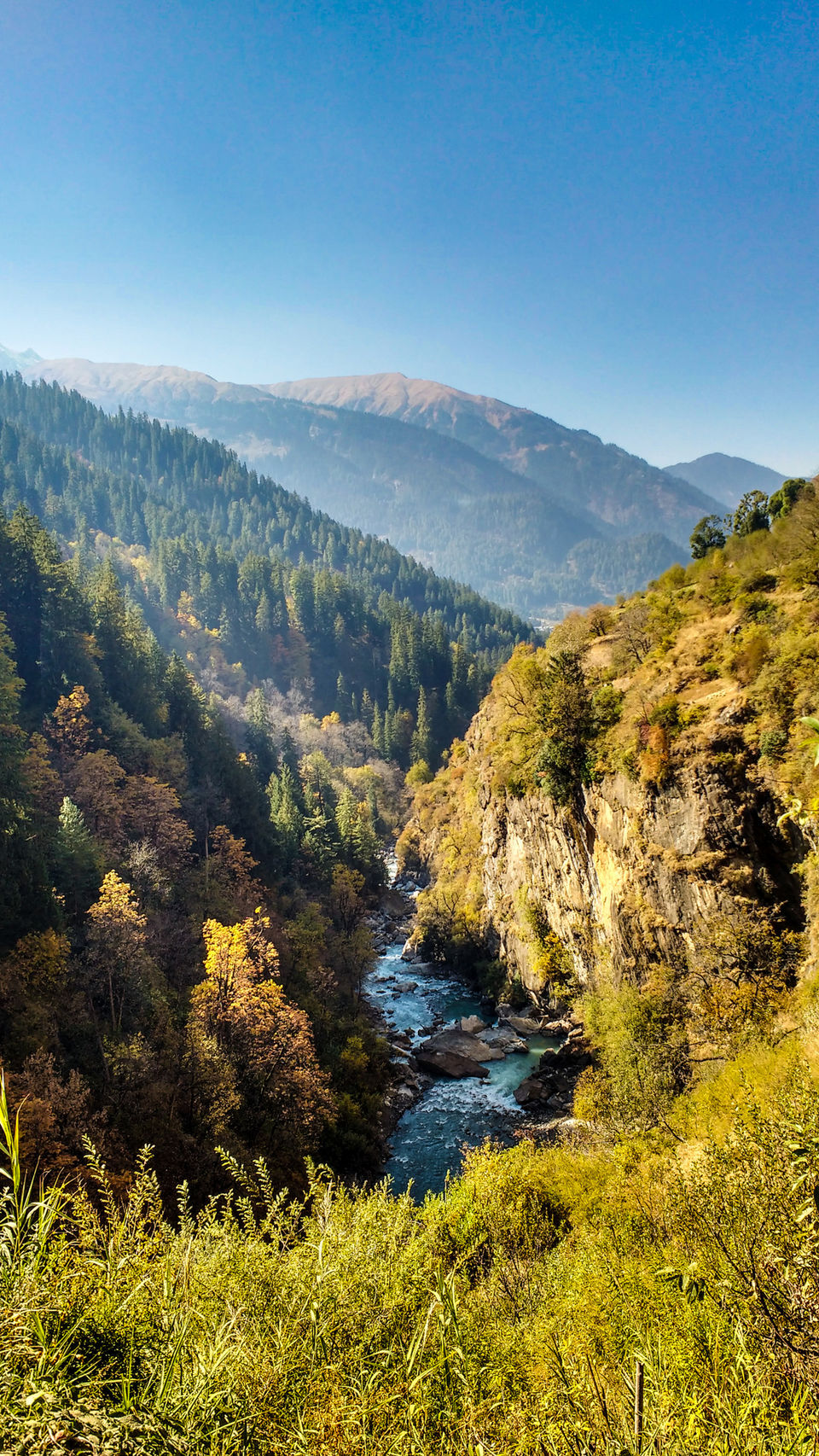 We tried to hail a cab from Barshaini towards Tosh but instead decided to trek towards Pulga which was 40 minutes away on foot. 15 steps later we retraced our steps towards Tosh which turned out to be a 4 km ordeal.
NOTE: It's recommended to head out towards Pulga after you complete your trek and board a cab directly from there to Tosh.
As we entered Tosh, it was the first time I noticed all the intricate details such as the famous wooden bridge.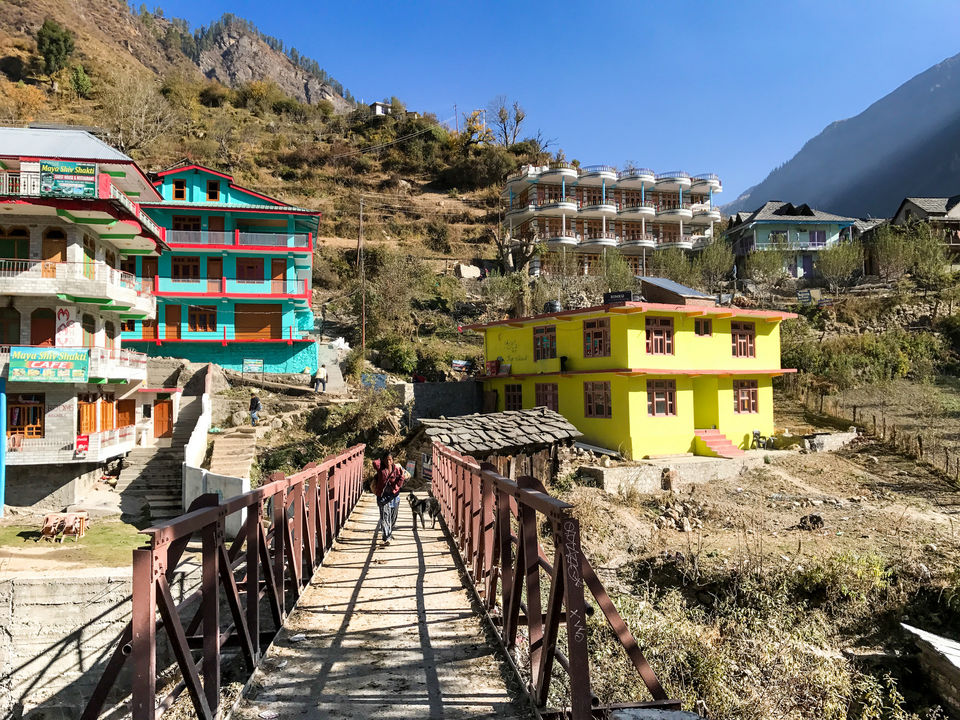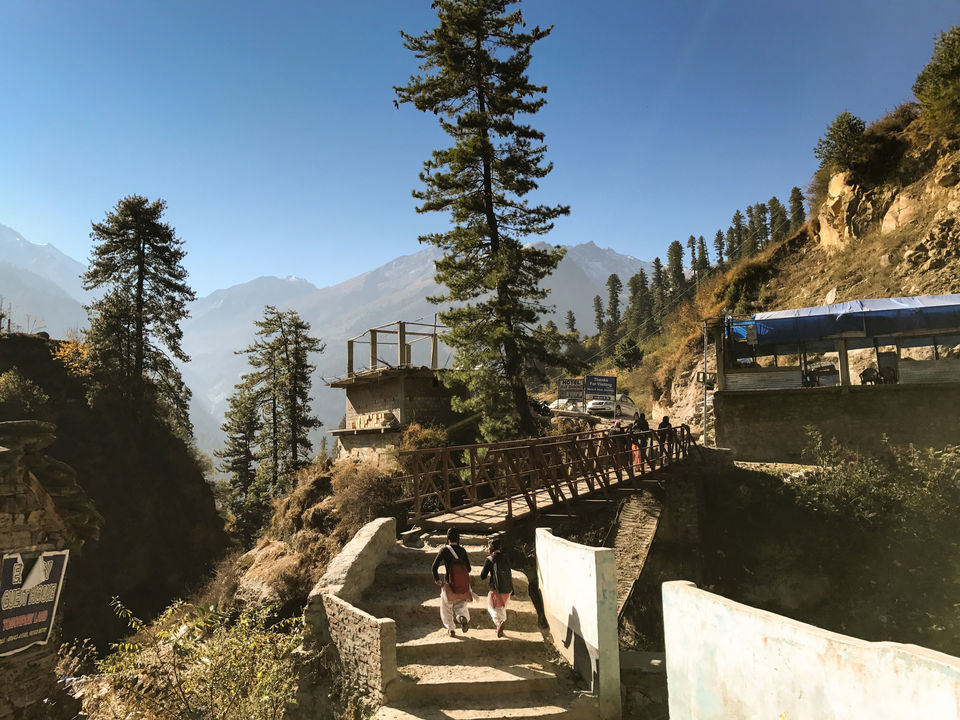 School kids frolicking their way to schools is an endearing sight to witness.
Or when little girls are making sure their school is devoid of any litter while the boys make sure they avoid the area by a mile.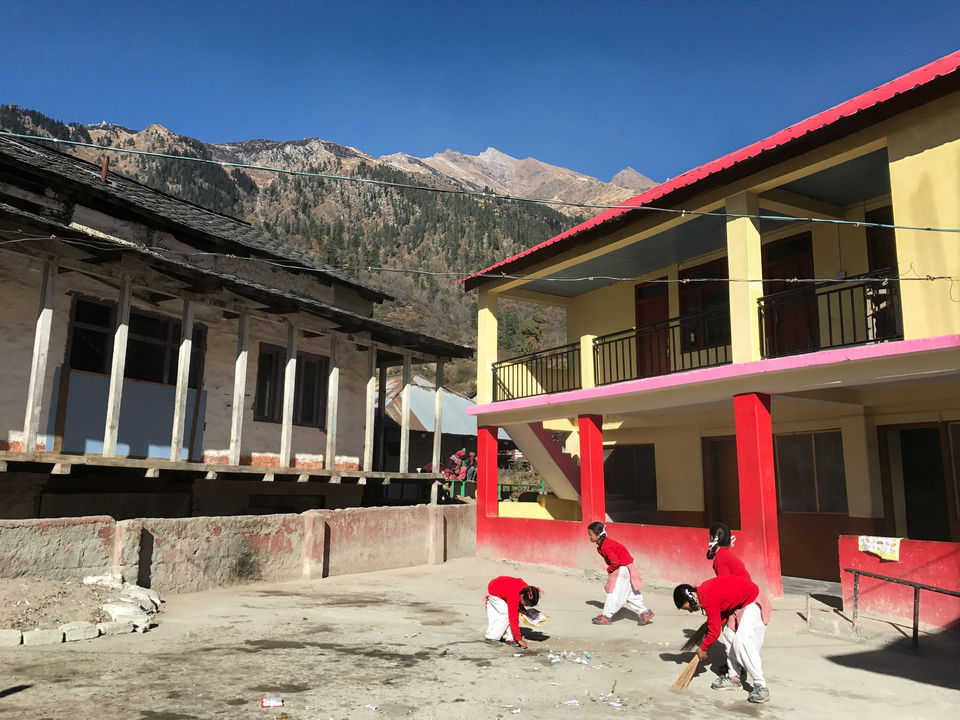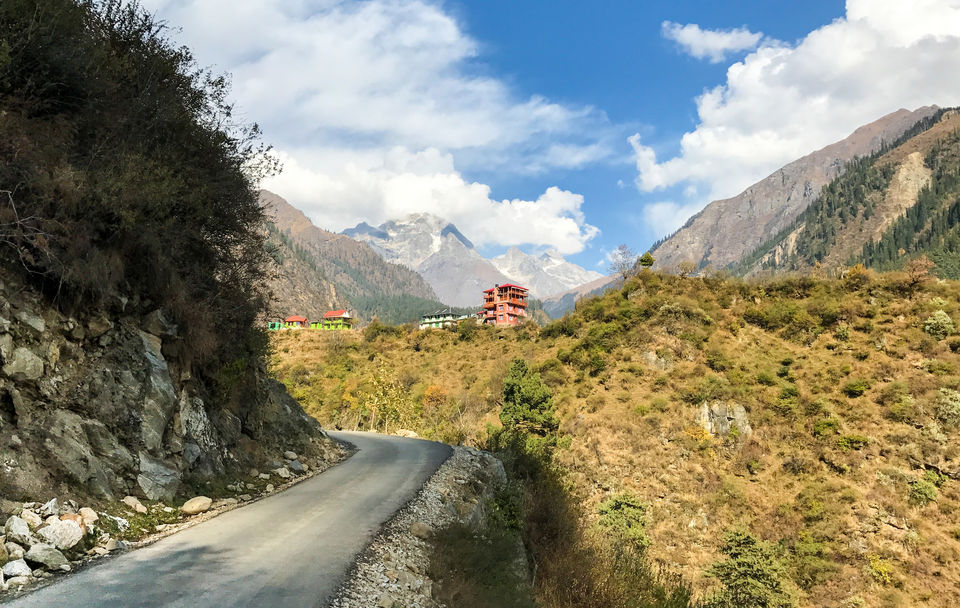 A fellow traveler friend recommended Pinky Didi's so that's where we had soupy cream cheese garlic noodles which was delicious.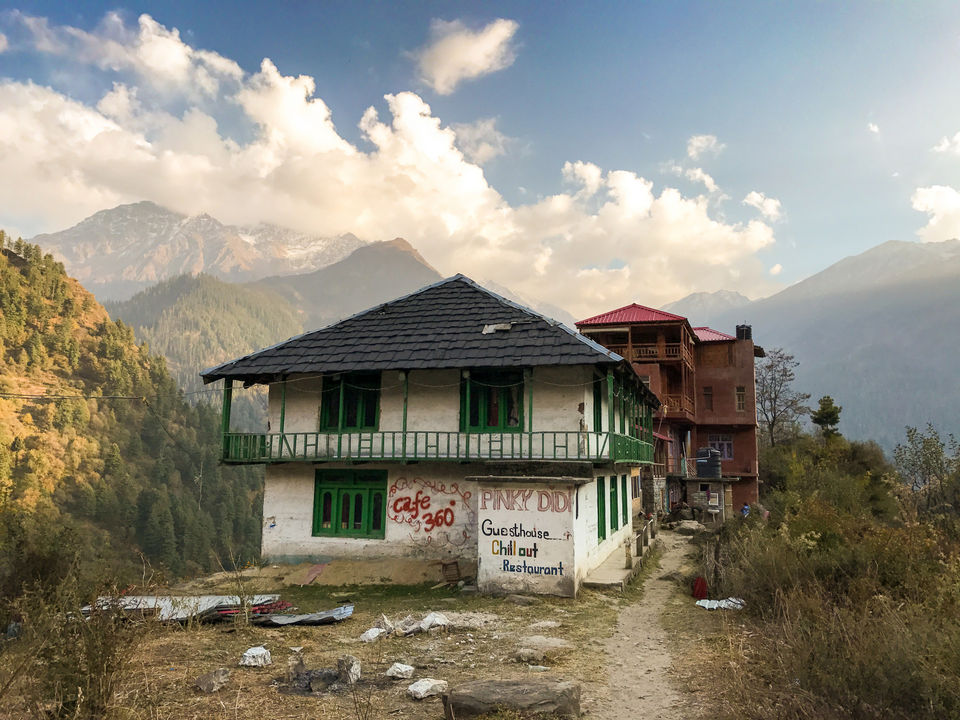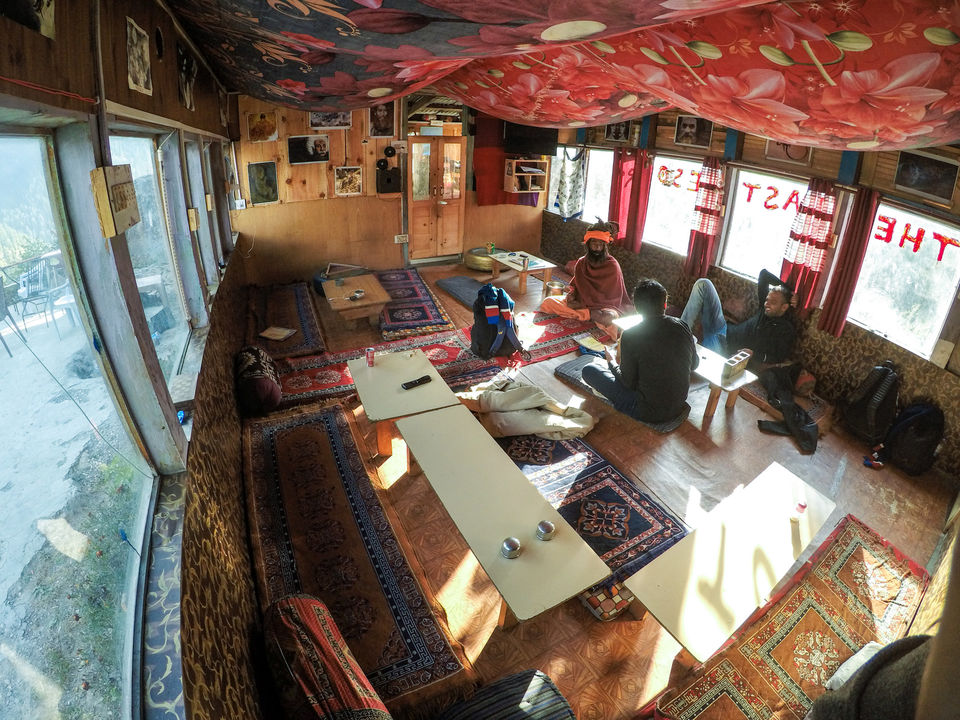 The cafe sits comfortably on a hill top but is easily accessible on foot. The menu is impressive and so is the food. The rooms are a tad costly but it would be worth your money.
All that was left of the day to rest in our hotel and experience sadness level 10000.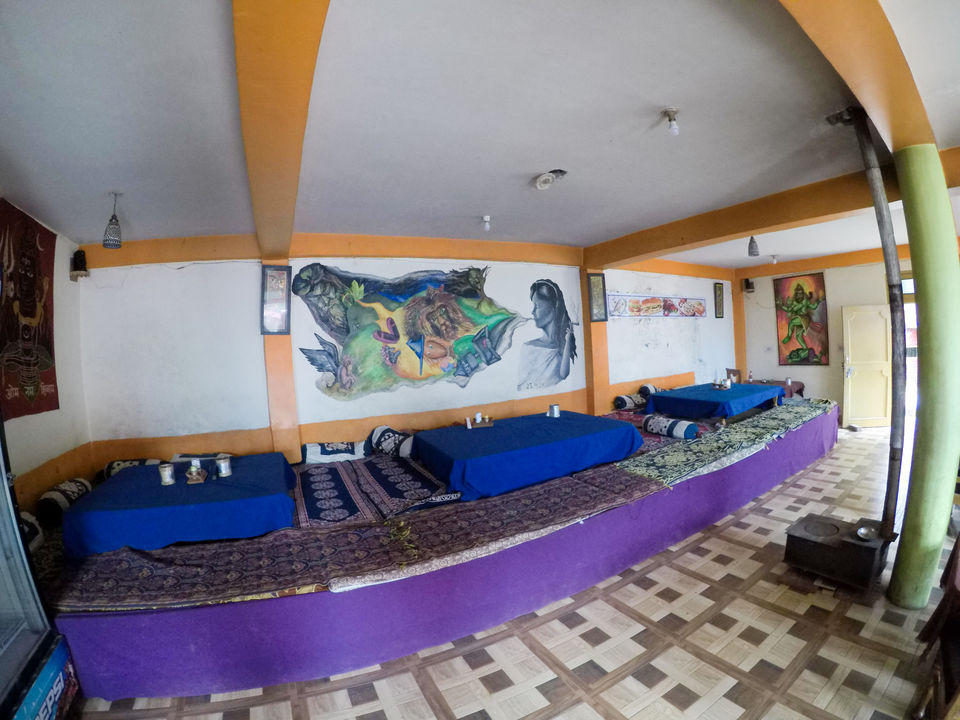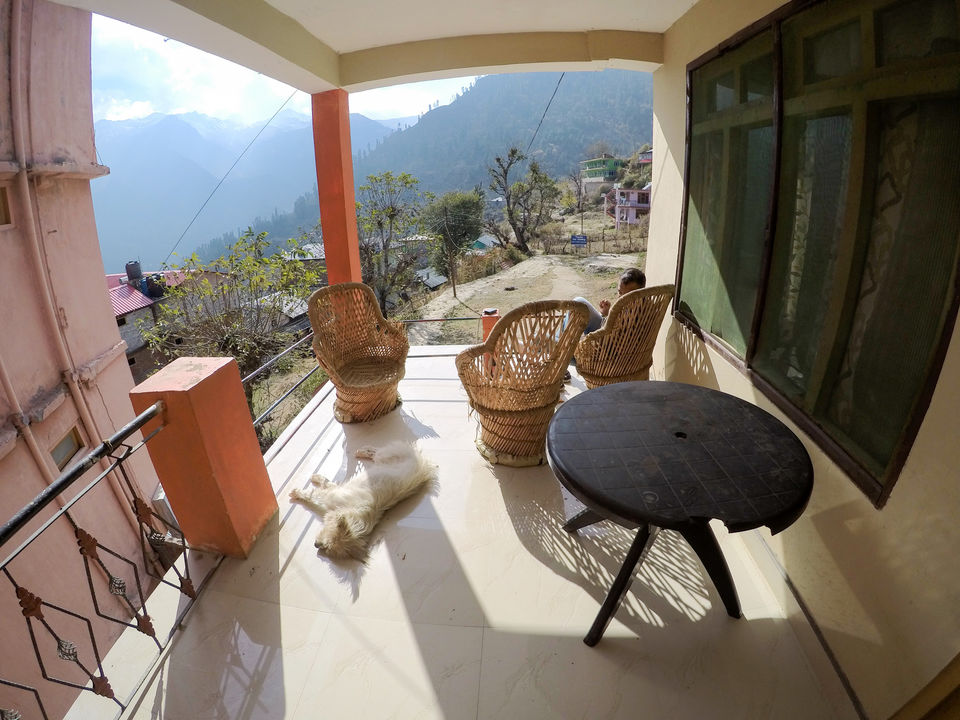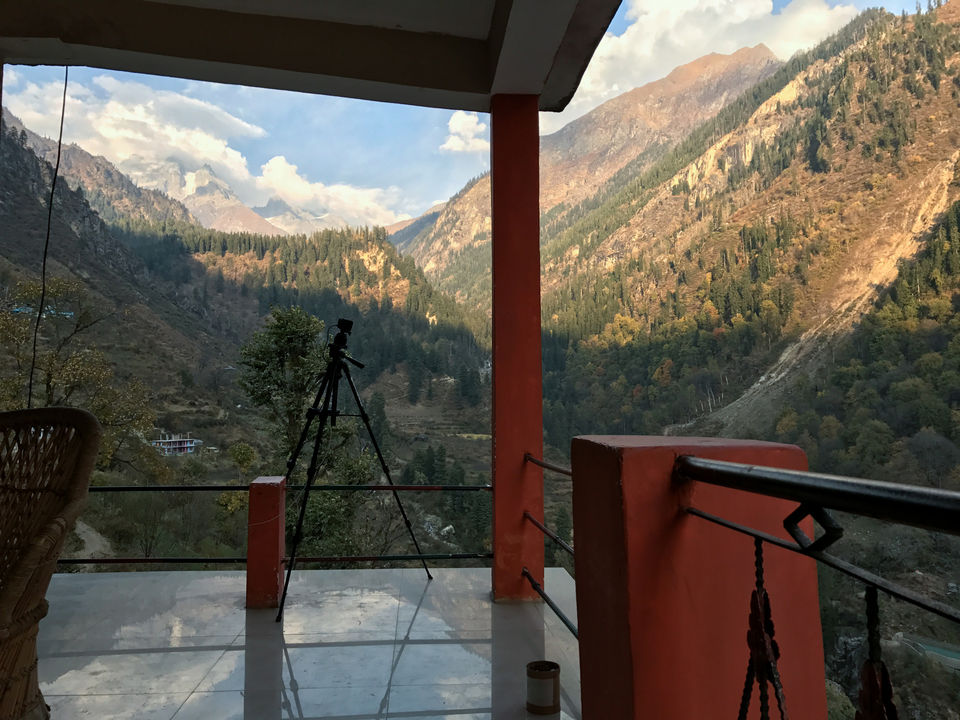 This trip was successful and we want to extend our gratitude to every person who shared his/her experiences on Tripoto and in general which helped us have such a gala time.
If you have any comments, feedback or questions, give me a shout!
May your life be full of stories to tell and good gear to capture them!