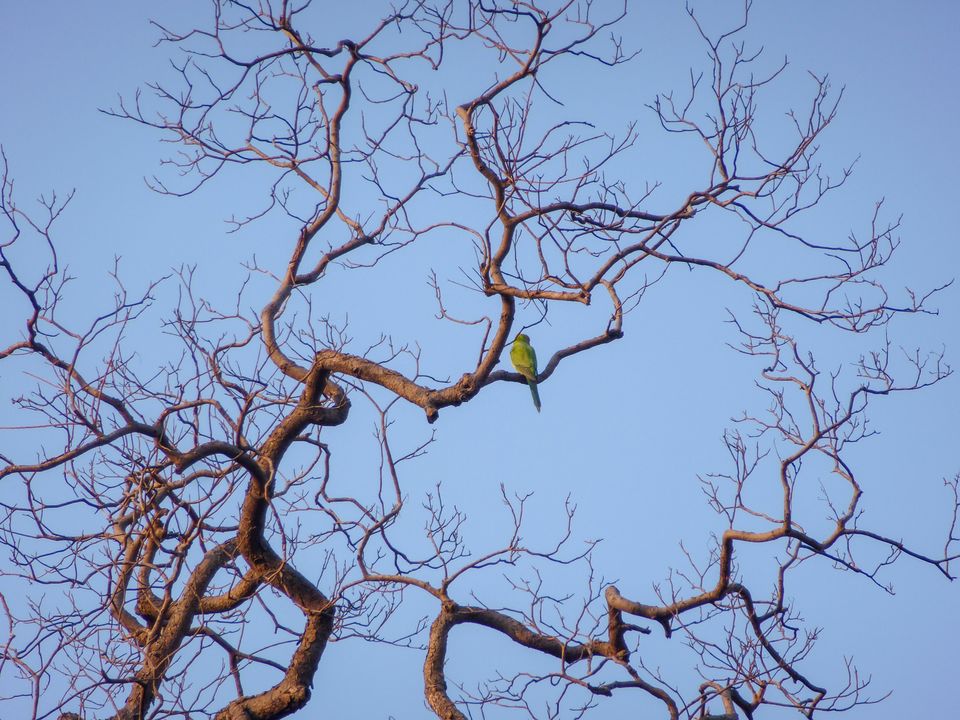 Why Pench National Park
Known to the world over, as the original setting of Rudyard Kipling's classic—The Jungle Book, Pench National Park was always on the bucket list. I always wanted to sight a tiger in the wild on India's wild reserves. India has approximately 105 national parks and over 500 wildlife sanctuaries and I never had been to any. "That's a shame", I told myself. Besides, wildlife safaris, the park also tempted me with options of wildlife lodges and luxury tented resorts.
I aimed for hikes rewarding grand views of the dense forest followed by breakfast at the wilderness. While on a safari, the sunshine dappled forest floor, the thrill of a tiger sighting, and the game of anticipation piling on, once inside the forest gates. Hoping for adventures such like, I ventured upon the forest trails of Pench National Park, and since then, taking a break in the Indian wilderness became one pleasure of life.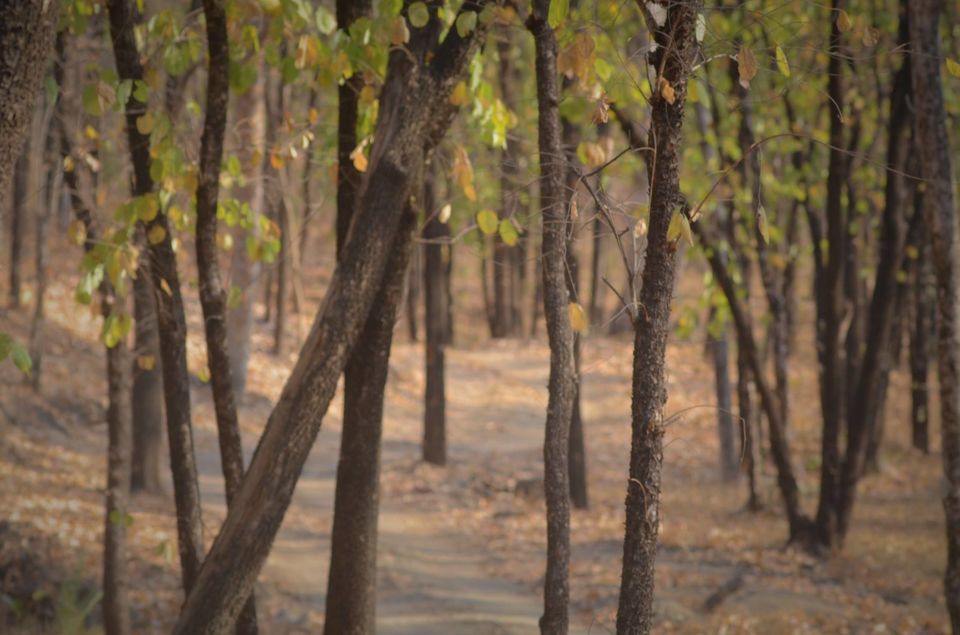 A Near Miss of a Moment
Soon open roads led to glades of golden scrub under which tall trees roofed over with dense creepers. At the first streak of dawn, we entered the park gate, the Kursapar side of Pench which falls on the Maharashtra stretch. That is the only zone we could secure following the closed bookings of other hotbeds.
Running in the remote wilderness is overwhelming for senses, plus grown reading Rudyard Kipling's Jungle Book made the journey a double dose adventure.
A heightened sense of awareness fell over us when we saw a barasingha crossing paths on which we were on. And then joined the spotted deer. They stopped, looked back and carried on with their own stride. Few false calls of langurs, peacocks alarmed us to think, this is a world unlike ours, we come exploring thinking we own.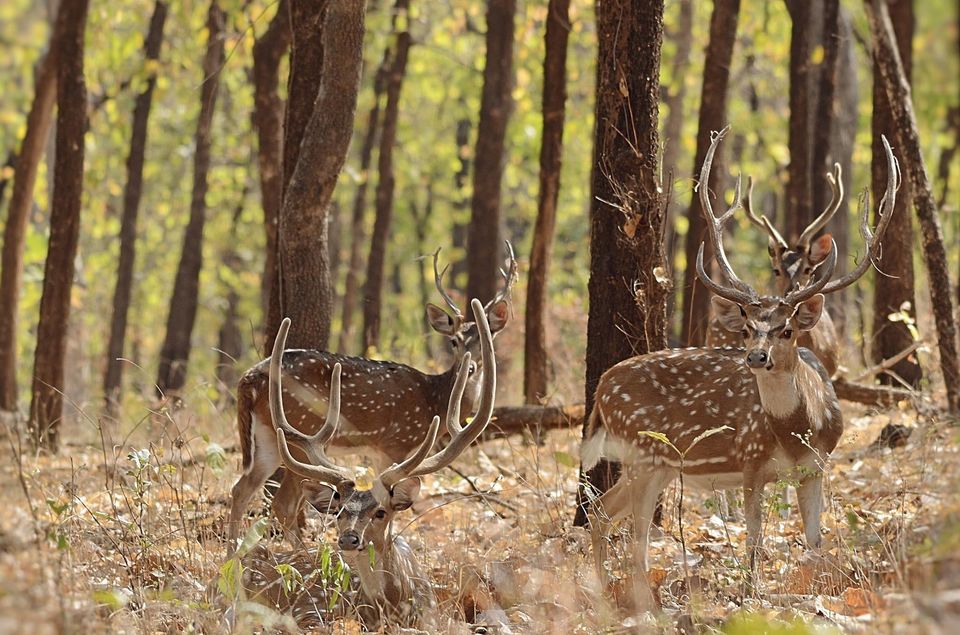 The tall trees made me think like Bill Bryson "They make you feel small.. like a small child lost in a crowd of strange legs…"
Some parts looked golden brown with virtues of long fallen leaves spreading out like an enormous bed of kelp on the forest floor. One area called chaipatti resembled a ground of tea leaves (dried brown) the Sher Khan usually prowls and comes to rest. We waited there for long but no signs of Sher Khan and rather ran into a family of langurs.
We were on trails of complete isolation and over challenging terrain.
We ran into pug marks, 'fresh ones of this morning', said the driver. Stillness followed, few calls heard and yet no signs of the tiger. I scanned the trees and woods in beating heart.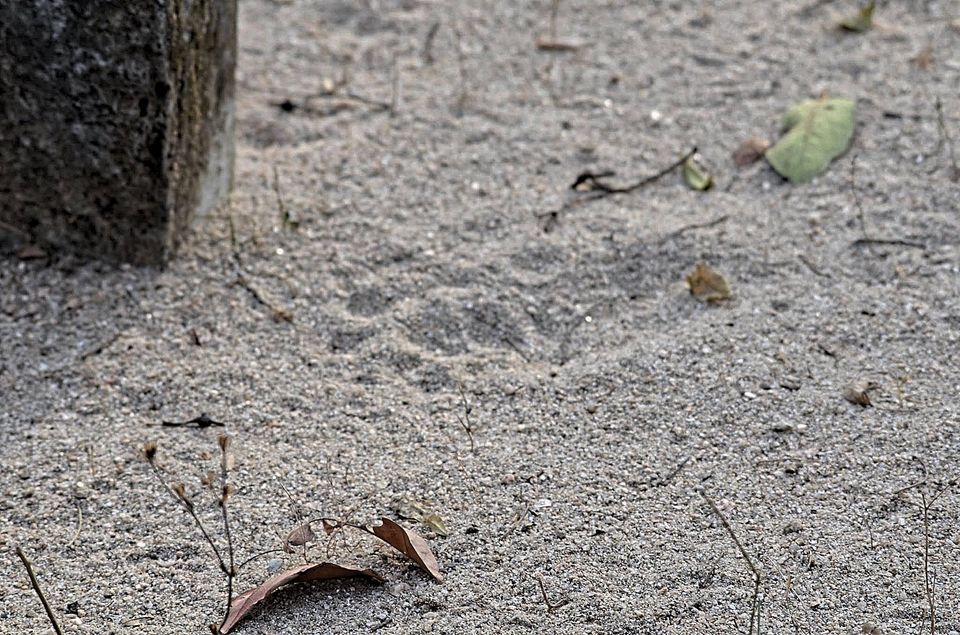 We reached another calm stillness when the gipsy reached the lakeside. Eagles soured over towering trees, crocodiles resting, lying half on water and land and my attention shifted to a wide-winged brown snake eagle who sat down solitary on a higher branch eying for prey.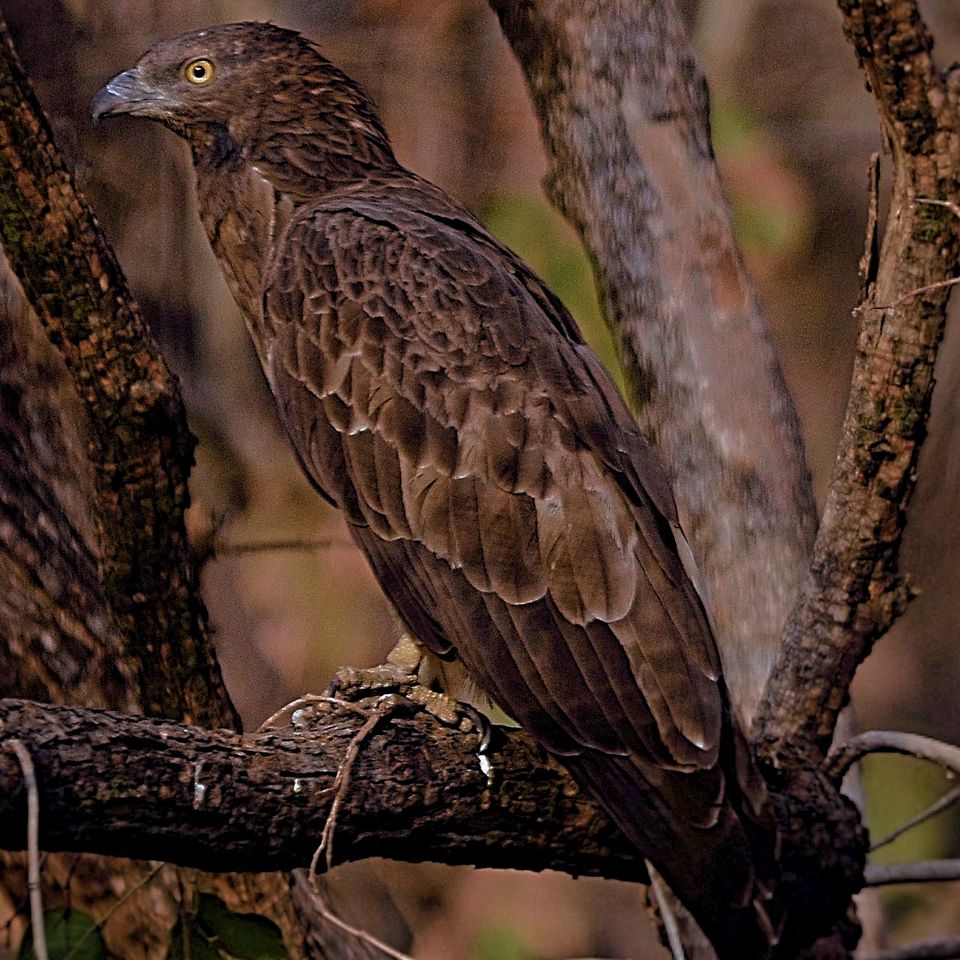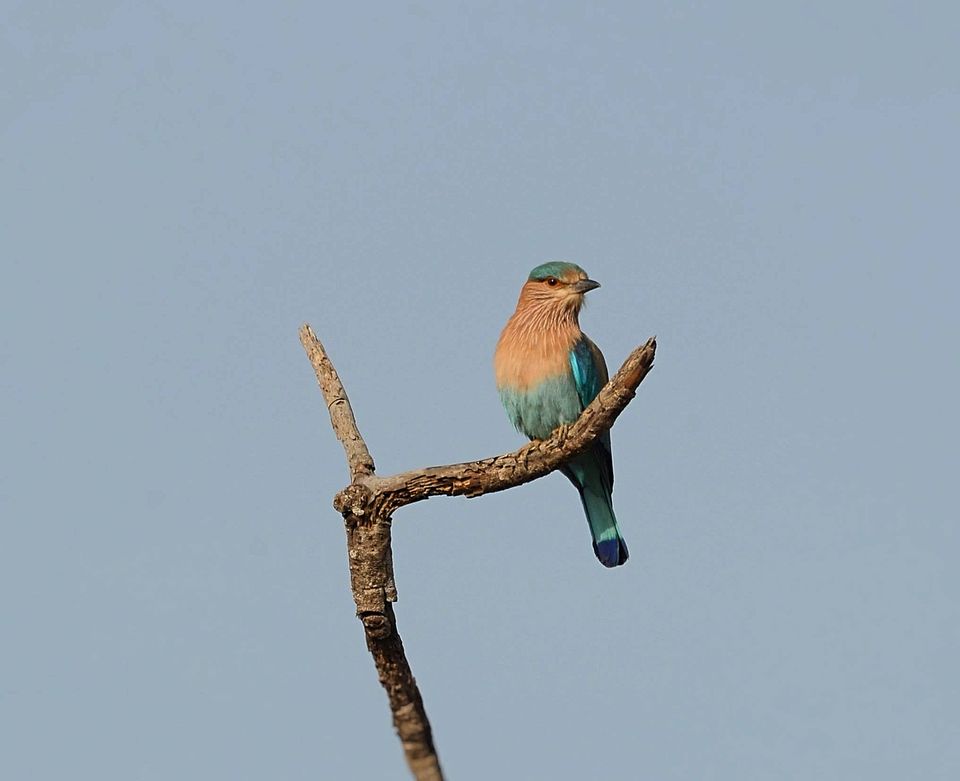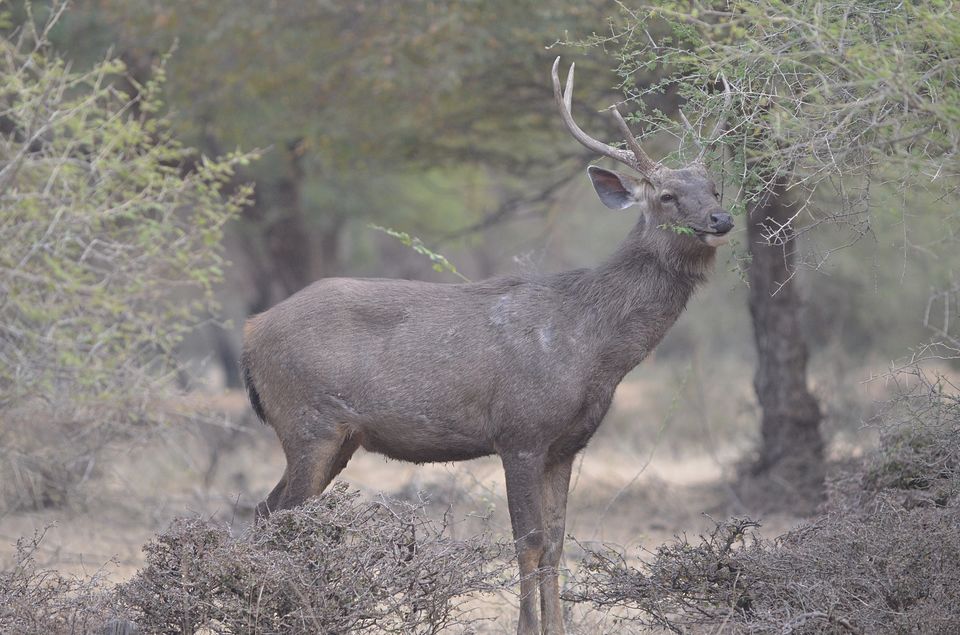 We anchored near a watering hole after receiving calls of the sambar deer. The naturalist and the driver agreed to each other on the genuine call and that the tiger was out on a stroll.
These kinds of news reach soon through jungle networks. Next gipsies came lining up behind us. The way travellers, photographers and selfie-takers took position it seemed no sense of emergency could move them off the stance. All that was required was to sit and wait.
Slowly the sun's scorching heat toned down our enthusiasm, and we took a quick drive to freshen up at the rest area of the forest.
When we were on our way back after 30 minutes I saw hands signalling us to come fast. We raced to reach the spot but in vain. Speed didn't matter anymore. We missed seeing a cat by seconds. The tiger arrived to the watering hole and had a long soak and showed its moves. I lived the moment through photos and videos of the other safari goers. Had I stayed there and waited like the rest it would have been a different story.
We left the que unaware one mistake, one error of judgement, and we'd be missing away frame-worthy clicks and stories' worth featuring.
Reasons for not having a good day in Pench, Madhya Pradesh
Pench National Park situated under the Seoni and Chhindwara districts of Madhya Pradesh shares the southern boundary with Maharashtra and hence is accessible from Maharashtra as well.
There are three main gates to the park, namely the Turia Gate, the Karmajhiri Gate and the Jamatra Gate. While booking a safari, your aim should be to bag Turia gate that unfailingly increases your chance of a good sighting. Note, Turia allows 35 gypsies while others permit only 5 gypsies at a time. Most resorts and hotels are within close periphery to Turia.

"From 2018, Kursapar became the main active gate of Pench, Maharashtra", Omveer says, even so in 2017 couldn't promise good sighting to us. However, this narrative has reversed.
It was also a missed opportunity for us not to have Omveer Choudhary, the naturalist of Tuli Tiger Corridor now a freelancer, as a tiger tracker on our side.
Omveer Choudhary, a naturalist cum wildlife photographer has been conducting game drives in Pench for years and most of his endeavours are successful tiger chases.
Recent Sightings on the Rise.
Recently after chatting with him, he filled me in why sightings have gone up in Pench and also in the buffer zones which years before were unsuccessful sighting zones. "Last five years some more tigress and even some males has become active in Pench", he told me.
Over the years, Omveer had seen some up-close sightings of Collarwali and Langdi, the most famous and photographed tigresses of Pench. At this time of year, not much people on the trail, he photographed Patdev tigress with her cubs.
Leopard sightings are the most difficult for they stay up across rocky outcrops. Mostly they're shy, elusive. In the golden foliage of Pench, it takes an eye and luck to spot the golden coat of the spotted cat. Omveer says, leopard sightings have also increased in the Turia side of the park.
There is good news. Tourists spotted post lockdown a rare black melanistic leopard in the Teliţa buffer zone.
There are many reasons for the rise in tiger sightings in a forest. In the BBC documentary on Pench, Spy in the Jungle narrated by Sir David Attenborough, he gave an insight that females will each take up territory closer to the mother whereas males go much farther and if necessary fight for territories of their own. The result, more tiger population goes well spread across the forest and when the cubs grows as sub adult and starts giving sightings, the park's popularity as a sighting zone picks up. I would love to believe that has also happened for Pench.
The first-timers to Pench visit the jungle reading Rudyard Kipling's Jungle Book, an epic story about a little wild boy raised by wolves in the Jungles of Madhya Pradesh now known as Pench National Park. Some forests throw much weighted aura for the documented jungle experiences. Most of them have become Indian bestsellers among wildlife stories. That deep love and commitment to the forest have endured, grown, and blossomed evermore in Indian minds.
With the recent activity peak in the wilds together with Omveer's big cat tracking, it is easy to say, now is the best time to come into the forest for such adventures.
I loved the forest even after days of unsuccessful tiger chases.
The swaying teak and sal among the pale-coloured bark of the Indian ghost trees (gum karaya), bright orange flame-like palash draping the forest floor, rows of bamboo thickets and marshlands - the landscape unfurls like a nature's gallery, each different from the other.
The area supports gaur (Indian Bison), sambar, barking deer, chousingha, chinkara and wild boar. While the key predator is the tiger followed by leopard, wild gog and wolf. Other animals include jackal, fox, Jungle cat, common mongoose, small Indian mongoose, ruddy mongoose, hyena, porcupine, ratel. There are over 325 species of resident and migratory birds including the malabar pied hornbill, Indian Pitta, osprey, grey-headed fishing eagle, White-eyed buzzard, 6 species of vultures. In winter thousands of migratory waterfowl including brahminy duck, pintail duck, bar-headed geese, coots, pochards, wigeon, gadwall, mallard visit the tanks and reservoir within the park. Pench Tiger Reserve is also among the best area for birding.
I found a machan and wondered if I could stay all night waiting for the tiger. Would it show up in a slow stalk? Thoughts go wild and haywire when you're in the wild. Contrary, I believe you can learn more on the ground than reading a book and my time spent inside the jungle and with tiger trackers confirmed it.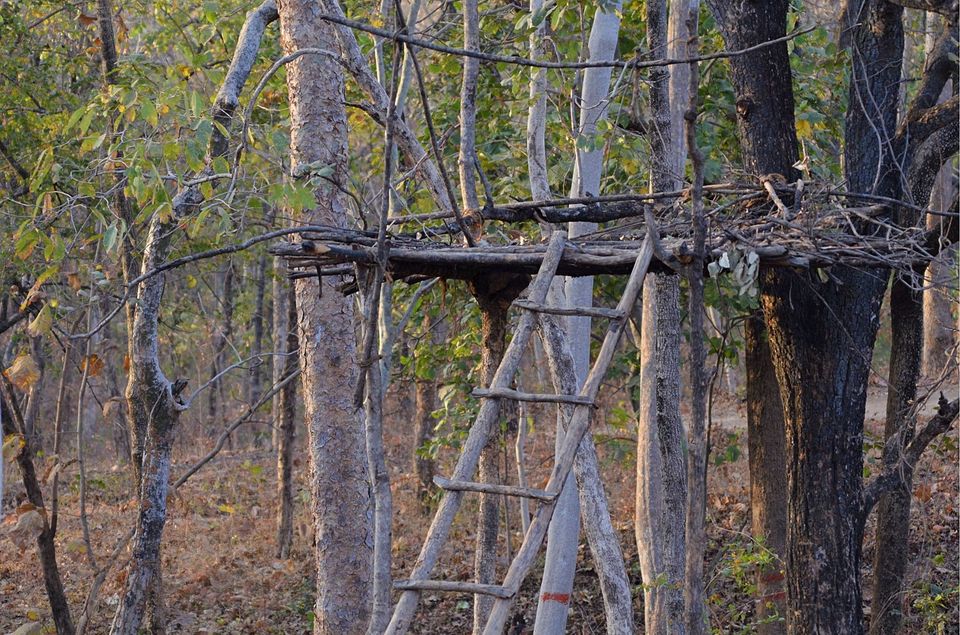 Today when I look back to that not-so-good-day at Pench, I wonder how many times I'd passed a tiger whilst she lay hidden, watching me.
Surely my luck would come soon in Pench.
Safari Booking Information
Online booking for Park Safari visit
More Tales On wildlife: In Search of the Wild Sri Lanka | Tales from Ranthambore