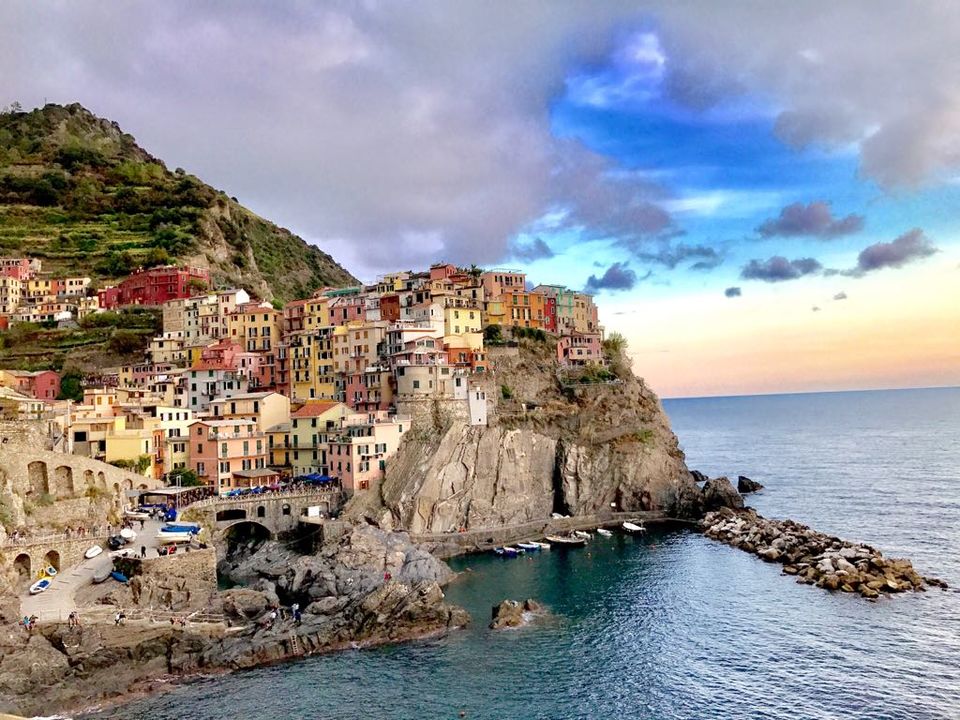 I was assured of my willingness to endure when I took off on this seven-day solo sojourn across three European countries, Germany, Austria and Italy. Italy was to be my last stop-over as I had been there before and was quite confident about being able to find my way around. But like they say, things don't quite turn out the way you expect them to! Something very similar happened to me.
Since my plan was to spend a day hiking between two of the five spectacular fishing towns of the Cinque Terre, I had booked a bed in a dormitory in Milan (the closest big-Italian-city) for two nights. As luck would have it, my easy jet flight from Munich got delayed by an hour and a half and landed at the Milan Malpensa airport around 11 pm. Since it was raining and the city center was almost an hour by bus, I decided to spend the night at the airport and take an early morning bus to the Milano Centrale station.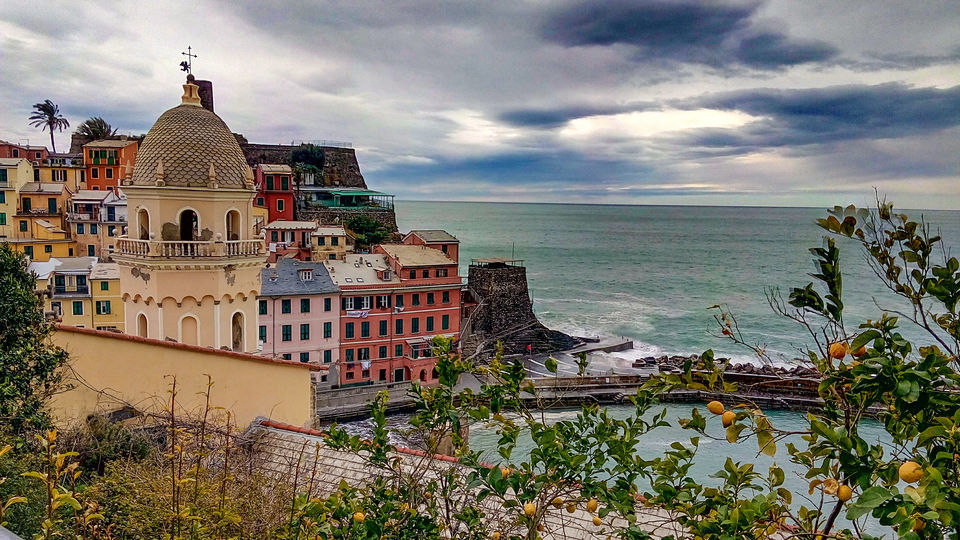 Unlike the airports in Germany and London, the airport in Milan didn't offer any comfortable couch areas where I could charge my phone and camera batteries. So I had to do away with sitting on the floor, near a plug point close to an automatic snack dispenser. Also since the airport seemed quite isolated after 12 am, I kept myself glued to a copy of The Last Song for the rest of the night, guarding my back pack. Around 5 am, when the first bus for the city center arrived, no time was lost in finding a seat for a much needed doze. In spite of being dead tired, I could hardly contain my excitement when I reached the train station because I was about to board the train to this location that I had been dreaming about for days now :) CINQUE TERRE (Chink-wa (five) Terr-ay).
Made of the five colourful age-old villages, Monterosso, Vernazza, Corniglia, Manarola and Riomaggiore, this place bordering the Italian Riviera is regarded as one among the most scenic European coastlines. To avoid being caught amid 1000s of tourists in summer and the heavy monsoon showers in autumn, I deliberately planned my visit towards the end of winter. Little did I know that there were reasons to avoid visiting the place at this time of the year too. Here's exactly what happened.
Although I had my journey well chalked out, I had decided to seek a little more advise from the tourist information office on arriving at the La Spezia Centrale from Milan. The occasional sightings of the blue-green ocean and the cliff-side towns made the long train ride both pleasant and worthwhile. But it was only after I reached my destination that my worries began.
Due to the off-peak season, the tourist office was closed and not many spoke English. I had no idea how I was going to make it to Vernazza, the village where I hoped to begin my trek to Monterosso (the next fishing village). After hopelessly asking around for a bit and feeling lost, a young girl finally directed me to the underground ticket office, where I bought my ticket to the Levanto train station instead of Vernazza. By then, I was hungry, sleep deprived and tired. I had made up my mind to take a direct train back from Levanto to Milan. Yes, I was out of mind and I was actually backing out of visiting the colourful heaven after having come so far. However, if destiny has different plans then you just can't turn things around. Can you?
In a mere 10 minutes, the train which was on its way to Levanto stopped at VERNAZZA. I barely had a few seconds to make up my mind about reiterating my decision to go back. Luckily, I hopped off onto the platform in the spur of the moment and there stood the little village of Vernazza. Still slightly shaken by the sudden change of mind, I calmed down on seeing a few other tourists around. But as I exited the station, I unfortunately caught sight of a board that described the impact of the 2011 floods. It was one of those moments when you have to give the brave boy inside you a shove!
I can say, it was worth it. After walking a few meters into the village, I found myself overlooking the ocean and the colourful houses that populated the wine yards and cliffs which rose on one side of the coast. There were no words to describe what I saw. But the waves that lashed the harbor distracted me as they seemed a tad bit too high and intimidating. Disturbing images from the boards at the train station kept flashing and no, my imagination wasn't running wild. Here and there, sign boards indicated DANGER and requested tourists to stay away from the rough seas. Instantly I was gripped by fear and my plans of clicking pictures by the shore were all doomed. What had seemed like a dream destination on the internet was turning out to be a night mare!
I got as far away from the sea as I could and started exploring the old town instead. I watched out for any sign boards that directed me to Monterosso. In a few minutes I spotted the ones I had read about and made my way into the alley ways that gradually gave way to unpaved hilly ground. As I climbed higher, the breath taking views calmed me, only so that I took no notice of the fact that there was nobody else in the area. By the time I finally started wondering why, I was already quite high up in the mountains. Fortunately I found an answer within the next 10 minutes. A few engineers were clearing rocks that had slipped away due to the recent land slides. As though to jerk me back to reality, a train that passed the village stopped with a screeching halt. As I engaged in a conversation with the engineers about the perils of proceeding further, they could only tell me that one could do so at personal risk. Apparently land slides had grown frequent due to the recent earth quakes that had hit central Italy. The information was enough to tell me that it was best to not go any further. Thankfully, I had been safe by far and my vantage point of the village and the beach below seemed good enough. After spending a few moments to regain my composure, I started back on the same path. Quite obviously, I was wide awake after my encounter with the engineers. Since my only other option to get to the other villages was to take the train, I decided to hop onto the very next train to Milan. I am not very fond of closed spaces and the trains that run in Cinque Terre mostly pass through long tunnels which have been carved into the mountains for the betterment of transport links to other parts of the country. But this was the only choice I had. It was as though the experience was especially designed for me to conquer all my fears. ( But what could have been even worse was made better by a little gelato shop which was open and the fantastic weather, which is rare during winters!)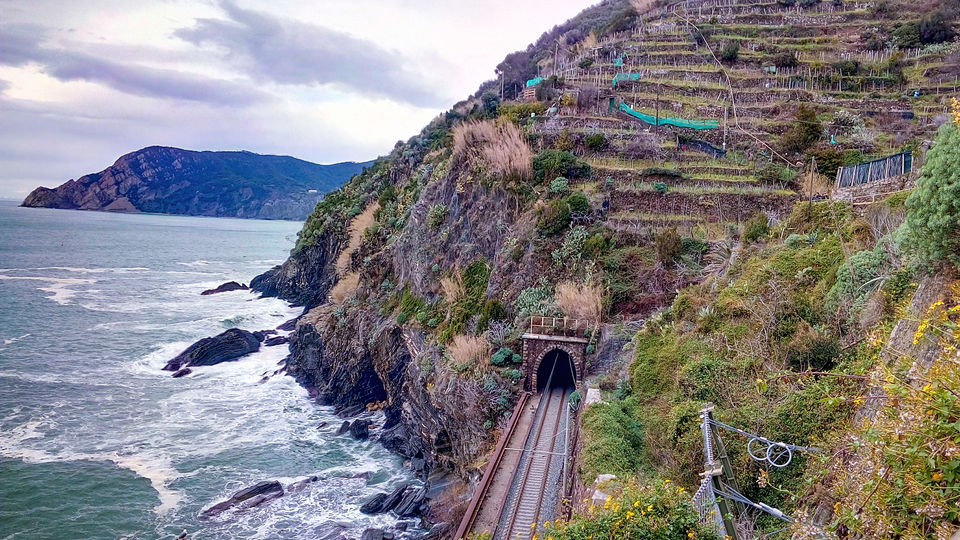 Throughout the journey, I was bogged down by the contradictory opinions of my own mind. Yet, at the end of the day, the exhilarating experience which was one of a kind was one more to add my list of never-ending adventures. One that I will remember vividly, FOREVER! :)
-------------x0x0x0x0x0x0x0x0x0------------------------------------------------------
Hi, so I was back in Cinque Terre last weekend to visit the other 4 villages. Thanks to my genius decision of hiking there in European winters, I was unable to visit all 5 dreamy villages at once. So this time around, I opted for a safer bet and decided to hike along the Italian reveira before the end of summer. Here's a do-it yourself guide for you to plan a visit to all 5 villages.
Starting in Monterosso Al Mare, it was an easy train ride to Manarola. From Manarola it was a well chalked-out hike to Corniglia and a train ride to Rio-Maggiore. Even though the train journey between these villages offer some beautiful views, more often than not, you would be passing through tunnels. I did two of the best hikes and took the train to Rio Maggiore and Manarola. This time around, I didn't have to return out of fear of land-slides :P In spite of being welcomed by a downpour, the beach at Monterosso Al-Mare was accessible. Later, I even got super-duper lucky to witness a magical sunset that came through after the skies cleared. Here's a little photo blog detailing my experience in the other 4 villages :)Finally I know where to point, if someone asked me about paradise on earth ;)