Gaurav was so fresh in morning at Phakding and according to him, the trek actually started. I was not that much fresh, the fact is I sleep late in night and I feel waking up in morning should get illegal someday :P (jokes apart, I am trying my best to wake up in mornings).
But to reach on time, we need to wake up as early as possible. And frankly, morning at such places have their own charm. Deep blue sky, snow-covered peaks, mystical landscape, breathing in fresh air relax you somehow. Phakding is beautiful. We started our trek around 8 am after taking a small breakfast.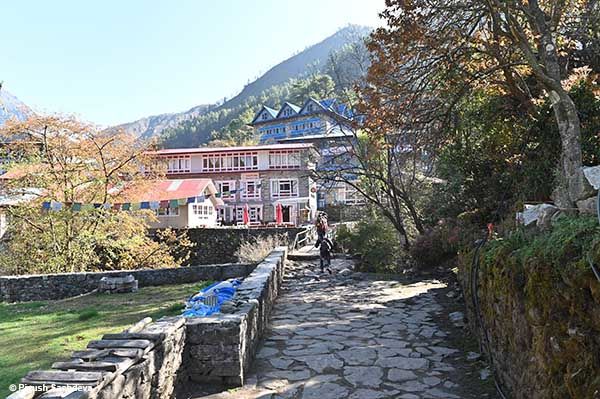 So today is our day 2 and we are going from Phakding to Namche bazaar. Namche Bazaar is at the height of 3400 meters which means this trek we going to gain 800 meters.
As soon one start its trek from phakding, you going to face yet another Suspension bridge and from their I started counting how many suspension bridges will come for Everest base camp trek. It's the second one and frankly I was quite excited for it. There was no fear now.
The trek is good and one can notice many tea houses. Many are under-construction as well. All tea-house / lodges at phakding have fix price - Nepali Rs. 500/- however, dinner and breakfast is compulsory. If you do not want that then the price is Rs. 1500/- per room. (As on April 2019)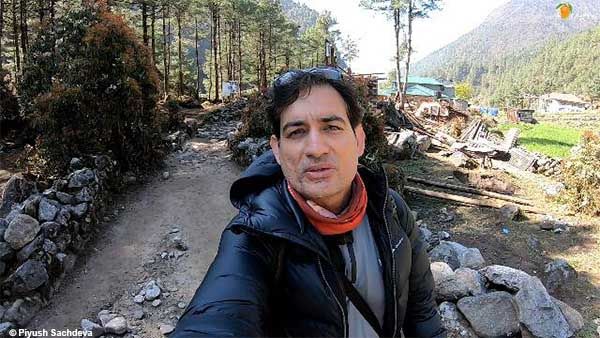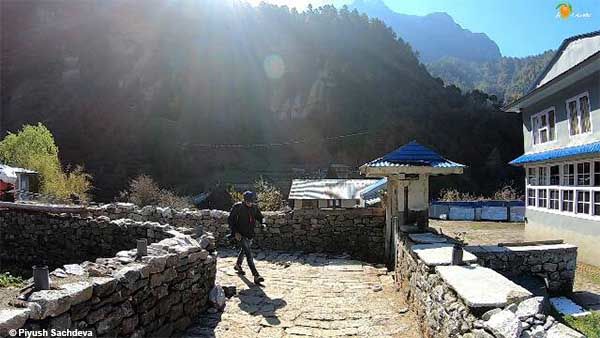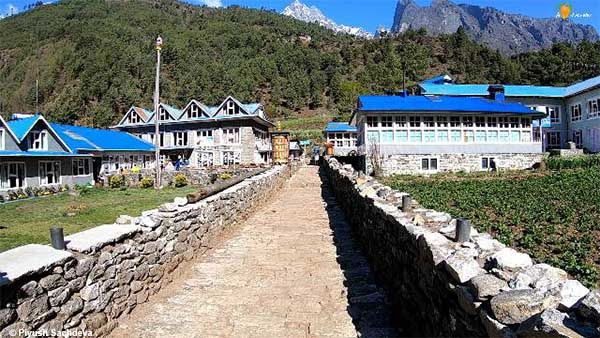 Morning trek till Monjo was with lot of trekkers, porters, mules, yaks and small villages. The trek is easy one with one or two tough parts.
Always remember to stand at mountain side when mules and yaks pass by, it can save you from falling into Valley :P .. We did one mistake and it was kind of scary one and that was our last mistake in regard to it.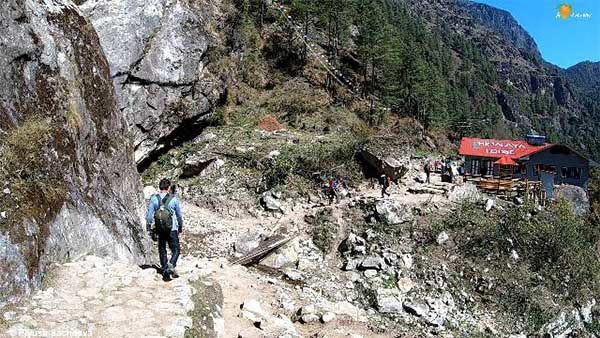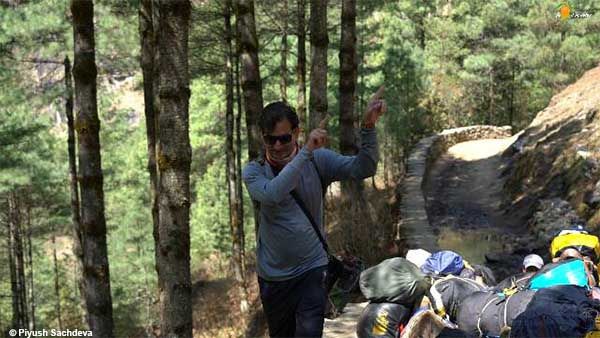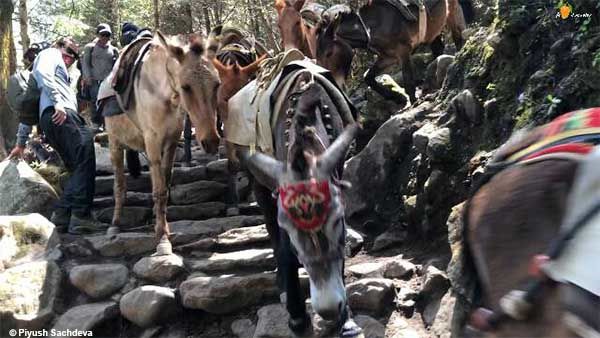 It took almost 3 hrs to reach to Monjo where we once again took a permit for Sagarmatha National park and which cost us NPR - 1500/-. As soon you pass from the check post there comes a 3rd suspension bridge and crossing it comes Jorselle, where we took our lunch. Most of the trekkers do this. But the place is much crowded as there is no tea house after this place. So I will suggest to have a good lunch here because after this trek is going to be very difficult.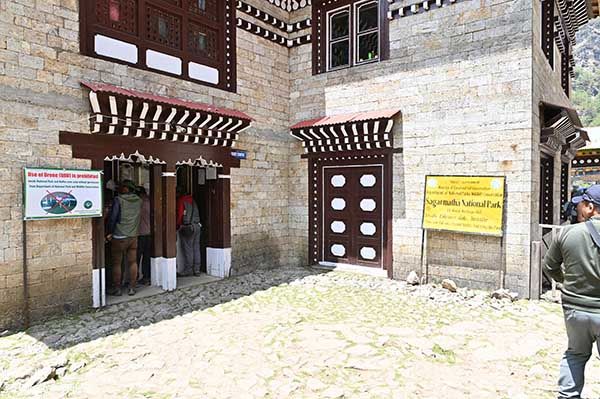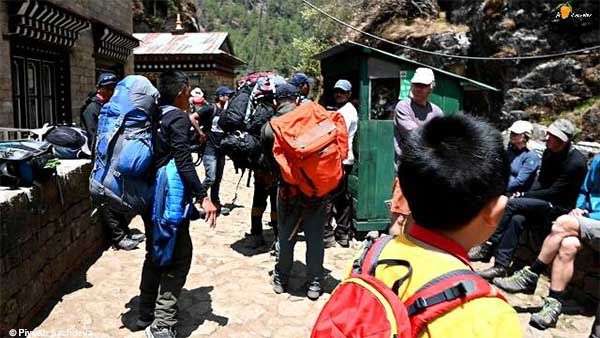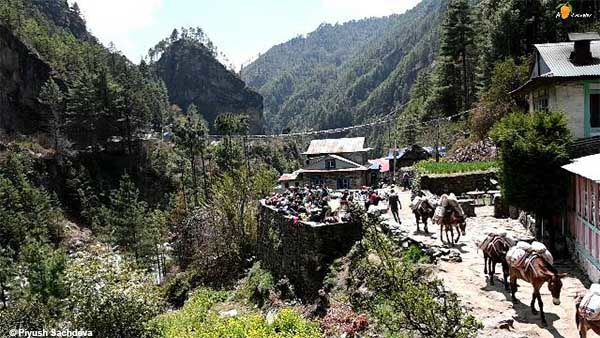 In this whole trek, we encountered with 5 suspension bridges. Of which Hillary bridge is the highest and longest one in whole Kumbhu region and that the place where I got scared once again.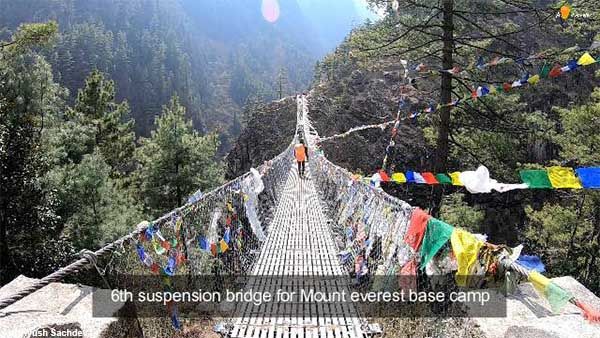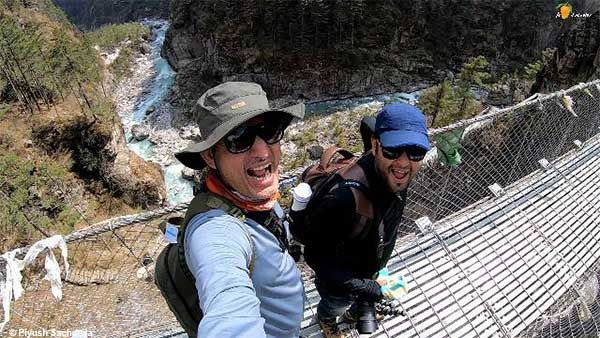 Even before reaching Namche bazaar, we both were fully exhausted. Every steps seems like a torture once again. It was the very first time when I thought that my lungs would explode. Effective oxygen level in air is 13.7%.
But as soon as we reach to Namche, all our tiresome feelings went off. Namche bazaar is so beautiful that even before entering its gate, one can feel like this whole little town trying to embrace you lovingly, like, it is just waiting for you to come. In one frame you can see everything.
It took us more or less 7 hrs to do this trek. Baby step was my mantra for the whole time. I was slow but with steady speed.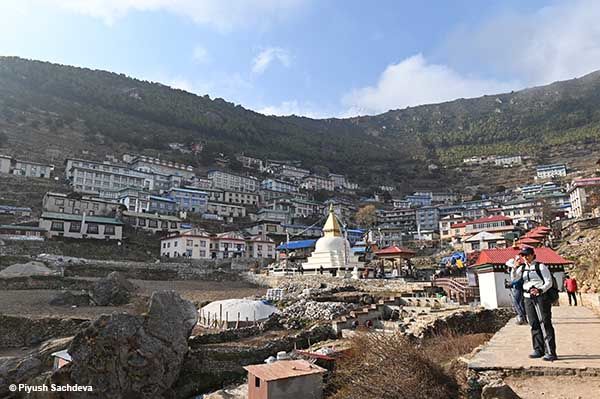 Message -
* Please don't litter. The more we keep clean our countries the more we enjoy it.
* Avoid using Plastic bags and bottles. Make awareness to your circle as well.
Main Points to note :-
1.) How to start the trek
Reach to Nepal capital - Kathmandu. Tribhuvan international airport.
From their you can take flight for Lukla if you have less days with you. It's a trek of minimum 12 days, but aleast come for 14 days.
If you have extra days with you, you can start your trek from Jiri - by which trek time increase to 18 days minimum.
2.) Best time to Visit
Avoid rainy season. And the best time are from March to mid May and from September to October. Technically this trek remain open round the year.
So this was all about our Day, see you in my next blog, where we will be exploring Namche bazaar as it was our Acclimatization day. If you liked the video, than please subscribe the channel and if you have any query, feel free to contact me anytime :)