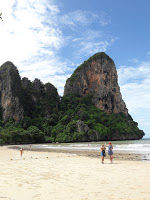 Thailand, an evergreen tourist destination for all beach lovers has many hidden gems. In 2010, I did a 24 days Thailand trip across the key destinations - you can read all about on this blog. The memories of the trip were so fond that, I was awaiting an opportunity to visit the Andaman waters, friendly Thai people and the islands once more. In this short trip to Phi Phi and Railay, I discovered another side of Thailand - one with peace.
A small island about an hour long boat trip from Phuket, known for its scenic landscape, bustling island cramped with life was the first stop. You can find cheap hostel accommodations to some beautiful hotels. Walking is the only mode of transport. Meandering though the small lanes with pubs, Son Mong bucket, shopping gives this island a very lively feel. A paradise where you enjoy the curvy, blonde beach and party all night. Take the long tail boats for island hopping and snorkel amongst some beautiful corals and colorful fish.
Hop on cruise to Railay island - again about an hour's drive from Phi Phi. This forbidden island is a complete contrast to Phi Phi. Instead of small hotels, you would find here some beautiful villas and resorts. Instead of party, you find peace here. Surrounded by tall limestone peaks, Railay offers couple of stunning beaches- Railay West beach and Ko Phra Nang. You can also choose between Ao Nang or Ko Lanta beaches as place to stay depending on what you are looking for. The walk between Railay East to West is just 10 min, however West side provides beautiful sea view whereas the East is more of the Pier.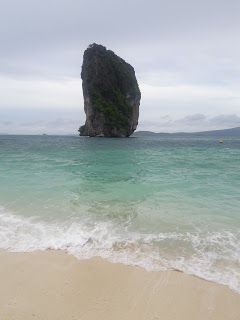 Perfect destination for rock climbing fanatics or take a along the coast at Railay. There are good options for a quick day trip for island hopping tour to Chicken Island and Poda Island. At night, relax at one of beach side resort restaurant or on the walking street eat some barbeque fish and chicken! Phra Nang, a small beach on Railay, nestled amongst beautiful natural limestone rocks, is a must visit. The Princess Cave where hundreds of phallus are offered by the locals is a unique temple. Beware of the monkeys!
Both islands offered some of the most pristine Andaman waters, white beaches cornered with islands and peaks. Eat, party, relax!
This blog was originally published on 'The Desi Travels'