Day1: We planned an 8 day trip to this gorgeous country we were skeptical about. Our first day we landed in Amman, capital city of Jordan. Our stay was booked at this very well located and friendly place called Sydney hotel in the downtown area.
Hashem restaurant famous for it's hummus and falafel is at a walking distance from here.
Day2 : We took a bus to Jerash and spent the day exploring the ruins in scorching heat. Make sure you carry your water bottle.
Day3: Took a bus to Wadi Musa, home to Petra(one of the seven wonders of the world). We decided to chill in the day and go for "Petra by night" in the evening where the entire six trail till the Treasury is lit up by lamps. It's a beautiful experience with lights and music and a cup of hot tea.
Day4: We packed our snacks a day before and set early in the morning to avoid crowd. Today was entirely dedicated to explore the ancient city. The treasury above is featured in Indiana Jones movie.
Another one from the Treasury. The entire city takes almost a day to cover so plan accordingly.
Al Deir aka Monastery is reachable by foot or by mules. It's a tiring hike to the monastery but all is worth when this enormous structure is in front of you. Admire and wonder, how it must have been carved from a huge rock long back when technology wasn't in it's prime.
View of Wadi must city from our hostel rooftop ! With the Jordanian music in background and best friend by my side all was forgotten.
Day 5: Wadi Rum desert>> We now ventured into the land where Martian was shot. A sprawling desert with stupendous views. Look at that sunset and the red sand around !!!*sigh*
A stay in wadi rum is must when you visit Jordan. Opt for a full day Jeep tour along with overnight stay. Climb the boulders and rocks, go tumbling down the sand dunes and enjoy the barren land.
We stayed in bedouin tents and ate the traditionally cooked food. The food is prepared under the ground, the heat from sand slowly cooks the food and boy! was it delicious...
Day 6 : And now with the overdose of desert we were headed towards ocean. Miles and miles of water as far as eyes can see. After a drive of 2-3 hrs, we were now heading towards blue azure waters.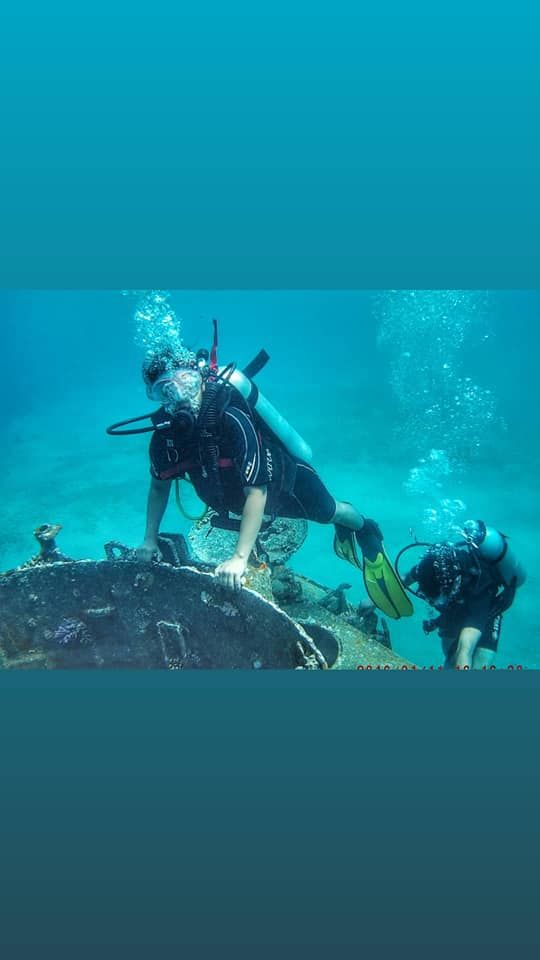 How can you not try Scuba diving in Red Sea ??? Our destination was a drowned military tank underwater. And how gorgeous it was with all the corals that now called it their home.
Okay !!! It's Day 7 and time to do something I had never thought of doing in my life. I was going to float in Dead Sea. I read about it in school but never bothered to remember cause I never knew I could make it till here. So, here I am casually reading a book while floating in the Dead Sea .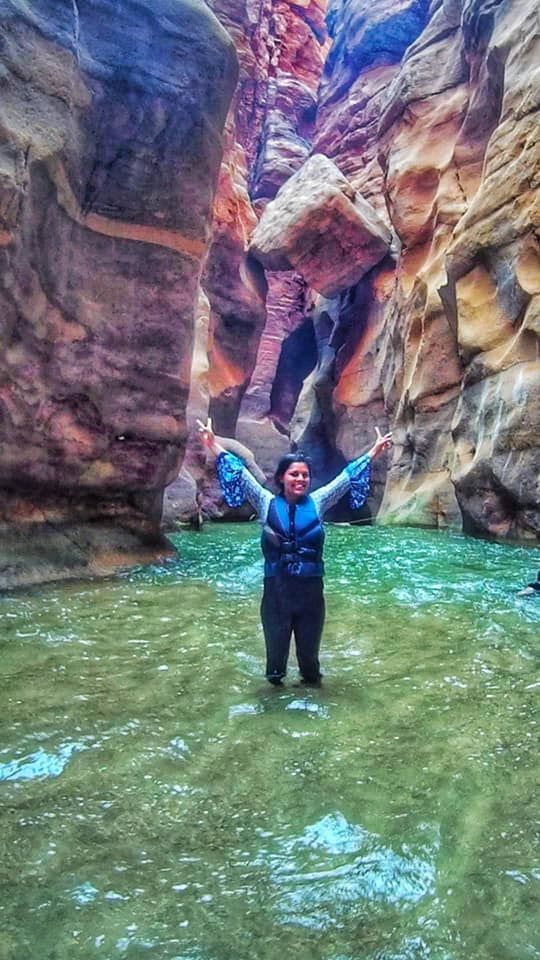 And Saving the best for "Second last" . Here is me at my happiest self in Wadi Mujib. If you seek adventure this is the place to be. Tried canyoning for the first time and completely stunned and satisfied with the experience.
Day 8: We were back in Amman, and had our flights in the evening. We decided to explore Amman citadel and Roman theatre. Above is a picture of Hercules's hand from the old temple ruins.
Hope I have convinced you enough to book your tickets right away !!! Okay, not right away, just avoid summers or you'll be roasted. :)
Happy Travelling