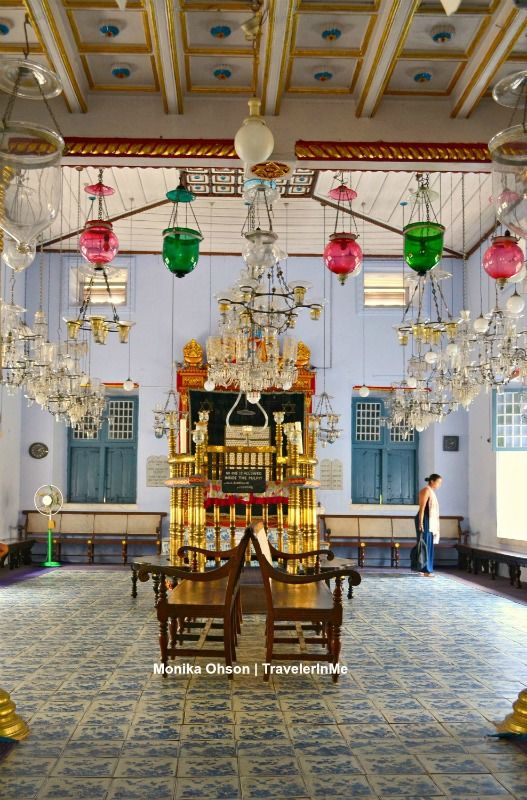 > Paradesi* Synagogue, nestled in the quaint part of Kochi — The Jew Town. Also referred to as Cochin Jewish Synagogue or the Mattancherry Synagogue
> It was constructed in 1567
> The original synagogue was built in the 4th century in Kodungallur and later when the Jews moved to Cochin in the 14th century they built this synagogue
> It is the oldest 'active' synagogue among the Commonwealth nation
> It is one of seven synagogues of the Malabar Yehudan**
> It was destroyed by the Portuguese (in 1662) and reconstructed by the Dutch after a couple of years
> For service to be conducted 10 men are required and due to the dwindling number of Jews in Kochi, it is difficult to complete a minyan***
..
The Synagogue houses:
# The 19th century glass chandeliers dangling from the ceiling were imported from Belgium
# The floor of the synagogue is made of hand painted blue willow patterned floor tiles brought from Canton, China in the 18th century by Ezekiel Rahabi
# The teak Ark houses four scrolls of Torah (the first five books of Old Testament) encased in silver and gold
# Two gold crowns presented to the Jewish Community by the Kings of Kochi and Travancore
# Copper plates belonging to the 4th century with inscriptions in Malayalam describing the privileges granted to the community by the erstwhile Cochin king. It is written in kannadiyezhuthu script or mirror image writing
# An oriental rug gifted to the Jews by the last Ethiopian Emperor Haile Selassie
# A tablet from the 1344 synagogue in Kochangadi, Kochi is installed on the outer wall of the synagogue
..
..
*Spanish speaking Jews or White Jews (mixture of Jews from Kodungalloor, Middle East and Europe)
**prosperous trading community of Kerala & they had major hold on world wide spice trade
***quorum of ten men over the age of 13 required for traditional Jewish public worship
..
..
....and, if you like what you see & read, do 'like it' & 'share it'. Also do not forget to 'follow' to remain updated about newer posts!
HAPPY TRAVELLING!
Monika Ohson | TravelerInMe
This was first published in TravelerInMe