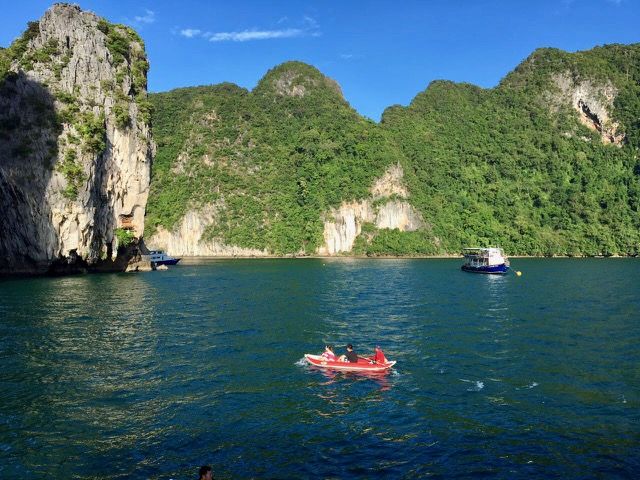 Phuket is always related with Nightlife, Food, Beaches and Partylife! So unlike the feisty image of this place, we explored the secluded and tranquil side of Phuket by opting for a sunset cruise at Phang Nga bay. Phang Nga Bay is a 400 km² bay in the Strait of Malacca between the island of Phuket and the mainland of the Malay peninsula of southern Thailand. Since 1981, an extensive section of the bay has been protected as the Ao Phang Nga National Park. The cruise begins from Ao Poh pier. and takes you the breathtaking views of islands spread across Phang Nga Bay National Park. As you reach Panak island and anchor at the coast, your canoeing boats are ready to take you to a ride on a never forgettable experience of canoeing and floating Kratong (Loy Kratong in Thai culture) in mangrove forest. As you enter the lagoon canoeing through the limestone caves you see nothing but the darkness. Once you exit the caves and enter the lagoon with lights hitting your eyes, it takes you to a different era altogether. You witness sky touching cliffs, different kind of flora and fauna. It was fun watching reptiles, monkeys and fishes swimming in the lagoon. The entire scene is nothing but a picturesque moment. Post which we departed from Panak island to Hong island and enjoyed canoeing around and explore hidden caves, lagoons.
Later, we enjoyed a great seafood buffet dinner on board the cruise in the backdrop of beautiful Sunset in the evening and later returned to Ao Poh pier. We were later dropped at our hotels.
The cost was approx. Rs.4000 per person which included pick-up and drop from your hotel in Phuket and on-board meals & beverages.