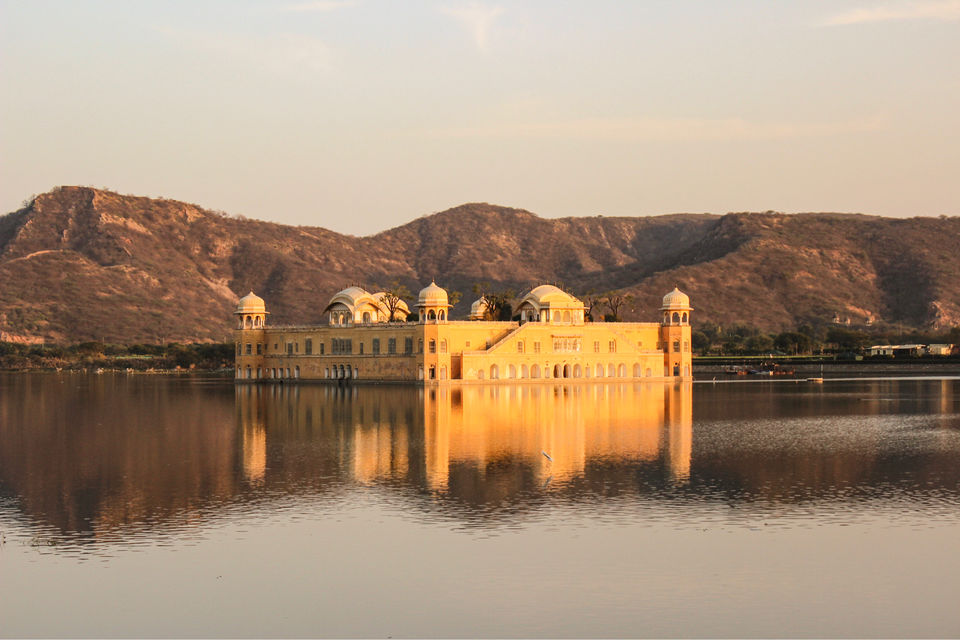 It was 7th week of the year and for my 7th trip I was heading Jaipur - The Pink City. Its the largest city of Rajasthan having UNESCO World Heritage Sites. Plus this city satisfied my Travel condition wiz. traveling at least 500km from Mumbai. You just need 535 bucks and 17.5 hrs to go here via Bombay - Jaipur Super fast Express from Mumbai Central Station which leaves at 06.50pm.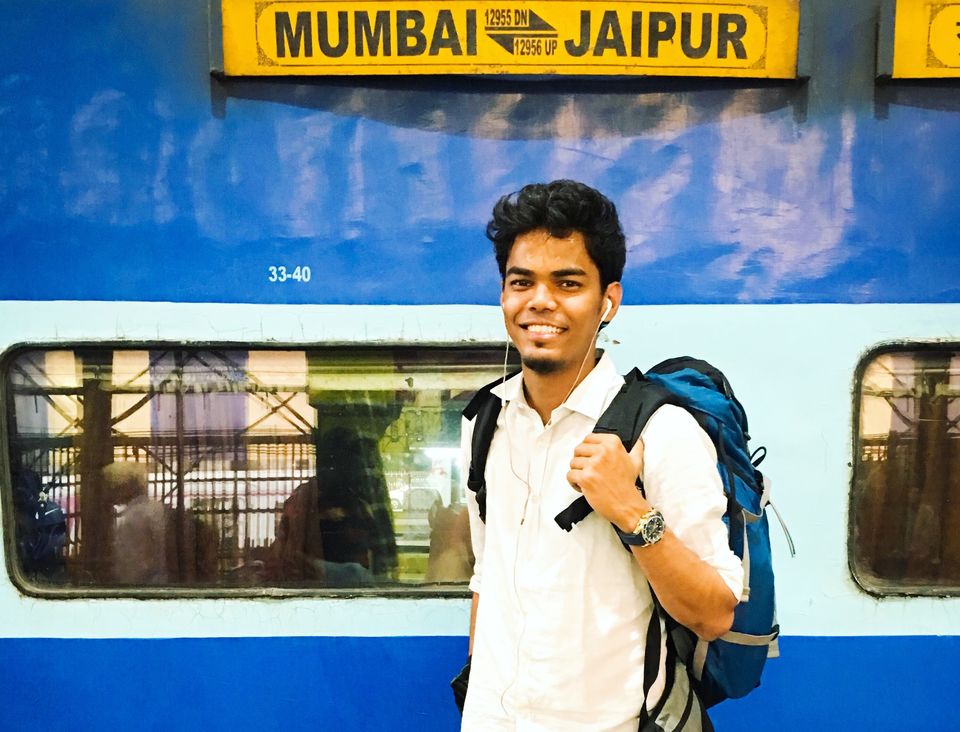 The journey consist of just 13-15 stops so less bhelpuri and vada pav options from different stations, especially from Gujrat State. You have to manage either by Lays or have the top notch IRCTC food. Since we were 4 people here, 2 preferred Lays and others gave a try to superior IRCTC.
After 20+ UNO games in morning and 4 "dip chai" we reached Jaipur Junction when the watch clocked 1pm. Quickly we stepped out of station where many Hoteliers and Auto drivers were waiting for us with their best offers. But one guy caught my attention here, he promised us to show good hotels within the vicinity of 500m from station in 20/- that too in his sedan car. I thought of giving a try and fortunately it turned to be a good hotel, Hotel Gem Plaza. B ooked just 1 room for 4 people in 1200/-. We freshened up instantly and were all geared up to explore this city.
Hired a auto for 450/- till Amer Fort and back from 2 to 6pm. Bit on expensive side, cab be 100/- cheaper as well.
The first in the list was Amer Fort, known for its incredible beauty, this fort is 13kms away from Jaipur station. Hired a auto for 450/- till Amer Fort and back from 2 to 6pm. Bit on expensive side, cab be 100/- cheaper as well. The roads are not very friendly on top of that the city is quite dirty, it wont sooth your eyes. But the buildings and structures all over are very unique and depicts the Rajasthani culture. They have tried to maintain pinkish red color of these structures which helped them to get the tagline of Pink City.
After 45 mins of city sightseeing we reached Amer Fort. Its in between two mountains. The sunrays made the fort look more golden.
The entry fees are ₹100 per head. You need to climb the zigzag routes and 100 odd steps. At the entrance of the main gate there are couple of shops selling garlands and sweets for temple inside fort. The aroma of those sweets are so fascinating that you can't resist yourself from buying one.
Its a huge fort with many rooms in it. After all its the place where Jodha resided and Akbar won her from this place. The sheesh mahal inside the fort is just magical.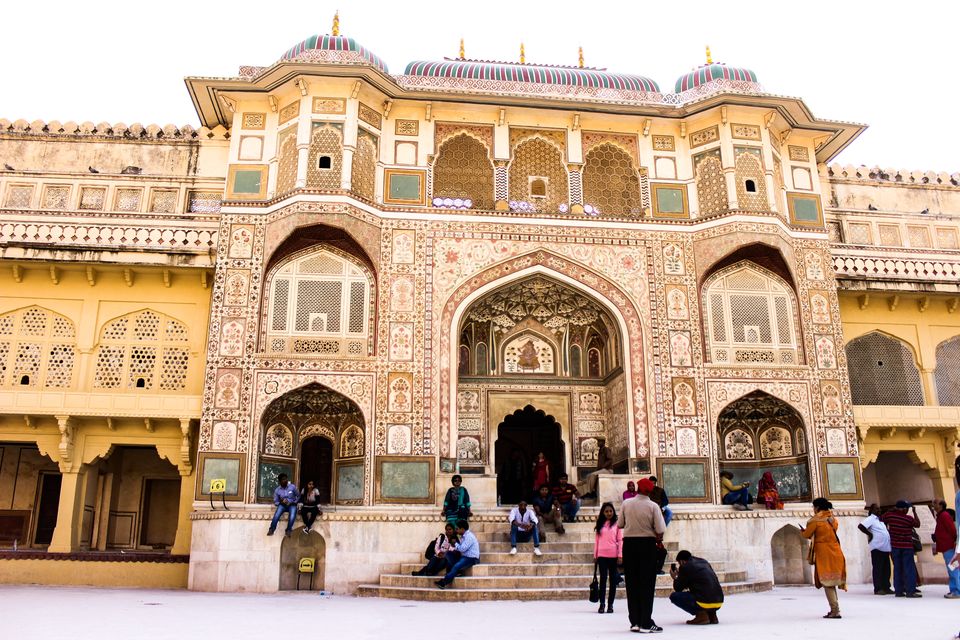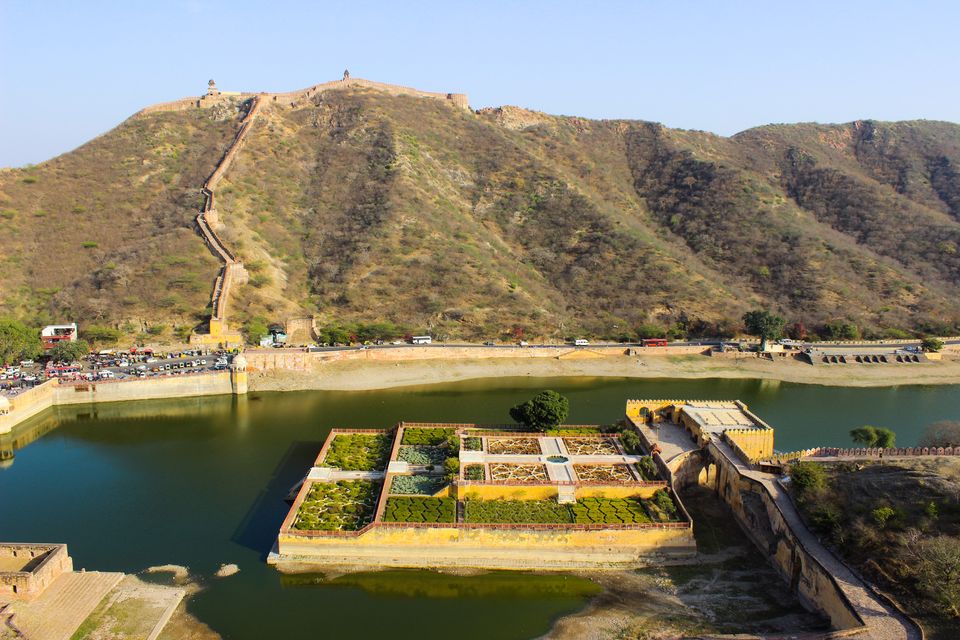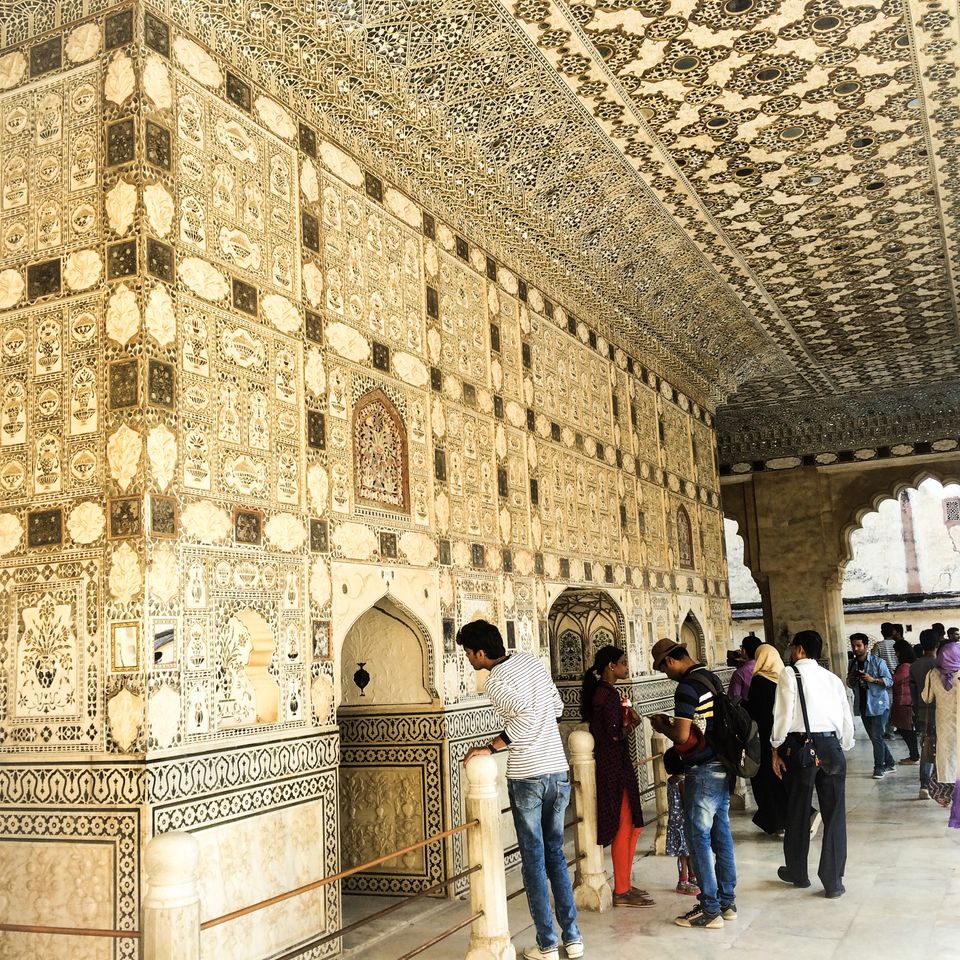 You need atleast 2-2.5hrs to cover this entire place. There is a 2km tunnel from this fort to Jaigarh fort, situated high on mountain, unfortunately we were late in arriving at tunnel gate and it got closed 15 mins prior.
Now we were on our way to Jal Mahal, a palace situated inside a lake. The auto driver told us how couples, families and kids roam here during evening and I could easily connect this with our Marine Drive.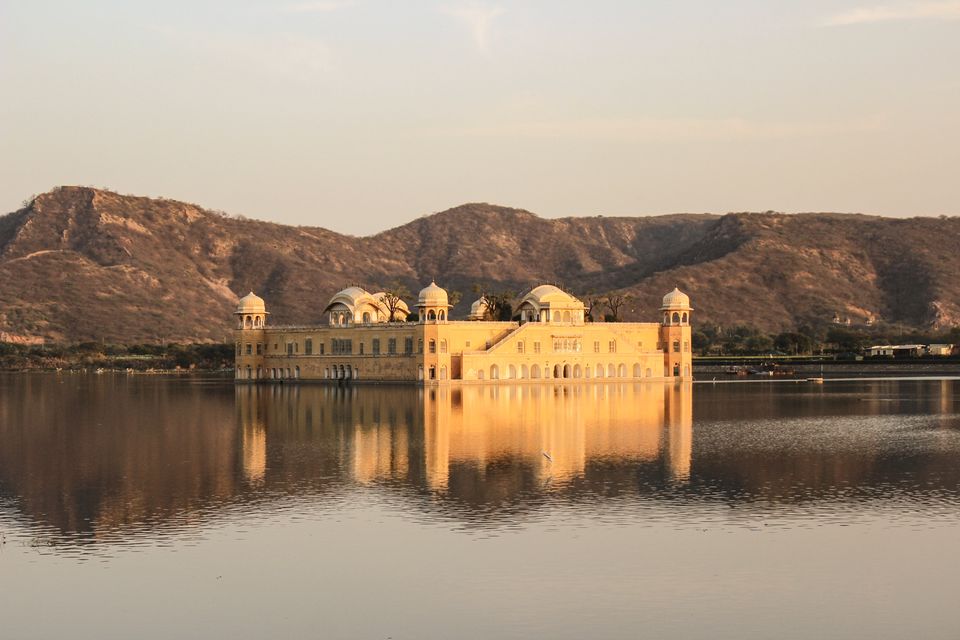 It was 6pm and we asked our auto driver to drop us near Hawa Mahal. This place is situated in the heart of the city. Jaipur traffic is as bad as Mumbai, maybe beacuse of metro rail development.
This is the most visited place by tourist in Jaipur. Its a beautifully designed architecture, situated on main road. As it was already 06.30pm we couldn't get inside the Mahal. The entry closes by 5pm. But we wanted to admire this beauty from a certain height. There is a cafe exactly opposite to mahal, situated on 3rd floor. It gives extraordinary view of the Hawa Mahal, plus you can easily view the city from top and Nahargarh fort on mountain range. We spent nearly 1.5 hrs in this cafe. The hosts were very friendly. They have a audio system where you can play your own music and enjoy the view, we had ordered White sauce pasta for ₹200 which came after 40 mins but in the meanwhile we enjoyed the sunset and Hawa Mahal from this place.
Later we roamed around the market which was very colorful indeed.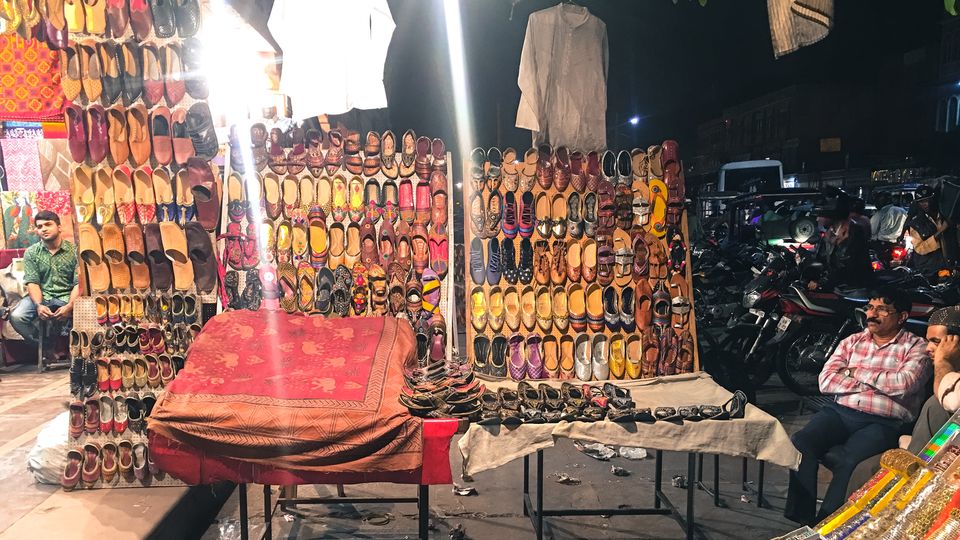 One can buy typical Rajasthani outfits from this market.
There is a famous Lassi vendor in the middle of market by the name Lassiwala. I would recommend you to try Lassi from this place, its too good.
After having lunch in LMB restaurant we headed our hotel.
We got up by 7 and after quick breakfast left for Amer again, because the other day we realized that we missed something ver interesting here and that is "Step well'.
Its a very interesting place to visit, just 10 mins walk from Amer Fort. You can click your photo of the day at this spot.
Later we took auto and reached Jaigarh Fort which is a the top most point of the mountain, though we had the option of trekking till fort, we chose auto since we were running a bit late.
This place has the largest canon in the whole world. It is perfectly situated at the top right corner of the fort.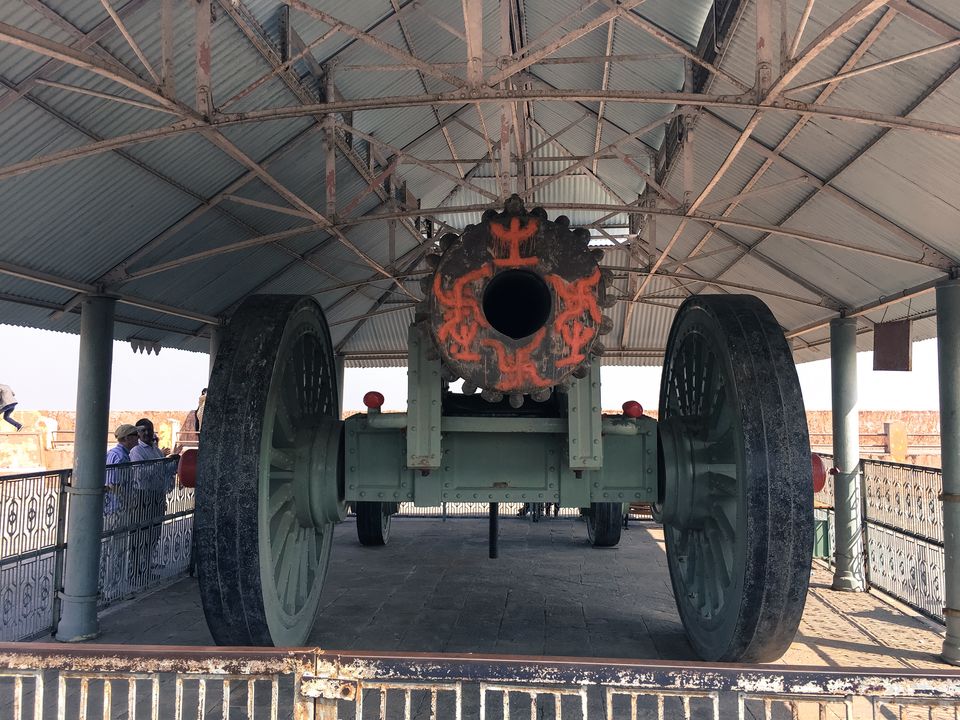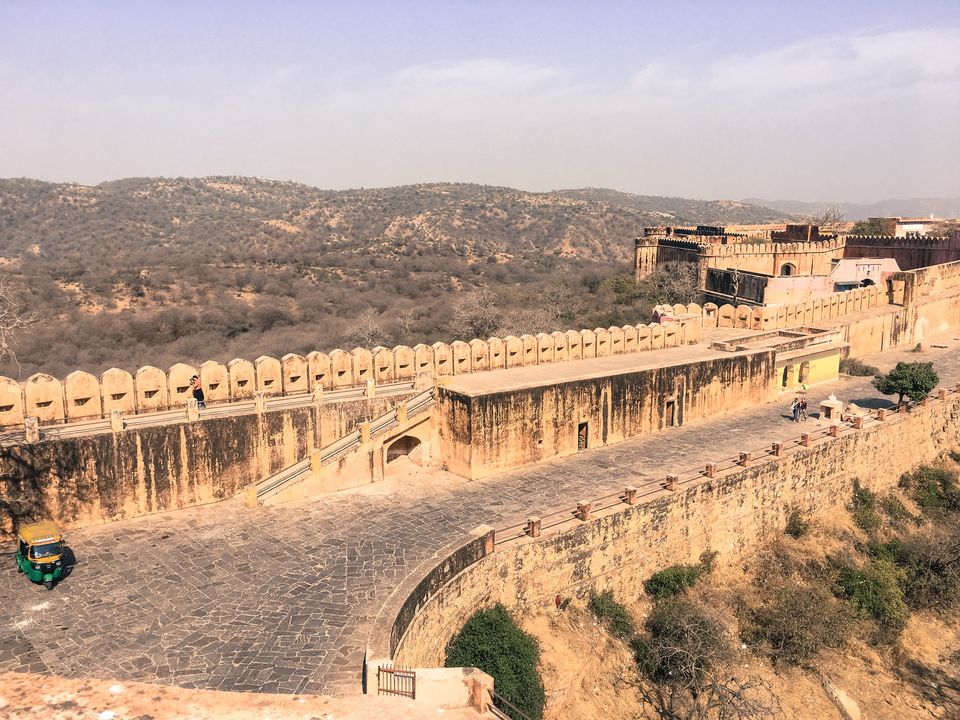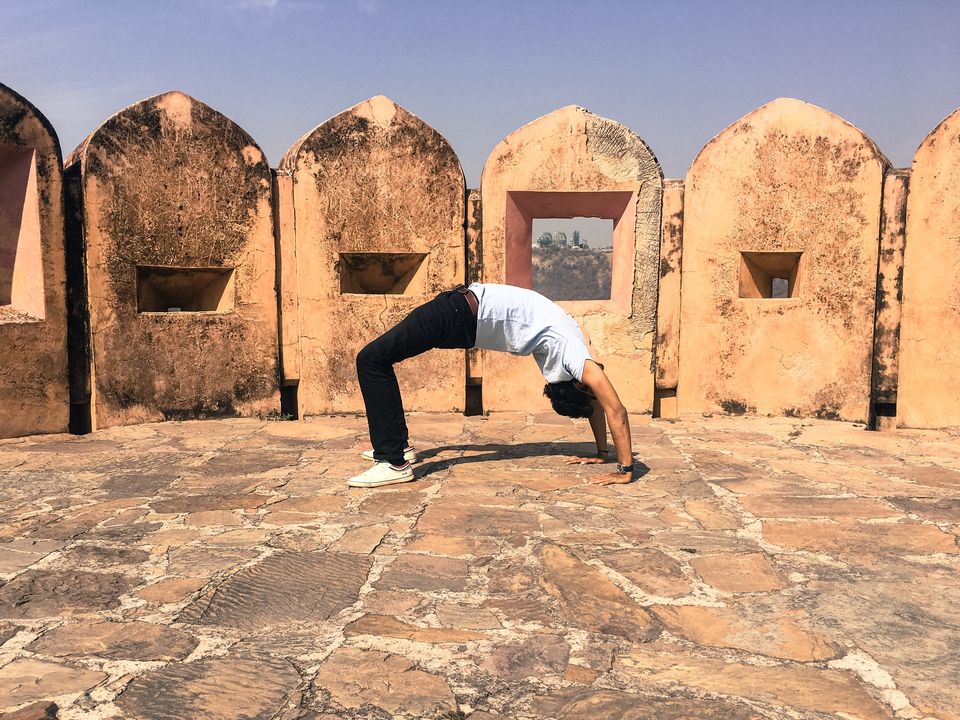 Jal mahal looks beautiful from this place. After walking few minutes you can see the Amer fort from top, the garden and fort view looks magnificent.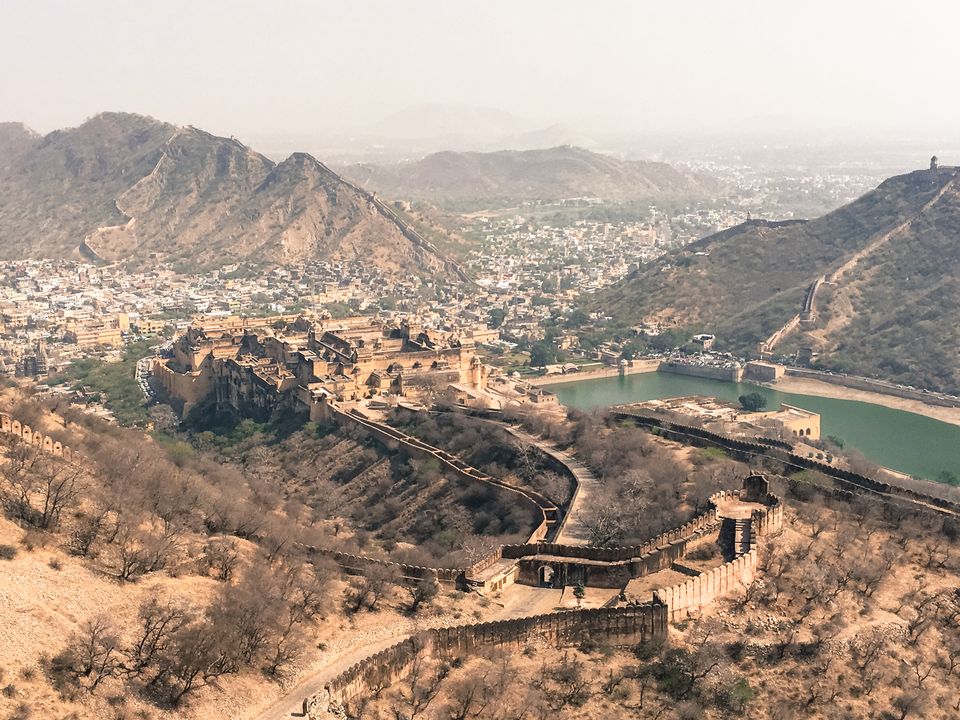 By the time it was 12, I could feel the temperature. It was getting hot. As soon as we got down, I had 2 big ice creams to kill the heat.
Last in the list was Nahargarh Fort. This fort is 6-7 kms from Jaigarh and it is located at highest point of Jaipur. The Pink city looks gorgeous from this fort. The rooms made for 9 queens here are very symmetrical and can easily put our modern construction in question.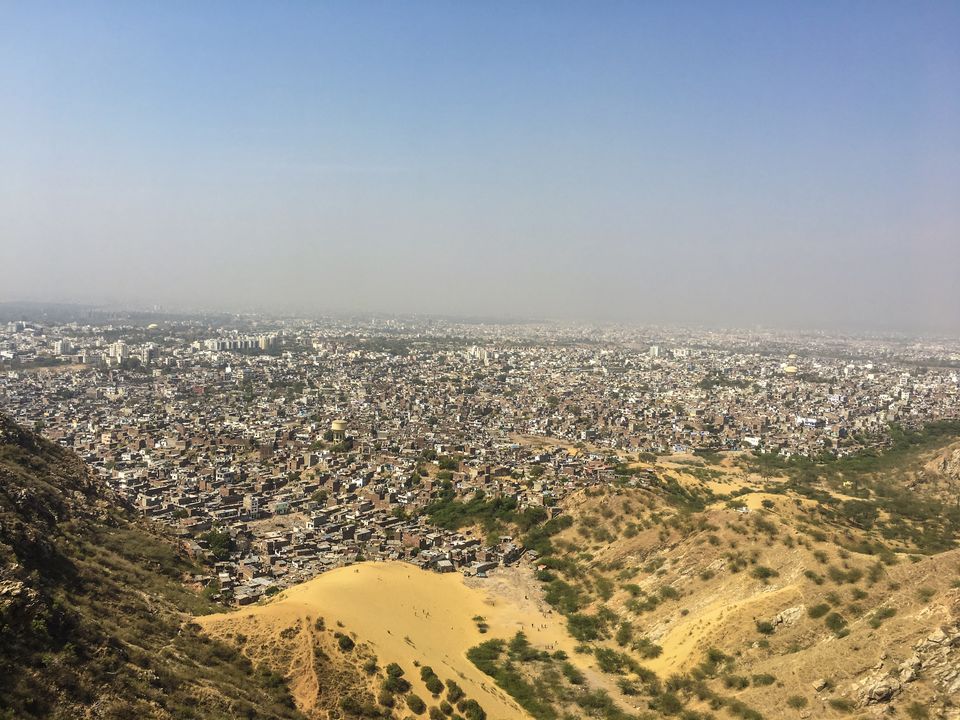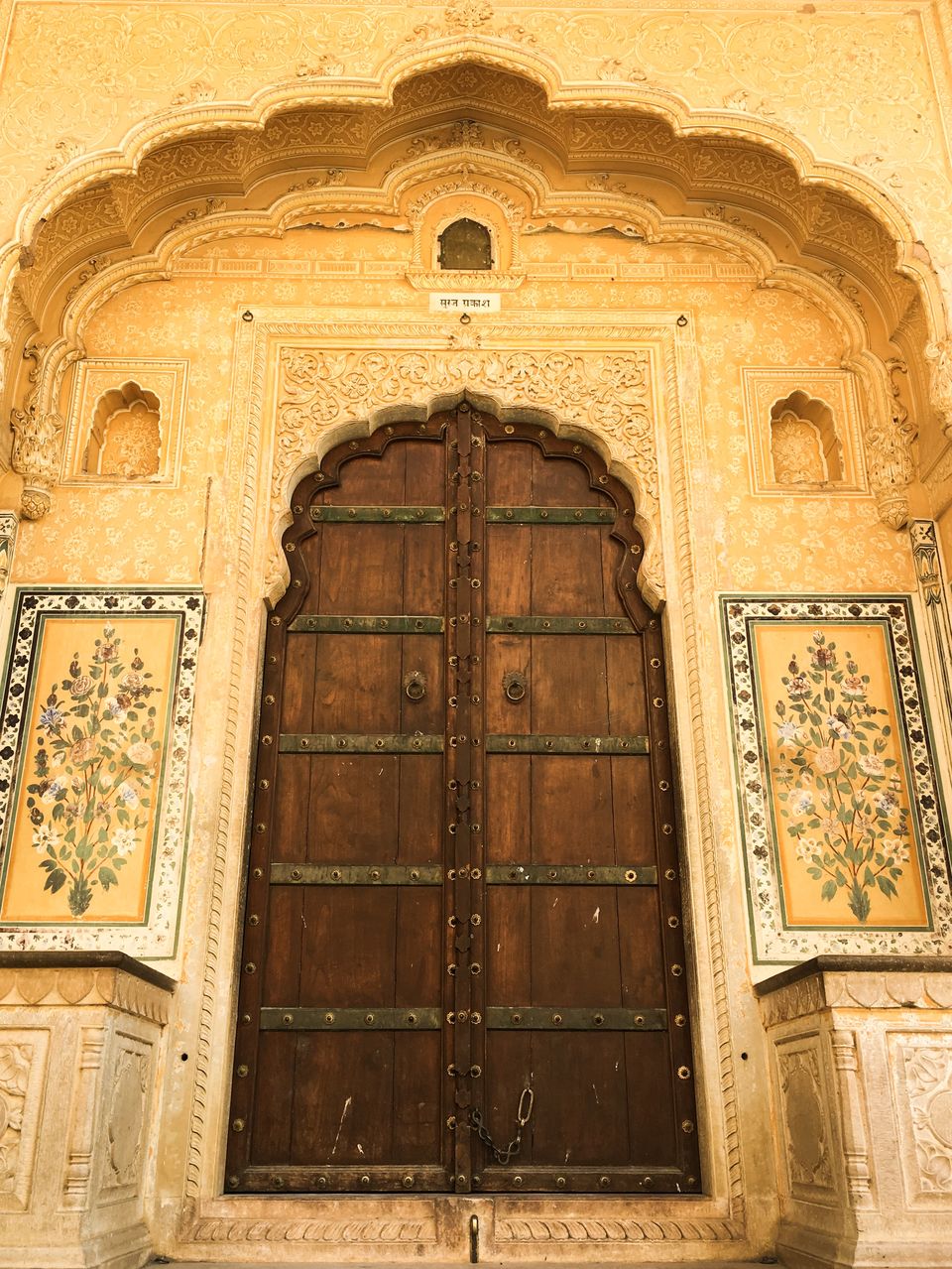 You can find few chinese restaurants here but cheaper ones could be found in the city.
Autos here are very expensive, Amer to Jaigarh to Naharagarh to Jalmahal took 550/-. Not good.
From Jal mahal we did Ola at 105/- and reached Jaipur station.
Our train to Jaisalmer was scheduled at 1615 (Leelan Express). Due to no availability of sleeper class, we booked 3AC.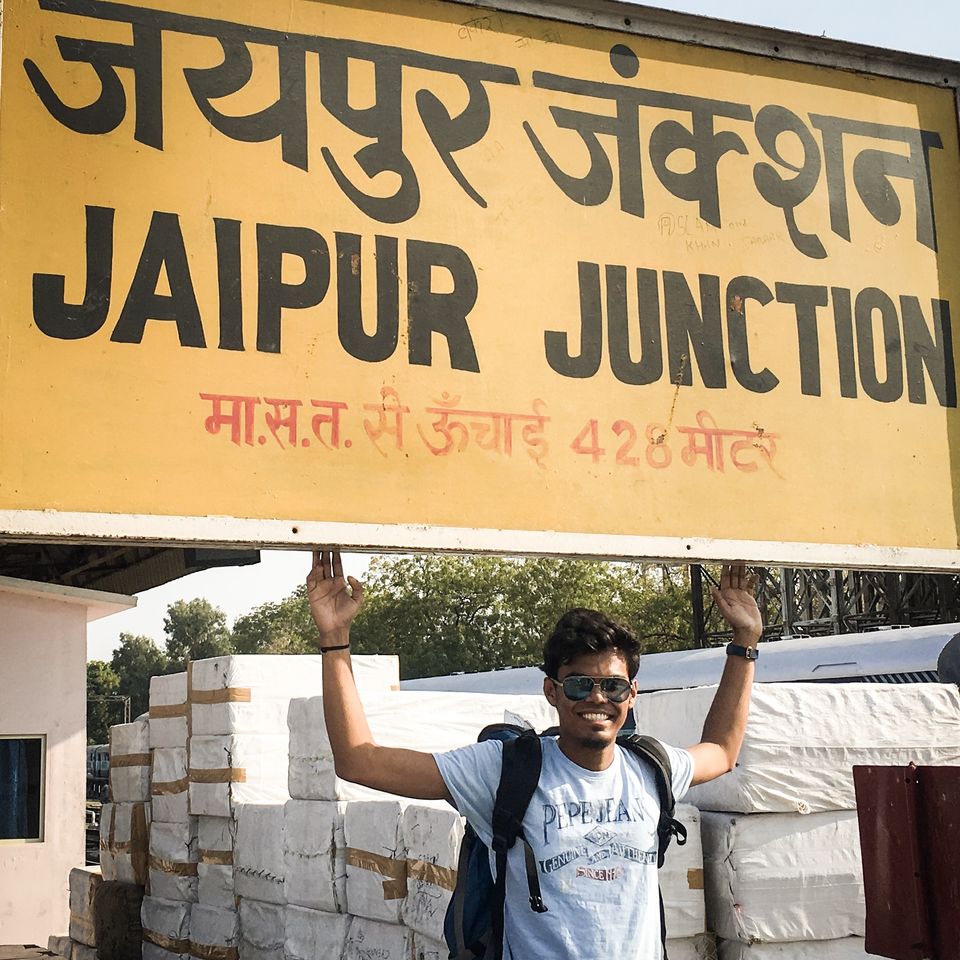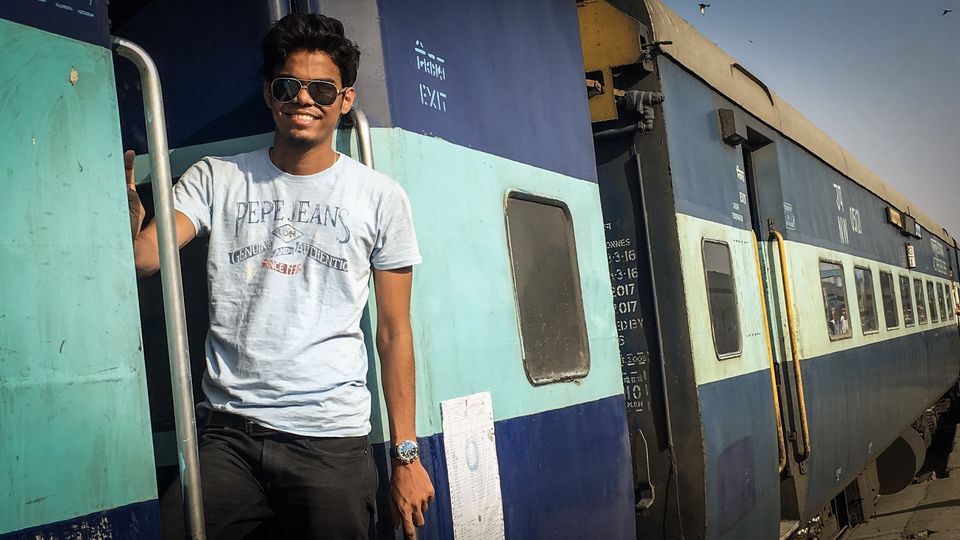 It was my first time as a traveler to experience this luxury. The experience was really great. At Merta road junction, the train was about to halt for 20 mins. By the time I was very hungry. We rushed outside the station for food and got Omlette Bread, such a achievement, without missing the damn train.
We reached Jaisalmer by 0515 in the morning. Even this early hotel agents entered the bogey and started offering exclusive rooms at their property. One guy was offering rooms at 300/- for 4 people. We chose him. He took us to their property in his brand new Hyundai Creta. As expected that guy offered us trip to sam dunes at a very high price 8000/- for 4 people which we gradually bought to 1000/- per head including the Hotel room. After quick morning rituals we left for sam sand dunes which 60kms away from Jaisalmer.
The temperature was cold enough at 0630 in morning.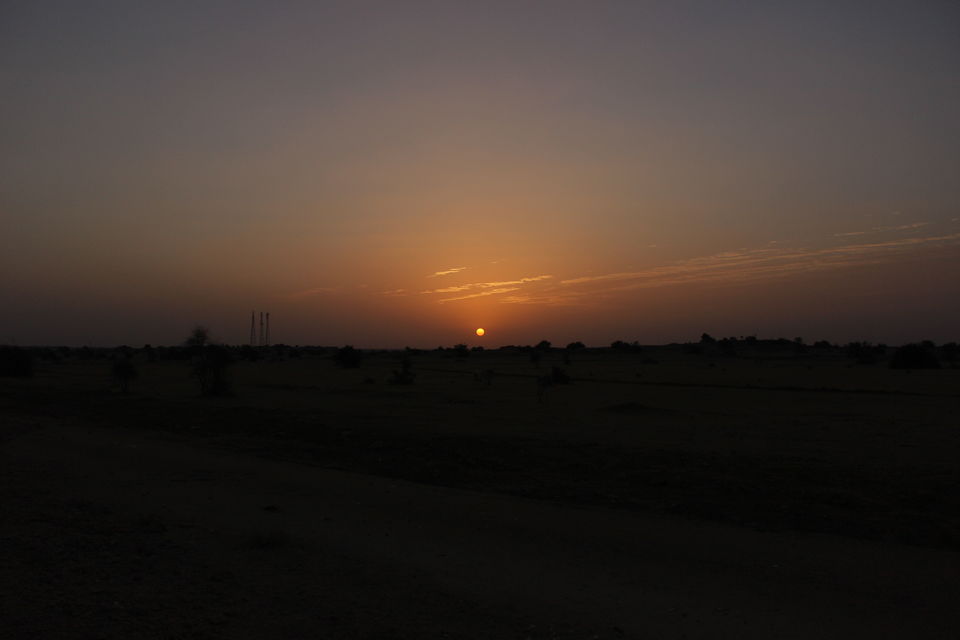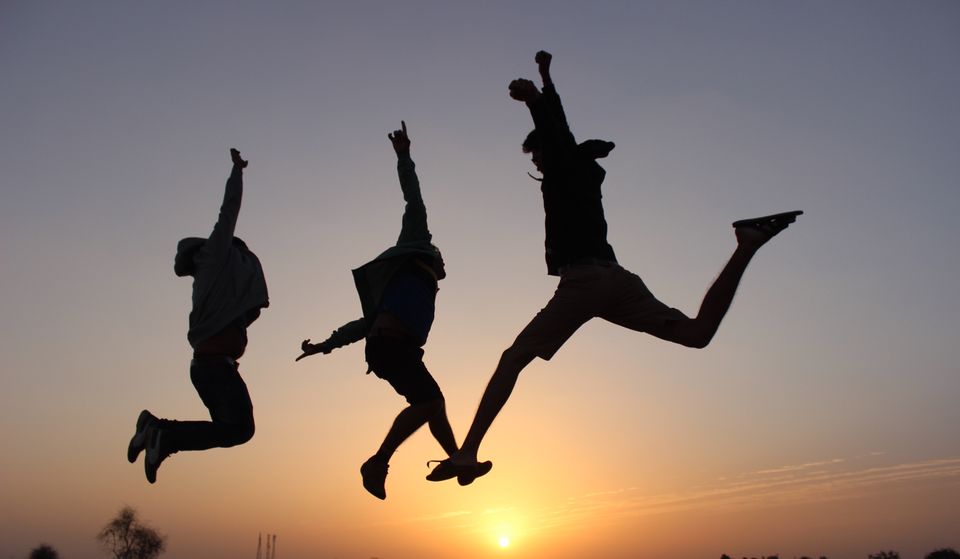 We experienced the sunrise from the desert. A memorable experience.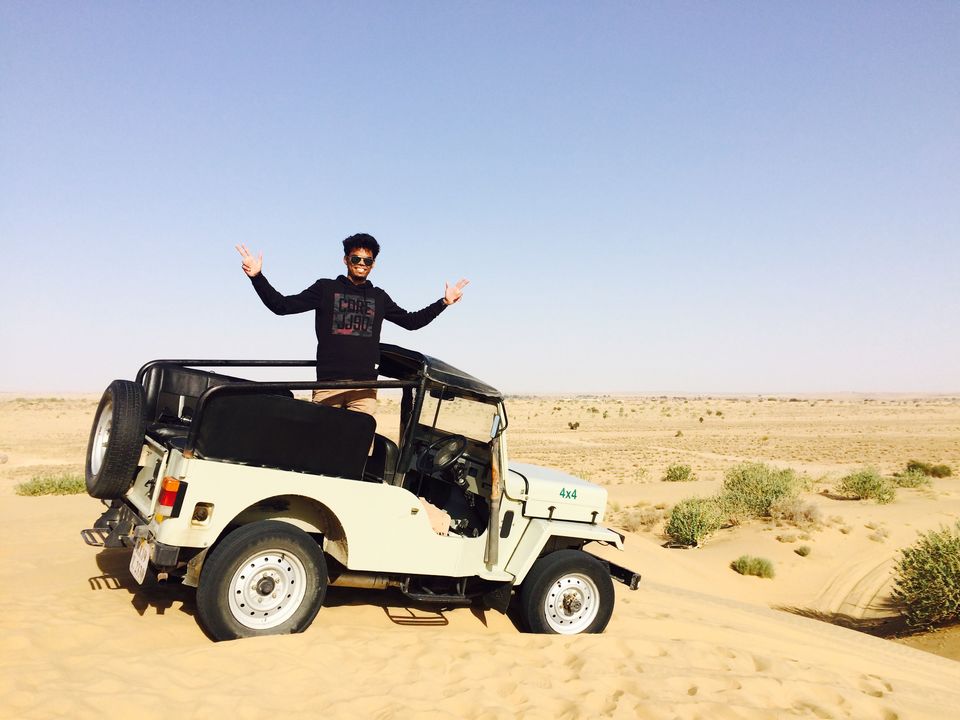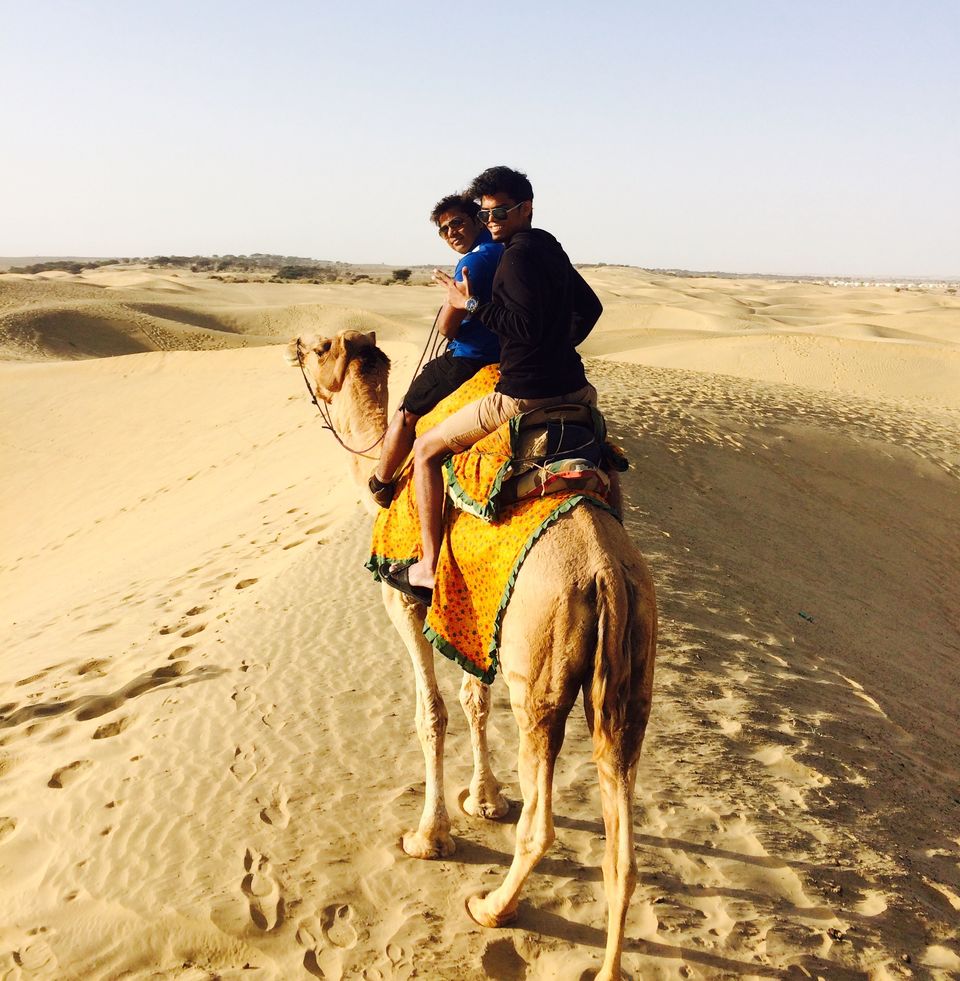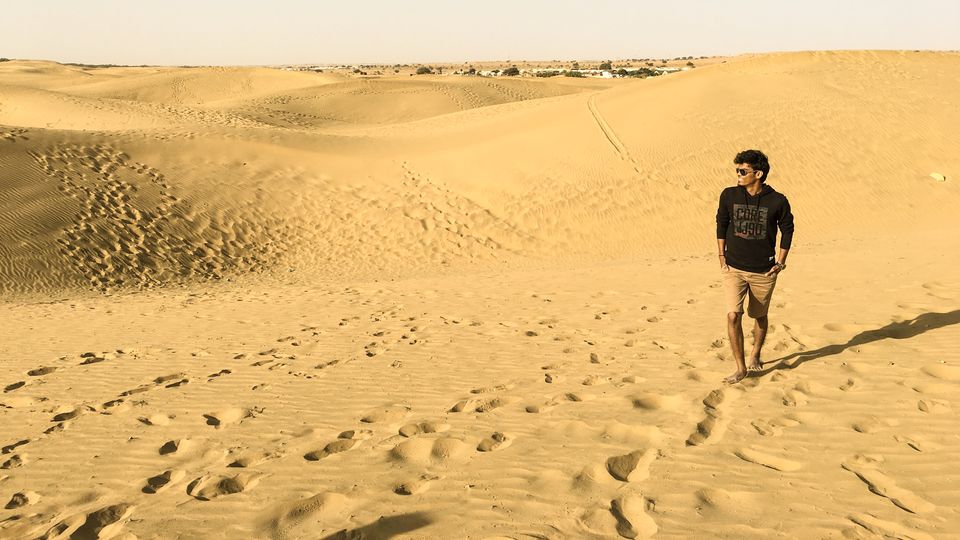 The driver of the jeep was casted in film Agent Vinod along with Saif Ali Khan. He is there in the climax part. He was very fast in the deserts, all our cloths got a thick sand coating.
Later we headed to Jaisalmer again in our Bolero, to explore the golden city.
This place is expensive, 100/- entry fee. We just observed the palace from outside. The artistic on the walls is a real treat to the eyes.
The lake has many fishes and a temple. It has a sort of amply theatre around the banks. Best time to visit here is by 5.30 pm.
This fort is located in heart of city. Clearly visibly from distance once someone is near to Jaisalmer. Entree fee here is 100/- too, but its worth it. Though the museum thing can be boring the view of golden city from top most point is very beautiful.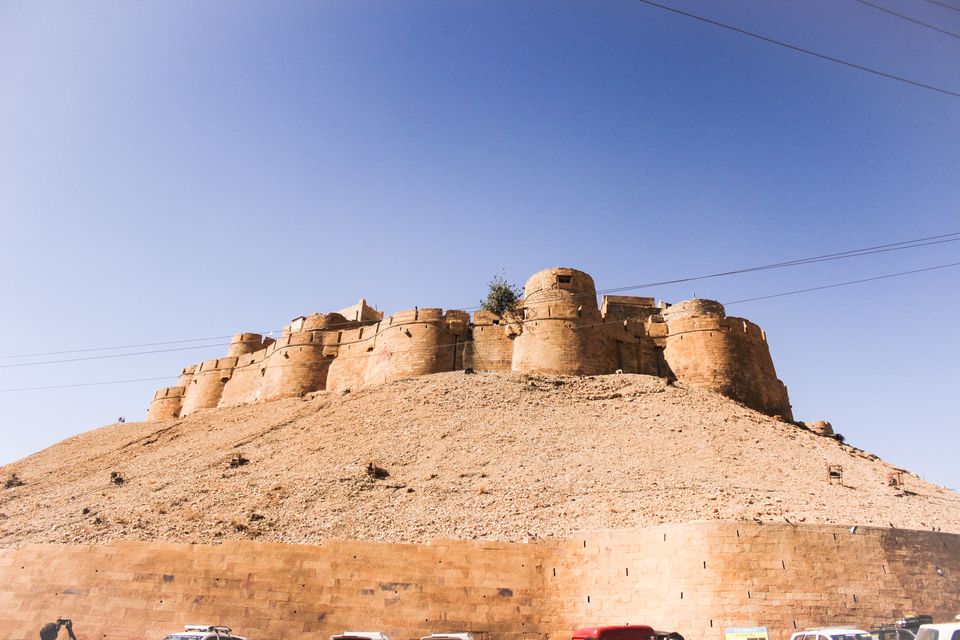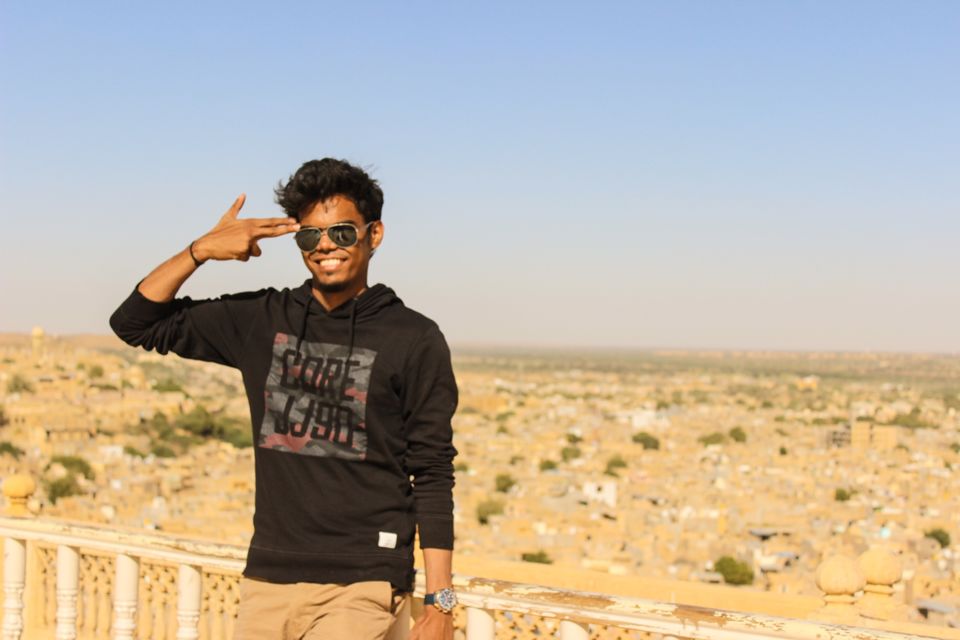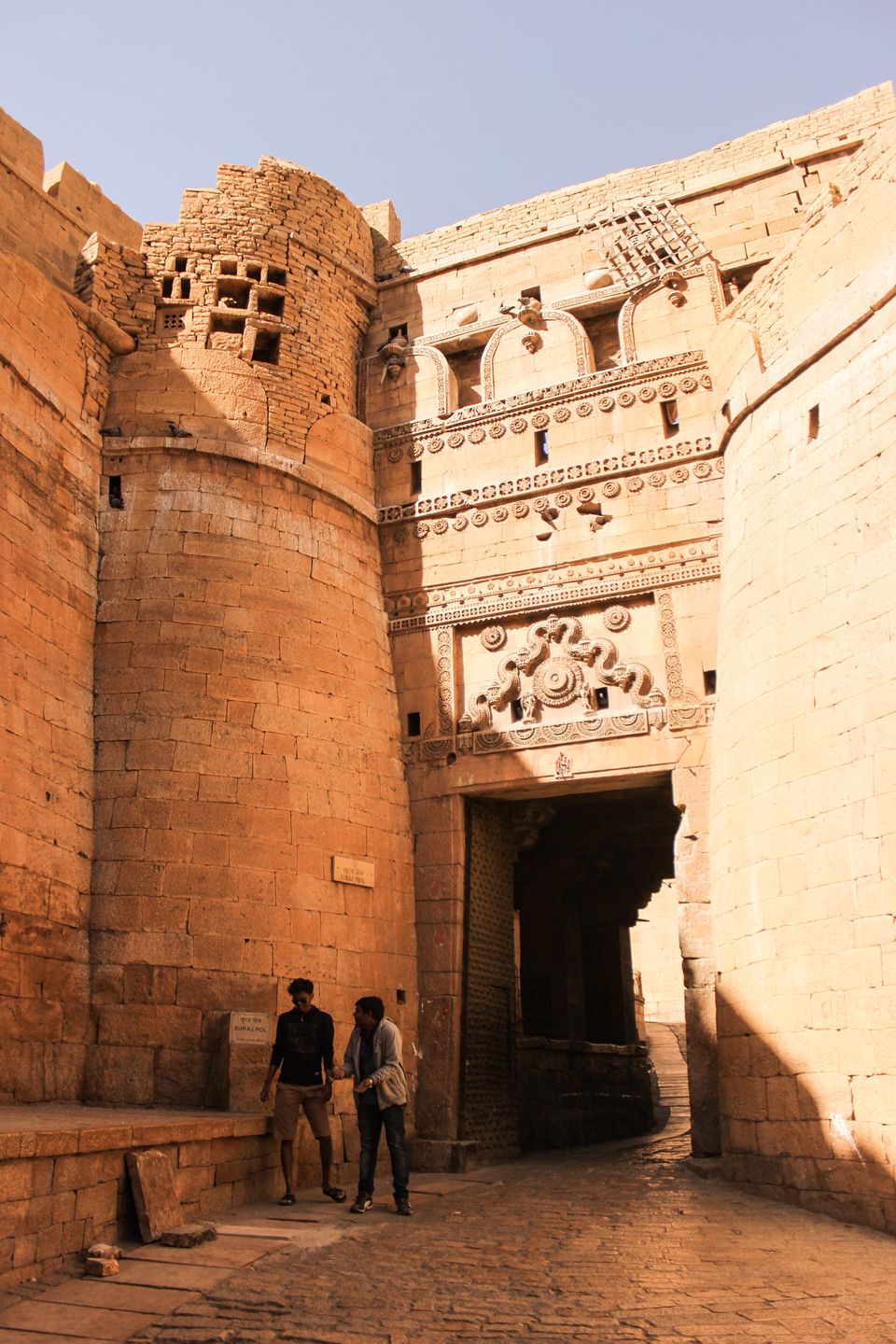 Next day we had a flight to catch by 8am in morning. Easy? Isn't it?
But the airport was just 580 kms away from Jaisalmer. Thats Jaipur again.
We had our tickets for Jaipur at 1700 from JSM station and it was to reach by 0530am in morning. Luckily train did catch up with time and we reached airport by 0615.
This trip I travelled 3600 kms in 60 hours. Achievement.