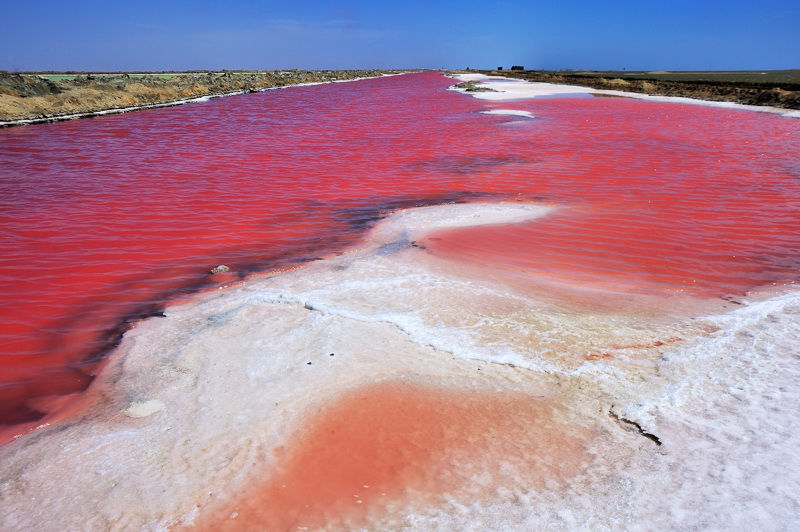 You must have visited multiple types of lakes in your life; Some are frozen, some are shiny turquoise blue and others might vary from light blue to dark green. However, have you seen or heard of a pink lake before? Neither did I, until I saw some surreal pictures on social media.
So, the Pink Lake actually exist and is set in the Walvis Bay city of Namibia in Africa.
Why is it pink?
To give you some context, the coastal city of Walvis Bay has vast spreads of salt deposits in the coastal areas. The city owns one of the three RAMSAR wetlands and produces 90 per cent of salt produced in the Sub Saharan Africa. As a result of large-scale salt production and processing in Walvis Bay, large pink lakes with high levels of salt developed in the region.
As reported by The Independent, "The lakes are inhabited by microorganisms that release red or pink coloured secretion called beta-carotene as a part of their photosynthesis process."
How to reach:
By Air: There are two-stop flights from New Delhi to Walvis Bay Airport with Air India and Air Nambia. The price for a round trip starts from ₹ 234,663. 
By Road: If you want to take a road trip to Walvis Bay, then you can choose to fly to Windhoek Hosea Kutako from New Delhi and then hire a private car to cover 400kms by road. Round trip fare for this journey starts from ₹ 87,770.
Things to do:
Pink Salt Lakes in Walvis Bay have proven to be one of the most instagrammable locations right now. Social media sites are loaded with pictures of travel bloggers posing with the lake in the background. If you are looking for a place to get some remarkable shots and frame, then head to this place RIGHT NOW! Also, the lakes are only 10km from the city.
Apart from having one of the most photogenic locations right now, Walvis Bay offers several other activities that can be enjoyed by travellers.
Dolphins and Whale watching:
Several tour operators organise dolphin watching cruise in the coastal city. Witness seals, dolphins and whales putting up a great show in their natural habitat.
Birding:
Walvis Bay is a bird watcher's paradise. With a wetland that has been designated to be of international importance, this coastal city attracts a range of migratory bird from the Northern Hemisphere. As claimed by the Namibia Tourism Department, one can spot, "Vast numbers of both intra-African and Palaearctic migrants here. The area is also home to rare species such as the Damara tern, chestnut-banded plover, black tern, red-necked phalarope and black-tailed godwit." Adding to this Walvis Bay is also home to a countless number of Flamingos and Pelicans.
Dune 7:
When taking a trip to the Pink Sal Lakes, one can further explore Dune 7. It is the world's tallest dune and has an altitude of 383m. It is another good place for photography.
Windsurfing:
Walvis Bay has a perfect coastline for windsurfers. Travellers looking for an adrenaline rush and watersport activities should definitely try it out.
Where to Stay:
For Budget Travellers: Theo's Self-Catering for ₹1400 per night
For Mid Range Travellers: The Countyard Birdwatching Safari CC for ₹3570 per night.
For Luxury Travellers: Protea Hotel by Marriott Walvis Bay Pelican Bay for ₹8117 per night
Best time to visit: 
The best time to visit Walvis Bay is the time from August to October because it is considered to be the best time for other activities like whale watching and bird watching.
Have you already been to theses pink lakes or are there similar pink lakes somewhere? Let us know about it here.