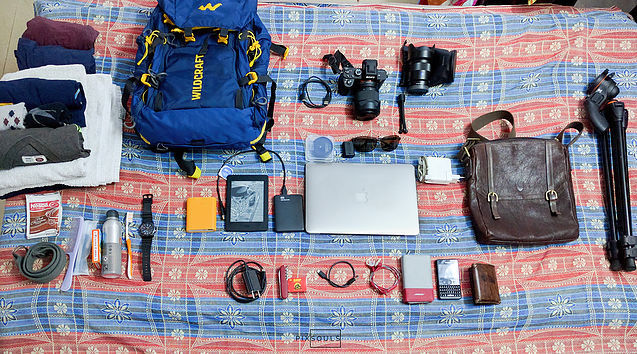 Thats what I am taking along with me on this trip. I'll be posting pics as the trip unfolds. Expect more images and less text. Still I'll try to include all important information.
Tickets done through goibibo. Travelling through AC bus. Departing from Kaushambi metro station, New Delhi at 11.15PM. We will reach Rishikesh at 6.00 AM in the morning. We have planned to stay at
Update : Please book UP state roadways' volvo only.
Ganga Valley Adventure
Address: Kailash Gate Munikireti, Opp. Kailash Gate Police Chowki & GMVN Road, Near-Union Bank
Rishikesh - 249137 Uttarakhand, INDIA
Mobile: + 91-9897996881, 09761162608 (For Tour Packages Booking)
Phone: + 0135-2442125 (For Tour Packages Booking)
Email ID: tt.guide@yahoo.com, gangavalleyadventure@gmail.com
Lets see how it rolls.
Okay
We got to kaushambhi metro station and started heading towards metro Pillar number 168 where our bus was supposed to be. We found the bus but we were not given the seats which we chose while booking via Ibibo. Not the kind of service we were looking for. The ac vents had no regulators. We had to improvise. Duct tape came to rescue.
Another issue rose up. Water started dipping from the cracks. Tried speaking to bus guys but they clearly said that they don't know anything about online booking and can't give us our chosen seats. Neither they did anything to stop the pouring water. Have done some jugad with the curtain so that water doesn't fall directly on the head.
Let's hope we reach on time with no more surprises. And yeah wifi doesn't work either as suggested to me by our friend Alisha.
Finally we reached Rishikesh at 5.30am and we started walking towards the above address.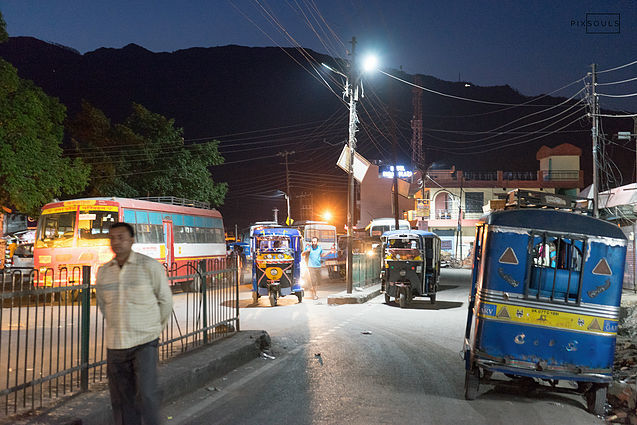 We started walking towards Kailash gate which is 1 km away from the bus stand. It was pretty early and there was a chill in the breeze. Loved it. On the way we crossed a bridge and we paused to click few shots.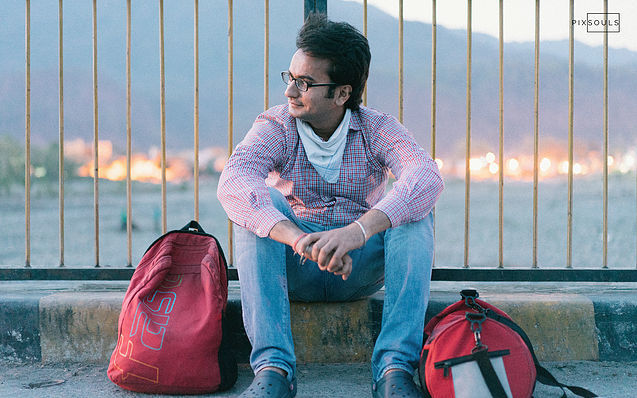 My dear friend Nipun, poser! isn't he?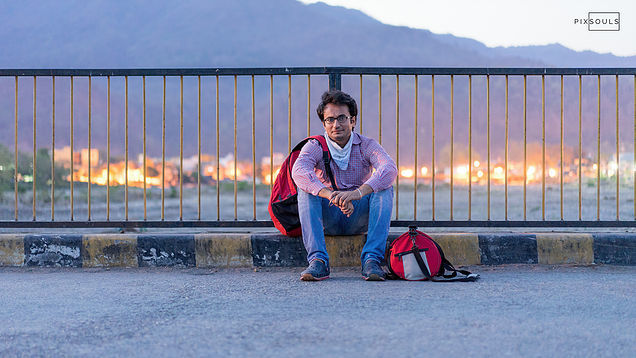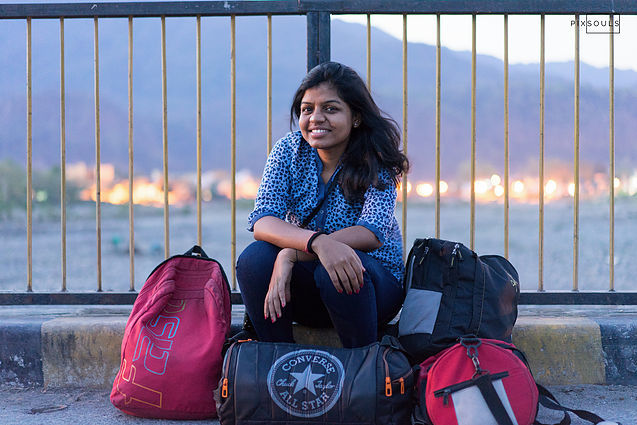 The second musketeer of our group, Sonal.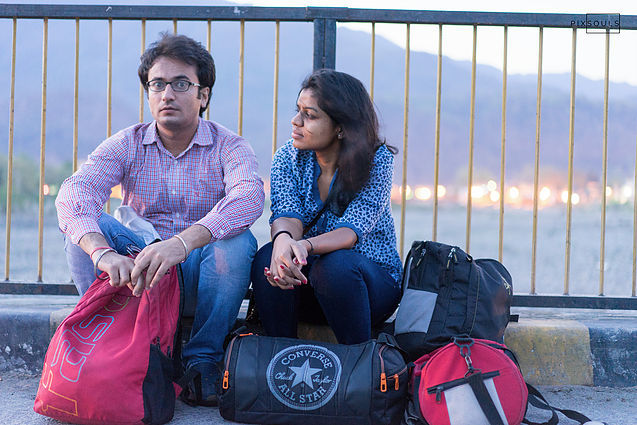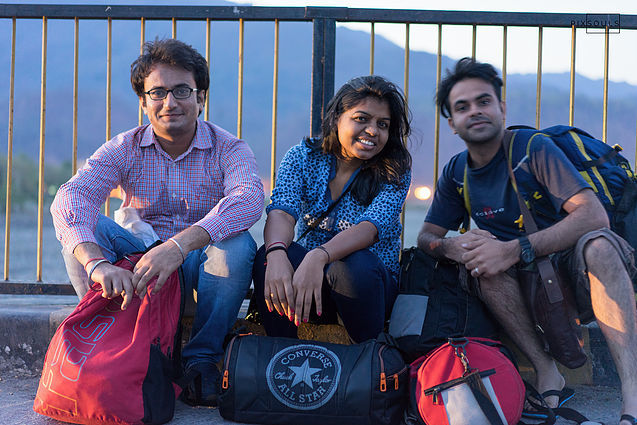 3 musketeers!!!
It was still pretty dark. Don't let the light in the pics make you think otherwise. Above shots are at ISO 1600 and exposure time is quarter of a second at f1.8.
Reached Kailash Gates and all shops were closed. So we decided to move towards the Ganga ghaat.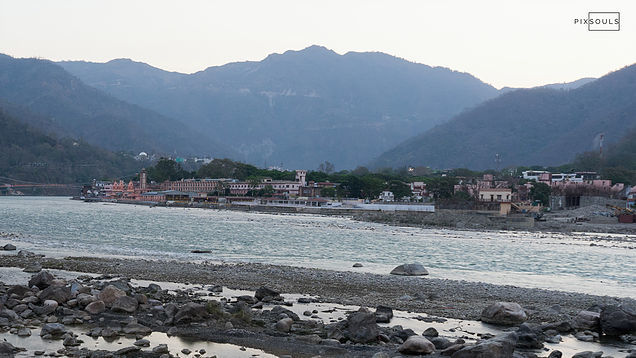 Early morning view. We were welcomed by the awesome cold breeze. It was a great feeling.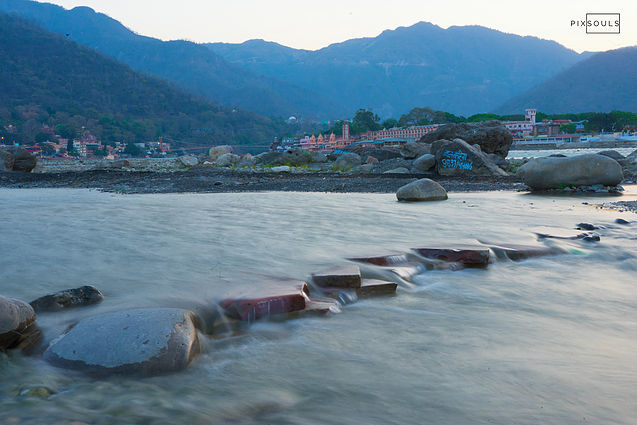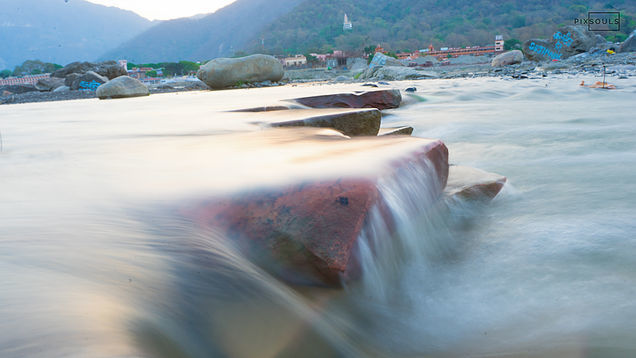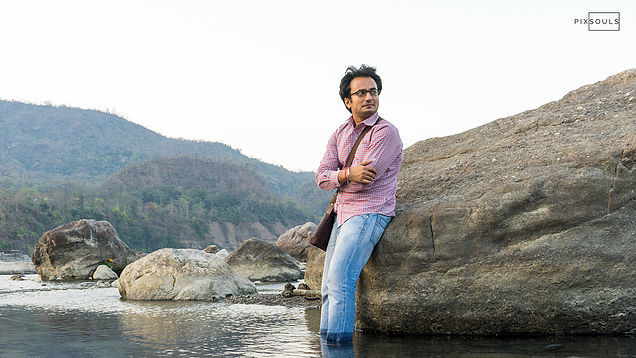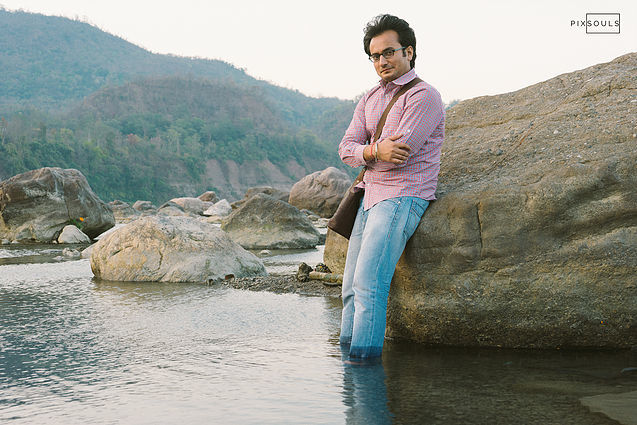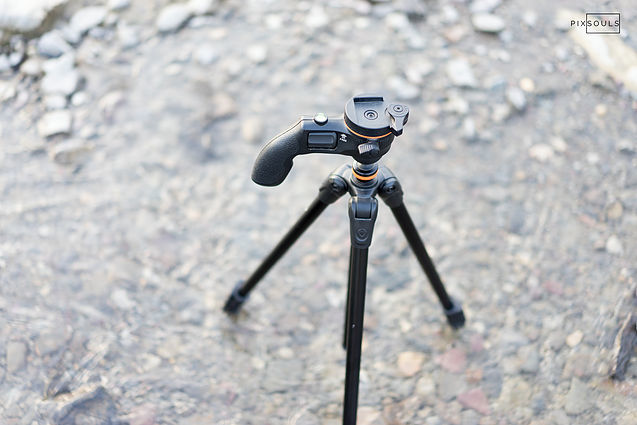 Tough times for my tripod. Through thick and thin, it has never disappointed me.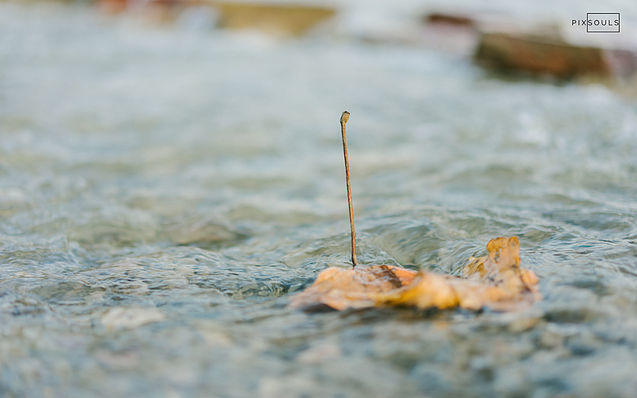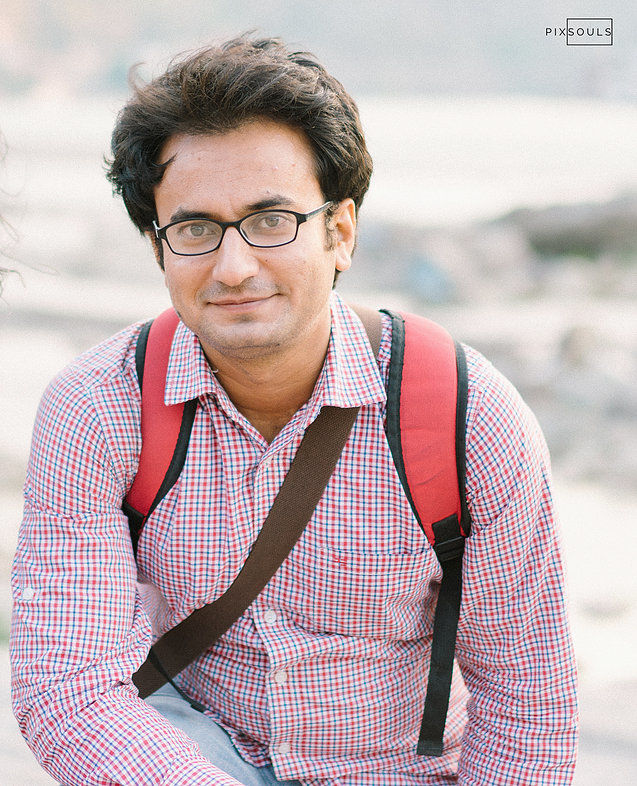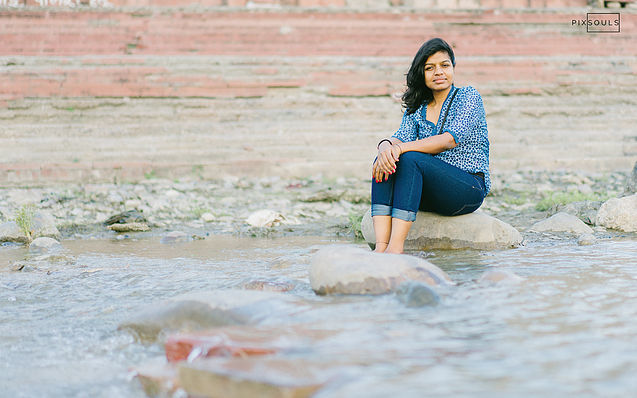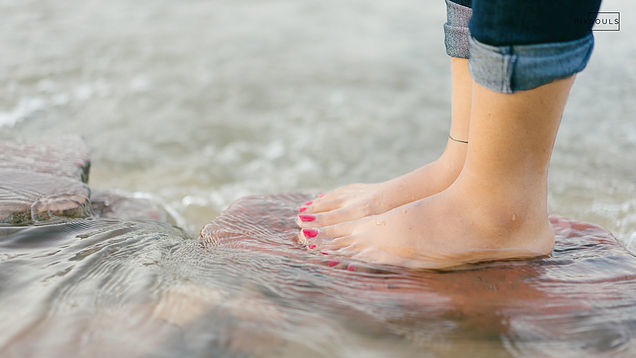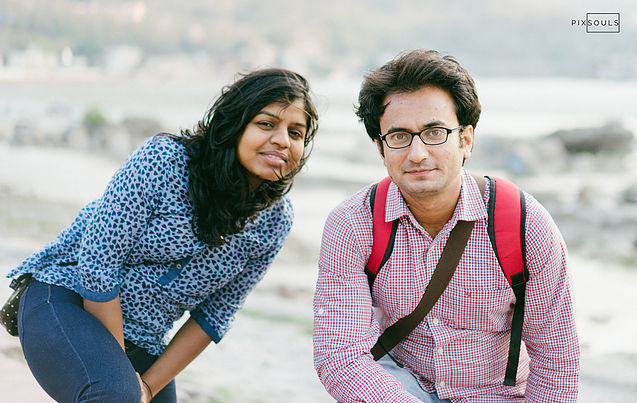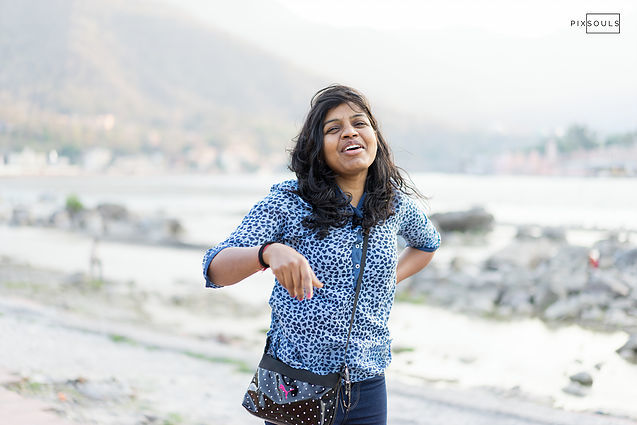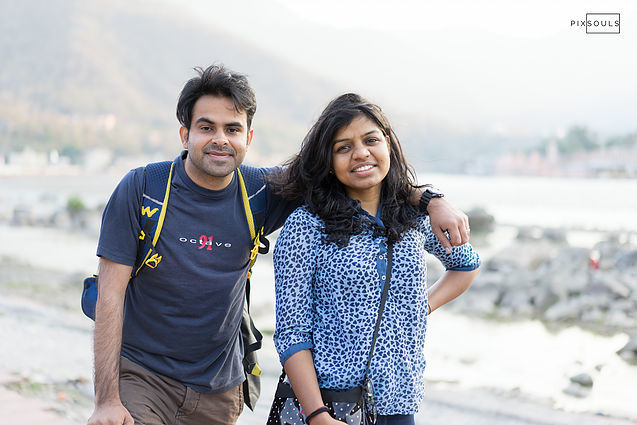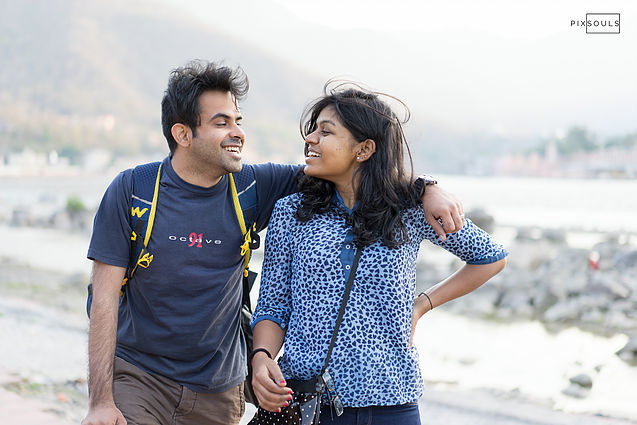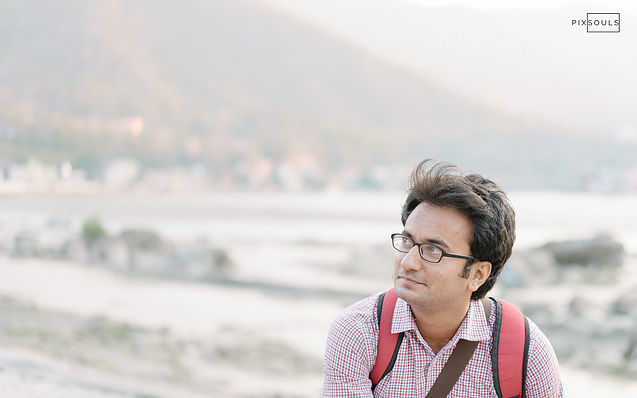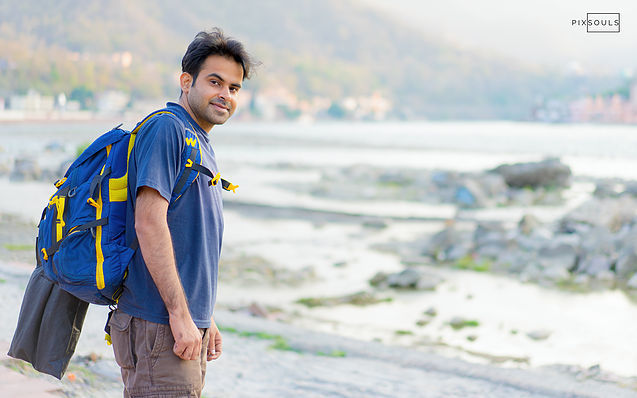 By now it was around 8 and we headed back, towards Kailas Gate. We finally booked a camp @1450/head. This included 16km water rafting and meals. The location of the camp was shivpuri which was 20kms away. We did not book it from Ganga Valley Adventure, instead we found a better deal. We went to

Step Himalayan Adventures
Marwari Ganga Kshetra, Kailash Gate
Contact Person: Sanjay 09897174213
Awesome guy. He was also our rafting guide.
Before moving to our camp we decided to have breakfast. We moved to Govindji's Prasadam.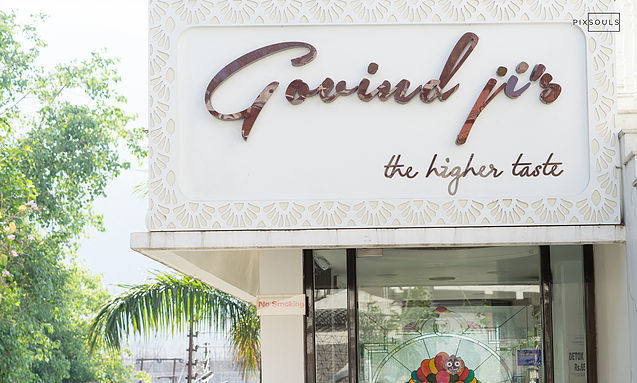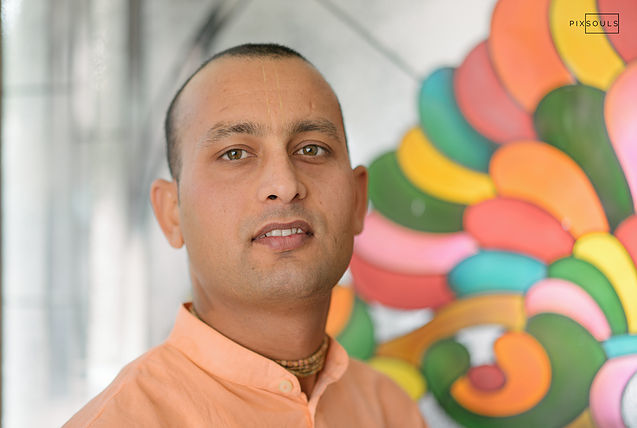 The manager of the restaurant. Its run by the disciples of Lord Krishna.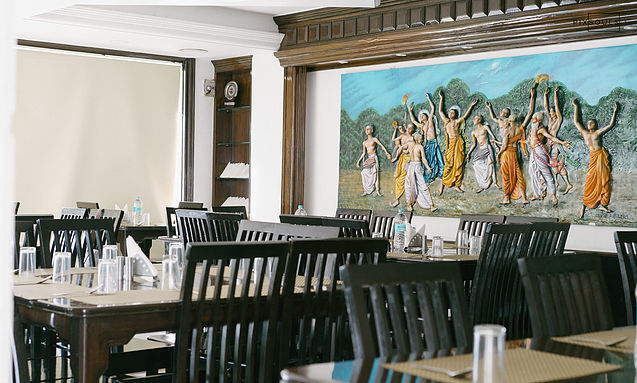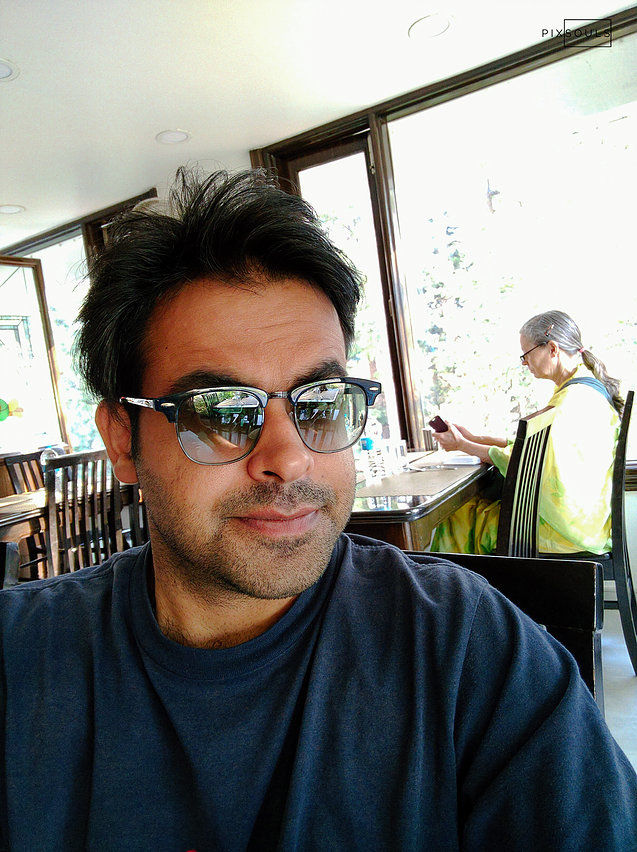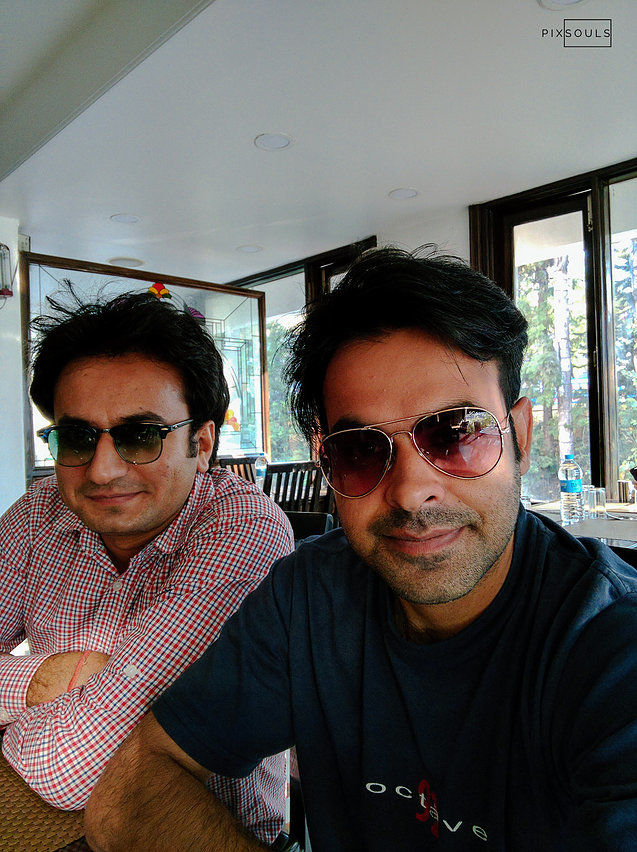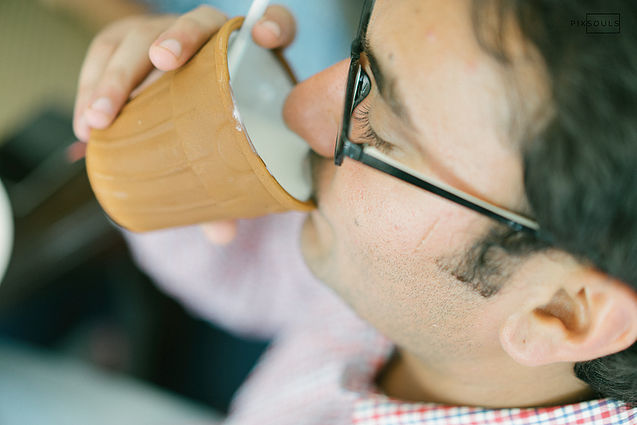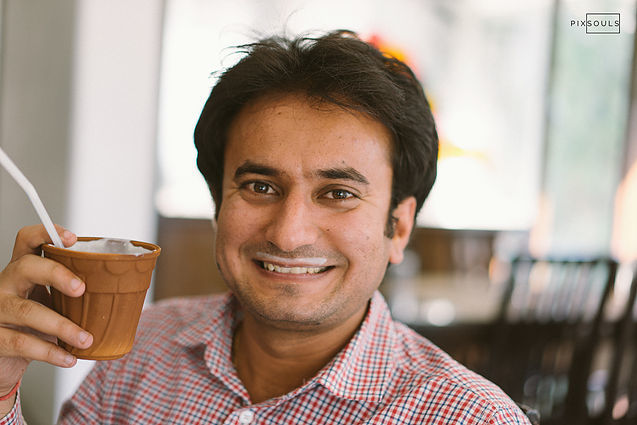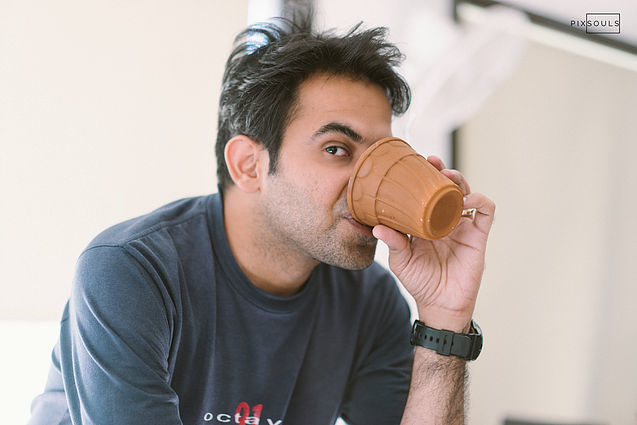 The place was pretty neat and clean. Food was good, slightly expensive.
We took a bus towards shivpuri. The landmark is the wine shop where you get down and walk towards the camp. We planned to go adventurous and go for camping. While the river side camping has been prohibited as per govt rules (for "natural" reasons), the camps have been lined up beautifully with a small stream of river by the side.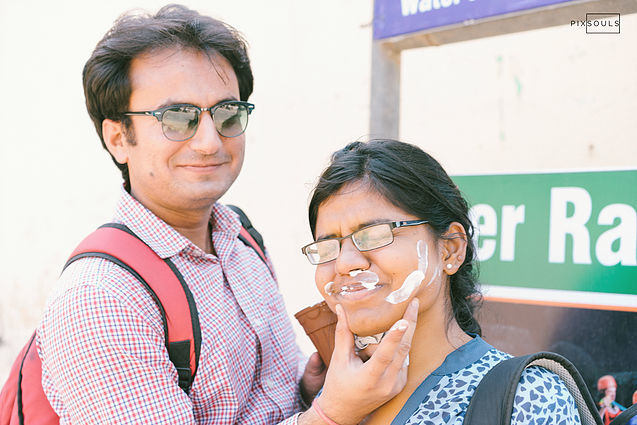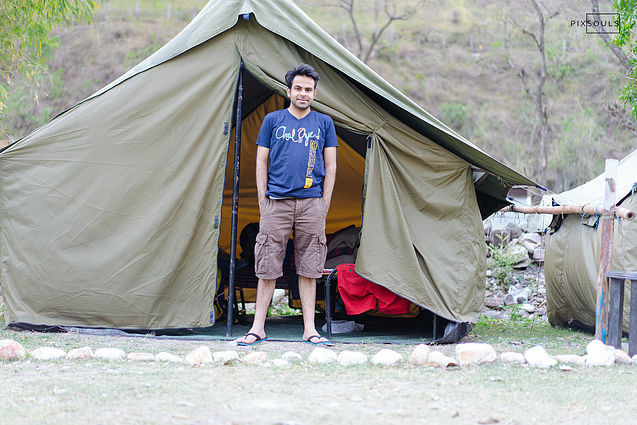 We reached our camp around 12.30 PM. It was pretty hot there.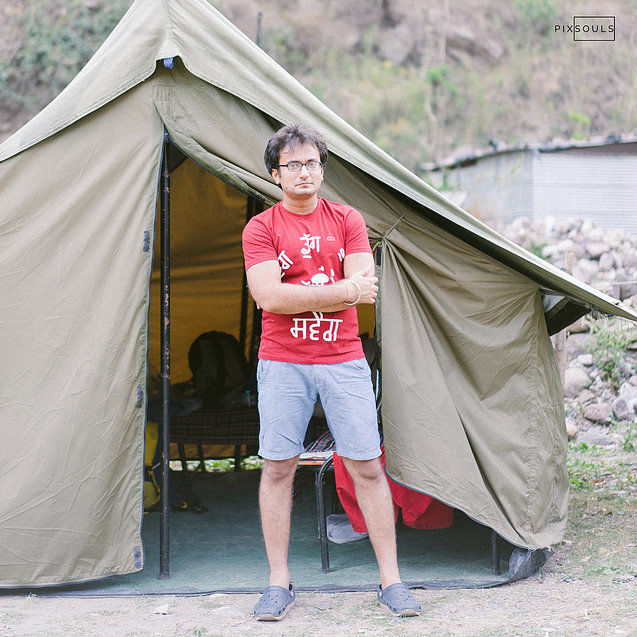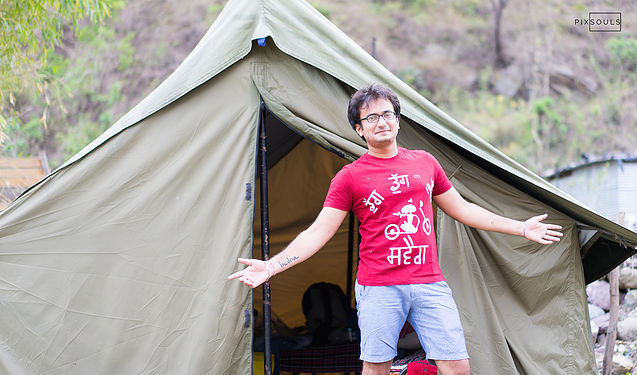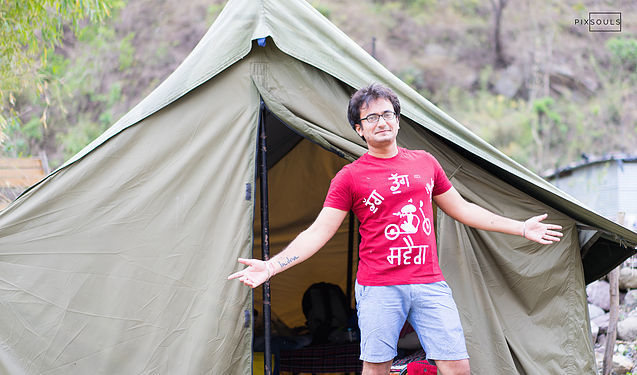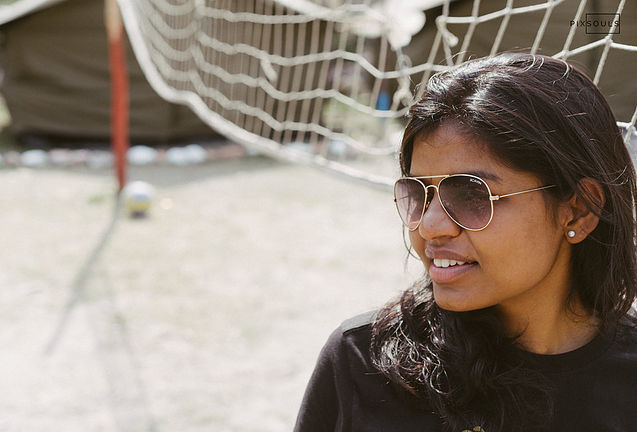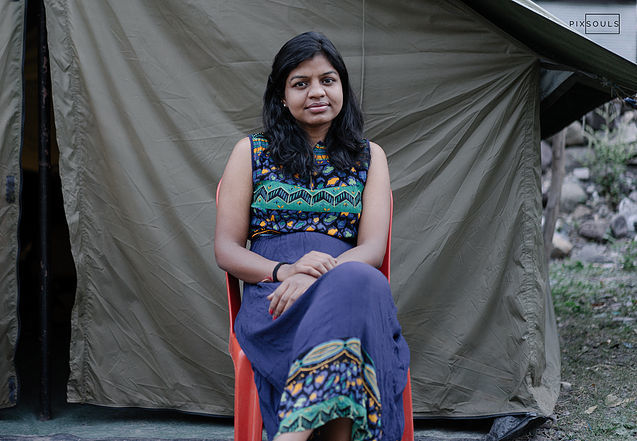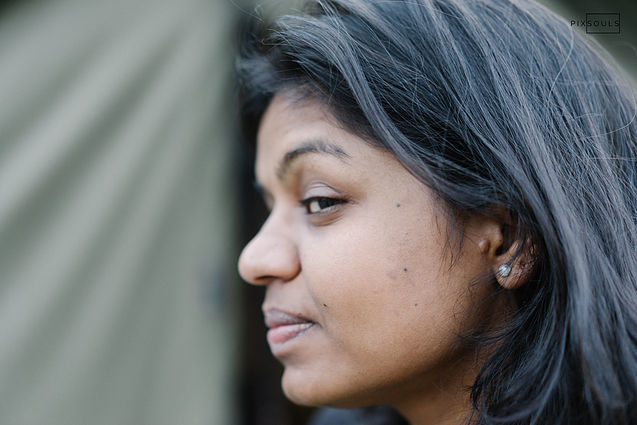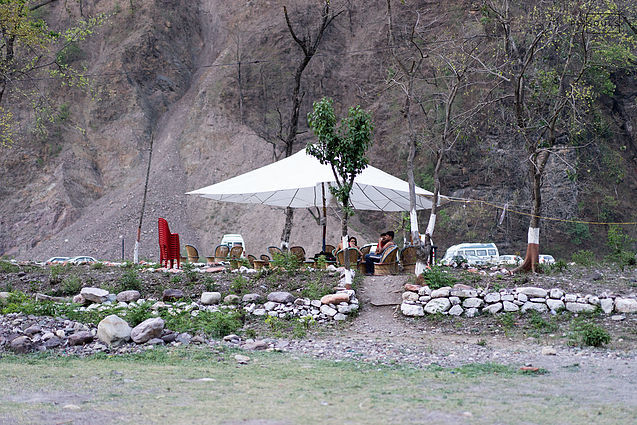 Thats our camp. You cant be inside it during the day time. It was pretty damn hot.
This is place where we had to spend our afternoon. We had the option to do the water rafting same day or the other day after leaving the camp. We chose to rest and do the rafting activity next day. It was difficult to pass time in the hot afternoon. We had lunch(included in the package). There was a small tributary river behind the above tent shown in the pic.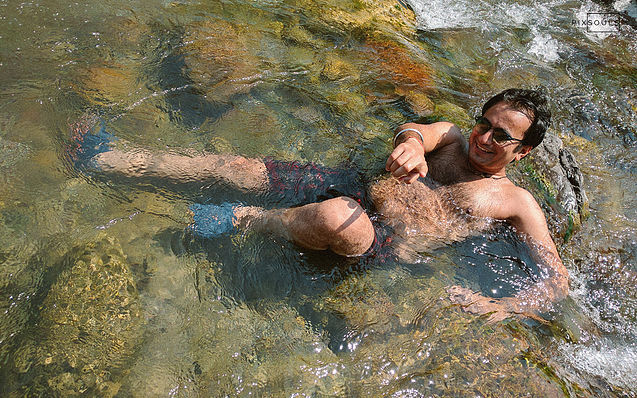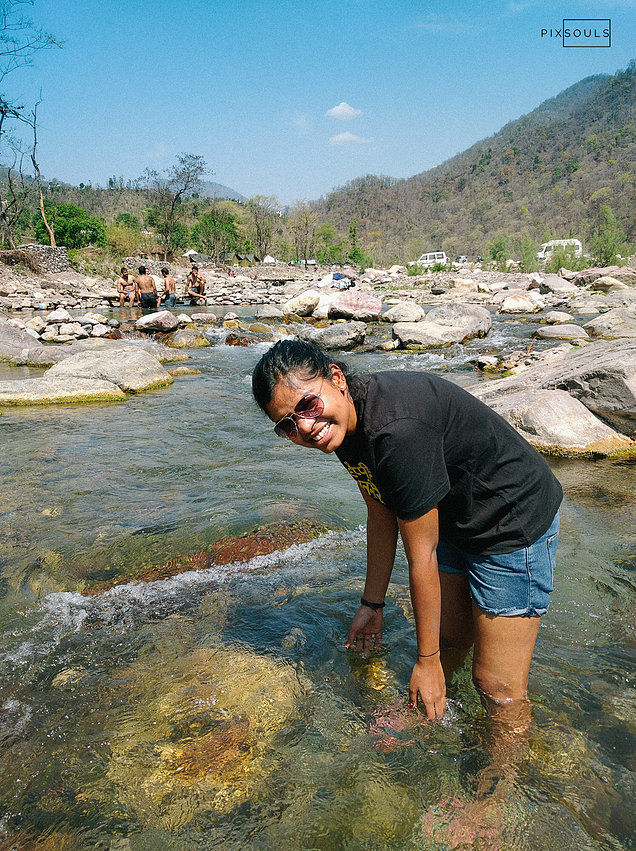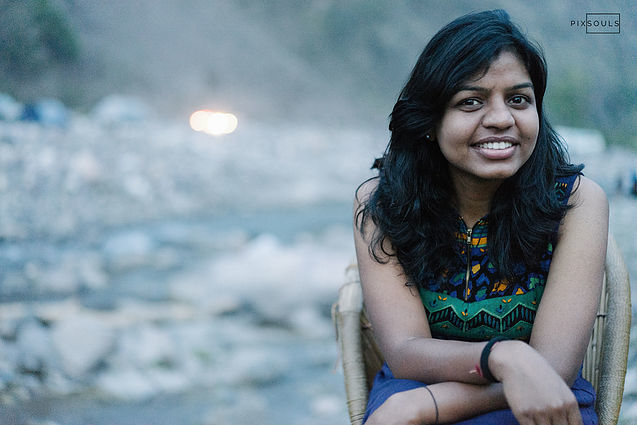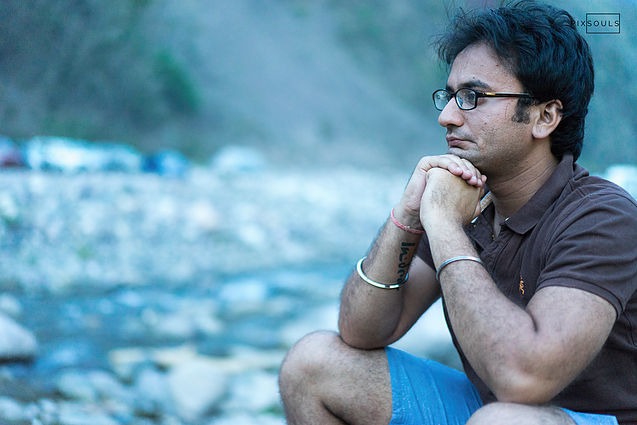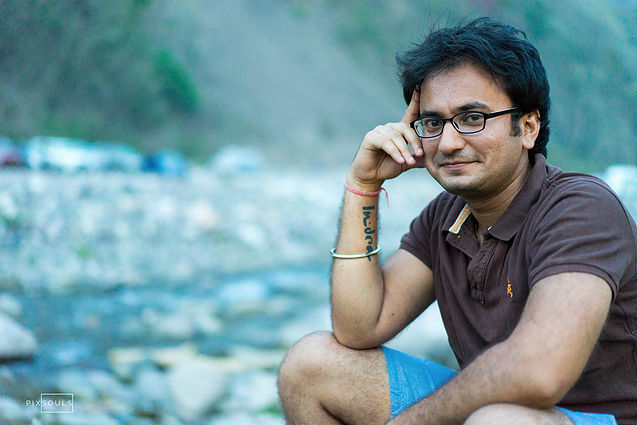 The only way to beat the heat was to chill in the water.
After that we took a nap and in the evening we had snacks. The weather was fine by now,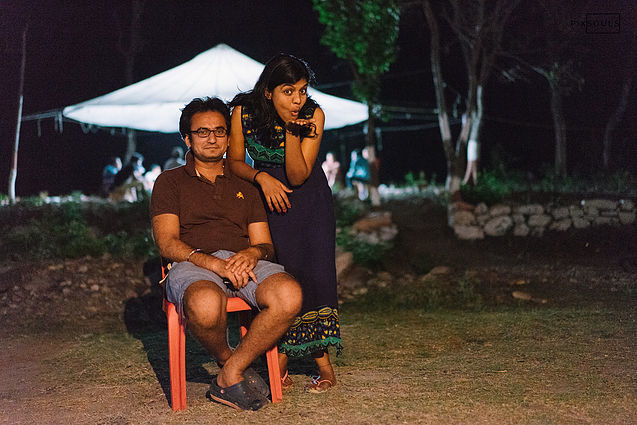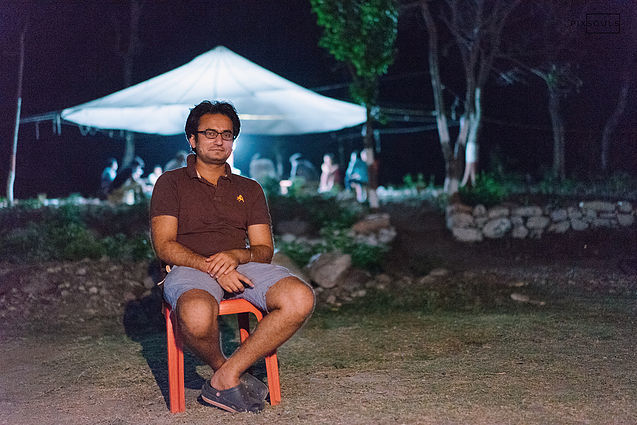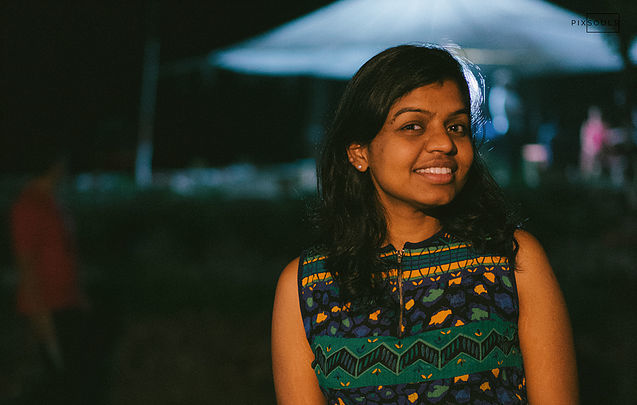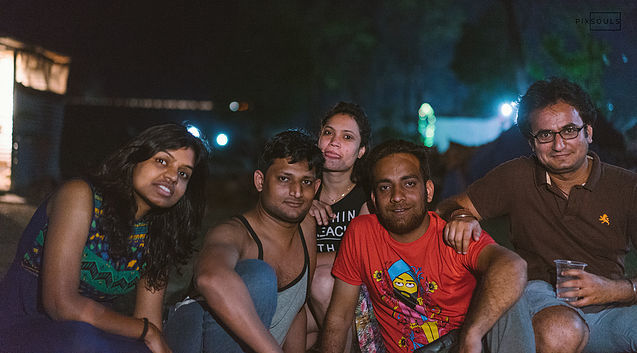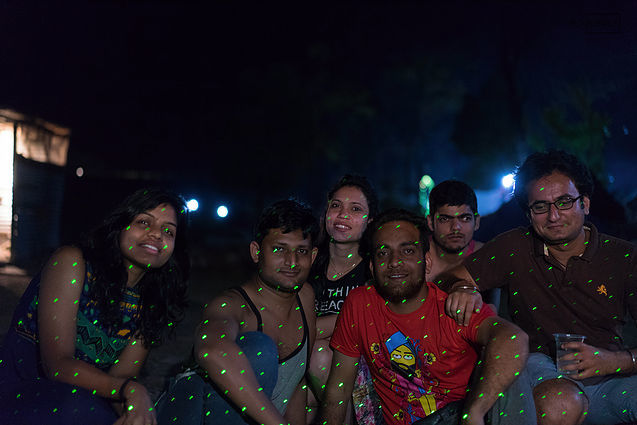 Bonfire started as soon as it was dark. There was music and we joined the other groups for the party.
The party continued till 1 and soon after that we all were in bed. BTW two more friends had joined us by now. When we posted the first pic on FB, they also decided to come. They packed their bags and joined us in the evening. They had reached Rishikesh in the morning but they were doing bungee jumping and hence joined us later that evening.
DAY 2
We woke up around 7.30 in the morning. Had breakfast and again we decided to have some fun in water.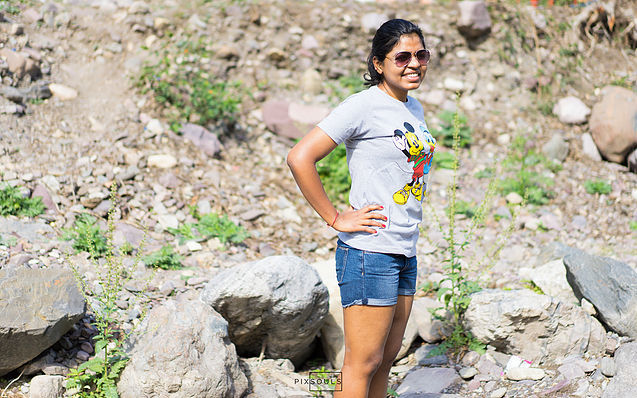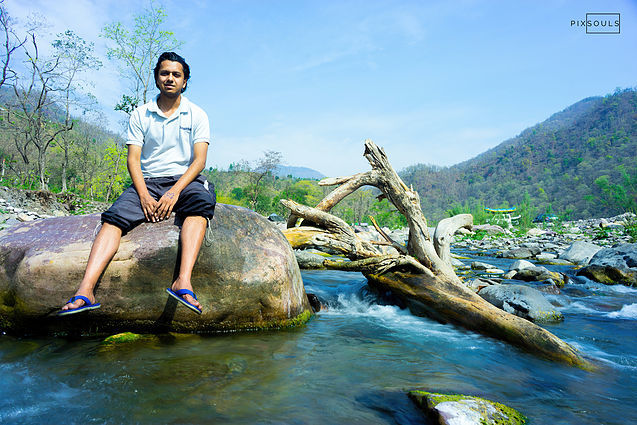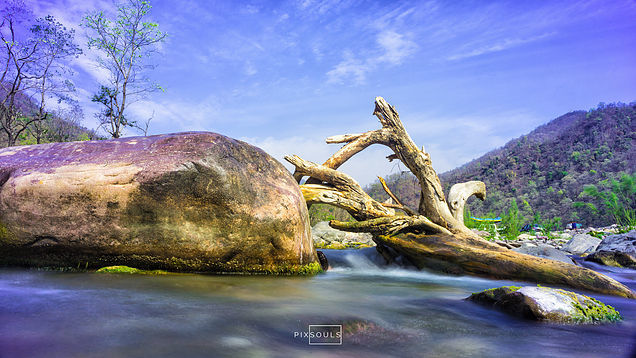 Thank you Prateek bhai for helping me to capture this pic. ;)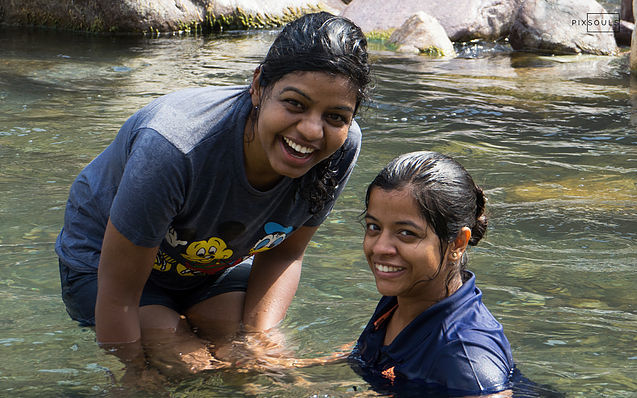 We packed our stuff and headed for rafting.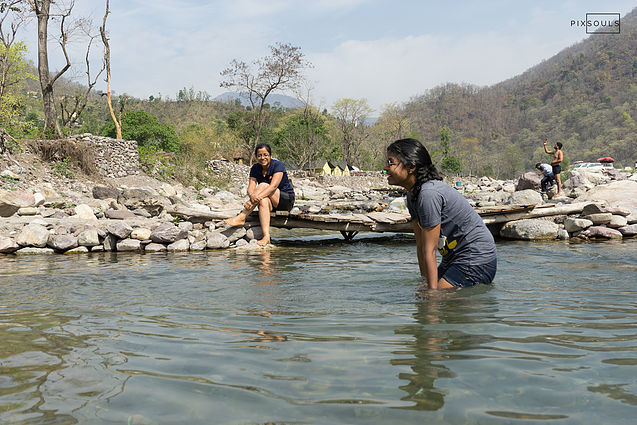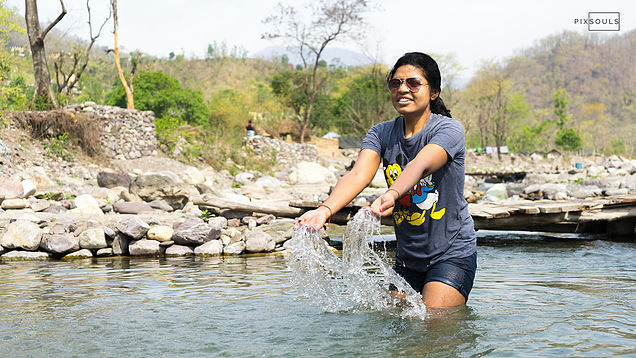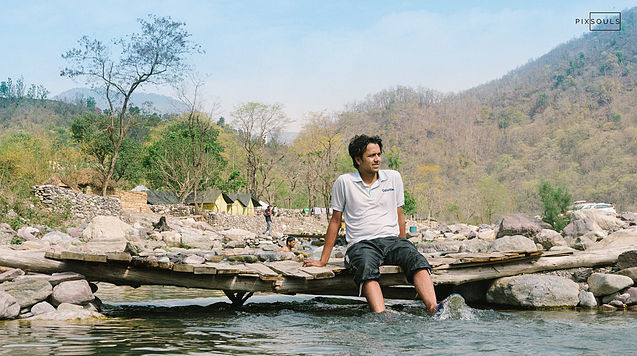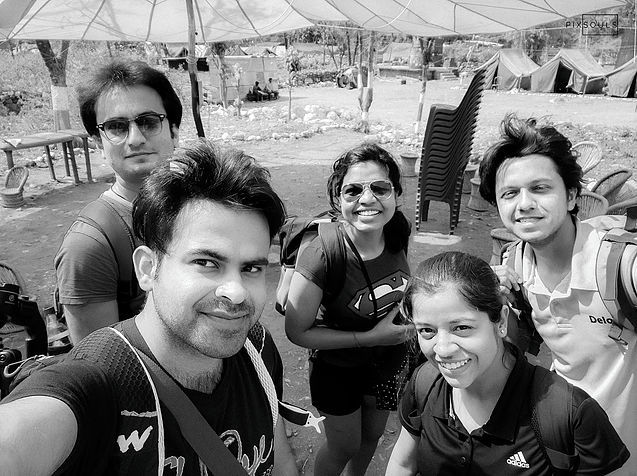 And then there were five!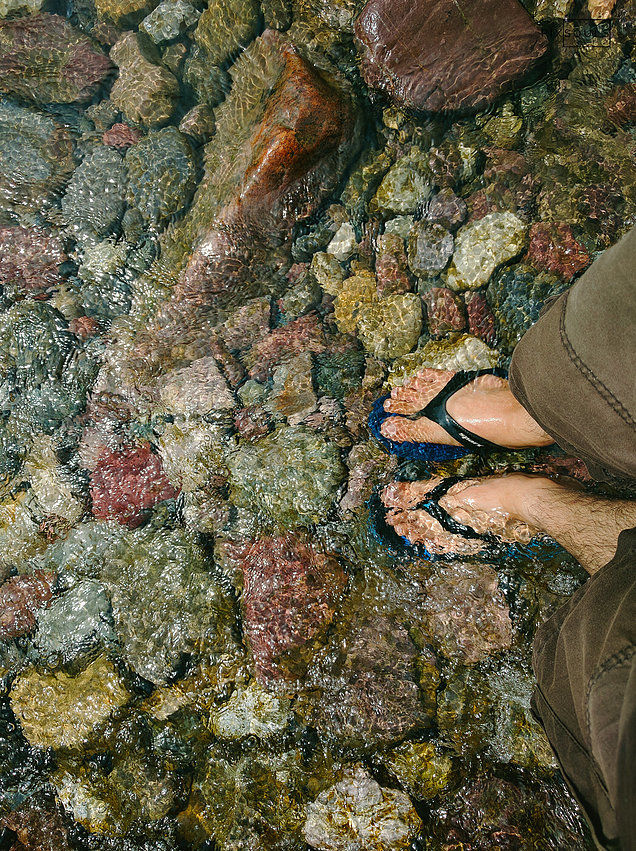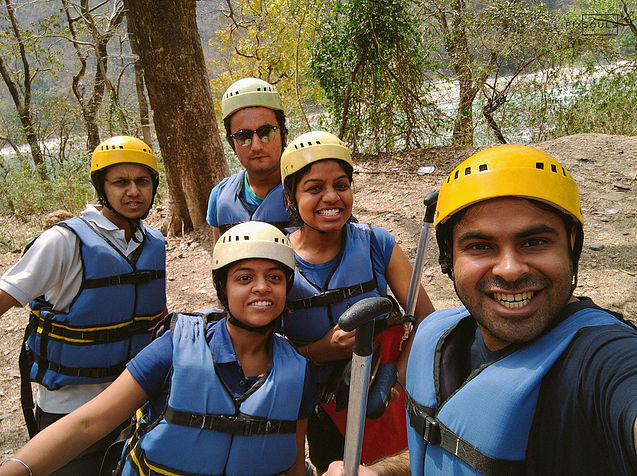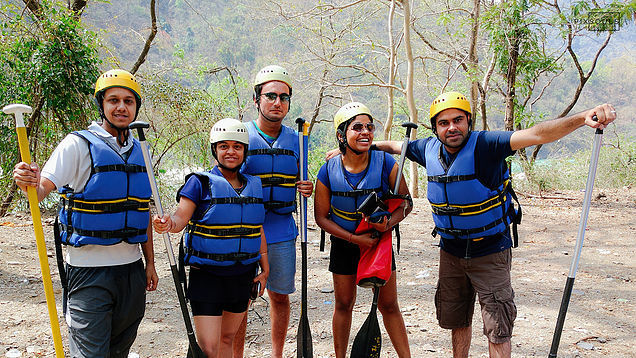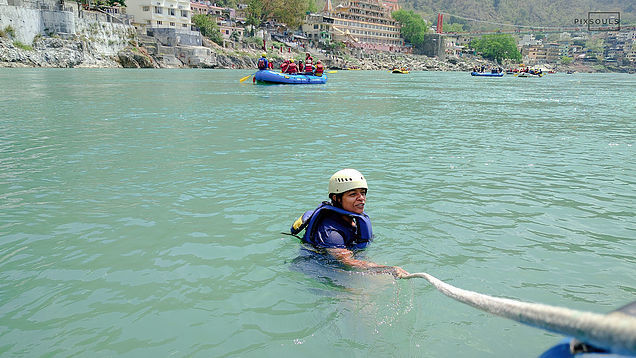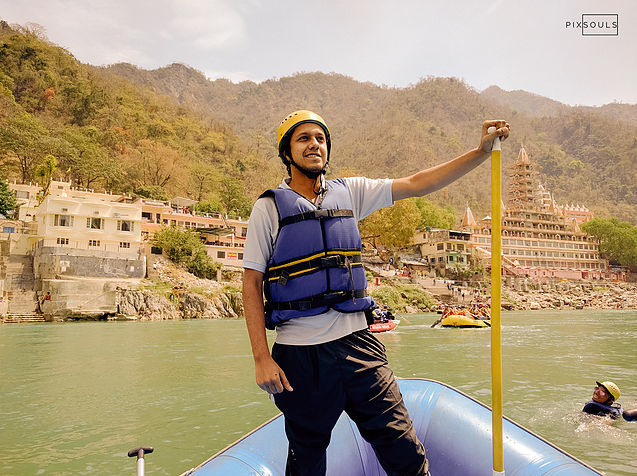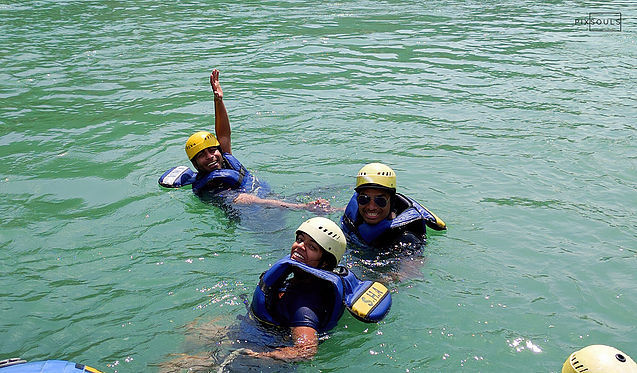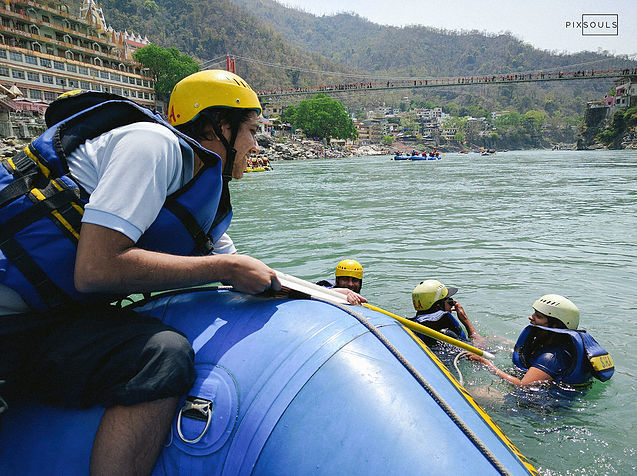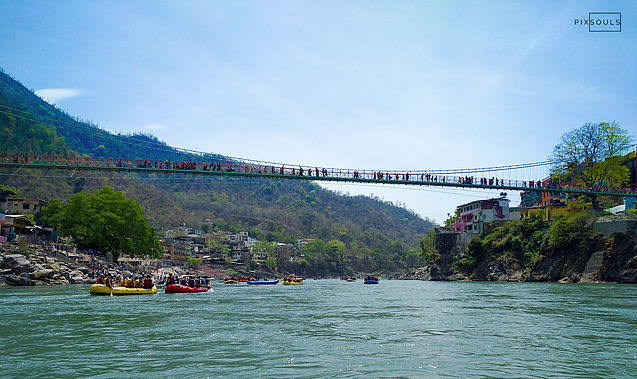 While shooting in the water I broke my slippers (right one) and had to use one i found near the camp, abandoned by some one else. It was also the right side. So I was wearing 2 different slippers with right side :)
The rafting was really a thrilling experience. Thanks to Sanjay!!
Soon after it we went to market to have lunch. We first went to Chottiwala express. Pathetic service. We had to for 30-40 minutes before getting 2 out of 5 drinks that were ordered and there was no sign of main course. We had to move out. We are not sure if it was even an authentic chottiwala franchise or just a rip off. Judging by the staff behaviour and their service we are inclined it believe it was the latter.
We moved to Madaras Cafe and the food was decent and service was pretty good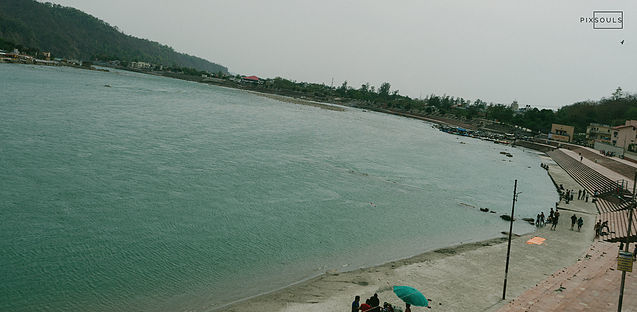 It was around 2 pm and wen decided to go to Haridwar and see the evening aarti at Har ki paudi. We all hoped into a private auto and enjoyed the journey till Haridwar.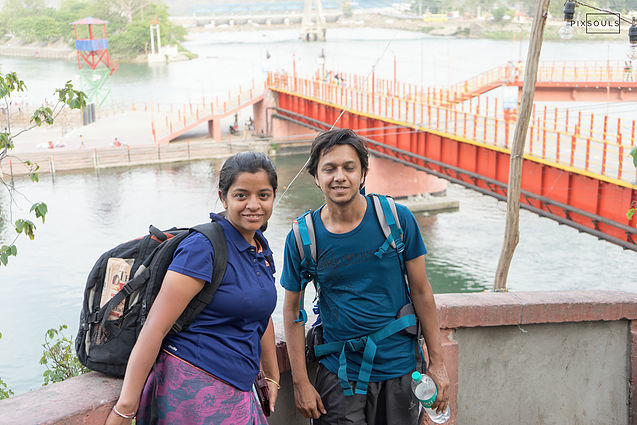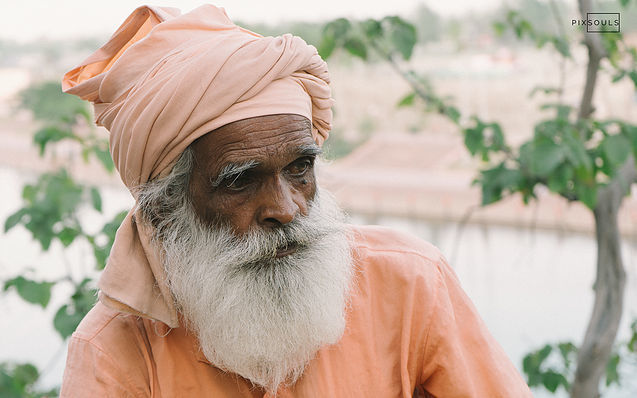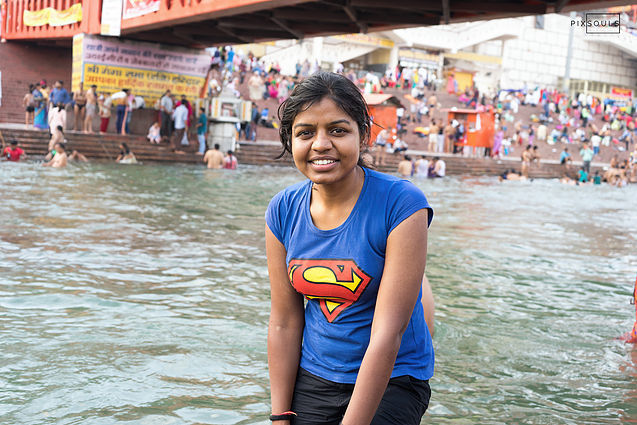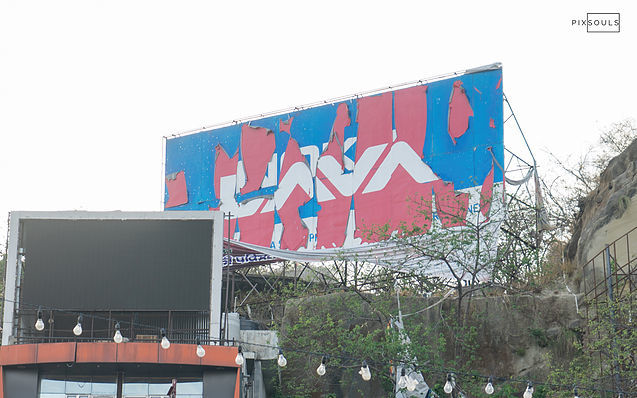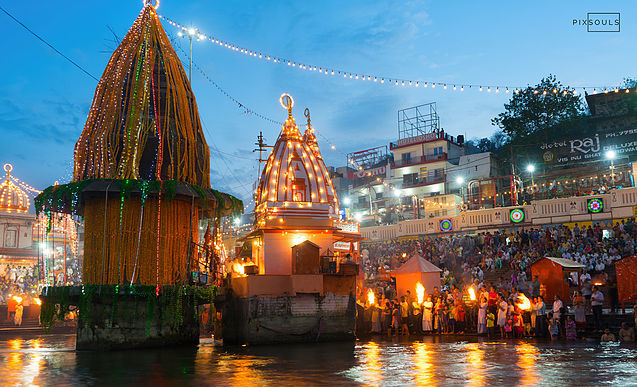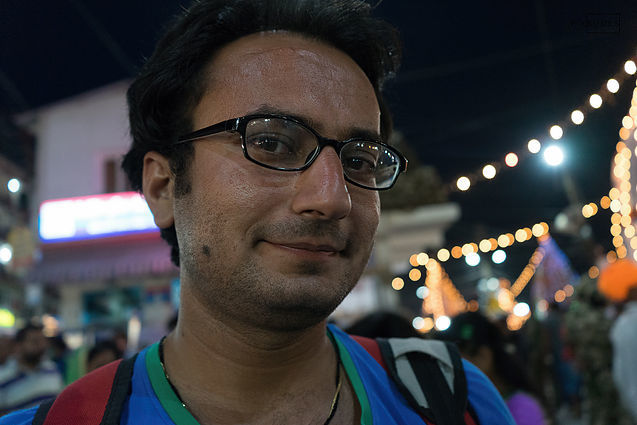 You have to capture a random old saint photo to complete the street photoshoot.
She is one of the primary reason that PixSouls exist today. I thank her for believing and having faith in me and motivating me to pursue my passion. She was my senior in college and I think she has truly guided her junior on the right path. She is an integral part of Pixsouls and we are positive that she will join us full time pretty soon. Thank You, Ana :)
Finally after the aarti we wandered through the streets of Haridwar to have some delicious food. We had poori at Mohan ji poori wale.
And then we had some other items nearby. That was the end of our trip. Ana and Prateek went to Railway Station to board their train and we headed towards bus stand. This time we were wise enough to book the State Roadways' Volvo. The departs at 11.30 PM from Haridwar and reached ISBT Delhi around 4 AM.
Let us know if you liked this travelog and feel free to ask if you need any information in case you are planning a trip. :)
Thanks & Regards
Varun
This blog was originally published on 'PixSouls'