This blog was originally published on 'PixSouls by Varun Kassana' , Hemanshi Sagar is the author and Pictures are clicked by Varun Kassana.
"Because in the end, you won't remember the time you spent working in the office or mowing your lawn. Climb that goddamn mountain."― Jack Kerouac
Yes, follow his saying because I did and that's giving me the opportunity to share my experience of my journey with you guys. I happened to plan my Triund trip with my 3 dear friends whom I met in my Leh Trip 3 months ago.
#Tip1- Traveling with friends is always crazy and very important in such trek trips because they are the ones who will drag you, motivate you, punch you to finish the long mountain trek.
So, after the Leh trip, we all were planning to meet again and go on a trip and have the reunion to recreate the same bonding that we had from the previous journey. We all are from Delhi and just 1 from Mumbai, so we zeroed to Triund trip after weeks of discussion over every possible communication media and decided for a long weekend to travel to Triund. We planned our 3 days so to make most out of it and were ready with our checklist to visit Mcleodganj - the land of Dalai lama, Triund - the gateway of golden sunset and Bir-billing-the hotspot for paragliding.
Finally, the wait was over and the travel day arrived. We all met in the Volvo that was taking us to Mcleodganj from New Delhi and spent the night talking and reached Mcleod without having much sleep in the night.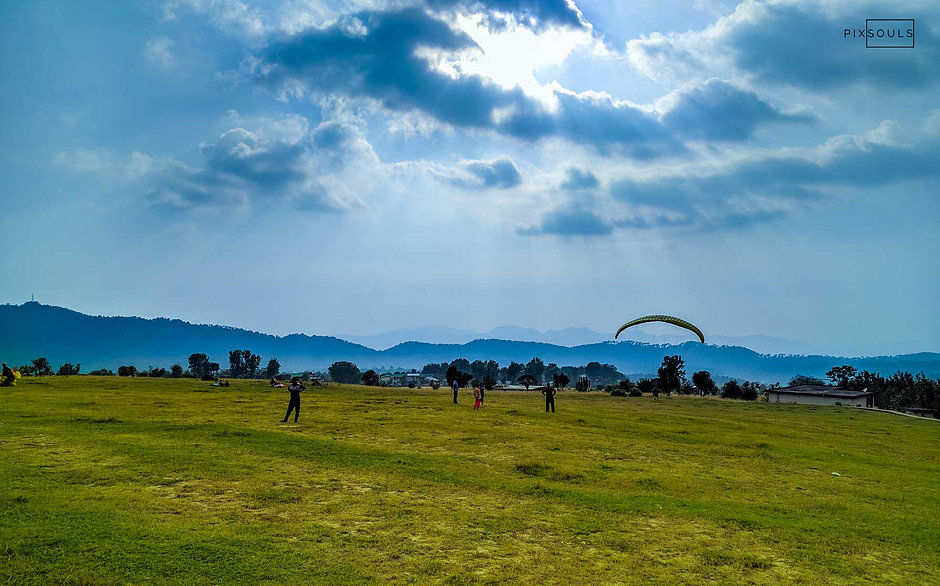 Day 1 (Adventure in Bir and Cuisine tasting in Mcleod)
Reaching our hotel room, we hopped on to some breakfast in the hotel and booked a cab to take us to Bir. One can make the paragliding booking the same day and the charges are between 1800-2500 INR for an individual person. Please make sure you opt for GoPro. Don't try to mount your phone on selfie stick and click in the air. Neither it will give you the wide angle shots and you might end up throwing it in the valley.
#Tip2- On the way, one will pass by Dharamshala cricket stadium and Jwalaji temple and one has to try to reach Bir before the noon time as one can't guarantee the status of visibility up there.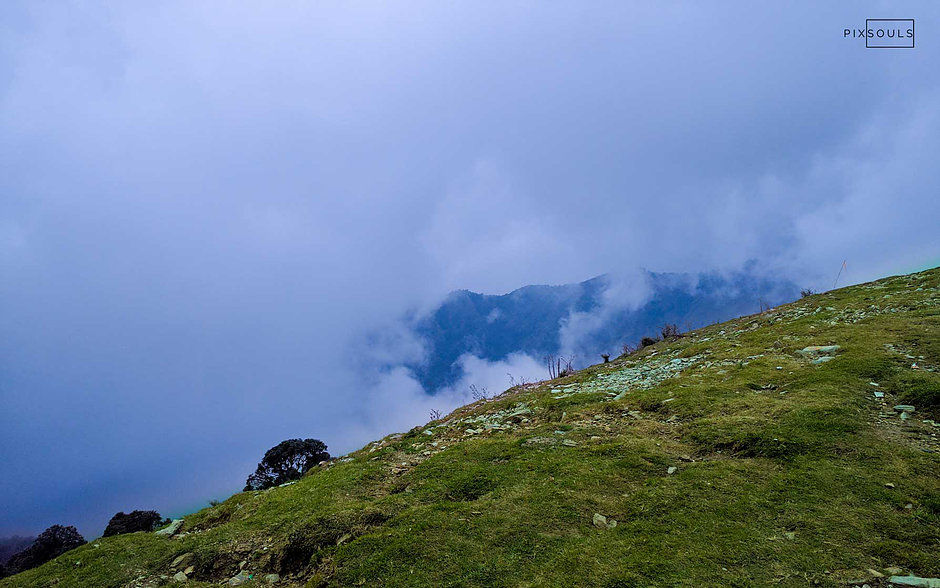 Thats the place where you'll have your moment of life. After wearing your gear, you'll be asked to run towards the cliff and you'll be airborne in no time.
Billing is an 18 km ride from Bir and you'll be carried in an open jeep by the pilots who will be flying along you. Do take your jackets. It was pretty cold.
After having a great time at Bir, we came back to Mcleod city center in the evening to taste some local cuisine and hopped on famous cafes. Most of the cafes were fully occupied but we got a corner place in Mcleo Bar, which is located in the vicinity of the main market street and we ordered Pizza and Chocolate shakes.
Day2 ( The epic trek to reach Triund begins)
We filled up our stomach with some breakfast and our bags with Gatorade energy fluid (thanks to our doctor friend for her great advice) and were ready to begin our 9 km uphill trek to Triund from Mcleodgunj. We left most of our luggage in the hotel and just carried the winter essentials for the night. The energy and the confidence we started with got its reality check within first 15 mins. of the trek.
The first 2 kms of the trek are optional and you can opt for a car to take you there. It will charge 400-500 for four persons.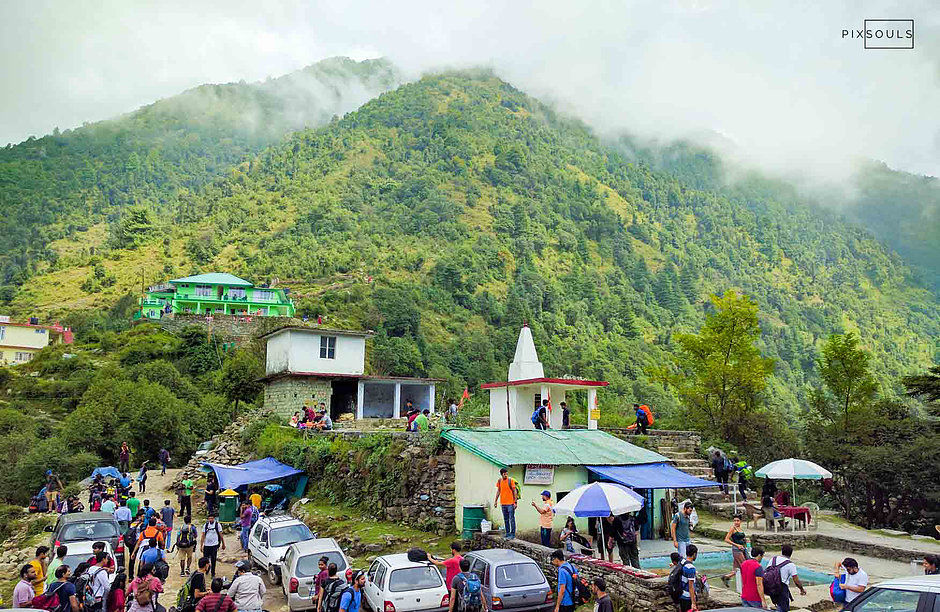 From this point your journey begins. The next 7 kms will definitely test your mettle. Walk, catch a breath... Look for your friend who is lost behind and some running ahead of you... Breathe again, sip water, look to that mountain top where you have desired to spend the night in the colourful tents amidst billions of stars in the sky.
#Tip3-Uphill trek for 9km will check your lung and knee capacity but one can make it with small breaks and brisk routine.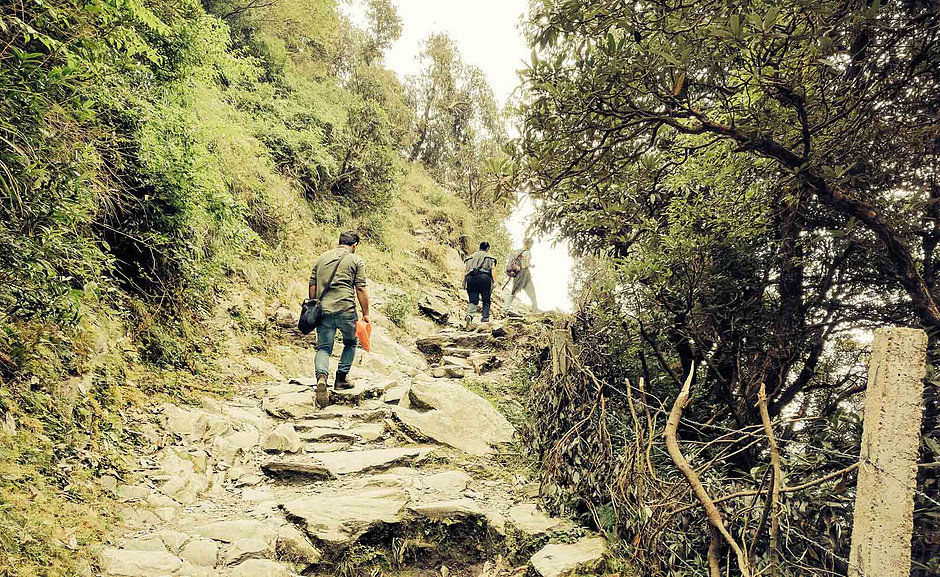 As we continued to hike over the narrow path made of rocks which require you to step them more than to walk on tested our joint gliding and spirit.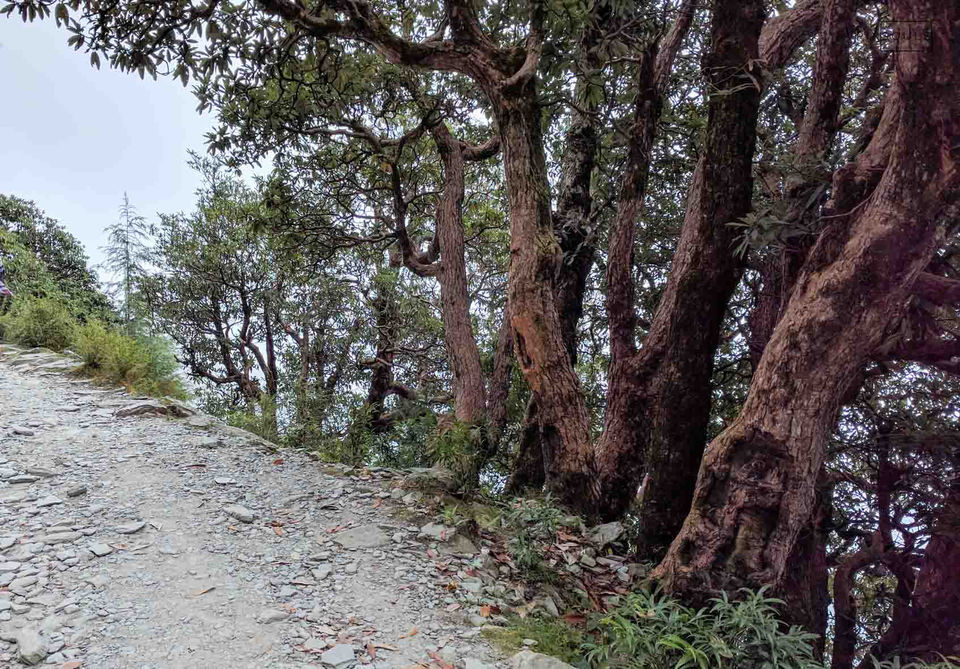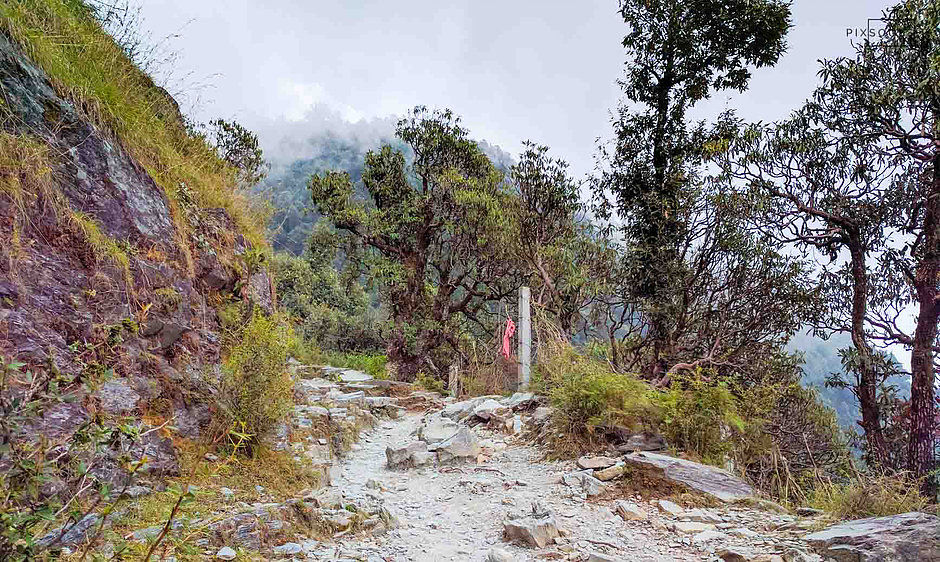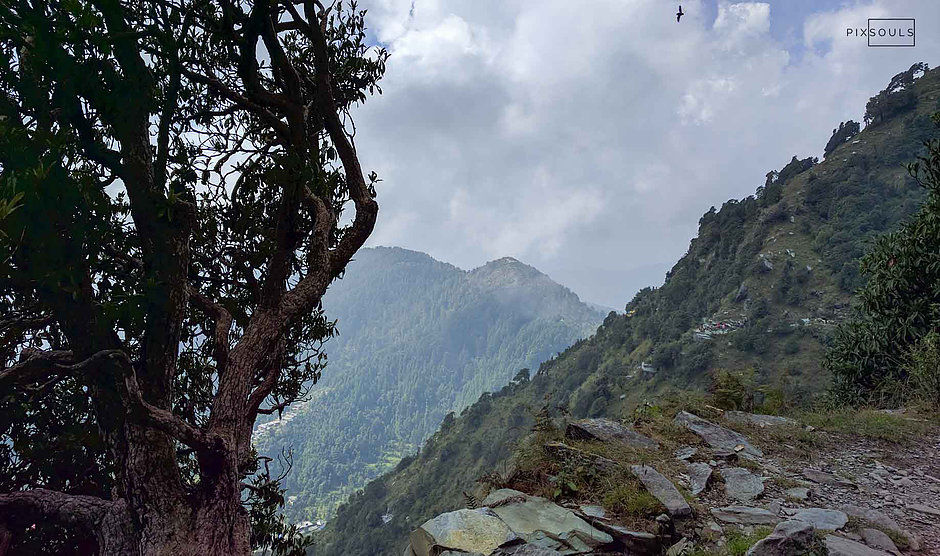 #Tip4- Just Keep Going. You are sweating, you are thirsty... but you are doing something that most of the people just think of and never go for it.
The trek has got maggie and tea halts that mark the distance left on the journey and one can restore the energy lost by sitting beside the magical view and fill up the courage to get going and feel that life is worth more than it was earlier.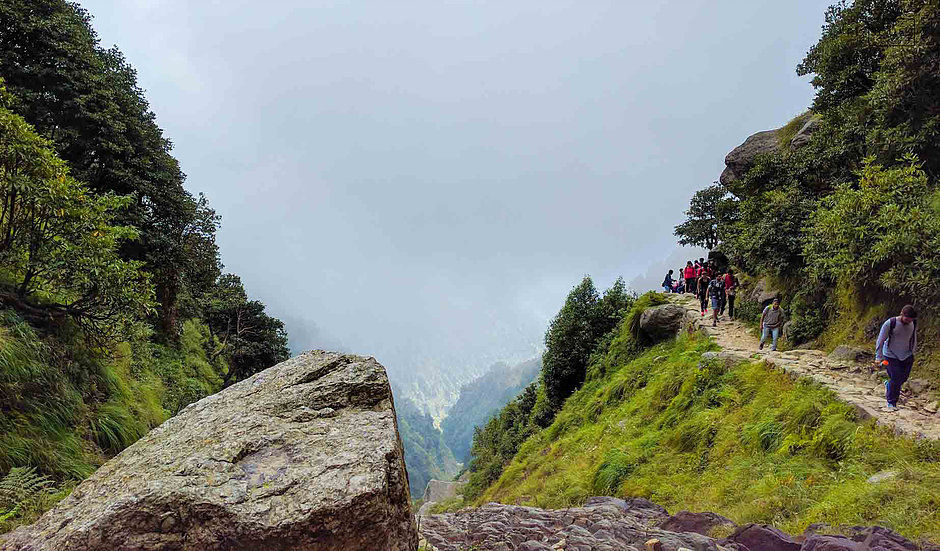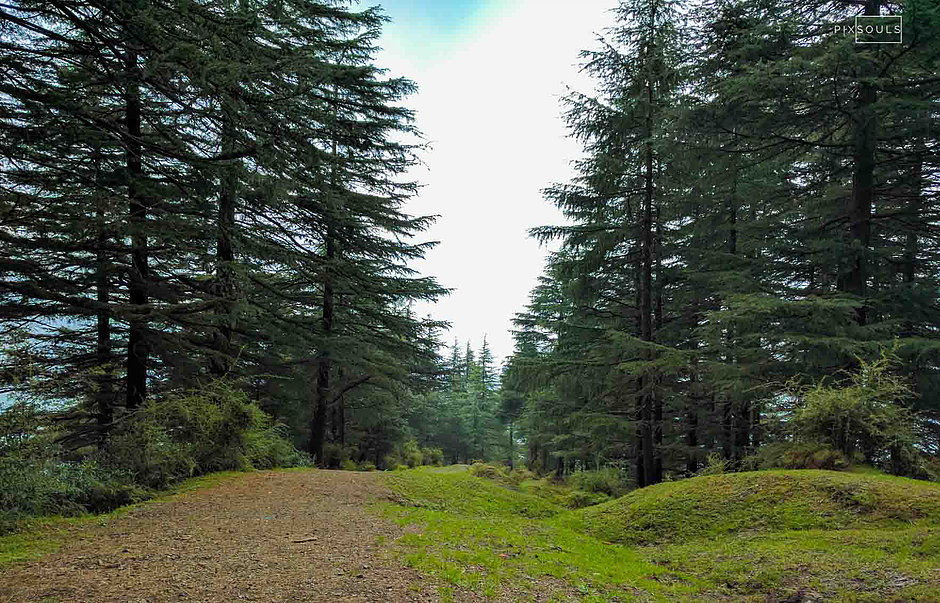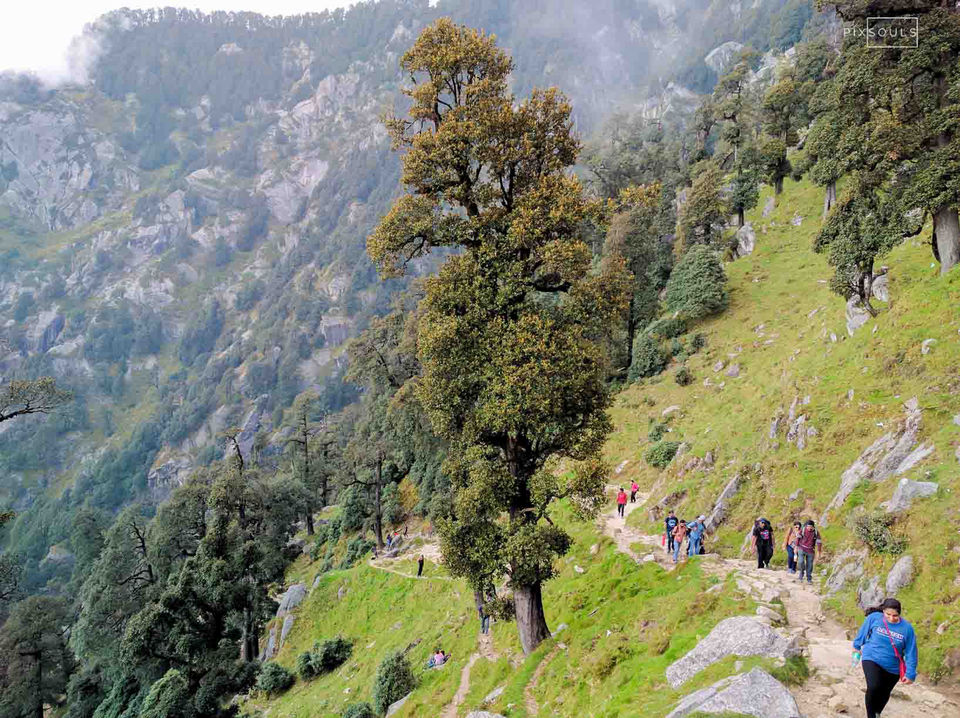 After almost giving up for 100 times during the trek, defeating all the physical challenges, we finally reached a point from where we were able to see the top. The view was amazing, almost like a staircase to heaven.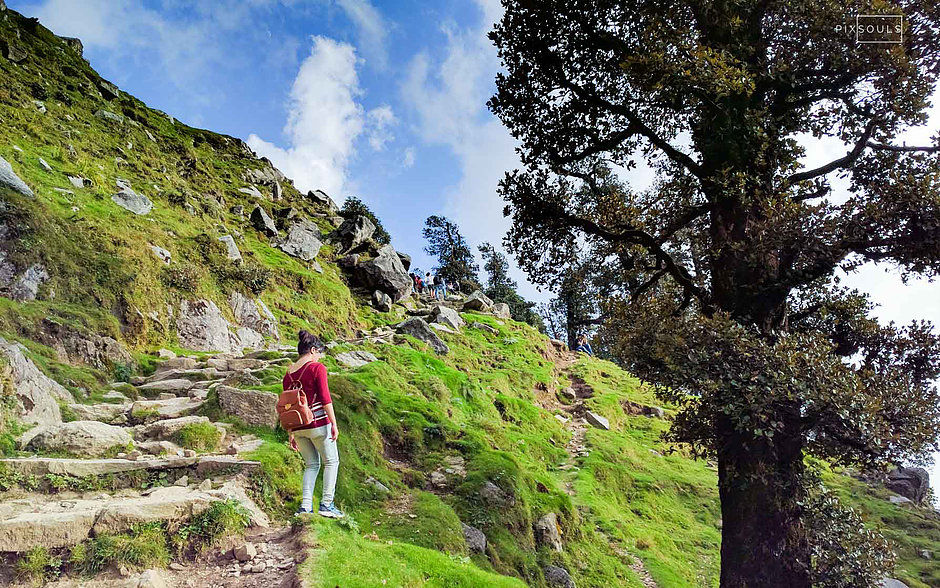 Triund Top is a place where you can cherish the Golden view with lush green grass fields and coloured tents. The first view looks like an illusion of mother nature, and one can just lay down in a peaceful place and witness the gleam golden spectrum in front of them.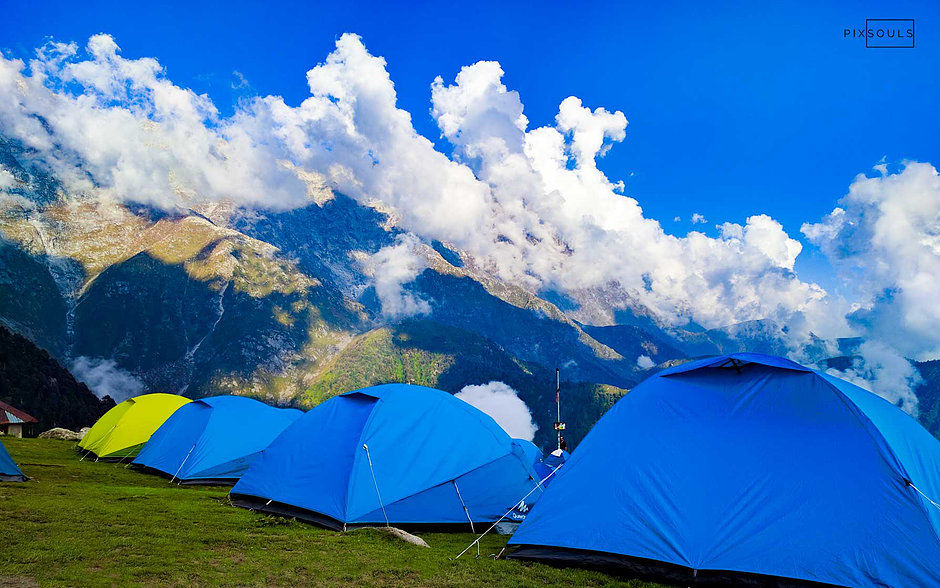 That's the best spot to get clicked. Thank us later :)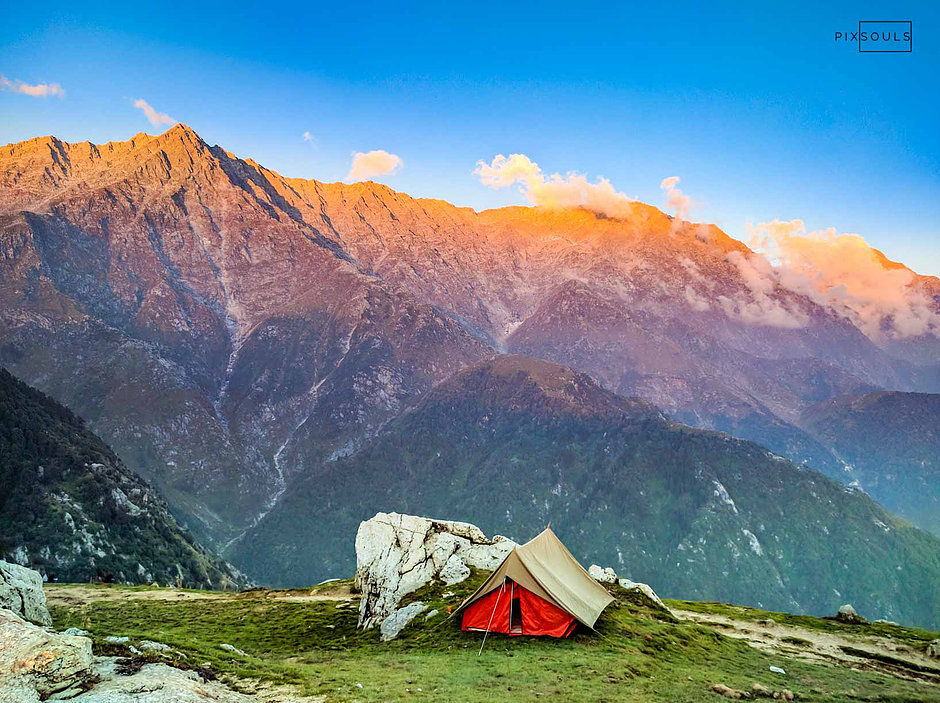 We kept our backpacks in our tents and got ready to be clicked by our dear Friend (Varun Kassana) whose magical touch has given us some of the best pictures that we treasure from the last trip.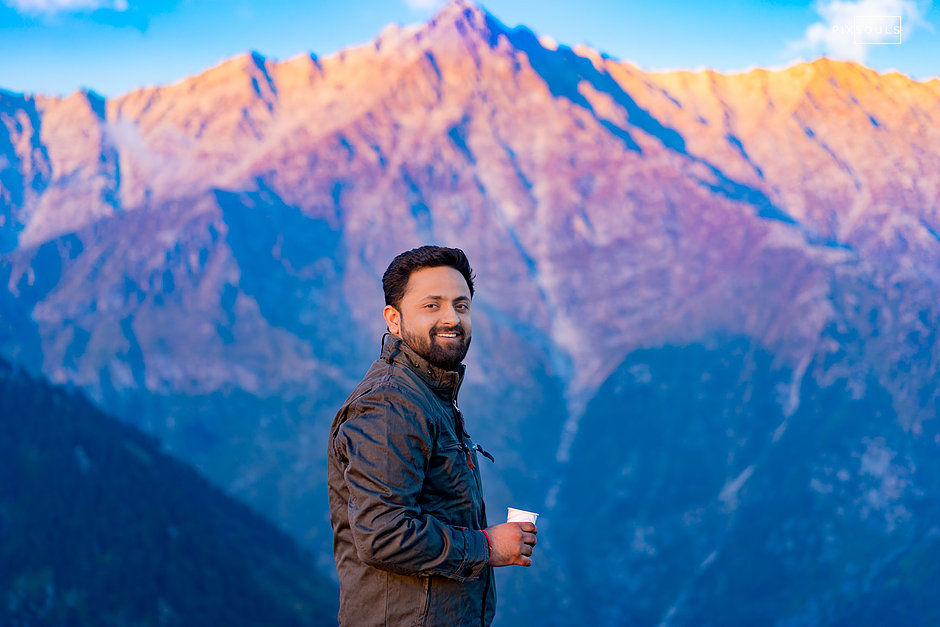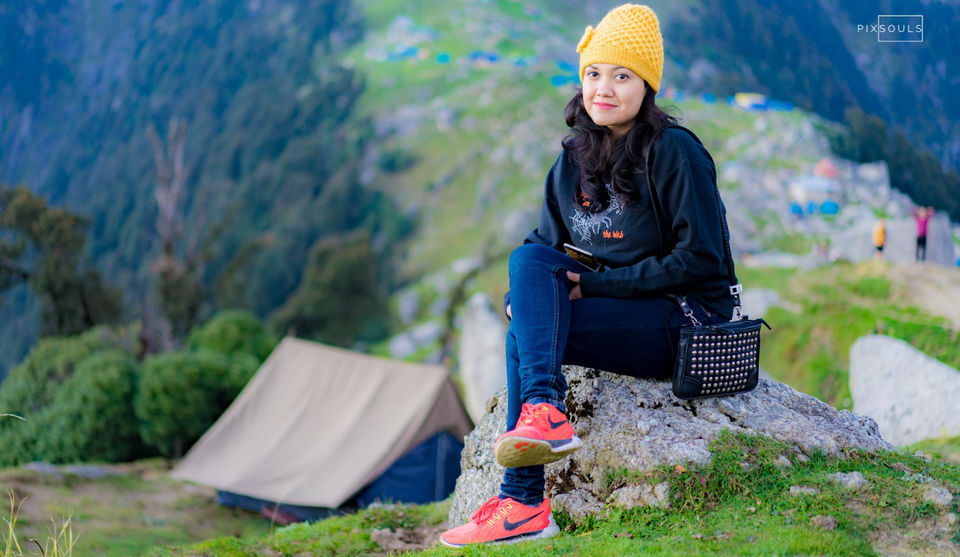 I can't tell whether it was the Triund stary night show and silvery Moonlight that made us contented or the bonfire, live music and night long chitter chatter with the friends that were traveling together to feel the bond made on the last trip. I guess, both. Varun shared that the best view of triund is during a full moon which he was lucky to witness in the earlier trip to Triund.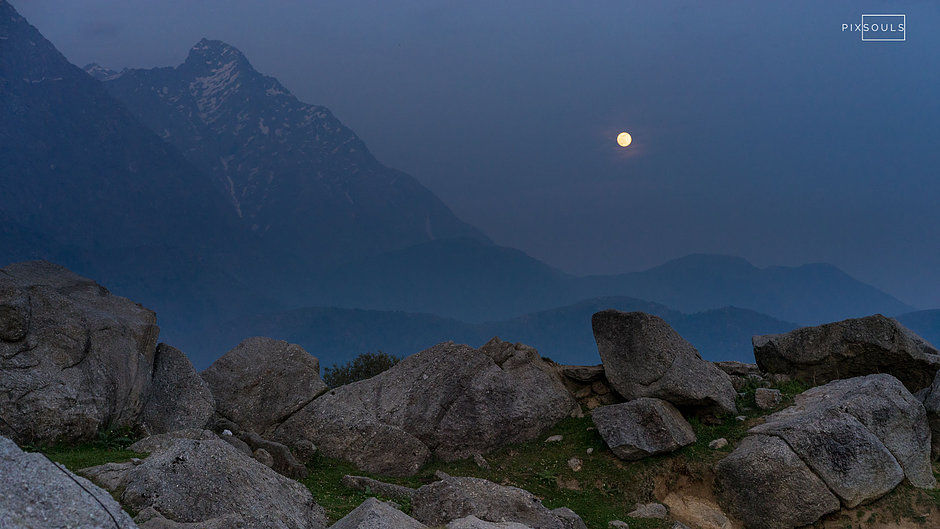 We stayed overnight in tents and the sleeping bags provided were of no help. We stayed close and slept hugging each other to survive the cold night.
Day3- (Breakfast in triund- lunch at McLeod)
We woke up to the perfect morning as one describes: green grass, blue skies, and the mountain glaring at you. We changed and started our journey with the energy boosting cup of coffee that's available there.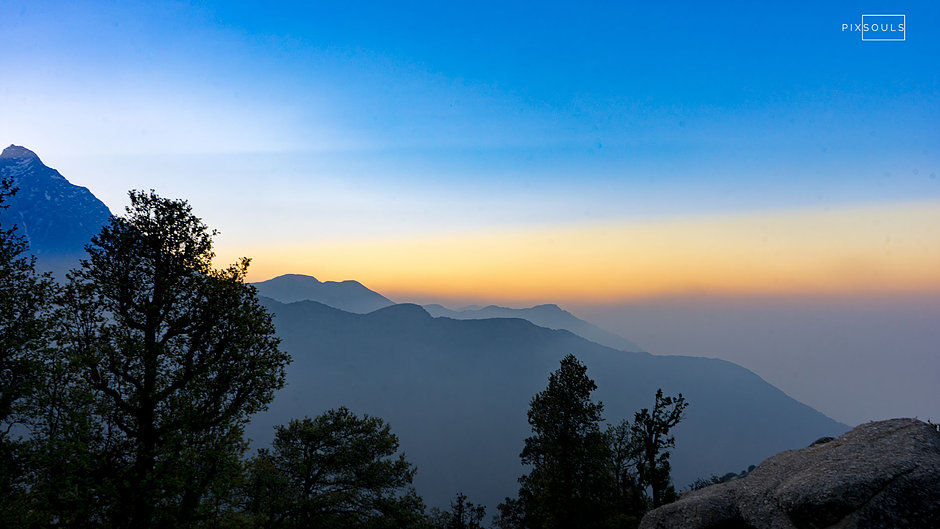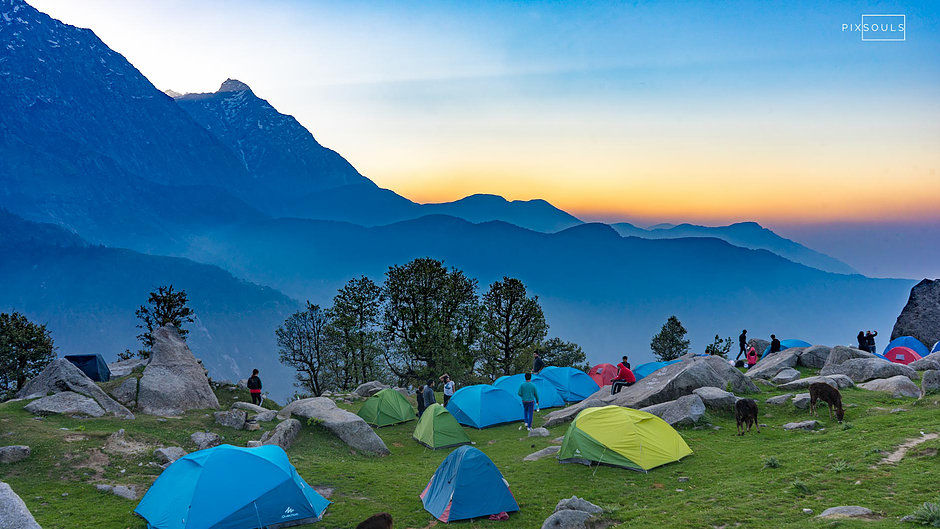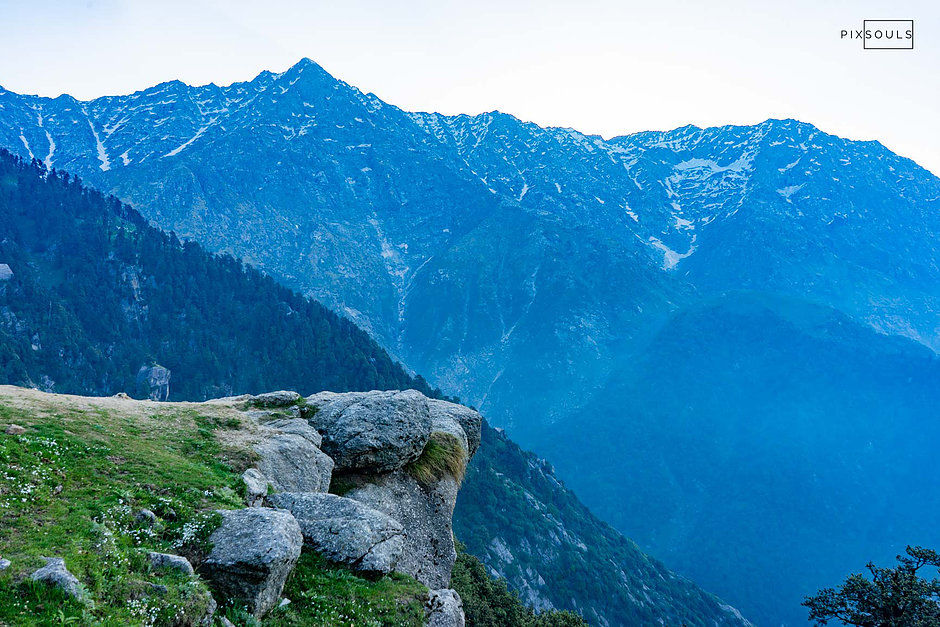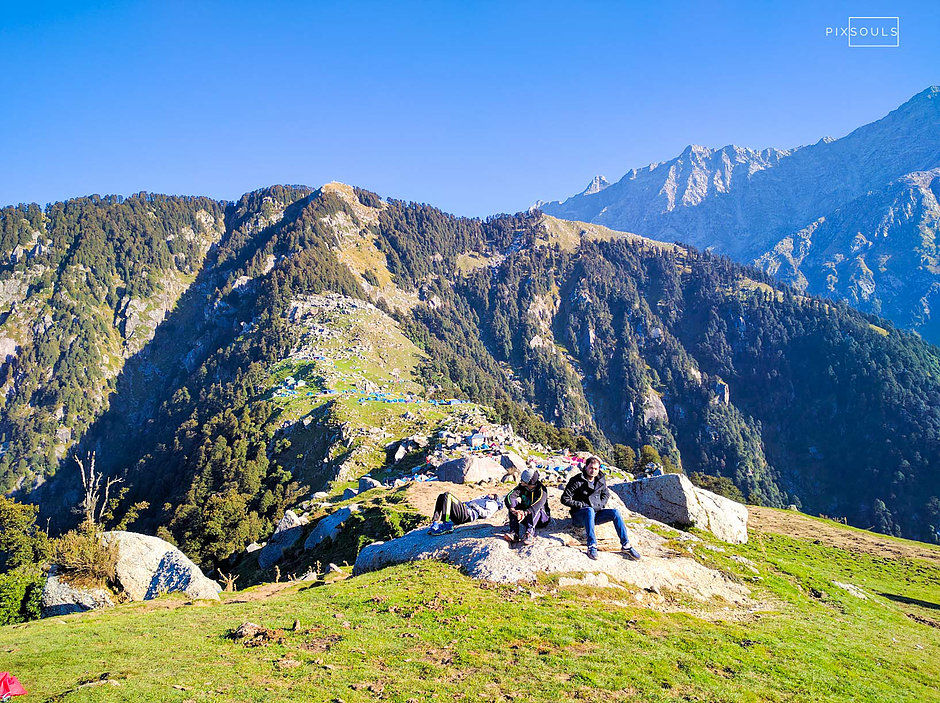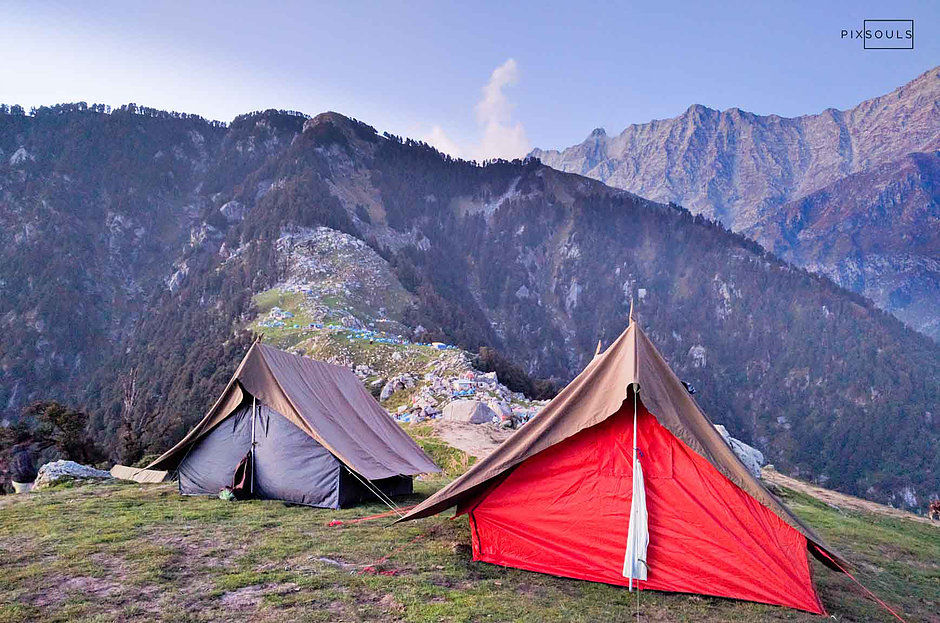 It took us half time to reach the Mcleod city back and this time we could enjoy the stone pathway as were charged with the Triund spectacular view. We packed our bags and loaded them on the bus and went for city walk to have some desserts from jimmy's kitchen in the last hours left before the bus leaves. The shopping spree was echoing in my mind and I gave it a shot with my doctor friend to go to local market as she wanted some semi-precious stone and organic tea.
One can also go to the shiva cafe which is almost a 30 minute trek from Bhagshu. We couldn't go to shiva cafe on this trip but luckily Varun visited it last time and he has the pics to show you.
We didn't realise how quickly the 3 days got over and our trip was about to end. We were contented with the time spent and the memories we were taking with us and were hoping for more such reunions to plan and travel again. These trips really change you forever and etch a permanent mark on your memories.
Now, that you have seen the picturesque of Triund and must have been inspired to plan it as your next trip, here are some random observations that might help you with traveling hassle free
1) Dehli to Dharmshala by Volvo bus is one of the most dependable options. i.e. you will always get tickets, even if last minute, but avoid picking the long weekend holiday as its get crowded up there.
2 )The second most important learning in traveling to the mountain is time management. One just can't just miss the beautiful canvas up in the sky during the sunset and sunrise. So start early and try reaching the Triund top before noon time and not waste the day light in trekking.
3) Taxi options are readily available in Dharamshala to take you to tourist places (except the Triund top) so don't exert yourself and save those legs for trekking.
4) Trek to Triund and back will drench your energy, so keep your last of the trip to relax around and munch some famous cuisines.
5) One of the things that I love about India is that a cup of chai and a plate of maggie is never too far. One can take few chai breaks and fall in love with the mountain picturesque.
6) Carry winter essentials. The "layer method" of dressing is more effective than a single bulky garment. It's pretty freezing during the night stay in the tent and one just can't sleep if not fully protected in socks to cap.
7) Yes, coming to the network part. People with Airtel number were seen busy in whatsapping and updating the world.
8) Carrying Bluetooth portable speaker in such treks keeps you going to the finish line.
9) There is a lot to cover in Dharamshalla and Mcleodganj, so plan your count of days before and keep it simple because you are not on mission to complete your checklist but to have break from your hectic life.