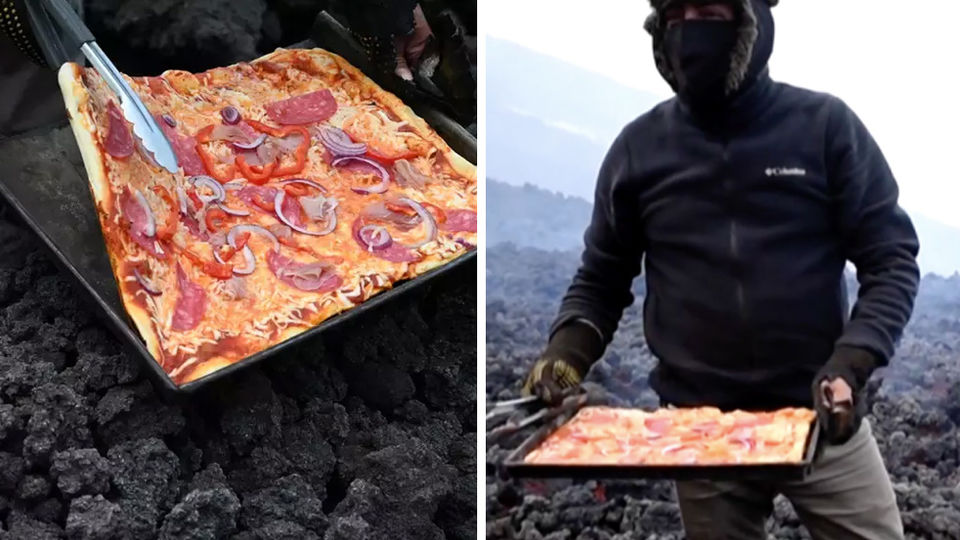 How far can you go for your love for pizza? Definitely not as far as this man from Guatemala who set some sizzling hot standards as he cooked pizza on lava oozing from active volcano. The 34-year-old adventure enthusiast caught everyone's attention after a video of him fearlessly preparing pizza on streams of molten lava went viral.
In the video, he can be seen spreading pizza dough on special metal platters, that can resist temperatures up to 1,000 degrees Celsius, and he places it on top of lava. Wearing protective clothing from head to toe, he slathers the dough on platters with tomato sauce and generous amount of cheese.
"It's done, just let the cheese melt some more," he announces.
Pacaya volcano, which has been erupting since February, has been keeping local communities and authorities on high alert. However, this man has left everyone in awe as he turned an active volcano into his kitchen where he prepares and serves "Pacaya Pizza".
"Many people today come to enjoy the experience of eating pizza made on volcanic heat," Garcia told AFP.
He first started baking pizzas on the mountain side in 2013 in small caverns he found amongst the rocks. "I didn't sell much the first few days," said Garcia.
"It was difficult for me to learn the technique here so the pizza doesn't [get] burnt. And it is also a risk to be on the shore because it is at a high temperature of 1,500 to 2,000 degrees, so I have to watch the wind direction so it doesn't affect me," Garcia said.
What inspired the man to take the deadly risk?
Garcia noticed the tour guides in the area who would bring groups to the volcano and roast marshmallows.
"I took the idea and I wondered what else could be cooked with the lava," he told AccuWeather. "So one day I prepared a pizza, took it to the volcanic rocks and in 14 minutes it was ready. The high temps from the nearby lava gave it an exclusive taste and an amazing crunch. I told myself, 'This needs to continue.'
Tourists in awe of 'Pacaya Pizza'
Gracia's pizza point has been attracting huge number of tourists as word spread about his specialties on social media. Tourists have to climb the massive volcano rock located just 25 kilometers south of the capital to reach his kitchen.
A tourist who found out about this pizza joint on Facebook said, "I thought I have to have this experience." "Having a pizza cooked in the embers of a volcano is mind-blowing and unique in the whole world," he added.
"It's ridiculous just thinking that you're going to eat something cooked on lava, but it's something that you can see only here in Guatemala," a Dutch visitor said.
Grazia said that he gets a feeling that is fulfilling when he sees tourists enjoying this unique experience. "Some call me crazy, but the passion for cooking is sometimes crazy," Garcia said. "But it's a feeling that is fulfilling, it satisfies, and I like to see tourists getting a new life experience."
However, it is definitely a risk not worth taking as the volcano had been spewing ash up to 1,640 feet from its crater in April. Locals have been fearing for their lives as the volcano's wrath doesn't seem to calm anytime soon. Grazia, however, claims that he has been keeping all safety precautions in mind as he offers this unbelievable experience to tourists and locals.
Bored at home? Why don't you take a trip down the memory lane and fish out some exciting throwback travel pictures. Share your experiences with the world here and help them keep their wanderlust alive.