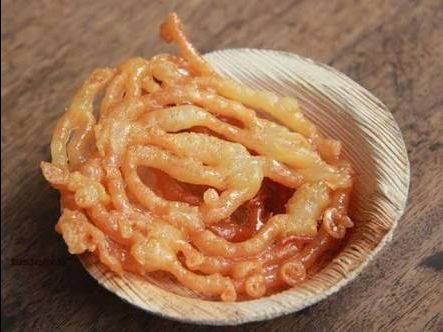 Bikaner, the paradise for sweets and namkeen lovers surely lived upto the expectations. The delicacies and taste here are unique to this place and every person out here is a real food lover. Most famous food of bikaner is listed below. Make sure u don't miss any of it.. 
*Kachauri : daal kachauri is close to being the Staple diet of people in bikaner. Enjoy hot tea with kachauri (stuffed with daal and spices) at "chai patti" throughout the day.. 
*Pakodi : another delicacy which is  smaller and crispier version of daal bhajiyas/pakodas, referred to as pakodi is extremely popular here. The same can also be cherished at chai patti in the morning or at any sweets shop..
*Bhujiya : can be called as the lifeline of bikaner. This crispy sev made of pulses is used just everywhere. Bhujiya can literally be eaten here at any hour of the day. In breakfast, lunch, snacks, dinner, with tea, bread, rice etc etc. A must try from bhikahram chandmal brand. You could also try the multiple varieties offered like plain bhujia, mixture with bhujiya, thick bhujia, bhujia without chillies etc.  
*Jalebi- you cannot miss having jalebi in bikaner. Super crispy, orangish and fried in ghee, jalebis are sure to make your day. Cannot be compared to any other jalebi on planet Earth. 
*Rabdi- delicious sweet made from reducing milk to form thick malai, rabdi is simply yummilicious. A must have!
*Bela sharbat - a chilled drink made of flowers' syrup and served in an earthen cup, bela sharbat is meant to make u feel heavenly in scorching summers of bikaner. 
*Pan - people in bikaner are extremely fond of pan and hence you get amazingly tasty paan here. Also try out the gutka (mixture made without katha, having cherries mulethi and gulkand) 
*Chatta- a refreshing dessert made of grated ice and flavoured syrups, referred to as gola in most parts of the nation. The shape, form, taste and flavors of chatta here is out of the world. A mandatory try.. (try some kesar/rose/gulkand flavor with rabdi for a rajwadi feel) foodgasm to follow for sure..
*Parshvanath juice centre - a very old and average looking outlet for shakes and ice creams is a classic one. Try pineapple shake with icecream, their signature dish..
*Malai icecream / saankla icecream - you  ought to try the malai ice cream(random vendors on the streets with red coloured basket on head) and saankhla brand kulfi (kesar kulfi with a lot of nuts and richness). 
Loaded with sweetness and namkeenness ;), bikaner is nothing short of heaven for foodies..