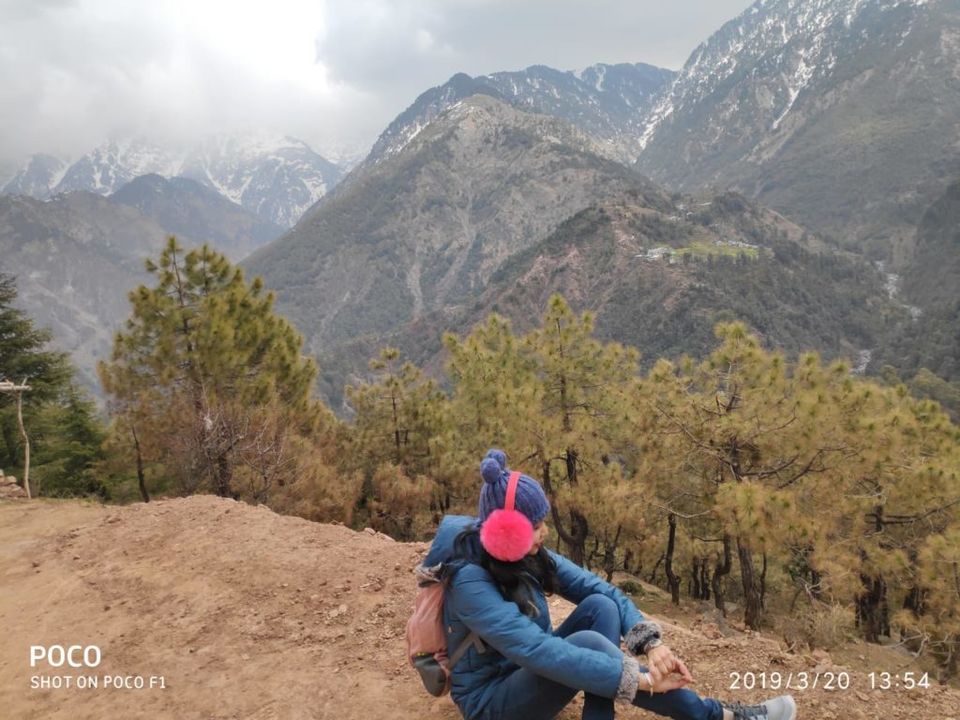 Places to visit in Dharamshala, Things to do , How to reach and my experience
The translation of Dharamshala "spiritual dwelling" does justice to the place, as it houses the main temple of Dalai Lama and his residence. It is situated in Kangra district of Himachal and is placed just against the Dhauladhar mountain range giving an amazing view of the outer southern Himalayas. Apart from obvious trekking and sightseeing there are many places to visit in Dharamshala which give a good taste of local Buddhism and Tibetan culture. The official Central Tibetan Administration Department of Information and International Relations museum is also located there. The places to visit in Dharamshala has a lot to offer from snow capped mountains in winters to coniferous Deodar tress covering the entire terrain, close look to the life a monk and to know and learn about Buddhism and the struggle of Tibetans'' to preserve their culture and traditions.
How to reach Dharamshala ?
The nearest railway station to Dharamshala is Pathankot which is around 85 km and one can find regular bus and taxi service to reach Dharamshala. Dharamshala is accessible by buses from all major cities like Delhi, Chandigarh, and Amritsar. Buses can be booked online and it makes 12 hours or so o reach there.
Best time to visit Dharamshala
The best time to visit all the places in Dharamshala is from April to June to escape from the summers and for enjoying winters is from October to February. Dharamshala has pleasant weather almost throughout the year hence it makes it one of the popular hill stations of north.
Things to do in Dharamshala
Dharamshala also called the Little Lhasa is the residence of Dalai Lama and hence is the centre for meditation and peace. One can indulge in the practice of meditating to seek solace to one's soul. You can visit the Monasteries and learn about Buddhism and also Tibetan culture. Bir Billing is one of the best places in India to do Paragliding and it is around 70 km from Dharamshala. Triund trek is one of the famous treks in India and from Triund you can trek up to Lake Glacier and see the snow line. Kareri lake trek is also another good option that is less explored.
What to buy at Dharamshala
Shopping at Dharmshala offers local handmade crafts and items related to Buddhism and Tibetan culture. You can buy idols of Budhha, Tibetian flags, handcrafted wall hangings and statues, prayer beads as souvenirs.
Cuisines to try at Dharamshala
The Tibetan culture is dominant so you can try Momos, Thupka and other Tibetan dishes. Amazing pancakes of different flavor were available alongwith mouth watering sandwiches.
Let the journey begin
Our journey started from Chandigarh and being on a tight budget we took local HRTC bus from ISBT-43. We boarded the bus at around 8 pm. It cost us Rs 320 per head. Being a local bus the seats were ordinary and not comfortable at all, better to go for Volvo buses. The bus halted for dinner at around 10 pm near a dhaba and we had chapati and yummy tadka masala.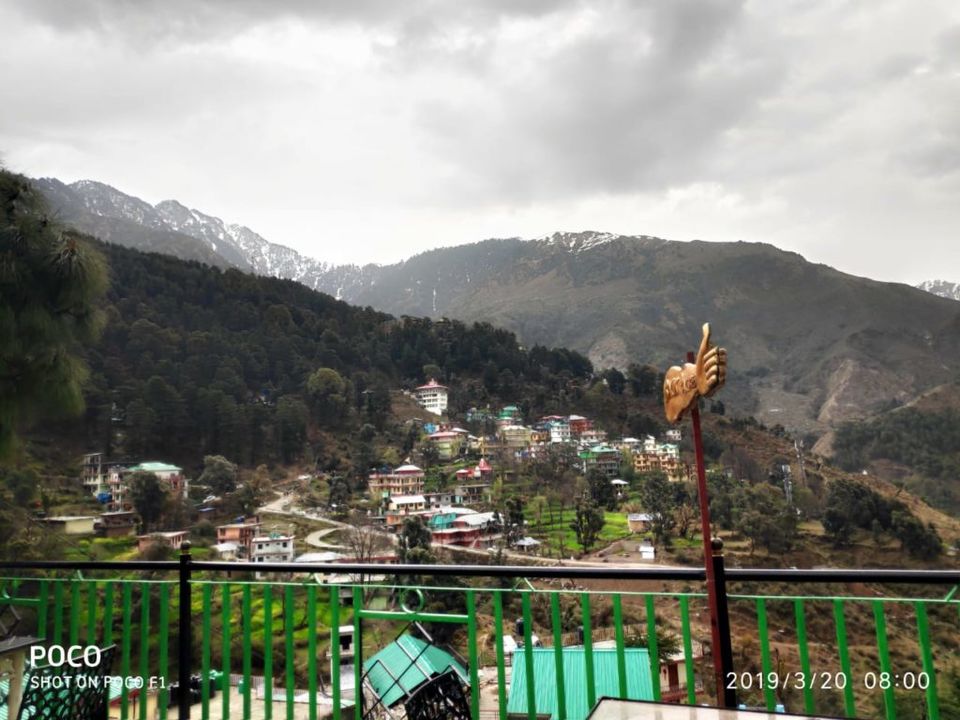 The View from Backpackers Inn
We reached Dharamshala bus stop at around 4 am in the morning and we took a taxi for 300 bucks to the hotel Backpackers Inn in Mcleodganj, to read review of the hotel follow this link. As it was so early in the morning we had bit problem in checking it but apart from that the place was amazing with beautiful view of the mountain range from the balcony.
You can book this hotel at www.hostelworld.com/hosteldetails.php/Backpackers-Inn-Mcleodganj/Dharamshala/101756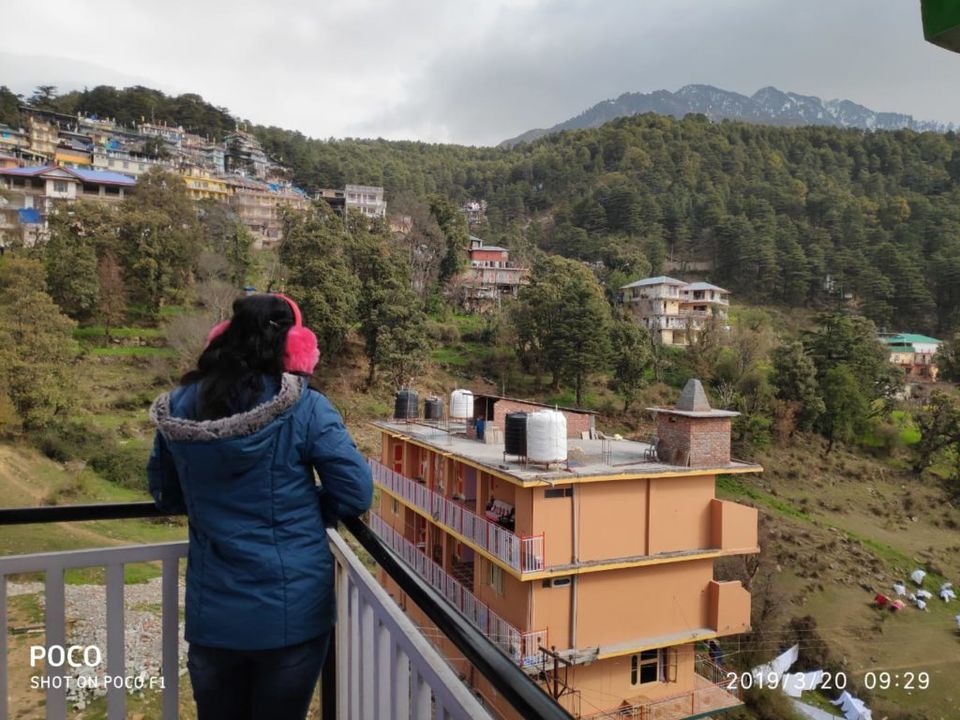 The view from the balcony of the room
We dozed off again and then woke up around 8 am in morning and we were just in awe with the view, the lush green mountains filled with pine trees, the blue sky with clouds felt like heaven.
We got ready and went for breakfast in the restaurant of the hotel itself. The food was great and we had omelette and aloo parathas for just Rs 150.
We had just one day so we wanted to make most of it. The guy at reception helped us to book a taxi for sightseeing and we paid Rs 1600 to see all the spots.
Sightseeing of the day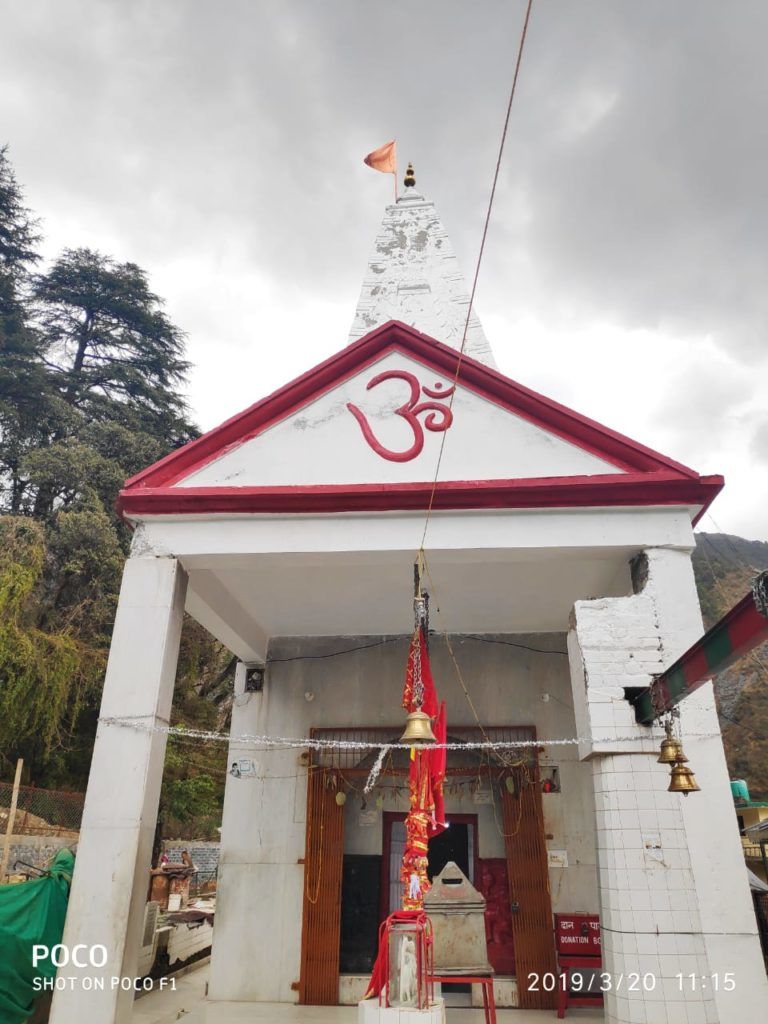 Bhagsu nag Temple
The Bhagsu nag temple was our first stoop and it was a small temple dedicated to Lord Shiva. Beside the temple was a traditional old pool for worshipers to take dip. There was also a shop giving out Himachali style local dresses to wear for rent and click photos. It was a very different experience for us wearing a long kurta from neck to toe and we also held a bamboo flower basket.
Bhasu nag Valley
The Bhagsu nag waterfall was nearby and we had to trek at least one hour to reach to the waterfall. It was very serene and the waterfall emerging between the valley. It was like watching Lord Shiva give birth to the waterfall himself, like a shorter for of Ganga.
We went to Dal Lake next and it was a complete disappointing spot you can just skip it.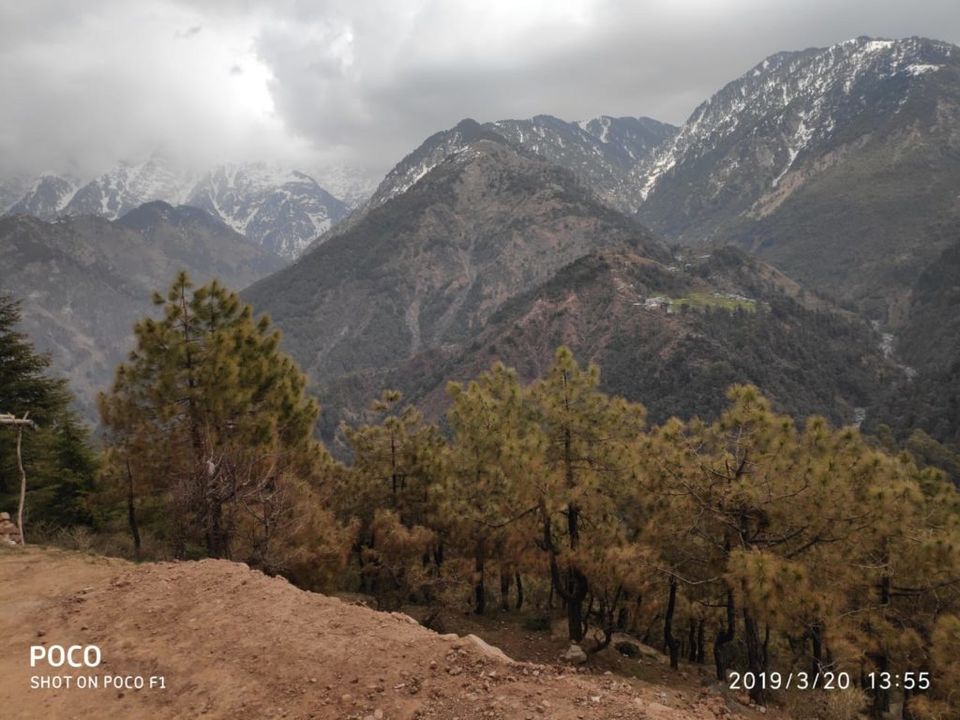 Naddi view Point
Then came the Naddi view point and just when we thought the place couldn't get any more beautiful we were proved wrong. We could see the entire Dhauladhar range, the snow capped mountains, the pine trees and the huge clouds making funny shapes just made was us jealous of our mundane city lives.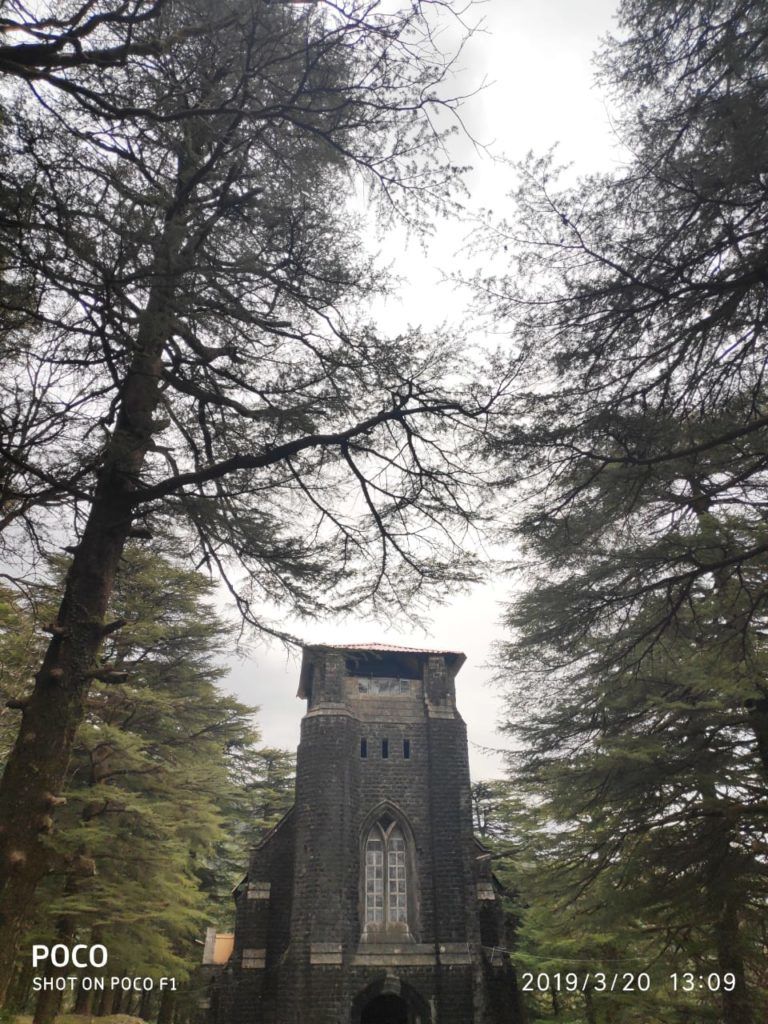 The Church of St. Johns in the wilderness was our next stop and it was very old but it was very well maintained.There were pine trees all around in the backdrop of mountains.
The beginning of the spiritual experience
Finally we headed towards the monasteries which are known as the gems of Dharamshala.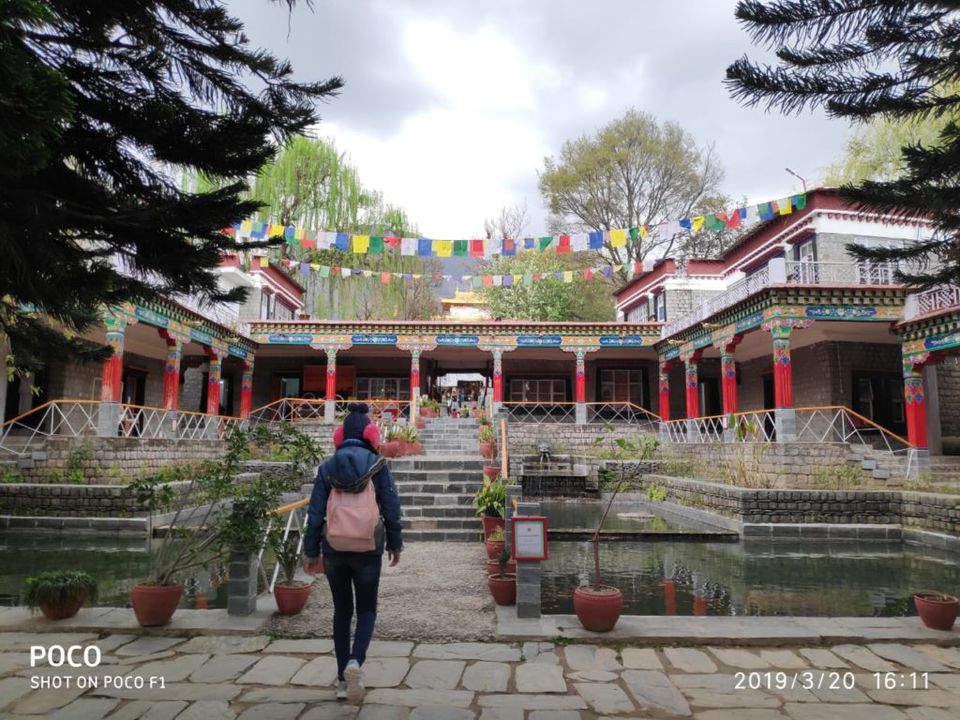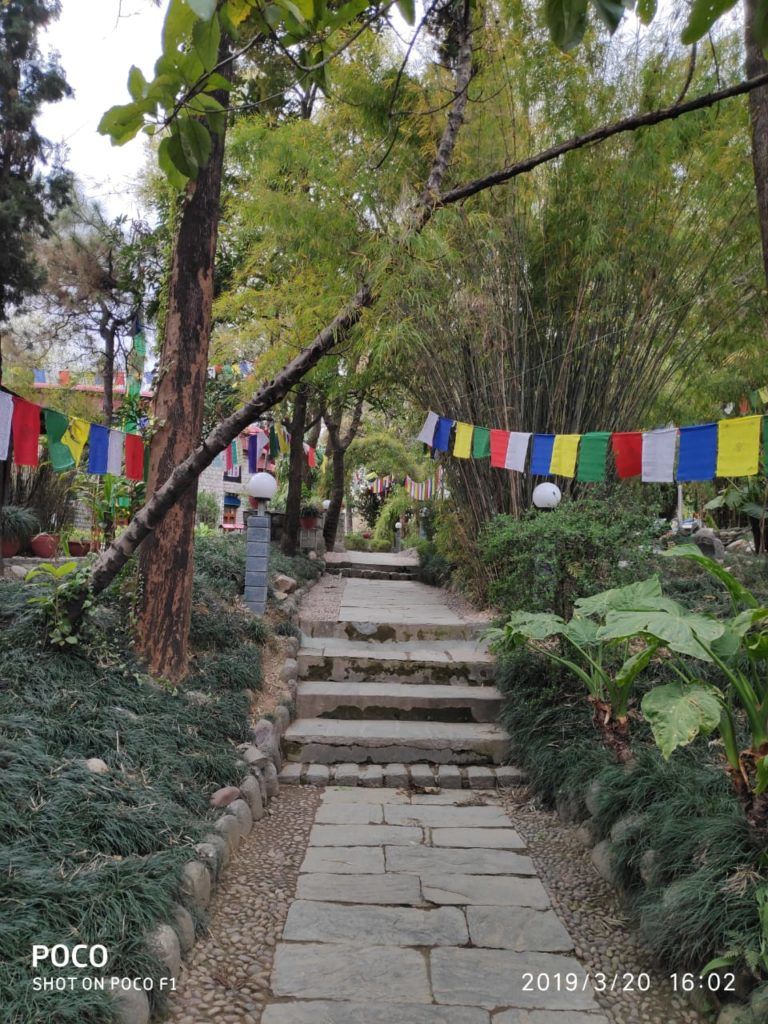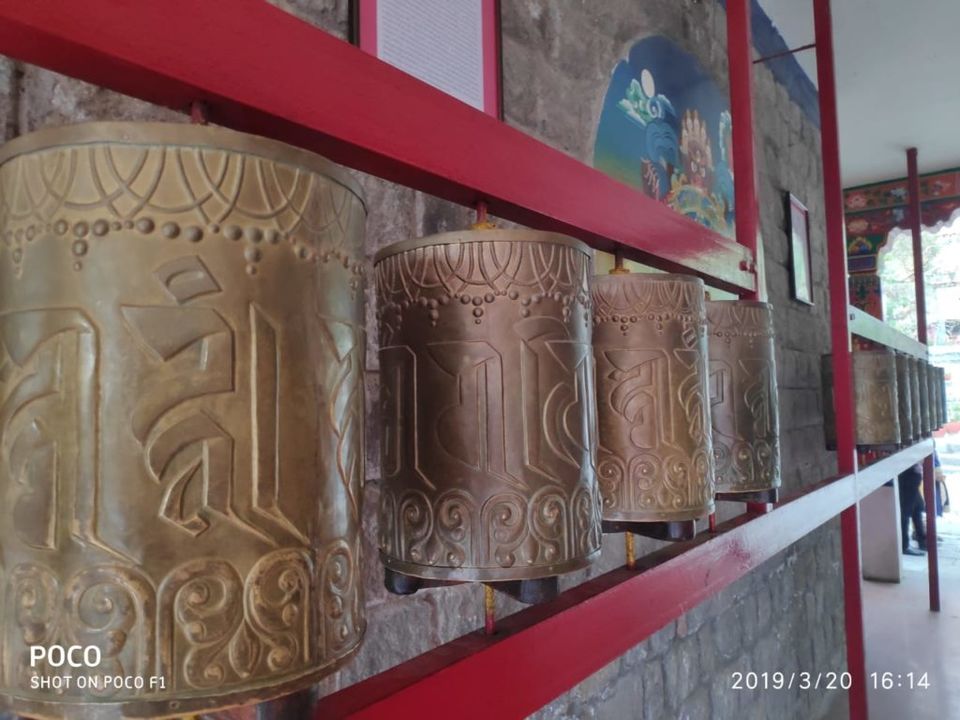 Norbulingka Institute
Our first monastery was the Norbulingka Institute. The entrance itself was amazing with Japanese style architecture painted on the gate. It had an open air garden restaurant with shady trees and prayer flags all around. The gardens were Japanese style with water streams. One can experience the pure form of Tibetan culture. There was a doll museum describing history Tibetan culture. The place had beautiful architecture, paintings on walls, stone structures too. We rotated the churning prayer wheels as we had heard it washes away our sins.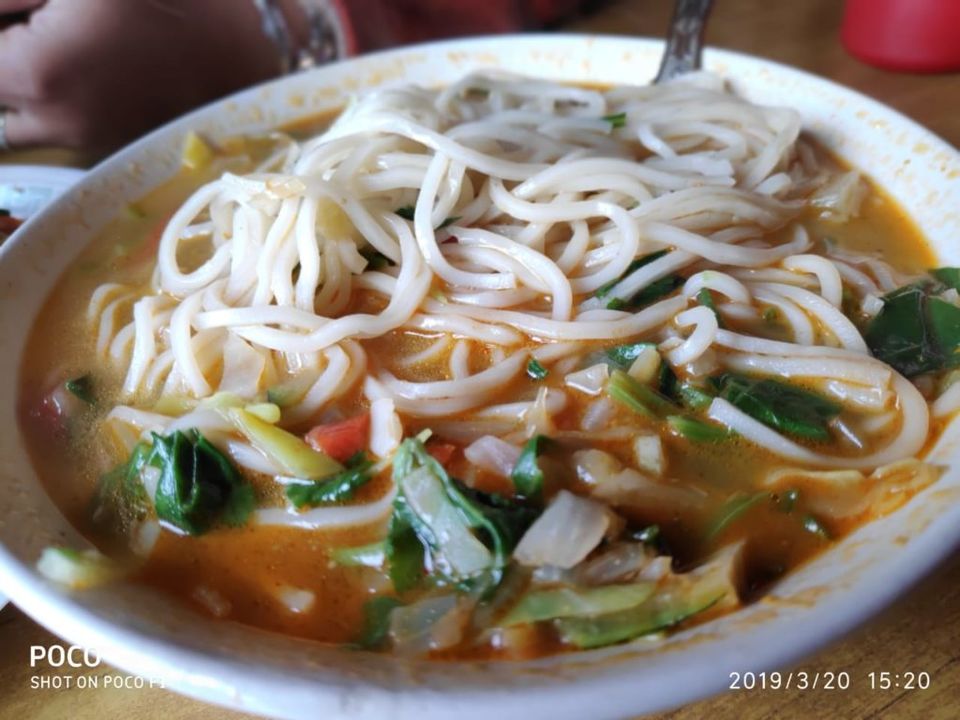 Thupka
We had lunch at a Tibetan restaurant in front of Norbulingka Institute and their we tried Thupka and it was mouth watering and we also had pancakes for desert.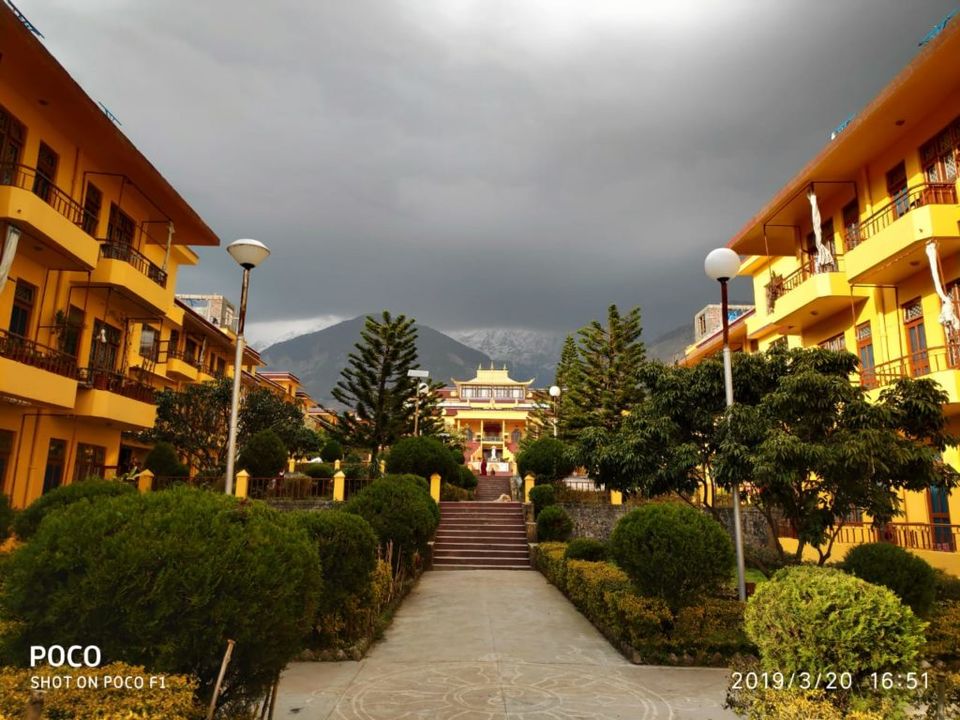 Gyuto monastery was the next and it was very huge, spacious and calm there. From there the entire mountain range was visible. The place gave very positive vibes that could sooth anyone's troubled minds. We interacted with the monks living there and they were too shy and modest. There way of living untouched by human desires and selfishness was something amazing but too difficult to grasp.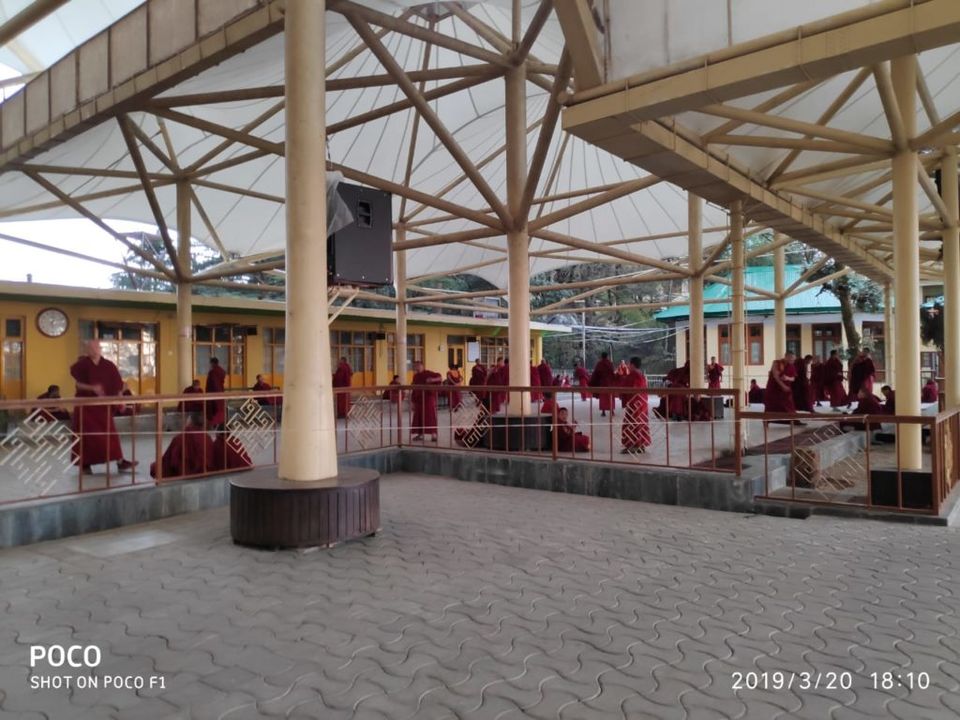 Dalai Lama's main temple
Our last stop was the Dalai Lama's main temple. The temple had a huge prayer hall where monks were meditating. The temple wasn't like the most there was a calmness and tranquillity about itself.
To know about the Monasteries in details follow this link.
Our driver dropped us for shopping at the local market. We bought Tibetan flags, key rings representing Tibetan culture. The market represented for the local culture and tradition.
We had our dinner at the restaurant of the hotel. The restaurant was on the roof and at night there was music jamming session going on at the reception. We sat and had our dinner under the twinkling stars.
Dharamshala is best place to be for a peace lover wanting to calm ones inner souls and get a break from the day to day busy city life.
Conclusion
For us the budget of the trip was Rs 3000 per head. Everyone should go to this place at least once and visit all the monasteries to learn what the Tibetans have to offer. I hope this article helps you to plan your trip to Dharamshala and feel free to reach out to me if you have any queries.