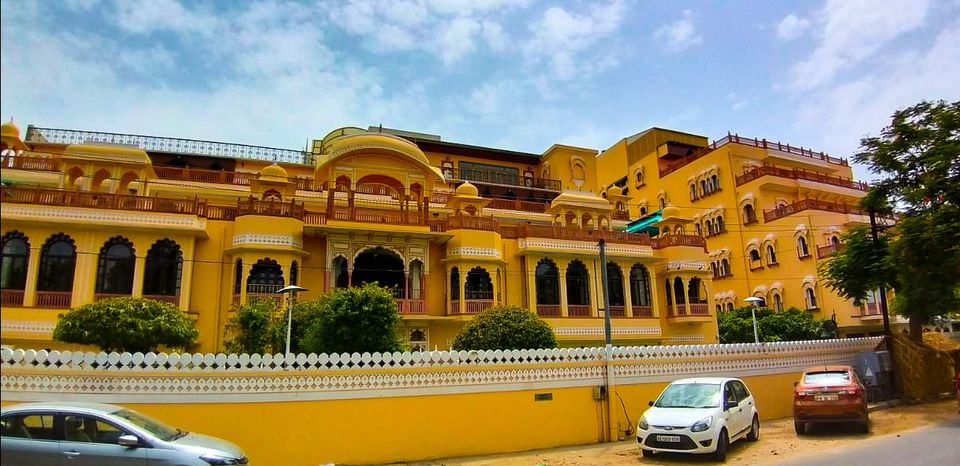 Okay, I wanted a break from my job, so decided to visit Jaipur this weekend. Having friends with similar problems is such a blessing! Isn't it? It turned out that my friends also wanted this weekend escape. Without wasting time, we left on Saturday morning from Gurgaon to Jaipur. We randomly booked this Hotel/ Royal palace, Shahpura Hotels online while travelling and we couldn't believe our eyes once we reached there. The interiors, the infrastructure, everything there was so royal that it gave us the feeling that we've made a mistake by booking this 4 star palace as we were budget conscious.
After taking a round at the palace, we were curious to know the exact amount we need to pay for two rooms in this mansion.   Well.. Well..Well this 4star  palace cost us only 4,100 rupees for two rooms! Unbelievable? I know, right? We confirmed the amount thrice at the reception. After looking like fools and getting the sense of relief, we were sure we made the best mistake by booking this palace! . We didn't want to go out to explore Jaipur as there was so much to explore in this palace itself.
Staying here felt like we were the guests of some Maharaja, living with him, in his own palace. After talking with the staff, we get to know that this is  actually a palace of a real maharaja! Also the residence of the Shahpura Royalty, Shahpura house is one of the palaces of the Shahpura kings who converted the palace into a hotel when they shifted. 
They have swimming pool, pool table, bar, boutique, spa and many other amenities inside the palace.  
Considered to be the head seat of the Shekhawat, clan of Rajputs, the SHAHPURA HOUSE  was founded by Rao Hanuwant Singh and is 200 years old. The House has an unique ambiance of the historic juxtaposed against a contemporary setting. The Traditional Rajput architect, a mixture of Mughal and Indian, a facade with domes and frescoes. With amazing architecture and history stored, this palace comes in the best heritage hotels of Jaipur!
On your next visit to Jaipur, don't forget to stay at this Palace! Experience those 'bhool bhulaiya' Haveli vibes! (Just kidding!) ( Am I? )