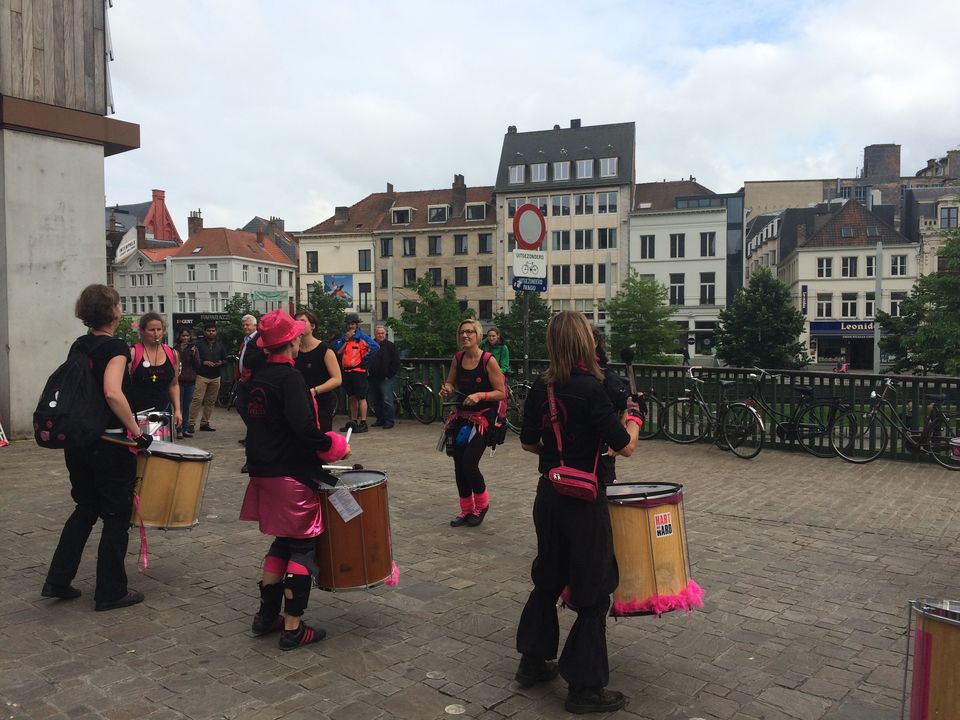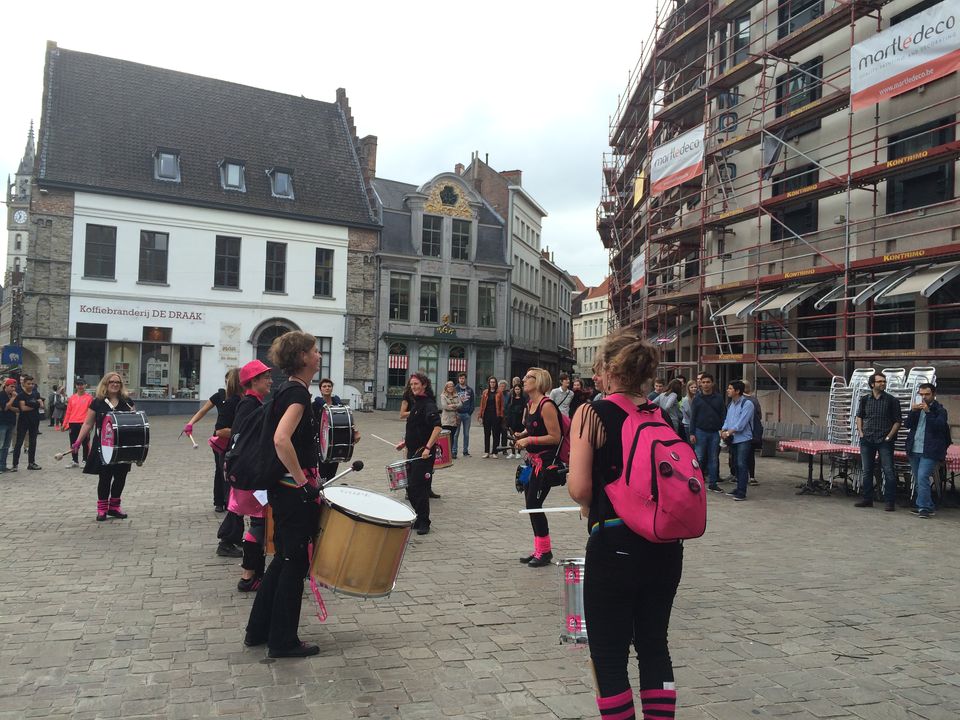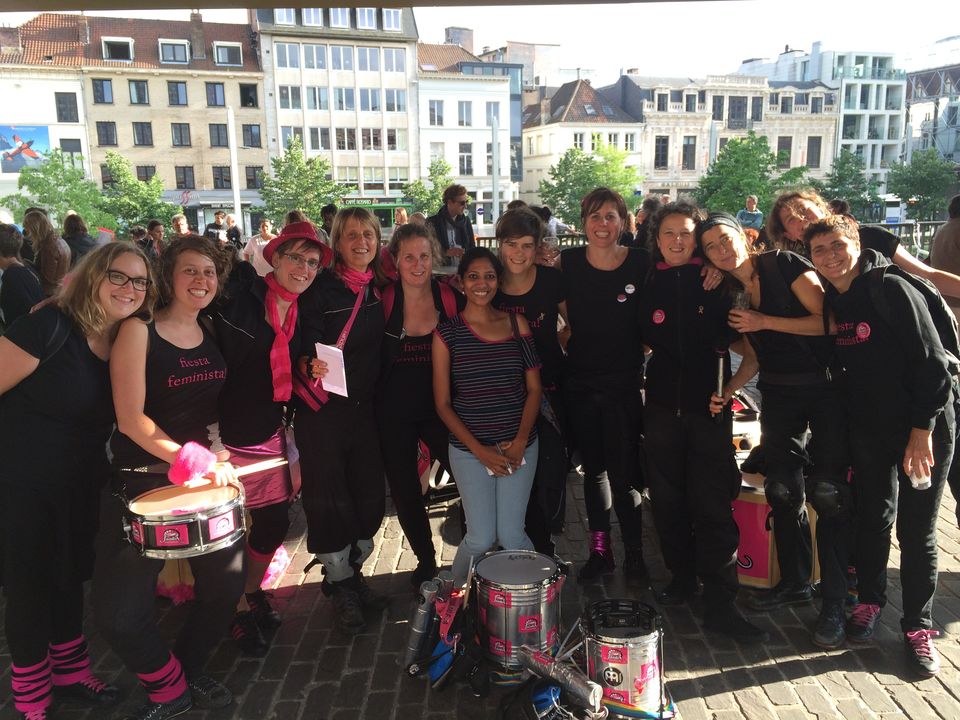 What sets apart a lesbian music group from other women-only bands that crop up in the city? Nothing. At least on the surface.
The bands have only women, they hang out after practice and they may even mingle in the same social circle. They may stand for the same cause, hanker for acceptance and love as the rest.
But no matter how you look at it, LGBT as a community is minority. Is being a minority easy?
That is what I learnt and more during an evening out in picturesque Ghent, Belgium on Solstice. On what was the longest day of the year, I wandered around the city centre with no specific plans in mind around 7.30 p.m. The sun was still out but had mellowed to a softer orange. Tourists and natives were milling about in the centre chatting, giggling and pacifying children as bikers swished by. As I reached a makeshift podium, crowd had gathered around a eleven women, clad in black overalls with a tinge of pink, who were beating what looked like drums. They were standing in circle, playing different instruments that in harmony produced a 'tik tik tat' music. Later I learnt that the music that made my feet tap was samba and the drum was called repinique.
I found it pretty interesting and joined the crowd of enthusiastic viewers taking pictures and videos. But I just did not want to stop with taking pictures and videos. So I waited till the performance was over and approached them just out of sheer curiosity. The problem with approaching native Belgians is you don't know if they speak English, as most stick to Dutch or French depending on Flemish or French part of Belgium they belong to. It is unlike India where even dhabba wallas can understand and speak in four or five different language including English.
So I was relieved when one of the band members I spoke to responded: "Oh, we are a lesbian band that plays samba." She was Inemaesen, who is a part of a 13-year-old music group called Famba. Inemaesen and her lesbian friends formed the band during Iraq war in 2003.
Inemaesen,34, would explain that it was formed to voice LGBT community's opposition against the war, minority though they may be. She said, "During Iraq war lot of manifestations came up, especially music bands. We as a part of minority wanted to take part in this momentum and started the band."
After the war, when many of the manifestations disbanded, Famba remained and thrived. It now has a strength of 25. The band in its 13 years of existence has changed though core ideals, supporting refugees and opposing social injustice, remain. It also had to became commercial for sustenance. And participating in events helped them buy instruments they usually rent.
Their first commercial performance was a gay wedding in Brussels. It was then followed by marriages, baby shower, anniversaries and so on, most of them commissioned by LGBT. "Though people are open here, many are still apprehensive about hiring a lesbian music group for playing at their event," says Inemaesen. She is a social worker and works with children and adolescents with behavioral issues. She is also a part of feminist organisation.
"We have law to protect us and streets are pretty safe at least in Europe. But we still have to endure stares from time to time. This group makes us feel like we belong to the place," she said with a smile.
Famba is not a full-fledged music group. Members are diverse as they come from different social backgrounds and ages. Some are stay-at-home mothers, teachers or IT professionals. So the point of continuing the band is not just for earning money but the sense of unity the band lends to them when they work together.
Inemaesen said, "We welcome all women and recruit members regularly and are open to different cultures. But it is very difficult for heterosexual women to mingle with us. So they leave pretty early and we have maintained the name of lesbian-only band, though it was not our intention."
Famba has found its way in the society as a group, where members feels at home and be themselves away from scrutiny of the society. Evelyn de Kesel, 27, is a usability research analyst and works for an IT company. Evelyn joined the group three years ago and happy being a part of it. "Yes the music is fun. But more than that the group is more important to me," she says. The time spent with members after their practice session every three weeks is what being in the band worthwhile.
Apart from practice, band members make it a point to bond with fellow members and their families like arranging a picnic or day at beach. This is one of the most important point of being in the band says Sofie de Bruyckdr. She is a stay-at-home mother of three. She practices during her leisure time when her partner takes over taking care of daughters. She too strives for social contact with fellow queer members. "It is a group of different people, who are motivated and stand for a cause. It is this solidarity and sense of belonging that drew me here," she says.
It was apparent that the band is just more than formal meeting of members and I understood why there is a need for them to form such a band: to be together in a group that understands and accepts you the way you are, queer or otherwise.
The women are open, friendly and made me feel I was a part of the team. They even let me play repinique, though I was no good. I enjoyed the time I spent with them and hardly paid any attention to my surroundings, with them showing me how each instruments work and how to play samba. I was engrossed. But then again, there is only so much time I could spend in a company interesting though they may be. As I was about to leave with vibrations from repinique still intact, Evelyn stopped me. "Could you wait for a moment? You could continue to beat," she asked sheepishly. I couldn't help but smile back.
Inemaesan tapped my shoulders few moments later and dropped something on my hand. "This is for you. You can have it," she said. It was pink sticker with the band name 'Famba' scribbled on it. I found the gesture very sweet and needless to say hugs and kisses followed. During my walk back home, I realised it was a day well spent. For I not only fell in love with Samba but the women as well.
Ghent is an important port city of Belgium